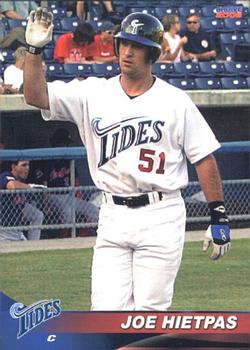 ---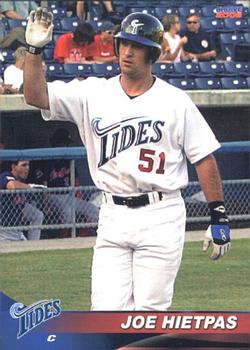 Joe Hietpas caught the last half-inning of the season's finale for the New York Mets in 2004. That was his entire major-league experience. He never came to the plate in The Show, an oddity for a position player.
"At the time, you don't look at it as your one missed opportunity for an at-bat. It's the start. It's not the finish," Hietpas said in 2015. "I played long enough after that and had every chance to earn my way back, and I just didn't."1 His eight-year pro career ran from 2001 through 2008, the last two seasons as a pitcher.
Joseph Carl Hietpas was born on May 1, 1979, in Appleton, Wisconsin. His family name (pronounced HIT-pǝs) is Dutch. Most Americans who bear it live in the Badger State. Joe's father, Donald Hietpas, held a number of positions related to business and finance in the Appleton Area School District. Don and his wife, Kristine (née Kratzer), also had four daughters named Kristin, Ann, Jenna, and Margaret.2
Joe Hietpas, who stood 6-foot-3 and weighed 220 pounds when fully grown, played football too, well enough to be named an all-state defensive end in high school.3 The Appleton Post-Crescent shows that he also played basketball.
Hietpas first attended Appleton West High School but went to Appleton North High after it opened in August 1995. His baseball coach in high school was Bruce Erickson, father of infielder Matt Erickson, who got into four games with the Milwaukee Brewers in 2004. Just two days before his lone big-league appearance, Hietpas thanked Coach Erickson for playing a big role in his getting the opportunity to play college baseball.4 His performance also had a lot to do with it. As a senior in 1997, he compiled a 1.097 slugging percentage and won first-team All-State honors.
Hietpas won a baseball scholarship to Northwestern University, where he earned a degree in economics. The scholar-athlete was named to the Academic All-Big Ten team in both 1999 and 2000. In the latter year, he made the All-Big Ten third team. The first-team catcher was Dave Parrish — son of Lance Parrish — who was also briefly on a big-league roster in 2004 but never got into even one game.5
In the summer of 2000, between his junior and senior years in college, Hietpas played for the Peninsula Oilers of the Alaska Baseball League. As a senior, he was viewed as Northwestern's team leader.6 During his four-year career with the Wildcats, Hietpas became the program's all-time leader in doubles (56). He also finished second in RBIs (158) and third in home runs (27).7
The Mets selected Hietpas in the 16th round of the June 2001 draft. Despite his size, he wasn't a heavy hitter in the pros. However, he earned a reputation as a strong defensive catcher who called a good game.
During his first four minor-league seasons, the farthest Hietpas advanced was Class AA, and that for a total of just 50 games. Overall, he hit a mild .220 with 8 homers and 95 RBIs in 244 games. Yet his defense continued to win notice. In spring training 2003, John Franco said that excluding pitchers, José Reyes and Hietpas had the team's best arms. "You can hang clothes on his throws," said the veteran reliever.8 The following spring, in discussing potential successors to star catcher Mike Piazza, a New York Times article observed that scouts raved about the abilities of Hietpas behind the plate.9
That article focused mainly on Mike Jacobs and Justin Huber. But Jacobs (whose future lay at first base) was disabled in May 2004 with a torn labrum, and the Mets traded Huber away that July. Therefore, when catcher Vance Wilson was shelved in mid-September after surgery on a finger, the big club called up Hietpas.10 Soon after joining the Mets, he suffered a pulled abdominal muscle while taking batting practice.11 Nonetheless, he was able to serve as bullpen catcher, which was a good opportunity to pick the brain of savvy 44-year-old Franco.12
Meanwhile, Jason Phillips carried most of the catching load, being spelled occasionally by Piazza (who played more at first base in 2004) and even 39-year-old Todd Zeile (who hadn't caught a game in the majors since 1990).
Finally, on the last day of the season, Hietpas got his chance as the fifth-place Mets met the sixth-place Montreal Expos at Shea Stadium. As the top of the ninth started, New York held an 8-1 lead. Manager Art Howe made a double switch, bringing in a new battery of Bartolomé Fortunato and Hietpas. The catcher replaced Zeile, who'd already announced his retirement.13
The first batter, Einar Díaz, reached on an error by Reyes. Brendan Harris then walked, but Josh Labandeira struck out and so did Maicer Izturis. When Endy Chávez grounded out, the game and season were over. So was Howe's managerial career. So was the history of the Expos (who became the Washington Nationals in 2005). A sizable contingent of Expos fans was in attendance to bid the team adieu.14
Hietpas later admitted that the brief experience was a blur. His clearest memory was of the late-afternoon shadows at Shea. "The umpire, Angel Hernández, came up to me and said something like, 'If you can't see the ball, no one can, including me. Good luck.'"15
Shortly after the season ended, Hietpas was named the best defensive catcher in the Mets organization.16 He then joined the Peoria Saguaros of the Arizona Fall League, where (according to Rotowire.com) he did well at the plate. Rotowire said that he could make the parent club out of spring training in 2005 as a backup receiver if the Mets were to trade any of their excess at the position.
Yet despite much turnover among the catching corps, Hietpas was still caught up in the numbers. To start with, Mike Piazza went back behind the plate in 2005. After that season ended, although the Mets did not renew Piazza's contract, they signed Paul Lo Duca. The team also went with experienced backups. In December 2004, New York signed Ramón Castro as a free agent. Both Vance Wilson and Jason Phillips were traded after Castro was obtained — but another veteran backstop, Mike Difelice, was added in April 2005. Difelice spent much of that season and the next in the minors, but when Piazza and Castro got hurt, Difelice got call-ups that might otherwise have gone to Hietpas.
Thus, Hietpas split 2005 and 2006 between Triple-A Norfolk and Double-A Binghamton. Lack of hitting didn't help his cause — in 174 games, he hit just .191 with 8 homers and 47 RBIs. Yet there was a harbinger of his career's second stage. One day in Norfolk in May 2006, Brian Bannister had to leave a rehab start after throwing just five pitches. By the seventh inning, Hietpas was pressed into service on the mound. He clocked 93 miles per hour with one fastball and was consistently in the 90s. "Everything that happened today was odd," Hietpas said. "I had no idea I could throw 93. The last time I pitched, I was 15 and playing junior varsity American Legion ball in Wisconsin."17 He added that he came out of the game only because pitching coach Randy Niemann feared injury.18
After the 2006 season, Tony Bernazard (then a vice president for player development with the Mets) suggested to Hietpas that he should come to spring training as a pitcher. He declined, since he still had hopes of winning a backup catching job in the majors on the strength of his defense. But Bernazard brought it up again during camp in 2007, and this time Hietpas, with nothing much to lose, decided to give it a shot.19
Stepping back down to St. Lucie in the Florida State League, Hietpas did rather well in his first season on the mound. Pitching only in relief, he got into 27 games and posted a record of 4-3 with a 2.89 ERA in 43 2/3 innings. He showed good control, walking just nine batters, but also struck out just 22. Manager Frank Cacciatore said that at first, Hietpas wasn't able to get the balls where he wanted — he was still throwing — but that he was learning to pitch and mix speeds. (His repertoire also included a knuckleball.) Hietpas admitted that sometimes pitching felt completely foreign to him and that he was adjusting. Even so, he was named the organization's Pitcher of the Month for July.20
He thus earned a shot at Double-A in 2008, but it did not go well: 3-5, 6.34 in 65 1/3 innings across 43 games (he got one start). His WHIP rose to 1.59, and opposing batters hammered him for 13 homers.
After he was released in April 2009, Hietpas quit baseball and began to pursue a law degree at Washington University in St. Louis. His wife, Shay Unterreiner, had grown up in that city. They met as classmates at Northwestern and were married on January 10, 2004. Hietpas became a member of the Law Review and earned his J.D. in 2012. That fall, he became an associate with the St. Louis office of the Dentons law firm. He remained with Dentons until February 2017, whereupon he joined ElmTree Funds as legal counsel. This real estate investment firm is also based in St. Louis.
Shay works as a physician assistant, specializing in orthopedic care. The Hietpas family also includes a daughter (Leighton) and two sons (Cole and Tyler).
As of the end of the 2018 season, only six position players in half a century had gotten into just one game in the majors without a plate appearance. Joe Hietpas is the last of them.21
Last revised: December 20, 2018
Acknowledgments
This biography was reviewed by Jan Finkel and fact-checked by Kevin Larkin.
Sources
Online
Northwestern University Baseball Media Guide, 2010 (https://issuu.com/nuwildcats/docs/complete_baseball)
Fox Valley Association Athletics (fvaathletics.org)
Baseball Wisconsin (http://www.baseballwisconsin.com/page/show/765292-wbca-all-state-teams)
Facebook.com
LinkedIn.com
TheKnot.com
Notes
1 "Jablonski Rico Noel, awaiting his chance," Louisville Courier-Journal, September 12, 2015, C8.
2 Obituary of Katherine Reynolds, maternal aunt of Joe Hietpas, Wichmann Funeral Homes website (https://www.wichmannfuneralhomes.com/obituary/Katherine-Reynolds/Appleton-WI/978865).
3 "Mets Eliminate Hammerheads," Palm Beach Post, September 4, 2003, 14B.
4 "Former Appleton North star waiting to get his shot in the majors," Appleton Post-Crescent, October 1, 2004, 25.
5 Dave Parrish was with the New York Yankees for several days in May 2004 after Jorge Posada suffered a broken nose. If Hietpas hadn't made his appearance that October, he'd have joined Parrish as a "phantom major leaguer."
6 Leo Ebersole and Emily Badger, "Padgett Proves He Can Play," The Daily Northwestern, May 8, 2001.
7 "Joe Hietpas, Michael Nall Get Drafted," NUSports.com, June 6, 2001 (https://nusports.com/news/2001/6/6/Joe_Hietpas_Michael_Nall_Get_Drafted.aspx?path=wbball).
8 Marty Noble, "Mets' Rick] Waits Hospitalized," Newsday, March 1, 2003.
9 Lee Jenkins, "Piazza Keeps Eye on Potential Successors," New York Times, February 27, 2004.
10 "Callup Steps in for Vance," New York Daily News, September 15, 2004.
11 "Baseball Beat," White Plains (New York) Journal News, September 26, 2004, 33. Supported by two contributions to Ultimatemets.com from October 2004 (http://ultimatemets.com/profile.php?PlayerCode=0747&tabno=7).
12 "Former Appleton North star waiting to get his shot in the majors."
13 Dave Caldwell, "Zeile Exits on High Note, Spoiling Expos' Farewell," New York Times, October 4, 2004.
14 Ibid.
15 Cash Kruth, "'Moonlight' [Graham and his successors have no regrets," MLB.com, June 21, 2012 (no longer available online).
16 J.J. Cooper, "2005 New York Mets Top 10 Prospects," Baseballamerica.com, October 31, 2004 (http://legacy.baseballamerica.com/minors/2005-new-york-mets-top-10-prospects/#uI6UZuQCX1LP4MIY.97).
17 Rich Bradford, "Tides take usual afternoon beating in very unusual game," The Virginian-Pilot, May 19, 2006.
18 Jack Dickey, "How to Build a 21st-Century Bullpen with Failed Hitting Prospects and a Radar Gun," Deadspin.com, June 28, 2012 (https://deadspin.com/5921799/converted-position-players-are-baseballs-next-big-thing-or-how-the-as-turned-sean-doolittle-into-a-pitcher).
19 Ibid.
20 Chuck King, "Switch Helps St. Lucie Pitcher," Palm Beach Post, August 17, 2007, 22.
21 The others: Bart Zeller, Gary Hargis, John Lickert, Bob Hegman, and Pedro Santana.
Born
May 1, 1979 at Appleton, WI (USA)
If you can help us improve this player's biography, contact us.
https://sabr.org/sites/default/files/HietpasJoe.jpg
600
800
admin
/wp-content/uploads/2020/02/sabr_logo.png
admin
2018-12-20 15:00:02
2020-04-09 14:38:38
Joe Hietpas