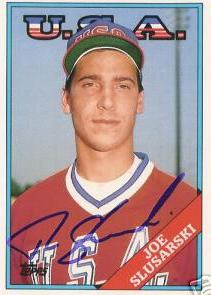 ---
Pitcher Joe Slusarski rolled with a lot of punches in his career. The college star won medals with Team USA in the late 1980s and made Baseball America's Top 100 Prospects list in 1990. Two years later, arm problems rooted in a freak accident left "Slu" a journeyman. From 1993 through 1999, he spent roughly two months on big-league rosters. Signed, optioned, recalled, released, outrighted — with so many transactions, "Fine Print" could have been his nickname. What kept him going for 11 years? The first words out of Joe's mouth are "Unfinished business."
Joseph Andrew Slusarski was born on December 19, 1966, in Indianapolis, Indiana. His father, Richard Slusarski, came to America from Davidgrodek, Poland, in his mid-teens. Dick was studying for his master's degree when his wife, Sharon Dehner Slusarski, had her third of four children (three boys and a girl).
Dick and Sharon divorced, and she moved around with the family a few times. They lived in Kentucky; the town of O'Fallon, Illinois (east of St. Louis); and eventually Springfield, Illinois. Although Joe's maternal grandfather was an avid Cubs fan, the boy rooted for the Cardinals in the Whitey Herzog era. He spent endless hours playing catch in the backyard with his older brother. Although this included footballs as well as baseballs, Joe never played anything more than peewee football. In addition, while he had the height for basketball, he says, "I never had the hands for it. I just wasn't that adept."
Even in his favorite sport, Slusarski was a late bloomer. At Sacred Heart-Griffin, a Catholic high school in Springfield, he played baseball only in his sophomore and senior years. As a junior, he worked after school instead. After graduation, Joe attended junior college in Springfield. "I wasn't recruited," he states. "I wasn't a great student — I didn't apply myself. I was a rebel. I had a stubborn, hardheaded streak."
However, he did get a small scholarship from Lincoln Land Community College (LLCC), which has boasted a strong baseball program over the years. In Coach Claude Kracik's 33-year tenure (1970-2002), three other Loggers made the majors, all pitchers: Pat Perry, Jeff Fassero, and Mark Clark. Slusarski's record at LLCC during his two seasons there was unimposing: 5-8 in 1985 and 1-3 (with five saves) in 1986. "I got my ass handed to me all around the cornfields of Illinois," says Joe. "Mechanically and physically, I was still adjusting. I was just getting into weight training." Kracik and his pitching coach, Clyde Oliver, "were very strict, very regimented — they were diehards about the game."
The Loggers traveled down to New Orleans both years to play in tournaments hosted by Delgado Community College. This led Joe to transfer to the University of New Orleans (UNO), which had a new coach in 1986, former Cardinals bonus boy Tom Schwaner. His predecessor, Ron Maestri, had Illinois roots from his days at Bradley University, plus a father who helped recruit in the state. Marino "Flip" Maestri had seen Joe at LLCC; he also tipped Schwaner off to a short, chunky first baseman from the Chicago suburbs named Brian Traxler.
Along with Traxler, Schwaner had brought another future major-leaguer into his program in 1986: outfielder Ted Wood. Wood knew Trax from the previous year's National Baseball Festival, and he'd met Slusarski in the Central Illinois Collegiate League. Actually, Ted and Slu didn't get along at first. "I was a free spirit, I liked to go out," says Joe. "Ted was straight as a razor. He didn't think I was serious about the game."
Traxler and Wood both enjoyed excellent freshman years and would go on to set many school hitting records. Still, the Privateers were just 29-30 in 1986; they needed pitching. Joe recalls, "After the Delgado tournament that second year, we were all packed up and ready to get on the van when Coach Schwaner pulled me off to talk."
Tom Schwaner says, "We had done a lot of recruiting with Lincoln Land. Any time Coach Kracik recommended a guy, we listened. Joe got absolutely lit up his sophomore year, he had a terrible season. But we stuck to our guns — and what a payoff."
As Wood put it, "Slusarski showed up in our sophomore year and we had a complete package." Schwaner had to convince Joe to be a starter, though. "I went down there wanting to relieve, to be a closer. After a month, I was ready to pack it in. But then it all clicked — it was the culmination of the training that I got at Lincoln Land. Plus, I had matured, there was the warm weather, and we had a good club."
By this time standing 6'4″ and weighing 195 pounds, the new staff ace went 13-1 with a 2.87 ERA and 100 strikeouts for UNO in 1987. The team jumped to 42-17 and then went 2-2 in the NCAA South II Regional tournament at Privateer Park. "One particular incident in South Carolina stands out," recalls Tom Schwaner. "We had a three-game series, Friday-Saturday-Sunday [April 10-12] against South Carolina. We were ranked #13, they were #14. Then we had to go to Miami, which was #1 or #2.
"We were playing in Columbia, and they had just a rabid group of fans, giving players holy hell from behind the third base dugout. All in fun, nothing vulgar — vulgarity wasn't in vogue then." The Gamecocks were riding a 12-game win streak, but the Privateers came back to win the first game 8-7. Then they took the second 11-7 behind homers from Wood and Traxler. In the finale, "Joe gave up six in the first inning. I went out to the mound, he was looking for me to pull him. I said, 'You think you're coming out of this, you're crazy.'
"He went pale from the top of his head to his toes. But he shut 'em out the rest of the way, and we came back to win [7-6, behind two homers and six RBIs from Trax]. That crowd gave us a standing O. Joe made himself a major-leaguer right there with his attitude."
In June, the Seattle Mariners selected Slusarski in the 6th round of the amateur draft, but he decided to stay in school. "There were a few factors," he notes. "Though eventually they came back with a good offer, it was too late — Seattle just dragged their feet the whole summer. We did well as a team, I had the chance to play in the Olympics the next year — and I was heavily involved with my wife, then girlfriend." Kristine Muller was the attractive blonde sister of fellow UNO pitcher Brian Muller.
In the summer of '87, Slu gained experience pitching in international competition for Team USA, which was seasoning its young players ahead of the 1988 Olympics. He tied Cris Carpenter for second on the team in wins behind Jim Abbott of Michigan, going 6-1 with a 2.74 ERA. The Pan Am Games were held in Joe's birthplace, Indianapolis, that August. The baseball tournament was loaded with future major-leaguers from various nations. Slusarski went 3-0, 2.76 as the Americans won the silver medal behind the perennial champs, Cuba.
Back in New Orleans in 1988, Joe roomed with Brian Traxler in an off-campus apartment. There was another roommate too — a pet alligator named Volkoff, named for bad-guy wrestler Nikolai Volkoff by Trax, a WWF fan whose love of heavy-metal music and Bugs Bunny cartoons led to a row when Joe woke up on the wrong side of the bed! The pair let the good times roll in the Big Easy.
On the field, Joe followed up with a 13-6, 3.37 record for the 42-21 Privateers. He struck out 146 in 160 1/3 innings and shared American South Conference MVP honors with Ted Wood. In the NCAA Central Regional, though, UNO got knocked out in the first round, losing to Michigan and then Texas. In the first game, Joe went all the way but lost 6-4 to Jim Abbott, the Wolverines' one-handed hurler. "That was the toughest moment in his college career right there," notes Tom Schwaner. "He lost on a two-run homer in the 9th."
When it came time for the draft that June, the Oakland Athletics took him in the second round (46th overall). Along with Wood, Slusarski then rejoined Team USA; Coach Mark Marquess from Stanford used him in short relief. "I didn't throw really hard," says Joe, "but I threw the split." In late June and early July, the 17th annual USA-Japan collegiate baseball championship series took place in Mito, northeast of Tokyo. Slu went 1-1 as Japan took the five-game set. He remarks, "I loved Japan; I love Asia. Just to see the world for free was very, very special."
However, the most dramatic action came in late August and early September at the World Cup in Parma, Italy. The stakes were higher because Cuba had announced that it was boycotting the Olympics.
Both Cuba and the U.S. entered the final game of the preliminary round robin undefeated at 10-0 (there were 12 teams in the tourney). Team USA led 9-6 going into the 9th inning, and Joe was looking to save it for Charles Nagy. However, he gave up a walk, a single, and a three-run homer to Lourdes Gourriel. One out later, Alejo O'Reilly hit another home run: the final was 10-9.
However, Slu got the win over Taiwan in the semifinals before Cuba beat the U.S. again with another late (and controversial) rally. He finished at 1-1 with one save and a 3.86 ERA, striking out 11 in 9 1/3 innings. Joe observes, "That Cuban team was really talented, but that was also their job, that was what they did. We were still amateurs, and even though we had great talent and team spirit, they had been playing and practicing together as a team much longer."
In a tune-up ahead of the Olympics, Joe pitched five no-hit innings in a start against the Atlantic Collegiate Baseball League All-Stars. Then came the Olympics in Seoul, South Korea. Joe appeared in just one game; he notes, "Chuck Nagy and I got bumped down to the bullpen." It came in the preliminary round, as Team Canada — featuring Matt Stairs at shortstop — surprised the U.S., 8-7. Although the Americans had already advanced to the medal round by beating Australia and South Korea, they still sent out their best lineup. After Jim Abbott allowed one run in three innings, Joe surrendered four, though he did not take the loss. "My arm was tired, I was gassed," he recalls. "A single through the hole here, another single there, a walk — it all added up."
The U.S. went on to win the gold medal (though since baseball was a demonstration sport then, the medals were not part of "official" totals.) Slusarski signed with Oakland on October 1, shortly after returning from Seoul. He then reported to the Arizona Instructional League, though he only spent a few weeks there.
Slu played his first minor-league season with Modesto in the California League (High A). He and Kristine celebrated his solid performance in 1989 (13-10, 3.18) by getting married that November.
Joe won promotion to Huntsville of the Southern League (Double-A) the next year. He also went to spring training with the big club as a non-roster invitee. He went just 6-8, 4.47 with Huntsville, as he was slowed by a sore arm. Still, the A's still thought enough of their prospect to try him at Triple-A. With Tacoma in the Pacific Coast League, he was 4-2, 3.40.
Joe was to start the 1991 season in Tacoma, but hours before Oakland faced Minnesota at home on April 11, the A's recalled him to fill in for scheduled starter Eric Show, who had an infected thumb on his pitching hand. The late replacement won in his debut, throwing seven shutout innings while allowing just five hits and two walks. Dennis Eckersley went the rest of the way for the save.
For the remainder of the year, Slusarski shuttled between Oakland and Tacoma. He was optioned in late April, recalled in mid-May, but sent down again in mid-July after struggling and being sent to the bullpen. In late June, A's manager Tony La Russa said, "I'm a Joe Slusarski supporter. I'd like to give him a start. That way, I think he can get it going." [1] A few weeks later, La Russa added, "(Slusarski's) a bright young pitcher who was getting some starts and then he sat around and worked in the bullpen and worked maybe once. He needs to pitch." [2]
The yo-yo trips continued, as Joe returned in late July but was sent down in early August to make room for newly acquired Ron Darling. "We've rewarded Joe Slusarski for two great starts with a trip to Triple-A," said La Russa. [3]. The rookie returned yet again in mid-August, ending the year with Oakland. He was 5-7, 5.27 with the big club and 4-2, 2.72 with Tacoma.
In 1992, Joe won the last spot in the A's rotation in a spring-training battle with Jim Deshaies, "a salty veteran who knew how to pitch." However, the Cactus League then took on a new and darker meaning as Slusarski joined relievers Gene Nelson and Rick Honeycutt for a golf outing at The Boulders resort in Scottsdale. Joe calls it "buzzard luck":
"I had just two balls in my bag and one was cut. I hit it anyway and I sent it way right, into the water. I could see it there, but then I bumped into this cactus that looked like a bush or a tree. The spines stuck in my left bicep, and I slipped and stuck my hand out to break my fall. The plant [a Jumping Cholla] drops balls to seed itself. I buried one in my pitching hand.
"They could hear me screaming, and a guy came with a pocket comb to pull the spines out. They weren't in my fingertips, they were in my palm and about halfway up my fingers. But I had damaged tendons in my middle finger. A day or so later, when I woke up, I had sausages for fingers.
"I couldn't snap my fingers — it affected my grip. I couldn't throw my slider, I couldn't spread my fingers for the split. I had just a fastball, and I was overcompensating. I overthrew and strained my shoulder."
Early in camp, savvy A's pitching coach Dave Duncan had said, "There's no reason to believe Joe Slusarski will not be an outstanding pitcher." [4] Despite Duncan's confidence, though, the game but limited hurler struggled. [5] Nine of his 12 starts from April through mid-June were unimpressive, and again he went to the bullpen, as La Russa thought a change of scenery could help. After just one long relief stint in two weeks, he got another start on June 23. Joe won but served up three homers in six innings, and two days later he went back to Tacoma. "The A's officially ran out of patience with Joe Slusarski on Wednesday," reported the Sacramento Bee. [6]
Joe was recalled in September as the rosters expanded, but a five-inning loss on September 1 was his last outing of the year. He finished 5-5, 5.45 for Oakland and 2-4, 3.77 for Tacoma. After the season, he underwent arthroscopic surgery on his shoulder. On November 9, The Sporting News said that Slu "was found to have nothing more serious than chronic bursitis." [7]
The accompanying photo was captioned, "Nothing serious." Slusarski remarks, "It's true there were no tears. They went in and cleaned it out. But it was a severe strain — I had a frozen shoulder. I couldn't move my arm around, even to put it on the back of the bench."
In the spring of 1993, Joe again contended for the #5 starter spot. He was sent down at the end of camp — but not before pitching in front of at least 51 family members and friends in an exhibition game at the New Orleans Superdome, where he had played several games a year for UNO. Unfortunately, Jeromy Burnitz of the Mets reached him for a three-run homer in a 4-0 loss.
Slu got into only two games with the A's in '93. He was up for a little while in May while Mark McGwire was suffering from a sore heel, then again in June while Curt Young had a bout of bursitis. His record with Tacoma was 7-5, 4.76; Joe admitted that his shoulder was still hurting.
"I pitched in the 'hit range' anyway, and if I lost a couple of miles per hour, it made a difference. It also affected my mentality, my approach. I was a guy who attacked the strike zone, and I got a little timid and started picking."
The following February, the Sacramento Bee reported that "La Russa and Duncan have decided to quit flip-flopping on Joe Slusarski and will make him a full-time starter." [8] Oakland reassigned Joe to minor-league camp in mid-March, though, and then released him on May 11 after he started poorly with Tacoma (2-3, 6.03).
"I got fatigued and fell off a cliff right around the fifth inning. I did an incredible amount of exercises to try to build up strength, but it didn't matter how much lifting I did. That can actually do more damage."
On June 3, the Philadelphia Phillies signed Slu to a Double-A contract. He pitched five games with Reading in the Eastern League (1-2, 4.63) and then climbed back to Triple-A. However, after he went 2-3, 7.82 with Scranton-Wilkes-Barre in the International League, the Phillies let him go that October.
In January 1995, as the major-league strike dragged on, Joe signed with the Cleveland Indians. During the lockout that spring, he served as a replacement player for the Tribe. Although he played in training camp, he was undecided about whether he would have crossed the line if the regular season had begun. At the time, he said he was "waiting for divine intervention." [9] Today he calls it "an abnormal situation that I tried to make normal. My whole intention was to get a minor-league job, just get in line."
As the '95 season began, Cleveland assigned Joe to their top farm club, Buffalo. He started twice in four games there (1-1, 6.32) and was released in late April. A little less than a month later, the Milwaukee Brewers picked him up. It was nice for Slu to get back to New Orleans, where he had made his home; the Zephyrs were Milwaukee's top affiliate then. Now strictly a reliever, Joe was very sharp (1-1, 1.12 in 33 games). "I was getting three-inning saves, real old-school stuff."
The Brewers called Slusarski up in late August, and he made 12 appearances. Along with Rick Reed, he became one of only two replacements who had major-league experience both before and after the strike. When asked if he encountered any resentment or "scab" stigma, he responds, "I said to [Zephyrs manager] Chris Bando, I'm not sure if I want to go up. I actually tried to convince him to leave me down, let this stuff blow over. When I got to Milwaukee, nobody remembered! It was only when Donald Fehr came to town that it got out. It wasn't really bad, but it was out there. My pension won't be affected, but I didn't get merchandise royalties from that point on."
On October 12, the Brewers outrighted Joe to New Orleans, and he then became a free agent. The California Angels gave Slusarski a look in the spring of 1996, but he was one of their last cuts in early April. On May 12, Joe rejoined the Zephyrs. He played the remainder of the year in the Crescent City, going 2-4, 4.95 in 40 games. "My wife was there, my child. It became a strategy for me; I'd hang on until spring training was over. Then in May, guys would break down, or things wouldn't work out for them. The Brewers always had room!"
Yet again that October, he found himself hunting for work. Slu went to Venezuela for the winter, playing with the Aragua Tigres. "That was the only time I played winter ball. The Yankees had a working agreement with that team. I only stayed half a season, though. I got homesick and it just wasn't working out. I found out later that the first half of the season is more the B team, a lot of young guys. I think back and I probably should have stayed."
Instead, in 1997 Joe crossed the Pacific Ocean to play in Taiwan. That year a bidding war had broken out between the Chinese Professional Baseball League (CPBL) and the upstart Taiwan Major League (TML). Among other international players, Slu's old comrade Ted Wood came to the CPBL. While Ted stayed for three years, though, Slusarski played in just 25 games for the Sinon Bulls (2-4, 4.18).
"My friend Mark Kiefer from the Brewers helped me go over there. I left with about a month and a half to go, though. There was a lot to like about Taiwan: the people, some nice cities, and they had amazing fruit! The baseball… I was trying to use it as a springboard for Japan, but I found that Japan didn't take that league very seriously. You've heard that there was gambling and criminal activity. I saw guys diving over balls and throwing them into the stands, and I had enough.
"After I came back, I'd decided to hang 'em up. I was working with Randy Bush [another player who went from UNO to the majors] and Ron Maestri [then UNO athletic director] in their facility. I was working some other jobs. But I heard the call — there was unfinished business. I did it on a dare with my agent."
Joe got a walk-on tryout with the Houston Astros — in 1998 the New Orleans Zephyrs had become part of the Astros chain. "I tried out for [manager] John Tamargo and Dewey Robinson. I later heard Tamargo was told, 'He's an old horse, ride him until he breaks!' But I didn't break, and they decided to send me to extended spring training for two weeks."
Once again Slu was willing to go back to Double-A. After nine games with the Jackson Generals (2-2, 6.33), he came back once more to New Orleans. "It was right around Father's Day." He pitched 31 games for the Zephyrs (1-4, 5.11), and "we won the Triple-A World Series. It was a lot of fun as a team. We had guys like Casey Candaele and Pete Incaviglia. We got excited about the game. The city got excited, they hadn't had a title in anything in so long. I got motivated."
Though Joe was again let go in October, the organization brought him back in December, and he opened the 1999 season with New Orleans. Then in July, he made it back to the majors for the first time since September 1995, replacing Sean Bergman (forearm strain). "You can imagine how excited I was. You toil and toil and toil. You're building toward something, you have to be patient. Later in my career, I went back to square one. I went back to really feeling the baseball, long-tossing — the fundamentals."
Slu appeared in just three games before going on the DL himself with a strained groin, and once activated, he was designated for assignment. Though he was called up again at the tail end of the season, he did not appear.
It was the same story that off-season: released in October, re-signed in January. Once more Slusarski started the year with the Zephyrs (2-1, 2.25 with New Orleans in 13 games). In early May, though, the Astros optioned Julio Lugo to New Orleans and decided to go with 12 pitchers. Joe went on to appear in a career-high 54 games, which also led the team. Manager Larry Dierker had philosophical differences with general manager Gerry Hunsicker about setting defined bullpen roles — "Dierk" liked to use his relievers in spots where they had the best chance to succeed:
"Slusarski had been a starting pitcher and could go three or four innings if necessary. But he also had a good sinker, slider, and forkball combination and could keep the ball low. If we were playing on a grass field, and a good high-ball hitter was coming up with a man on first, I sometimes used Slu late in the game, hoping to get a double play or, at least, avoid an extra-base hit." [10]
Dierker would also occasionally go against the book and use Slu in save situations. [11] It was good for Joe, who posted his only three career saves in the majors in 2000 (along with a 2-7 record and 4.21 ERA). "I loved playing for Dierk — he was easy to talk to, easy to approach. It was never my forte, talking to managers."
"The Astros wanted to bring me back, but on a minor-league contract. They had signed Mike Jackson, who'd been out for a year, and a couple of other guys. Dierk had said, 'If I'm back, you're on my team.' But I got a mixed message, and it aggravated me. The Braves offered me a better deal."
Manager Bobby Cox decided to go with 12 pitchers in the early part of the season, especially as John Smoltz had a setback in his return from elbow surgery. Joe won a roster spot in camp, beating out a group that included former Braves star Steve Avery. "I'm unbelievably excited," he told the Macon Telegraph. [12]
Slusarski appeared in four games in five days for the Braves in early April, but allowed runs in each. "I partly herniated a disc in my neck — after a long 13-pitch at-bat, I felt a pop, a stinger. I iced it, I rested, but I still couldn't move my neck. I was legitimately injured; it wasn't one of those phantom roster-game things."
Joe was sent down to Triple-A Richmond for rehabilitation (0-0, 2.25 in six games). On May 8, the Braves activated him from the DL and designated him for assignment. As was his right, he rejected the move to Richmond and became a free agent. "I told Frank Wren, I would play Triple-A, but not there, and we agreed."
The Astros immediately picked him up again for yet another stretch in New Orleans. He went 5-2, 2.48 in 31 games for the Zephyrs. However, he did spend most of June in Houston while Billy Wagner was disabled with a forearm strain. That was to be Joe's last action in the majors, as he was sent down outright for the final time on June 29. He finished with a lifetime record of 13-21, 5.18 in 118 games.
Looking back on his career, Slusarski remarks, "There's an underappreciation of what the journeymen go through, what they sacrifice. I didn't retire a millionaire, I'm going to have to work. Kids need to know it's a hard road. A lot of things have to happen right to get that money on the table, then you have to perform to earn it.
"I got every opportunity. I had some bad breaks, but everybody does. I wouldn't trade it. I gave it everything. I made a living, paid the bills, traveled the world, and made a lot of friends."
On September 20, 2001, the University of New Orleans named Slusarski pitching coach (he never did finish up his degree after the A's drafted him). "We [the Zephyrs] were in the playoffs again that year, but they were canceled after 9/11. Randy Bush [who succeeded Tom Schwaner in 1999] had a position, his pitching coach had left. He told me, 'If you get a job, you can go.' But I stuck around for a year."
Joe then returned to the pro ranks. He became pitching coach for the Round Rock Express, Houston's Double-A farm club. According to assistant general manager Tim Purpura, "We had a unique opportunity to get someone who had benefited from our pitching program as a player and plug him into our system as a coach." [13] Said Slusarski:
"I moved around a lot. I was on a very fast track to the big leagues when I was younger, but arm problems and coming back, and coming back again and coming back another time … I think I have something to offer with that mostly. You've got to stay with it … when [opportunity] comes you've got to be ready.
"I can help the young players how to handle all of that and keep your confidence. Of course, you can help with pitch selection and preparing yourself for a game, but that's all pretty standard. This game can do some squirrelly things as far as moving around and up and down and where you stand in the organization. That can wear on you. I've been through that with seven different organizations. I think I have a pretty good idea." [14]
In December 2003, Joe became director of a new venture, the New Orleans Zephyrs Baseball Academy. "I started it. I brought that to them first after the '98 season. It was nice to do something for the local kids. It went well for a couple of years. Then Katrina put a kibosh on it. They had to use our field as a staging facility, and then Tulane needed it."
Slusarski had enjoyed working at Round Rock, describing owner Nolan Ryan's facility as "the Shangri-La of baseball." [15] "The first year was tough, but the manager, Jackie Moore, taught me a boatload. Spike Owen was a coach and he helped a lot too. The second year got a lot better."
The Express became a Triple-A team after 2004, though, and Joe moved to the Astros' new Double-A team, the Corpus Christi Hooks. He spent two more seasons there. In October 2006, the Houston Chronicle mentioned that Slu was a possible candidate for the open pitching coach spot with the Astros. [16] However, the job went to Dave Wallace.
"Nobody ever mentioned it to me! I would like to have interviewed. Anyway, it was time for a break — time for me to get off the road and make sure my family was OK. I'd have been better off keeping my mouth shut too, but I had to say my piece."
The Slusarskis — Joe, Kristine, daughters Meagan and Katelyn — moved from suburban New Orleans to suburban St. Louis in 2007. "Not sure why," says Joe, "it just seemed as good a place as any, as well as bringing me closer to my family. I guess my Cardinal roots got the best of me!"
When asked if he wants to get back in the game, the 41-year-old responds eagerly. "Certainly, certainly! I love coaching. There are guys I helped get over the hump and make the majors — Mike Burns, Chris Sampson, Jason Hirsh — and that's very gratifying. It's even better than getting there yourself. The preparation from a management standpoint, you don't find it a lot in the outside world. It's very very intense. It's just good juice!"
Grateful acknowledgment to Joe Slusarski for his personal memories (phone interviews on March 5, 2007 and February 24, 2008). Thanks also to Ted Wood and Tom Schwaner.
Notes
[1] Kim Boatman, "Top Three Starters Will Carry Heavier Load," San Jose Mercury News, June 24, 1991, p. 5C.
[2] Pedro Gomez, "Slusarski Sent to Tacoma," San Jose Mercury News, July 14, 1991, p. 5D.
[3] Kim Boatman, "Slusarski 'Reward': Triple-A," San Jose Mercury News, August 5, 1991, p. 5C.
[4] Pedro Gomez, "Choice of Arms: Slusarski, Deshaies Battle It Out for Final Spot in A's Rotation," San Jose Mercury News, March 5, 1992, p. 3G.
[5] Pedro Gomez, "Slusarski Continues to Slide," San Jose Mercury News, June 9, 1992, Page 1C.
[6] "Slusarski Sent to Tacoma," Sacramento Bee, June 25, 1992, p. D7.
[7] Kit Stier, The Sporting News, November 9, 1992, p. 47.
[8] "Blankenship Will Try to Play With Shoulder Injury," Sacramento Bee, February 23, 1994, p. C3.
[9] Terry Pluto, "Hargrove Has One Message: Keep the Faith," Akron Beacon-Journal, March 29, 1995, p. B1.
[10] Larry Dierker, My Team: Choosing My Dream Team from My Forty Years in Baseball (New York, NY: Simon & Schuster, 2006), p. 240.
[11] Larry Dierker, This Ain't Brain Surgery: How to Win the Pennant Without Losing Your Mind (New York, NY: Simon & Schuster, 2003), p. 130
[12] Bill Zack, "Slusarski, Valdes Make Team While Derosa, Wilson Head to Minors," Macon Telegraph, April 1, 2001, p. 4.
[13] Alyson Footer, "Berry, Slusarski: Call them 'Coach': Former Astros ready to teach young players," www.mlb.com, March 4, 2003.
[14] Ibid.
[15] Ibid.
[16] Brian McTaggart, "Astros Extend Deal on Garner," Houston Chronicle, October 5, 2006.
Sources
www.baseballcube.com (statistics from the minor leagues and Taiwan)
www.llcc.edu (Lincoln Land Community College)
1988 USA Baseball Team Media Guide, http://mlb.mlb.com/usa_baseball/downloads/y2007/1988_Media_Guide.pdf
S. Derby Gisclair, Baseball in New Orleans (Charleston, SC: Arcadia Publishing, 2004)
Games of the XXIVth Olympiad Seoul 1988, Official Report — Volume 2: Competition Summary and Results.
Photo Credit
The Topps Company
Born
December 19, 1966 at Indianapolis, IN (USA)
If you can help us improve this player's biography, contact us.
http://bioproj.sabr.org/bp_ftp/images/SlusarskiJoe.jpg
600
800
admin
/wp-content/uploads/2020/02/sabr_logo.png
admin
2012-01-04 19:49:13
2023-03-29 12:19:23
Joe Slusarski