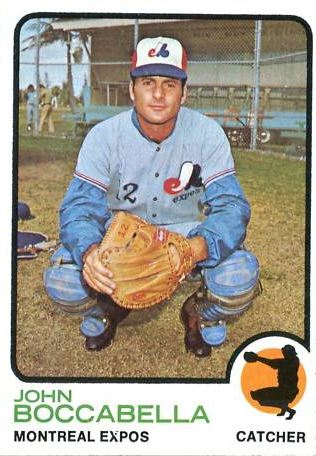 ---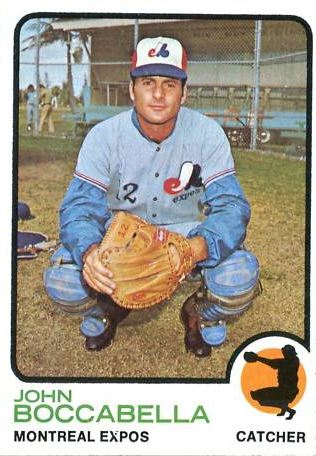 "Jooohhnnn Bocc! — a — beelllllaaaaaaaa."
If you were a National League fan from 1969 to 1973, one of the memorable things about Montreal Expos home games was this call. Claude Mouton, the distinctive public-address announcer at old Jarry Park, loved to roll the r's in names like Herrera and Hermoso. But he always took special delight in this catcher's musical Italian name.
John Boccabella came up as a very promising first baseman with the Chicago Cubs. He was a power hitter with a good glove. In fact, manager Leo Durocher briefly gave him the first-base job over Ernie Banks in 1967. Unfortunately, "Boc" hit just .219 in seven full seasons and parts of five others in the majors from 1963 to 1974. The Cubs first put him behind the plate in 1966, and that's where he played the bulk of his 551 big-league games, although he continued to see action at first as well as the outfield.
Boccabella's manager in Montreal was Gene Mauch, who valued defense and command presence more than hitting in catchers (Clay Dalrymple, for example). In 1973, John's best and most active season in the majors, Mauch said, "He's a very stoic individual. He leads a quiet life and nothing is going to change it. He exerts a quiet kind of leadership over our pitching staff that isn't very visible, but you know it's there."1 That year, in addition to citing his steady influence, Mauch also said, "Boc is still the possessor of the softest hands and fastest release in the game."2 He threw out 41 percent of the runners who tried to steal against him during his career. The San Francisco native was also a modest and likable player who enjoyed high clubhouse popularity.
Boccabella's parents were natives of Italy. His father, Dominic Boccabella, came from Sampeyre, a mountain village near the border with France in the Piemonte region. His mother, Fosca De Luca, was from the hamlet of Sant'Angelo in Campo, which is in Tuscany. John Dominic Boccabella was the third of their four children (two boys and two girls). He was born on June 29, 1941. His father took the minutes of the San Francisco Board of Supervisors meetings, while his mother stayed at home with the kids until they were older.
The Boccabella family lived in San Anselmo, about 20 miles north of San Francisco in Marin County, which boasted as many as a dozen town teams from the 1920s through the 1960s.3 Dom Boccabella was a player himself and managed for many years. He introduced his sons to the game at an early age. "Little League did not start in San Anselmo until I was 13," said John Boccabella in 2011. "They were not going to let me play because I hit the ball too hard." As a result, starting in 1955, John played semipro ball in San Anselmo for a team called the Ongaro Plumbers. His father was the manager and his older brother, Ralph, was also a team member.
In 1958 Boccabella was selected to play in the Hearst Sandlot Classic in New York.4 Also there at the Polo Grounds was his future teammate with the Cubs, Ron Santo, who represented the Seattle area. At that time John was attending Marin Catholic High School in Kentfield, a little south of San Anselmo. In 1959 he was the Cal-Hi Sports "Mr. Baseball" State Player of the Year — a list that includes a huge number of big leaguers, headed by all-time greats such as Joe DiMaggio and Ted Williams.5 Boccabella played basketball and football in addition to baseball. Although he and his father had a strong facial similarity, Dom was a rather short man, and John grew up to be 6-feet-1 and 210 pounds.
Boccabella went to college at the University of Santa Clara, a small Jesuit school. There were three good reasons, as he noted in 2011: "Close to home, full baseball scholarship, great school." Another Bay Area prospect also chose to go there: Ernie "Midge" Fazio, a little shortstop from Oakland who made it to the majors for 141 games (1962-63; 1966).
The Santa Clara baseball program was known for its high quality, but the Broncos posted a record of just 16-19 in 1960. The school brought coach John "Paddy" Cottrell out of retirement, and the team improved to 15-12 in 1961. That summer, Boc and Midge remained a tandem, joining the Saskatoon Commodores of the Western Canada Baseball League. "We had a great team," said Boccabella, who led the league in RBIs with 63 in 62 games. He was second in homers with 13 and in batting average at .340. The Commodores were runaway regular-season champs at 46-16 but lost to Lethbridge, Alberta (25-38), in the finals. Dave Dowling, a future teammate of Boc's with the Cubs (they shared a rookie card in 1966), struck out 18 in the last game.
Santa Clara made a huge stride forward in 1962. The team was 39-8, was ranked first in the nation for much of the year, and made it to the final of the College World Series (a hard-fought 15-inning loss to the University of Michigan). Fazio was a first-team All-American, and Boccabella made the second team, along with pitcher Bob Garibaldi, who signed with the Giants for a $150,000 bonus after winning Most Outstanding Player honors in the College World Series. The squad boasted other future big leaguers, such as infielder Tim Cullen (another teammate in Saskatoon).
Santa Clara wasn't as successful in 1963 (20-16), and though Boccabella had a good year, leading the team in the major categories (.300, 12 home runs, 39 RBIs), it too was a comedown from '62 (.357-10-58). He signed with Chicago after graduating with an honors degree in commerce. That September the Chicago Tribune wrote, "John Boccabella, a handsome collegian who played a waiting game in the bonus derby and therefore lost perhaps as much as $30,000, shunned 10 major-league offers last year to complete his education."6 Cubs scout Ray Perry signed him on June 10; although Central Press reported the bonus at $25,000, Boccabella said in 2011 that it was just $8,000.7
At Pocatello, Idaho, Boccabella had a sensational first pro season. He became the Pioneer League's Rookie of the Year, batting .365 (though he fell 28 plate appearances short of the 403 needed to win the batting title), with 30 homers and 92 RBIs in just 84 games. The big club called him up in September, and he hit .189 in 24 games. That included his first of 26 big-league homers; it came off Ernie Broglio of the Cardinals at St. Louis on September 12. People also enjoyed the rhyme "Boccabella from Pocatello," including Atlanta sportswriter Furman Bisher.8
On December 28, 1963, Boccabella married Joyce Leonardi, his high-school sweetheart.9 They had three children: Anne, John, and Matthew.
In its review of rookie prospects in March 1964, Baseball Digest wrote of Boccabella, "His good power, good fielding, and good arm give him chance to be a major leaguer. Should improve hitting. Outfield may be his niche."10 Ernie Banks had suffered through a poor 1963 because of illness, and Sports Illustrated wrote that April, "Should Banks continue to have trouble at the plate, Boccabella will take over. . . . As a man and a player, Boccabella is a worthy successor to Banks. 'He is,' says third baseman Ron Santo, 'the most modest person I have ever met. And the best part is that he's Italian.' . . . Undoubtedly, his hitting would benefit from another season of sharpening in the minors. Still, he gave every indication this spring that he will do at least an adequate job if he fills in for Banks."11
Boc spent that year with Triple-A Salt Lake City, again showing good power (23 homers and 78 RBIs) but with a sharp drop in average (.226). The organization dropped him back to Double-A Dallas-Fort Worth in 1965, where he had a similar season (.232-20-94). In both years, though, the Cubs called Boccabella up in September. On September 12, 1965, at Candlestick Park, he had the first of his two games in the majors with two home runs. He connected both times off Warren Spahn, then with the San Francisco Giants. Those were the only two runs that Spahn gave up that day, though; the 44-year-old went all the way to get the last of his 363 wins.
Boccabella spent all of 1966 with the Cubs. That season marked his initial steps towards a new position; Leo Durocher told him, "If I'm going to keep you, you're going to have to become a catcher."12 Early that April the Chicago Tribune noted his "quick adaptation to catching techniques."13 He was behind the plate in five games that year, including back-to-back outings on July 4 and 5, when the Tribune commented, "John Boccabella caught again in a concentrated study by the Cubs to determine whether they need to add another catcher to back up Randy Hundley."14
The Cubs had little need for any backup catchers from 1966 through 1969, though, as Hundley averaged a remarkable 153 games played and 148 starts per year over that period. For Boccabella, the 1967 and 1968 seasons were split between sporadic bench duty in Chicago (just 25 and seven games) and time at Triple-A Tacoma, where the conversion to catching continued. He had hit an impressive .390 in the Instructional League in the fall of 1966. In spring training 1967, Durocher — possibly also motivated by jealousy — actually took the first-base job from Ernie Banks and gave it to Boc, but changed his mind shortly thereafter.15
In December 1967 the New York Yankees purchased Boccabella's contract from the Cubs and assigned him to their Triple-A club, Syracuse. (At the time, he was working for United Parcel Co. in Marin County.16) However, he did not sign his contract, because the Yankees wanted to cut his salary sharply. He was ready to quit and work for the telephone company in San Francisco, and the Yankees withdrew their invitation to big-league camp in 1968. Finally, Cubs general manager John Holland re-acquired Boc's rights because Durocher wasn't satisfied with John Stephenson as the backup catcher.17
One could argue that the Cubs rushed their prospect early on. Boccabella politely alluded to this in 1971, saying, "Don't underestimate the fact that I was maturing all those years as well." Yet it wasn't his way to offer excuses. He also said, "I never can complain about not getting the chances. I just didn't hit when I was in there."18 He apparently had trouble with major-league curves.19
In 1971, however, Boccabella pointed out something that has often been said of Durocher: He had his favorite players, and he didn't like to use substitutes at all. He just ran his eight regulars out every day, with the result that they got worn out in the second half of the season. Boc added, "He was a really difficult manager to satisfy. He never smiled, always seemed to be in bad humor, and he wasn't afraid to say what he thought. When he'd be on TV and people would call in, he wouldn't protect his players, he'd come right out and say what he thought of his athlete. The truth isn't always good to tell, above all in public, but he didn't care."20
On October 14, 1968, the expansion draft for National League's two new franchises took place. The Montreal Expos made Boccabella one of their fifth-round picks (28th out of their 30 overall selections). He was in the majors to stay, although he still saw little action in 1969 (94 plate appearances in 40 games) while backing up Ron Brand and John Bateman. He had just nine hits for a .105 average, which made Claude Mouton's ebullient intros embarrassing.21 Even so, in 1974 Boc said of his time in Montreal, "The highlight was that first year, with all the excitement of expansion. Nothing ever quite excited me like watching Mack Jones that year. . . . And the fans with their mad cheering win or lose. The parades and all that. I don't think I'll see anything like it again."22
Boccabella's playing time steadily increased over the next four seasons. Thanks to coach Larry Doby, who put in a lot of work with him in spring training, in 1970 he hit a career-best .269 in 145 at-bats (this leaves out his short stints at the end of 1964 and '65). In March 1971 Boc said, "I owe any career which I have ahead of me to Doby. If he didn't straighten me out, I know the Expos wouldn't have kept me."23 Plus, the pitchers trusted him. In particular, prickly Mike Marshall said bluntly that the reason his performance got better was "because they got rid of John Bateman." 24 In typically modest fashion, Boccabella said, "I got along with him because I never told him what to throw."
Boc remained useful at first base; Gene Mauch noted that he turned the 3-6-3 double play smoothly. The position was also less taxing physically. Yet after Terry Humphrey injured himself and didn't hit in 1972, and Tim McCarver was traded away, the next year Boccabella finally became the primary catcher. Mauch said, "His enthusiasm and interest in taking charge show me that he is ready for the job.25 He set new personal highs in 1973 in games played (118), plate appearances (442), homers (7), and RBIs (46). Another career highlight came that July 6, when he hit two home runs in the sixth inning at Jarry Park. He led off with a homer against Houston's Jim Ray and capped an eight-run rally with a grand slam off Jim Crawford.
Boccabella was also known for his straight-arrow character. He didn't smoke — "I drink wine!" he said in 2011 — and his deep religious faith prompted him to help organize the team's Sunday services on the road.26
After the '73 season, the Expos "dropped Boccabella's name into the hopper during talks with a half-dozen clubs, hoping to use him as the second or third man in a multi-player deal."27 On March 27, 1974, they finally swung a simple trade, sending him to the San Francisco Giants for right-handed pitcher Don Carrithers. "I really appreciate them doing this for me," said Boccabella. "I'd asked them that, if it was possible, would they try to get me to San Francisco and they did. I only hope it works out as well for them." He also joked, "When Mouton left [to focus on his announcing duties with the Montreal Canadiens hockey club], I knew it wouldn't be long before I'd be gone too."28
The Expos had a good young catcher in Barry Foote, who stepped up as their regular from 1974 to 1976. Though Boccabella felt Foote had the tools, he was rightly even higher on another young Montreal backstop: Gary Carter. Boc said, "I roomed with him when he first came up last spring and he impressed me both as a player and a person. He learns fast and I think he has the stuff to become a superstar."29 It's little remembered that Carter played a lot of right field in 1975 and 1976 before he finally took over his Hall of Fame position.
Montreal's general manager, Jim Fanning, wished Boccabella well, calling him "a great credit to the Expos." In 1974 Boc got into 29 games with the Giants behind Dave Rader and Ken Rudolph. He was valued as an elder statesman and as a handler of pitchers, but his knee had been bothering him after an offseason operation, and when he got into the lineup, he didn't hit. He retired at age 33, saying, "Now it's probably time to make a break. It will be an adjustment, but this would have to come shortly. I've seen too many fellows keep on playing, then get cut in spring training or in midseason with no jobs and no preparation for jobs." Previously Boccabella had been an insurance consultant in the offseason, but upon retirement, he trained to be a marketing representative with the Pacific Gas and Electric utility.30
Boccabella remained with PG&E for 19 years until he retired in 1993. He and Joyce stayed in Marin County, their lifelong home. He occupied himself with a variety of pursuits: "Daily Mass, spiritual activities, walking, exercise, seven grandchildren, yard work, golf."
When asked whom he keeps in touch with from his playing days, Boccabella responded, "No one — it seems as though my baseball career never happened." (When Bill Stoneman was working in the Montreal front office, though, the old batterymates got together when the Expos visited San Francisco.) Yet Boc continued, "It has offered me the opportunity to talk occasionally to kids about life and sportsmanship. At times I think my athletic ability was a unique gift from God and I try to use it for His good."
Last revised: July 21, 2011
Acknowledgments
Grateful acknowledgment to John Boccabella for his memories (handwritten responses received by mail on June 11, 2011; follow-up telephone interview on June 30, 2011).
Sources
www.baseball-reference.com
www.retrosheet.org
goodoldsandlotdays.com (clippings from when Boccabella played for his father in San Anselmo)
www.santaclarabroncos.com
www.attheplate.com (Western Canada Baseball League information)
Notes
1 "Boccabella Quietly Drills Two." Associated Press, July 7, 1973.
Born
June 29, 1941 at San Francisco, CA (USA)
If you can help us improve this player's biography, contact us.
http://bioproj.sabr.org/bp_ftp/images5/BoccabellaJohn.jpg
600
800
admin
/wp-content/uploads/2020/02/sabr_logo.png
admin
2012-01-04 20:35:25
2012-01-04 20:35:25
John Boccabella