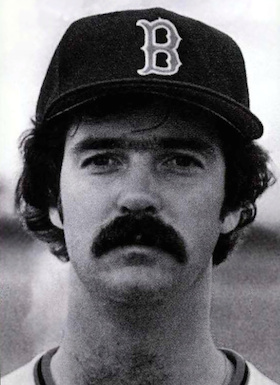 ---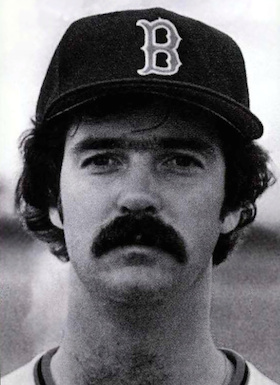 A Pawtucket native, left-hander Henry John LaRose was first called on in relief against the Tigers, as the Red Sox and Yankees battled to the wire in September 1978. He'd been brought up to the big leagues to pitch for Boston just a few days earlier. With just 11 games on the schedule, and the Yankees holding a slim two-game lead, the pennant was up for grabs and every game counted. LaRose had almost been a Yankee, drafted in the third round fresh out of high school in 1969. But the Yankees withdrew their offer when LaRose pulled a muscle in his arm while the dickering over a signing bonus was underway. In the second round of the draft that winter, the Red Sox signed him for a sum far less than New York had offered.
Pawtucket hadn't always been the site of the Red Sox Triple-A ball club. The affiliation began in 1970 when Pawtucket was in the Double-A Eastern League before becoming a Triple-A team three years later.
LaRose was born there on October 25, 1951. His father was a tinsmith. During construction of the interstate highway system in the early 1950s, the family was forced to relocate by the planned route of I-95.1 The LaRose family moved to the town of Cumberland, about five miles farther north, when John was young. "I went through the Cumberland school system and went to Cumberland High School," he told Richard Tellis, author of Once Around The Bases, "and I pitched there all four years and also played first base and the outfield."2
He was quite a star at Cumberland High. He got the win in the Rhode Island State Championship against Central High School during his junior year—throwing a no-hitter and striking out 18 opponents.3 That same year, the 16-year-old LaRose appeared in uniform for the first time at Fenway Park in 1968 at the starting pitcher for the Sunday Advertiser team (against the Record American team in a semipro competition dividing the two affiliated Boston newspapers' choices of the top 30 sandlot players of New England into two teams of 15 to face off in something of a "six-state month-long diamond talent hunt.")4 Among those making the selections had been Frank Malzone, Sam Mele, Lefty Lefebvre, and Chet Nichols.5 LaRose pitched two innings, allowing just one baserunner on a single and striking out two. Malzone himself later gave capsule appraisals of the various players. LaRose's: "Only 16 – very good arm, could be pro prospect."6
Upon graduation from high school in 1969, LaRose, listed at 6-feet-1 and 185 pounds, was selected in the third round of the June 1969 Double-A draft by the New York Yankees and ticketed for their Elmira, New York, ballclub.7 He did not sign, however. Nor did he sign with the Los Angeles Dodgers when they drafted him in the first round (10th overall) in the secondary draft in January 1970. Skip Tuetken reports that LaRose felt both teams had "insulted him by not offering enough money to sign and he refused to do so."8 He told Tellis he'd been offered $30-$35,000 by the Yankees, but was looking for $50,000. The Dodgers, however, offered only $5,000.9 The third time proved a charm, and Boston Red Sox scout Lefty Lefebvre who had given him a private workout beforehand, got credit for it. The Red Sox picked him in the first round of the June 1970 secondary draft, presumably after assurances that, if selected, he would sign. He signed for what he said later was $15,000.10 Afterwards, LaRose said, "I didn't sign with those other clubs because I always wanted to play for the Red Sox."11
The Red Sox assigned him to the Jamestown (New York) Falcons in the New York-Penn League. He went 4-4 in 14 starts with a 3.36 ERA, earning himself a promotion to the Pawtucket Red Sox where he got to start two games against the Yankees' affiliate, the Manchester Yankees. Both games, in which future Hall of Famer Carlton Fisk served as his catcher, were complete-game shutouts.12
In 1971, he couldn't even make PawSox and was assigned to Single A Winston-Salem. It was pretty much a lost year: he spent six months in the National Guard and lost other time to arm problems. He only got into seven games for Winston-Salem and in 1972, only five for Winter Haven, another Single-A club. He was back with Winston-Salem in 1973 and mixed 11 starts with 12 relief appearances, but neither his 5-8 record nor his 4.55 ERA impressed anybody.
Despite a good 1974 season with a combined 2.38 ERA between Winston-Salem and Winter Haven, the Red Sox chose not to protect LaRose and the Twins claimed him, but returned him before the '75 season got underway. In February 1975, he married Janet Smith, and the newlywed went on to quite a good year in '75 (8-1, 2.42). Plus, his team, the Bristol Red Sox, won the Eastern League championship. He didn't get called up—but his manager did. Dick McAuliffe appeared in seven late-season games as the Boston Red Sox won the pennant.
Over the wintertime, he pitched—though not a lot, due to illness from the drinking water—in Mexico. The year 1976 was "not a particularly memorable year," he told Richard Tellis. Perhaps not, but in 16 games for Bristol he was 8-6 with a 2.67 ERA. Some of the luster faded when he was called up in May and worked for a while as a reliever for the Rhode Island Red Sox (actually Pawtucket, the one year they decided to change their name); he was 0-3 with a 5.67 ERA.
But pitching for Triple-A Pawtucket in 1977, LaRose had a breakout season. Primarily working again as a starter, he posted a record of 11-7, with a 3.04 ERA. He made the International League all-star team and—nearly 10 years after his first time—pitched at Fenway Park, when the I.L. All-Stars played an exhibition game against the Boston Red Sox on August 9. Each pitcher had picked an inning out of a hat, and LaRose drew the ninth. Come time to pitch, the All-Stars held a 1-0 lead over the major-league team. He struck out Rick Miller, then struck out Bernie Carbo, and got Bob Bailey to ground out weakly to third base. "I never felt as high as I did that night," he said. "Even higher than playing in the major leagues."13
In 1978, PawSox manager Joe Morgan designated LaRose as the team's closer. And he had a superb season, appearing in 51 games, saving 15, and even winning 10. LaRose credited Morgan for pulling for him and recalled with pleasure "John LaRose Night" at McCoy Stadium in Pawtucket.14 The local boy was making good.
He was still waiting to be called up to Boston, but he wouldn't wait long now. In August Peter Gammons tossed off the line: "still crazy to be trying after all these years, John Henry LaRose is finally going to get his chance."15 After the Pawtucket season ended, LaRose joined the team in New York but first got the call to the mound during a night game on September 20 in Detroit. The Sox were in a tight pennant race, just 1½ games behind the Yankees. Mike Torrez had started but given up three runs in the first four innings. A walk and a single put runners on first and second with nobody out, and Don Zimmer called on LaRose to try and keep the game close.
The rookie walked Steve Kemp on a 3-2 count, although catcher Carlton Fisk claimed the ump had blown the call. Based loaded, nobody out. LaRose got Milt May to hit a grounder to Jerry Remy at second; Remy fired to Fisk and cut down the lead runner. Pinch-hitter John Wockenfuss then hit into a 6-4-3 double play. Albeit not a save situation, LaRose had done the job a closer is asked to do, getting out of the inning without letting in a run.
The Boston Globe's Gammons wrote, "Every TV set in Cumberland, R.I., went on when LaRose appeared in his first major league game after nine years in the bushes, and he pitched out of a bases loaded, none out situation in the fifth."16 LaRose remembered Carl Yastrzemski being the first to say something: "Hell of a job, John. Hell of a job." "How did I feel?" LaRose asked rhetorically. "I felt I did the job. I said [to himself], 'Here I am! See what I've done?' I felt great!"17 Of course he did.
Zimmer, though, rather than turning to a long reliever, and perhaps forgetting that LaRose had been up and down in the bullpen several times during the game before the fifth, sent him out again, and he got hammered for three runs on a double, a walk, and a three-run Lou Whitaker homer. He escaped the sixth without further damage, but surrendered a single and a walk to start the seventh before being relieved. Both runners scored, so LaRose was charged with five earned runs on three hits in his two innings of work. He'd walked three and fanned none.
"After that game," LaRose told Tellis, "I never even warmed up." That is, until the October 2 single-game playoff against the Yankees, with the pennant at stake. The Red Sox were leading 2-0 after six innings, and the Fenway faithful were cautiously optimistic. With one out in the seventh, two Yankees hit singles and Zimmer had a call placed to the bullpen to get both LaRose and Bob Stanley warming up. Torrez retired pinch-hitter Jim Spencer for the second out. Then Bucky Dent hit a three-run homer. Mickey Rivers walked, and Stanley was called in. "LaRose, sit down."18 That was it. Could he have done any worse if he'd pitched to Dent?
In spring training 1979, he'd pitched a grand total of 3 1/3 innings in his first big-league camp, allowing no runs. But he didn't make the cut, and Gammons wrote, "He was a victim of the September Collapse. He threw one bad pitch to Lou Whitaker and no one believes he can get major league hitters out."19
That year and again in 1980, LaRose pitched, without much distinction, for Joe Morgan in Pawtucket. He said his arm was not right all year long. He left the game, kicked around at a number of jobs for a few years, and got divorced. He worked in shipping and receiving and as a bartender, before relocating to Atlantic City, going to dealer school, and becoming a blackjack dealer at the Showboat Casino in 1986 and 1987. When his parents became ill, he moved back to Rhode Island.
He played baseball again for two years with Bill Lee, Cecil Cooper, and other players in the Senior Professional Baseball Association. In March 1992, he settled down, taking full-time employment as a blackjack dealer at Foxwoods Casino. When Skip Tuetken visited him at his childhood (and still) home in the late 1990s, that's what he was still doing. He worked at Foxwoods until his passing in 2021. 
John LaRose summed up his some regrets for Richard Tellis: "I met a lot of nice people in baseball, and I got a chance to travel. I wish some things could have been different. I think the quality of baseball is down these days. It was very hard then to make the majors. Today, they're giving the younger kinds more of a chance. They don't keep them hanging around, and they don't spend a lot of time in the minors. I spent more than seven years in the minors before I got even a small chance. And I'm convinced I could have made it."20
Still resident in Cumberland, Rhode Island, John LaRose died on January 14, 2021. His obituary said he enjoyed listening to smooth jazz music, playing his guitar, listening to his brother David play drums, and spending time with his wife Celestia. 
Last revised: February 17, 2016
Sources
In addition to the sources noted in this biography, the author also accessed the Encyclopedia of Minor League Baseball, Retrosheet.org, Baseball-Reference.com, and the SABR Minor Leagues Database, accessed online at Baseball-Reference.com.
Notes
Born
October 25, 1951 at Pawtucket, RI (USA)
Died
January 14, 2021 at Cumberland, RI (USA)
If you can help us improve this player's biography, contact us.
http://sabr.org/sites/default/files/LaRoseJohn.jpg
600
800
admin
/wp-content/uploads/2020/02/sabr_logo.png
admin
2016-02-17 19:41:35
2022-04-04 13:52:26
John LaRose