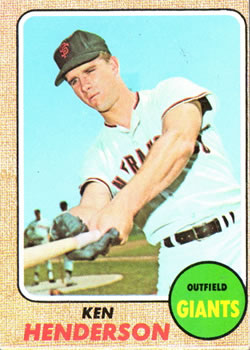 ---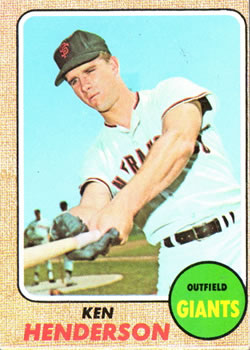 As fast as he was on the bases and in the outfield, at times it seemed Ken Henderson couldn't outrun an expectation first pinned on him at age 17. While it came with a big name, Henderson said the expectation was never one he sought. Instead, he often considered it unfair and unrealistic.
But it was also about as unavoidable and persistent as a cold breeze in Candlestick Park, resurfacing even nine years into his big-league career. The expectation came from scouts, reporters, baseball executives and a big-league manager: Ken Henderson was expected to become the San Francisco Giants' "next Willie Mays."
"The press started to build me up pretty heavily, and the thing that they used to write quite often was that I was the next Willie Mays, which I don't think was the right thing to do," Henderson said in 1979. "There was nobody that could replace Willie Mays. He was just one player in our generation that nobody could replace."1
Yet the lean, 6-foot-2 Henderson had his own solid 16-year career as a five-tool, switch-hitting outfielder for six teams. In 1971, he was a key contributor to the only Giants team to play in the postseason between 1962 and 1987.
While shadowed by the Mays comparison, Henderson said at different times that he wasn't burdened or pressured by it—although in one of his best years he did say he'd stopped worrying about it. Mays or not, he was also shadowed by a career-long accumulation of injuries, especially to his legs, knees, and feet—a problem for someone for whom speed was an important part of his game. In a candid interview in 2019, he also wondered if the expectations he put on himself—never mind those of others—were too demanding and took a toll mentally and physically.
Kenneth Joseph Henderson was born June 15, 1946, in Carroll, Iowa, to Joseph and Phyllis Henderson. He grew up in a household where there was nonstop talk of "baseball, baseball, baseball,"2 probably to the annoyance of his mother. His father played Navy ball and later became a scout for the Giants and other organizations. Ken and both of his brothers, Rob and Joe, all signed with the Giants, and they were cousins of major league outfielder Kerry Dineen. His mother was an Iowa native. But when Ken was five, his father was reassigned to a naval base in California and the family moved near San Diego—first Pacific Beach, then Clairemont. Although they talked baseball constantly, the brothers were spaced apart in age, so they didn't always play together. Ken Henderson is nine years older than Rob and 14 years older than Joe. "I'd pretty much left home by the time Joe was in high school. I'd tease our mother, 'Why couldn't you have had them when I was younger so [we] could have played ball more with each other?'"3
Ken Henderson's earliest exposure to baseball came from his father. "My dad was my hero," Henderson said. "He really turned me on to the game when I was a kid. He played baseball in the Navy and I used to watch him play in Navy ballparks. I'd go sit alongside him [in dugouts] and that's how I got started. He was actually offered a contract by the Red Sox but at that point he was too committed [to the Navy] and he and my mother had started their family. But he taught me and my brothers to love the game."4
(Henderson's own son, Ken Jr., with his first wife, Louisa, also was drafted by the Giants and played in the farm system in the early 1990s before becoming a successful business executive.)
Among the players Henderson's father signed as a scout were major leaguers John D'Acquisto and Gary Thomasson. One of Henderson's prized possessions is the 1984 Detroit Tigers World Series ring his father received when he worked that year as a scout for the Tigers. (Henderson received his own World Series ring as a member of the Giants front office in 2010.)
"I want to reiterate we were a baseball family like no other," Ken Henderson said about his boyhood. "We lived to not only play, but to live the dream of someday playing in the major leagues. I owe everything to my parents, who gave up much of their lives to supporting my passion. My dad was my coach and worked endlessly to make me the best I could be. In the meantime, my mother was our backbone, and endured many late night dinners just so her sons could have the opportunity to play. We spent many nights at the dinner table just talking baseball, and of course Dad coached me on how I could improve and get better."5
Henderson graduated in 1964 from Clairemont High School, which has produced six major leaguers, including former MVP Kevin Mitchell. Henderson played baseball, football, and basketball. In baseball, he earned all-city and countywide high school honors. Shortly after he graduated, and five days after he turned 18, Henderson signed with the Giants for a $50,000 bonus on June 20, 1964. He was the first player ever signed by prolific Giants scout George Genovese, who had taken over San Diego-area scouting duties from Dave Garcia. Genovese went on to sign 43 more major leaguers. Garcia had rated Henderson as his best prospect, telling Genovese he was handing off a "good looking kid! … He can do everything."6 Genovese was quickly impressed, too. "The first time I watched Henderson, I agreed wholeheartedly with Dave's opinion. Henderson was six-foot-two, 17 years old, could run like a deer, and hit from both sides of the plate. He had tremendous instincts in the outfield. Ken went straight to the top of my list of prospects."7
The Mays expectation soon followed. Jack Schwarz, the Giants' director of player development, told Genovese "the Giants were looking for someone who, one day, could replace Willie Mays. Willie was 33 and in his 13th big-league season. Jack felt we should be on the lookout for a prospect we could start grooming in the farm system for that day when we needed to replace Willie." Henderson "fit the bill perfectly. The more games I watched, the more I was convinced that Ken was the best prospect in the area." Because other teams were also interested in Henderson, the Giants determined they had to offer him a bonus to sign. At the time, baseball's rules required so-called "bonus babies" to spend one of their first two seasons in the major leagues, no matter their age. That didn't worry Genovese, who figured even if Henderson were 18 or 19, "if Mays got hurt, he could fill in and not hurt the ball club," I told Jack. 'From what I've seen in my area, he's the best. He's a sure-fire big-leaguer!'"8
Henderson played 63 games with three teams in the Giants' farm system in 1964, including 18 at Class AAA. In 1965, the Giants kept him in the majors the full season to follow the "bonus-baby" rule. Still 18, he made his major league debut against the New York Mets on April 23, 1965, as a pinch-runner for catcher Ed Bailey. He appeared in 63 games, batting .192 with no homers and seven RBIs. At the end of the year, he played for the Giants' Arizona Instructional League team.
Although some in the Giants organization might have had a timeline for replacing Mays, the great center fielder was hardly ready to step aside. Mays had two of his best years in 1964 and 1965, winning the National League Most Valuable Player Award in 1965 when he hit 52 home runs. Mays remained the Giants' regular center fielder through 1971.
"When I signed I didn't expect Willie to play all those years," Henderson said. "I mean, who knew that Willie would simply play that much longer? [Genovese] had said 'In two or three years Willie will retire and we're going to need another outfielder.' That belief was evidenced by their signing of Garry] Maddox and Gary] Matthews and Bobby Bonds, as well as me." 9
With Mays not budging, Henderson spent more time at AAA Phoenix than San Francisco from 1966 through 1968. There were moments when a breakthrough seemed imminent, and others when AAA seemed like a long exile. With Phoenix in 1966, Henderson was named the Pacific Coast League's best defensive outfielder and also batted .272. He hit .310 in 11 late-season games with the Giants. He looked good enough to earn the starting right-field job for the Giants as 1967 opened. Henderson considered the promotion "pretty fair progress for a 21-year-old."10 He added, "'I don't think of myself as succeeding Willie. Sure, I've been a center-fielder all my career, but I signed with the Giants mainly because I thought I had a good chance to make it with them in the outfield. Anyone who can play center field can play the other outfield positions. In right, the ball curves a little differently and I have to learn to play the hitters, but Willie helps me with that.'"11
Nevertheless, after a .205 start, Henderson lost the starting right-field job in May 1967 to another young outfielder, Ollie Brown. Henderson played 65 games in the majors and 41 at Phoenix. In 1968, he played in only three major league games. At Phoenix that year, he was "just starting to pound the ball," when he hurt his heel rounding first base and missed two months.12 He still managed 11 home runs, 60 RBIs, 21 doubles, and five triples, which "indicated he was developing the kind of power the Giants anticipated when they signed him back in '64."13 But, playing winter ball in Puerto Rico to get back in playing shape, he injured his right hamstring. Although he finally made the big-league roster to stay in 1969, the winter injury plagued him. Slightly more than a week before the 1969 season-opener, he felt the leg pop again. He was ordered to rest it and spent the first month of the season on the disabled list.
Led by Hall of Famers Mays, Willie McCovey, Juan Marichal, and Gaylord Perry, along with slugging third baseman Jim Ray Hart and, eventually, Bonds, the Giants of the period were one of the National League's best teams, but never could quite win it all. They finished second five years in a row from 1965-69. In 1969, the first year each major league split into two divisions, the Giants were in the thick of a wild National League West race. They posted a 90-72 record and finished three games behind Atlanta.
When Henderson came off the disabled list and finally began to play, he hit. The timing was ideal: McCovey, Mays, and Bonds all were injured and the team had lost five straight when Henderson joined the lineup May 7. He batted .435 in his first five games, and the Giants won three of the five. In an 11-8 win over Pittsburgh, he homered and tripled. The homer was just the Giants' second in 11 games. For the season, he played in 113 games, but finished at just .225 with six homers. Even so, Giants hitting coach Hank Sauer said Henderson had one of the best natural swings he'd ever seen. Henderson also impressed sports writer Harry Jupiter, who described him as "a graceful outfielder, able to make difficult plays look easy. He has a fine arm and tends to challenge runners on plays when they might not normally expect a throw. Ken has contributed some surprising pegs for stunning putouts."14
After the injuries of 1968 and 1969, and the low batting average in 1969, Henderson emphasized off-season conditioning going into 1970. Worried that he'd swung for the fences too often in 1969, he also worked on his swing, trying to lay back on pitches, and switched bats to a thin-handled Rusty Staub model. "I trained hard," Henderson, known to his friends and teammates by the nickname "Skitchi," said in spring training. "I did a lot of work with weights, and I ran to condition my legs. I was determined to avoid those pulled muscles that gave me so much trouble last season."
He showed signs of the new approach at the plate on Opening Day 1970, when the Giants entertained the Houston Astros. It was a festive day, with female Giants fans wearing brightly colored, often wide-brimmed hats, and bunting waving from facades and railings. With two on base in the bottom of the fifth inning, Henderson came to the plate against Houston right-hander Larry Dierker, a 20-game winner in 1969. Standing nearly straight up and down, left elbow cocked at letter-height, Henderson waited on a Dierker delivery and slashed an opposite-field drive to left field. Both baserunners scored and Henderson arrived at second base with a stand-up double.15
There was more to come. Just 23 when the season started, Henderson had his breakthrough year in 1970.
He became the Giants' full-time left fielder, and batted a career-best .294, with 17 home runs and 88 RBIs. He alternated with catcher Dick Dietz in the fifth spot in the order, giving the Giants a potent bat to protect cleanup hitter McCovey, who'd received a record 45 intentional walks in 1969. Henderson scored 104 runs, the league's eighth-best in a high-scoring season, and stole 20 bases in 23 attempts, leading the league in stolen-base percentage at .870. He also walked 88 times and had a career-best OPS of .854. He finished sixth in the NL in Bill James' power-speed ratings, the first of four top-10 finishes Henderson had in that category. He did not miss a game until July 8, when he sat out with a pulled muscle. He played in 148 games for the year, the second-highest total of his career.
Boil his 1970 success down to a word and it might be comfort: he was secure in the lineup, confident in his own abilities, and, finally, at ease with the Mays situation.
That June, Henderson cited "playing regularly" as the main reason he hit so well in 1970. "In the past I've always been in and out of the lineup and just haven't been ready to concentrate properly at the plate. This year I've been a regular outfielder all the way. It makes all the difference in the world."16
Manager Charlie Fox, who took over from Clyde King a third of the way into the season, said, "I believe 1970 for Ken Henderson became a great year because. . .he finally realized he had all the natural ability to play in the big leagues. He became a positive, aggressive hitter."17
Another turning point was that expectations that he'd replace Mays had eased. Henderson said he "stopped worrying about it." Even Mays—known to become irritable at suggestions he was aging—eventually warmed to him, Henderson said. By 1970, "Willie didn't feel me as a threat anymore. I think that once he saw that they weren't going to push him out of center field, that I was going to play left and Bonds was going to play right, I sensed that he really started to open up to everybody. And that's when I felt that I made the most progress in learning from him."18
Fox, a longtime organization minor league coach and scout, had managed many of the young Giants at AAA in previous years. He said his philosophy was largely to fix a few flaws he saw, but otherwise stay out of the way and let the Giants' talented players play. In words that had to have warmed Henderson, Fox said, "I like to have a regular lineup and hate like the devil to change it. Players work better together when they know they're going to play."19 He got results that way: the Giants were a fifth-place team under King, but had a 67-53 record the rest of the way for Fox, rebounding to place third in the NL West.
The season went so well that even a road crowd claimed Henderson. Granted, the crowd was from his home town, but when the Giants played at San Diego on September 18, there was a big sign in left field that read "This is Skitchi Country." Henderson responded with two doubles, the second of them driving in the game-winning run in the 10th inning.
For all his success in 1970, Henderson was not satisfied. After a late-season conversation with Fox, he spent a week in the Arizona Instructional League, working again on his swing's timing and follow-through. "There's always room for improvement."20
Improvement applied to the whole Giants team in 1971. Their winning percentage roughly matched what they'd achieved over the final 120 games of 1970 but they were a better team in the standings. Their veteran stars mixed with talented young players, including Henderson, Bonds, Tito Fuentes, and rookie shortstop Chris Speier, to lift the Giants to the 1971 West Division championship. Fox was named The Sporting News National League manager of the year.
For the 1971 season, Henderson batted .264 with 15 homers, 65 RBIs, and scored 80 runs. He stole 18 bases in 21 attempts. In September, Henderson frequently batted leadoff, while Bonds switched from leadoff to second in the order. They both got hot: Henderson hit safely in 13 of 15 games and Bonds homered five times, with the Giants winning 10 of the 15 games.
It was also hard to find a better defensive outfield from 1969-71 than Henderson, Mays, and Bonds. Bonds and Mays were Gold Glovers; all three covered a lot of ground, especially on the AstroTurf surface the Giants added in 1971; and each possessed strong throwing arms. Henderson was second in the NL in outfield assists in 1970 and fourth in 1972. Henderson said they "might have comprised the best outfield in baseball with their ability to close gaps. 'You weren't going to hit a ball past us.'"21
The Giants lost the 1971 National League Championship series three games to one against a team destined to be remembered in baseball history, the Pittsburgh Pirates of Roberto Clemente, Willie Stargell, and Steve Blass. The Pirates went on to defeat Baltimore in the World Series.
Henderson himself had a memorable NLCS, even if the Giants did not win it. He batted .313 (5-for-16) and was in the midst of critical rallies or threats in each of the four games.
Expectations ran high for 1972. Henderson set a goal in the preseason of batting .320, and Fox was optimistic about the pitching staff after the Giants traded Gaylord Perry to Cleveland for hard-throwing Sam McDowell. The Giants debuted another young outfielder in Maddox. But there was no repeat of 1971. While Maddox, Speier, and 24-year-old pitchers Jim Barr and Ron Bryant were effective, Bonds tailed off and the Giants' remaining Hall of Famers suddenly looked—and played—very old. Marichal fell from an 18-11 record in 1971 to 6-16, McCovey hit .213, and Mays was sent back to New York in a trade with the Mets in May. The 1972 Giants finished at 69-86, their worst record since 1956 when the franchise was still in New York. And they finished last in the NL in attendance.
Henderson played in only 130 games, missing games late in the season with a foot injury. Much of his production came in August, when he was the National League's player of the month, batting .409 with 11 of his 18 homers.22 Overall, he batted .257 in a pitcher's year. Nevertheless, changes were coming—for the Giants, and for Ken Henderson.
Along with Maddox, the Giants had yet another young outfielder in the wings in Matthews, who became NL Rookie of the Year in 1973. The team sought more starting pitching, and Henderson was expendable. On November 29, 1972, during the winter meetings, he and pitcher Steve Stone were traded to the Chicago White Sox for 15-game winner Tom Bradley.
If it was hard to leave the franchise he'd grown up in, it helped that Henderson was joining a White Sox team with playoff aspirations of its own. After the trade, The Sporting News published a large photo of a Henderson lifting his young son, Ken Jr., who (like his father) wore a big smile.
The White Sox, who'd been rebuilding since late 1970, surprised much of baseball in 1972 by finishing second in the American League West. In the 1973 preseason, The Associated Press picked them to win the AL pennant. Manager Chuck Tanner didn't disagree, saying the team's building period was over—it was time to win the flag. Chicago's Comiskey Park had been one of the American League's biggest parks, with deep outfield fences, since it had opened in 1910. Playing there, the White Sox rarely were an exceptional hitting team. Now, Sports Illustrated called their hitting "first-class," and Tanner was effusive: with the addition of Henderson and with former home run champion Bill Melton coming back from injury, Tanner boasted "this is the strongest offensive team in White Sox history."23 Tanner saw Henderson as part of the whole, a better top-to-bottom lineup. But at times, his comments echoed the expectations of the 1960s. For instance, Tanner predicted Henderson would be one of the top five players in the American League. When The Sporting News suggested to Tanner that the 1919-1920 Black Sox lineup led by Joe Jackson and Eddie Collins might have been a better hitting team, the manager said, "I didn't see those guys. But since we've added Henderson, we're certainly better than any White Sox team since then."24
Most pointedly, Tanner couldn't seem to help dragging up the Henderson-Willie Mays comparisons. He anointed Henderson the White Sox's starting center fielder, and the White Sox gave him Mays' uniform number, 24. "He was going to be the successor to Willie Mays as the Giants' center fielder," Tanner said. "That never came to pass. But he can be our Willie Mays now."25
Far from disturbed by the renewed reference to Mays, Henderson warmly remembered Tanner years later, as he did with other individuals, like George Genovese, who raised the Mays comparison. He called Tanner "my favorite manager ever. I owed him a lot. What I really liked about him was there was nothing that got him down on a player. I was around when the White Sox had Richie [Dick] Allen, and Chuck never got down on Richie, and that was one of the reasons Richie played so well for Chuck. Chuck knew how to manage players and get the most out of them. I think Chuck got the most out of me. He was great with players. Absolutely the greatest."26
For a time, it seemed as if Henderson and the White Sox would make good on Tanner's high hopes in 1973. Henderson hit a grand slam off the A's Rollie Fingers in a 6-3 win on April 12 and said he found Comiskey Park to his liking. He sounded undaunted by the park's big dimensions, saying if a ball was hit well enough it would clear the fences.
But the good start was not a good omen: 1973 turned into an injury-filled disappointment for both him and the White Sox. Instead of winning even the division, let alone the pennant, they finished fifth in the West with a 77-85 record. Allen suffered a hairline leg fracture on June 28 and missed a month. Upon his return, still hobbled, he played only briefly before his season ended on August 2. The White Sox had been contenders to the point of Allen's injury. In fact, they moved into a first-place tie the day after he was hurt. But they tumbled afterward. Wood wasn't as effective as he was the year before and 38 players spent time on the disabled list. That included Henderson, who was batting .311 when he tore up a knee sliding into home plate on May 25 against Cleveland. He was put on the 15-day supplemental disabled list the next day. White Sox officials hoped he would return by early June, but he didn't return until July. He played until August 7 but the injury was much worse than people thought, Henderson said. His batting average dropped steadily, reaching a low of .252 on July 17. He returned to the disabled list on August 14 and did not play the rest of the season.27 Limited to 73 games, he hit .260 with six homers. In the first year of the designated hitter, Henderson was the White Sox's DH in 26 games. He played 36 games in center field and eight in left field, not the White Sox version of Willie Mays that Tanner had hoped for.
White Sox general manager Roland Hemond, who made the trades and signings that had rebuilt the team, later said the injuries to Henderson and Allen "robbed us of an opportunity. I think we would have had a shot at [the World Series] that year."28
Henderson said Tanner still had faith in him, though "a lot of people didn't think I could come back. But I wanted to prove that I could be the player they traded for."29 On September 10, 1973, Henderson underwent what a team spokesman said was "highly successful" knee surgery. Dr. Fred Behling removed torn cartilage at Stanford University's Medical Center. The doctor said Henderson would be fully recovered by spring training 1974, showing no ill effects from either the injury itself or the surgery.
The doctor was right: Henderson was back to full health in 1974 and, finally, was a full-time center fielder. The result was perhaps his best season. Playing in all 162 games—every one of them in center field—Henderson batted .292 with 20 home runs, 95 RBIs, and 176 hits. He was fourth in the league in both RBIs and hits, and fourth in WAR. He had a career-best .467 slugging average and an OPS of .827, the second-best of his career behind 1970. He was edged by Baltimore's Paul Blair in player voting as the center fielder on The Sporting News end-of-season AL All-Star team. It was the narrowest vote margin for any position on the team. Henderson finished 19th in American League MVP voting and was puzzled about not finishing higher. He was also disappointed that he did not win a Gold Glove, although he led AL center fielders in putouts and had a better fielding average than the three winning outfielders (Joe Rudi, Amos Otis, and Blair). His grumbling was low-key, however, and he had no fault with the three winners. He received some consolation, in any case, when he was voted the White Sox player of the year by Chicago baseball writers. "I'm glad somebody noticed," he said.30
Despite Henderson's outstanding year, the White Sox again did not win the division. They were contenders for much of the season, sitting in second place in the West near the end of July. But it was a difficult season, with clubhouse dissension and Allen leaving the team on September 14 amid controversy and sparring with management. The White Sox finished fourth at 80-80, nine games behind Oakland.
In the off-season, Henderson attended college for the first time, taking courses in, among other subjects, psychology and physical science at West Valley (California) Junior College. He had to lock himself in a room two or three hours a night to study, while Kenny Jr., then 5, and daughter Virginia, 7, found "it hard to understand this sudden change in the Henderson winter lifestyle. 'I really enjoy getting back to school, though. It's not as tough as I thought it was going to be,' he added. 'It's going to take me eight years—semester at a time—to graduate, but I plan to complete a four-year course."31 (He would not finish his degree: His career and growing family took priority over more classwork.)
When the 1975 season started, Allen was gone, and the White Sox fell off further, landing fifth in the West at 75-86. Henderson's performance slipped, too. He played in 140 games, batting .251 with just nine homers. Afterward, he was traded to Atlanta in a multi-player deal that brought former NL batting champion Ralph Garr to Chicago. In 1976 for the Braves, Henderson batted .262 in 133 games with 13 homers and 61 RBI. After the season, he was part of a large package of players and cash the Braves dealt to Texas for outfielder Jeff Burroughs, the former AL MVP.
In spring training 1977, Henderson was on the field when one of baseball's most notorious incidents occurred: second baseman Lenny Randle's attack on Rangers manager Frank Lucchesi. Henderson had to be restrained from going after Randle. Still upset a day later, Henderson called it "one of the worst things I've ever witnessed. No way I'm going to play on the same field with [Randle] again."32 Yet as it developed, they were teammates again in 1980 with the Cubs.
Despite this incident and burning through four managers, the 1977 Rangers finished 94-68, second in the AL West behind Kansas City. Henderson played part-time in a crowded Texas outfield, batting .258 with five home runs and 23 RBIs in 75 games and 267 plate appearances.
Injuries were adding up and his career was in what appeared to be a journeyman phase. Yet, much like the Giants years before, teams continued to think highly of Henderson and to give him opportunities.
Henderson joined the Mets as part of the four-team trade in March 1978 that also involved the Braves and Pittsburgh Pirates. He started in center field for New York on Opening Day, batting 1-for-3 with an RBI. Three days later, he was 2-for-3, hit a homer, and drove in three runs as the Mets blanked the Cubs 6-0. But in their seventh game, on April 12, he injured his foot running into the outfield wall while chasing a fly ball. He was placed on the disabled list. After being reactivated, he was traded on May 19 to Cincinnati for reliever Dale Murray. He batted .167 in 64 games for the Reds.
He began 1979 with the Reds, but was bothered by foot ailments and played in just 10 games in May and June, in eight as a pinch-hitter. The Cubs purchased his contract on June 28. He mostly pinch-hit for a team that (as the Cubs often did that decade) tantalized fans but ultimately sank from second to fifth place in the NL East.
Henderson entered 1980 in the last year of a three-year contract, but as a switch-hitter who played all three outfield positions, he considered himself a "sleeper."33 Indeed, he did well enough in the spring to surprise even teammates and was named the Cubs' starting right fielder for Opening Day. But three games later, while rounding second base on a rain-soaked Wrigley Field on April 14, he pulled a hamstring and was placed on the 15-day disabled list. The end came three months later, after he'd appeared in 44 games, 24 as a pinch-hitter. In his final game, July 19, 1980, he pinch-hit and walked against the Padres. He was released the next day.
For his career, in 16 seasons Henderson had a .257 batting average with 122 home runs. His .343 on-base percentage and .396 slugging average gave him an OPS of .739.
When asked to assess his career, Henderson said, "I'll be very frank with all that. I think I could have been better. Not that I didn't have the desire or work ethic. I don't think anyone ever worked harder than me. It's not that I'm disappointed in the way things happened. But I think I should have done more."34
But as he aged, as the toll of injuries added up, especially to his knees, legs and feet, could he have eased up on his body in-season and off-season? It is a question he seems to have asked himself often. "In 1974, at that time I was really focused and my career should have taken off. But I'd torn my knee up in '73. In time, it started to weaken. I didn't have the range I used to. I was a good outfielder and had a good arm and could cover ground. But I think I could have hit better for average, could have hit my 20 homers every year. I think I fell short of what I could have accomplished."35
He started counting up his injuries, the general everyday wear on an outfielder's legs, then paused, and the self-critic in him returned: Was there mental wear and tear as well as physical? "The one thing that I've always asked is, 'Did I try too hard?' Did I push myself too hard, because I did the drills, I did a lot of different drills before games, did a lot of off-season work? Instead of doing the extra sprints, or taking fly balls before games, what if I had cut back and saved on my legs? But that wasn't me."36
He reiterated that the Mays expectations came from others, not him. "There wasn't pressure from any other player, including Willie—no, I didn't feel pressure from that. Some have said it must have been really hard to play behind Willie because he wasn't going to be replaced until he retired. But he was in center field a long time, and I [came to accept] that. So the pressure was my own."37
When his playing days ended, Henderson began a 30-year career in sales and marketing in the San Francisco Bay area. He became a vice president for Staples, the office and business supply retailer. He retired from that career and returned to the Giants in 2010, serving as a director of sales, selling group and corporate season tickets and luxury suites at AT&T Park. He was 64 when he returned to the Giants, more than 37 years after they'd traded him to the White Sox. In summer 2010, he said, "I feel a lot of emotion coming back to the organization that really gave me my first shot at professional baseball. Had it not been for the Giants, I'm not sure that I would have had the success that I had." Because other family members also played for or worked in the Giants' organization, "I feel all this has given me an opportunity to give back to the organization what they gave to our family."38
Henderson retired after two years in the position. It was a good time to be selling high-end Giants tickets, with the team winning the World Series in 2010 and 2012. He also liked mingling with former teammates. "In hindsight, I wish I'd have stayed there longer. I had a great time. We looked for corporate clients for the Giants and I had time to stay at the ballpark for games and meet the clients." He remembered one corporate event where Willie McCovey and he stood at the front of a suite and did a question-and-answer session for the corporate clients. "We looked at each other and said 'Isn't this fun?'"
After spending most of his life in California, Henderson and his second wife, Rhonda, moved in 2014 to Haverford, Pennsylvania, in suburban Philadelphia, to be closer to her children. He said they still spend a month each winter in California to be close to his children, and travel to California other times as well. Henderson likes to golf. He also serves in an advisory capacity for ProTex Sports, a company founded by his friend John Ellsworth. It works with college and high school athletes on the mental side of the game—positive attitudes and mental toughness.
Last revised: February 9, 2023 (zp)

Acknowledgments
Special thanks to Ken Henderson for his memories (telephone interview with Dana Yost, February 25, 2019).
Thanks also to SABR member Dan Taylor for his input. Dan contributed insights from his biography of George Genovese, A Scout's Report, as well as additional thoughts on e-mail.
This biography was reviewed by Rory Costello and fact-checked by Stephen Glotfelty..
Sources
Online
SABR BioProject's Dick Allen biography.
The Sporting News via SABR.org/paperofrecord
Books
Gary Gillette and Pete Palmer, eds., The ESPN Baseball Encyclopedia Fifth Edition (New York: Sterling. 2008).
Joseph L. Reichler, ed., The Baseball Encyclopedia Fourth Edition / Revised and Expanded The Complete and Official Record of Major League Baseball. (New York: Macmillian. 1979).
Bruce Markusen, The Team That Changed Baseball: Roberto Clemente and the 1971 Pittsburgh Pirates (Yardley, Pennsylvania: Westholm Publishing. 2006).
Notes
1 Graham Womack, "Touring the Bases With … Ken Henderson," Seamheads, July 15, 2010, quoting Ken Henderson, as told to Mike Mandel in San Francisco Giants, An Oral History (Santa Cruz, California: Mandel. 1979), http://seamheads.com/blog/2010/07/15/touring-the-bases-with-ken-henderson/.
2 Ken Henderson, telephone interview with Dana Yost, February 25, 2019 (hereafter Henderson-Yost interview).
3 Ibid.
4 Ibid.
5 Ken Henderson, interview with Missy Mikulecky, San Francisco Giants director of archives, March 1, 2019.
6 George Genovese with Dan Taylor, A Scout's Report: My 70 Years in Baseball (Jefferson, North Carolina: McFarland & Company. 2015), 136-137.
7 Ibid.
8 Ibid.
9 Henderson-Yost interview.
10 Sandy Padwe, Newspaper Enterprise Association, "Mays Can't Go On Forever But Henderson Isn't Sure," La Crosse (Wis.) Tribune, May 11, 1967, 21.
11 Ibid.
12 Harry Jupiter, "Injury Hex Becomes Blessing … Henderson Heats Giant Attack," The Sporting News, May 31, 1969, 8.
13 Ibid.
14 Ibid.
15 From footage in "The Giants and the Fox," promotional film, released after 1970 season,
16 Ibid.
17 Ibid.
18 Womack, "Touring the Bases With … Ken Henderson." Also, in the Henderson-Yost interview, Henderson added: "Willie was not the type of player—and maybe right off in being so—who was going to come to you and say 'Hey, Ken, do you need any help, anything you need,' to know about positioning in the outfield, or a pitcher's tendencies. You had to go ask him. Willie was always receptive if you went to him. He didn't say a whole lot, but he was helpful. Willie was a very private individual, but there was one thing he loved to do—he loved to laugh. I can see the smile on his face. He had that real unusual, funny-sounding laugh."
19 Pat Frizzell, "Giants in Search of a Crown Exchange a King for a Fox," The Sporting News, June 6, 1970, 8.
20 Pat Frizzell, "Henderson to Follow Through On His Good Year with the Giants," The Sporting News, October 24, 1970, 22.
21 Womack, "Touring the Bases With … Ken Henderson."
22 Bryan Murphy, "The Ten Best August Performances in Giants History," mccoveychronicles.com, August 6, 2018. https://www.mccoveychronicles.com/2018/8/6/17655184/the-10-best-august-performances-in-giants-history-barry-bonds
23 Ken Rappaport, The Associated Press, "White Sox are picked to win AL," Las Vegas Daily Optic, March 30, 1973, 6.
24 Edgar Munzel, "Now Chisox Have Thunder, Plus Lightning," The Sporting News, December 16, 1972, 48.
25 Edgar Munzel, "Henderson Boosts Tanner's Stock as Swami," The Sporting News, April 28, 1973, 21.
26 Henderson-Yost interview.
27 United Press International, Tyrone (Pa.) Daily Herald, May 29, 1973, 10. Also: ultimate70s.com at https://www.ultimate70s.com/mlb_roster/CHA/1973
28 Bill Nowlin, Roland Hemond biography, SABR BioProject.
29 The Associated Press, Jacksonville (Ill.) Daily Journal, September 11, 1973, 11.
30 Richard Dozer, "Henderson Irked by Bog-Down at Ballot Box," The Sporting News, December 14, 1974, 58.
31 Ibid.
32 Ibid.
33 Dozer, "Kennedy 'Sick' of Dispute, Cubs May Unload Martin," The Sporting News, April 5, 1980, 38.
34 Henderson-Yost interview.
35 Ibid.
36 Ibid.
37 Ibid.
38 Womack, "Touring the Bases With … Ken Henderson."
Born
June 15, 1946 at Carroll, IA (USA)
If you can help us improve this player's biography, contact us.
https://sabr.org/sites/default/files/HendersonKen.jpg
600
800
admin
/wp-content/uploads/2020/02/sabr_logo.png
admin
2019-03-18 12:53:53
2023-02-09 15:32:14
Ken Henderson