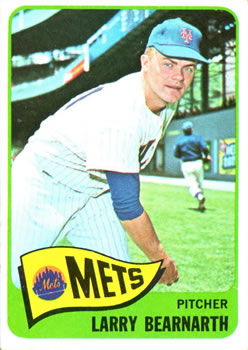 ---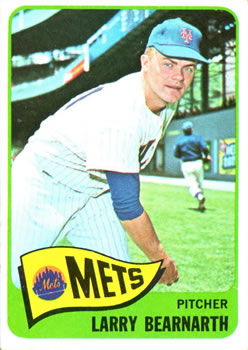 In a poll of National League sportswriters conducted in April 1964, Larry Bearnarth was tabbed as the New York Mets' best young pitcher.1 The franchise's first bonus player and the first hurler to win four consecutive major league decisions, the tall blond right-hander established a club record with 58 appearances during his rookie season. Bearnarth's durability likely contributed to the arm problems that beset him in 1964, problems that eventually led to the premature end of his playing career. The studious hurler quickly converted his vast pitching knowledge into a professional coaching career that spanned four decades.
Lawrence Donald Bearnarth was born on September 11, 1941, the third of four children of John Lennarth and Josephine (Pollock) Bearnarth in New York City, New York. The son of a Swedish immigrant who worked in banking, Larry's early childhood was spent in Brooklyn before the family moved to Staten Island. He attended St. Peter's Boys High School in the New Brighton section of Staten Island where he excelled in basketball and especially baseball. Though an occasional first baseman and catcher, Bearnarth's natural sinker made for a particularly effective prep school pitcher. On August 18, 1959, shortly after he graduated from high school, Bearnarth was selected as the starting pitcher in the 14th annual Hearst's Sandlot Baseball Classic at Yankee Stadium. Sprinkled among the 14,000 in attendance were scouts from each of the then-16 major league clubs. Though an especially inviting prize among the scouts, Bearnarth spurned all contract overtures to enroll at St. John's University in the borough of Queens in New York City.
Under the tutelage of future American Baseball Coaches Association Hall of Fame coach Jack Kaiser, Bearnarth compiled a 32-2 won-lost record for the St. John's Red Storm from 1960-62 (he did not play varsity ball his freshman year). In 1960, Bearnarth went undefeated as he helped St. John's to its second-ever College World Series appearance. He also led his team to the World Series district tournaments in each of the next two seasons, amassing a record of 9-1 with an eye-popping 1.30 ERA in 76 innings during his senior year. A very good right-handed hitter as well, as Bearnarth approached graduation with a degree in English literature in 1962, he drew considerable interest from the Boston Red Sox who wanted to sign the youngster as an outfielder. Instead "Bear," as he nicknamed by his teammates, had his sights on the Mets, whose major league inaugural season was the same year. "New York is a new club," Bearnarth explained. "I think my chances for advancement are best with the Mets."2
In June he received a $17,000 bonus to sign with the expansion team.3 Shortly afterward he married fellow-New York native Barbara J. Flaack. Over the next 10 years the union would produce two sons and two daughters.
On June 20, Bearnarth, who was assigned to the Triple-A Syracuse Chiefs in the International League, made an impressive show in his professional debut: shutting out the Atlanta Crackers over the first six innings before settling for an 8-2 win. Eight days later he collected his second—and last—win of the season with a 2-1 defeat of the Richmond Virginians. Thereafter he suffered 12 consecutive losses for the last-place Chiefs, finishing the season with an unsightly record of 2-13, 6.67 in 89 innings. At season's end, Bearnarth proceeded to the Florida Instructional League where he enjoyed a 180-degree turnaround. In a December poll of the circuit's managers, coaches and sportswriters, Bearnarth was selected to the league's All-Star team. Two weeks later Mets GM George Weiss, who had recently added Bearnarth to the team's 40-man roster, projected the youngster as one of the club's key relievers in 1963 (even though 16 of the youngster's 19 appearances with Syracuse came as a starter).
Weiss' projections proved prescient when Bearnath constructed what The Sporting News described as "a sensational spring."4 Between one intra-squad game, one appearance with the club's Triple-A affiliate, and several Grapefruit League contests against major league hitting, Bearnarth did not surrender a run in 15 innings. Moreover, the Mets were especially impressed with the 21-year-old's poise. They quickly added him to the parent roster.
On April 16, 1963, Bearnarth made his major league debut at Cincinnati's Crosley Field against the Reds. Entering the sixth inning with a 6-4 deficit, he struck out the first batter he faced, rookie centerfielder Tommy Harper, before escaping the inning unscathed after surrendering a double and a walk. Bearnarth was not as fortunate in the seventh when future Hall of Fame outfielder Frank Robinson stroked a single to centerfield and eventually came around to score. Bearnarth dodged another threat in the eight when he induced an All-Star trio of Pete Rose, Vada Pinson, and Robinson into infield outs following a leadoff triple by shortstop Leo Cardenas.
After three additional relief appearances (a successful run during which he did not yield an earned run over seven innings), Bearnarth entered the sixth inning of a slugfest against the Reds. Attempting to preserve an 11-8 lead, he promptly surrendered two two-run doubles and a hit batsman before retiring the side. Fortunately, an eighth inning Mets rally, aided largely by wildness from Reds reliever Al Worthington, afforded Bearnarth his first major league win.
Except for an 11-day stretch through August 3 when he was sidelined by a torn muscle in his side, the righthander saw regular usage throughout the remainder of the season. Though he got two starts—his preferred role—Bearnarth's continual usage allowed him to finish among the NL leaders in appearances (58) and games finished (34). Success gained primarily by the sinker—observers claimed that Bearnarth lacked a major league fastball—also allowed him to place among team leaders in innings (126⅓) and ERA (3.42). In September, Mets manager Casey Stengel, who claimed that Bearnarth was destined to become the best reliever in the majors, said "Big names and big uniforms don't frighten him. He throws those double-play sinkers to them all."5
During the off-season the Mets cited his many appearances throughout the season as reason to deny Bearnarth's request to play winter ball with the Caracas Lions in the Venezuelan League. Instead, he spent the winter doing public relations work for the Mets and several large metropolitan newspapers. On October 29, Bearnarth joined an All-Star roster of New York-based residents that included Gil Hodges and Elston Howard at an award ceremony honoring Brooklyn Little Leagues. In a poll of Bronx Little Leaguers conducted around the same time Bearnarth was voted the Most Popular Met. These and other such events were occurring while the club was busy fending off trade offers for their "ace reliever."6
Usually the off-season rubber chicken circuit had the negative effect of adding unwanted girth to a player's midriff; it was the opposite for Bearnarth, as he reported to the Mets 1964 spring training 12 pounds lighter than the previous year. But a smaller frame did little to improve a horrific Grapefruit League season. Under the direction of the Mets new pitching coach Mel Harder, Bearnarth tried to add another off-speed pitch to his repertoire. "I had been working on a slider… [b]ut I was throwing it too much," Bearnarth later explained. "I went back to the sinker. It had been my big pitch last year. From now on I'm going to stay with it."7
Bearnarth's decision to revert to the sinker came too late to avoid the struggles that continued into the 1964 regular season. He lost three straight decision in April, the last of which coming on an 11th inning bases loaded walk to St. Louis Cardinals pinch-hitter Jeoff Long. On May 16, Bearnarth failed to preserve a ninth inning 4-3 lead against San Francisco when, after retiring the first two batters, Giants great Willie Mays took him deep. "I was able to get the first two batters out because they were human. But there wasn't anything I could do with a superman. That's what Mays is. I threw him a low sinker to the outside corner. It was an impossible ball to hit for a homer. But he did it. How he did it, I'll never know."8
Fortunately, the Mays dinger was one of only seven earned runs surrendered by Bearnarth over a 39⅔ inning stretch that ran through June 16, a span that included victories in four consecutive decisions, then a club record. The successful run included seven innings of shutout relief against the Giants on May 31, followed nine days later by a still-standing team-record 10 innings of relief during a 6-5 win against the Chicago Cubs. The May 31 game produced a more-than-likely apocryphal Stengel-moment when the famed skipper reportedly "went out to talk to Bearnarth [in the 14th inning] with two on, no outs and future Hall of Famer Orlando Cepeda at the plate. 'Tra-la-la,' was all that Stengel said before walking off, leaving a puzzled Bearnarth. On his next pitch, Cepeda [lined] into a triple play to end the inning. Bearnarth couldn't wait to ask Stengel what 'Tra-la-la' meant. 'Tra-la-la, triple play,' replied Stengel."9
The euphoria he felt from his mid-season rebound proved short-lived when Bearnarth was diagnosed with tendonitis in his pitching arm around June 20. Sidelined for nearly three weeks, Bearnarth returned to action in mid-July before reinjuring the arm again. He braved another return in August before his season was completely shut down after a September 9 appearance. "I came back too soon," Bearnarth later confessed. "I was eager to return to action and started pitching again before I really was ready."10
The diagnosis of tendonitis did little to dissuade trade interest from varied clubs including an aggressive pursuit by the Los Angeles Dodgers who offered slugger Frank Howard to the Mets for Bearnarth and lefthanded hurler Al Jackson. Seemingly unfazed about any potential moves because of his busy schedule, Bearnarth spent the off-season working for the Mets speakers' bureau, serve as a substitute teacher at a junior high school, and still found time to write a sports column for a Long Island weekly. Moreover, he joined his close friends Al Jackson, Ed Kranepool and other New York-based ballplayers on a basketball team that raised money for charitable causes. Each of the Mets players' altruistic efforts were rewarded months later with a $250 fine for playing without the club's permission.11
When Bearnarth reported to the Mets' 1965 spring training it was quickly apparent that he was still struggling with arm problems. Nearly three weeks into the regular season he pitched just 3⅔ innings over five appearances as the club tried to bring him along slowly. The deliberate pace proved to be beneficial when from mid-May through June, Bearnarth appeared to recapture his rookie success, a run that included an 11-inning 1-0 win over the Reds on June 14 in which he combined with right-hander Frank Lary on a seven-hit shutout (a pitchers' duel that featured 10 innings of no-hit ball from Cincinnati ace Jim Maloney).
But July revealed another story when Bearnarth collapsed to a 9.69 ERA in 13 innings. His timing could not have been worse. On July 24, 75-year-old Stengel, the pitcher's biggest advocate, retired after breaking his hip in a fall. With the team in route to its fourth consecutive 100-loss season, new manager Wes Westrum immediately began molding the team into his own design. One such move included the August 8 demotion of Bearnarth to the Triple-A Buffalo Bisons in the International League. The move not only deprived the Mets players of a beloved teammate, it forced them to have to select a new player-representative, a position Bearnarth had held since the May 1964 departure of pitcher Jay Hook. After six appearances with the Bisons (five as a starter), Bearnarth returned to the Mets when the major league rosters expanded in September. He absorbed two losses in two starts to finish the season with a record of 3-5, 4.60 in just 60⅔ innings.
In October, the Mets reversed a two-year-old decision and allowed Bearnarth to play winter ball in Venezuela. Two months later the Mets front office was ecstatic when reports filtered back reporting that Bearnarth had posted a 6-2 won-lost record with a league leading 1.67 ERA. What they could not have envisioned was his abrupt departure from the South American country.
Shortly after his arrival, Bearnarth wrote to sportswriter-friend Maury Allen about his observations in Venezuela. Allen had the letter published in the New York Post, contents of which were reprinted in a Valencia, Venezuela, newspaper. "In the letter, Bearnarth related some of his experiences in Venezuela, including several which seemed humorous to him but which were viewed differently by Venezuelan fans,"12 The Sporting News reported. Though he was scheduled to return after a trip home to New York during the Christmas holidays, the ensuing uproar from Venezuelan fans caused Bearnarth to cancel these plans and remain at home until the Mets spring training.
The decision proved to be prescient when, in a near-repeat performance of his 1963 spring training, Bearnarth did not yield an earned run in 15 inning of Grapefruit League play. Though his 1966 season debut showed promise—a near-flawless two innings of relief against the Atlanta Braves in which he gained the win—the rest of the season was generally a rollercoaster ride of successes and failures. The latter were often the result of an inexplicably high yield of home runs, more than double the HR/9 league average of 0.9. On August 3, in what proved to be his next-to-last appearance in the National League, Bearnarth yielded a single and two homers, including a grand slam to San Francisco Giants outfielder Jim Ray Hart, in just one-third of an inning. Four days later he was optioned to the Triple-A Jacksonville Suns in the International League.
Bearnarth was a versatile asset in the Mets farm system over the next four years with Jacksonville and, after the Triple-A affiliate moved to Virginia, the Tidewater Tides. On June 12, 1967, as a last-minute replacement for a sore-armed Nolan Ryan, Bearnarth pitched 8⅔ innings on two days' rest to lead the Suns to a 3-2 win over the Bisons. A month later he went behind the plate for the first time since high school to spell an injury-riddled catching corps. Following a miserable start the next season, Bearnarth rebounded to help lead the Suns to the 1968 Governor's Cup Championship, then led the 1969 Tidewater Tides to the same title with a near league leading 11 wins as the club's pitcher-coach. Throughout this time there was no indication that the Mets were interested in promoting Bearnarth. Instead shortly after the end of the 1970 season the club sold him to the Milwaukee Brewers.
The Brewers had just completed its second season of major league existence, an experience Bearnarth likely felt very familiar with from his years with the early Mets. Invited to the club's 1971 spring training, Bearnarth captured the Brewers' last pitching slot in a close competition with 23-year-old right-hander Wayne Twitchell. Bearnarth was elated at returning to the majors, but the euphoria was short-lived: two months into the regular season, Bearnarth had made just one challenging appearance. On May 30, he entered the ninth inning of a game against the Detroit Tigers behind by two with two runners on base. Bearnarth promptly surrendered a three-run homer to future Hall of Famer Al Kaline and yielded singles to each of the next two batters before he was lifted from the game. It proved to be his last big-league appearance. He concluded a five-year major league career with a record of 13-21, 4.13 in 322⅔ innings. Two weeks later he was assigned to the Triple-A Evansville (Indiana) Triplets in the American Association. When the season ended he accepted a job as the Montreal Expos minor league pitching instructor.
Though injuries to the Expos Triple-A affiliate would compel him to take to the mound three additional times at the end of the 1972 season, Bearnarth's primary focus over the next 20 years was the development of some the franchise's finest pitching prospects including future major league standouts such as Shane Rawley, Steve Rogers, and Don Stanhouse. In 1976, Bearnarth was promoted to the parent club during the short managerial stint of Expos skipper Karl Kuehl, while returning to the club for a much longer stretch (1985-91) under manager and close friend Buck Rodgers. (Between the major league stints Bearnarth spent four years as a minor league manager in the Expos farm and in 1980 directed the Class-AA Memphis Chicks to the Southern League finals where they fell to the Cal Ripken-led Charlotte O's.) Under Bearnarth's tutelage the Expos posted an NL best 3.37 ERA in 1990, preceded two years earlier by a then-franchise best 3.08 ERA (a figure eclipsed only by the Washington Nationals 3.03 in 2014). In 1987, the Expos bullpen won the NL Rolaids Relief Award for teams and two years later tied the World Champion Reds with 50 saves. It was around this period that Dennis Martinez credited Bearnarth for helping resurrect the four-time All-Star's career, while Rodgers was singing his praises: "He's done a tremendous job. The staff has been a force in the league."13 Bearnarth's long tenure with the Expos ended after the 1991 season, months after Rodgers was fired mid-year.
In January 1992, in a career consistently associated with young franchises, Bearnarth was hired by GM Bob Gebhard as a pitching consultant for the newly awarded Colorado Rockies (the longstanding Bearnarth-Gebhard bond was originally formed when the latter was pitching in the Expos farm system in 1974-75). Bearnarth played a pivotal role in the scouting and eventual selection of 20 pitchers taken by the Rockies in the 1992 major league expansion draft. When the team began play in 1993, Bearnarth was tabbed as the franchise's first pitching coach. During his three-year tenure with the Rockies he was credited with guiding and/or reviving the careers of pitchers such as Rawley and Darren Holmes, two of the hurlers who helped lead the club to a NL Wild Card berth in 1995. Though he chose to leave the Rockies after the season, Bearnarth was proud that part of his Colorado stint was shared with his daughter Karin, who worked for the club's public relations department. In November 1996, Bearnarth was considered for the job as the pitching coach for the Philadelphia Phillies alongside former teammate Galen Cisco (they were two of a remarkable six Mets pitchers from 1962-63 who eventually became major league coaches). Instead he accepted a position as a scout for the Tigers.
In the 1970s Bearnarth moved his family from New York to Florida. On at least one occasion he returned to the Big Apple to participate in a Mets Old Timers' Game. Throughout his life Bearnarth was an avid sports fan and a dedicated St. John's University alum. Tragedy struck the family in 1998 when the youngest son, 26-year-old Erik, died from injuries sustained in an automobile accident. Thirteen months later, on December 31, 1999, Bearnarth passed away from a sudden heart attack. He had celebrated his 58th birthday just three months earlier. He was buried at Memorial Park Cemetery in St. Petersburg, Florida.
Sources
In addition to the sources cited in the Notes, the author consulted Ancestry.com and Baseball-Reference.com.
Acknowledgments
The author wishes to thank SABR members Bill Mortell for research assistance, and David H. Lippman for review and edit. This biography was fact-checked by Kevin Larkin.
Notes
1
"N.L. Writers Make Their Picks,"
The Sporting News
, April 25, 1964: 12.
2 Joe King, "Mets Scurry to Ink Bevy of Kid Beauts; Swap Pitch Fizzles," The Sporting News, June 30, 1962: 18.
3 Other sources set the bonus as high as $25,000.
4 Barney Kremenko, "Casy Gives Bat Diploma to Kranepool," The Sporting News, April 20, 1963: 10.
5 "Larry Bearnarth Stats," Baseball Almanac. (http://bit.ly/2C7krWV ).
6 Barney Kremenko, "Mets Muster New Punch in Carmel's Bat," The Sporting News, September 14, 1963: 20.
7 Barney Kremenko, "Bauta Rates as Surprise in Mets Camp," The Sporting News, April 4, 1964: 24.
8 Barney Kremenko, "Bearnarth's Sinker Proves a Lifesaver for Struggling Mets," The Sporting News, June 6, 1964: 17.
9 Barry Duchan, "Old Time Mets: RHP Larry Bearnarth," MetsMerizedOnline.com, May 11, 2012. (http://bit.ly/2C2FTdg ).
10 Barney Kremenko, "Bearnarth Learned Costly Lesson: Don't Rush an Ailing Wing," The Sporting News, November 21, 1964: 22.
11 In 1966, Bearnarth's generosity was again noted (this time without risk of a fine) when the Larry Bearnarth Fan Club—one of many established by the Mets in the names of their frontline players—donated 138 toys to children's hospitals in New York City.
12 "Bearnarth Beats Retreat; No Visas from Venezuela," The Sporting News, January 1, 1966: 27.
13 Ian MacDonald, "Alive and Kicking in Montreal," The Sporting News, August 10, 1987: 12.
Full Name
Lawrence Donald Bearnarth
Born
September 11, 1941 at New York, NY (USA)
Died
December 31, 1999 at Seminole, FL (USA)
If you can help us improve this player's biography, contact us.
https://sabr.org/sites/default/files/Bearnarth%20Larry.jpg
600
800
admin
/wp-content/uploads/2020/02/sabr_logo.png
admin
2018-02-22 15:33:21
2020-04-09 14:40:23
Larry Bearnarth