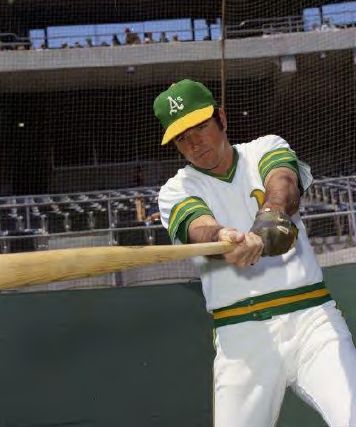 ---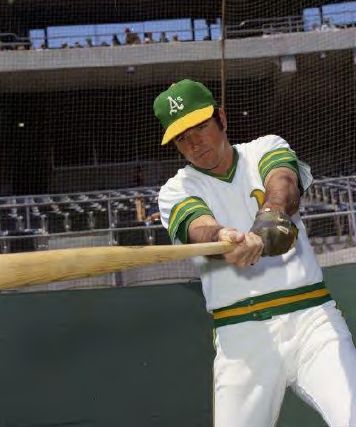 A gritty and hard-nosed middle infielder, Larry Brown debuted as a 23-year-old with the Cleveland Indians in 1963. Once described by The Sporting News as "one of the top shortstops in the league," the 150-pound Brown proved that a rifle arm, sure hands, defensive versatility, and sheer determination could lead to 1,129 games in a productive 12-year major-league career despite a .233 career batting average.1 After primarily starting during his tenure with the Indians (1963-1971), Brown served as a veteran utilityman with the Oakland A's (1971-1972), Baltimore Orioles (1973), and Texas Rangers (1974).
Larry Leslie Brown was born on March 1, 1940, in Shinnston, a small coal-mining town in the Appalachian hills of north-central West Virginia, about 35 miles from Morgantown.  His parents were Raymond and Dora (Jones) Brown. "My dad was a coal miner and I would have been one also, but we moved to Florida when I was 2 years old," Brown told the author.2 At the suggestion of a physician, the family relocated to Lake Worth in Palm Beach County on the Atlantic coast where the year-round warm climate benefited Brown's mother, who suffered from arthritis and was confined to a wheelchair. His father opened a country grocery store with a gas pump in front and the family's living quarters in the rear.
Brown started playing baseball by the age of 10, influenced by his only sibling, Dick (five years older) and another neighborhood kid, Herb Score. "I was a follower of those guys," he said honestly. "I wanted to be a pro baseball player by the time I was 12 or 13 years old when Herb and Dick signed with the Cleveland Indians [in 1952 and 1953 respectively.]" Gifted with speed, agility, and natural athleticism, the right-handed Brown progressed through Little League and Pony League, and later starred as an all-conference basketball and baseball player at Holy Name High School in Lake Worth. "I don't remember any scout at my games until I was a senior," said the 5-foot-10 Brown. "I pitched and played shortstop, and talked to maybe four or five scouts."
In an era when scouts were not permitted to sign high-school prospects, Brown anticipated signing his first professional contract the day he graduated in 1958.  "I went to my graduation dance and kept calling home asking my dad if anyone called," Brown reminisced with a chuckle. "I was disappointed that no one did."
Brown's agonizing wait ended in July when the Cleveland Indians invited him to a tryout at Municipal Stadium. "It was the first time I was ever on an airplane," said Brown of his life-changing event. "I worked out with the Indians for a week. Frank Lane was the general manager and Joe Gordon was the manager, but nobody said a word to me. I dressed with the players in the locker room, took batting practice, and took infield practice like I was with the team. I was finally told that they are going to sign me to a contract."
Just 18 years old, Brown signed with Cleveland scout Mike McNally and was assigned to the Cocoa Indians in the Class D Florida State League earning $200 per month in 1958.3 He inaugurated his professional baseball career by smashing a home run in the second at-bat of his first game. Over the course of 65 games, Brown hit at a respectable .264 clip, and more importantly "scintillated defensively" at shortstop (in the poetic words of The Sporting News).4
After batting a career-best .300 with the Selma (Alabama) Cloverleafs in the Class D Alabama-Florida League in 1959, Brown impressed Cleveland brass in the Florida Instructional League in the fall of 1959, earning a promotion to the Reading (Pennsylvania) Indians in the Class A Eastern League in 1960.5  Though his average dipped to .236, he hit a career-high 15 home runs to tie another hot shortstop prospect, the New York Yankees' Tom Tresh, for eighth-most in the league.
Brown parlayed a productive showing in the Florida Instructional League (he batted .298 and was named second-team all-star) into an invitation as a nonroster player to his first big-league spring training in 1961.6 "It really wasn't a big deal," said Brown. "I never thought about making the ballclub and wasn't in awe of the players." After a look-see, Brown was assigned to the Triple-A Salt Lake City Bees (Pacific Coast League).
Despite his success, Brown's future as shortstop with the Indians seemed cloudy.  Hard-hitting slugger Woody Held occupied the position with the parent club and prospect Jack Kubiszyn (who batted a combined .330 in Double-A and Triple-A in 1960) made the Opening Day roster. When Kubiszyn was optioned to Salt Lake City in midseason, it had a ripple effect in the organization. "The Indians sent me back to A-ball in Reading (Pennsylvania) in midseason in 1961," said Brown, who suffered a broken bone in his hand and batted just .214 in 68 games with the Bees. "They told me, 'We think you'll have a better chance at making it if you play second base.'" Brown made a seamless transition to his new position and improved his average to .299 in the Eastern League.
Brown spent the offseasons throughout his baseball career in the West Palm Beach area. In January 1962 he married Helen Boynton, a transplant from Atlanta, who was in the insurance business. Together they raised three girls, and celebrated their golden anniversary in 2012.
Brown displayed his rifle arm at the keystone position for the Triple-A Jacksonville Suns of the International League in 1962. After the Indians added Brown to their 40-man roster in the offseason, he subsequently missed spring training with Cleveland in 1963 while he finished a six-month tour of duty with the army as the Vietnam War played havoc with rosters throughout Organized Baseball.
"I opened the season in Jacksonville at second base in 1963," said Brown. "Cleveland had two players get hurt: (shortstop) Dick Howser, and Held broke his finger. The Indians called me up. Gabe Paul, the general manager, told me that I might be up for a while. I was 23 and it was time to either make it or break it."
Brown debuted on July 6, 1963, against the New York Yankees in front of almost 58,000 spectators at Municipal Stadium. Pinch-hitting for left fielder Tito Francona, he struck out against Al Downing in the sixth inning and then took over second base in the seventh. He bunted for his first big-league hit, walked in his second at-bat, and scored twice in the Indians' 11-6 loss.  "I hadn't played shortstop in two years," said Brown, "and wound up playing 46 games at short and 27 at second base for the rest of the season."
Brown's first big-league round-tripper was part of an AL record-setting four consecutive home runs in the second game of a doubleheader against the Los Angeles Angels on July 31. After Held, pitcher Pedro Ramos, and Francona victimized reliever Paul Foytack in the sixth inning, Brown came to the plate. "In those days, you had to think that you were going down," said Brown bluntly. "Foytack threw the first two balls right down the middle. Now I had to hit. He threw another down the middle and I hit it out of the park." Praised for his "good bat control," Brown finished the season with a surprising .255 average (63-for-247) for the fifth-place Indians.
Indians beat reporter Hal Lebovitz described Brown's fieldwork as "acrobatic" and "flashy," yet the 24-year-old infielder was relegated to the bench to start the 1964 campaign.7  Management questioned whether he was strong enough to hold up during a 162-game season. "I had never thought about my size as a handicap," said Brown matter-of-factly. When Held was moved to center field to replace the injured Vic Davalillo on May 6, Brown took over the keystone sack.  Brownie (as he was known throughout his career) displayed surprising pop in his bat, smashing a career-high 12 home runs. Against the Detroit Tigers in May, he hit two home runs in a game for the only time in his career. Boils on his right knee limited his play over the last five weeks of an otherwise promising season during which he played in 115 games and batted .230.
Brown was the Indians' Opening Day second baseman in 1965. "We were in Boston on our first road trip (on May 9) and Howser got sick," said Brown. "I hear from manager Birdie Tebbetts, 'Brownie, you're playing shortstop.' I went 5-for-10 and made some good plays in the hole even though I had hadn't played (much) shortstop for two years." Brown became the everyday shortstop after the All-Star Game when Howser suffered a sprained ankle. "I had a better arm than Howser," said Brown. "I wound up taking his job and stayed at shortstop until 1970. I always say, 'Don't ever get out of the lineup because someone is going to take your job.'" Brown was batting a robust .285 in early September when tragedy struck. His daughter was run over by a car. She fortunately recovered fully; but Brown said it was difficult to concentrate on baseball in light of the event. He lost more than 30 points off his average in the month and finished with a respectable .253 (league average was .242) in 124 games, registered a career-best 22 doubles, and matched his career high of 40 RBIs from the previous season for the fifth-place Indians.
"I liked playing shortstop and the long throw," said Brown when asked which middle infield position he preferred. "Second base was easier. The only hard thing is when you have a left-handed hitter and you've gotta go left to the bag to make a double play. At second base you can knock the ball down, spit on it, play with it, and still throw the guy out at first. At shortstop you got to field the ball cleanly and get rid of it."
Throughout his tenure with the Indians, Brown had a reputation as a player's player with a positive team-oriented attitude. He was blessed with a good voice, and he and teammates Fred Whitfield and Chuck Hinton were known to strum guitars and sing country music in the clubhouse. Brown's boundless enthusiasm and hard-nosed play made him a fan favorite. Good-natured and modest, he was honored in the spring of 1966 with the Golden Tomahawk award given annually by the Cleveland chapter of the Baseball Writers Association of America to the most underrated player on the team.
Notwithstanding the award, 1966 proved to be a forgettable year for Brown. On May 4 at Yankee Stadium he collided violently with muscular left fielder Leon Wagner and suffered a fractured skull, nose, and cheekbones. He required operations on both cheekbones, was hospitalized 18 days, and missed six weeks. "I probably came back too soon and wasn't in midseason shape," said Brown, who also lost ten pounds. He finished the season with a .229 batting average in 105 games.
"I was a dead pull hitter," said Brown. "I wanted a fastball and swung at the first pitch. I liked the ball high like most small guys." Though Brown never fulfilled the promise his batting average and home-run totals his first two years suggested, he worked tirelessly on his batting stance and swing throughout his career. "Hoot Evers, our farm director, would tell me, 'Brownie, just get jammed every once in a while.' What he meant was that I had to hit the ball to the opposite field," said Brown.
Brown was brutally honest about his struggles at the plate. "I'd get a sinker or slider down and away and hit a sharp grounder right down the third base line, instead of learning to slice the ball over the first baseman's head or hitting it foul. I'd just try to hit the ball hard. That's how you hit .230 in your career. If I had my career to do all over again, I'd learn how to hit to the opposite field."
Brown's "value to the Indians certainly isn't reflected in the cold, cruel statistics," wrote Indians beat reporter Russell Schneider.8 At no time was that more evident than in 1967 and 1968 when an injury-free Brown started 150 games each season at shortstop. In an offensively depressed era, Brown batted .227 and .233 respectively; however, the figures corresponded to the league averages of .236 and .230 in that pitching-dominant era. Brown provided invaluable infield stability, helped develop his travel roommate, Vern Fuller, into a starting second baseman, and ranked among the league leaders in putouts (fourth both seasons) double plays (second in 1967), and assists (fourth in 1967).  Brown was often removed for a pinch-hitter in the late innings, but provided some insightful context to his perceived hitting woes. "When I played for (manager) Joe Adcock in 1967, he told me, 'Brownie, I don't care what you hit. Just go and catch the ball.' But he also took the bat out of my hands," explained Brown. "I never swung when I was ahead of the pitcher. I always had to take the pitch. That means that I was hitting with a full count or behind the pitcher. And your average goes down."
Reporter Russell Schneider wrote that Brown had "to prove himself year after year" to Indians managers and was under constant pressure to earn a starting job.  "When manager Al Dark came to Cleveland in 1968, he told me, 'Brownie, you're gonna be a great utility infielder.' I told him that I don't want to be a great utility infielder. I want to be a mediocre regular and want to get dirty every day," said Brown. Annual trade rumors swirled around Brown after his collision with Leon Wagner, and intensified after Dark's arrival. Even though Brown played in a team-high 306 games in 1967-1968, he was made available in the major-league expansion draft in October 1968 (but was not drafted).
"He's not spectacular, but he can do everything well," said Vern Fuller of Brown in 1969.9 However, Dark was not convinced about Brown's ability. "All I'm asking for is a fair shake to win the job," said Brown when Dark all but promised offseason acquisition Zoilo Versalles the starting shortstop job in 1969.10 Brown beat out Versalles as the Opening Day starter, but ultimately lost the job to 22-year-old rookie Eddie Leon in mid-July. Consequently, Brown saw his playing time radically reduced over the last ten weeks of the season (July 16 to October 1). Among his 42 appearances, he started only 28 times, including 21 at third base — where he had never played in his entire professional career. "Not good," said Brown when the author asked about his relationship with Dark. "Al Dark wanted to control everything. I'd been in the big leagues for five years, but I had to look at Dark on every pitch and he would move me (in the field). When you control the players, you inhibit them."
As a versatile utility infielder in 1970, Brown started games at shortstop (19), third base (9), and second base (8), and saw action as a late-inning defensive replacement among his 72 games. Less than a week after Opening Day, his brother Dick, a scout with the Baltimore Orioles and a former big-league catcher (1957-1965), died tragically at 35 from a brain tumor.  While 20-year old rookie shortstop Jack Heidemann struggled at the plate (batting .211) and in the field (his 23 errors ranked second-most in the AL), Brown showed he could still play despite his age (30). In the first game of a doubleheader on July 26 against the Kansas City Royals, he tied a big-league record with five double plays from the shortstop position and also recorded a season-high three hits in a 6-5 victory.
In a tumultuous offseason, Brown instigated his eventual trade to the Oakland A's by his incendiary comments at an awards banquet. "I was unhappy about not playing, but Dark wanted me on the bench as a utility player. I loved Cleveland and was an Indian by heart," he said. "Dark got up and said that we have a set group of starters. Well, it didn't include me. In front of everyone, I said that unfortunately for me, Dark is the manager and I won't get a chance to play shortstop in spring training. Nobody said a word to me in spring training."
Heidemann was injured in spring training, and Brown was unexpectedly Cleveland's Opening Day shortstop in 1971. In the third game of the season, he went 2-for-4 and knocked in a career-high five runs in victory over the Boston Red Sox. "I think I've done pretty well as a fringe player," Brown told The Sporting News sarcastically. "Here I am in my eighth year in the majors. Not bad."11 Two weeks later he was sold to the A's for a reported $50,000.12 "[Trades] are one of the bad things about being a ballplayer," said Brown, who added that they take an economic and psychological toll on the family. Brown made starts at shortstop (25), second base (16), and third base (4), but batted only .196 for the A's.
"I went to Oakland and never was happy," said Brown honesty. "I was an outsider on that team and never really felt part of it. I wasn't one of the guys who came up through their minor leagues or played in Kansas City."
Brown replaced second baseman Dick Green, who was suffering from an ailing back, in the second week of the 1972 season. He started 44 of the team's 45 games from April 26 to June 18, but was running on fumes physically. "My legs started hurting and I had a bad back," said Brown, "and finally landed on the DL in mid-June." In excruciating pain, Brown heard from Chicago White Sox third baseman Bill Melton about an experimental treatment involving the injection of enzymes made from papaya. "I had the injection in my lower back and was in the hospital for about a week," said Brown. "Three weeks later I was running the bases and fielding groundballs. It was late August and the season was winding down and I think I am going to play. (Manager) Dick Williams told me I'll be activated."
Brown's excitement about his recovery and the possibility of playing in his first postseason was met with frustrating news. "It turns out that I am on the 60-day disabled list. I'm through for the season — I can't play. Williams tells me I can work out with the team, but that I could also leave the team and go back to my wife and kids in Florida." With no role on the team, no chance to play, and an invitation to leave, Brown's fate was sealed.
More than 40 years after the event, Brown still felt insulted by the way the A's treated him. Despite his contributions to the team, he was not invited to the World Series. To top it off, notoriously cheap team owner Charlie Finley sent Brown a package with a faux World Series ring. Upon reading the enclosed card praising the ring as "finest quality synthetic white sapphire," Brown called Finley to voice his objection. As with most situations, Charlie O didn't budge. Brown wasn't surprised by his release in the offseason.
Brown was invited to Miami to participate in the Orioles' spring training in 1973. He had contacts in the organization owing to his brother Dick's association as a player and scout with them. "On the first day of spring training, Earl Weaver asks me how my back is," said Brown. "I tell him fine and then he says that I'm on the team."
The Orioles Gold Glove-winning infielders were remarkably healthy in 1973. Second baseman Bobby Grich started all 162 games, shortstop Mark Belanger played in 154, and third baseman Brooks Robinson played in 155. "You gotta be at the right place and the right time," said Brown with a laugh. "I only batted 28 times the entire season." Among his seven hits was his last big-league round-tripper, a two-run shot off reliever Lindy McDaniel in Baltimore's 9-6 victory over the Yankees in the Bronx. After 11 seasons in the majors, Brown's long wait to play in his first postseason game came to an end on October 7 at Municipal Stadium against the A's in the AL Championship Series. In the Game Two loss, Brown took over third base in the final frame for Brooks Robinson, who had been lifted for a pinch-runner.
In the offseason Brown refused a minor-league contract for $14,000 with the Rochester Red Wings. "I was making $30,000," he said. "I told (Orioles GM Frank) Cashen that if I can't make it in the big leagues I'm retiring."
Brown was not quite ready to hang up his spikes. "I called (manager) Billy Martin," he said. "The Rangers played in Pompano, not far from my house. I hit a double in my first spring-training game and Martin told me that I'm on the club." The 34-year-old Brown provided veteran leadership on a young club en route to its first winning season since its move to Arlington, Texas. Used primarily as a defensive replacement, Brown batted .197 in 76 at-bats.
The Rangers did not invite Brown to spring training in 1975, thereby bringing the versatile infielder's professional baseball career to a close. In 12 big-league seasons, Brown batted .233 (803-for-3449) with 47 home runs and 254 RBIs. He batted .262 in six years in the minors.
Brown's transition to his post-playing career was not as easy as he anticipated. "I spent 17 years worrying about what I was going to do, but when it was over, I still wasn't sure what I'd do," he said candidly. From the late 1960s until 1982 he coached in baseball clinics in the offseason and had a cerebral approach to the game. "I think Billy Martin wanted to groom me as a coach, but I couldn't support my family on a minor-league coach's salary," said Brown, noting that he turned down offers from major-league clubs to serve as a minor-league instructor. Brown found his niche in his hobby. An avid tennis player, he devised a specialized tennis visor and began a small business producing and selling them. He operated the company for almost two decades.
As of 2014 Brown resided with his wife, Helen, in the Palm Beach area. As trim as he was in his playing days, Brown revealed his passion and youthful enthusiasm when he talked about baseball from his era. "Big old Municipal Stadium was a great place," he said nostalgically. "The best sound in the world was when I'd walk down the hill from the hotel to the ballpark and I'd hear someone taking batting practice in an empty stadium. The sound of the bat and that crack — that was amazing."
Sources
Schneider, Russell, The Cleveland Indians Encyclopedia, 3rd edition (Champaign, Illinois: Sports Publishing LLC, 2005).
—— Whatever Happened to Super Joe? CatchingUp With 45 Good Old Guys from the Bad Old Days of the Cleveland Indians (Cleveland: Gray and Company, 2006).
The Sporting News
Author's interview of Larry Brown on October 7, 2013, and subsequent correspondence.
BaseballReference.com
Diamond Mines. National Baseball Hall of Fame. scouts.baseballhall.org/scout?s-sabr-id=f0429c9e
Retrosheet.org
MLB.com
SABR.org
Notes
1 The Sporting News, August 12, 1967, 11.
2 The author expresses his gratitude to Larry Brown for his interview on October 7, 2013. All quotations from Brown in the biography are from this interview unless otherwise noted.
3 Diamond Mines. National Baseball Hall of Fame. scouts.baseballhall.org/scout?s-sabr-id=f0429c9e
4 The Sporting News, August 6, 1958, 39.
5 The Sporting News, December 9, 1959, 21.
6 The Sporting News, December 14, 1960, 37.
7 The Sporting News, May 30, 1964, 9.
8 The Sporting News, October 28, 1967, 27.
9 The Sporting News, January 14, 1969, 42.
10 Ibid.
11 The Sporting News, April 24, 1971, 26.
12 The Sporting News, May 8, 1971, 32.
Born
March 1, 1940 at Shinnston, WV (USA)
If you can help us improve this player's biography, contact us.
http://sabr.org/sites/default/files/LarryBrown.JPG
600
800
admin
/wp-content/uploads/2020/02/sabr_logo.png
admin
2012-01-04 20:04:01
2022-09-08 16:01:52
Larry Brown