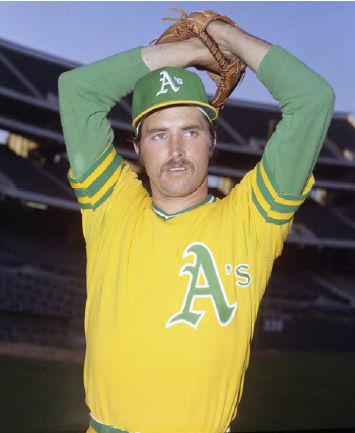 ---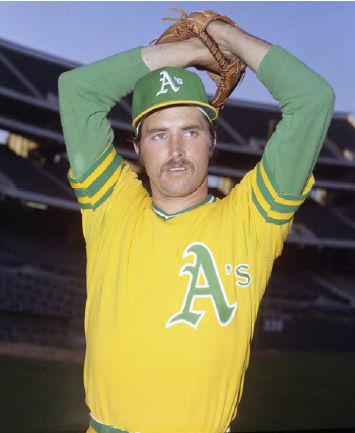 The 1974 Oakland Athletics pitching staff was a dominant bunch. Led by the trio of starters Catfish Hunter, Vida Blue, and Ken Holtzman, and the brilliant relief work of Rollie Fingers, the A's led the majors in six pitching categories, won 90 games, and claimed their third consecutive world championship. They were not without good fortune, however. During the season the team's hurlers largely escaped injury, and that circumstance combined with the trio's remarkable durability (they started 73 percent of the team's games and totaled 59 percent of the total innings) allowed Oakland to use just 11 pitchers over the course of the season, still another metric that was the lowest in the major leagues (tied with Baltimore).   
Yet that number was somewhat misleading. In actuality, Oakland essentially relied on just nine pitchers during that championship season, as two men made only token appearances. In September right-hander Bill Parsons tossed two innings in the final four of what became 93 career major-league appearances. And over three weeks during April and May, 26-year-old right-hander Leon Hooten worked eight innings in six games.
They were the only innings of Hooten's major-league career.
Pitching for the A's represented for Hooten a homecoming of sorts. He was California-born and -bred, albeit in Long Beach, some 400 miles south of Oakland. Online references state that he was born in Downey, roughly 15 miles northeast of Long Beach; in 2013, however, Hooten explained in an interview, "I happened to be born at Downey Hospital, but we weren't living in Downey; we were living in Long Beach. My parents just happened to be passing through Downey."
His parents, Earl and Dorothy, were just 20 and 15 years old respectively when they married in 1942; it was World War II, and Earl was in the service. In addition to Leon, who was born on April 4, 1948, and christened Michael Leon ("I just always liked my middle name," he recalled), Hooten's parents also produced Leon's older brother, Hal, and sisters, Connie and Denise. Professionally, Earl Hooten drove a concrete mixer, and Leon remembered that while his father was not an athlete, he was nevertheless "a strong influence on my life." Dorothy always remained a homemaker.   
By his own admission, Hooten, who eventually grew to a solid 5-feet-11-inches and 180 pounds, was a "late developer … pretty small," a trend that continued through college. At Long Beach's David Starr Jordan High School, the future major-league pitcher began his career as a position player, primarily a shortstop and outfielder (he was once named shortstop on the All-Long Beach second team); in his senior season, he switched to the mound. While Hooten went unscouted during his high-school career, he began to develop the pitching repertoire that later took him to Oakland. In that senior season, Hooten was named Jordan High's Player of the Year.
With no scholarship offers and limited financial resources, after his high-school graduation in 1966 Hooten enrolled locally at Long Beach City College, a renowned junior-college baseball powerhouse, where he came under the tutelage of legendary coach Joe Hicks. ("He's why everyone wanted to go there," Hooten said.)1 There, as Hooten "started getting a little stronger and started throwing harder," over the next two seasons he dominated his competition, compiling a 16-3 overall record. After the 1967 season Hooten was named both first-team All-Conference and the school's Most Improved Player; and in 1968, when his 6-1 record and 0.94 ERA in Metropolitan Conference play led the team to the state junior-college title, he was named second-team All-Conference and also received his school's Harry Macon Award as the team's hardest worker. Moreover, in both years Hooten also pitched for Long Beach in the California Collegiate League, where in '68 he made the league All-Star team after leading the circuit in innings pitched, wins, and complete games. Most importantly, though, Hooten's two-year performance brought him recognition by some of the country's premier four-year baseball programs. Accordingly, when the 1969 season got under way, Hooten was pitching in the prestigious Western Athletic Conference.        
After graduating from Long Beach with an associate's degree, Hooten related 45 years later, he "had an opportunity to get scholarships to many places." He chose to attend the University of Arizona, the Wildcats, in Tucson. It turned out to be a fortunate decision. Twenty years old when the 1969 season began, Hooten once again got to play for a highly accomplished coach: Frank Sancet had guided the Wildcats program for 20 years and had eight times taken teams to the College World Series, although his teams had never won. With Hooten in his rotation, Sancet would once again return to that venue.
As Hooten's junior season ensued, he was much matured on the mound. When he began at Long Beach City College, he later related, "I had good control, wasn't throwing as hard.  … I had a good overhand curve and a good changeup. I could really spot it." Now, at Arizona, Hooten added more speed to his repertoire, to excellent results. In his first season, as the number-two starter, Hooten was often overpowering, striking out 124 batters in 109 innings, while walking only 52, on the way to an 11-3 record and a 1.40 ERA. The following season he became the number-one starter, pitched the Wildcats' opening-day game, and finished the regular season with a 10-4 record. It was a season Hooten would never forget.
The 1970 Western Athletic Conference regular season ended in dramatic fashion, and Hooten was pivotal to the outcome. Throughout the year the Wildcats battled their archrival, the Arizona State Sun Devils (coached by Bobby Winkles) to a dead heat, and the season came down to a final three-game series between the two teams, to be played at Arizona's Hi Corbett Field. Hooten drew the starting assignment for game one, on May 15. If he wasn't at his best, nevertheless Hooten was the winning pitcher, as he scattered 13 hits, struck out eight, and walked four. Yet it was not his pitching that earned Hooten the most acclaim that afternoon; it was his hitting. Leading off the bottom of the third inning in a scoreless tie, Hooten blasted a 380-foot home run over the ballpark's green monster in right field that gave his team a lead it never relinquished, as the Wildcats beat the Sun Devils, 7-3. As Hooten rounded the bases, "players came from as far as the UA bullpen to greet him at home plate."2
Afterward, coach Sancet was equally elated. "Hooten's hit got us going," he said. "It was some lick. In fact, I don't believe I've ever seen a right-handed hitter put one over the right-field fence at Hi Corbett Field."3
The Wildcats' win left both teams with 9-7 conference records; a final doubleheader the next day would decide the league's Southern Division title. A sweep by either team meant a championship playoff against the North Division winner, Brigham Young University; while a split meant a coin flip to decide a winner. On May 16 the Wildcats swept the Sun Devils in the doubleheader and won the division title. A week later the Wildcats defeated North winner BYU, two games to one, to win the Western Athletic Conference championship; Hooten was the winner in Game Two. And the following week they defeated Denver University in a three-game series to win the NCAA District 7 title and advance to the College World Series. In that Denver series, Hooten won Game One, 4-2, at one point retiring 14 consecutive batters. In the big tournament, the Wildcasts lost to Iowa State, then on June 13, they lost to Florida State, 4-0, and were eliminated. Hooten pitched eight innings and took the loss, ending the Wildcats' season with a record of 44-17. It was Hooten's final intercollegiate performance.  
Given the brevity of Hooten's big-league career, it's perhaps difficult for many except the most diehard Oakland fans or baseball historians to instantly recognize his name. More likely, on first consideration one may be apt to mistake him for the other pitching Hooton, Burt, who won 151 games, including a no-hitter, over a 15-season career. At one point, though, the two were teammates.
It happened in the summer of 1969. After his junior season at Arizona, Hooten played summer collegiate baseball as a member of the Boulder (Colorado) Collegians, in the semiprofessional Metro League. "They would give you a job to make a few bucks," Hooten recalled, adding, "It was good competition." Also on the Boulder squad was Burt Hooton, a pitcher for the University of Texas at Austin. "I just called him Brother Burt," Leon remembered. "I don't remember if he called me Brother Leon or not. I know people were always asking if we were brothers." Led by the pair of talented pitchers, Boulder posted a 20-2 record and won the state semipro tournament. (Also on that Boulder team was University of Texas quarterback James Street, father of major-league pitcher Huston Street. James Street died on September 30, 2013, three days before the author interviewed Hooten, who remembered his former teammate with fondness.)       
Despite the end of Hooten's scholastic baseball career, he continued to play the game. It began in the upper Northwest. Unlike his Arizona teammates, shortstop Dave Jacome, who'd been selected in the 1970 draft by Cleveland, and fellow pitcher Jim Provenzano, chosen in the same draft by Houston, Hooten wasn't drafted. So after the Wildcats' season ended, he traveled with the rest of his teammates for an eight-game exhibition tour in Alaska. The region appealed to Hooten, so much so that when the tour ended, he stayed: Three weeks later, he was playing for the Bellingham (Washington) Bells, in the semipro Big West Conference. Hooten's stay there was brief, however, for soon he became a member of the Oakland organization.
Hooten joined the Athletics in the most rudimentary way: via a tryout. In 2013, he explained, "After college … my fourth year of school … at that time there was a military lottery draft, and my number came up. If I didn't get into the Army Reserves, I was going to be called up." So Hooten joined the Reserve.
Once enlisted, Hooten was sent to boot camp at Fort Ord, California, south of the San Francisco-Oakland area. A friend knew someone in the Athletics organization, and arranged for Hooten to try out with the team. "So I went down to Oakland," Hooten recalled, "and tried out." The A's were impressed, and in the spring of 1971 Hooten signed a minor-league contract.
Over the next 5½ years Hooten's rise and fall through the organization paralleled the A's own fortunes, as they captured five consecutive American League West titles and three consecutive world championships before the breakup of the team due to free agency ended their fabulous run.
Before he could begin his professional career, however, Hooten had to finish boot camp. When he was finally discharged midway through 1971, the minor-league season had already begun, so the A's sent him to their short-season Class A team in the Northwest League, the Coos Bay-North Bend A's. There, he made an immediate impact. Thrust into the starting rotation, Hooten proved a legitimate power pitcher, as he ended his abbreviated debut season with 67 strikeouts in 55 innings while surrendering less than a hit per inning. If his 5.4 walks per nine innings were at all problematic, his performance the following season appeared to allay any concerns. 
In 1972 it took Hooten just 25 games to advance to Triple-A. That season he attended his first minor-league spring training. His initial assignment was to the Birmingham A's of the Double-A Southern League, where, over those 25 games, Hooten worked primarily in relief (but made seven starts) and again struck out more than a batter per inning. Clearly he had management's attention because in August, Hooten was promoted to the Iowa Oaks, in the Triple-A American Association. This time he was once again a starter, yet no less effective: In six starts he compiled a 2.61 ERA and 1.158 WHIP (walks plus hits per inning pitched). Perhaps surprisingly, the undrafted free agent showed bona-fide major-league potential. Even more, he was only a year away from getting there.
The year 1973 brought a change to the Oakland organization, one that returned Hooten to the scene of his past glory. After their first Oakland championship, the Athletics changed their Triple-A affiliate from the Iowa Oaks to the Pacific Coast League's Tucson Toros, who played their home games at the Arizona University home stadium, Hi Corbett Field. The '72 season had been disastrous for Tucson, as the Toros, aligned then with the Chicago White Sox, finished last in the league with a 60-88 record. After the season the Toros severed their agreement with Chicago and hooked up with Oakland. So in the spring of 1973, Hooten reported to Tucson.     
By now the organization appeared to have decided on a permanent role for him. Asked by the press during spring training how Hooten would be used, Toros manager Sherm Lollar said the hard-thrower was being groomed for short relief.
"The A's feel that is his future," Lollar explained. "They want to make a stopper out of him — somebody who can come in when the going is tough and pitch strongly."4  
For the first half of the season Hooten did just that. As the Toros, whose 84-60 record brought them the PCL's East division title (they eventually lost the league championship to West winner, the Spokane Indians), settled into first place, through the end of June, Hooten led the team with seven saves. Then he got hurt. While Hooten spent the second half of the season battling a tender elbow and pulled groin, Lollar gave the majority of closing opportunities to major-league veterans Gary Waslewski and Lew Krausse. After June 21, Hooten recorded just one save, and he finished the season with just 40 innings of work in 30 games. 
Nevertheless, as Hooten later recalled, by the end of the 1973 season the 25-year-old "was probably right at my peak. I was throwing as well as anybody, I just wasn't consistent." By all appearances he was one of the organization's top prospects. Trade rumors abounded that fall in Oakland, as the press speculated that "some [veteran] players must go to make room for minor leaguers to move up," the latter a group that "could include Manny Trillo, Leon Hooten and Glenn Abbott."5 Hooten's inclusion in that group was confirmed when in November he was added to the A's 40-man roster. The following spring he'd finally have a chance to make it to the big leagues.   
As spring training opened in 1974, Hooten attended a major-league camp for the first time. He got off to a strong start, and, he recalled in 2013, "I think I was going to the big club." However, during hitting drills in the last days of February, Hooten sprained his right ankle when he stepped in a hole and crashed into the back of the batting cage. The injury kept him out for a week at the worst possible time; two weeks later, he was sent to Tucson.
He wasn't there for long. During the first week of the major-league season, while Hooten convalesced, two A's players, Dick Green and Deron Johnson, went on the disabled list. On April 13 Hooten and infielder John Donaldson were called up from the Toros to replace them.
For Hooten the promotion came as "pretty much a surprise." Given his injury, he explained, "I hadn't pitched a game yet" for Tucson. His arm, though, was sound, so manager Alvin Dark wasted no time getting Hooten into a game. The day of his call-up Hooten made his debut, versus the Texas Rangers in Oakland. It came in an A's blowout loss, but was memorable for one particular event. 
"The first batter I had to face in the big leagues," Hooten recounted, "I hit him." (According to play-by-play accounts on retrosheet.org, it was the second batter.) With the A's trailing 8-3, Hooten came on to begin the top of the seventh inning. Leading off for Texas was slugger Jeff Burroughs, the man whom Hooten believed in his interview he had hit. "I knew him from Long Beach," Hooten said. "We'd played against each other in high school." Burroughs, who attended Long Beach's Woodrow Wilson High School, grounded out to the third baseman.
The next batter was Tom Grieve. Whether or not the sequence of events as recalled by Hooten applies to Burroughs or Grieve is irrelevant; what's important is that, according to Hooten, "I threw the first pitch and missed." Missed as in he failed to hit the batter. The instigation to throw at the Texas hitters had occurred the previous inning, when the Rangers' Jim Bibby hit the A's Gene Tenace. Now, recounted Hooten, "Reggie Jackson was out there [in right field] yelling, 'Hit him.' It was expected; they had hit one of our guys." Hence, Hooten summarily plunked Grieve.
It all seemed surreal, Hooten recalled. "I couldn't hardly [sic] feel my feet anyway."  
Hooten made five more appearances before he was through. In all, over his first four games (including the debut) covering a total of 3⅔ innings, he allowed only a lone hit and no runs. In his fifth game, though, he allowed four hits and a run in 3⅓ innings, his longest outing, and in his final appearance, on May 6, versus Baltimore, gave up a two-run home run to Paul Blair. Two days later Dark sent Hooten to Tucson and called up Glenn Abbott. Hooten's brief major-league career was over.
Forty years later, Hooten looked back without bitterness on his singular opportunity. "I didn't use my head," he said of his approach on the mound with the A's. "I had developed an overhand curveball, one that went straight down. It was hard to control getting called for a strike. I also developed a slider — mixed fastballs and sliders." But, he emphasized, "I abandoned my changeup," his best pitch, "the one I had used in junior college."
In the end, Hooten reasoned, "I wasn't up there long enough to get comfortable; there just wasn't time to do that. They thought they needed to make a change. It wasn't like I didn't get any chances. I just didn't pitch well enough."
He never got close again.
Hooten hung on for a few more years. Following his demotion he was, understandably, "bummed out," and did not have a very good year (5.36 ERA and 1.670 WHIP); after the season the A's removed him from their 40-man roster. That winter and the next, at the urging of friends like Phil Garner and Dave Concepción, Hooten played winter ball in Venezuela, a period he recalled as a "great experience," and in 1975, after attending the A's spring camp as a non-roster invitee, Hooten somewhat regained his footing when he returned to Tucson as a starter and made the All-Star team. That performance boded well for 1976.
It was not to be; 1976, a disastrous year, proved to be Hooten's final professional season. After once again attending the major-league camp, for whatever reason he began the year 0-6 as a starter, went to the bullpen, and finished 2-8 with a 5.60 ERA. In November he was selected in the expansion draft by the Toronto Blue Jays, but in March 1977 was released. At age 28, Hooten's baseball career was over.
In 2013 Hooten spoke candidly about both his final season and the intervening years. "I don't think there was one thing I can blame for what happened in '76," he said. "I did have some minor physical problems, but it was probably more a mental thing and lack of confidence. Although I didn't think so at the time, I'm sure my drinking also had something to do with it."
Indeed, Hooten's drinking has had a major impact on his life. "I'm sure [alcohol] had an effect on my ballplaying," he admitted. "I went into a tailspin when I finished playing. I was drinking enough. … I think it really affected my health; it didn't seem like it at the time, but it did." In 1973 he had wed Debra Ann Whitty, from Coos Bay. Their daughter was born in 1982. "Twenty seven and a half years ago," Hooten continued, "my first wife left to due to my drinking. I've been sober for the past 27½ years."
He's also been gainfully employed. When Hooten was released by the Blue Jays he wasn't sure what to do with his life, so he returned to Coos Bay, where he and Debra made their home, and started looking for jobs. He had already ruled out one other option: "I could have gone back to school, but I wasn't thinking good at the time." While on scholarship at Arizona University, Hooten had majored in architecture. "I don't know why I picked that major. It was a five-year program and I was already behind when I transferred. When I signed [with Oakland] I had only one class left to take — Design Sequence. But I never did." As a result, he never graduated; and yet, he continued, "I don't blame ballplaying for not finishing my degree."
Eventually, Hooten found "something I liked to do," and got into cabinetmaking, which led to the construction business. He became a licensed contractor in Coos Bay, and the sole proprietor of Leon Hooten Construction, General Contractor, specializing in single-family homes. Sadly, his second wife, Frances, whom Hooten married in 1988, died in 2008. In addition to his daughter from his first marriage, Frances had three daughters of her own, so Hooten has six or seven grandchildren, as well as some great-grandchildren from that marriage.  
And do the people in Coos Bay know of the former major leaguer in their midst? Not really, Hooten suggested. He doesn't get much name recognition. After all, "we're pretty isolated up here," although "it comes up sometimes in conversation."
Still, Hooten said he would never forget his baseball days. "I loved playing, that's why I signed. … It was a terrific experience and I wouldn't trade it. I had opportunities to get up there and stay."
"If I had just been a little smarter."       
Sources
Personal:
The author expresses his sincerest appreciation to Leon Hooten for a phone interview conducted on October 3, 2013, and a follow-up email on October 22, 2013. Unless otherwise noted, all Hooten quotes are from this interview.
Leon Hooten player file at National Baseball Hall of Fame, Cooperstown, New York
Websites
Baseball-Reference.com
Retrosheet.org
longbeach.gov/park/recreation/sports/hof/baseball.asp
Newspapers
Long Beach Press Telegram
Colorado Springs Gazette
Arizona Republic
Tucson Daily Citizen
Fairbanks Daily News Miner
Scottsdale Daily Progress
Provo (Utah) Daily Herald
Oakland Tribune
Notes
1 Over 26 seasons at Long Beach Community College, Hicks, who in 1988 was inducted into the American Baseball Coaches Association Hall of Fame, amassed a record of 514-257, and led the school to 13 Metropolitan Conference, eight Southern California, and three state titles.
2 Tucson Daily Citizen, May 16, 1970.
3 ibid
4 Tucson Daily Citizen, April 3, 1973.
5 Oakland Tribune, September 28, 1973.
Born
April 4, 1948 at Downey, CA (USA)
If you can help us improve this player's biography, contact us.
http://sabr.org/sites/default/files/LeonHooten.JPG
600
800
admin
/wp-content/uploads/2020/02/sabr_logo.png
admin
2012-01-04 20:24:25
2020-11-03 06:57:40
Leon Hooten