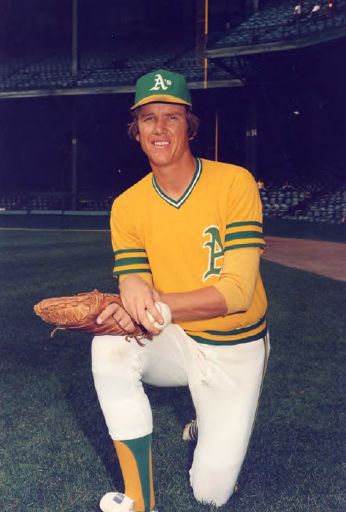 ---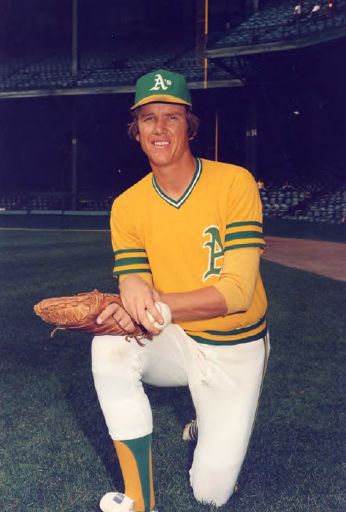 For Glenn Abbott, his days in the major leagues were filled with stories and memories and good feelings.
In an interview, the former American League pitcher conjured up a past filled with recollections of warm summer days in big-league cities around the country. And although he played his last major-league game in August 1984 — when the Detroit Tigers cut him after a terrible stretch after the All-Star break — he continued to make his presence felt by coaching up-and-coming young pitching arms.
Abbott's tale is an interesting one: a leap from being a member of the World Series-winning Oakland A's of the 1970s to the expansion Seattle Mariners to the impressive Tigers teams of 1983 and '84.
William Glenn Abbott was born on February 16, 1951, in Little Rock, Arkansas. "When I was a kid, everybody played baseball," he told an interviewer in 2008. "I always loved it. When I was 14 or 15, we'd ride bicycles over to the baseball fields and would play a little workup or something and then help prepare the field. It's just what kids did then.
"The Cardinals were big in Little Rock. I can remember when Dick Allen came to Little Rock; he was the first black to play there. I remember Ferguson Jenkins and guys like that who played there. … I've always loved it and played the game. This is not a job to me. I really enjoy what I do. It's my 39th season, and I love it. I like working with the young kids."1
In his early days with the sport, Abbott played the infield and caught as well as pitched.
That changed when he entered high school. "I realized that I had the chance to go on beyond high-school ball," he said. "I realized that I had some ability and didn't want to take a chance of breaking a finger or something like that."
Abbott played baseball and basketball in high school and had planned to continue with both sports in college. But he was drafted out of high school in the eighth round by the Oakland A's in June 1969, and signed immediately. He was 18 years old. For a couple of years during the offseason, he attended State College of Arkansas, now called the University of Central Arkansas. He made the big leagues when he was 22.
Starting in the Rookie-classification Northwest League, Abbott quickly worked his way through minor-league ball and made his debut with Oakland on July 29, 1973, when he started against the Texas Rangers. He was taken out in the fourth inning with Oakland leading 4-2, and Texas runners on second and third. (The A's eventually won, 7-4.)
Though Abbott's major-league pitching record was just 62-83, with a 4.39 earned-run average, he had his moments. September 28, 1975, the last game of the season, was a good example. Abbott was the second of four pitchers who combined to throw a no-hitter against the California Angels. Abbott pitched one inning and retired the side in order.
Abbott said the A's were preparing for the playoff series against the Boston Red Sox, and the manager, Alvin Dark, already had decided that Vida Blue would start but pitch no more than five innings. Abbott was slated to pitch the sixth, Paul Lindblad would throw the seventh inning, and Rollie Fingers would wrap things up in the eighth and ninth, regardless of the score.
"When I went out to take the mound in the sixth inning, the home crowd was booing — people were booing," Abbott said. "But they weren't booing me. They were booing because Vida Blue came out of the game and he was pitching a no-hitter. I said to myself, 'Lord, please don't let me give up a hit.'" And he didn't.
Abbott pitched for Oakland for four seasons and compiled a 13-16 record with a 4.08 ERA.
His years with the A's brought a lot of smiles. "I was on a team where you hear all the stuff about how wild they were, with all the fights and stuff. But the players were all-for-one when they were at the ballpark and on the field. They expected to win. In my first year we won the league championship." Oakland went on to win the World Series as well.
His next stop in an 11-year major-league career was with the Seattle Mariners, when he became the 24th pick in the 1976 expansion draft.
Abbott viewed the change from winning a title in Oakland to moving to an expansion team in Seattle as a positive experience as well.
"I went from a team that expected to win to a team that didn't have a lot of confidence," he said. "They thought they could win but weren't sure. It was a big adjustment. In expansion, you always have a bunch of Triple-A players who never had a chance to play in the majors. It's a big step to make. If you can play Double-A ball, you can pretty much play Triple-A ball. But they don't understand the jump to the majors. It's like daylight and dark. A lot of guys can't comprehend that." 
Abbott's promise was realized in the 1977 campaign, the first of the Mariners' existence. He compiled a 12-13 record with a 4.45 ERA, fanning 100 batters. He was the longest-serving of the original Mariners players — his last game for Seattle was on August 21, 1983. His record with the Mariners was 44-62 with an ERA that ranged from 3.94 to 5.27.
Abbott missed the 1982 season because of floating bone chips in his elbow. His arm problems were compounded by a serious bout of viral meningitis. He lost 30 pounds, as well as some vision and hearing, and still had repercussions from the illness into June 1983. He was finally able to pitch again in midsummer of 1983.
Abbott was purchased by the Tigers on August 23, 1983, for $100,000, and stayed with Detroit for parts of two seasons.
"Detroit is a good baseball town, and I wanted an opportunity to go to a winning ballclub," he said during an interview at PGE Park in Portland, Oregon, his baseball home in 2008, where he was the pitching coach for the Portland Beavers, the San Diego Padres' Triple-A affiliate. "You really appreciate a chance like that. It's huge to get that opportunity." 
He was released by the Detroit organization on August 14, 1984, during the height of the championship run to the World Series. Abbott immediately started a coaching career that topped his pitching career for longevity.
Standing 6-feet-6, Abbott had a playing weight of around 200 pounds, and added a few pounds after his coaching career started. To an interviewer, his native Arkansas showed up in his easy drawl: the word "four" became a two-syllable word when it left Abbott's mouth. 
In talking about the differences between the two leagues, Abbott made a definitive observation about his playing days: "National League umps were far more consistent back then," he said, though he wouldn't comment on the current umpiring situation in the major leagues. 
"I wish I could have played in the National League as a pitcher," he said. "I like the game a lot better. There's more things going on, more decisions to be made, pitcher having to hit, et cetera. It's also a better league to pitch in. The designated hitter means that teams like Boston and New York have no weaknesses in the lineup."
The right-hander's feelings about his time with the Tigers? "I knew I had a chance to go to a contending ballclub, and you don't realize how important that is until later. I was very fortunate," he said. 
He made his Tigers debut on August 27, 1983, pitching seven innings against Toronto and leaving with the scored tied 2-2. His best game for the Tigers that season was a 5-0 shutout of the Cleveland Indians on September 14. His mark with the Tigers in '83 was 2-1 with a 1.93 ERA in seven starts
"The Tigers made a run in '83 and came up a game or two short [actually six games behind Baltimore]. I pitched well for them then, with Sparky [Anderson, the manager,] and Roger Craig as the pitching coach. And in '84, that team started 35-5 and set a record. We set the [American League] record in Anaheim for the most consecutive games won on the road and got a standing ovation. 
"But I was in the bullpen and wasn't getting a chance to pitch much because the starters were so good. It made it really difficult; it's difficult to perform at a high level if you don't get the chance to play. But Jack Morris and Dan Petry and those guys were just dealing."
Abbott took the second loss of the '84 season when the Tigers were 16-1 but recalled few details of the 19-inning game in his interview, despite the fact that he committed two errors that contributed to the loss. 
"Two errors? That's bad. Maybe that's why I can't remember," he said.
During Detroit's wire-to-wire American League East championship run in 1984, Abbott pitched in 13 games, eight of them starts, with a 3-4 record and a 5.93 ERA before he was cut. His best game that season was a complete-game victory over the Chicago White Sox on July 16, in which he gave up only four hits and one walk.
Abbott had fond recollections of his teammates from that charmed 1984 season, even though it was a truncated one for him.
Of Sparky Anderson, he said: "He didn't talk to you much. He would say hi, but that's the way managers were then. I had no problems with Sparky at all. He was a pretty positive guy. He had some good players on the team. It was amazing; those guys came to play. They never even complained about playing charity games against Cincinnati on an offday."
Roger Craig, the Tigers' pitching coach during Abbott's tenure in Detroit, "was one of the most positive people I've ever been around. He was always telling you how good you were. You have to be positive with the guys, and Roger was always that way."
Abbott said Jack Morris, the Tigers' acknowledged ace throughout the 1980s, "had tremendous confidence. He was probably the best pitcher of that decade — or one of the best, I'll say that. He was just getting better and better at the time. Jack was a winning-type pitcher. He threw a no-hitter in April in one of the first televised games [of the season] in Chicago. I remember a fan was yelling after every inning, 'Hey Morris, you got a no-hitter going' — trying to get him off stride. And about the eighth inning, Jack said back to him, 'Damn right. Stay right there 'cause you're gonna see one.' He was a quality pitcher."
Dan Petry, considered the number-two man in Detroit's rotation for most of the 1980s, "didn't say a lot," Abbott said, "but he was very consistent. You knew what you were going to get every time you went out there."
Abbott also had good words for two relievers who not only saved his bacon on more than one occasion in 1984, but that of other Tigers hurlers during the championship season. Guillermo Hernandez, the 1984 AL Cy Young Award winner and Most Valuable Player, "couldn't do anything wrong," he recalled. Aurelio "Señor Smoke" Lopez, who notched a 10-1 record and 14 saves in the midst of Hernandez's spectacular season, "also was very consistent," Abbott said.
Alan Trammell, Detroit's shortstop and the World Series MVP in 1984, "was just as solid as they come. He was a ballplayer. He could handle the bat so well. He was underrated at that time. Howard Johnson was coming along at that time, too, playing third base. They were all very professional, and they expected to win. There was a lot of confidence — a good atmosphere to be in.
"Darrell Evans did a good job. It was the end of his career, but he was very consistent and made a tremendous impact on the club. Whitaker and Trammell and Lance Parrish and Kirk Gibson and Dave Rozema — it makes a difference when your players come up together. You've got to have talent, but you need chemistry, too, and it all fell together with the Tigers."
Abbott said he got a ring and a share of the World Series money that year, even though he left the team in August.
"It might have been a three-quarter share; I can't remember. It just makes you feel good that your teammates appreciate you," he said.
His time in the majors flew by, but the memories lingered. 
"I had never seen a no-hitter in professional games, and in the first three years I was in the league, I saw one every year, including being involved in the one against the Angels when I was with Oakland. (It was actually four.) The Angels at that time were a bad ballclub, but Vida Blue was on that day. It was just five innings, but he walked through them. 
"I had a chance to play with guys like Catfish Hunter. They made a big impression on me. They were very professional about the way they approached the game."
One of his greatest thrills was pitching in Yankee Stadium for the first time. "It was really an experience to go see those monuments for the first time. If you love baseball, that is really something. That's why I hate to see Yankee Stadium moving. It's one thing that bothers me. There's so much history. If you think of the people who played there, Yankee Stadium is like hallowed ground. You hate to see that happen, but I understand it when teams have to go to larger parks.
"The dugouts in Tiger Stadium were so small that everybody couldn't sit down when you came off the field. It was like a bunker in the bullpen." 
As for Detroit's fans: "The Tigers have great fans. Everywhere you go you'd hear people talking about the Tigers. Every night they had big crowds. It was really a unique experience. It was really a cool deal there. I really enjoyed that — very much."
Abbott began a career as a pitching coach with the Little Falls Mets in 1985, the year after the Tigers cut him loose. He spent five years with the Mets' organization before joining the Athletics. He logged 13 years at various levels with the A's. Then Abbott was a pitching coach for five years in the San Diego Padres system, and spent four seasons in the Texas Rangers organization. In 2011 he returned to the Mets' organization, as the pitching coach for the Savannah Sand Gnats of the South Atlantic League. In 2012 he joined the Binghamton Mets of the Double-A Eastern League. As of 2014 he was still with Binghamton.
Abbott was married in 1973. He and his wife, Patti, lived in Arkansas in the offseason, and wherever he was working during the season. The eldest of their three children, Todd, pitched in the Oakland minor-league system from 1995 through 1998 and became a high-school teacher and baseball coach in Bentonville, Arkansas. Their second son, Jeff, also became a teacher, in Bolivar, Missouri. There is also a daughter, Amy.
Sources
The author relied on baseball-reference.com for the statistical data presented in this article.
Notes
1 Clifford Corn interview with Glenn Abbott on April 21, 2008. Unless otherwise indicated, all quotations from Glenn Abbott come from this interview.
Born
February 16, 1951 at Little Rock, AR (USA)
If you can help us improve this player's biography, contact us.
http://sabr.org/sites/default/files/GlennAbbott.JPG
600
800
admin
/wp-content/uploads/2020/02/sabr_logo.png
admin
2015-09-19 00:00:08
2020-10-01 07:44:57
Glenn Abbott