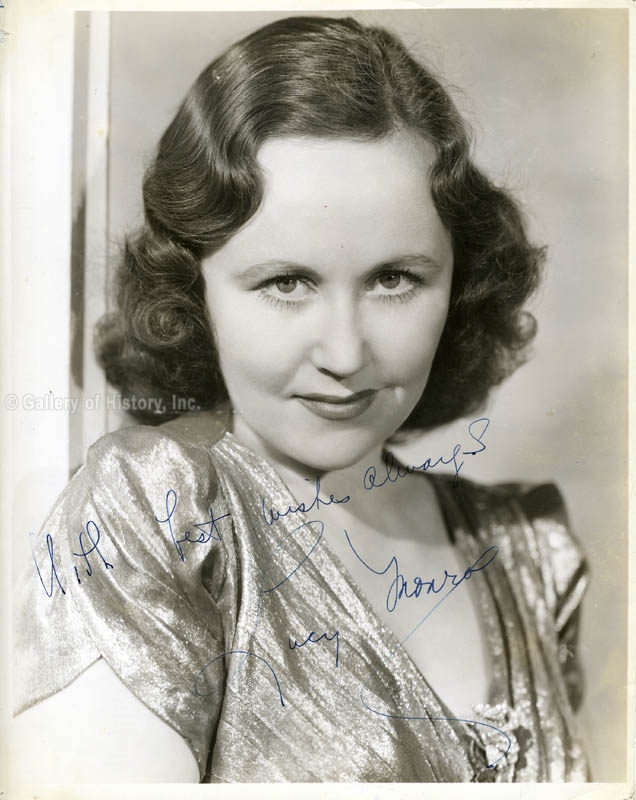 ---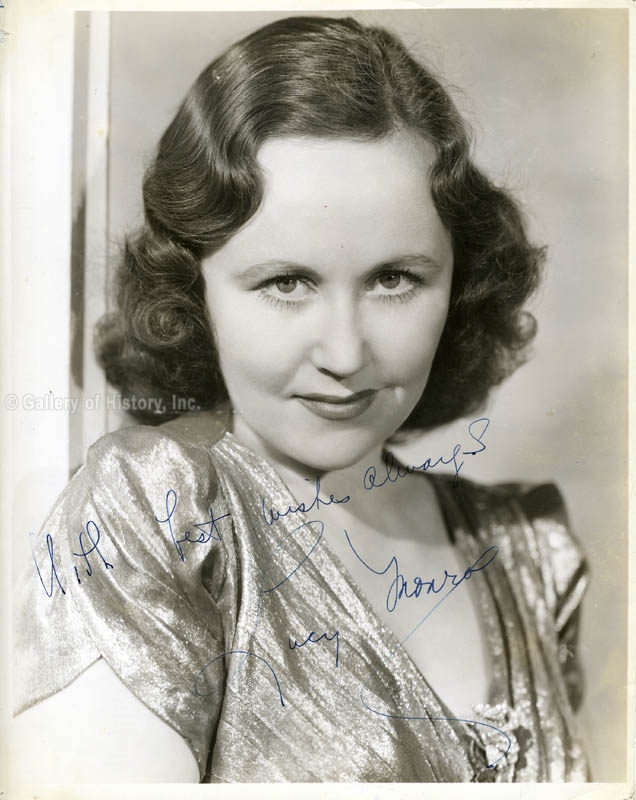 Approximately 200 diehard fans returned to a cold and cloudy Ebbets Field on February 23, 1960. Among those present were former players Ralph Branca, Roy Campanella, Carl Erskine, and Tommy Holmes, reminiscing about the glory days in the iconic ballpark — opened in 1913 and vacated following the close of the 1957 season.
Attendees sadly watched the swing of a wrecking ball (somewhat cruelly painted to resemble a baseball) level the ballpark to rubble. "Lucy Monroe sang The Star Spangled Banner as she had before so many World Series games in Brooklyn. Neither Miss Monroe nor any of the gathered seemed to enjoy the proceedings."1
The popular singer was born in New York City on October 23, 1906, the only child of Dwight (Van) Monroe and Anna (Laughlin) Monroe, a couple who enjoyed a fairy tale romance. An actress, the new mother had starred as Dorothy in the original 1903 stage production of The Wizard of Oz.2 Successful New York diamond merchant Van Monroe attended a performance one evening and became enamored with the young actress. Subsequently, "every night for the next four weeks, he bought an aisle seat ticket (fourth row) to hear Anna Laughlin sing." Van personally delivered flowers backstage; acquaintance developed into courtship, followed by marriage.3
Lucy attended public schools in the city, before enrolling at Horace Mann High School, where she joined the glee club. Faculty members quickly noted her fine untrained voice and considered it good enough to warrant formal lessons. The news prompted Anna to begin thinking about a career for their daughter, but Van leaned heavily toward keeping her out of the limelight.4
Van died suddenly in 1925. The family's changed financial situation brought 19-year-old Lucy to realize the genuine need to find a job. Securing a role as a dancer in the Ziegfeld Follies, she also became a backup singer. An illness one evening provided Lucy an opportunity to fill in. Her natural singing talent was immediately recognized, which opened doors for her in the fledgling medium of radio. She also began accepting invitations to sing at the Metropolitan Opera and with the New York Philharmonic Orchestra.
The 5'6" singer was an attractive young woman with hazel eyes and reddish-brown hair, and she worked hard at her craft. "I practice vocal exercises an hour each day," she said, "and sometimes work for several hours on new music, at the piano."5 Horseback riding, swimming, and gardening dominated her leisure time. She wasn't a party girl: "I don't like nightclubs and I never go. I'm fond of the country and enjoy doing simple things."6
To escape Anna's incessant hovering over her career, Lucy moved out of the New York apartment they shared. Subsequently, a distraught Anna took her own life in April 1937, leaving a note stating: "Lucy is never coming back; where did I fail?" Devastated by her mother's death, Lucy went on hiatus for several months, disappearing from personal appearances and radio.7
When the American Legion sought a local singer to open their 1937 convention in New York, NBC radio executives recommended Lucy as a possible candidate. Deciding it was time to resume her career, she accepted the position, ultimately becoming the Legion's official soloist. Lucy's popularity soared in 1938, after singing the national anthem over national radio to celebrate President Franklin Roosevelt's birthday.8
When the popular 1939 New York World's Fair re-opened in 1940, Miss Monroe became the headliner of The American Jubilee, a musical stage show celebrating historic milestones; her duties included singing the national anthem at the opening and closing ceremonies each day. If a special event at the fair called for an extra performance of the anthem, Lucy was usually summoned — often more than a dozen times a day. During this busy point in her career, an unnamed publicist christened her the "Star-Spangled Soprano."9
"The Star Spangled Banner" evolved from the Francis Scott Key poem, "The Defense of Fort McHenry," written in 1814, reputedly during the shelling of that fort by British forces during the War of 1812. Later set to the melody of an old English drinking tune, it became the national anthem of the United States in 1931.10
Commemorating the anthem's tenth anniversary in 1941, Lucy recorded a special rendition at Constitution Hall in Washington D.C. accompanied by the National Symphony Orchestra. She sang lyrics from the original sheet music, on loan from the Library of Congress.
In May 1941, she joined Irving Berlin, Kate Smith, Marian Anderson, and Bill (Bojangles) Robinson to observe "I am an American Day," at Central Park in New York. As America teetered on entering the conflict engulfing Europe, Miss Monroe apparently became one of the earliest performers to sense the real scope of World War II. The wide attendance at these rallies indicated that she was hardly alone in anticipating U.S. involvement in the coming conflict.11
On July 4 that same year, on the grounds of the Washington Monument, Lucy sang what she considered to be "her most exciting rendition of the anthem" before a crowd estimated at over 30,000. Many of the gathered assembly held lit matches aloft in the moonlight as she sang: "Oh say does that Star Spangled Banner yet wave." Lucy described it as "the kind of moment when you could cry with pride and joy at being an American." One creative publicist loosely estimated this to be her 1,776th rendition of The Star-Spangled Banner.12
Following the Pearl Harbor attack on Sunday, December 7, 1941, the United States entered World War II. In 1942 Lucy Monroe became RCA Victor's director of patriotic music and subsequently gave up lucrative contracts to tour the country selling war bonds.13 Patriotism ran in the family, for she was a direct descendent of former president James Monroe, who was wounded during the American Revolution.14
Lucy participated in numerous wartime events. The Polo Grounds in New York hosted the War Bond Jubilee Game on August 26, 1943. And although game time wasn't scheduled until 3 p.m., vast crowds began arriving at 6:30 that morning. Over 40,000 war-bond buyers packed the stadium, including military personnel, many of whom had been wounded in action.15
A pseudo All-Star team, consisting of players from the three New York City major-league teams, competed in an exhibition game against a formidable Camp Cumberland service team. Attendees generously donated $18.75 per ticket to aid the war effort, while rubbing elbows with current players and yesterday's stars. Before the game, dapper New York Mayor Jimmy Walker took the microphone to introduce a bevy of renowned guest performers: James Cagney, Ethel Merman, Cab Calloway, and Carole Landis. A huge round of applause erupted as Lucy Monroe opened the festivities, upon singing The National Anthem.16
Many renowned players of baseball's storied past were on hand: Honus Wagner, Frankie Frisch, Tris Speaker, Connie Mack and George Sisler. A highlight of the day took place when 55-year-old Walter Johnson took the mound to face former home-run king Babe Ruth, who was himself two years shy of 50. The crowd roared on Johnson's 18th pitch when Babe smacked it into the upper right field stands. Roger Bresnahan, John McGraw's fine backstop on the 1904 and 1905 championship Giants teams, handled the catching duties, imploring the Big Train to respect his 64 years. "Keep them high Walter," he hollered. "I can't bend for those low ones anymore." Dodger catcher Mickey Owen served as Bresnahan's unofficial backup, closely standing by to retrieve the numerous pitches eluding the old-timer.17
Ballplayers from all three teams happily filled autograph requests, with the Yankees' Spud Chandler leading the way, willingly signing the casts of numerous injured service personnel. The effort was a roaring success, raising a staggering 800 million dollars in war bond revenue.18
Lucy continued her tireless work, visiting Army camps and war production plants. She led numerous community sings, including one on the steps of the Lincoln Memorial, with over 40,000 attendees. The only thing that could stop her exhaustive pace was a serious case of hepatitis that caused the cancellation of her overseas USO tour.19
In September 1944, Monroe again visited Fort McHenry in Baltimore, to celebrate the 130th anniversary of Key's poem. Besides leading the anthem, Lucy read a letter from General Douglas MacArthur to the assembled throng. "From the beginning of time men have followed symbols," he wrote. "The cross, the crescent and the flag — all are hallowed with sacred blood. The Star Spangled Banner led us on our way. I hope to raise the flag once again over Bataan and Corregidor."20
As the officially designated soprano of The Veterans of Foreign Wars, Miss Monroe toured hospitals all around the country. But she never sang the anthem to the service personnel she visited. "The service men don't need it," she observed. They've lived it." Visiting a hospital in Philadelphia, the good-natured singer looked forward to meeting a dog named Lucy Monroe, aptly born on the day of one of her concerts. 21
Lucy motored to Frederick, Maryland in 1948, to celebrate the 50th anniversary of the Francis Scott Key Museum. As Betty Sullivan reported in The Frederick Post: "The beautiful and very gracious lady struck warm response from Frederick hearts by simple unpretentious charm."22 She continued:
For the thousands who crowded through Mt. Olivet's gates for the rededication ceremony, the highlight of the whole day came when Lucy Monroe stood in the afternoon sunlight and sent her exquisite voice soaring in the stirring notes of The Star Spangled Banner. She may have sung it 3,000 times before, but none in her audience could believe she ever had more gloriously than in the perfect setting of the tree rimmed base of the author's gravesite memorial.23
The New York Yankees opened the 1949 season on April 19; the occasion marked their first Opening Day since the death of legendary slugger Babe Ruth. In commemoration, Babe's monument in center field was unveiled and officially dedicated. Miss Monroe poignantly closed the ceremony, singing a touching rendition of "Auld Lang Syne."24
As an encore, she returned to the microphone and led the singing of the national anthem, to officially open the 1949 season. Umpire Eddie Rommel barked, "Play Ball," and a crowd of 40,000-plus applauded Casey Stengel, making his debut as the Yankee skipper. Eddie Lopat took the mound for the Yanks, besting Sid Hudson of the Washington Senators, 3-2. Tommy Henrich's two-out walk-off homer in the ninth inning provided the margin of victory.
It was an auspicious beginning. The Yankees went on to capture five consecutive world championships, spanning the years 1949-1953. At each season's home opener, Lucy Monroe sang the national anthem. The Sporting News reported how this annual ritual prompted manager Casey Stengel to regard Miss Monroe as his "secret weapon."25
Jonathan Schwartz also recognized her importance to the team writing in the New York Times: "Wearing a mink coat and standing near the Yankee dugout, the sound of her voice suggests the devastating Yankee pitching staff of [Vic] Raschi, [Allie] Reynolds and Lopat. Her bloodless account of The Star Spangled Banner suggested the Yankees had already won."26
Graciously working an exhaustive Korean tour in 1953, Lucy tirelessly performed two full shows — for 30 consecutive days. Particularly notable on this tour was the fact her repertoire did not include "The Star Spangled Banner." Instead, she sang current hits and standard selections.
An overseas commitment caused the busy singer to miss Opening Day in 1954; she was also absent in 1955 due to a flight cancellation. In each case, the world championship was not in the cards for the Bronx Bombers. After Lucy returned to the stadium on Opening Day 1956, the Yankees once again would prevail as champions.
Yankee general manager George Weiss believed Lucy Monroe was so important to the organization that a backup plan for a national anthem singer had to be devised, even when Lucy was scheduled to sing in person. The Sporting News reported how Weiss quizzed an assistant as to whether he had an extra Star Spangled Banner recording if something happened to her. The assistant replied: "Well, we've got the regular recording that we use all year." Weiss insisted, "Supposing something happened to it over the winter?" and added, "We should have two recordings."27
Miss Monroe wed New York attorney Harold Weinberg in 1961, but she was left a widow upon his death in 1977. The gracious but aging singer had cut back on professional appearances but continued performing the anthem at ball games and for civic groups on certain occasions.
Lucy Monroe passed away at the age of 80 in 1987, leaving no heirs. Services were held at St. Bartholomew's Episcopal Church on Park Avenue in New York. At the time of her death, The Star Spangled Soprano was estimated to have performed the "Star Spangled Banner" over 5,000 times during her career as a professional patriot.28
Acknowledgments
This biography was reviewed by Tom Schott and fact-checked by Chris Rainey.
Notes
1 Tom Meany, "Last Rites Mark Ebbets Field Farewell," The Sporting News, March 2, 1960. For additional reading on this period of the ballpark's history, see Rory Costello, "Twilight at Ebbets Field."
2 "Star Spangled Soprano Has Sung Anthem 1,500 Times," The New York Times, January 22, 1942.
3 "Gas Parts Them Forever," The Fresno (California) Bee, April 6, 1937.
4 Harriet Menken, "Importance of Love," San Antonio Light, October 11, 1936.
5 Helen Welshimer, "Give Us the Simple Life at Home," Ogden Standard Examiner, November 8, 1936.
6 Ibid.
7 "Anna Laughlin, Broadway Idol, Ends Life," The Washington Post, April 6, 1937.
8 James Thrasher, "Star Spangled Banner Girl," Indiana PA Evening Gazette, February 5, 1948.
9 Bennett Cerf, "The Star-Spangled Girl," Los Angeles Times, January 3, 1954.
10 "Singer of National Anthem Visits Grave of Its Author Here," The Frederick Post, July 16, 1947.
11 James P. Dawson, "'I Am an American Program'" at Stadium Today. New York Times, May 18, 1941.
12 Kyle Crichton, "The Star-Spangled Lady," Collier's, November 13, 1943.
13 Thomas DeLong, The Mighty Music Box (Los Angeles: Amber Crest Books, 1980). 219-20, 252-53.
14 "Miss Monroe's Heritage," Pittsburgh Post-Gazette, January 10, 1941.
15 Roscoe McGowan, "Bond-Buying Line Extends 10 Blocks," New York Times, August 27, 1943.
16 Ibid.
17 Arthur Daley, "The War Bond Game," New York Times, August 27, 1943.
18 McGowan, "Bond Buying Line."
19 Lisa Belkin, "Celebrated Singer of National Anthem," New York Times, October 16, 1987.
20 Betty Sullivan, "Lucy Monroe Realizes Her Dream of a Lifetime," Frederick News, August 9, 1948.
21 "Singer of National Anthem Visits Grave of Author," Frederick Post, July 16, 1947.
22 Betty Sullivan, "Lucy Monroe Was Outstanding Stamp Celebration Personality," The Frederick Post, August 12, 1948.
23 Ibid.
24 "Monument to Babe Ruth Unveiled In Impressive Stadium Ceremony," New York Times, April 20, 1949.
25 "Miss Monroe Sings National Anthem, Yanks Flag Assured," The Sporting News, April 24, 1957.
26 Jonathan Schwartz, "Why Radio Plays Baseball Better Than TV," New York Times, October 14, 1990.
27 Harold Rosenthal, "An Inaugural to Remember — the 1.000 Pilot," The Sporting News, April 16, 1976.
28 Lisa Belkin, "Celebrated Singer."
Born
October 23, 1906 at New York, NY (US)
Died
October 13, 1987 at New York, NY (US)
If you can help us improve this player's biography, contact us.
https://sabr.org/sites/default/files/Monroe%2C%20Lucy.jpg
600
800
admin
/wp-content/uploads/2020/02/sabr_logo.png
admin
2018-09-30 21:55:04
2020-04-09 14:38:41
Lucy Monroe