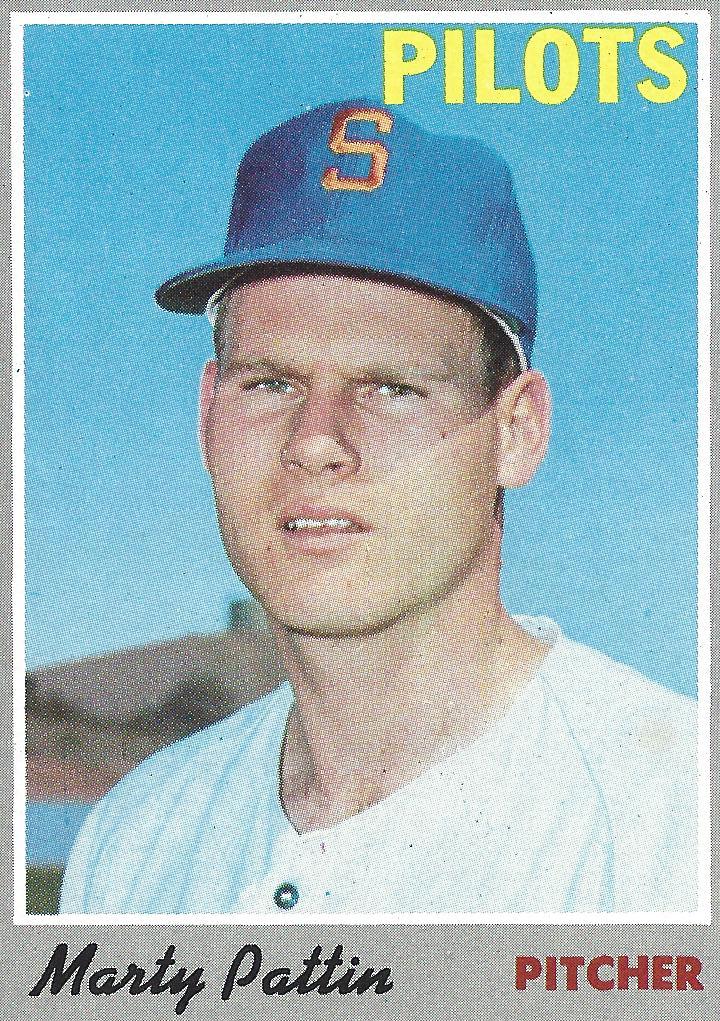 ---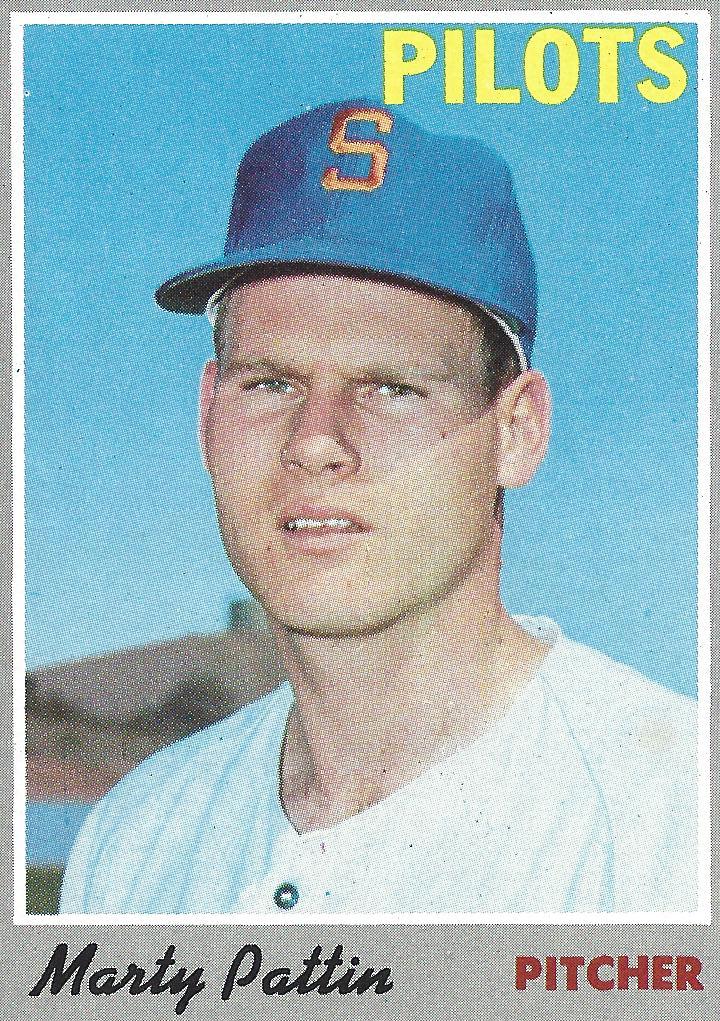 "Being the best is great, it means you're number one. But being unique is greater, because you're the only one." This quote, which can be found all over the internet (reportedly anonymous, a bit ironically), applies to Marty Pattin in at least one regard: On April 8, 1969, he became the only Opening Day starting pitcher in major-league history to sport a Seattle Pilots uniform.
He was reportedly relaxed as that milestone in Anaheim approached, despite his general manager, Marvin Milkes, adding some pressure by declaring, "Beating the Angels will be my pennant."1 Milkes had been executive vice president of the Angels. Regardless, Pattin rose to the occasion against California, the club with which he'd made his major-league debut the previous season. Pattin allowed two earned runs in five innings and the Pilots hung on to win, 4-3. It's no surprise that he seemed relaxed, because his nickname of "Duck" stems from his uncanny impersonations of a humorous Disney character. Yet it was his other nickname, "Bulldog," that reflected his tenacity and hinted at his ability to perform under pressure.2
Martin William Pattin was born on April 6, 1943, in Charleston, Illinois, home to what is now called Eastern Illinois University.3 The city's population was about 8,000 then. He was the youngest child born to Clifton Wayne Pattin and Velda (Roberts) Pattin.4 Wayne was a tailor, and during World War II he was a Navy Seabee.5 Martin had an older sister, Charlotte, and an older brother, Jerry.6 Wayne and Velda divorced about five years after Marty was born, and the three children were raised by relatives.7 Mostly that fell to their grandparents, whose small home and family apple orchard sat next to Illinois Central Railroad tracks.
Marty demonstrated great throwing ability at a young age. "Nobody in the neighborhood messed with me because if they got me mad, I was deadly from a block away with a rock," he said in 2011.8 His brother was among early athletic role models; Jerry was an offensive contributor on both football and basketball teams in grade school during the early 1950s.9
It was in baseball later in the '50s that Marty started making a big name for himself locally. However, an actual career in baseball didn't seem likely until a fateful day in May of 1953, when he was barely 10 years old. Marty was pitching for the fifth-grade boys at Charleston's Washington Elementary, and his team had lost all 12 of its softball games against the fifth-grade girls. Almost 20 years later, he told a local sportswriter that he had become so obsessed with developing his Donald Duck voice around classmates that he neglected his pitching. The writer's account reported the turning point on that warm afternoon:
This day was no different. The score was 2-0 in favor of the girls. The bases were loaded and no one was out.

"Please talk like a duck, Marty," the girls at bat shouted. Pattin looked around suddenly and caught his outfield sneering at him.

He realized for the first time that he had to choose … pitcher or duck, which would it be?

Pattin flipped a coin to decide his fate. Heads, it would be pitcher and tails, duck. The coin read heads and Pattin went on to win the game.
This columnist still has the two-headed coin he let Pattin use.10
Pattin's 1970 Topps baseball card noted that he went on to throw three no-hitters during his high-school years. One was as a sophomore for the Charleston High School Trojans three days after his 16th birthday. He struck out 15 on the Martinsville, Indiana, team in the process. A walk and two teammate errors kept him from a perfect game.11 He also hurled a no-hitter in late June of 1960 for an American Legion team in Mattoon.12 Just a week later he hurled another.13
During Pattin's junior year, Charleston High School coach Merv Baker arranged for him to work for a local philanthropist and restaurant owner, Walt Warmoth. Marty was employed 30 to 40 hours a week at Walt's Café, and Warmoth became a father figure to the rising star. Warmoth eventually told him not to worry about paying college tuition, and the Charleston native chose to enroll in town at Eastern Illinois University. Pattin continued to work at Walt's all through college, and the two remained close for many years afterward.14
One collegiate highlight for Pattin occurred with the Champaign-Urbana team in the new Central Illinois Collegiate League during the summer of 1963, after his sophomore year at EIU. Champaign-Urbana won the championship, and Pattin notched three one-hitters.15 At the end of the season he was named a First Team All-Star of the league.16
In April of 1964, toward the end of his junior year at Eastern, Pattin married Vera Replogle of Charleston, and the couple received a memorable surprise when Pattin's EIU baseball teammates stood in two rows outside the church and formed a long archway by holding baseball bats aloft. At the time he had a 4-0 record for Eastern's team, and he had made clear his desire to play pro ball as his career.17 By season's end he ran that record to 10-3, and his 130 strikeouts were the most among all smaller colleges in the National Intercollegiate Athletic Association.18 He helped his cause further that summer by earning mentions in The Sporting News for nine consecutive weeks. Reasons included winning three complete games in eight days,19 stretching his Central Illinois Collegiate League career total of one-hitters to five,20 and earning a First Team All-Star spot again, this time unanimously.21
The high point of Pattin's senior season with EIU came early, on April 23, 1965, in Normal against Illinois State. He struck out 22 of the 27 batters he retired.22 Pattin's 1970 Topps card states that he graduated with a bachelor's degree in education. He eventually earned a master's degree from EIU as well, but he kept the big leagues squarely in his sights as life after college loomed. But despite Pattin's consistent success, major-league scouts were reportedly skeptical that he had the physical tools to reach the majors. "It made me more determined to make it to the big leagues and to stay there," Pattin said in 2012.23 In particular, he never forgot a scout for the Phillies telling him that, at 5-feet-11, he was too short to be taken seriously as a major-league prospect.24
That kind of thinking didn't stop the Los Angeles Angels from selecting Pattin in the seventh round of the June 1965 amateur draft. After signing with the Angels, he made his first professional start on July 11 for the Double-A El Paso Sun Kings against the Dallas-Fort Worth Spurs. El Paso lost, 6-5. Pattin gave up four runs on 10 hits in six innings, but he wasn't the losing pitcher.25 Manager Chuck Tanner was pleased, saying, "I think Marty Pattin did well in his first start in pro ball. …"26 It ended up being a very unfamiliar summer for Pattin. Though his 4.70 earned-run average was lower than the team mark of 5.19, his record was 0 wins, 6 losses.
In the aftermath of that rude awakening, it's understandable that during the subsequent winter a newspaper back home might have implied that he was developing a contingency plan for his career. "Marty Pattin, holder of almost every pitching record at Charleston High School and Eastern Illinois University, has evidently checked professional baseball out of his life for a while," reported the Mattoon Journal Gazette. "Pattin this week signed a contract to teach industrial arts and physical education at Stewardson-Strasburg High School this coming semester."27
Be that as it may, by the end of April Pattin had accepted a demotion to the Angels' Class-A team across Illinois in the Quad Cities. In five starts, four of which he completed and three of which were shutouts, he bounced back with a record of 4-1 and a 1.26 earned-run average. He was soon promoted to Triple-A Seattle (Pacific Coast League), and experienced the minor-league high point featured on his first Topps baseball card in 1969: He won his first six games for Seattle, on his way to a 9-2 record.
As the following winter drew to a close, Pattin found himself facing two future Hall of Famers who'd each already appeared in multiple All-Star Games. He apparently couldn't wait to write home about it: "Palm Springs is great! We won our first exhibition game Saturday, March 11 against the Cubs in 11 innings. I came in and pitched the eleventh inning and got the win," he wrote on a postcard to Mattoon's daily newspaper. "Sure felt good pitching against Billy Williams and Ron Santo. Eisenhower was at the game."28
Pattin had a very different reason to be excited during the regular season: On May 29, 1967, he and Vera became parents with the birth of their son Jon.29 As for baseball, Pattin spent the entire 1967 season with Seattle. Though his record for the 69-79 Rainiers was 12 wins and 11 losses, his ERA was 2.69, versus 3.01 for the staff as a whole, and his 140 strikeouts in 184 innings easily topped all Seattle pitchers. After 1967, he played only 10 more games in the minor leagues.
The first of those 10 was on April 20, 1968, against Spokane, and served notice that Pattin belonged in the majors. He gave up single with two outs in the first inning, after which he pitched hitless ball and struck out 11 batters, 10 in the first five innings.30 He pitched well in three more starts, and then the Mattoon newspaper, under a very large photo of him wearing a California Angels cap, was delighted to announce that he would join the Angels. The paper also noted that the team would be in Chicago, about three hours north, for the start of a two-game series with the White Sox. The paper also noted, for any fans looking to make the trip, that the second game would be played in Milwaukee's County Stadium instead of Chicago's Comiskey Park.31
California manager Bill Rigney was kind enough to accommodate travelers from Mattoon and Charleston by making the date of Pattin's major-league debut Tuesday, May 14, in Chicago before 8,708 people in the seats. Pattin became the Angels' sixth pitcher of the contest, won by the White Sox, 7-6, and held the home team in check in the eighth inning. His very first pitch was a called strike, thrown to second baseman Tim Cullen. Pattin's second pitch was a ball, and then he induced Cullen to foul out to third. Pattin then struck out pitcher Wilbur Wood. Shortstop Luis Aparicio, a future Hall of Famer, singled to center, but he was soon thrown out trying to steal.32
Three months later, on August 13, in Anaheim, Pattin experienced a top highlight of his debut season: pitching against Mickey Mantle. "I worked him to 3-and-2 and then my knees actually started shaking," Pattin recalled a few years ago. "I said to myself, 'Mick, it's either you or me. My best pitch is a fastball, so here it comes.' So I reared back and I threw him a high fastball as hard as I could throw it. He swung and missed it. Man, I could have floated off that mound. That was the greatest thrill. As a kid, I dreamed about that so many times and then to actually do it. …"33
Pattin stuck with the Angels for the rest of the 1968 season. All but four of his 52 appearances were in relief, and though he had a 4-4 record, his 2.79 earned-run average compared favorably with the staff's 3.43. Nevertheless, he didn't remain an Angel for much longer: On October 15, was selected by the brand-new Seattle Pilots in the expansion draft.
The Mattoon newspaper printed a long article about Pattin's thoughts on the switch. For one, he looked forward to having a much better chance of being a starting pitcher, partly because bullpen duty proved to be pretty taxing on his arm, but also for financial gain. "You can't make any money relieving," he said, "unless you're a Hoyt Wilhelm." To make ends meet that winter, he had already started working as a substitute teacher at Charleston's Jefferson Junior High School. That was scheduled to last until December, at which point Pattin would continue pursuing his master's degree at EIU.34
It wasn't all downhill for Pattin in 1969 after that one-of-a-kind starting assignment on April 8. Toward the end of April he came within four outs of no-hitting the Angels on his way to a two-hit shutout – but his ERA of 5.62 was the worst of his entire career by more than a full run. He finished with a record of 7-12, and he had only two other losing seasons in his major-league career.
In 1970 Pattin had a solid season for the team after its sudden move to Milwaukee, posting a 14-12 record, completing 11 starts, and lowering his earned-run average by more than two runs. His winning record looks even better when one considers that the Brewers won only 65 games and lost 97. Though his record the next year was 14-14, he reduced his ERA a little more, to 3.13, thanks to five shutouts. One big highlight of the 1971 season came off the field, when his and Vera's second son, Jeff, was born on May 10.35 His baseball high point was being named as the only Brewer on the American League All-Star team. He didn't get in the game, as manager Earl Weaver used only three relievers after starter Vida Blue went three innings. It was the only time Pattin was named a league All-Star.
In a major trade on October 10, 1971, Milwaukee sent Pattin and outfielder Tommy Harper, along with Lew Krausse and minor-leaguer Patrick Skrable, to the Boston Red Sox for a boatload of talent: Jim Lonborg, Ken Brett, George Scott, Billy Conigliaro, Joe Lahoud, and Don Pavletich.
Pattin joined a team that had a winning record. Boston's record in 1971 was 85-77 and they finished third in their division, far behind the pennant-winning Orioles. In 1972, the Red Sox were serious playoff contenders. Boston was in first place for more than 20 days and entered October with a narrow lead over the Tigers, whom they happened to play the final three games of the season. Boston lost to the Orioles on October 1 and then the next two games against Detroit, and the latter clinched the divisional crown in the process.
Still, Pattin helped considerably with a record of 17-13, four shutouts, and an ERA of 3.24. The 17 wins proved to be his career best. Along the way, he almost made history: On July 11, 1972, he took a no-hitter against the Oakland Athletics into the ninth inning. After he retired the first batter, Reggie Jackson singled. Pattin completed a 4-0 one-hitter.
In 1972, he hit the only two home runs of his major-league career. They were hit three months apart, both at Fenway Park against Milwaukee, both off former Brewers teammate Bill Parsons, and both were hit with a runner on base after two outs in the bottom of the second inning.
In 1973 the Red Sox improved their winning percentage again but finished eight games behind the Orioles in the division. Pattin split 30 decisions and had an ERA a run higher than in 1972, though his 11 complete games matched the second highest total of his career. After the season, the Red Sox traded him to the Kansas City Royals for Dick Drago. Pattin spent the rest of his major-league career, seven seasons, as a Royal. The location was fine with him.
"Coming from a small town and growing up there, I got used to the Midwest," Pattin said of this particular trade. "The first time I experienced going to a big city was in 1968 with the Angels in the Anaheim-Los Angeles area. It was a lot easier to get used to an area like Kansas City. I enjoyed playing everywhere but I was more comfortable in Kansas City and Milwaukee."36
Pattin's first season with the Royals was far from comfortable. He started only 11 games and made only 14 more appearances out of the bullpen throughout all of 1974. He won only three games, the fewest of his major-league career, and with seven losses his .300 winning percentage was his worst. His ERA of 3.99 was above his career figure, though the staff's was 3.51 so his wasn't too much worse. In the offseason he and his family still lived in Charleston, and shortly before her husband's move back home, Vera told his hometown newspaper that Marty was very deep in manager Jack McKeon's doghouse.
"Marty doesn't know why either. He really doesn't," Vera said. "I know Marty has even asked McKeon and still can't get a straight answer as to why he's not pitching." She was aware that her husband had struggled during April and May but said that happened to him almost every season. "I just can't help but feel McKeon has a personal dislike for some reason and neither one of us really can figure out why," she concluded.37
McKeon remained KC's manager for 1975 but Pattin also remained with the club. McKeon was fired shortly after the All-Star break and replaced by Whitey Herzog. Pattin continued to make most of his appearances out of the bullpen, which remained true for the rest of his career, but he completed five of his 15 starts on his way to rebounding with a 10-10 record and an ERA of 3.25. He had five saves.38
In 1976 Pattin had the last losing record of his career, 8-14, despite his best ERA ever, 2.49. Most importantly, he had his first experience in the playoffs. The Royals finished the season atop the AL West and Pattin pitched in relief in two of the five games of the American League Championship Series against the Yankees, both in New York. In Game Three, on October 12, he entered in the decisive sixth inning. Starter Andy Hassler left two runners on and none out. Due up was DH Lou Piniella, a right-handed batter, so Pattin, a righty, was brought in. Yankees manager Billy Martin countered by having left-handed batter Carlos May replace Piniella. Pattin was directed to issue an intentional walk to May to load the bases. With two more lefties batting next, Pattin was in turn replaced. All three runners soon scored, and it took the fifth pitcher of the inning, Mark Littell, to retire the side without further damage. A 3-2 Kansas City lead had turned into a 5-3 deficit, which also became the final score. Two days later, Pattin pitched in the final game. He relieved the second Kansas City pitcher, Paul Splittorff, with the bases loaded and two outs in the bottom of the fourth. Pattin faced Thurman Munson, who flied out to left field to end the threat.
In 1977 Pattin recorded the best winning percentage at that point in his career, .769, by winning 10 games and losing 3. He had eight straight wins from June 26 to September 9, including a nine-inning scoreless relief outing versus the Cleveland Indians on July 1. The Royals again topped the AL West. Pattin's lone appearance in the ALCS lasted six innings. It was at home on October 8, during the fourth game, against the Yankees. He replaced Larry Gura with two on and none out in the top of the third inning. Though one of those runners ended up scoring, and the Yankees already had the lead and never yielded it. Pattin faced 24 batters and was touched for two runs, one unearned. The next night the Yankees won the finale as well.
Each season from 1978 through 1980 Pattin pitched fewer than 100 innings, as he was shifted to more relief work, but in 1978 he had the chance to face the Yankees one last time in the ALCS. That was at home in October 4. After six innings the Royals led 5-0 but in the top of the seventh starting pitcher Larry Gura gave up two runs. Pattin took over with two runners on base and coaxed a popout to short by Thurman Munson. The inning ended when the next batter, Piniella, lined out to center. Pattin, in turn, left the game with two on and none out in the eighth. Al Hrabosky allowed both inherited runners to score but the Royals still won by a final score of 10-4. It was their only win of that ALCS.
The 1980 season was Pattin's last in the majors. He made no starts and won four relief appearances without a loss. His final regular-season appearance came on October 1 versus Seattle. He gave up one earned run in four innings. Over his big-league career, Pattin compiled a record of 114-109 with 25 saves. He completed 64 of his 224 starts and had an ERA of 3.62.
Dan Quisenberry provided what little relief pitching the Royals required in sweeping the Yankees from the 1980 ALCS, and that resulted in Pattin finishing his career on a World Series team. The Royals lost to the Phillies in six games. Pattin pitched in the finale at home on October 21. In the seventh inning Kansas City's third pitcher, Splittorff, gave up a leadoff single to Pete Rose. Pattin came in to face future Hall of Famer Mike Schmidt. Rose was caught stealing, and Pattin struck out Schmidt looking. Bake McBride reached on an error, but Pattin ended the inning by striking out four-time All-Star Greg Luzinski.
Pattin was granted free agency three days later, and in the mid-November free-agent draft he was selected by California, Oakland, and Seattle, but ultimately nothing came of that.39 When it was clear that he had retired, Walt Warmoth and his wife, Donna, gave Pattin the scrapbooks they'd kept of his mentions in newspapers over the years. Their effort filled 16 volumes.40 And Walt's Café, where Pattin worked so many hours? In 1972 it had been renamed Marty's.41
In August 1981, the University of Kansas signed Pattin as head baseball coach for the 1982 season.42 Pattin held that job through the 1987 season and, as of early 2018, continued to live in the area.
From 1989 to 1991 Pattin had the pleasure of following his son Jon as a first baseman and catcher for Class-A teams of the San Francisco Giants. Meanwhile, Marty pursued other baseball activities. Soon after leaving the Kansas position, he coached for two years in the minor leagues for the Toronto Blue Jays and then spent two years coaching for the Lucky Gold Star Twins in Seoul, South Korea. Vera died of cancer in early 1996. He remarried a few years later, but his second wife, Joy, died in 2009, also of cancer.43
Pattin had extra incentive to root for the Royals in their march toward the 2014 World Series. The Royals' Mike Moustakas had made headlines the previous year for calling 911 to report a hit-and-run accident. The pedestrian who was struck was taken to a hospital, and it turned out to be Pattin's step-grandson. The next time Pattin attended a Royals home game, George Brett made sure Pattin and Moustakas spoke.
"I said, 'Moose, man, I don't know what to say, but I thank you from the bottom of my heart,'" Pattin said. "I remember putting my hands on his shoulders and telling him, 'Moose, good things are going to happen for you. Just be patient.'"44 And as many fans know, though the Royals lost the 2014 World Series, they were world champions a year later.
Marty Pattin died on October 3, 2018.
This biography appeared in "Time for Expansion Baseball" (SABR, 2018), edited by Maxwell Kates and Bill Nowlin.
Notes
1 "Marty Pattin to Pitch Pilot Opener," Union Bulletin (Walla Walla, Washington), April 8, 1969: 6.
2 Don Zminda, From Abba-Dabba to Zorro: The World of Baseball Nicknames (Chicago: STATS Publishing, 1999), 116.
3 At the time of Pattin's birth it was called Eastern Illinois State Teachers College.
4 Her first name was given as Velda in the 1920, 1930, and 1940 censuses, as well as in September of 1937 in the US Social Security Applications and Claims Index entry for her, but updates in April of 1949 and shortly after her death in March of 1993 indicate that her first name was Mary and that Velda was her middle name.
5 "Wayne Pattin," Mattoon (Illinois) Journal Gazette, May 30, 1998: 6.
6 Charlotte was born in Charleston on born May 18, 1938, according to her Montana Marriage Application dated August 9, 1976. The census taker visited the Pattins on April 4, 1940, and Jerry was listed as three months old, but the precise date of his birth was December 12, 1939, according to newspaperarchive.com/jerry-pattin-obituary-244765693/.
7 Tom Keegan, "Duck Tales: Ex-MLB Pitcher, KU Coach Pattin Recalls Playing Days," Lawrence (Kansas) Journal-World, June 28, 2011: 1B.
8 Keegan: 12B.
9 For example, see "Lincoln Plays Bennett Today for Grade Title," Daily Journal-Gazette (Mattoon, Illinois), November 16, 1951: 11; "Lincoln Gridders Cop Tournament," Daily Journal-Gazette, November 17, 1951: 5; and "Washington Defeats Lowell, 38-18, to Win Grade Tournament Crown," Daily Journal-Gazette, March 21, 1952: 5.
10 Harry Reynolds, "To Duck or to Pitch," Daily Journal-Gazette, November 29, 1972: 4.
11 "Charlton Soph Pitches No-Hitter," Daily Journal-Gazette, April 11, 1959: 5.
12 "Pattin Twirls No-Hitter for Legion Nine," Daily Journal-Gazette, June 27, 1960: 5.
13 "Pattin Hurls No-Hitter in Legion Play," Daily Journal-Gazette, July 5, 1960: 5.
14 Keegan, 12B, blending in additional details from Bill Lair, "Field of Dreams: Panther Style," Eastern Illinois Alumni, Summer 2012, 6.
15 Ed Alsene, "Champaign-Urbana Cops College League's Title," The Sporting News, August 24, 1963: 41.
16 Ed Alsene, "Unanimous Four Top CIC Loop's All-Stars," The Sporting News, August 31, 1963: 37.
17 Jerry Parsons, "Sports Stop," Daily Journal-Gazette, April 15, 1964: 6.
18 Jerry Parsons, "Sports Stop," Daily Journal-Gazette, June 20, 1964: 5.
19 Ed Alsene, "Hanssen Hurls 2nd No-Hitter; Urbana Champ," The Sporting News, July 25, 1964: 40.
20 Ed Alsene, "Another One-Hit Game for Pattin, Fifth in 2 Years," The Sporting News, August 1, 1964: 40.
21 Ed Alsene, "Champ Urbana Grabs 5 Spots on Star Squad," The Sporting News, September 5, 1964: 18.
22 "EU Meets Illinois State in IIAC Twin Bill Today," Mattoon Journal Gazette, April 24, 1965: 5.
23 Bill Lair, "Field of Dreams: Panther Style," Eastern Illinois Alumni, Summer 2012, 6.
24 Keegan, 12B.
25 El Paso (Texas) Herald-Post box score.
26 Don Sanders, "El Paso Hustles but Sees Sixth Consecutive Loss," El Paso Herald-Post, July 12, 1965: A9.
27 Tom Hoppin, "Hoppin' Around Sports," Mattoon Journal Gazette, January 20, 1966: 7.
28 Marty Pattin, "Postcard from Marty," Mattoon Journal Gazette, March 17, 1967: 6.
29 Jon's birth date is specified at baseball-reference.com/register/player.fcgi?id=pattin001jon.
30 Hy Zimmerman, "Goose Eggs, Goose Pimples in PCL," The Sporting News, May 4, 1968: 33.
31 "Marty Pattin Is an Angel!" Mattoon Journal-Gazette, May 9, 1968: 13.
32 "White Sox Whip California, 7-6; Marty Pattin Pitches in Relief," Mattoon Journal Gazette, May 15, 1968: 6.
33 Keegan, 12B.
34 Jim Kimball, "'Glad to Leave Rigney Bullpen'," Mattoon Journal Gazette, October 17, 1968: 13.
35 "Marty Pattin Becomes Father a Second Time," Mattoon Journal Gazette, May 12, 1971: 13.
36 Lair, 6.
37 Jim Kimball, "On the Ball: Pattin in Doghouse, Wants to Be Traded," Mattoon Journal Gazette, September 17, 1974: 6.
38 Pattin "was named American League pitcher of the month twice during the 1975 campaign, in June as a starter and in September as a reliever," according to his Wikipedia entry, but numerous sources indicate that only the NL started issuing that award in 1975 and that the AL didn't follow suit until 1979. For example, see baseball-almanac.com/awards/pitcher_of_the_month_award.shtml.
39 "Royals Inactive in Draft; No One Picks La Cock," Sedalia (Missouri) Democrat, November 14, 1980: 11. A special draft was held on January 20, 1981, for three remaining free agents who were still unsigned, namely Pattin, Bill Travers, and Bill Castro, but only Travers was selected by anyone. See, for example, "Sports Digest," Wisconsin State Journal (Madison), January 22, 1981, section 2, page 2.
40 Brian Nielsen, " 'Too Small to Make It' Pattin to Have Jersey Retired at EIU," Mattoon Journal Gazette, April 17, 2009: 13.
41 Tom Keegan, "Pattin Bleeds Blue," Lawrence Journal-World, October 13, 2014: 1B. Pattin is mentioned after the article continues on page 3B.
42 Gary Bedore, "Jayhawks Sign Pattin for Baseball," Lawrence Daily Journal-World, August 4, 1981: 11.
43 Eileen Roddy, "Slice of Life: Former Royal Marty Pattin Gets Start Pitching Apples," Lawrence Journal-World, May 2, 2011; apparently not published in a print edition of this daily newspaper. See 2.ljworld.com/news/2011/may/02/slice-life-former-royal-marty-pattin-gets-start-pi/.
44 Keegan, October 13, 2014: 3B.
Born
April 6, 1943 at Charleston, IL (USA)
Died
October 3, 2018 at Charleston, IL (US)
If you can help us improve this player's biography, contact us.
https://sabr.org/sites/default/files/PattinMarty.jpg
600
800
admin
/wp-content/uploads/2020/02/sabr_logo.png
admin
2012-01-04 20:49:47
2012-01-04 20:49:47
Marty Pattin