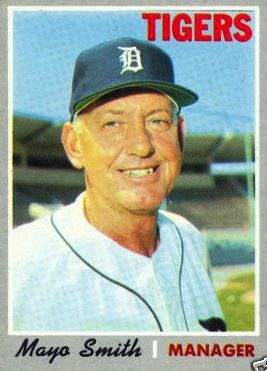 ---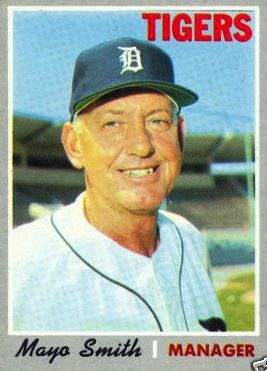 Mayo Smith was a baseball lifer who served the game in many ways in his 38-year career. Except for being the manager of the 1968 World Series champion Detroit Tigers, he was not well-known by the public. However, within the game, he was a very well-known and well-liked figure who had the nickname "America's Guest" for the amount of time he spent in ballpark press rooms during his time as the New York Yankees' superscout. Jerry Green, in his book Year of the Tiger, said he and other writers thought of Smith "as a bland man without imagination—just another conservative baseball manager." However, a detailed look at Smith's life shows that Green and his fellow writers missed the mark. Mayo was an innovator throughout his career. He is best known for his signature move of Mickey Stanley to shortstop for the 1968 World Series, but that isn't the only such example.
Edward Mayo Smith was born in New London, Missouri, on January 17, 1915, to Eva Lake Barkley Smith and George Frederick "Fred" Smith. Smith's middle name, Mayo, came from his grandmother, who had been a patient at the Mayo Clinic in Minnesota and liked the name. From a young age, he was known by that middle name. Mayo's family moved to Lake Worth, Florida, near West Palm Beach, when he was 10, and that area was home to him for the rest of his life. He received the nickname "Catfish" during his high school years, after Georgia Bulldogs end Vernon (Catfish) Smith, an All-American in 1931.
As a youngster, Smith excelled in several sports. At age 16, he was a professional billiards player, playing exhibitions against star pool players Ralph Greenleaf and Willie Hoppe. He played high school football in Lake Worth, too.
However, his favorite sport after baseball was clearly golf. At the time he went into pro baseball, he also had chances to become a pro golfer. There are many ties to Smith and golf in baseball publications of the time. Probably the most amusing story took place in 1943 when a sportswriter, not knowing what he was doing, lost a bet to Smith on the links early in the day and, chagrined, made the mistake of challenging him to a game of pool that evening — and got whipped there, too. He often played in the National Baseball Players Golf Tournament in the spring, reaching the semifinals in 1959. When he was hired to manage the Tigers in late 1966, he had a 10 handicap and lamented, "I love to play golf and I'm at it all winter. From now on, I won't play as much as I'd like to" because of the new job. In 1956, Smith and fellow Lake Worth major leaguer Herb Score were on the tournament committee for the "Cavalcade of Champions" sponsored by the local Exchange Club. After his retirement from baseball, the Mayo Smith Golf Tournament was established at the Atlantis Country Club in Lake Worth to benefit the Palm Beach Junior (now Community) College.
As a youngster, Smith's main position was third base. Although he was right-handed in golf and pool, he was a lefty hitter at the plate. Lake Worth High School did not have a baseball team at the time, so Mayo played for an Elks team in a county league. At age 18, former Cincinnati Reds and St. Louis Browns manager Dan Howley signed Smith to play outfield for the Toronto Maple Leafs of the International League, the highest level of minor league ball. Mayo immediately made a good impression in the 1933 Toronto training camp, and was described in the Toronto Star as a player who "appears to have that little something [who] is destined to go places." In fact, legendary St. Louis Cardinals General Manager Branch Rickey attempted to trade for Smith that spring, but was rebuffed by the Leafs. Smith did not have a lot of power but was very fast; there were many references to his speed as a rookie, and he finished second in a team race to Detroit outfield prospect Hub Walker during a team field day in August. However, minor injuries and illness derailed him, and he did not make his official pro debut until July 24, 1933, subbing for a player with a troublesome molar. Smith made a great catch against the wall and got a hit in his debut. However, a hand injury set him back in August, and Smith, seemingly overmatched as an 18-year-old, only went just 3-for-29 (.103) in his first pro season.
Smith was farmed out by Toronto in 1934 to the Wilmington (North Carolina) Pirates of the Class B Piedmont League. He spent most of the 1935 season in Wilmington too—although another illness caused him to miss time—before returning to the Leafs in September. In 1936, the Wilmington team became the Durham Bulls, and Smith spent all season there. He did not show much power in the Piedmont League, hitting only four home runs in his three seasons, but he did hit .315 in 1935 in Wilmington. A broken collarbone limited him to 66 games in 1936.
In 1937, he stuck with Toronto and played three seasons with the Maple Leafs. Again, he was not a big power hitter, slugging just 66 extra-base hits, including nine home runs, over the 1937–1939 seasons. He was traded in the fall of 1939 to the Buffalo Bisons of the International League for John Tyler. That off-season he married the former Louise Otto on March 10, 1940. Two years later, on July 16, 1942, daughter Judith Ann was born.
Mayo spent five seasons (1940–1944) as the Bisons' center fielder, later described by a Buffalo writer as "the happiest days of [Smith's] career." He was a popular player in Buffalo, a Tigers farm team 1941–1944; Bisons fans gave him a "Mayo Smith Day" in his home town of Lake Worth in the spring of 1942. Later, when he managed in Amsterdam, New York, in 1949 and 1950, it was reported that Buffalo fans were often seen at Amsterdam games. Smith crossed paths with the Tigers in his first spring training as a Bison when he made a classic catch against the Tigers in Lakeland off the bat of Hank Greenberg. The line drive went an estimated 475 feet; those who saw it would compare it favorably to the higher-profile catch by Willie Mays in the 1954 World Series. Smith was not called into service during the war because he was married with a child, and later, because of an illness that delayed his major league debut. One of the many friends Mayo made in Buffalo was a fellow named Bob Smith, who later became better known as "Buffalo Bob" Smith, creator and co-star of the Howdy Doody TV show.
Smith's best season was 1944, when he won the International League batting title. Manager Bucky Harris made it his goal to help Smith win the title, hitting Mayo second to allow him to hit the ball through the hole. Whether that, or something else, was the reason, Smith hit .340 with eight home runs, 55 RBIs, and 123 runs scored to win the title. His major competition for the title was his roommate, Shovels Kobesky. The respect Mayo earned was evident when Kobesky was quoted as saying, "I got more of a wallop over Mayo Smith winning that batting championship than if I had won it myself." That fall, Smith realized his dream of making the major leagues when Connie Mack drafted him for the Philadelphia Athletics on November 1, 1944.
However, that winter was one of the hardest times in Mayo's life, as he contracted rheumatic fever in February 1945. The prognosis was that he would miss the entire 1945 season, which left Smith heartbroken. He worked through the spring to get back into shape, but he had a relapse June 6. Doctors recommended that he miss the season—and even thought he might never play again—but on June 24, Mayo Smith made his big-league debut for the Philadelphia Athletics. He pinch-hit for Bobby Estalella in the eighth inning of the first game of a doubleheader, went into center field, and was 0-for-1 at the plate. This was a terrible Athletics team; Smith's first game was the sixth loss of a 14-game losing streak, and gave Philadelphia a 20–35 record.
Smith was pretty much a regular after being called up, playing in 73 of the 98 remaining games of the season, including 68 of the final 82 after being inserted into the lineup. He was a regular in left field from July 13 to August 3 before becoming the regular center fielder. Despite having only five doubles and no triples or homers, he batted third 16 times, hitting sixth and seventh most of the rest of the time. In September, after missing about a week, he was inserted into the leadoff spot, where he played for about a week. Mayo played his last game in the majors on September 27, 1945. Playing right field and batting second, he went 1-for-4 and scored a run. It was also the last game of the season for the Athletics, who finished last with a 52–98 record. After the season, Smith and pitcher Steve Gerkin (0–12 for the 1945 Athletics despite a 3.62 ERA) were traded to the Portland Beavers of the Triple A Pacific Coast League for pitcher Wandel (Lefty) Mossor, who never pitched in the big leagues.
Smith played for Portland from 1946 to 1948. His best year as a Beaver was 1947, when he hit .311 with 30 doubles. His manager in 1946 was former Tiger Marv Owen, and in 1947 Jim Turner, future pitching coach of the New York Yankees, became manager after the Beavers and Yankees established an informal working agreement. Turner recommended Smith to the Yanks, who hired him to manage their team in the Class C Canadian-American League, the Amsterdam Rugmakers. Smith was player-manager in Amsterdam in 1949 and 1950. The Rugmakers went 67–71 to finish fifth in 1949 but moved up to fourth in 1950, going 72–65. As a player, moving down to Class C, Mayo showed he could hit—with a .297 average, 16 home runs, 116 RBI, and 95 runs scored in only 119 games in 1949, including three homers in a doubleheader.
The Yankees promoted Smith to manage the Norfolk Tides of the Class B Piedmont League, in 1951. The Tides won the pennant both years Smith was at the helm; in 1951, they went 81–58, winning the playoffs; in 1952, they went an astounding 96–36, winning the pennant by 26.5 games, but they lost in the first round of the playoffs. Smith was later named to the initial class of the Tidewater Baseball Hall of Fame in 1962.
Mayo continued to move up the Yankees' chain, managing the Double A Birmingham Barons in 1952 and 1953. He posted winning records for both teams, going 78–76 for a fourth-place finish in 1953 and 81–70 to end up third in 1954. There were rumors that when Casey Stengel retired, Smith could be the man to replace him. Stengel said of Smith: "There's one minor [league] manager who comes to our preliminary camps loaded with curiosity and questions. He watches everything and asks about everything. He never forgets. He is headed, for sure, for a big [league] job." Stengel was right.
The Philadelphia Phillies named Smith their manager on October 14, 1954, replacing Terry Moore. He was hired by Roy Hamey, the Phils' general manager, who had gotten to know Mayo from his years assisting Yankees GM George Weiss. Another factor in Smith's favor was his experience as a manager, which interim manager Moore did not have. One of Smith's first moves as Philly manager was to acquire a pitching machine, which was rather new at the time.
The Phillies struggled often in 1955, falling to a 37–48 record at their worst, before rebounding to finish .500 at 77–77, good for fourth place, 21.5 games behind Brooklyn, still better than the 75–79 mark of 1954. In 1956, Smith ran the Phillies' first instructional camp. Unlike today's fall camps, this one was held in the spring, during the last three weeks of February. Forty-four players were in the camp, including future big leaguers Don Cardwell and Dick Farrell.
The 1956 season was tough for Mayo and the Phillies. They started 5–15, but Smith remained patient with his players. On August 8, they were only one game under .500 before another slump consigned them to a 71–83 finish, in fifth place, 22 games behind the Dodgers.
The Phils had their best season under Smith in 1957. In mid-July, for two days they were just percentage points out of first place in a tight five-team race involving Brooklyn, Milwaukee, St. Louis, and Cincinnati. However, they slumped to 5–15 in their next 20 games and never recovered, ending up at .500 again (77–77).
Philadelphia started slow again in 1958 before inching above .500 at 39–38. They then lost their next seven matches and eight of nine, and Phillies management had seen enough. Mayo was fired as manager and replaced by former Phils Whiz Kids skipper Eddie Sawyer.
Smith was rumored to be in line for the Buffalo managerial job, thanks in part to the goodwill he'd built up there during his playing career, as well as the Reds job as early as August. It turned out that the Reds rumors were true, as Cincinnati hired Smith on September 29 to replace interim manager Jimmy Dykes. It was a controversial move, since Dykes had gone 24–17 after replacing Birdie Tebbetts, who'd gone 52–61. The 43-year-old Smith got the job because the Reds wanted a younger man than the 62-year-old Dykes. His record of a fourth place and two fifth-place finishes did not impress the Cincinnati locals. In Cincinnati, he rented Jim Bunning's house while the Kentucky native was off pitching for the Tigers.
Smith needed to start fast in 1959, and he did; the Reds were in first place at 14–9 on May 9, making the move of Frank Robinson to first base look good. They then lost their next four games, and at the All-Star break, they were 35–45, one step above the basement and 10.5 games back, when Smith received bad news for the second straight July: He'd been fired, replaced by his good friend Fred Hutchinson. Hutch and Mayo knew it was happening; shortly before the firing, Hutchinson called Smith to tell him the Reds had offered him the job, but Hutchinson had turned it down out of respect for his friend. Smith told Hutchinson to take it because if he didn't, somebody else would.
Smith did not stay jobless for long. However, his next job was unique. The Yankees hired him in September 1959 for a "field executive" position to serve as a combination advance man and scout of the other league—an important role with the new interleague trading period—basically what are called these days "superscouts." While a superscout, he shared some of his observations with writers and fans; it was not unusual to see a one-line tidbit in a Sporting News column giving Mayo's opinion about a player. Smith wrote an article for Sport magazine in the summer of 1962 in which he described his job, and he listed "ten stars of tomorrow," who included Lou Brock, then two years away from his trade to the Cardinals and certainly had not shown much. Smith scouted for the Yankees from 1959 until 1966, when he was hired by the Tigers.
While a superscout, he had been mentioned in conjunction with several other jobs. After the 1960 season, broadcaster Harry Wisner said categorically that Casey Stengel would retire and that Smith would replace him. Lee MacPhail listed Smith as one of many candidates for the Baltimore Orioles job after the 1963 season. Certainly the closest Smith came to another major league managerial job was after the 1965 season when he almost replaced the retiring Al Lopez, Smith's good friend, with the Chicago White Sox. In fact, Jerome Holtzman said in The Sporting News that Smith would be named manager, even speculating on his coaching choices. Mayo's chances were scuttled in the interview with Sox owner Arthur Allyn. Chicago had finished second for three straight seasons, but Smith said in his interview that the club was not that good and had done that well only because of Lopez' ability, and supposedly asked for a three-year contract. That statement reportedly angered Allyn so much that he rejected the advice of Lopez and club vice president Ed Short and instead gave the job to Eddie Stanky. The 1966 White Sox finished fourth with an 83–79 record.
The 1966 Tigers suffered through a difficult season in which they lost two managers to illness, Charlie Dressen and Bob Swift both dying before the year was out. The second interim manager, Frank Skaff, was not given consideration to keep the job because Tigers General Manager Jim Campbell wanted someone with major league experience. Smith was not Campbell's first choice. The Tigers tried hard to woo Al Lopez back to the dugout after a year away, but he turned the Tigers down. The next choice was the Yankees' Ralph Houk, to whom the Tigers reportedly offered a $100,000 contract. However, the Yankees had finished last in 1966, and Houk did not want to be seen as deserting a sinking ship. The Tigers also tried to lure Bill Rigney from the California Angels, but after consideration, Rigney decided to stay in California. A long phone conversation between GM Campbell and recently retired Casey Stengel fueled rumors that the former Yankee skipper might be coming to Detroit, but given Stengel's knowledge of Smith, it is likely that he was a main topic of their conversation.
Mayo Smith was named manager of the Detroit Tigers on October 3, 1966. He was basically unknown to Tiger fans, who were asking, "Who's Mayo Smith?" His first move as manager was to ask All-Star shortstop Dick McAuliffe, a fine hitter but not a great fielder, to move to second base, and to make Ray Oyler his shortstop. Mayo didn't waste time getting to know his new players. He touched base with Al Kaline, whom he'd known through golf. A meeting with Bill Bill Freehan at the winter meetings went well, with Freehan praising Smith's knowledge of opposing hitters and his direct style. He called many of his new players during the winter to introduce himself. The word on Smith was that he had been too indecisive with the Phillies and Reds, and he worked hard early in camp to dispel those thoughts.
The 1967 Tigers came out of the gate on fire, winning 17 of their first 24 games to put them a half-game ahead of, ironically, the White Sox, the only other club in the league with a winning record. The Tigers had their biggest lead of the season on June 6, when their 31–18 record led the league by two games. After that they faltered, losing 10 of 12, and it became a five-team race for the pennant. The Angels hung around the race; on August 13, they were actually in fourth place, ahead of the Red Sox, 1.5 games back, but a seven-game losing streak to fellow contenders Minnesota and Boston knocked them out of contention.
Smith worked to keep the team in the race by keeping his cool and not overreacting to events. Mayo rarely had team meetings, and after one meeting, some of the veteran players asked if they could have a players-only meeting, and the manager Mayo said yes. He made it clear that it was his club and he was running it. Mayo spent his time helping to build his players' confidence. "The big thing is to not let the guys get down on themselves," he said. "There's nothing you can do about the mistakes you made or the games you lost. You just have to show up for the next game and do a better job." As the race heated up, Smith seemed to be the calmest man in the dugout. He even quit smoking in the summer of 1967. The Tigers were last in first place on September 18; the Red Sox won the pennant on the last day of the season. The consensus was that the bullpen had failed the Tigers, and Mayo was quoted as saying, "Our bullpen was not consistent enough."
Smith said over the winter that rebuilding the bullpen and finding a consistent right-handed pinch-hitter were the main off-season priorities. He succeeded with the pen; only three of the 13 relievers who pitched on the 1967 Tigers were back in 1968, and the bullpen was a strength of the 1968 club. He was not as successful with the pinch-hitter; Al Kaline, with 16 appearances, was the Tigers' main right-handed pinch-hitter. (In fact, Kaline walked and scored the pennant-winning run as a pinch-hitter.)
There was a feeling that Smith was much more serious in 1968 after the close call in 1967. While several preseason forecasters had the Tigers as the bridesmaids, none of them had them winning it all. The Sporting News picked the White Sox; Sporting News readers and the baseball writers (as a group) picked the Twins.
Dissatisfied with the left-hand hitting Norm Cash at first base, Smith had considered platooning Eddie Mathews (also left-handed), but on Opening Day, it was Mickey Stanley out there. Other first basemen Mayo tried included Freehan and Kaline. Cash had hit only .214 with three home runs in 145 at-bats against left-handers in 1967. Another player whose playing time was cut back was Joe Sparma, perhaps the Tiger who disliked Smith the most.
In the first game of a June 2 doubleheader, Mayo's 582nd game as a major league manager, he was ejected for the first time. In the ninth inning of a 3–3 game, Tom Tresh of the Yankees was out on a play at the plate (later supported by photographic evidence), but plate umpire Bill Kinnamon called him safe to break the tie, and Smith was ejected in the ensuing argument. Five days later, Smith was ejected again in similar circumstances—another play at the plate to break a tie in the ninth—this time involving Mike Paul of the Indians as the runner, Bill Freehan as the catcher, and Jim Honochick as the home plate umpire. However, the result of this game was different as the Tigers came back in the bottom of the ninth to win 5–4.
The Tigers ran away with the American League in 1968. After an Opening Day loss to the Red Sox, they won nine in a row. They were never more than 2.5 games out of first and went into first place to stay on May 10. At the All-Star break, they were up by 9.5 games with a 55–27 record, causing Las Vegas bookmakers to refuse to accept any more bets on the American League race. The Orioles got to within four games on August 27, but three days later, the Tigers expanded their lead to seven games, and a week after that, to nine full games. The Tigers clinched the pennant September 17, beating the Yankees, 2–1.
The big question going into the World Series concerned Al Kaline and how to get him into the lineup. While Kaline was out with a broken arm, the outfield of Willie Horton, Mickey Stanley, and Jim Northrup had helped lead the Tigers to the Series. Smith considered playing Kaline at third base in place of Don Wert, who hit .200 (when carried out to six decimals,.199626) in 1968, before trying Stanley at shortstop. While it was a surprise to see Stanley at short, the clues had been there. Early in the 1967 season, Dick Young had written in The Sporting News that Stanley could be Mayo's savior at short, a thought he most likely got from Smith himself. Smith was also asked about Stanley at short in early 1968, and he did not deny the possibility. In the Series, Stanley started every game at short, but Oyler came into the four Detroit wins as a defensive sub, replacing left fielder Willie Horton (Stanley went to center and Northrup to left).
Mayo made two other notable strategic decisions in the Series. He started Earl Wilson in Game 3 in Detroit, even though the right-hander was more vulnerable to the home run in Tiger Stadium than left-hander Mickey Lolich, to get Wilson's bat in the lineup (Wilson had hit seven home runs in 88 at-bats in 1968). Wilson went 0-for-3 in Game 3, but light-hitting Mickey Lolich hit his only major league home run in Game 2 in St. Louis. Perhaps buoyed by the homer, Smith let Lolich hit for himself in Game 5, down 3–2 in the bottom of the seventh with one out and nobody on. Lolich blooped a single to right to start a game-winning three-run rally.
The Tigers won the Series in seven games after being down three games to one, and Detroit had its first World Series championship in 23 years. Mayo was rewarded with The Sporting News' Manager of the Year Award and a new two-year contract, the first multiyear contract of his big-league managerial career.
The 1969 season got off to a poor start. On May 4, the Tigers were already seven games behind the Orioles at 11–13. Baltimore would run away with the first American League East Division pennant race. At the All-Star break, the Tigers were 52–41, 11 games behind the O's, and finished the season 90–72, 19 games behind Baltimore after a season-ending 2–1 loss in 10 innings.
After the season, Smith said the players' boycott of spring training hurt the team. "I know the boycott affected everybody when the players reported late, but we had additional problems on the Detroit club because we had won the pennant and the salary negotiations … took most of spring training," he asserted. While the Tigers tried to avoid complacency, some observers felt that was a major problem. The main reason according to the players was that nobody was going to beat Baltimore, which went 109–53. Bill Freehan, in his diary of the 1969 season, Behind the Mask, often discussed how discouraging it was to be chasing a team that did not seem to lose. For example, the Tigers had a seven-game winning streak in early June but gained only one game on Baltimore, going from 9.5 to 8.5 back.
The biggest controversy of the season was the firing of pitching coach Johnny Sain in August. Sain was highly popular with his pitchers and was known for his belief in positive thinking but also for isolating his pitchers from the rest of the team. George Cantor said in the Detroit Free Press that "Sain saw his pitchers as delicate, sensitive performers who must be understood and protected. Mayo saw them as playing cards, the 'hot hand,' tools for a specific function." Sain complained that his advice was not being taken by Smith, who kept control of how pitchers were used. Mayo saw it differently. "I don't know to whom he was making these suggestions. They certainly weren't being made to me. In fact, that was the biggest trouble with him. I could never get a straight yes or no answer from him. We would discuss something and it seemed he would be talking all around it, without coming to a point." By the end, Smith and Sain were barely talking, and when Sain complained to the papers, he was fired.
The 1970 season was a disaster for the Tigers. It started in the spring when Denny McLain was suspended for gambling and Freehan's book was published. While the book in general was complimentary of Mayo, the excerpts in the newspaper were not. The Tigers started out strong at 10–3 after an eight-game winning streak, but in less than a month, they were 17–18, 7.5 back. They were back over .500 at 38–33 by the time McLain returned July 1 from his suspension. They were still well over .500 as late as August 23 (68–57) but they only went 11–26 the rest of the way to finish 79–83. As the Tigers headed for their first losing season since 1963 and their worst record since 1960, Smith came under increasing criticism from fans and the press as his players quit on him. It finally came out after he was fired October 2, 1970. Sharing one last drink with the Detroit media, he uncharacteristically lashed out, saying, "The baseball fans in this town are ignorant. They couldn't tell a baseball player from a Japanese aviator. And that's a quote."
What kind of manager was Mayo Smith? He was a low-key person who believed that if he treated the players like men, they would act like men. When that happened, as in 1967 and 1968, it worked. However, he let players walk over him at times. One of the themes throughout Freehan's book is the players' resentment of the privileges given McLain, allowing him to fly solo to team games and even showing up late to the ballpark even on days he pitched. Smith justified his actions by pointing to McLain's record. More than once, players said they wished Smith would chew them out more. The 1967 players-only meeting was initiated by the recently acquired Eddie Mathews because of his disgust at the contempt his new teammates showed toward their manager.
Mayo also seemed to have great confidence in his ability to judge talent and player capabilities. While the Stanley move received the most attention, he was continually moving players to other positions, from Frank Robinson (first base) with the Reds to McAuliffe (second base) and Freehan and Stanley (first base) with the Tigers. Generally, he did it to improve the offense, but not always; the move of McAuliffe to second was for defensive reasons. Mayo was the right manager for the Tigers when he was hired, when they healing after the deaths of two managers in 1966, but General Manager Campbell did the right thing by replacing Smith with the fiery Billy Martin.
Smith reportedly had several opportunities in the game after being fired by the Tigers, including a managerial offer from the Athletics, but his only job after Detroit was a temporary one, scouting the Orioles for the Athletics in preparation for the 1971 playoffs. He retired to his longtime home of Lake Worth as a millionaire thanks to real estate and other investments. In 1974, he became a grandfather for the first time. On November 22, 1977, while enjoying dinner with his family at a restaurant in Lake Worth, he suffered a stroke and, never regaining consciousness, died two days later in Boynton Beach, Florida.
Sources
Green, Jerry. Year of the Tiger: The Diary of Detroit's World Champions. New York: Coward-McCann. 1969.
Freehan, Bill. Behind the Mask: An Inside Baseball Diary. New York: The World Publishing Company. 1970.
1970 Detroit Tiger Media Guide. Detroit: Detroit Tigers. 1970.
Johnson, Lloyd, and Miles Wolff, eds. The Encyclopedia of Minor League Baseball, 2nd ed. Durham, N. C.: Baseball America, Inc. 1997.
The Sporting News' 1969 Baseball Guide. St. Louis: The Sporting News. 1969.
Detroit Free Press and Detroit News, September 24, 1966 to October 4, 1966, August 4, 1969 to August 10, 1969, and September 27, 1970 to October 4, 1970.
Philadelphia Inquirer, June 25, 1945 to October 3, 1945.
Smith, Mayo, as told to Joe Reichler, "Ratings of the Major League Stars." Sport, July 1962.
The Sporting News, October 20, 1954; October 27, 1954; January 21, 1967; November 9, 1944; December 12, 1945; March 14, 1946; October 27, 1954; January 18, 1956; February 8, 1956; August 2, 1956; October 8, 1956; August 6, 1958; October 15, 1958; April 1, 1959; September 30, 1959; April 20, 1960; June 8, 1960; July 6, 1960; January 4, 1961; February 8, 1961; June 2, 1962; October 12, 1963; October 23, 1965; November 27, 1965; December 25, 1965; June 23, 1966; October 15, 1966; November 19, 1966; January 7, 1967; January 14, 1967; February 25, 1967; March 4, 1967; March 11, 1967; April 15, 1967; July 29, 1967; August 5, 1967; September 2, 1967; October 14, 1967; March 23, 1968; April 13, 1968; October 26, 1968; December 7, 1968; December 14, 1968; October 4, 1969; May 30, 1970; October 17, 1970; December 19, 1970; January 2, 1971; April 17, 1971; May 15, 1971; October 2, 1971; October 23, 1971; January 8, 1972; February 23, 1972; and December 10, 1977.
Toronto Star, March 23, 1933; March 24, 1933; March 27, 1933; July 25, 1933; July 25, 1933; August 11, 1933; September 11, 1933; September 7, 1935; and December 22, 1939.
Mike McCann's Minor League Baseball Page, http://www.geocities.com/big_bunko/total.htm
www.baseballreference.com
www.retrosheet.org
Raglin, David. E-mail exchange with Smith family friend Dave Cantley, who relayed my questions to Louise Smith and Judith Wolfe (Mayo's daughter) and their answers back to me.
Raglin, David. Interview with Bob Buege (writer of Eddie Mathews' autobiography).
Note
This article originally appeared in the book Sock It To 'Em Tigers–The Incredible Story of the 1968 Detroit Tigers, published by Maple Street Press in 2008.
Photo Credit
The Topps Company
Born
January 17, 1915 at New London, MO (USA)
Died
November 24, 1977 at Boynton Beach, FL (USA)
If you can help us improve this player's biography, contact us.
http://bioproj.sabr.org/bp_ftp/images3/SmithMayo.jpg
600
800
admin
/wp-content/uploads/2020/02/sabr_logo.png
admin
2012-01-04 20:26:55
2012-01-04 20:26:55
Mayo Smith