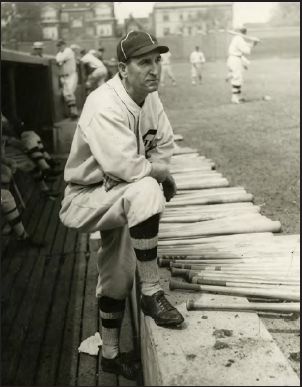 ---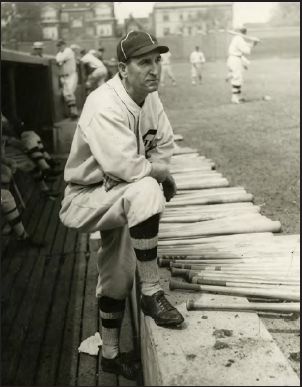 The prototype good-field, no-hit shortstop, Mickey Doolin was blessed with a remarkable ability to snap the ball accurately to first base from the most difficult of positions. Sportswriter Fred Lieb once remarked that Doolin "could throw standing on his head" and favorably compared his defense to that of his elite contemporaries Honus Wagner and Joe Tinker. Lieb's comparison holds up under scrutiny. Between 1906 and 1913, Doolin led the National League in putouts four times, assists five times, double plays five times, and fielding percentage once. According to Bill James's Win Shares system, the Philadelphia captain was the National League's pre-eminent fielding shortstop four times.
Doolin, who was a coach for the Chicago Cubs from 1926 to 1929, was born Michael Joseph Doolittle in Ashland, Pennsylvania, on May 7, 1880, to James and Anna (Kennedy) Doolittle. (Ashland is in the eastern Pennsylvania coal-mining region, about 85 miles northwest of Philadelphia.) His adopted surname was variously spelled "Doolan" and "Doolin" throughout his 71 years. Mickey suffered a childhood injury to his throwing arm and had to overcome residual stiffness. Unable to make the long overhand throw from shortstop to first base, he compensated by developing a "snap" throw, wristing the ball from a side-arm to three-quarters orientation. It worked. As a teen Mickey played amateur ball throughout southeastern Pennsylvania, and in 1900 and 1901 he played shortstop for Villanova College, where he also acquired an education in dentistry (which, of course, earned him the ubiquitous nickname of Doc).
Because baseball was Doolin's passion, his offseason occupation had to take a back seat for the time being. From 1902 through 1904 he played for Jersey City of the Class A Eastern League, which was managed by future Philadelphia Phillies manager Billy Murray. In 1903 Mickey was the regular second baseman, contributing solid defense and a respectable .287 batting average as Jersey City captured the pennant, registering 92 wins against only 33 defeats for a lofty .736 percentage. Brooklyn moved to draft him, but the Superbas erroneously drafted Pop Dillon instead. Mickey returned to Jersey City, which subsequently traded him to the Phillies for infielder/outfielder Bill Keister and $2,500.
Becoming Philadelphia's everyday shortstop in 1905, Doolin responded by hitting .254, 24 points above his eventual major-league career average. Despite his weak bat, the three men who managed the Phillies over the next nine seasons penciled his name into the lineup nearly every day, and in 1909 he was even named team captain, a position he held through 1913. Doolin's best year at the plate in the majors was 1910, when he logged personal highs for at-bats (536), hits (141), doubles (31), batting average (.263), and on-base percentage (.315). Yet those modest marks represented rarefied air for Doolin, who was one of the truly bad hitters of an offense-starved era, incapable of hitting for average or power. Doolin's 1911 campaign, in which he batted .238 with a .313 slugging percentage, was more typical of his output. By 1913 his batting average had plummeted to .218 with a woeful .270 slugging percentage.
After the 1913 season Doolin agreed to join a world tour organized to promote the great American game overseas. Modeled on a similar excursion in the late 19th century, the trip included such luminaries as Connie Mack, Charles Comiskey, and John McGraw. In an odd premonitory run-in prior to the tour's departure, the Phillies attempted to prevent Doolin from leaving unless a life-insurance policy for $10,000 was taken out by the ballplayer to indemnify the club. A leader of the Players Fraternity, Doolin balked at the stipulation and maintained that he was legally a free agent. At the last minute McGraw, who had been interested in acquiring Doolin to play third base for the Giants, agreed to pay the premium on the player's behalf.
When the grand world tour docked in New York harbor at the completion of the trip, Doolin was one of two players to sign on the spot with the neophyte Federal League. The Baltimore Terrapins offered Doolin a salary of $6,000, a better than 70 percent increase over his 1913 pay and a sum no National League club was prepared to match. It is unknown whether Phillies owner William Baker offered any salary increase whatsoever. Baker's reputation spurs doubt. Mickey had received only one raise since 1908, when the Phillies hiked his salary to $3,500 prior to the 1911 season.
Doolin played one full season with Baltimore, then moved over to the pennant-bound Chicago Whales when the last-place Terrapins traded him for infielder Jimmy Smith and cash late in the 1915 season. After the collapse of the Federal League, Doolin was awarded to the Chicago Cubs, for whom he saw limited action in 1916 before his inclusion in the midseason trade sending infielder Heinie Zimmerman to the Giants for second baseman Larry Doyle. In McGraw's employ at last, he played infrequently in New York as well, and was back in the minors by 1917. Signing as player-manager of the International League's Rochester (New York) Hustlers, Doolin guided the team to fifth place, an improvement of eight games and two places in the standings over the previous season, but he was nonetheless let go after the season. He returned to the National League as a second baseman for the Brooklyn Robins in 1918, appearing in 92 games and batting a mere .179 with just 10 extra-base hits in 308 at-bats.
After stints in the International League with Reading and Jack Dunn's powerhouse Baltimore Orioles, Mickey re-emerged in the majors in 1926 as a coach for the Cubs, a role he held into the 1929 season. Starting in 1930, Doolin served three years as a coach for the Cincinnati Reds, leaving the majors for good after the 1932 season. With his baseball career behind him, Doolin practiced dentistry until 1947. Upon retiring, he and his wife, Emma, relocated to Orlando, Florida, where Mickey suffered a stroke in late 1949. A subsequent leg injury left him a partial invalid. Acute appendicitis beset Doolin in late October 1951; the appendix ruptured and he succumbed to the resultant peritonitis early in the morning of November 1. Emma survived Mickey by just over three months, dying in February 1952. They had no children.
An updated version of this biography appears in "Winning on the North Side: The 1929 Chicago Cubs" (SABR, 2015), edited by Gregory H. Wolf. It originally appeared in "Deadball Stars of the National League" (Brassey's, 2004), edited by Tom Simon.
Sources
The Baseball Encyclopedia, Eighth Edition, (New York: Macmillan Publishing Company, 1990).
Bready, James H., Baseball in Baltimore, (Baltimore: Johns Hopkins University Press, 1998).
Light, Jonathan Fraser, The Cultural Encyclopedia of Baseball (Jefferson, North Carolina: McFarland & Company, 1997).
Johnson, Lloyd, and Miles Wolff, The Encyclopedia of Minor League Baseball (Durham, North Carolina: Baseball America, Inc., 1997).
O'Neal, Bill, The International League: A Baseball History 1884-1991 (Austin, Texas: Eakin Press, 1992).
Okkonen, Marc, The Federal League of 1914-1915: Baseball's Third Major League (Pittsburgh: Society for American Baseball Research, 1989).
Pietrusza, David, Matthew Silverman, and Michael Gershman, eds., Baseball: The Biographical Encyclopedia (New York: Total Sports Publishing, 2000).
Born
May 7, 1880 at Ashland, PA (USA)
Died
November 1, 1951 at Orlando, FL (USA)
If you can help us improve this player's biography, contact us.
http://sabr.org/sites/default/files/MickeyDoolan.JPG
600
800
admin
/wp-content/uploads/2020/02/sabr_logo.png
admin
2012-01-04 20:38:57
2022-02-25 06:26:07
Mickey Doolin