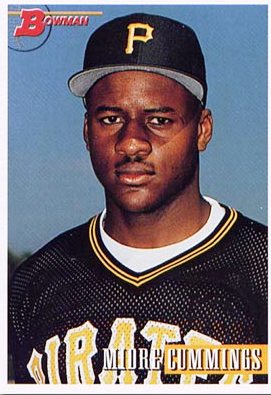 ---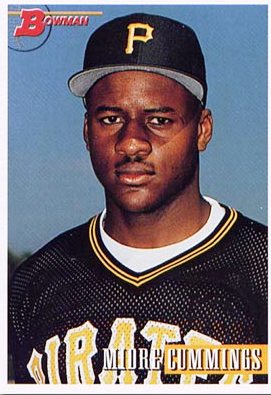 Midre Cummings is the ninth of 14 major leaguers (as of 2016) from the U.S. Virgin Islands. He may be as close to a complete player as the territory has ever produced. Thus he was saddled with high expectations as a prospect in the early '90s. But the young Midre displayed only tantalizing glimpses of his potential, plus an inscrutable air. So — rightly or wrongly — he was labeled "enigma" for much of his pro career.
Yet despite the unfulfilled early promise, a counter-sensation persisted: this case was different. It is not easy to sort out perception from reality; many baseball people prefer not to wrestle with such issues. But this man could say — on the field — there was a misunderstanding. Time and again over the years, he battled back from release, signing minor-league deals, bucking the competition in spring training, and keeping a toehold in the majors over 11 seasons. He showed a knack for pinch-hitting; as a pinch-runner, he played a small but exciting role in the 2001 World Series victory of the Arizona Diamondbacks.
Generous and likable, Cummings still polarized opinion in his early years. While attracting many backers, he also caused much frustration. Even close friends said it, such as teammates Scott Bullett and Tony Womack (who had Midre stand godfather to his child). "He doesn't want to be figured out. . . .You'll never figure him out." [1] Joe Mihalek, former baseball coach at the University of the Virgin Islands and a friendly adviser to many local prospects, also insisted Cummings was "a good kid," but agreed that he could seem introverted and offbeat.
The introvert label did not fit well either, though. Midre always spoke his mind, to beat reporters and also when interviewed for the first version of this biography in 1999. Though his critics had a lot of hard words for him as a young player, back then he stated, "You know what, it doesn't really bother me. If it did, I wouldn't be playing right now. Wherever you go, whatever you do, somebody's not going to like you and is going to say something bad about you. I don't worry about stuff I can't control. That's the way I felt from Day One and that's the way I feel now. No difference."
One can see how this might have been perceived as "attitude" by certain narrow baseball minds. One might also argue that maybe Cummings could have played along with superiors a bit more and influenced their opinion. Perhaps there is a strain of stubborn pride among many Virgin Islanders, but they are men enough to live with the consequences. Still, Cummings allowed that he learned how to deal with people better. Once he got married and had two young sons, his focus moved away from himself. He has also stated that his true friends will see through and discount tales that are biased or incorrect.
Midre Almeric Cummings was born in Christiansted, St. Croix's biggest town, on October 14, 1971. His parents were Neville Cummings, a mechanic, and Carmen Bastian, a police officer. He was the youngest of seven children, following three brothers and three sisters. [2] Young Midre grew up in White Lady Estate, a neighborhood in the island's western end, near the town of Frederiksted.
For several decades the Virgin Islands were a small but steady wellspring of baseball talent. Two of the former major leaguers from St. Croix, Horace Clarke and Elmo Plaskett, became baseball specialists for the territory's Department of Housing, Parks, and Recreation after they retired. From the 1970s through the 1990s, the Frederiksted natives trained a good many youths who made it to the minors — as well as two big-leaguers: Jerry Browne (1986-1995) and Midre. Cummings began playing ball in Little League, but said, "I didn't understand about Horace and Elmo until age 12, 13, 14. After that I heard about Elrod Hendricks and some of the other guys. Jerry Browne was probably the most talked about at that time, because he was active and playing."
In 1987, Cummings played on a team that upset perennial power Taiwan in the Senior Little League World Series (Elmo Plaskett helped them practice). Afterward, a couple of the St. Croix youngsters moved to Miami, attending Edison High School. One of them, Jackie Ross, played from 1991 through 1993 in the Brewers chain. His father, Randy Ross, had also been a pro. Midre remembers today, "They had a terrible team, 1-15 or something. They called down to St. Croix and said, 'We need some help!' So Eddie Williams [a catcher who played in the minors from 1991 to 1995] went up. Then they were like 5-16, and Eddie said, 'We need some help!'"
So in 1989, Midre too moved to Miami. He displayed his athletic ability in two sports. Not only did he star for the baseball team (he pitched as well as playing outfield), he earned All-Dade County Honors as a sprinter. Cummings said, "I was more into track than baseball. I'd watch Olympic track over the World Series!"
Newspaper stories show that in meets, Midre ran 100 meters as fast as 10.65 seconds. [3] His own recollection was that 10.4 — "without any practice" — was his personal best. While the "sleeper" prospect was trying out for 12 big-league teams, they timed him in the 60-yard dash at 6.2 or 6.3 seconds. [4] "6.1," said Cummings. "They forgot 6.1." Joe Mihalek the coach, said Midre was at one time the fastest man in the Virgin Islands.
Cummings made a strong impression on the diamond too. "A few more guys from the islands and I got up there, and we surprised people. We manhandled 'em!" He added, "I didn't remember him — he was a freshman and I was a senior — but Alex Rodríguez came up to me when I was with Boston and said, 'Do you remember me?' Alex González too, he told me, 'My dad used to love you!'"
The Minnesota Twins drafted Cummings with a supplemental first-round pick in 1990, which they got when the Red Sox signed free agent Jeff Reardon. Cummings said he did not think he would have been noticed if he had stayed in St. Croix, because scouts come down at irregular intervals. "It's not always the best guy who gets signed," he said. "It's who's available and playing well that weekend."
At Class A Kenosha in 1991, Midre had the pleasure of facing his childhood friend Jeff Clarke, older son of Horace, who was then playing with the Appleton Foxes. He won the Midwest League batting title that year. A theme in the press first cropped up then; he was said to have an on-off switch. He was not in the race at all until he hit .478 in August. He went 5-for-5 on the last day of the season to win the crown by one point.
On March 16, 1992, the Minneapolis Star-Tribune raved, "Not since Kirby Puckett came into the Twins organization have club officials been as excited about a young prospect." [5] The next day he was traded along with Denny Neagle to the Pittsburgh Pirates for John Smiley. Pittsburgh had begun to cut payroll in 1992, and this was the first step down a long and sad path. At the time, the Bucs regarded Cummings rather than Neagle as the key to the deal. Indeed, USA Today baseball writer Rod Beaton called him "a possible 30/30 player in a few years."
Opinion was already split, though. Shortly after the trade, the St. Paul Pioneer Press wrote, "The Twins won't say it publicly, but not all of their front office shares the same high opinion of Midre Cummings." [6] He was called a gamble on the part of Pirates general manager Ted Simmons. He seldom stole bases after his first two pro seasons, and his speed did not translate into good outfield play.
While viewed as a long-range prospect, Cummings still climbed rapidly through the minors. He made his debut with the Pirates when the rosters expanded in September 1993. Pittsburgh hoped he could emerge as a starter and star after some more grooming. (Though he almost went to Venezuela in '97, for many years he never played winter ball because he wished to rest the summer's aches.) But at Triple-A Buffalo in 1994, things did not go well at all. Midre missed 44 games early with a cracked tailbone, an injury that may not appear serious but can be nagging. When he came back, his numbers were good on the surface, but the Buffalo press was absolutely scathing in its criticism of his work habits and attitude.
The rookie spent almost a month with the Pirates from mid-July onward. A quote from that time captured his situation: "For a long time, they said I was going to be the next Barry Bonds. Now, I'm hearing I'm going to be the next Andy Van Slyke. I'm not quite sure what I'm supposed to be." [7]
Cummings actually began the season as the starting right fielder for the Pirates in 1995, but in early May he was sent down to their new Triple A club, Calgary, after seven games. Manager Jim Leyland lectured him about nonchalance and told him to "bust his butt." As portrayed by the Pittsburgh papers, Leyland and coach Bill Virdon found Cummings to be their most baffling task ever in motivation. Perhaps unjustly, Pirates farm director Chet Montgomery said that "being from a laid-back culture, he may be a little too laid-back." [8]
However, Trent Jewett, who managed Cummings at Calgary in 1996, saw things in a more positive light. He commented that "Midre may not do everything by the book, but he's a wise young man. He's one of those guys who seems to get everything done easier than everybody else, so at times it may not appear things are going full tilt with him." [9]
The Pirates called up Cummings on various occasions, but he never put it together for them. After giving José Guillén the right-field job, Pittsburgh finally waived Cummings in July 1997, but Phillies general manager Lee Thomas thought he deserved a chance. He was given the starting job in center field for the second half of the season and responded with a .303 average in 63 games. He hit .442 with runners in scoring position and made only one error as the Phillies went 44-33 with him in the lineup. [10]
Yet despite this encouraging performance, the Phillies released Cummings during spring training in 1998. New general manager Ed Wade and batting coach Hal McRae (another well-known hard-nose) voiced the same old concerns about motivation, while manager Terry Francona called for defense and steals. Then the Reds had him in their camp for a couple of weeks. Jim Bowden, another GM intrigued by Midre's ability, hoped that coach Ken Griffey Sr. could get the best out of him. Cummings didn't catch on with Cincinnati, but Lee Thomas rescued him again. Thomas had become a special assistant to Dan Duquette, then the Red Sox GM. The Boston Globe reported, "'Midre Cummings will be a good addition to our ballclub,' said Duquette, who prides himself on being a salvage specialist." [11]
As a fifth outfielder and DH for the Red Sox, Cummings was a helpful role player in 1998, going .283-5-15 in 120 at-bats. He was also the AL's leading pinch-hitter, going 9-for-26 with 2 homers. But a sprained wrist that kept him on the disabled list for six weeks actually turned out to be a torn ligament that required surgery. The operation took place around Thanksgiving, though perhaps it could have been sooner. Midre was stoic for a reason, though it was not sensitivity to past criticism. In 1999 he said:
"At the time we were going for a wild-card spot, and my wrist was swollen, so you couldn't really get an MRI. You have to wait until the swelling goes down, and it took a while. I played hurt and I still produced — I had something to play for. In last place, it doesn't make sense to push yourself, but last year I was part of something, so I really pushed myself to the limit of pain."
Though he felt he would be rewarded for his effort, Cummings lost his arbitration case in February 1999 (the first to be decided by a female arbitrator, Elizabeth Neumeier). Worse, though, the wrist was still very bothersome during spring training, and he wound up as odd man out in Boston. In May, however, he accepted a minor-league deal with the Minnesota Twins organization, which no doubt sought a bargain. Midre tattooed Eastern League pitching at Double A New Britain (.376, 2 home runs, 15 RBIs), winning promotion to Triple A Salt Lake City.
He also posted outstanding numbers with the Buzz (.322, 13 home runs, 68 RBIs), earning his way back to the majors in September. Although he had to wait until the PCL playoffs were finished, he said, "I wasn't even worried about getting called up, that was the furthest thing from my mind." In fact, unbeknownst to the fans in Salt Lake, he took a leave of absence in midseason to be with his wife and young sons when a flu outbreak struck Florida.
Midre's love of the game enabled him to persevere. At the age of 28 heading into the 2000 season, he was young enough to re-establish his big-league career — and did so. While the Twins shuffled assorted outfielders around, Cummings stayed on the roster, spot-starting in the outfield and at DH and again showing a knack coming off the bench in the late innings. He racked up 11 pinch-hits through early June, threatening the mark of 25 set by fellow Frederiksted ballplayer José "Shady" Morales in 1976.
That torrid pace cooled as Midre got more starts. But at the deadline on August 31, he was dealt back to the Bosox, who sought a veteran bat for the playoff chase. Adding four more pinch-hits, he again topped the AL — and tied for the major-league lead — with his 15-for-47 (.319) total.
In 1999 Cummings observed, "If you're playing every day, and you don't have nothing to worry about, you're going to put up numbers. But if you have to play like you're on an eggshell field, you don't want to make any mistakes, or if you're playing for somebody who doesn't like you, it makes it that much tougher."
Midre was adaptable, though, showing the mindset to flourish in a role that many players can't handle. Teammates came to respect his professionalism. It would have been interesting to see what kind of totals he could post given 400 or 500 at-bats in a season, but he became labeled as a "Quadruple-A" player — a standout minor leaguer who can't cut it in the majors.
The 2001 season — often frustrating but ultimately rewarding — was the most remarkable chapter in Cummings' sojourn. In December 2000, he signed with the Arizona Diamondbacks. He made the club in spring training but shortly thereafter got caught up in the numbers game. Midre passed through waivers and accepted an assignment to Triple A Tucson. He batted over .400 for a spell, finishing at .331 with 5 home runs and 38 RBIs. He might have led the PCL in triples had minor injuries not kept him out of the lineup late in the season. But the struggle to stay in the majors was wearing him down mentally — retirement was under consideration.
Yet when the rosters expanded in September, Cummings surfaced again. And despite batting only 20 times during the regular season, he was named to the postseason roster. Each time the D'backs advanced, they could have bumped him with personnel moves, but manager Bob Brenly liked having a veteran lefty with speed on his bench. When Cummings pinch-ran in Game Four of the World Series against the Yankees, he became the first Virgin Islander to appear in the fall classic in 25 years, since Ellie Hendricks pinch-hit for the Yanks in 1976.
Then in Game Seven, Cummings was part of the stunning two-run rally in the bottom of the ninth against normally airtight closer Mariano Rivera. Again he pinch-ran, and former Pirates roommate Tony Womack drove him in with a clutch double. There was an odd parallel with fellow St. Croix native Joe Christopher. In 1960, Joe also came around to score in both his pinch-running appearances for Pittsburgh.
One thing that stands out about this man is his sense of honor. Before Game Four, Cummings joined this author for lunch. He stated that unless he felt he really contributed to the team's success, he wouldn't believe he earned his ring if the Diamondbacks won. The response here was that Brenly and the club wanted him for a reason. A later quote from teammate Craig Counsell confirmed the need for the whole bench: "[Bob] made us a 25-man team. It didn't matter who you were. He played whoever he thought could help us win that day." [12]
That November, the Virgin Islands Legislature honored the local hero by renaming a park in Frederiksted the Midre Almeric Cummings Recreational & Youth Facility. The following March, he rejoined the Diamondbacks for the special World Series ring dinner. By that time, though, he had signed a minor-league contract with the Milwaukee Brewers. Once more he wound up in Triple A, with Indianapolis, but a shoulder injury cut his 2002 season short after 11 games.
After patiently rehabbing the shoulder, Cummings agreed to yet another free-agent deal, this time with the Chicago Cubs. It was another verse of the same song: Too many bodies in camp meant an assignment to the minors. The 2003 season was up and down. Although Midre established a professional career high in home runs with 19, two protracted slumps in the second half left his average at just .255 — well below his Triple A norm of .300-plus. The upshot was that he did not get a September call-up, missing a chance to help the Cubs in their playoff drive.
Following a two-year gap, Cummings made his return to the majors in 2004 with the Tampa Bay Devil Rays. He surfaced briefly in May and then again in September. He spent the bulk of the year at Triple A again, once more setting personal pro highs with 27 home runs and 89 RBIs for Durham. In the Triple-A All-Star Game that July, he homered and made the play of the game with a leaping catch at the wall. But even though Cummings showed that he could still handle pitching at the top level, the Rays released him at the end of the season.
In January 2005, Cummings signed a minor-league deal with the Baltimore Orioles. Late in spring training, however, he fractured his ring finger as he slammed his hand against the outfield fence trying to make a play. He missed several weeks at the beginning of the season and then began play with the Triple A Ottawa Lynx. The revelation that Rafael Palmeiro had tested positive for steroids opened the door for Cummings' last action in the majors. He filled in for the length of Palmeiro's 10-day suspension but came to the plate just twice. He then returned to Ottawa (.284, 12 homers, 40 RBIs for the season).
In November 2005, at the age of 34, Midre at last played winter ball. Though he had mulled it over in past seasons, previously he had always stayed home. In retrospect, he said, "I just wish I'd done it before." The Aguilas Cibaeñas of the Dominican League (for whom his mentor Elmo Plaskett played in 1963-64) added Cummings to the roster as a replacement for Nate McLouth.
"It was good baseball, and I made a lot of good friends," Cummings said later. "But I left after Christmas, I decided not to come back. They have a first half and a second half to the season, and in the second half, established guys, the local guys like [Miguel] Tejada, come in. I didn't have a problem with that, but there was another thing. I was getting used to that nightlife, just partying and partying! There was a lot of drinking there, even during the games."
Midre didn't get any offers before spring training of 2006 rolled around. Finally, in May, he gave it one last shot with the Chinese Professional Baseball League (CPBL) in Taiwan. He played in six games for the La New Bears, going 3 for 14 (.214) with one solo homer. Cummings went back home, though, because "I got to the point where it really wasn't there for me. It wasn't fun. I just didn't want to do it any more. I had talked to a lot of older players, and they told me, 'You gonna know when the fire is out.'
"I hit that home run, and as I rounded second, I felt, 'I don't even feel like I just hit a homer.' I sat down, I was just like, 'I don't want to play no more. Just send me back, I don't feel it.'"
After retiring, Cummings remained at home in the Tampa suburb of Tarpon Springs with his wife, Annette (née Lewis). Annette is also a Virgin Islander but she comes from the neighboring island of St. Thomas. The couple was married on Midre's birthday, October 14, 1996. They have two sons named Mikel and Mijon.
Cummings, who has always related well to young people, is now coaching baseball for boys 12 and under. In 2006, he noted, "It's a little different working with kids now. You have to be very patient with them. Some of them respond well, some of them don't. I just have to take the time to know the kids." His patience paid off, as the 12U Florida Hit & Run baseball team from Tarpon Springs won the 2008 AAU state championship.
"I like what I'm doing," said Cummings. "I'm getting results. I say, 'We're winning not because of me, but because of you getting better.' "
He offers individual instruction too, but said, "The sad thing is, most of these kids have been taught the wrong thing for so long. They've been brainwashed. These wealthy parents, they've tried four different instructors. I call it 'climbing a greasy pole' — I can help maybe 40 percent of the kids. I try to keep it very simple."
When asked if he would like to offer clinics back in the Virgin Islands, Cummings responded, "That's not a bad idea, but they've got to do it right — not just 8 to 12 kids. I'd like to do it, I have a lot to offer, and it's a lot easier for me now. But you'd be surprised how much the airfare costs!"
Cummings remains in touch with Calvin Pickering, the tenth major leaguer from the Virgin Islands, who was still hanging on in the independent leagues as of 2008. "I try to keep him positive," Cummings said. "Whatever decision he makes, I got his back. He knows that I'm in his corner." Pickering's experience echoes Midre's in many ways; a statement Cummings made in 1999 still summarizes his career best:
"I'm very happy with who I am. I think I've been very, very lucky and blessed to play in the major leagues coming from a place like Frederiksted, the Virgin Islands. A lot of people have goals and dreams, and I have known people in their 40s, 50s, 60s can't even come close. I set my dream at about 17 or 18, and I reached it at 21. So I couldn't ask for anything better.
"Baseball is basically like school. If you get good grades, you deserve a promotion. You can't stop me, you can never keep a good man down. No matter what obstacle you put down, the goat is going to find a way to get around it."
This biography has been adapted from the now-defunct website "Baseball in the Virgin Islands," where it originally appeared.
Grateful acknowledgment to Midre Cummings for his memories (various interviews from 1999 on, including most recently on October 20, 2008).
Notes
[1] Meyer, Paul. "Cummings Can Dazzle, When He's In Mood." Pittsburgh Post-Gazette, March 17, 1994: C1.
[2] "Prospect Bright in Smiley Trade — Cummings Was the Key to Deal." Daily News of Los Angeles, March 29, 1992.
[3] Phillips, Mike. "Edison's Boys Win Jackson Relays." Miami Herald, April 6, 1990: 5D.
[4] Phillips, Mike. "Cummings Speeds to Top." Miami Herald, June 2, 1990: 3D.
[5] "Twins Might Trade for Another Pitcher." Minneapolis Star-Tribune, March 16, 1992.
[6] Walters, Charley. "Deal Could Send West to Jays as Twins Work to Retain Cross." St. Paul Pioneer Press, March 21, 1992: 2C.
[7] Cook, Ron. "Pirates' Brightest Prospect Soon to Ease Out Van Slyke". Rocky Mountain News, Denver, July 26, 1994:
[8] Konotopetz, Gyle. "The Insiders: A Laid-Back Star". Calgary Herald, May 13, 1995: E6.
[9] Meyer, Paul. "New Start for Cummings." Pittsburgh Post-Gazette, February 24, 1997: C1.
[10] Hagen, Paul. "Midre Fails to Live Up to Expectations." Philadelphia Daily News, February 25, 1998: 82.
[11] Edes, Gordon. "Sox Try Cummings for Center and Leadoff." Boston Globe, March 20, 1998.
[12] Johnson, Chuck. "Colangelo committed to Arizona excellence." USA Today, November 5, 2001.
Sources
Meyer, Paul. "The Right Man? Midre Cummings Is Talented, but His Desire Seems to Come, Go." Pittsburgh Post-Gazette, April 20, 1995: C1.
Roberts, Kevin. "Cummings of Age". North Hills News Record, Warrendale, Pennsylvania, April 24, 1995: B1.
Robinson, Alan. "Cummings is unsure of his fate." Indiana Gazette, Indiana, Pennsylvania, March 26, 1997: 23.
"Simmons Keeping Eye On 'Gamble.'" Pittsburgh Post-Gazette, July 3, 1992: A6.
www.thebaseballcube.com
Statistics in Taiwan: http://twbsball.dils.tku.edu.tw/wiki/index.php/???M.C
Photo Credit
The Topps Company
Born
October 14, 1971 at Christiansted, St. Croix (V.I.)
If you can help us improve this player's biography, contact us.
http://bioproj.sabr.org/bp_ftp/images2/CummingsMidre.jpg
600
800
admin
/wp-content/uploads/2020/02/sabr_logo.png
admin
2012-01-04 20:27:06
2012-01-04 20:27:06
Midre Cummings