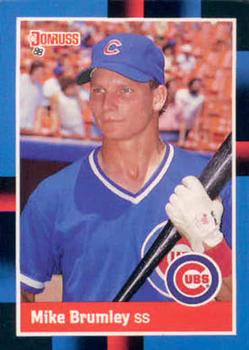 Mike Brumley (the Younger)
---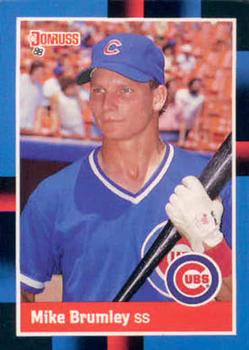 Three days before the start of the 1990 season, Omar Vizquel, the Seattle Mariners' slick-fielding shortstop, sprained his left knee during a collision in a Cactus League exhibition. The injury sidelined him until July. That same day, April 6, the Mariners signed utility infielder Mike Brumley to fill the void. Before the signing, Brumley had spent his seven-year professional career bouncing among several organizations. Three days earlier he had been released by the Baltimore Orioles. But the former collegiate standout brought a strong baseball pedigree as the son of a former major-league catcher, also named Mike Brumley. One month into the 1990 season, his superb work in the field caused The Sporting News to speculate that "Vizquel might not get his job back."1
His excellent defense might have surprised observers who watched Brumley struggle in the field throughout the early part of his professional career. But he improved through hard work over several seasons. Throughout his eight-year major-league career he played every position except pitcher and catcher. A hot-and-cold minor league hitter, Brumley never displayed his talents on a full-time basis in the big leagues. He got into 295 games and had 635 at-bats at the top level, with 131 hits (for a .206 average), 38 RBIs, and 20 stolen bases.
Anthony Michael Brumley was born on April 9, 1963, the elder of two children of Tony Mike and Carol Sue (Loveland) Brumley, in Oklahoma City, Oklahoma. His birth coincided with his father's announced retirement from baseball following an unexpected minor-league assignment. (The elder Brumley relented a month later and reported to the Pacific Coast League's Spokane Indians.) Anthony Michael was a third-generation Oklahoman; his paternal great-grandfather had moved from Arkansas during the 1890s Oklahoma land rush. His father broke from Organized Baseball permanently in 1971 and, while launching a long ministerial career, devoted considerable time to developing the diamond skills of his eight-year-old son.
The youngster became an accomplished American Legion player. Also, from 1977-79 his tutelage continued under the direction of Oklahoma City Southeast High School's legendary coach John Dewhirst, a former minor-league player who helped develop the talents of future big-league All-Stars Bobby Murcer, Darrell Porter, and Mickey Tettleton.
"[A] defector of sorts, Brumley played three years for [Dewhirst's Southeast High] Spartans, then moved to Tulsa and graduated from Union High School."2 The move enabled the teenager to escape the racial tensions and outright violence at his old school. Back then, Brumley stood 5-feet-eight and weighed just 128 pounds. "I never backed down, but I couldn't," he said in 1989. "You learn to do your share of fighting." Another part of that report told how a team that Southeast had defeated followed after the game and surrounded the Southeast squad's cars. They smashed their windshields and started a fight in the middle of the street, complete with bats used in that day's game. "We're all in uniform and slugging it out," Brumley remembered. "Sometimes it's a wonder I'm still here."3
In 1980, shortly after Brumley's high school graduation, the Philadelphia Phillies selected the shortstop in the 16th round of the amateur draft. Brumley spurned the offer, instead enrolling at Seminole Junior College (now Seminole State College) in Seminole, Oklahoma, 60 miles southeast of Oklahoma City.
In 1981, Brumley transferred to the University of Texas in Austin alongside three of his fellow Seminole teammates.4 The quartet contributed to the school's three straight appearances in the College World Series. In 1983, with a potent roster that included future major league hurlers Roger Clemens and Calvin Schiraldi, the Longhorns captured the NCAA championship. Brumley spent his collegiate career as a shortstop and center fielder; in 1982 he was selected as a College World Series All-Tournament outfielder. A year later, Brumley's grand slam in the tournament semi-finals accounted for the Longhorns' only runs in a 4-2 win over the University of Michigan Wolverines en route to the national championship. Afterward he was named All-Tournament shortstop.
Despite raising some concerns regarding his range and arm strength in the infield, in May 1983 The Sporting News contributor Tracy Ringolsby identified Brumley among the "biggest names" in the pending free-agent draft, alongside Clemens and Oklahoma State University catcher Robbie Wine.5 The Boston Red Sox drafted Brumley in the second round, 14 picks after taking Clemens with their number one selection. Brumley chose to forgo his senior year in college to sign with scout Danny Doyle.
Brumley and Clemens were assigned to the Florida State League's Winter Haven Red Sox (Class A). Though he averaged an error for every two games at shortstop (he also played eight games in the outfield), Brumley collected 48 hits, including four triples, in 153 at-bats. He missed time with an injury when Lakeland Tigers first baseman Ron Davis took him out at second in a play that Clemens felt was overly aggressive. Two days later, in his last Winter Haven start, the flamethrower "retaliated . . . by hitting Davis in the head in his first at-bat."6
In 1984, Brumley was assigned to the New Britain (Connecticut) Red Sox of the Class AA Eastern League. Apart from one game, he was used exclusively in the outfield. On May 25, while struggling with a meager .231/.329/.314 slash line in 121 at-bats, Brumley was traded to the Chicago Cubs with righthander Dennis Eckersley for All-Star first baseman Bill Buckner. Assigned to the Class AA Texas League's Midland Cubs, Brumley continued to struggle with just 55 hits in 255 at-bats.
Brumley moved laterally to the Eastern League's Pittsfield (Massachusetts) Cubs the following year. He was returned to his familiar shortstop post despite nearly leading the league with 33 errors. However, he rebounded offensively by leading the club in runs scored (66), doubles (23, tied with outfielder Steve Hammond), triples (a league-leading 14), walks (74) and total bases (187) while placing among the leaders in hits (127), RBIs (58), stolen bases (29), batting average (.276) and slugging percentage (.407). On the downside, he also led the team with 95 strikeouts.
The rejuvenated offense earned Brumley a promotion to Triple A in 1986. He joined the Iowa Cubs of the American Association. Though his defense improved considerably (a near career high .966 fielding percentage), Brumley struggled with a .225 batting average. Of interest, he finished the season among the club leaders with 10 home runs; he reached double digits in homers in only one other season throughout his career. One may speculate as to whether the diminutive switch-hitter (five-feet-10, 165 pounds) was consciously swinging for the fences, and if so, whose idea it was. Brumley also had five triples and stole 35 bases.
Despite this mixed yield, at age 24 Brumley was poised to jump to the major leagues. The Chicago Cubs had suffered through their 13th losing season in 14 years. Both during and after 1986, the club disposed of veteran stalwarts such as Davey Lopes, Chris Speier, and Ron Cey in a decided youth movement. In the spring of 1987 Brumley was competing for a backup role with the parent team. Though he did not make the club out of spring training, he was promptly recalled after shortstop Shawon Dunston fractured his right ring finger in a headfirst slide into second base on June 15. Earlier that month, the Cubs had lost their starting second baseman, Ryne Sandberg, with a sprained ankle.
The day after his call-up, Brumley made his major-league debut in Chicago's Wrigley Field as the Cubs' starting shortstop. In the second inning, he grounded out to Philadelphia Phillies first baseman Rick Schu; an inning later, his fly ball to right field with a runner in scoring position was the final out. In the fifth, Brumley failed in another scoring opportunity by striking out with a runner on third and one out. But in the next inning he reached base on an error and was credited with an RBI when outfielder John Russell misplayed a bases-loaded drive to left. Though he went hitless in five plate appearances, Brumley was flawless in the field, participating in three double plays, in the Cubs 7-2 win.
On June 17, Brumley collected his first major-league hit, a groundball single to right against Phillies lefthander Shane Rawley. Three days later he got his first extra-base hit, a two-out line drive triple to right-center against Pittsburgh Pirates righty Mike Dunne. On June 23, Brumley accounted for half of his team's offense with a two-run homer against New York Mets righthander Ron Darling in a 4-1 Cubs win. But these were some of his few highlights during his first stay in the majors; Brumley struggled below the Mendoza Line. He was returned to Iowa during the July All-Star break when Sandberg returned, Paul Noce moved over to short, and Chicago promoted infielder Luis Quiñones. Recalled in September, Brumley got six starts at shortstop but was otherwise used as a pinch-hitter or defensive replacement. He finished the season with a .202/.276/.288 line in 104 at-bats.
During the offseason Brumley's name surfaced in a rumored trade with San Diego that would have sent one of two young hurlers – Greg Maddux or Jamie Moyer – to the Padres. Instead, on February 12, 1988, the Cubs sent Brumley and veteran Keith Moreland to the Padres for flame-throwing reliever Rich Gossage and 27-year-old lefthander Ray Hayward. Projected by the Padres as a potential reserve infielder, Brumley lost the job to free agent signee Dickie Thon.
Assigned to the Triple-A Pacific Coast League's Las Vegas Stars, Brumley put together one of his finest seasons with a .315 average in 425 at-bats and career highs in runs scored (77) and stolen bases (41). The latter marks placed among the league leaders. Moreover, he was noted for "making eye-opening plays in the field."7 On July 13, Brumley was the starting shortstop at Buffalo's Pilot Field during the Triple-A All-Star Game.
Though some observers had tabbed Brumley as San Diego's shortstop of the future, he was not called up to the majors at any point that year. In September, Padres manager-GM Jack McKeon said, "We aren't going to bring up guys who don't have a chance to play. And right now, he won't have a chance." Three-time All-Star Garry Templeton formed an effective platoon with Thon that year. Brumley took the news hard. "I'm surprised," he said. "I'm also very disappointed."8
Five months later, McKeon predicted that Brumley would platoon at shortstop during the next season. The Philadelphia Phillies purchased Thon's contract from San Diego in late January, so it looked like an opening was there. However, just 11 days before the start of the 1989 season, McKeon needed to fill a hole at third base and traded Brumley to the Detroit Tigers for Luis Salazar.
Perennial All-Star Alan Trammell was Detroit's shortstop, so Brumley's hopes of regular play were minimal. During the first six weeks of the season he got a mere 37 at-bats while being used as a reserve infielder and occasional pinch-runner. After an unsuccessful pinch-hitting appearance on May 17. Brumley was assigned to the Triple-A International League's Toledo Mud Hens. But his stay in Toledo proved short-lived when Trammell was sidelined in June with a back injury.
Shortly after a week-long stint at short for the Tigers, Brumley moved to the opposite side of the infield when Trammell's longtime double-play partner, Lou Whitaker, was also plagued by injury. After initially displaying some promise at the plate, Brumley had just 19 hits over his last 116 at-bats to finish the season with a .198/.251/.255 line in a career-high 212 at-bats. He made more errors (12) than he had RBIs (11)—a dubious distinction shared that season by teammate Doug Strange and Cleveland Indians shortstop Felix Fermin. In an overly harsh assessment, Sporting News columnist Moss Klein said, "Brumley was a waste of locker space in Detroit."9
On January 10, 1990, the Tigers traded Brumley to the Orioles for outfielder Larry Sheets. Two years earlier the Orioles had approached the Padres about Brumley's availability. They were elated to have finally obtained him. "[Brumley] has a lot of tools . . . with enough speed to steal a base," said Orioles GM Roland Hemond. "You like to have good tool players on your team."10
But 1990 proved a difficult year in which to prove himself to his new team. A salary dispute between the owners and the Major League Baseball Players Association led to a 32-day lockout that wiped out most of spring training. On April 3, six days before the start of the regular season, Brumley was released. Picked up by the Mariners, he was the primary substitute for the injured Vizquel before getting hurt himself in early June. He pulled a stomach muscle and landed on the disabled list. Brian Giles became the interim shortstop.
After a rehab assignment at Triple-A Calgary, Brumley returned to the club in July but was used sparingly thereafter. A sign that he was not in Seattle's long-term plans came when he was designated for assignment in late August, although he was recalled in September. On September 14, his bat made history when Mariner left fielder Ken Griffey, Sr. used it to hit a two-run homer against California Angels righthander Kirk McCaskill. The next batter, Ken Griffey, Jr., delivered a solo shot to mark the only back-to-back home runs by a father and son in major-league history. "I've still got that bat," Brumley said two decades later. "I had Senior sign it for me afterward, and I've kept it all these years. It's pretty cool."11 But one week before the end of the season he was released; the fifth-place club decided to get an early start on their busy offseason.
In 1991, Brumley was signed by the Red Sox and split the season between Boston (where he was reunited with Clemens) and their Triple-A affiliate, Pawtucket. It proved to be his last major-league season with more than 25 at-bats. From 1991-95 Brumley bounced among five organizations, spending most of his time in the Pacific Coast League. He resurfaced briefly in the majors with Boston (two games in 1992), the Houston Astros (eight games in 1993), and the Oakland A's (11 games during the strike season of 1994).
Brumley's last tour of duty in the majors came with Houston in 1995. On September 28, as a pinch-hitter, he hit a home run to lead off the 11th inning against Cubs righthander Mike Walker. It was his last major-league hit. Three days later he made his last appearance, an unsuccessful pinch-hit at-bat. The Astros signed Brumley as a free agent for the 1996 season, but he did not make the roster. After playing 88 games for Tucson in the PCL, he retired as a player.
Brumley returned to the University of Texas to continue his education in Sports Management/Communication. These studies were once again interrupted in 1997 when he accepted an offer to manage the Rio Grande Valley WhiteWings in Harlingen, Texas. This team was part of the independent United League.
The job launched a lengthy second career in Organized Baseball – Brumley became a coach, manager or instructor for several minor-league teams. "When I got back into pro baseball I said I would like to manage at every level," he said in 2001. "Someday I'd [also] like to scout. Then I'll stand back and see where I fit in."12 In 2002, in his first of three years as manager of the California Angels Triple-A affiliate, he led the PCL's Las Vegas Stingers to the championship finals. "I liked the way he went about his business, his attention to detail," said Stingers infielder Keith Johnson. "I learned a lot from him."13 Brumley helped to develop future major-league All-Stars Chone Figgins, Dee Gordon, and Bobby Jenks, among many others.
In 2010 Brumley began a four-year stint with the Mariners, initially as third-base coach in Seattle, though he moved over to the first-base box partway through his first season there. He also served as infield instructor, which enabled him to pass on the knowledge he'd acquired through constant study – in the form of various drills. "I've been so curious about why guys do things really well on the field and why guys don't," he said. He had become convinced that about 90 percent of throwing errors are committed because of poor body positioning when an infielder catches the ball. In turn, he said the key to maintaining a good catch position is to control the fielder's head.14
Brumley moved over to the Cubs in 2014 as the club's assistant hitting coach. After that season, however, Cubs GM Theo Epstein removed him from that role, which prompted hitting coach Bill Mueller to quit. The Boston Globe wrote. "Mueller loved his job with the Cubs but understood the difficulty of it, and Brumley acted as his comfort zone."15
Brumley worked as an instructor, along with his son Logan and many others, at the Diamond Kings Baseball Academy in Frisco, Texas. As of January 2016, he had a new job as hitting instructor, this time in a foreign land. He joined the Uni Lions of the Chinese Professional Baseball League in Taiwan.
On February 25, 1984, Brumley married Dana Lynn Jackson, a Texas native one year his junior. The union produced four children. In 2013 one son, Logan, launched a brief professional career in the independent leagues. At some point following his major-league playing career, Brumley was inducted into the Union High School Athletic Hall of Fame.
Mike Brumley was a fringe major-leaguer – he "never had anything he didn't take."16 He never stayed in The Show for the length of a full season. Yet as one fan who watched him in Tucson put it, he was "a good journeyman player with heart and solid fundamentals."17 And like many such players, his head kept him in baseball. Don Wakamatsu, the Mariners' manager in 2009 and part of 2010, said it well. "I respect his intelligence and his understanding of the game. He brings tremendous knowledge. . .He has a different way of looking at things."
"He's done quite a few things in this game."18
Sources
In addition to the sources cited in the Notes, the author consulted Ancestry.com. The author wishes to thank SABR members Bill Mortell for his invaluable research and Rory Costello for reviewing, editing, and supplementing the narrative.
Notes
Born
April 9, 1963 at Oklahoma City, OK (USA)
If you can help us improve this player's biography, contact us.
http://sabr.org/sites/default/files/BrumleyMikeJr.jpg
600
800
admin
/wp-content/uploads/2020/02/sabr_logo.png
admin
2017-03-06 15:31:58
2017-03-06 15:31:58
Mike Brumley (the Younger)