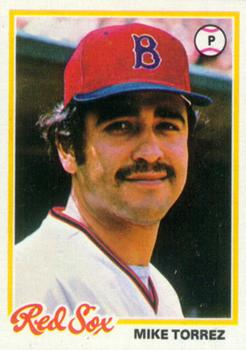 ---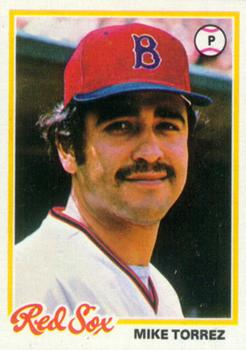 Over the history of baseball, there have been myriad players who have been, deservedly or undeservedly, tagged with the moniker of "goat." These competitors have been involved in circumstances that changed outcomes at critical instances in momentous games. Two of the most famous such persons, Ralph Branca and Bill Buckner, have direct ties to the subject of this essay, another individual to suffer the ignominy, Mike Torrez. While Torrez's "moment" did not end the game in question, as did Branca's and Buckner's, it helped add even more years to Boston Red Sox fans' residence in baseball purgatory.
As the Yankees garnered three consecutive American League pennants over the years of 1976-1978, they claimed World Series banners in the last two years of the run. It is not incorrect to argue that Torrez played significant roles in both triumphs; once while he donned pinstripes (in 1977) and won two games in the World Series, the other, while pitching for New York's most bitter rival. Even now, in 2019, (and after winning titles in 2004, 2007, 2013 and 2018) anywhere and any time members of "Red Sox Nation" gather, "the pitch" by Torrez to Bucky "Bleeping" Dent on October 2, 1978 is a certain topic of conversation.
That Sox team, which had a 14 game lead in the American League East standings in the middle of July, frittered this advantage away and then lost a one-game playoff at Fenway Park. A man who had been viewed as a savior, the last piece of the puzzle to get the Red Sox over the hump against the Yankees (and who signed, by the standard of the times, a huge free agent contract), wound up taking the (undue) brunt of the blame for the epic collapse. Mike continued to toil for Boston until 1983, then went on to play for the Mets, and was not invited back to Fenway Park until the centennial celebration in 2012. He has never returned.
Michael Agustin Torrez was born in Topeka, Kansas on August 28, 1946. He was the fifth of eight children, three boys and five girls, born to Juan P. Torrez and Mary Martinez. The Torrez and Martinez clans were two among many Mexicano/Mexican-American families drawn to Kansas by the key industries of agricultural (primarily in the sugar beet fields) production and railroads (primarily, track work). Mike's father, and other relatives, would toil for many decades in the field of transportation, all with the Santa Fe Railroad. By the time of Mike's birth, the Mexican American community in Topeka (and indeed, the entire Midwest) had an established tradition of playing baseball and other sports as part of their community life. While in the early decades of the 1900s many such endeavors were segregated (thus, the establishment of "Mexican" baseball, softball, and basketball teams and tournaments) Mike and his brothers would take full advantage of the opportunities presented by ethnic-based, as well as desegregated, athletic competition. One of the earliest ties between Mike and the diamond came when he received instruction on the game from Juan, who was a very popular coach of youth squads in the Oakland (the name of the barrio where Mike grew up) area.1
By the late 1950s, Mike had played Cosmopolitan, Little, and Colt level leagues, and later, American Legion. He also played basketball in "Mexican" tournaments throughout the Midwest; often teaming with his older brother John, himself a regional softball legend. Additionally, Mike played for on the court for the Topeka High Trojans. He never played baseball for his alma mater, as they did not field a team during his high school years. By 1964, the now 18-year old Torrez had just completed an American Legion season in which he went 13-1 and lead the Eastern Kansas All-Stars to victories against teams from the western section of the Sunflower State and other regional squads. He pitched an impressive game against a team from Nebraska, in which Mike struck out 18 and gave up only a bunt single.
Such results attracted the attention of bird-dogs in the Topeka area. Marion McDonald, a former coach at the local Washburn University, helped bring Torrez to the attention of the St. Louis Cardinals. "What really sold me on Torrez was an American Legion game at Lawrence. The Lawrence players could hardly get their bats around fast enough to hit a fair ball."2 These reports eventually led to a tryout, under the watchful eyes of Branch Rickey, at Sportsman's Park. While impressed, the organization was not willing to commit to signing Mike right after the tryout. This led to another audition, this time for the Detroit Tigers, as the team visited Kansas City to play the A's. Shortly thereafter, Charley Frey and George Silvey offered the young pitcher the sum of $20,000 to sign with the Cardinals. To a working-class Mexican-American family in the mid-1960s, this was indeed a princely sum! Mike signed with St. Louis. Just days later, he heard from the Tigers who offered $75,000 as a bonus. It was too late. While missing out on a substantial amount of money, Mike learned his first lesson in regard to the economics of baseball. Torrez was now the property of the Cardinals, and over the next few years he would work his way up to the Majors.3
Mike's first stop after signing on the dotted line was Hollywood, Florida; from there, he was assigned to the Cardinals' class A team in Raleigh for the 1965 Carolina League season. His manager there was Ray Hathaway. Torrez started well, claiming a 10-3 victory over Burlington in his first start, but struggled from then on. He finished his first year of professional baseball with a 4-8 mark, and an ERA of 4.79. He struck out 81 hitters and (as would become a pattern) had 75 walks in a total of 94 innings pitched. He followed up his time in Raleigh with a year (1966) in Rock Hill (a longer season Class A team), were his performance improved greatly; finishing his sophomore season with a record of 7-4, and more importantly, a 2.50 ERA and only 37 walks in 90 innings pitched. This performance merited him an inclusion in the Western Carolina League's All-Star team, as well as an eventual promotion to the AA Arkansas Travelers later in the season.4
Under the guidance of manager Vern Rapp, Torrez and the Travelers had a successful run that culminated in the Texas League title in 1966. Mike started off 0-2, and finished his first year in Little Rock with a record of 3-9, though with a solid ERA of 2.62. Overall, in 1966, he played in both A and AA and finished with a 10-13 record and a 2.56 ERA. After over two years of professional play, his record stood at 14-21. He did demonstrate some positive development, but management was concerned about the free passes and this lead to his being sent to spend a stint in the fall Instructional League in Florida. Under the tutelage of Barney Schultz, George Kissell, and Billy Muffett, Torrez's performance improved substantially and he posted a 6-1 record with an ERA of 1.20.5
Impressed by his results, the big club invited Torrez to spring training in St. Petersburg in 1967. He pitched well, but did not have much of a chance to move into a rotation that featured Bob Gibson, Steve Carlton, Dick Hughes, Larry Jaster, and Ray Washburn. The bullpen was also crowded with the likes of Ron Willis, Nelson Briles, and Joe Hoerner. A disappointed Torrez was one of the last players demoted in April. The trip would not be back to AA, however. Mike instead was assigned to the AAA Tulsa Oilers of the Pacific Coast League. Here, he would benefit from the guidance of Hall of Famer Warren Spahn. The season did not go well for either Mike and the Oilers. Torrez contributed only a 3-8 record and a 4.54 ERA to the cause during the first half of the year. During the second half of the campaign, however, he improved dramatically (primarily by not surrendering walks) and this lead to six consecutive victories. More importantly, he was featured in a The Sporting News story in September of 1967. During his impressive roll, he hurled 58⅓ innings with an ERA of 0.77 and 34 consecutive scoreless innings. After a particularly impressive outing against Oklahoma City, Cardinals' farm director Fred McAlister commented that "Torrez can pitch in any league, including the National, the way he pitched against the 89ers." Mike credited Spahn's tutelage, particularly in regard to his command of the curve, for his dramatic turnaround. He finished the season with a 10-10 mark, and an ERA of 3.32. He was summoned to St. Louis for the final part of the 1967 season, and debuted on September 11. He struck out Donn Clendenon of the Pirates. Surely, he thought, he was now on his way to a permanent stint in the Majors.6
Torrez was featured on the cover of Sports Illustrated prior to the start of the 1968 season which discussed the potential of several "hot rookies." He made the club, and earned his first victory, 9-2 against the Cubs, on April 19. By late May, he sported a 2-1 mark with a 2.64 ERA. Unfortunately, other pitchers on the staff of the defending champions also did very well, and after seven weeks of the campaign, he had logged only 17⅓ innings. A troubling relief appearance against the Phillies (where he issued three walks in 1 2/3 innings) convinced Cardinals General Manager Bing Devine and Manager Red Schoendienst that the only way to provide Torrez with regular work was to send him back down to Tulsa.
Although disappointed, Mike expected that this would be his final trip down to the minors. The team believed in him, and with expansion coming in 1969, the decision was to see what he could do in AAA before deciding on his future/value with the upcoming draft by the Pilots, Royals, Expos, and Padres. Mike responded with an 8-2 mark and a 3.24 ERA for an Oiler team that claimed the 1968 PCL title. Shortly thereafter, Torrez was part of a Cardinal squad that toured Japan for one month. Mike was impressive in the tour, pitching 26 innings and striking out 13. He even connected for a home run in one contest. That, combined with expansion and the boycott by veteran players during spring training, he felt, would surely make it possible to stick with the big club in the coming year.7
One of the highlights in spring training of 1969 for Torrez was the opportunity to pitch against the Royals in their first home appearance. This 1-0 victory raised his spring record to 4-1 and made it possible for him to join the team as one of their starters. Given the opportunity to learn from greats such as Gibson, Torrez eagerly anticipated his time in St. Louis. "When I first got up to the big leagues, I wanted to find out what made these guys successful…So, I was always asking questions. I always wanted to learn."8 Mike finished that year with a 10-4 mark, and an ERA of 3.59. Overall, however, the Cardinals fell back from being NL Champs to a fourth-place finish in the newly minted National League East Division.
In 1970, Mike came close to pitching the first National League St. Louis no-hitter since 1924, as he blanked the Expos 10-0. He also went three-for-three at the plate and had an RBI. This victory was his 11th consecutive triumph (he won his last nine decisions in 1969 and the first two in 1970). This was the high point of Mike's time in St. Louis.9 Less than one year later, however, things would be totally different. Not only would he be gone from Missouri, he would be pitching for an abysmally poor minor league team in Manitoba. Going into the 1970 season, the projected starters for the Cardinals lined up like this: Gibson, Carlton, Briles and Torrez; how and why had things gone so wrong?
The only consistency for Mike Torrez in 1970 was his inconsistency. One of the lowlights of that year was a June 20 game against the Cubs where Mike lasted but ⅓ of an inning and in which he surrendered six earned runs. By the All-Star break, he was 6-8. Matters did not improve subsequently Overall, he finished with a mark of 8-10 and an ERA of 4.22.10 Going into 1971, Torrez was concerned that he would lose his spot as the fourth starter.
Things spiraled that year both on the field and personally. Mike divorced his first wife (Connie), and struggled on the mound. His final performance for the Cardinals, on June 12 against the Pirates, well summarized his season so far: two innings pitched, three earned runs, and five walks. On June 15, he was traded to the Expos. He carried a 1-2 record with him, and a hefty 6.00 ERA. Things went from bad to worse, as Montreal assigned Mike to the Winnipeg Whips of the International League. His final mark with the Whips was 2-4 with an ERA of 8.16. Even with these numbers, he was called up in September. His first appearance in an Expos jersey was, coincidentally, against the Cardinals and produced three shutout innings. Mike believed, if given the chance that he would bounce back. Indeed he did.11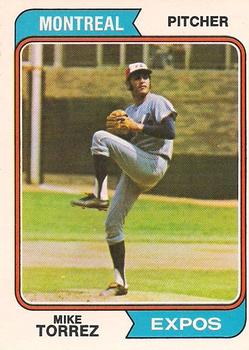 The year 1972 proved to be a breakthrough for Torrez. He continued to rely on his fastball, but developed an effective slider. He quickly became the ace of the Expos staff, and finished with a 16-12 mark with a 3.33 ERA. Not bad for a pitcher who toiled for a team that posted a mark of 70-86. While Mike was effective, Manager Gene Mauch was frustrated with the Expos' lack of progress. Indeed, there was even talk that Torrez might be used as trade bait by Montreal. Even with a winning season, Mauch remained skeptical of the Kansan's value. 1973 supported the manager's contention as Mike slumped to 9-12 and a 4.46 ERA. This led to some heated exchanges with Mauch who reiterated his assessment that 1972 was a fluke.12
One positive that did come from 1973 was that Mike met, and eventually married Danielle Gagnon, a Quebec native While the ties to his manager were strained, he now had even closer ties to Montreal In 1974, those tensions continued, though Torrez improved to 15-8 and a 3.57 ERA. Still, there were rumors that a clubhouse purge was imminent, and that Mike would be one of the individuals moved.
By the time that spring training rolled around for 1975, however, it appeared that the combatants had buried the hatchet, and things would proceed smoothly That was, however, until the Orioles came calling with an offer for both Torrez and Ken Singleton. Overall, his record with the Expos was 40-32. In exchange, the Expos got pitcher Dave McNally, catcher-outfielder Bill Kirkpatrick, and outfielder Richie Coggins. In the history of the Montreal/Washington franchise, there do not seem to have been a worse trade. Kirkpatrick did not reach the majors, Coggins played only 13 games for Montreal, and McNally went 3-6 with a 5.24 ERA before retiring that June.13
Mike, on the other hand, fulfilled his promise for an already loaded Baltimore club Singleton also shined, hitting .300. Torrez finished that season with a record of 20-9 with an ERA of 3.06 He was part of a rotation that featured Jim Palmer, Mike Cuellar and Ross Grimsley. The Orioles started slowly in 1975, however, and never managed to catch the eventual American League Champion Red Sox. The highlight of the season for Mike came on September 21, when he notched the milestone 20th victory with a two-hit shutout of the Milwaukee Brewers Although neither Mike nor Danielle were thrilled with living in the decaying Charm City, it seemed that he had found a major league home.14
That was, however, until new Orioles General Manager Hank Peters decided to overhaul the team's offense. While Baltimore's pitching was solid, the team batted only .252 with but 124 home runs in 1975. Peter's target was none other than Reggie Jackson. The Athletics' slugger would not come cheaply. Charley Finley asked for, and eventually received, Torrez, Don Baylor and Paul Mitchell in return for Jackson and Ken Holtzman. Suddenly, Mike found himself on a team that was being torn down, rather than a contender. "What must I do to stay with a team?," he asked.15
Amidst all the turmoil of his third team in three years, Mike proved himself again in 1976. While he did not win as many games, finishing 16-12, he did record his best ERA in the Majors: 2.50. The surprising A's had one more run in them, though they ultimately failed to catch the Kansas City Royals for the American League West title. Mike was at the heart of the improbable surge, as he went from being 6-9 to becoming the best pitcher in baseball during the last months of the season. He even had three consecutive complete-game shutouts during the stretch. As he continued to pitch effectively, he made it clear that he would not re-sign with the A's beyond 1977.
In 1976, Torrez's salary totaled $83,000. Charlie Finley had the right to cut his salary by up to 20 precent at the end of the season. Then something surprising happened, when the contract arrived in November. Mike noticed that Finley had instead increased his salary to around $100,000 (a 20% increase). The stingy Finley (who was basically running the entire A's office as a one-man show) had mistakenly typed in the wrong amount.
Mike, after clearing the matter with his agent, quickly signed the contract. Finley, realizing his error, offered a year's supply of his famous chili in exchange for the $34,000 dollar mistake. Mike declined the gastronomical bribe. Of course, this incident meant that his time in Oakland would be even shorter than anticipated. Torrez started only four games for Oakland in 1977, and was then traded to the Yankees. His final appearance in the green and gold came on April 24, when he lost to the White Sox, 12-5. He headed East with a mark of 3-1, and a 4.44 ERA.16
In the midst of the "Bronx Zoo" Mike Torrez saw an opportunity to finally make what he termed "big money." Although this year was punctuated with many wild events, including the June 18 incident at Fenway Park in which Billy Martin pulled Reggie Jackson, 1977 would be the highlight of Torrez's career.
He did not get off on the right side of the Yankees, taking several days to report (due to medical issues with Danielle's pregnancy). When he arrived, he quickly earned praise, helping the Bombers to an 8-1 victory over the Angels. The addition of Torrez, plus the pitching of Ed Figueroa, and the ascendance of Ron "Gator" Guidry made the Yankee rotation formidable indeed. Torrez started out with two wins with New York, to move his record to 5-1. He then hit a slump and his record stood at 7-5 with an ERA of around 5.00 by early June. Almost 100 games into the season, things had gotten even worse, and his mark was 8-10 with a 4.90 ERA. With the pressure of his option year, plus mounting tensions at home with Danielle, Mike eventually turned his season around. By September, had five wins in five starts and posted an ERA of 1.40. The Yankees would ultimately win the East, with a mark of 100-62, besting both the Red Sox and the Orioles. Mike finished the year with a record of 17-13 and a 3.82 ERA.17
In the playoffs, Mike continued to shine as New York triumphed over Kansas City. Like in 1976, the ALCS went the distance. Mike started Game 3, but was not effective; losing 6-2. Kansas City failed to clinch in Game 4, losing 6-4. It all came down to the deciding contest. Martin gave Guidry the start, but it was Torrez who shined. Guidry, pitching on too little rest, was not his usual sharp self, and gave way to Mike after only 2⅔ innings. The Kansan pitched masterfully over 5⅓ innings of relief, surrendering only three singles and four walks. The Yankees came back to win, 5-3 and were back in the World Series. Torrez would then win two contests, including the clinching Game 6 on October 18th, a complete-game 8-4 victory against the Dodgers at Yankee Stadium, a game frozen forever in baseball annals for Jackson's three home runs. But for his accomplishment, Torrez was named "Kansan of the Year" by his hometown Topeka newspaper. Based on his season and post-season heroics, Mike staked his case for the "big money" and an opportunity to stay in New York. It was not be.18
Mike Torrez's success with the Yankees came about at just the right time in baseball history. He would leave New York and become one of the first "blue chip" free agents; signing with Boston for the then astronomical amount of $2.5 million over seven years.19 At the start of 1978 it appeared to New Englanders that he was worth every penny, and then some. Their assessment would change by the time the leaves turned, however. With a rotation of Luis Tiant, Bill Lee, Dennis Eckersley, and Torrez, plus a powerful offense, the Red Sox, who finished just 2½ games behind New York the previous season appeared more than ready to challenge their rivals. Mike got off to a good start, but then again so did the whole team. By the All-Star break, Boston sported a mark of 57-26 and an 11½ game bulge over the Yankees. Mike's mark stood at 11-4, and overall, the Red Sox starters were 36-7. Still, all was not perfect as, for example, there were increasing tensions between "Spaceman" Bill Lee and Manager Don Zimmer.
In the latter months of the season, as the 14-game lead melted way, things became even more heated. The low-point (before the loss in the one-game playoff) was undoubtedly the "Boston Massacre" which took place during September 7-10, in which the Yankees pounded the Red Sox for a four-game sweep in Fenway Park, pulling them into a tie for first place.
Mike contributed to this debacle, and the slide. After August 18, he did not win a game for six weeks. In the weekend of the Massacre, Mike started the first game of "The Massacre," and took the loss in a 15-3 Yankee slaughter. On and on the losing continued until, by the time the two teams had played 150 games, the Yankees had surged ahead by two games. Mike's final win that season came on September 28, as Boston defeated Detroit, 1-0. Mike pitched a complete game, but gave up seven walks. When Luis Tiant defeated the Blue Jays on October 1, while the Yankees lost to the Indians, the race was a dead heat at 99-63. Not surprisingly, Billy Martin named Ron Guidry and his glittering 24-3 record as his starter for the playoff. Zimmer countered with Torrez.20
The contest on October 2, 1978, is one of the most memorable in history. The Red Sox broke through early and for six innings all went as Sox fans hoped. The Sox led 2-0 going into inning 7, and Mike had tossed only 66 pitches and allowed two hits. After erasing Graig Nettles in a fly out, Chris Chambliss singled and Roy White did likewise. Next, Torrez induced a fly out by Jim Spencer. The next hitter was Bucky Dent. The Yankee shortstop fouled off the second offering of his at-bat off of the instep of his left foot. As he hobbled to the dugout for treatment, teammate Mickey Rivers noticed that Dent's bat was cracked. He offered one owned by Roy White and told his teammate that "there are lots of hits in it." There was at least one more.
While waiting for Dent to return, Torrez waited and waited. Later he would blame himself for not staying loose by throwing some warmup pitches to his catcher, Carlton Fisk. When play resumed, Carlton Fisk called for a fastball and Dent hit it toward the Green Monster. A shift in the wind caught the ball and carried out of the park. Suddenly, the Yankees led, 3-2. Torrez walked Rivers, and was replaced. The Yankees went on to win, 5-4. Thus, began the downward spiral of Mike's relationship with Red Sox Nation.21
The next four seasons were difficult, to say the least. After 1978, Torrez's career mark stood at 141-118 (.544). After "the pitch," he went 44-42 (for a final mark of 185-160). The Boston fans, however, eventually took their frustrations out on him. Things got progressively worse. He finished 1979 with the same record as the previous year, 16-13, though his ERA increased from 3.96 to 4.49. The Red Sox, however, did not compete for the divisional title, which the Orioles claimed. In 1980, a portent of things to come came in Mike's first start, against Milwaukee, in which he lasted barely one inning. The final score was 18-1. That season, his ERA climbed to as high as 6.49, and finished at 5.08. His record cratered to 9-16. By season's end, Zimmer had relegated Mike to the bullpen. In addition to the problems on the field, this season saw the end of Torrez's second marriage, with the final dissolution coming in April of 1981.
The next two years were a bit better, though Boston again did not make the playoffs. A new manager, Ralph Houk, offered a possibility for rebooting Mike's career and after a slow start (1-2 with a 6.50 ERA) he finished with a 10-3 mark and an ERA of 3.68. Given the work stoppage that season, the team lost 54 games to the labor action. Perhaps things might have been different for Boston and Torrez if not for the truncated campaign.
The positives from 1981 did not continue into 1982. Mike should have known things were going to be bad as, even after a solid year, he was paged at the Boston Garden (during a Celtics game) and was roundly booed by those in attendance. He finished the year with a record of 9-9, but with an ERA of 5.23. It was clear, after the 1982 season, that the Red Sox were ready to move on.22 One positive in his last season with the Red Sox, Mike married again, to Teresa Wilson. Dennis Eckersley served as his best man.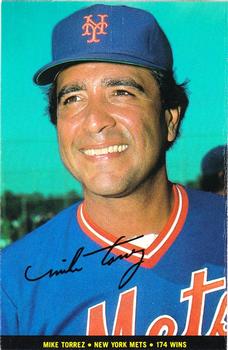 For 1983 the rebuilding New York Mets took a chance on a pitcher that Haywood Sullivan noted, had "always pitched well his first year with a new team. Maybe a change of scenery will help him." At this point in his career, Torrez was seen as an "elder statesman" who could help bring along some of the younger pitchers on that squad. Among some of those Mike mentored were Ron Darling, Jesse Orosco, and later, Dwight Gooden. Another mentor who pitched that year for the Mets was the legendary Tom Seaver. Not surprisingly, it was not a memorable year for the Mets; as they finished 68-94. Mike did fairly well, and finished 10-17 with an ERA of 4.37. The highlight of his year came in Shea Stadium on August 31 as Torrez went the distance and allowed only eight hits as part of a 7-1 victory over Fernando Valenzuela.23
Mike was named the number one starter for the Mets for 1984, but the youth movement continued apace. In his first start, he lasted only 1⅓ innings and gave up three runs. Mike's next start would come on April 8. This event would be memorable, but for a very tragic reason. A Torrez fastball struck Dickie Thon "square in the face" and severely curtailed the young Puerto Rican's career. A supreme irony was that the Mets had once plotted to acquire Thon from his then-employer, the California Angels, in a trade for pitcher Craig Swan, but the deal fell through. Had it worked, Torrez and Thon would have been teammates.
Mike's time with the New York came to an end shortly thereafter, with him pitching in only seven more games. By early June, his record stood at 0-5 with a 4.40 ERA. His final appearance for New York took place on June 12, and his ERA had increased to 5.02. He was not quite done in the Majors, as the A's came calling one more time.
Before pitching for Oakland, Mike worked for their AAA Tacoma farm team. He appeared for the A's on July 23 against Minnesota. He surrendered five earned runs in two-thirds of an inning. The follow-up appearance versus the Mariners was also not good, and his ERA stood at 27.00; the A's waived Torrez shortly thereafter. Mike went on to pitch some more for the Licey Tigres in the Dominican Republic, as well as the woebegone Miami Marlins (minor league team) in hope of getting a call back to the majors for a chance to get to 200 wins. Although he finished the 1985 season with a 7-8 mark for the last-place Marlins (and a 2.80 ERA), there was no interest from Major League clubs.24
By the late 1980s, Mike was living in New York and selling office furniture He had a chance to meet, play golf with, and commiserate with another player to wear the goat mantle, Ralph Branca. Further, he was in attendance at Shea Stadium on the night of October 25, 1986, as the Mets completed their comeback victory against the Red Sox in part because of Bill Buckner's error. While mindful of what Buckner would have to endure, Mike expressed joy that he was now "off the hook." Mike even expressed a conciliatory tone when asked for his reaction when the Red Sox finally broke the curse in 2004.25
Since his retirement, Mike has continued to work in the furniture business, as well as establishing his own promotional premiums company (which is still in operation). He and Teresa spent time in New York and Florida, but lived mostly in Illinois to be close to both families. A final venture in baseball came about due to Mike's tutoring experiences with the Mets and the Marlins. An opportunity to develop young talent came his way in the 2009 when he was offered the post of pitching coach for the Class A Newark Bears, a franchise in an independent league. Ultimately, he wound up serving as the team's general manager as well. He was thus working out contracts with the very players he was coaching. This did not prove to be a positive venture, as multiple ownership groups failed to make the franchise a success. The Bears filed for bankruptcy in 2014.26
As of 2018 Mike and Teresa had returned to Florida. They had two sons, Michael and Wesley. The younger Wesley hoped to continue the family tradition in pitching. He has played in the minors as well as the Mexican League. Mike also had a son, Yannick, with Danielle and a daughter, Christiann, with his first wife, Connie. A good way to summarize his career is that he won more games than the vast majority of hurlers who have pitched in the majors. Mike Torrez also has a World Series ring to his credit, along with the rare feat of two complete-game World Series wins, as well as a place within some of the most historic years of baseball history. Overall, this is not a bad legacy. By the early 2000s even some Red Sox fans had come around to an extent. Surprisingly, in 2004 a fan publication slotted Mike as ranking as number 95 among the "Top 100 Red Sox" players ever.27 Torrez is highly regarded and respected in his hometown and state. He often goes back to his old neighborhood and works with community leaders. He is seen as a role model for the Latino/Mexican American population of Kansas. He also regularly attends the Yankees' Old-Timers Days, and even toes the rubber for a few pitches.
Last revised: February 25, 2019
Acknowledgments
This biography was reviewed by David Lippman and fact-checked by Kevin Larkin.
Notes
1 The materials cited here come from a biography of Mike Torrez. Please see: Jorge Iber, Mike Torrez: A Baseball Biography (Jefferson, NC: McFarland and Company, Inc. Publishers, 2016), 43-50.
2 Ibid., 55.
3 Ibid., 57-58.
4 Ibid., 64-65.
5 Ibid., 66.
6 Ibid., 70-71.
7 Ibid., 72-77.
8 Ibid., 86.
9 Ibid., 88.
10 Ibid., 96-97.
11 Ibid., 99-102.
12 Ibid., 103-107.
13 Ibid., 110-113.
14 Ibid., 122-125.
15 Ibid., 127.
16 Ibid., 132-136.
17 Ibid., 142-149.
18 Ibid., 157-160.
19 Ibid., 163.
20 Ibid., 169-170.
21 Ibid., 171-173.
22 Ibid., 181-190.
23 Ibid., 191-196.
24 Ibid, 197-201.
25 Ibid., 204.
26 Ibid., 206-209.
27 Ibid., 211.
Born
August 28, 1946 at Topeka, KS (USA)
If you can help us improve this player's biography, contact us.
https://sabr.org/sites/default/files/TorrezMike.jpg
600
800
admin
/wp-content/uploads/2020/02/sabr_logo.png
admin
2019-02-25 12:13:49
2020-04-09 14:37:35
Mike Torrez