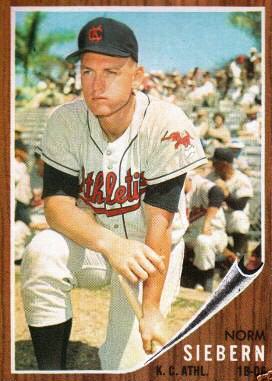 ---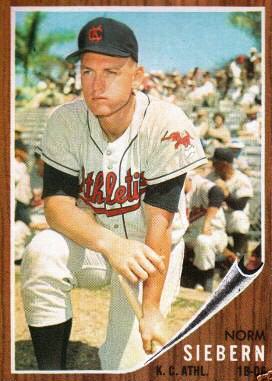 A strong, quiet, and athletic 205-pounder who stood 6-feet-2, wore glasses, batted from the left side, and threw right-handed, Norm Siebern split time between first base and the outfield for six major-league teams. Originally a Yankee, he played in two World Series for New York, and was part of the package the Yankees sent to Kansas City for Roger Maris. He was an All-Star first baseman for the Athletics and the Baltimore Orioles, and later played with California and San Francisco before he closed out his career in Boston in 1967 and 1968.
Norman Leroy Siebern was born on July 26, 1933, in Wellston, Missouri. One of two sons of Milton Siebern, who later served as a scorer for the Kansas City Athletics, and Iva Siebern, he was a baseball and basketball standout at Wellston High, just outside St. Louis, and managing editor of the school newspaper. Lou Maguolo, Midwestern scout for the Yankees, spotted Siebern when the young slugger was 15, and signed him as soon as he graduated from high school in 1951. That summer Siebern started his professional baseball career at the age of 17 at McAlester in the Class-D Sooner State League. He appeared in 50 games, batted .331, and, though he homered just three times, he lashed 18 doubles and three triples and drove in 31 runs.
Siebern moved up the next season to Joplin, Missouri, in the Class-C Western Association, where he batted .324, drilled 52 extra-base hits, including 13 home runs, and drove in 95 runs in 137 games. He led the league with 33 doubles and 115 runs scored. That effort earned Siebern a promotion for 1953 to Birmingham of the Double-A Southern Association, where he hit .281 with 21 homers and 97 runs batted in. Siebern wasn't busy just during the summer. He and fellow Yankee farmhand Jerry Lumpe played basketball at Southwest Missouri State Teachers College (later Southwest Missouri State University and now Missouri State University) and helped the Bears win the 1952 and 1953 NAIA National Championship Tournaments. Southwest Missouri State posted a 10-0 record in the national tourney over the two seasons, including wins over Indiana State, Murray State, and Gonzaga, though both Siebern and Lumpe headed to spring training prior to the title games.The NAIA rule allowing athletes to play minor-league baseball and college basketball was rescinded after the 1953 season, and Siebern set aside his pursuit of a degree in journalism.
Like many players of the era, Siebern entered the US Army and missed the 1954 and 1955 seasons. He returned to baseball in 1956 and was voted the first James P. Dawson Memorial Award by the New York writers as the outstanding Yankees rookie during spring training. Still just 22 years old, Siebern joined the Denver Bears of the Triple-A American Association, the Yankees' top farm team, to start the 1956 season. In 36 games, he collected 30 hits in 100 at-bats, slammed 8 homers and drove in 19 runs. The Yankees took notice and in mid-June, Siebern was called up to New York.
The youngster joined Yogi Berra, Billy Martin, Phil Rizzuto, Whitey Ford, and 24-year-old Mickey Mantle, who was on his way to a 52-home run, 130-RBI, MVP season. Mantle was entrenched in center field, Hank Bauer held down right field, and manager Casey Stengel was searching for a third outfielder to spell the injured 40-year-old Enos Slaughter, using backup catcher Elston Howard in left field most often. Siebern wasn't quite ready. He made his debut on June 15 and in 54 games batted just .204 with 4 triples, 4 homers, and 21 runs batted in, while he quietly suffered in silence from knee and shoulder injuries incurred when he chased a fly ball into a concrete wall. Meanwhile, the Yankees cruised to their seventh AL pennant in eight years, and avenged their 1955 World Series loss to the Brooklyn Dodgers. Siebern, now 23, was retired in his only appearance, a pinch-hit opportunity in Game Two, won 13-8 by Brooklyn. Siebern watched the remainder of the Series from the bench as the Yankees won in seven games.
The following spring, the young thumper was farmed back to Denver, where he put together a spectacular season for manager Ralph Houk. Siebern batted .349 in 144 games, slugged 45 doubles and 15 triples, smashed 24 home runs, drove in 118 runs, and teamed with Marv Throneberry to lead the Bears to the American Association championship and a win over the International League champion Buffalo Bisons in the 1957 Little World Series. After the season, he was named The Sporting News Minor League Player of the Year. Despite leading the American Association in batting average, runs, hits, doubles, triples, and total bases, Siebern sat at home as the Milwaukee Braves bounced the Yankees in the World Series.
Siebern was back in New York's plans for 1958. The 24-year-old took over as the Yankees' regular left fielder. He played in 134 games and batted .300 with 19 doubles, 5 triples, and 14 home runs. He walked 66 times and stole a career-high five bases, but was cut down eight times. He also won a Gold Glove for his fielding, and solidified left field, a Yankee sore spot. He did everything the Yankees asked, although more quietly than they preferred. "I wish he would show a little more aggressiveness," Stengel said of his quiet young slugger. "He doesn't even show as much life as he did here last year. Maybe that's just as well. If he started hollering now he might forget some of the other things he does so much better."1
For the fourth straight year and the ninth time in 10 seasons, the Yankees won the pennant, and for the second time Siebern was World Series-bound, against Milwaukee. Stengel was faced with a dilemma. If Berra caught, then either Howard or Siebern sat. "Now what would you do?" Stengel said before the World Series. "For the first time in years I got a fellow who can play left field regular, and now you want me to start platooning?"2 But that's just what he did. Siebern sat on the bench for Game One and the start of Game Two, while Berra caught and Howard played left field. After the Braves tallied seven runs in the first inning of Game Two, Siebern replaced Howard and banged out a hit in three trips to the plate against Lew Burdette.
With the Braves leading two games to none, the Series moved to New York. Siebern started Game Three and walked twice in four plate appearances. The following day, Stengel slotted Siebern in the leadoff spot for Game Four. The youngster walked once in four trips to the plate, but struggled in the field. In the sixth inning of a scoreless pitching duel between Whitey Ford and Warren Spahn, Braves second baseman Red Schoendienst lifted a fly ball to left-center field between Siebern and Mantle. Siebern, facing into the afternoon sun and lights turned on for the benefit of the color television broadcast, lost the fly ball, and it fell for a leadoff triple. Moments later, Tony Kubek booted Johnny Logan's grounder, and the Braves scored the first run of the day. In the seventh, right after Stengel motioned the outfield in, Spahn's blooper dropped in front of Siebern to allow Del Crandall to score. And in the eighth, the Braves scored for a third time when Logan's fly fell to Siebern's right and bounced into the stands for a ground-rule double. The Braves won 3-0 and led the Series three games to one.
Newspapers roasted Siebern. One headline stated, "Siebern Sunburn Singes Yanks," but the stoic youngster was toasted for his courage and honesty after he stood up to face the reporters and said, "I lost at least four balls out there, in the sun and against the lights."3 Stengel came to the defense of his left fielder. "I'll tell you one thing, I'm not asking waivers on him, and you can print that!" the Old Perfesser said. "He's a nice kid and I know he'll worry over this. He's playing the toughest left field in baseball, don't forget. He hit .300 for me. He's good at getting walks and he's good at going from first to third. I think he did real good in his first full year in the majors. He's not an easy man to get out."4
But Stengel did not use Siebern again in the World Series, as the Yankees became just the second team to rally from a 3-games-to-1 deficit to win the fall classic. And he seemed to lose confidence in the youngster in 1959. Siebern played just 93 games in the outfield (and two at first base) as Stengel employed 13 outfielders during the season. He tried eyeglasses to help in the outfield, but batted .271 with just 11 home runs. The Yankees won 13 fewer games than the season before and slid to third place in 1959. The team wasn't close, and Siebern, Bobby Richardson, and Kubek, along with veteran Bobby Shantz, were referred to by Yankee insiders as the "Ice Cream and Popcorn Set" because they didn't drink, smoke, or swear. Stengel questioned his silent young slugger's effort, and whether the glasses would help him catch fly balls, recalling the youngster's World Series travails.
Several years later, Siebern was generous about Stengel's criticism in an interview with Leslie Lieber of the Los Angeles Times. "No, I don't remember Stengel making me feel bad," he said. "What I do remember is the way he stuck by me when I needed him in the World Series. I had had a bad day, losing a couple of easy fly balls in the sun. Milwaukee beat us and we were down in the World Series three to one. I felt as low as anyone could. Stengel had every right to jump me, but he didn't. Instead he kidded me and cheered me up. I found out that day who my friends were. Anybody who says Stengel broke my heart is inventing fairy tales. What he did was give me heart. I'm happy I had the chance to play for him."5
Nevertheless, on December 11, 1959, the Yankees traded Siebern, Don Larsen, Marv Throneberry, and Hank Bauer to the Kansas City Athletics for Roger Maris, Joe DeMaestri, and Kent Hadley. It was one of a series of trades the two teams made during the late 1950s and early '60s that went in New York's favor so much that Kansas City was referred to as a "Yankee farm team." New York clearly got the best of the trade as Maris won Most Valuable Player awards in 1960 and 1961, when he eclipsed Babe Ruth's major-league single-season home-run record with 61. But the trade also worked out well for Siebern, who blossomed in Kansas City. Reunited with his old Yankee and Southwest Missouri State teammate Jerry Lumpe for the 1960 season, Siebern slugged 31 doubles, 6 triples, and 19 home runs – seven more than anyone else on the Athletics – for manager Bob Elliott. He split time almost evenly between the outfield and infield.
The A's started the 1961 season under manager Joe Gordon, but Hank Bauer, a former Marine, took over at midseason. Siebern played 109 games at first base and 47 in the outfield, and enjoyed another fine season at the plate. He improved his batting average to .296, smacked a career-high 36 doubles, and hit 18 home runs. The A's finished tied for ninth with the Washington Senators, 47½ games behind the Maris- and Mantle-led Yankees. Mantle finished second to Maris in the MVP balloting. Siebern tied for 14th, with seven 10th-place votes.
Under Bauer for a full season in 1962, the Athletics improved by 11 games, and Siebern flourished. He played all 162 games at first base, led the AL in putouts, and steadied an infield that included Lumpe, shortstop Dick Howser, and third baseman Ed Charles. He batted .308 with 25 doubles, 6 triples, 25 home runs, and 117 runs batted in. He walked 110 times and led the league with 296 times on base, and with a .412 on-base percentage. In July Siebern was the lone Kansas City player selected for major-league baseball's two All-Star Games. On July 10 at District of Columbia Stadium in Washington, D.C., he grounded out as a pinch-hitter in the eighth inning; he did not see action in the July 30 rematch at Wrigley Field in Chicago. At the end of the season, the bespectacled slugger placed seventh in the MVP race with 53 points.
Former Yankees pitcher Ed Lopat replaced Bauer in 1963 as Kansas City's manager, the Athletics improved by one game, and Siebern, playing 131 games at first base and 16 in the outfield, slipped to a .272 average, but still hit 25 doubles and 16 home runs, and drove in 83 runs. Once again he was Kansas City's lone All-Star, and once again he played the role of spectator, this time at Cleveland's Municipal Stadium. At the end of the year, Siebern received one 10th-place vote for MVP, the last he would collect. Despite his success, on November 27, 1963, the Athletics traded Siebern to the Baltimore Orioles for first baseman Jim Gentile and $25,000 cash.
Bauer had recently been named Baltimore's manager, and Siebern's old teammate again played him exclusively at first base, for 149 games. Siebern joined an infield that included second baseman Jerry Adair, shortstop Luis Aparicio, and third baseman Brooks Robinson. Now 30 years old, Siebern slumped to .245. Though he did hit 24 doubles, he managed just 12 homers and 56 runs batted in. The Orioles contended for the American League title, winning 97 times to finish third, just a game behind second-place Chicago and two behind the pennant-winning Yankees. Despite his struggles at the plate, Siebern joined Robinson (the league's MVP) and Aparicio (who missed the game with injuries), and his friend Lumpe, who was then with Detroit, at the 1964 All-Star Game at Shea Stadium in New York. Pinch-hitting for Kansas City pitcher John Wyatt, his future 1967 Boston teammate, Siebern drove a ball that National League center fielder Willie Mays tracked down.
The 31-year-old Siebern saw his playing time decrease in 1965 when 23-year-old Boog Powell moved from the outfield to first base to make room for a pair of 21-year-olds in the outfield, Paul Blair and Curt Blefary. Siebern played first base in 76 games and pinch-hit in 30 games, batting .256 with 8 homers and 32 RBIs as the Orioles finished third again. On December 2 he was traded to the California Angels for Dick Simpson. The Orioles parlayed Simpson, along with pitchers Milt Pappas and Jack Baldschun, in a trade with Cincinnati for outfielder Frank Robinson. Robinson earned MVP honors in 1966, finishing ahead of teammates Brooks Robinson and Powell, and Bauer's Baltimore squad cruised to the AL pennant and a World Series sweep of the Los Angeles Dodgers.
Siebern, meanwhile, spent the 1966 season in California, and at 32 appeared in 125 games, 99 of them at first base. He batted .247 for Bill Rigney's squad, with 5 home runs and 41 RBIs, and was on the move again after the season. This time Siebern was swapped to San Francisco for Len Gabrielson. Starting the 1967 season as a backup to Willie McCovey, Siebern played 15 games at first base and returned to the outfield for the first time since 1963, handling three fly balls in two games. He also pinch-hit in 29 games. His brief National League tenure ended on July 16, when he was acquired by the Red Sox for the waiver price of $20,000. In order to claim Siebern on waivers, Boston optioned injured infielder George Smith to the Giants farm club at Phoenix.
Boston manager Dick Williams, a teammate of Siebern's at Kansas City in 1960, welcomed the well-traveled slugger. "I think Siebern can help us," Williams said. "I've played with him and I like his hustle and effort."6 But despite his hustle and effort, Siebern hit just .205 in 33 games for the '67 Red Sox. His only two extra-base hits were triples. He drew six walks and drove in seven runs. Siebern made one outfield appearance, recording an assist, and played 13 games at first base, where he handled 52 of 53 chances. But some of his appearances at first base were noteworthy. In Anaheim on August 11, Williams told first baseman George Scott, who had battled weight problems, that if he weighed more than 215 pounds, he would sit out the three-game series against California. Scott tipped the scales at 221, and Williams penciled Siebern into the lineup. Three weeks later, after Boston dropped the first game of a Labor Day doubleheader at Washington, Williams inserted Siebern into the lineup for the second game. Scott responded by throwing ice across the room and knocking down a row of bats, continuing a season-long feud with Williams.
Scott continued to boom out base hits through the season, while Siebern sat, making an occasional appearance as the Red Sox clinched the AL flag on the season's final day. For the third time, Siebern played in a World Series. He made three appearances, all as a pinch-hitter and all against Bob Gibson. In Game One at Fenway Park, Siebern hit for catcher Russ Gibson in the seventh inning, but was left standing at the plate when Reggie Smith was caught stealing. He stayed in and played right field, then led off the eighth inning with a single, one of just six Red Sox hits. Jose Tartabull ran for Siebern, but was stranded in Gibson's 2-1 complete-game win. Siebern pinch-hit again in the eighth inning of Game Four, and was retired on a fly ball to center field. In Game Seven he faced the Cardinals ace in the bottom of the eighth inning with a runner on third and grounded out, plating the final Red Sox run of the Series in a 7-2 loss.
Siebern appeared in just 27 games, and just four in the field, in 1968. He played a pair of games in the outfield and a pair at first base, and collected two hits in 30 trips to the plate. He played in his last major-league game on July 30, and was released by the Red Sox on August 1, a week past his 35th birthday.
His playing days over, Siebern returned to Independence, Missouri, in the Kansas City area, where he and his wife, Elizabeth (Liz), had lived since he had been a member of the Athletics. The couple, who married in 1958, raised three daughters, Lisa, Jenny, and Saundra (nicknamed Sondy), and made their home in a neighborhood that included several former Athletics, including Maris and Norm's old teammate, Whitey Herzog, who lived across the street. Siebern scouted for the Atlanta Braves and then the expansion Kansas City Royals, played in several Yankees Old Timer's games, and joined his ex-Yankee teammates at several Roger Maris Memorial Charity Golf Tournaments in Fargo, North Dakota. He later moved to Naples, Florida, where he owned an insurance agency for several years. He sold the agency in 2000 and retired to Lady Lake, Florida. In 2002 he was honored by Missouri State University, when the 1952 and 1953 NAIA championship teams held a 50-year reunion.
In his later years, Siebern was an active member of the Naples chapter of the Society for American Baseball Research and the Kansas City Baseball Historical Society, which presented him with a lifetime achievement award in 2013. Siebern died on October 30, 2015 at the age of 82, at Avow Hospice in Naples. A memorial service was conducted at the North Naples United Methodist Church. He was survived by his three daughters, Lisa Siebern, Jennifer (Chris) Spires, and Saundra (David) Bellamy; eight grandchildren; and four great-grandchildren.
Last updated: January 01, 2021 (ghw)
A version of this biography originally appeared in "The 1967 Impossible Dream Red Sox: Pandemonium on the Field" (Rounder Books, 2007), edited by Bill Nowlin and Dan Desrochers.
Sources
In addition to the sources cited in the Notes, the author also consulted baseball-almanac.com, baseballresearch.com, mlb.com, retrosheet.org, https://missouristatebears.com/ (Missouri State University website), and the following:
Deane, Bill. Award Voting (Society for American Baseball Research, 1988).
James, Bill, et al. All-Time Baseball Sourcebook, First Edition (STATS, Inc., 1998).
James, Bill, et al. All-Time Major League Handbook, Second Edition (STATS, Inc., 2000).
Miller, Jeff. Down to the Wire: The Thrilling Inside Story of the Greatest Pennant Chase Ever – The 1967 American League Race (Dallas: Taylor Publishing Company, 1992).
Vincent, David, Lyle Spatz, and David W. Smith. The Midsummer Classic: The Compete History of Baseball's All-Star Game (Lincoln: University of Nebraska Press, 2001).
Personal interview with Siebern's daughter, Saundra "Sondy" Bellamy, April 2006.
Notes
Born
July 26, 1933 at St. Louis, MO (USA)
Died
October 30, 2015 at Naples, FL (USA)
If you can help us improve this player's biography, contact us.
http://bioproj.sabr.org/bp_ftp/images2/SiebernNorm.jpg
600
800
admin
/wp-content/uploads/2020/02/sabr_logo.png
admin
2012-01-04 20:01:01
2021-01-01 17:43:56
Norm Siebern