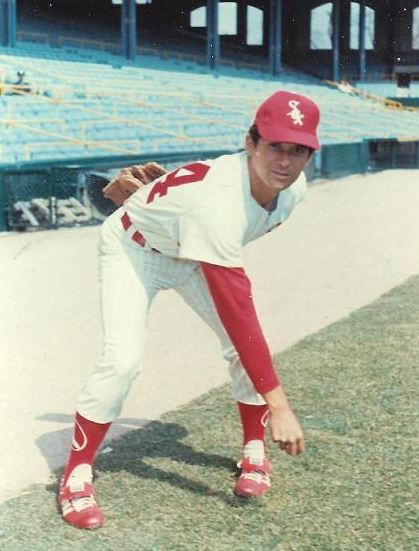 ---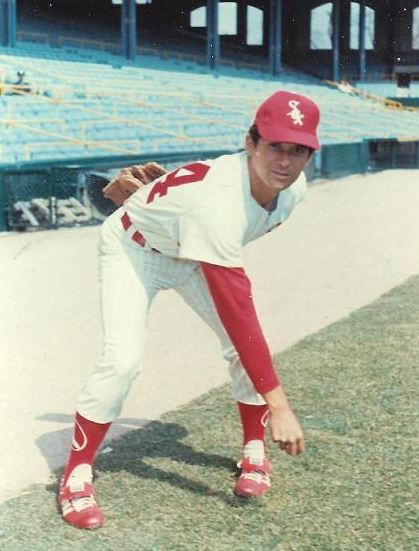 "That long, long list of pitchers…like a lost platoon."[1] So the Chicago Tribune described the many young hurlers who came through the Cubs system in the late 1960s. Some of those prospects went on to better things after trades, but others got only a cup of coffee – if that.
Pat Jacquez – the elder half of a lesser-known father-son combo with Thomas Jacquez – was in the latter category. Unlike several fellow Cub blue chips, "I never had any arm problems," Pat said in 2011. The "sturdy righthander," as the San Antonio Light called the six-foot, 200-pound Californian, got caught up in the numbers game. "[Cubs manager] Leo Durocher liked my makeup and gave me every opportunity to make the 25-man roster in both 1969 and 1970. I was the last pitcher cut each year in big-league camp." His only two games in the majors came with the White Sox in April 1971, and he retired to be with his family after spring training 1973.
Jacquez described his stuff and his approach on the mound. "I had a live arm with a two-seam fastball that ran in to righthanded batters and away from lefties. To be successful I kept the hitters off the plate. In Double-A, Don Nottebart, an ex-major leaguer, taught me the off-speed slip pitch. I had an average breaking pitch, but my strengths were keeping the batters off balance with my sinker and slip pitch and challenging my competition."
Patrick Thomas Jacquez was born on April 23, 1947. Except for his time in baseball, he has lived his whole life in Stockton, east of San Francisco in the San Joaquin Valley. "My father, Tomás Jacquez, was born in Gallinas, New Mexico," Pat said. "He served in World War II and worked for the government as a warehouseman at Rough and Ready [a naval base in Stockton] for 35 years. My mother, Arcadia Gallegos Jacquez, was born in Riverside, California. Her family emigrated from Mexico. She was a seasonal floor lady at a local cannery and stay-at-home mom. I have a brother, Hank. Both my parents spoke fluent Spanish, but chose not to teach us the language. Our name was pronounced Jackquess as we proceeded through the school system. My father pronounced his name Hawkis.
"My father played softball when he was in the service and encouraged my brother and me to play Little League." The baseball culture was strong in this agricultural area, as people of Anglo, Latino, and Japanese descent all enjoyed playing.
Jacquez went to Amos Alonzo Stagg High School in Stockton. Stagg, the "grand old man" of American college football, moved to the city in 1933 to become head coach at the College of the Pacific. The high school bearing his name was founded in 1957; Stagg – who had also played and coached college baseball as a young man – passed away in Stockton in 1965.
The Delta Kings of Stagg High have sent four other men to the majors: Bob Garibaldi, Craig Minetto, John Foster, and Dallas Braden, who threw a perfect game for the Oakland A's in 2010. While Jacquez was there, one of his teammates was Mark Marquess, who became the highly respected baseball coach at Stanford University and led Team USA to a gold medal at the 1988 Olympics in Seoul.
As a senior in 1965, Jacquez helped Stagg win the Central California Conference championship in basketball as well as a third straight in baseball. Though Pat had played varsity hoops from his sophomore year, he truly excelled on the mound. He was named Player of the Year in the Central California Conference, going 8-1 (5-0 in league play). He struck out 106 batters in 77 innings and walked only 19.[2]
The Houston Astros drafted Jacquez in the fourth round of the June 1965 amateur draft. He chose not to sign. "I received a good offer from Houston," said Jacquez, "but really wanted to attend [the University of] Santa Clara on a full ride. My high school baseball coach, Bob Chinchiolo, was a Santa Clara graduate and ex-pro baseball player. He influenced my decision to attend Santa Clara."
The Santa Clara program was a high-quality one, coached by Sal Taormina, a former San Francisco Seal. Pitcher (and fellow Stagg alum) Bob Garibaldi was the Most Outstanding Player in the College World Series in 1962 before the San Francisco Giants lured him away from the Broncos with a $150,000 bonus. Nelson Briles signed with the Cardinals out of Santa Clara the next year.
In the summer of '65, Jacquez again pitched in American Legion ball with the Karl Ross team (he had appeared with them since 1963). After Karl Ross was eliminated from the state Legion playoffs, a local semi-pro team called the Guild Wines from nearby Lodi brought him on board to pitch the championship game of the Sacramento Rural League.[3]
Jacquez had a fine freshman year at Santa Clara in 1966, going 5-1 with a minuscule 0.78 ERA. He was named to the frosh all-star team of the California Intercollegiate Baseball Association, along with two other future big-leaguers from Stanford, Don Rose and Sandy Vance.[4] That summer, Jacquez joined the Boulder Collegians, a Colorado semi-pro team established two years previously by Coach Bauldie Moschetti. Moschetti recruited a vast amount of collegiate talent during the team's history, which ended in 1980. The 1966 team won the first of Boulder's four National Baseball Congress championships. In addition to Jacquez, it included fellow Santa Clara hurler Jan Dukes (16 games for the Senators and Rangers from 1969 to 1972) and future Padres manager Greg Riddoch.
Not signing with the Astros meant that Jacquez was eligible for the secondary phase of future drafts. On the recommendation of scout Ray Perry, the Cubs took him in the fourth round of the January 1967 secondary draft. He signed in early February for a bonus of $25,000; the Lodi News-Sentinel noted that he would continue his college studies.[5] Meanwhile, the Philadelphia Phillies drafted brother Henry, an outfielder from Stagg High, in the 17th round of the regular (June) phase of the 1967 draft. "Hank was an outstanding athlete both in football as a running back and as a centerfielder in baseball," Pat said. "He was recruited by Pac 10 schools for football, but chose to sign with the Phillies." Hank remained in Class A ball through 1970.
Pat Jacquez was assigned to Lodi in the high Class A California League for his first pro season. That was a nice break for the young man. "I did not live at home," he said, "but I had a lot of fans support me from my hometown, Stockton, which was 10 miles away." On Opening Day 1967, Crushers manager Walt Dixon viewed his fastest pitchers as Jophery Brown from Grambling, Jacquez, and top draft pick Alec Distaso.[6] Although eight men from that pitching staff would go on to the majors, most notably Jim Colborn, these three would appear in The Show for a grand total of just five games. Brown tore his rotator cuff and then became a top Hollywood stuntman; Distaso blew out his elbow and joined the Los Angeles Police Department.
Pat made a brilliant debut with a two-hit shutout.[7] He also engaged in at least two terrific duels with future big-leaguers. On May 21 at Fresno, he beat Gary Ryerson 3-0, escaping constant hot water (seven hits, five walks, and four errors) and getting three runs in the ninth.[8] On August 22, Clay Kirby of Modesto pitched 10 shutout innings while Jacquez pitched 11, striking out 16. He took a 1-0 lead into the 12th but gave up a homer to Leron Lee and got no decision. The Crushers went ahead again and won in the bottom of the inning.[9]
Jacquez finished the season at 12-6 with a 3.29 ERA. He struck out 163 men in 186 innings but was also wild, walking 103 and leading the California League in hit batsmen with 16. His outing against Bakersfield on July 9 captured both extremes of his season – he walked 10 and threw three wild pitches, but allowed just one hit and went all the way, winning 10-3.
That fall, he went into the Army, as was true of many young ballplayers during the Vietnam War. "When I signed my first professional contract with the Cubs," said Jacquez, "I also enlisted in the California National Guard. I spent four months of active duty training at Fort Ord, California, from December 1967 through March 1968. I missed spring training and trained in Arizona for a couple of weeks before being assigned to San Antonio in the Texas League."
Jacquez started just three times in 30 games that season and pitched just 68 innings (2-6, 3.57). "I got my feet wet in the Texas League by pitching primarily relief and attending monthly National Guard meetings and a two-week summer camp in California. I married my high school sweetheart, Patty Deerinck, on May 31." Although the regular season had not shown Jacquez to best advantage, in the Arizona Instructional League that December, he impressed Cubs general manager John Holland and Leo Durocher.
In March 1969, Baseball Digest described Jacquez: "Good delivery and can pitch to spots. Has big league fastball and fairly good curve. Improvement is expected."[10] In many ways, Pat fulfilled this hope during his third pro season. His ERA was an excellent 2.13 in 131 innings, as he started 17 times and relieved in seven other games. His record was just 4-11, though, as the Missions wound up in last place in the Texas League's Eastern division. He was a hard-luck pitcher. One stretch in late August (after coming back from another month of military duty) really showed how the year went. Against the Arkansas Travelers. Jacquez pitched 12 shutout innings, but got no decision, and a reliever gave up two runs in the 13th. Then about a week later, he lost 1-0 to Shreveport.
Jacquez did more good work in the Instructional League, and the Cubs organization still held him in high regard. In February 1970, the Chicago Tribune noted his "great promise," and he was a strong candidate for a spot in the rotation. However, the Cubs optioned him to Triple-A Tacoma in early April. In 1969, Al Distaso had made the Cubs staff as the tenth man and sole rookie; this time Joe Decker and Jim Colborn emerged from a crowded field.
Jacquez went 1-4, 6.08 in six starts in Tacoma, and so in late May he found himself back in San Antonio. He posted a winning record again for the Missions, going 10-5, 3.25 around three more weeks in the Army in June and July. He was a Texas League All-Star.
On November 30, 1970, the Chicago Cubs sent Jacquez, pitcher Dave Lemonds, and Roe Skidmore (who had singled in his only big-league plate appearance that September) across town to the White Sox. In return, they received Ossie Blanco and José Ortiz. Frank Lane, the one-time White Sox exec who was then an Orioles scout, said, "Jacquez and Lemonds could still develop into winning pitchers – especially Jacquez."[11]
Jacquez recalled, "I competed against [Chisox skipper] Chuck Tanner in the minor leagues and always pitched well against the teams he managed. He traded for me and I had a good spring in Sarasota, Florida and made the Opening Day roster. In 1971, the White Sox opened the season in Oakland, which is 65 miles west of my hometown, Stockton. A busload of fans greeted me as I walked onto a major league field for my first time."
Jacquez stayed with the big club for roughly a month, making his only two big-league appearances on April 18 and April 25. His debut came in long relief at old Comiskey Park after Oakland had knocked out Tommy John. It's little surprise that nearly 40 years later, Jacquez had detailed memories. "During pre-game warmups, before my major league debut in Chicago, Joe Rudi of the A's walked up to me and congratulated me for making it to The Show. He introduced me to several other A's players, which made me feel that I belonged in the major leagues. I pitched against Joe in high school when he played for Downey High out of Modesto. I had one strikeout in my debut (Vida Blue) and one at-bat (Vida Blue struck me out)."
"My only big league road trip, we visited Milwaukee, Yankee Stadium, Fenway Park, and Robert F. Kennedy Stadium. In Boston, I was brought in with a runner on third base and one out to face Reggie Smith. I accomplished my goal with a grounder back to me and holding the runner on third base. The next batter was Carl Yastrzemski. Chuck Tanner walked out to the mound and told me, 'Good job,' and brought in lefty Jim Magnuson."
In early May, veteran Joe Horlen returned from a knee injury (he had torn cartilage sliding into a base late in exhibition season). The White Sox then sent Jacquez down to their top farm club, the Tucson Toros. He never made it back after that.
During the rest of 1971, Jacquez posted a so-so record of 7-8, 4.38 with Tucson. That December, he was traded to the Cincinnati Reds for a former teammate in the Cubs chain, Jimmy Qualls. He was assigned to Triple-A Indianapolis. "I started the season with seven wins and no losses," Jacquez recalled, "and made the All-Star team." At that point his ERA was below 2.00 – but he made a U-turn, finishing at 7-9, 3.70. Once more he was dealt after the season, to the St. Louis Cardinals in November for outfielder Bill Voss.
Jacquez was a non-roster invitee to the Cardinals camp in 1973; at that time, baseball was enduring another labor dispute. "In 1972, I purchased a home in Stockton," he said. "This would be the first year that Patty would not be living with me during the season, since she would be staying in Stockton with my daughter, Suzann, who was a two-year-old. The Cardinals wanted to make me a closer at Triple-A, Louisville. The infield was like concrete and the wind blew straight out to left field. Also, all road trips would be long bus trips. I asked for my release and it was granted."
He then came back to Stockton and took a job at a local restaurant called Albert's. There he came to the attention of Don Schrader, a friend and employee of McDonald's hamburger mogul Ray Kroc. Schrader was in the process of building the area's biggest chain of McDonald's franchises. He and his wife Jean took a liking to Pat, as Jacquez recalled to the Stockton Record in 2006.
"'I guess Don and Jean liked the hospitality I showed them. Don convinced me I could grow with the company, and here we are 32 years later. I love my job. Every day is different, with different challenges. The organization has given me the authority to do what I see fit, and the Schraders have been fantastic to me,' Jacquez said."[12]
Suzann Jacquez received a full scholarship to play softball at the University of California at Berkeley. She then earned her master's degree in social work from New York University. Pat and Patty had one other child after her. Thomas Jacquez grew up to become a lefty pitcher, although he relied on calculation rather than power. He got a full ride to UCLA and was drafted in the sixth round by the Philadelphia Phillies in 1997. Like his father, Thomas got a cup of coffee: nine games with the Phillies in September 2000 (0-0, 11.05). His pro career ended in 2004, and after getting his degree from the University of San Francisco in 2006, he became a high-school teacher in that city. He went on to form his own pitching instruction business in 2014. Both the Jacquez children learned Spanish; while Pat still pronounces his name the Anglicized way, Thomas uses the Hispanic HA-kez.
After retiring from McDonald's in 2010, Pat Jacquez got back into baseball. He joined the coaching staff of St. Mary's High School in 2011. The following November, he became a volunteer assistant coach at the University of the Pacific (also in Stockton) and spent three seasons in that role. "Baseball is my passion," said Jacquez. "It always has been." Ed Sprague Jr., Pacific's head coach through June 2015, also noted Jacquez's passion and added, "He watches the game so intently."[13]
In November of 2013, Jacquez was inducted into the Stockton Athletic Hall of Fame for his abilities both on and off the field as well as his work in the Stockton community.[14]
Before the original version of this biography was published, Pat and Thomas Jacquez looked back on their careers in baseball. Thomas said, "My father and I are blessed to have made it to the top of the athletic pyramid." Pat added, "How many young men have the opportunity to participate in two spring trainings with Hall of Famers Ernie Banks, Fergie Jenkins, and Billy Williams?"
Grateful acknowledgment to Pat Jacquez for his memories (e-mail, January 7 and January 14, 2011).
Originally published in February 2011. Updated on June 14, 2018.
Photo Credit
Pat Jacquez collection/Brace Photo
Sources
www.baseball-reference.com
www.retrosheet.org
www.newspaperarchive.com (in particular, the San Antonio Light)
Notes
---
Born
April 23, 1947 at Stockton, CA (USA)
If you can help us improve this player's biography, contact us.
http://bioproj.sabr.org/bp_ftp/images5/JacquezPat.jpg
600
800
admin
/wp-content/uploads/2020/02/sabr_logo.png
admin
2012-01-04 20:31:52
2012-01-04 20:31:52
Pat Jacquez