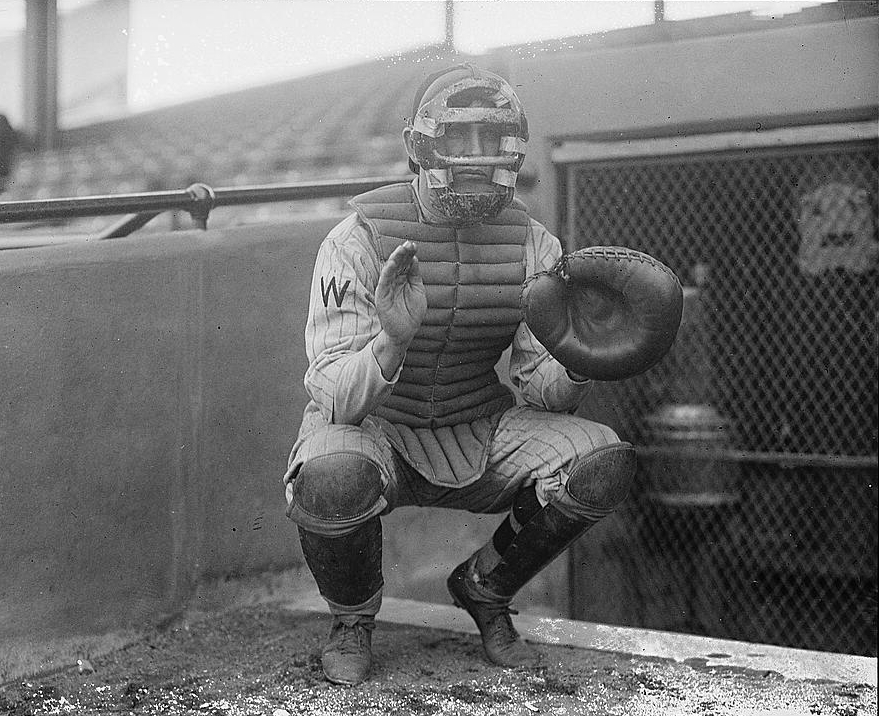 ---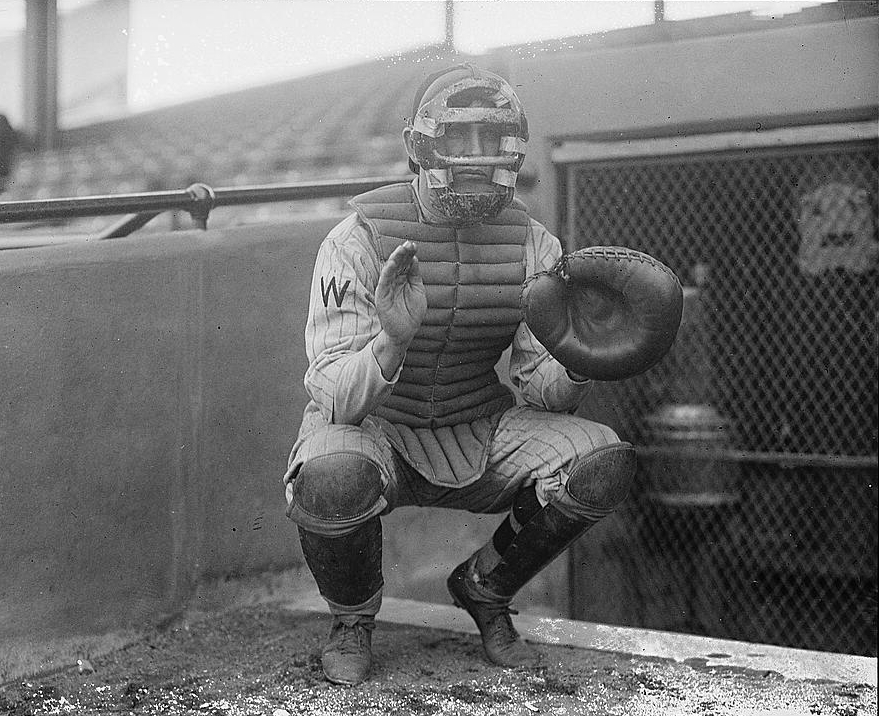 Ed Gharrity was a player, manager, umpire, scout, and coach during his professional career. Invited to spring training with the Washington Senators in 1916, he made an immediate positive impression. Catching for the rookies in an intrasquad game against the regulars in Charlottesville, Virginia, he threw out four would-be basestealers in the 1-1 tie. That started an eight-year stretch with the Senators. The highlight came on June 23, 1919, in Boston. In a battle between two second-division teams, Gharrity went 5-for-5 with a single, two doubles, and his first two major-league home runs. His total of 13 bases set an American League record that was broken by Ty Cobb in 1925.1
Batting sixth in the order and catching, Gharrity doubled off Ray Caldwell in the second inning. In the fourth inning he launched a two-out home run to center field off Carl Mays. In the sixth he lashed a Mays underhand toss for a leadoff double. George Dumont came in to pitch for the Red Sox in the seventh and surrendered a single to Gharrity. The performance was topped off in the ninth when Gharrity's smash cleared the left-field wall by 15 feet, giving the Senators a 12-3 win.2
Edward Patrick Gharrity was the fifth of 10 children (six boys, four girls) born to Thomas H. and Sarah Ann (Tiernan) Gharrity. Thomas Gharrity was a farmer in Parnell, Iowa, when Edward joined the family on March 13, 1892. Gharrity's father had grown up in Beloit, Wisconsin, before moving to Iowa. Both the parents were first generation Irish-Americans.
The family moved to Fillmore, Iowa, by 1900, then into Illinois and finally back to Beloit by 1910 where Thomas Gharrity worked as a supervisor for a road-construction firm. Edward attended grammar school in Beloit and went on to two years at Beloit High School, where he played football (quarterback), basketball (guard), and catcher. He was small for his age, weighing only 115 pounds at age 18, but enjoyed a late teenage growth spurt to reach 5-feet-10-inches in height and eventually weigh 170 pounds.3 He was right-handed at bat and in the field.
By 1911 Gharrity was playing semipro baseball for various Beloit teams. He also played football for pay and played basketball in the winters to stay in shape. In 1913 he tried out with the Rockford Wolverines in the Wisconsin-Illinois League. They decided he needed more seasoning and he returned to Beloit and the semipro game.
That fall an all-star team from the American Association made a stop in Beloit to play a local all-star team. Gharrity was not chosen for the local squad but went to see the action. In the sixth inning the AA catcher was injured and Gharrity was called down from the stands to take his place. He handled veteran pitcher Rube Waddell expertly for the remainder of the game. His performance earned a referral to Johnny Nee and the Dayton Veterans for 1914.4
Gharrity earned a spot with Dayton of the Class B Central League as the second-string catcher to Frank Armstrong. In late May Armstrong was injured and then developed tonsillitis. Gharrity seized the opportunity to become the first-string backstop. He proved to be a better hitter and receiver than Armstrong. He also excited fans with his baserunning. Five stolen bases may not seem like many, but for a catcher it was an accomplishment. He could distract pitchers with the size of his lead off first.5
Gharrity batted eighth in the order until late July, when he moved to the seventh spot. The Vets ran away with the pennant and Gharrity became a fan favorite for his spirited play. He batted .247 in 300 at-bats and poked four home runs. In late August he was sold to Cincinnati. The Reds used Gharrity in a trade with Minneapolis to get outfielder Red Killefer.6 He joined the second-division Millers in time to play 21 games.
Millers manager Joe Cantillon cleaned house over the winter. He brought in 40-year-old catcher Billy Sullivan to team with Gharrity. He added Bill Hopper, Mutt Williams, and Earl Yingling to the pitching staff. That trio posted a 66-32 record as the Millers won with the pennant. Gharrity played catcher, first base, and some outfield. In 86 games he hit .308.
Press and fans took a liking to him. He was described as a "heady, cool catcher with a quick throw to any corner of the diamond."7 Cantillon praised him as "the most promising catcher I have ever had on a ball team."8In late August Gharrity was traded for Joe Engel, a Washington pitcher, in a deal that was arranged by Engel himself. Gharrity finished out the season with Minneapolis, including a string of postseason exhibitions. He then returned to Beloit, where he played semipro football.
Gharrity's throwing caught everyone's attention in training camp in 1916. Also, he launched a home run in an exhibition against the University of Virginia. It was an easy decision for Senators owner Clark Griffith to keep him as backup for catchers John Henry and Eddie Ainsmith. Gharrity made his major-league debut on May 16. The Senators had run up a 13-3 lead on the Tigers and Gharrity caught the last three innings in relief of Henry. He drove home a run in the sixth with a sacrifice fly. He struck out in his other plate appearance.
His next appearance came on May 19 in Washington. He subbed for Henry after the Indians opened up a lead and singled off Guy Morton for his first major-league hit. Gharrity sat on the bench the whole month of June. First baseman Joe Judge was sidelined with an illness in July and Gharrity took over at first on July 20 for 11 consecutive starts. Playing the White Sox, Tigers, and Indians, he went 13-for-42 with four doubles, a triple, and five RBIs.
Griffith chose to replace Gharrity on August 1 with Rip Williams, who played first until Judge returned in mid-August. Gharrity was used mainly at catcher the rest of the season. He closed the year with a .237 batting average.
In 1917 he again served as utilityman and backup for Ainsmith and Henry. He made only five appearances behind the plate. He batted .150 as a pinch-hitter (3-for-20) and played 46 games at first base, most of them in August and September. Overall, Gharrity batted .284 with seven stolen bases. The following year he made four pinch-hit appearances before leaving the team for defense work. His only hit came on April 30 in Boston against Babe Ruth when he doubled in the only run in an 8-1 loss.
Gharrity returned to the Senators in 1919 and found both Henry and Ainsmith gone. Val Picinich and Sam Agnew now headed the catching corps. Even so, Gharrity saw action in 60 games behind the plate. Judge was healthy, meaning Gharrity played very little first, finding himself in the outfield for 35 games. In 111 games, he batted .271 and launched his first home runs. It should be noted that Baseball-Reference calls him "Patsy." That nickname did not become prevalent until 1921. He was "Eddie" for the first part of his career.
As usual, Gharrity returned to Beloit at the end of the season. He had married Margaret Elizabeth Donahue on October 17, 1917, and the couple had welcomed their first child, Thomas, in December 1918. Gharrity supplemented his baseball income by working as a toolmaker in the offseason. Over the years the family added Catherine, Mary, Sarah, Ann, and William.
Gharrity and Griffith had discussed salary before Eddie returned to Beloit. Griffith, thinking they were in agreement, had sent Gharrity home with a contract to sign and a $250 bonus in his pocket. Gharrity decided not to sign and held out for an additional $500. He even announced that he would play independent ball in Beloit. Griffith responded by asking all the teams under the National Commission to boycott Beloit and not play there.9 Finally, on March 12, Gharrity accepted Griffith's terms and headed to camp.
The Senators opened the 1920 season with Picinich and Gharrity the main catchers. Cuban utilityman Ricardo Torres was the third catcher if needed. Gharrity won the Opening Day spot and played 121 games at catcher. He hit three home runs, all on the road. Eddie would have had a fourth on September 12 in Chicago except for a baserunning gaffe by Frank Ellerbe. Ellerbe was on base when Gharrity drove one to deep left. When a roar went up, Ellerbe assumed the ball had been caught and went to shortstop instead of rounding the bases.10 Gharrity batted .245 in 428 at-bats, his career high.
In 1921 Gharrity played in 121 games, 116 of them behind the plate. Offensively it was his finest year in the majors. He posted his best single-season totals in runs scored, RBIs, hits, doubles, triples, home runs, walks, batting average (.310), slugging, and on-base percentage. The Washington-St. Louis game of August 9 is known in baseball circles because Browns pitcher Dixie Davis threw all 19 innings, allowing no hits in the last 9. Not to be outdone, Gharrity caught all 19 for the Senators, who lost 8-6.11
Gharrity was the number-one backstop again in 1922. He got off to a slow start at bat and was hitting only .182 on April 25. In the next six games, against Boston and Philadelphia, he went on a hitting tear, going 12-for-22, scoring 9 runs and driving in 9. The pattern continued with Gharrity enjoying hot streaks and then slumps. His defense also suffered, especially on May 11 against the Browns. He made two errors on throws, lost his confidence and held the ball in a critical situation as St. Louis won 5-3. His shoulder bothered him most of the season and in early August he was sent to Excelsior Springs, Missouri, for treatment drinking the city's spring water. He finally returned to the starting lineup on August 22.12
Griffith acquired catcher Muddy Ruel for the 1923 season. Gharrity split his time between catching, first base, and pinch-hitting, appearing in 93 games. He batted a career-low .207. Over the winter, Gharrity made a fateful decision. He decided to join the Midwest Industrial League and play for Beloit. Not only did they pay a baseball salary, they found a job for him in the local steel mill. Little did he know that the Senators under Bucky Harris would win the pennant in 1924 and 1925.
Griffith was angered by Ed's decision and had him placed on the suspended list. Gharrity played in the Industrial League from 1924 to 1928. He was one of the stars of the league, which stretched from Wisconsin through Chicago to Massillon and Canton, Ohio. In 1924 he and Hippo Vaughn formed the best battery in the circuit.
Gharrity became one of the foremost home run hitters in the circuit and batted cleanup for the Beloit Fairies. In 1928 he left the league and managed an independent team in Three Rivers, Michigan. He also purchased a bowling alley in Beloit and ran it for a few years before selling it.
Gharrity and Walter Johnson were good friends. Gharrity considered him "one of the grandest fellows" he had ever met.13 When Griffith appointed Johnson manager for the 1929 season, Gharrity was the Big Train's choice to join his coaching staff. Gharrity applied for reinstatement and got word from Commissioner Kenesaw M. Landis on November 11 (Armistice Day) that he was in good standing again.14
Spring training was an interesting sight in 1929. Johnson worked with the pitchers and assigned the other positions to his coaching staff of Zeb Milan, Gharrity, Nick Altrock, and Al Schacht. One writer noted that "Gharrity and Milan make them cry and Schacht and Altrock leave them laughing."15
Gharrity coached with Johnson in Washington through the 1932 season. When Johnson was hired in Cleveland, Gharrity joined him there from 1933 to '35. In Washington he was signed to a player contracts and made a total of five appearances when needed. He also played in exhibition games.
In 1936 Gharrity signed on as an umpire in the Northern League. His work there earned him a promotion to the New York-Penn League. He joined an umpire staff that included Jocko Conlan and George Pipgras. Gharrity's work was not of the same quality as that pair. He had run-ins with managers Specs Toporcer, Bruno Betzel, and Bill McCorry. The league newspapermen turned against him with comments like "Great catchers do not always make great umpires, as Mr. Gharrity's present role proves."16
He left umpiring behind and took over as manager of Eau Claire, Wisconsin, in the Class D Northern League. He replaced the popular Johnny Mostil.17 The team finished last and when ownership changed, Gharrity was out of a job.
He returned to Beloit. He worked in factories, including being a naval inspector at the Fairbanks-Morse plant during World War II. He left the factories and worked as a salesman and as a station manager for the Tidewater Oil Company. He served on the Beloit City Council for four years and was president of the Baseball Old-Timers Association. Always on the go, he even worked as an ice-cream salesman for the Wright and Wagner Dairy well into his 60s. He was elected a charter member of the Beloit Elks Club Athletic Hall of Fame.18
Gharrity collapsed on the streets of Beloit on October 10, 1966. He was pronounced dead from a heart attack. His funeral was held at St. Thomas Catholic Church and he was buried in Calvary Cemetery in Beloit. At his death there were 24 grandchildren. Margaret joined him in Calvary Cemetery in 1972.
Acknowledgments
This biography was reviewed by Len Levin and fact-checked by Alan Cohen.
Notes
1 "Eddie Gharrity Is All for Cobb," Denver Post, May 7, 1925: 24. Shawn Green set the all-time record of 19 in 2002.
2 J.V. Fitzgerald, "Gharrity Mauls Three Red Sox Slabmen," Washington Post, June 24, 1919: 12.
3 "Edward Patrick (Eddie) Gharrity," The Sporting News, May 17, 1934: 2. On his Hall of Fame questionnaire, Gharrity listed himself at 5-feet-9½-inches tall.
4 Ibid.
5 "No, Soldiers Don't Play Springfield Every Day; Just Seems That Way," Dayton Daily News, June 11, 1914: 10.
6 "Vets Land Central Rag; Catcher Ed Gharrity Goes to Minneapolis," Dayton Daily News, September 2, 1914: 12.
7 "Gharrity Is Ripe for the "Big Show," Janesville (Wisconsin) Daily Gazette, July 7, 1915: 3.
8 "Cantillon Calls Eddie Gharrity a Baseball "Phenom," Janesville Daily Gazette, September 17, 1915: 1.
9 George L. Moreland, "Holdouts to get Final Chance," Washington Herald, February 27, 1920: 10.
10 "The Home Run That Wasn't," Miami Herald, accessed at https://miamiherald.typepad.com/fish_bytes/2016/05/the-home-run-that-wasn't.html.
11 Brace E. Jarrett, "The Greatest Game Ever Played," Evansville Press, August 9, 1936: 25. In all fairness, Hank Severeid caught all 19 innings for the Browns. He and Gharrity both had triples.
12 Louis A. Dougher, "Patsy Gharrity Is Back in Griffmen's Line-up," Washington Times, August 23, 1922: 14.
13 "Edward Patrick (Eddie) Gharrity," The Sporting News, May 17, 1934: 2.
14 "Landis Gives Ed Gharrity Clean Slate," Morning Star (Rockford, Illinois), November 13, 1928: 12.
15 Brian Bell, "Johnson Watches Senators' New Pitching Staff Closely," Miami (Florida) News, March 7, 1929: 13.
16 "Along Sport Lane," Standard-Sentinel (Hazleton, Pennsylvania), August 20, 1937: 19.
17 "Ed Gharrity Lands John Mostil's Job," Milwaukee Journal Sentinel, December 8, 1937: 28.
18 "Gharrity, Star Athlete, Dies," Janesville Daily Gazette, October 11, 1966: 14.
Born
March 13, 1892 at Parnell, IA (USA)
Died
October 10, 1966 at Beloit, WI (USA)
If you can help us improve this player's biography, contact us.
https://sabr.org/sites/default/files/GharrityEd.jpg
600
800
admin
/wp-content/uploads/2020/02/sabr_logo.png
admin
2018-09-13 14:25:25
2020-04-09 14:38:41
Patsy Gharrity