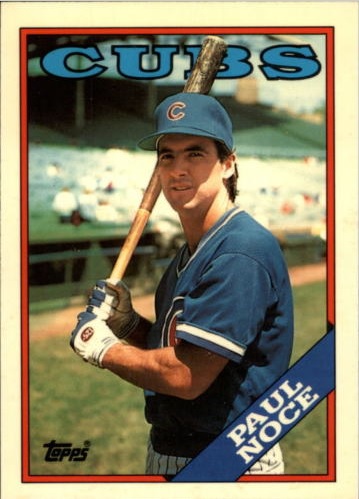 ---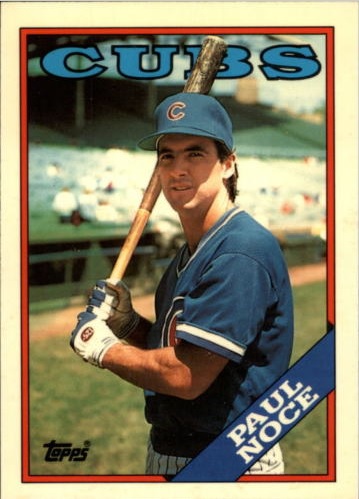 Infielder Paul Noce (pronounced No-chi) was with the Chicago Cubs for much of the 1987 season. He started 47 games that year, filling in for second baseman Ryne Sandberg and shortstop Shawon Dunston. Noce was 27 years old and in his seventh year as a pro when he made it to the majors. Several weeks after he arrived, he said, "Work hard. Don't let anything get in your way. Don't let people say you can't play. It pays off."1
Noce's game was based on quickness and energy. "My biggest asset is that I play hard," he said. "I hustle all the time."2 Versatility was also his hallmark. His main position was short, but in the minors he played all the infield positions, the outfield, and even catcher on occasion. He hit enough to earn his chance in The Show. He didn't keep his spot with the Cubs in 1988, though, and made it back to the top level for just one more game with the Cincinnati Reds in 1990.
Noce retired as a player in 1991 but remained in the game as a coach, manager, and scout. It's small wonder that this man is a baseball lifer; his father was a highly influential coach. John Noce (1932-present) was the son of Italian immigrants who settled in the San Francisco Bay area around the late 1920s.3 In his playing days, the catcher spent two seasons in Class C ball (1952-53); previously, he'd also played semi-pro ball in Canada. Later that decade, he became a coach at Half Moon Bay and Carlmont High Schools.4
The heart of John Noce's career, however, was spent at the College of San Mateo (CSM). He was the head baseball coach there from 1962 through 1992, compiling a won-lost record of 772-412. That made him the winningest coach in California community college history. Dozens of his players went to professional baseball, and nine reached the majors.5 One of them, pitcher Bob McClure, said, "If it wasn't for John Noce. . . I might not have had any years in pro ball."6
McClure echoed Doug Williams, who became head coach at CSM in 1995 and remained in that role as of 2017. Williams said, "John Noce is all about commitment, about pushing yourself to a level you didn't think you had within yourself."7 Paul Noce said, "I learned most of what I know from my Dad. I was able to travel with him quite a bit."8
Paul David Noce was born in San Francisco on December 16, 1959. He was the third of five sons. Three others became coaches: the eldest, Mike; the fourth, John; and the youngest, Doug (who played in the Montreal Expos chain in 1990-91). The second, Tony, became a firefighter.9
The boys also got remarkable support from their mother, Pauline (née Shade). Her 2013 obituary said, "The Noce house was always the hub of activity for the neighborhood. Pauline had a great rapport with all children and played the roles of rec director, coach, den leader and overall neighborhood mom." For many years, this very active and energetic woman worked for the Belmont and Redwood City Recreation Departments, as well as being a special education assistant in San Mateo County.10 She and John split up in 1973, however; the coach admitted reluctantly that dedication to his job may have been a factor.11
The Noces lived in Redwood City, next to San Mateo. Paul began playing baseball around the age of eight in Little League, progressing to Babe Ruth and American Legion ball.12 He attended Sequoia High School in Redwood City, where he also played quarterback and tailback in football – the San Mateo Times described him as a fine all-around athlete.13 After his junior year, he went to play baseball in his ancestral land, Italy.14 His father was managing there in the professional Italian Baseball League (John was also assistant coach for the Italian national team in the Olympic Games of 1984, 1992, and 1996).15 Paul played for Parma, in Serie B, the lower classification.16
Shortly before he graduated from Sequoia, Noce became a 25th-round draft choice of the San Diego Padres. He did not sign; the paltry offer of $500 a month had him thinking, "I might as well go play [in college] and see if I get drafted higher."17
Noce went to Washington State University (WSU), and an interesting twist affected his choice of colleges. In 1978, his future double-play partner with the Cubs – none other than Ryne Sandberg – had signed a letter of intent to go to WSU. Sandberg, a local star from Spokane, was then a shortstop. He was also a very promising quarterback in football (and had basketball talent, too). But when the Philadelphia Phillies drafted him in June 1978, even though he was just a 20th-round pick, he decided to make a career of baseball for various reasons.18
As a result, WSU baseball coach Bobo Brayton needed a new shortstop. Noce had thought about playing for his father at College of San Mateo. He also considered two big-name Division I programs, Arizona State and Oklahoma State. However, he didn't hit it off with ASU coach Jim Brock. "This guy thought he was the greatest thing in the world. I was supposed to fall all over him." Noce didn't like WSU when he saw it first, saying "It was desolate, nothing there." But he liked Brayton, whom he called "a great infield teacher…a hard man, but a good man."19
Noce played three seasons for the Cougars (1979-81). During the summers of 1979 and 1980, he also played with the Peninsula Oilers in the Alaska Baseball League.20 Near the end of his junior year at WSU, the Padres drafted him again – this time in the 14th round. He decided to turn pro; his first assignment was Reno in the California League (Class A). On August 6, 1981 – shortly after that year's bitter major-league strike was settled – he got to rub elbows with San Diego's big-leaguers. The Padres brought him and Tony Gwynn (then at Double-A) in to have enough players for two intrasquad games.21
During his first three years in the minors, Noce played with a few different Class A teams but did not advance beyond that level. "I didn't really know what to think," he said in a 2011 interview with Steven Cook for The Greatest 21 Days blog. "I knew I was putting up decent numbers and I'm not moving."22 He reached Double-A only after the Padres organization traded him to the Cubs chain in April 1984 for outfielder Terry Austin. A scout for the Cubs had noticed him, liked what he saw, and lobbied for the trade.23
Noce had a decent year for Midland in the Texas League in 1984. In 109 games, he hit .288 with 4 homers and 29 RBIs. He earned promotion to Triple-A Iowa for 1985, but dropped off to -5-25-.225 in just 89 games.
As a result, the Cubs asked him to step back to Double-A again in 1986. Noce told Cook how he made his case with farm director Jim Snyder. "I said, 'Here's the deal. I'm playing every day. I play every day, regardless. That's the deal, or I'm not going.'" He said to himself, "This will be my last shot to see if I can ever make it to the big leagues."24
The gambit paid off. Noce set career highs in homers (8) and RBIs (57) that year, nearly all of which came with Pittsfield in the Eastern League. He also hit .306 and stole 32 bases while getting caught just five times.
On October 4, 1986, Noce married Diane Plate.25 Diane, who grew up in the town of Adrian in southern Michigan, met Paul while visiting a friend during spring training one year. They had three sons: Joshua, Casey, and Jesse.26
In spring training 1987, the Cubs gave Noce – a non-roster invitee – a long look but returned him to Iowa. That July, after he reached the majors, he said, "Once I got to big-league camp, I knew I was going to make it. They told [Luis] Quiñones and me both when we got sent down on the last day that you guys can play. You'll probably be here. You never know if they're telling you that to make you feel better, but I knew myself I could play up there."27
Chicago's general manager, Dallas Green, said it publicly that April: "I've never seen a better battle for playing in the major leagues than what those two kids waged. They're going to be back in the majors, in all probability, before the year's over."28
Noce continued to play well at Iowa early in 1987, batting .295 with 12 steals in 38 games. At the end of May, he was called up to Chicago while first baseman Leon Durham was day-to-day with a shoulder injury; Chico Walker was sent down. Noce heard the phone ring in Iowa manager Larry Cox's office, joked that it was for him, and it turned out to be for real. Cox gave Noce the exciting news and then asked him if he wanted to play that night. The response: "Heck, no. I'm not even chancing it, man. I'm going to pack and get in my car right now." The next day, he and Diane were in Chicago.29
The brand-new rookie was in the starting lineup at Wrigley Field on the afternoon of June 1, playing second base against the Houston Astros. Batting eighth, he struck out in his first at-bat and grounded out in his second. But in his third trip to the plate, he singled to center off Danny Darwin for his first big-league hit. Greeting him after he rounded the bag was Jim Snyder, who had become Chicago's first-base coach. Noce got a copy of the broadcast on tape; Cubs announcer Steve Stone said Noce would be telling the story to his sons one day, and it came true.30
Noce was brought up with an eye toward giving Shawon Dunston occasional rest – but he got more playing time after Sandberg sprained his ankle badly on June 13. Even though the Cubs had a veteran second baseman in Manny Trillo, by that point in his career Trillo was playing mostly as a corner infielder.
Two days later, Dunston suffered a spiral fracture of his right ring finger while sliding headfirst into second base on a steal. The Cubs called up Mike Brumley from Iowa and made him the starting shortstop for nearly a month while Noce played second. Brumley didn't hit much, however, and went back to Iowa in mid-July after Sandberg returned, so Noce slid over. Altogether, he started 29 games at second that summer and 18 at short.
Noce's aggressive baserunning was visible as he tied an unusual major-league record on June 26. At Pittsburgh's Three Rivers Stadium, he singled to lead off the third inning. He was caught stealing second but stayed on base because Pirates shortstop Al Pedrique dropped the ball for an error. Noce then lit out for third, but catcher Mike Lavalliere threw him out for the second time in the inning. It was just the third time that had happened in the majors to that point – but oddly enough, the second time in 11 days.31
Noce's average climbed as high as .308 after he went 4-for-5 on June 29 at Montreal's Olympic Stadium. His three big-league homers came within a week during a homestand at Wrigley.
On July 3, Kelly Downs of San Francisco "threw me a slider and kind of hung it inside," as Noce remembered later that month. 32 By 2011, though, his recollection was different. "You throw me a first-pitch fastball and I'm swinging every time, just about." He added, "I ran around the bases in probably 10 seconds."33
On July 7, Noce led off the third inning by connecting off San Diego's Eric Show. One out later, Show hit Cubs star Andre Dawson in the face with a pitch, igniting a bench-clearing brawl. As Bill Plaschke of the Los Angeles Times wrote, the ugly game featured "two bench-clearings, four fights, seven Cub ejections and dozens of cups of beer and ice on the field and on Padre uniforms." For fouling a ball into the Padre dugout, nearly hitting Bruce Bochy, Noce got an ovation.34
On July 9, Brian Holton of Los Angeles served up a three-run shot to Noce, whose five RBIs that day were his big-league high.
Around that time, Sandberg paid Noce a nice compliment. "It's obvious he has had good coaching. He has good hands and knows what to do with the ball. It doesn't look like he feels pressure. If he does, it comes from himself – not me or the coaches or the players."35
Noce noted that Rick Reuschel of the Pirates gave him trouble, and said Mark Grant of the Padres threw well. He added, "The first [time] I faced [Dwight] Gooden, I hit a double off him. The next game I faced him he punched me out twice. Just threw high heaters by me." 36 In 192 plate appearances that summer, Noce struck out 49 times while drawing just six walks.
After Dunston came off the disabled list on August 21, Noce went back to Iowa for a couple of weeks. The Cubs recalled him in early September, and he wound up with a .228 average and 14 RBIs in 70 games played. In the field, he committed five errors in 279 chances.
After the season ended, Noce went to play winter ball for the first and only time.37 It was in Puerto Rico, with the San Juan Senadores. Not long after he arrived there, a change in the Cubs front office affected his status with the team. Dallas Green resigned his GM position under fire at the end of October 1987 and was replaced by Jim Frey. "I went to winter ball to work on a few things with a great attitude," Noce said in June 1988. "I heard that Dallas wanted me on the club." But as the Des Moines Register wrote, with Green's departure went any promises previously made. "The change of command did it," said Noce.38
At the end of March 1988, the Cubs signed shortstop Argenis Salazar after he had been waived by the Cincinnati Reds. Noce got sent down to Iowa. "That one still baffles me," he said that June.39 As it developed, Sandberg and Dunston missed very little time that year. Although the Cubs traded Luis Quiñones the very next day, Manny Trillo was still around as a backup second baseman, along with Salazar.
Noce's playing time diminished in Iowa. He asked to be traded.40 On July 28, he was dealt to the Montreal Expos organization for pitcher Bryan Oelkers. It was an enjoyable time for Noce. His new team, Indianapolis, won the American Association title and went on to take the Triple-A Classic series in six games from the International League champion, Rochester. The Indians received championship rings, and Noce's – his first – became a special personal prize. "You always play for that ring," he said. "You want that ring."41
That October, Noce became a free agent. He first signed a minor-league deal with the Cleveland Indians in November. The Seattle Mariners obtained him in a trade in April 1989, and though he had a pretty good year for Calgary in the Pacific Coast League (3-42-.278 in 134 games), again he became a free agent in October.
Noce caught on with the Cincinnati organization in January 1990. He played 100 games that year for the Nashville Sounds in the American Association. He had fun that year with a comical pose for his baseball card in the CMC set. Since he got hit by pitches a lot, he thought it would be fitting to attach a baseball to the backside of his uniform pants, through the ball's stitches, and act as if he had just been plunked. He then took off before the photographer could shoot a picture in a standard pose, leaving no choice but to use the funny image.42
Noce hit well early in the year – in early May, he was leading the American Association with a .360 average.43 Although he'd cooled off to .295 by mid-month, he still got a brief call-up when Cincinnati put second baseman Mariano Duncan on the disabled list with an abdominal strain.44
On May 17, in Noce's only appearance as a Red, he got a hit in his lone at-bat. With nobody out and one on in the ninth inning, he pinch-hit against Ken Dayley of the St. Louis Cardinals and lined a single to center. That brought the tying run to the plate – the Reds were down 3-0 – but Lee Smith closed it. Two days later, Eric Davis was activated from the DL and Noce went back to Nashville to make room.45
Cincinnati won the World Series that fall. Noce recalled getting an award of $500 – but not a ring, although he believed that he could still petition for one and pay for it out of his own pocket (something he still hadn't done as of 2017).46
By season's end, though Noce had welcomed the birth of his first son, his production at the plate had tailed off to 2-18-.218. Once more he became a free agent. His final stop as a player was with the San Francisco Giants chain. In 1991, the 31-year-old played in just 16 games for Phoenix of the PCL before he was released.
Noce joined the Pittsburgh Pirates organization as a roving infield instructor in October 1991. He was in that role through October 1993. After that, he spent 20 years as the baseball coach at Hillsdale College, a liberal arts school in Hillsdale, Michigan – just a little over 30 miles west of his wife's hometown, Adrian, where the family settled. Diane worked as a real estate agent.
Noce stepped down from his position at Hillsdale in May 2013. "I didn't win enough, so they sent me packing," he said simply.47 He then joined the MLB Scouting Bureau as a part-time scout, evaluating players and writing team reports on six teams in the independent Frontier League. He worked in that capacity for five months in 2014.
During the summer of 2015, Noce was a manager in the Ozarks Pro Baseball League (in the Springfield, Missouri area). However, this indie league was unsettled from the beginning and suspended operations less than two weeks after play began that July.48 "We didn't get paid," said one of the players. "They didn't have enough money to keep the league going."49
Another indie circuit, the United Shore Professional Baseball League, started play in May 2016. The USPBL established its base in the suburban Detroit area, a couple of hours or so northeast of Adrian. Noce managed one of the three teams, the Eastside Diamond Hoppers. "I see a lot of kids who are chasing the dream," he said. "I see a lot of talent, really. The caliber of play is going to be way up there."50 Indeed, this league had a successful first season, in terms of attendance, operations, and getting prospects signed by big-league organizations.51
Noce has also kept active in winter instructional ball. In the winter of 2015-16, he was a coach with the Turistas team in the Puerto Rico Instructional Baseball League. In 2017, he was an instructor in the California Winter League, which is officially affiliated with the Frontier League but works with every major independent loop. Shortly after that season ended, he said, "I will stay in the game as long as I can!"52
Last revised: March 6, 2017
Acknowledgments
Special thanks to Paul Noce for his input (via e-mail, February 15, 2017) and to SABR member Steven Cook. Steven's 2011 interview of Noce for his blog, The Greatest 21 Days, provided much valuable information for this biography. Some additional details came from Paul Noce's profile on LinkedIn.com.
Notes
Born
December 16, 1959 at San Francisco, CA (USA)
If you can help us improve this player's biography, contact us.
http://sabr.org/sites/default/files/NocePaul.jpg
600
800
admin
/wp-content/uploads/2020/02/sabr_logo.png
admin
2017-03-06 14:31:20
2017-03-06 14:31:20
Paul Noce