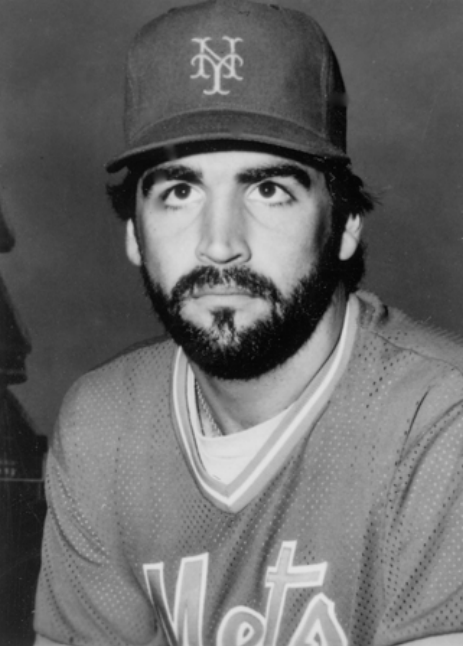 ---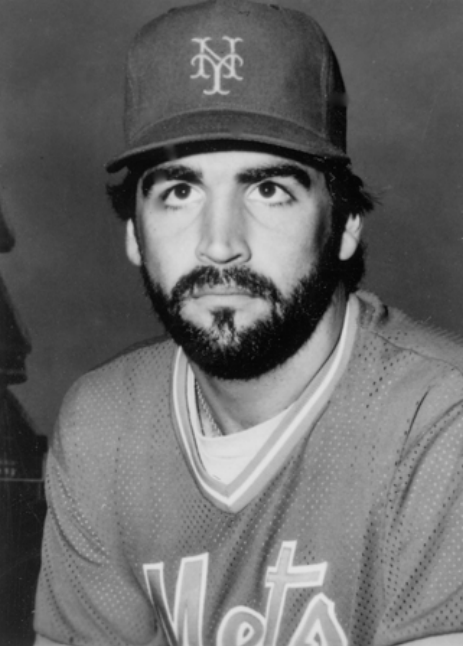 These were heady days for the Houston Astros. In 1979 the franchise had mastered just two winning campaigns in its 17-year existence yet found itself in first place through a majority of the season. Manager Bill Virdon accurately predicted this success in a preseason interview with columnist Harry Shattuck. Emphasizing a needed reliance on its veteran mound presence — in 1979 the team would hit the National League's fewest homers (49) and score the fewest runs (583) — Virdon expressed confidence that, should one of his experienced hurlers falter, "[I w]on't fret.  If the veterans fail or wear out, the Arm Farm continues to prosper. Randy Niemann — remember [that] name."1
When right-handed hurler Vern Ruhle was placed on the disabled list in May 1979, the Astros recalled Niemann. The 23-year-old pitched a career high 67 innings in 1979, and his 100 innings through 1980 accounted for exactly half of Niemann's major-league total. He was cast as a top prospect in the Astros system, but elbow surgery in 1981 limited Niemann throughout the remainder of his career, relegating him to a mere shadow of what was once projected for the prized southpaw.
Born on November 15, 1955, in Scotia, California (a town 300 miles north of San Francisco owned at the time by the Pacific Lumber Co.), Randal Harold "Randy" Niemann was the third child — and only son — born to Robert Niemann and Joy Maxine Denney. Joy's seven-times great-grandfather came to New York from Woodford, England, in 1679. The family migrated west over many generations — Joy's father, LaVern Edwin Denney, was an Idaho native and she was born in California in 1927. Seeking employment during the Depression, Joy's family traveled frequently throughout the West. Her father, a bulldozer operator, worked on the construction of the Grand Coulee Dam in Washington and the Boulder (now Hoover) Dam in Arizona. LaVern eventually settled in coastal Humboldt County, California, where during World War II she worked in the dry docks as a painter. On July 28, 1948, she married Robert Niemann. The couple raised three children.
Niemann attended Fortuna (California) High School and then the College of the Redwoods in nearby Eureka, where his baseball prowess attracted major-league scouts.2 In 1974 Niemann spurned the Montreal Expos after the team selected him in the fifth round of the January draft. He rebuffed the Minnesota Twins a year later when he was selected in the third round. Chosen by the New York Yankees as the 30th overall pick in the June 1975 draft (secondary phase), Niemann signed and was sent to Oneonta, New York, to play for the Yankees' affiliate in the short-season Class-A New York-Pennsylvania League. His manager, former major-league third baseman Mike Ferraro,3 inserted Niemann into eight starting assignments through the rest of the 1975 season. In 55 innings the 19-year-old posted a 2.45 ERA (league average: 3.49) that, due to the team's anemic offense, got him a mere 3-3 record. His strong performance earned Niemann a promotion to Fort Lauderdale of the Class-A Florida State League in 1976. Weeks before his report date — on January 17, 1976 — Niemann married Joy Simmons. Though the union would not last, it produced a daughter and two sons.
Hard luck followed Niemann to Fort Lauderdale. Despite a 2.84 ERA (league average: 3.15) in 1976, Niemann placed among the league leaders in losses (10) and hit batters (14). On June 25 he earned his first shutout of the season in yeoman-like style by stranding 14 opposing players in a 2-0 win over the West Palm Beach Expos. Niemann's 190 innings placed second to Cincinnati prospect Mario Soto. This campaign was followed by a stint in the Florida Instructional League where Niemann shared the league lead with five wins. His success in the Sunshine State earned Niemann an invitation to the Yankees spring camp in 1977.
Though his chances of jumping from Class A to the staff of the defending American League champions were slim, Niemann's spring performance earned him a promotion to the West Haven (Connecticut) Yankees of the Double-A Eastern League and also attracted attention from other major-league teams. Niemann was the youngest pitcher on the West Haven squad. His first start was an 11-1 rout of the Holyoke Millers. Though other outings were less successful,4 Niemann's growing reputation as a "highly touted young prospect"5 was a factor in his inclusion in a June 15, 1977, four-player trade with the Astros. Assigned to Columbus in the Double-A Southern League and used primarily in relief, Niemann struggled. But he was one of the few left-handers in the Astros system, high hopes were attached to Niemann.
These hopes were largely realized in 1978. Used as both a starter and reliever for the Columbus Astros, Niemann had seven consecutive wins to start the season. An ensuing 1-4 mark was attributed to hard luck losses, each by one run. Niemann carried a Bob Gibson-like 1.65 ERA by the season's three-quarter mark and finished with a 9-5, 2.05 posting. A poll of league managers and media consultants selected Niemann to the Southern League All Star team. This success was followed by a 9-3, 2.06 stint in the Mexican Winter League. Citing Niemann's achievements, The Sporting News heralded the "young left-handed pitcher considered a big part of Houston's future plans."6
Those future plans were put on hold in the Astros' 1979 spring camp. A respectable exhibition campaign — including a three-inning, one-hit performance against the hard-hitting Cincinnati Reds — was not enough for him to crack Houston's deep mound corps. Niemann was promoted to Triple-A Charleston, and after six weeks he was called up when Astros starter Vern Ruhle was injured. On May 20, 1979, Niemann made his major-league debut in a starting assignment against the San Diego Padres. He held the Padres hitless into the fourth inning and carried a shutout into the sixth. Niemann completed seven innings of five-hit ball with no decision, and his outing earned another start nine days later, when he handcuffed the Reds in a 2-1 complete-game victory.
Niemann made a third appearance on June 4 against the reigning National League East Division champion Philadelphia Phillies. He lowered his ERA to a minuscule 0.72 after blanking the Phillies on six hits, winning praise from all but Phillies manager Danny Ozark: "How long can we lose to Niemann?" the Philadelphia skipper groused. "Our [Double-A] Reading farm club could beat Niemann."7 Three weeks later, after the 23-year-old's second shutout — another six-hit gem, this time versus the Reds — Niemann cracked, "Not bad for a Double-A pitcher."8
Not all of Niemann's appearances went as swimmingly.  Only July 7 he carried a record of 3-0, a 1.62 ERA, and one save into a contest against the Chicago Cubs in Wrigley Field and was hammered. On July 22 he did not survive the first inning. As the Astros tried to hold on to their tenuous first-place berth, manager Virdon turned increasingly to his veteran hurlers. Niemann pitched just 12 innings after July 30 and finished his debut season with a 3-2, 3.76 record in 67 innings. No one expected those marks to represent the apex of Niemann's major-league career.
Challenged to break into the Astros' starting rotation in 1979, Niemann was further tested in 1980 with the team's free-agent signing of future Hall of Famer Nolan Ryan. Relegated to long relief, Niemann saw little mound time on a staff that placed among the National League leaders with 31 complete games. Through the Astros' first 39 contests he pitched just five innings, with a 7.20 ERA speaking to his rustiness. A strong seven innings of work in June yielded to a difficult July and resulted in Niemann's demotion to the Tucson Toros in the Pacific Coast League. Given the opportunity to pitch regularly, Niemann drew accolades from opposing Hawaii pitching coach Chuck Hartenstein as "the best left-hander in the league"9 following a four-hit, 3-0 win over the Islanders. Called up in the midst of Houston's pennant pursuit, Niemann made eight appearances, losing a starting assignment and earning a save in the waning weeks of the season. A one-inning stint against the Reds on September 28 was his last major-league appearance until May 21, 1982 — and that for a different team.
Another season in winter ball proved disastrous when Niemann pulled a muscle below his left elbow. Competing for a bullpen spot in spring training, he reinjured the arm in March and was assigned to Tucson to rehabilitate. He made his Toros debut on May 11, 1981, with an 8-2 win over the Phoenix Giants. He lasted nine additional appearances before surgery on his ailing arm shut down the remainder of his season. On September 9 the Astros sent Niemann and minor-league lefty Kevin Houston to the Pittsburgh Pirates to complete an earlier deal for infielder Phil Garner.
From 1982 to 1984 Niemann bounced between the big leagues and the minors with Pittsburgh and — after a September 7, 1983, swap — the Chicago White Sox. On September 23, 1982, he earned his last big-league save. Eight months later he made his first major-league start in three years, replacing an ineffective Jim Bibby in the rotation. In this May 21, 1983, start Niemann did not survive the second inning as the Astros scored five runs on six hits. The lefty was returned to the bullpen. He made just 33 appearances — 54⅓ innings — in the majors over the three-year period, struggling with a combined 5.80 ERA.
In the winter of 1984-1985 Niemann pitched for the Arecibo Lobos in the Puerto Rican Winter League under the guidance of manager (and White Sox pitching coach) Dave Duncan. The experience helped rejuvenate his career. After Chicago traded him to the New York Mets on March 30, 1985, Niemann rebounded with the Mets Tidewater (Virginia) affiliate in the International League, posting a 2.76 ERA while placing among the league leaders in wins (11) and innings pitched (159⅔). That plus a strong September call-up and an equally strong spring camp in 1986, earned Niemann a bullpen spot on the Mets staff.
Due to a clerical error — "a quirk in the formality of the rules," said general manager Frank Cashen — Niemann was pushed off the Opening Day roster. After this hiccup he made his Mets debut in taxing fashion with losses in his first two appearances (April 12 and 14). The inauspicious start was followed by 13⅓ consecutive scoreless innings that included Niemann's first major-league win in four years. Demoted to Tidewater in July, Niemann was recalled as a spot starter in the second game of an August 17 doubleheader versus the St. Louis Cardinals. In what became his last big-league start he surrendered five hits and one earned run in six innings to capture the win in a 9-2 romp. Niemann made eight more appearances in relief as the Mets won the National League East Division crown. He did not appear in either the nail-biting six-game League Championship Series against the Astros the dramatic seven-game World Series versus the Boston Red Sox. Niemann enjoyed the raucous, destructive merrymaking on the return flight from Houston after the NLCS clincher, and the celebration after the World Series victory. "It wasn't just guys destroying a plane," he said. "It was guys destroying a plane after an emotional roller coaster. There's a difference."10   
Niemann became a free agent after the World Series and signed with the Minnesota Twins. Though most of his 1987 season was spent with Triple-A Portland, in June Niemann was briefly promoted to the Twins. On June 8 he captured his final major-league victory, against the Kansas City Royals. In 1988 the Royals invited Niemann to spring training as a nonroster invitee but he did not make the cut. He retired as a player after a short return to the Mets Tidewater affiliate.
In 1989 Niemann became a pitching coach in the Mets organization. He started with the Kingsport (Tennessee) rookie affiliate in the Appalachian League and in 1990 moved to the short-season Pittsfield Mets in the New York-Pennsylvania League. In 1996 Mets manager Bobby Valentine selected Niemann as his bullpen coach. Niemann worked in this capacity until June 5, 1999, when he and two other coaches were fired, on the heels of an eight-game losing streak, the final two versus the crosstown rival Yankees. The Mets had posted a May ERA of 5.71, the highest 30-day mark in team history since the dreadful expansion club in April 1962.  Reluctant to fire the popular Valentine, general manager Steve Phillips went after the coaches. Retained by the organization, Niemann alternated between minor-league instructor, rehabilitation pitching coordinator, and Mets bullpen coach through 2011.11   
In 2012 Niemann accompanied Valentine to Boston to serve as an assistant to pitching coach Bob McClure. The Red Sox posted a near league-worst 4.70 ERA as the team plummeted to a last-place finish. On August 20 Niemann was appointed the interim pitching coach after McClure was fired. He was not retained by Valentine's successor, John Farrell, in 2013. In 2015 — Niemann's 40th year in Organized Baseball — he was the pitching coach for the Palm Beach Cardinals of the Florida State League. (50 miles south of his home in Port Saint Lucie, Florida). The Cardinals finished second in the league's South Division, and under Niemann's guidance the pitching staff led the league in earned-run average (2.65).
Possessing an ordinary fastball but good control — "The big plus about Niemann is that he can throw strikes," manager Chuck Tanner exclaimed12— Niemann drew favorable comparisons to four-time All Star lefty Tommy John. But elbow surgery in 1981 derailed any such resemblance. During an eight-year major-league career Niemann posted a 7-8 record and 4.64 ERA in just 200 innings pitched. Those numbers are a far cry from what was expected of a once "highly touted young prospect."13 One wonders how Niemann's career might have developed if he hadn't hurt his arm.
Acknowledgements
The author wishes to thank Julia Skrinde Otto, whose Niemann family research proved invaluable.
Sources
In addition to the sources cited in the Notes, the author also consulted:
Ancestry.com
legacy.com/obituaries/times-standard/obituary.aspx?n=joy-m-niemann&pid=143433480
overthemonster.com/2012/8/21/3256112/randy-niemann-red-sox-pitching-coach
redbirdrants.com/2014/12/11/st-louis-cardinals-announce-2015-minor-league-staffs/
milb.com/milb/stats/stats.jsp?t=l_tpi&lid=123&sid=t279
Notes
1 "Astros Once-Fertile Arm Farm Now Dust Bowl," The Sporting News, January 6, 1979: 33.
2 Through 2014 Niemann is the only major-league player to emerge from either school.
3 Ferraro was the manager at every stop in Niemann's advance through the Yankees minor-league system.
4 Niemann struggled with a 5.52 ERA in 13 appearances.
5 "Astros Play Santa Claus to Johnson, Crawford," The Sporting News, July 2, 1977: 16.
6 "Astros Will Rise, Virdon Predicts," The Sporting News, February 10, 1979: 37.
7 "Astros Shrug Off Insults, Rack Up Victories," The Sporting News, July 7, 1979: 25.
8 "Pinch-Hitter Walling Is Astros' Mr. Clutch," The Sporting News, July 14, 1979: 17.
9 "Niemann Impresses Coach," The Sporting News, September 6, 1980: 59.
10 "Come fly the rowdy skies," ESPN Page 2, June 3, 2004.
11 After the 2003 season the Mets reassigned pitching coach Vern Ruhle. Niemann was identified as a potential replacement, setting up a scenario where he would have replaced Ruhle for the second time in his career.
12 "Niemann Attracts Pirates' Attention," The Sporting News, February 7, 1983: 40.
13 "Astros Play Santa Claus."
Born
November 15, 1955 at Scotia, CA (USA)
If you can help us improve this player's biography, contact us.
http://sabr.org/sites/default/files/Niemann-Randy.png
600
800
admin
/wp-content/uploads/2020/02/sabr_logo.png
admin
2012-01-04 20:46:16
2021-03-30 15:48:57
Randy Niemann