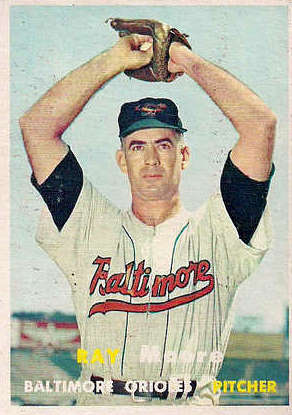 ---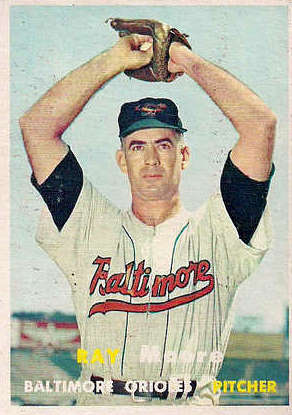 Ray Moore was the long reliever and an occasional starter for the pennant-winning 1959 Chicago White Sox. Control problems that plagued Moore, especially early in his career as a highly-regarded Dodger prospect, resurfaced in 1959, limiting the big right-hander's effectiveness.
Raymond Leroy Moore, the ninth of 10 children of Clarence and Mary "Maggie" Moore, was born on June 1, 1926, in Meadows, Maryland. His parents met while working at an insane asylum. Clarence came from a family of nine children and left the farm to try other occupations, eventually settling as a streetcar conductor in Washington, where the oldest children were born.
As the family grew larger, Clarence returned to his roots in Upper Marlboro, Maryland, and rented a farm. Ray's sister, Mildred Fowler, recounted that it was a decision not regretted. "Our parents provided well for us. We had a lot of fun," she said in an interview. "On Sundays, we enjoyed family baseball games with our extended family. Ray, whom we called "Bud," usually pitched. Equipment was scarce. Our father made baseballs from tightly wrapped strips of old rubber. Our parents encouraged us in whatever we wanted to pursue, on the athletic field, or in life. Ray enjoyed baseball, hunting, fishing, and jogging. I liked playing golf."1
As a youngster, Ray was a complete baseball player. He could run, field, throw, hit well — and hit with power. Not much is known about his formative years in baseball. Mildred said he played some sandlot baseball. Moore enlisted in the Army in January 1945, in Baltimore. He served in the Philippines and was noticed playing baseball in Manila by Brooklyn Dodgers scout Rex Bowen. Reaching the rank of private first class, he continued his military service after World War II ended, serving at Kalispell, Montana.
Moore signed with the Dodgers before the 1947 season began and reported to the Greenwood, Mississippi, Dodgers in the Class-C Cotton States League, where he was 18-7 with a 2.41 ERA. His next stops were Class-A Greenville, South Carolina; Fort Worth; Montreal; and St. Paul. Apart from a 15-9 season with Fort Worth in 1950, he generally had so-so won-lost records, but his ERAs were respectable — never once exceeding 3.75 – and he moved steadily up the Dodgers farm system. His eight-year minor-league record was 84-80.
In spring training with the Dodgers in 1952, Moore uncorked a wild pitch that sailed over the batter and catcher and pierced a plaster wall some 15 feet beyond. Still, the 6-foot-tall, 195-pounder made his major-league debut with the Dodgers on August 1, 1952.
Moore was up and down between Brooklyn, St. Paul, and Fort Worth in 1952, '53, and '54. However, he never got more than brief major-league trials with the talent-laden Dodgers, throwing just 36 1/3 innings in 1952 and 1953, and no big-league work at all in 1954. He was also set back by a sore arm, which limited his work to 20 games and 112 innings for St. Paul in 1954.
On October 8, 1954, Moore was traded to the Baltimore Orioles for infielder Chico Garcia. It was a break for Ray, who was going from a club with a surplus of talent to a second-division team in dire need of help. Orioles manager Paul Richards, considered an expert in developing pitchers, was happy to obtain the right hander. "In my opinion, Moore has the ability to be either a starter or reliever," said Richards after the trade. "I have always liked him, and he can throw as hard as anybody on the Baltimore staff except Bob Turley."2
In Baltimore, Moore finally got a chance to pitch at the major-league level, and had three good years from 1955-57, winning 10, 12, and 11 games as a reliever and spot starter. He turned in some fine stretches of work with the Birds, like the second half of 1956, when he went 6-1 with a 3.26 ERA in 15 appearances (14 starts) after the All-Star break. And though he had a losing record in 1957 (11-13), Moore ranked among the American League's top 10 pitchers in innings pitched (227 1/3), strikeouts (117), and opponents' batting average (.236).
Moore came to the White Sox from the Orioles on December 3, 1957, with Tito Francona and Billy Goodman in a trade for pitcher Jack Harshman, outfielder Larry Doby, minor-league pitcher Russ Heman, and first baseman Jim Marshall. In his first season with the Sox, 1958, Moore had a lot to prove, as most considered Harshman a quality pitcher and Moore as more of a journeyman, even though he had averaged 11 wins per year in his three years with the Orioles, along with an overall ERA of 3.93. True, Moore was a hard thrower, but he walked nearly as many batters as he struck out (he led the league in walks allowed in 1957), while Harshman had posted higher strikeout totals and had ranked among the American League leaders in ERA from 1954-56.
Moore had a good season for the White Sox in 1958, though he was not as productive as Harshman was with the Orioles (12-15 with a 2.89 ERA). Initially used in relief by the Sox, Moore proved very effective; converted to a starting role, he started 20 games and completed four, of which two were shutouts. In all, he won nine games and lost seven with an ERA of 3.82. Overall, Moore pitched well and earned acclaim as a "Yankee killer" by beating the Bronx Bombers twice in June. On the 5th, he won a complete game, 3-2; and on the 23rd he threw a three-hit, 2-0 shutout. This was his finest month as a member of the White Sox.
In Chicago's pennant-winning season of 1959, Ray won three and lost six, appearing in 29 games, of which eight were starts. His ERA was 4.12. In the World Series against the Dodgers, he pitched one inning, giving up one earned run. On June 1 of that season, Moore threw perhaps his best game of the year — eight innings of three-hit, three-run ball with four strikeouts and no walks. But the Sox lost to Kansas City, 3-1. Moore had been promised a present by Bill Veeck if he won the game; a blue-tick coonhound puppy. Veeck presented the puppy to Moore anyway for his stellar effort. The pup's name was Young Blue, to go with Moore's favorite hound, Old Blue. Moore himself was nicknamed "Old Blue" by some teammates. He was also called "Farmer." He helped his father grow tobacco until his father passed away in 1970. After his father's passing, Ray grew vegetables, including corn, and watermelon.
Moore began the 1960 season with the White Sox, and was the winning pitcher in the Sox' Opening Day win over Kansas City at Comiskey Park on April 19 — despite throwing only a single pitch. Coming in with the bases loaded and one out in the top of the ninth and the score tied, 9-9, Moore got Bill Tuttle to ground into an inning-ending double play with his first pitch … a play that made Sox fans recall Jerry Staley's one-pitch save on a double play groundout to clinch the 1959 pennant against Cleveland. Unfortunately for Ray, his Opening Day heroics were all but forgotten when Minnie Minoso, making a triumphant return to the South Side after coming back to the Sox in an offseason trade, completed a six-RBI day with a walkoff home run off John Tsitouris to lead off the bottom of the ninth — Minnie's second home run of the day.
That victory proved to be Moore's last in a Sox uniform. After going 1-1 with a 5.66 ERA in 13 games, he was sold to the Washington Senators on June 13. The deal proved beneficial to Moore, who overcame his control problems to become one of the top closers in the American League. With Washington, he was 3-2 with 13 saves over the remainder of the 1960 season. He accompanied the team in its move to Minnesota, where he had effective seasons for the Twins in 1961 (4-4, 14 saves) and 1962 (8-3, 9 saves). In an era when the role of relief ace was still evolving, Moore was one of the American League's best in 1960, when his 13 saves ranked third in the league, and again in 1961, when he had the AL's fourth highest save total (14).
Moore's work began to slip in 1962, when his ERA rose by over a run from 3.67 to 4.73, and he was hit hard in 1963, when he logged only two saves and saw his ERA balloon to a hideous 6.98. He worked in only one game in September of 1963, and it was no surprise when the Twins released him on October 15 of that year. Moore, who was 37, chose to retire from baseball and returned to farm life and his beloved coon-hunting dogs. After he retired from farming, the bachelor moved in with his sister, Mildred Fowler.
Ray loved hunting, fishing, and country music; a 1960 Sporting News column noted that he'd given out an invitation to his Senators teammates: "I want all of you to come to my farm to do a little hunting on October 20."3 He was a lifelong bachelor, though he dated. Through his appreciation of bluegrass music, he became a friend of country singer, musician, and minor-league baseball player (Big State League, East Texas League, 1948-49) Roy Clark.
Ray loved dogs, especially blue-tick coon hounds, prized by hunters for their piercing wails. According to Ray's sister, Mildred, he had as many as eight coon hounds and six beagles at one time. She said that the right-hander "was quiet, even-tempered, and hard-working."4 Moore died from colon cancer on March 2, 1995.
An earlier version of this biography originally appeared in SABR's "Go-Go To Glory: The 1959 Chicago White Sox" (ACTA, 2009), edited by Don Zminda.
Acknowledgments
Thanks to SABR member and Chicago White Sox fan Bill Mortell for helping with the genealogy of the of the Moore family and in locating Mildred Fowler.
Don Zminda and Bill Nowlin supplied some additional material to this piece.
Sources
In addition to the sources cited in the Notes, the author also consulted retrosheet.org and SABR's Minor League database.
Notes
1 Interview with Moore's sister, Mildred Fowler, by the author, January 15, 2008.
2 Hugh Trader, "Orioles' Miles May Step Out as Club Prexy," The Sporting News, October 20, 1954.
3 Bob Addie, "Bob Addie's Atoms," The Sporting News, September 14, 1960.
4 Fowler interview.
Born
June 1, 1926 at Meadows, MD (USA)
Died
March 2, 1995 at Clinton, MD (USA)
If you can help us improve this player's biography, contact us.
http://bioproj.sabr.org/bp_ftp/images5/MooreRay.jpg
600
800
admin
/wp-content/uploads/2020/02/sabr_logo.png
admin
2016-01-30 09:53:34
2016-01-30 09:53:34
Ray Moore