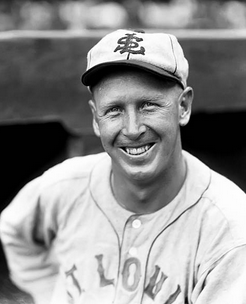 ---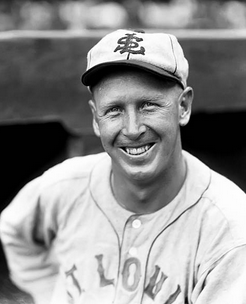 Morris "Red" Badgro is best known as a Hall of Fame end on the 1930s New York football Giants. His professional baseball career lasted six years and included two seasons as an outfielder on the 1929-30 St. Louis Browns. At the University of Southern California 1923-27, he starred in baseball, football, and basketball.
Born December 1, 1902, Morris Hiram Badgro began life on a family farm in Orillia, Washington. The redhead was the second of three sons born to Walter and Cora Mabel (Strong) Badgro.1 Morris was primarily of English ancestry, although his surname is of French origin; variants include Badgrow, Badgero, Badgerow, Badgereau, and Bagereau. Family members referred to him as "Badge" — indicating the pronunciation (Badge-row rather than Bad-grow).2
Orillia, just south of Seattle, was founded in 1887; it no longer appears on the map after it was annexed by neighboring cities Kent and Renton in the 1950s.3 At the Orillia grammar school, Badgro's teacher told him, "Morris, you'll never amount to a thing in the world. When you are not fighting you are wasting your time playing baseball or some other silly game. How do you expect to equip yourself to face the world?"4 Badgro played baseball, football, and basketball at Kent High School and received a basketball scholarship from USC.5
On October 10, 1925, as a member of the Trojans football team, Badgro "did some of the prettiest receiving ever seen here" in a 28-2 victory over Utah at the Los Angeles Memorial Coliseum.6 The next season he was "the most feared pass receiver on the Coast," able to "take passes in any position and . . . drive hard through broken field once he gets them."7 And, in that era when footballers played both ways, he was "as clever on defense as in receiving passes."8 One of his teammates was Marion "Duke" Morrison, who would become known as John Wayne, the movie actor.
In his senior year, Badgro led the USC basketball team with 12 points per game and led the baseball team with a .352 batting average.9 He learned the fine points of hitting from USC baseball coach Sam Crawford, the Hall of Famer who played alongside Ty Cobb in Detroit. In the fall of 1927, Badgro played in the National Football League as an end on Red Grange's New York Yankees.
On the recommendation of Jimmy Austin, Badgro was signed by the St. Louis Browns.10 He went to spring training with the team in 1928. At 6'0" and 190 pounds, he "looks like a football player, but he can run like a deer, and a big deer," said sportswriter J. Roy Stockton.11 Badgro batted left-handed and threw right-handed. In an exhibition game on March 27, he went 5-for-5 at the plate, but he "looked like a prize busher" on defense as he misplayed five balls in left field.12
The Browns assigned Badgro to the Muskogee (Oklahoma) Chiefs of the Class C Western Association. On May 4, he hit two singles and two triples, and drove in four runs, in the Chiefs' 9-6 triumph over Springfield, Missouri.13 He batted .394 for Muskogee, earning a promotion in June to the Tulsa Oilers of the Class A Western League. At Tulsa on June 25, he belted a game-winning home run against Omaha.14
In the spring of 1929, the Browns sent Badgro to the Milwaukee Brewers of the Double-A American Association. On April 30, he "stole the show" in the Brewers' 16-10 road victory over the Columbus (Ohio) Senators.15 He hit for the cycle and his home run was a grand slam. He also drew two walks and scored four runs, and his play in center field was sensational. In the eighth inning, the Senators' Fred Nicolai "drilled a singing smash to right center," and Badgro "raced across the meadow and with a daring dive pulled in the ball."16
Badgro made his major-league debut on June 20, 1929, in St. Louis; he pinch-hit in the eighth inning and was hit by a pitch from Ed Walsh of the Chicago White Sox. Two days later Badgro started in right field and got his first two major-league hits off Ted Lyons, the White Sox ace. Facing Cleveland's Jimmy Zinn in the first game of a doubleheader on June 25, Badgro slugged his first major-league home run, a drive that landed atop the right field pavilion at Sportsman's Park in St. Louis.17 As a rookie on the 1929 Browns, Badgro batted .351 in his first 19 games but only .216 after that, which suggests that major-league pitchers discovered his weaknesses as a hitter.
In the offseason Badgro played basketball in a Seattle industrial league, on a team called the Telephone Company Helloes.18 In February 1930, he married Dorothea L. Taylor in Kent. They would have no children.
As a reserve outfielder on the 1930 Browns, Badgro hit .239, well below the .288 league average in a year notorious for inflated offense. He was also subpar defensively. The lone bright spot was his pinch-hitting; he batted .348 (8-for-23) with four doubles as a pinch-hitter.19 After the season, sportswriter Sid Keener called him "excess baggage."20 The Browns sold the struggling outfielder to Wichita Falls in the Class A Texas League. Badgro would never again play major-league baseball.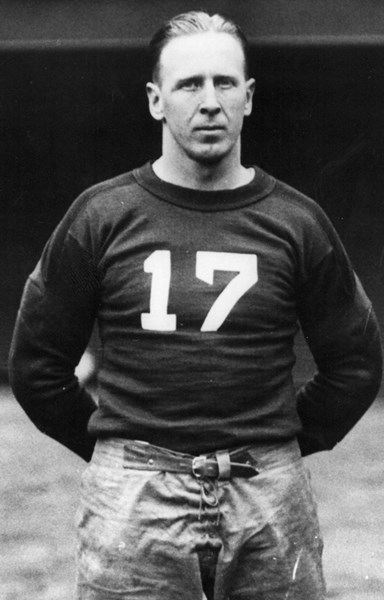 But Badgro found his calling in professional football. He returned to the NFL in the fall of 1930 and earned $150 per game playing for the New York Giants. Against the Green Bay Packers on November 23, at the Polo Grounds in New York, he caught a 22-yard touchdown pass from quarterback Benny Friedman. Badgro's performance in that game "was far beyond any end I have seen this season," said sportswriter Grantland Rice. "He was a human whirlwind, on top of every job that came his way."21
Badgro was a fierce tackler as a defensive end. On December 7, against the football Brooklyn Dodgers at Ebbets Field, he "tore down the field and dove for [punt returner Stumpy] Thomason just as Stumpy was taking the ball from the air. Shoulder-high he was, and Thomason, swept backward by an arm around his neck, was laid low with a blood-curdling moan."22
Over the next two years, Badgro batted .294 in the Texas League, and each fall played for the Giants. At the conclusion of the 1931 NFL season, he was selected as first-team All-Pro at right end.23
In 1933 Badgro appeared in 33 games, often as a pinch-hitter, for his hometown team, the Seattle Indians of the Double-A Pacific Coast League. And that fall he again earned first-team All-Pro honors as a member of the Giants.24 On December 17, against the Chicago Bears at Wrigley Field, he received a pass and scored the first touchdown in the first NFL championship game; the Bears defeated the Giants, 23-21, in that historic contest.
Badgro played semipro baseball for the next two seasons, on a Renton team in 1934 and a Spokane squad the following year.25 In the NFL in 1934, he was again selected as first-team All-Pro.26 Sidelined by injury, he played in only five games in 1935, his final season with the Giants. He began the 1936 season as player-coach of the Syracuse Braves in the newly formed American Football League, but resigned after the Braves lost their first three games.27 He finished the year in the NFL on the Brooklyn Dodgers and broke his arm in the last game of the season, the final game of his playing career.28
Years later, the great Red Grange called Badgro "one of the best half-dozen ends I ever saw." Steve Owen, Badgro's coach on the Giants, said Badgro "could block, tackle and catch passes equally well, and he could do each with the best of them."29
Badgro was an assistant football coach at Columbia University 1939-42 and at the University of Washington 1946-53. He worked for the Washington State Department of Agriculture from 1954 until his retirement in 1969.30 He was inducted into the Washington State Sports Hall of Fame in 1967 and into the Pro Football Hall of Fame in 1981.
Badgro lived in Kent in his retirement years, along with Dorothea, until she died in 1993 after 63 years of marriage.31 On July 13, 1998, he died there at the age of 95. He had been hospitalized after suffering a fall.32 Red Badgro was interred at the Hillcrest Burial Park in Kent.
Acknowledgments
This biography was reviewed by Rory Costello and Norman Macht and fact-checked by Kevin Larkin.
Sources
Ancestry.com, Findagrave.com, and Pro-Football-Reference.com (accessed October 2019).
Red Badgro's file at the National Baseball Hall of Fame.
Photo credits: baseball photo, Conlon Collection/Trading Cards Database; football photo, Pro Football Hall of Fame.
Notes
1 1910 US Census.
2 Scott Hanson, "Meet Red Badgro, the best Northwest athlete you've never heard of," Seattle Times, July 20, 2018. Glenn Drosendahl, "Badgro, Morris (1902-1998)," History Link, August 31, 2018 (https://www.historylink.org/File/20627)
3 "Orillia, WA 1887-1980," https://stevenschwarz.wordpress.com/pnw/orillia/.
4 Harry T. Brundidge, "Badgro, Brownie Rookie, Played Professional Football with 'Red' Grange," St. Louis Star, July 11, 1929: 3.
5 Brundidge
6 Braven Dyer, "Trojans Thump Tough Utah Gridders, 28 to 2," Los Angeles Times, October 11, 1925: I-a-1,4.
7 William Leiser, "Bears Ready for Trojans Today," San Francisco Examiner, October 23, 1926: 27.
8 William Leiser, "70,000 to See Trojan-U.C. Game," San Francisco Examiner, October 22, 1926: 32.
9 "Badgro Tops Trojan Scores," South Bend (Indiana) Tribune, February 20, 1927: Sports, 3; "Badgro Leads S.C. Batsmen," Southern California Daily Trojan, April 28, 1927: 3.
10 "Browns Obtain College Outfielder," St. Louis Post-Dispatch, February 5, 1928: 18.
11 J. Roy Stockton, "Condition of Manush Worries Manager Howley," St. Louis Post-Dispatch, March 19, 1928: 20.
12 Martin J. Haley, "Browns Smash Way to Long-Score Victory over Birmingham, 18-7," St. Louis Globe-Democrat, March 28, 1928: 10; John E. Wray, "Pitcher Rip Collins Has First Workout at Brownie Camp," St. Louis Post-Dispatch, March 2, 1929: 8.
13 "Chiefs Beat Midgets in First Game of Series, 9-6," Springfield (Missouri) Leader, May 5, 1928: 5.
14 "Tulsa Bumps Omaha," Nebraska State Journal (Lincoln), June 26, 1928: 6.
15 Manning Vaughan, "Badgro Batting Star as Lels Win, 16-10," Milwaukee Journal, May 1, 1929: II-8.
16 Ibid.
17 "Play-by-Play of Browns' First Game," St. Louis Post-Dispatch, June 25, 1929: 16.
18 "Union Pacific Five Whips Helloes to Win Third Time," Seattle Times, December 17, 1929: 24.
19 Henry P. Edwards, "American League Pinch Batters for 1930," Cincinnati Enquirer, November 2, 1930: 31.
20 "Sid Keener's Column," St. Louis Star, December 13, 1930: 4.
21 Grantland Rice, "The Sportlight," Bergen Evening Record (Hackensack, New Jersey), November 25, 1930: 19.
22 Harold F. Parrott, "Cagle Finding What the Pros Give and Take," Brooklyn Daily Eagle, December 8, 1930: 22.
23 "Four Green Bay Players Chosen on All-American," Green Bay Press-Gazette, December 19, 1931: 13.
24 "Hubbard Is Named on All-Star 'Pro' Football Eleven," Green Bay Press-Gazette, December 22, 1933: 13.
25 "Gibsons Climb into N.W. Lead, Beating Yakima," Seattle Times, June 4, 1934: 16; "Bohemians Add Badgro to List," Spokane (Washington) Spokesman-Review, May 3, 1936: B-3.
26 Lou Niss, "Clark's All-Around Ability Stamps Him Cream of All-Pro League Backs," Brooklyn Times Union, December 11, 1934: 2A.
27 "Badgro Out as Syracuse Braves' Shakeup Stars," Binghamton (New York) Press, October 7, 1936: 23.
28 Frank Finch, "Paul Schissler Ousted as Coach of Brooklyn Dodger Team," Los Angeles Times, December 17, 1936: II-11, 14.
29 Frank Litsky, "Morris Badgro: Rugged NFL End and Oldest Living Member of Pro Football Hall of Fame," Pittsburgh Post-Gazette, July 19, 1998: C-6.
30 "NFL 'Greats' of Today Don't Impress Badgro," Hartford (Connecticut) Courant, December 30, 1979: 7C.
31 Hanson, "Meet Red Badgro, the best Northwest athlete you've never heard of."
32 Frank Litsky, "Red Badgro, 95, Football Hall of Famer, Dies," New York Times, July 15, 1998: B8.
Born
December 1, 1902 at Orillia, WA (USA)
Died
July 13, 1998 at Kent, WA (USA)
If you can help us improve this player's biography, contact us.
https://sabr.org/sites/default/files/BadgroRed.png
600
800
admin
/wp-content/uploads/2020/02/sabr_logo.png
admin
2019-12-10 12:58:45
2020-04-09 14:37:28
Red Badgro