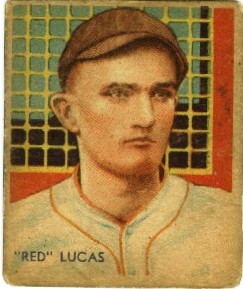 ---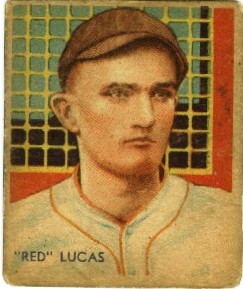 The opening lines of Grantland Rice's poem "Red Lucas, Ball Player," say it all:
"Just a ball player, that's all-
He can field, he can pitch, he can hit …"
During his National League pitching career, Charles Frederick "Red" Lucas finished 204 of 302 starts; was one of the all-time best control pitchers, walking just 18 in 219.2 innings in 1933; batted .281, with six seasons over .300; and fielded well enough that he filled in 18 times at second, short, third, and left field and two managers tried to make him something other than a pitcher. Yet, because his teams often finished at or near the bottom of the standings, Lucas seldom received recognition for his talents.
Lucas was born to Washington and Ella Dawson Lucas on April 28, 1902, just northwest of Columbia, Tennessee, in what was then called Knob Creek, 45 miles south of Nashville. Red played his early baseball at a country school that was "toward Santa Fe," where a teacher, Mrs. Timmons, umpired daily games during recess for the two teams that were organized at the beginning of each school year. (Except as noted, all of Lucas' recollections come from an interview with the author in March, 1980.)
In 1918 the Lucases moved to Nashville, where Red's father found work at a gunpowder factory during World War I. Red was pitching in the amateur Nashville City League when major league pitcher Tom "Shotgun" Rogers took him to a try-out in 1920. He signed a contract with Bartow of the Class D Florida State League, but was released after a few weeks. Back in Nashville, while watching a local ballgame one day, he received a wire telling him to report to Rome in the Georgia State League, where he finished the 1920 season.
In Class D again in 1921, he pitched for Jackson and then Greenwood in the Mississippi State League. During the league playoffs, he pitched a no-hit shutout for Greenwood over Clarksdale and pitcher Earl Webb, who later set the current season record for doubles with 67 in 1931 as a Boston Red Sox outfielder. After the playoffs, Lucas finished the season with hometown Nashville in the Class A Southern Association.
With Nashville again in 1922, he went 20-18 for manager Larry Doyle, once John McGraw's second baseman for the New York Giants. Doyle sold Red to the Giants near the end of the season, but Lucas never played because of a broken ankle suffered in a pepper game.
Following his major league baptism in spring training in 1923, Lucas was sent to San Antonio of the Texas League as an outfielder. San Antonio had too many good-hitting outfielders, led by Ike Boone's .402, and Red failed to win an outfield spot.
Back on the mound, he went 18-9 to earn a return trip to the majors in 1924, this time with Dave Bancroft's Boston Braves. He pitched without distinction, mostly in relief, and by 1925 Bancroft decided to make Red a second baseman. Poor early-season hitting landed Lucas in the Pacific Coast League with Seattle, where he went 9-5 with a 2.83 ERA. In 1926, Seattle sold him to Cincinnati and he was back in the majors to stay.
Cincinnati's 1926 pitching staff featured Eppa Rixey, Carl Mays, Dolf Luque and Pete Donohue, a quartet that started 130 games. Red again worked mostly in the bullpen but still completed seven of 11 starts. He took 70 minutes to beat Grover Cleveland Alexander 2-1 for his first Cincinnati win.
As a regular starter in 1927, one of his most memorable performances occurred July 22 against Brooklyn's Dazzy Vance. He came within a scorer's decision of a no-hitter. In the sixth inning, Hank DeBerry hit a grounder between the legs of Cincinnati second baseman Hughie Critz that was scored a hit-Brooklyn's only one of the day. DeBerry was erased on a double play and Red got the win, 3-0. In 1982, Red told sportswriter Pat Embry of the Nashville Banner that both Critz and DeBerry pleaded with the official scorer to change the hit to an error.
The National League was a heavy-hitting circuit during much of Lucas' career, particularly in 1929-1930 when league averages were .294 and .303, but he excelled under those circumstances. He acknowledged he did not have much of a fastball, but an excellent curve, change of pace, and a pitch he called a "loose" forkball.
He allowed only 455 walks in 2542 career innings, an average of 1.61 per game, putting him 8th among 20th century control leaders, just behind Christy Mathewson's 1.59. His 1933 mark of 0.74 walks per game was about half of Carl Hubbell's second place 1.37. Accused of throwing a spitball, he confessed to loading up just twice: once to Gabby Hartnett, who lined the wet one down the third base line, and once to Pie Traynor, later his Pirate manager.
Besides McGraw and Bancroft, his other managers included George Gibson, Jack Hendricks, Dan Howley, and Donie Bush. Red recalled McGraw seldom spoke to young players, managed an inning or two ahead and called the pitches for his catchers. He considered Bush the "best baseball man" he ever played for.
In 1929, 1931 and 1932, Lucas led NL starters in complete games. He finished 68 percent of his career starts, and among his contemporaries was bettered only by Ted Lyons (74 percent) and Wes Ferrell (70 percent). He hurled 250 consecutive innings without being relieved–a streak that ended July 15, 1932.
He was also no stranger to long extra-inning games. He pitched 17 innings to beat the Cards 5-4 on April 25, 1928, and 15 innings in game one of a July 16, 1933, doubleheader to out-duel the Giants and Roy Parmelee 1-0. Hubbell beat Paul Derringer 1-0 in game 2 and Red considered this the best pair of games he ever saw.
His ability to hit no doubt kept him in many games. A right-handed thrower, he batted from the left side and said he always took the first pitch. His first year in Cincinnati he hit .303, with four triples, joining pitchers Dolf Luque (.346) and Pete Donahue (.311) to give the Reds three pitchers over the .300 mark.
He became the club's chief pinch hitter, led the NL in pinch hits four times, and ended with career 114 hits in 437 pinch at bats (.261). He held the major league career pinch- hit record from 1933 until Smoky Burgess broke it in 1965. His 80 Cincinnati pinch hits remain a club record.
Two of his three career home runs were pinch hits. The first came at the Polo Grounds on September 20, 1930, when he hit a Freddie Fitzsimmons fastball into the opposite field upper deck with two on in the ninth to give Cincinnati a 4-3 lead. Unfortunately, the Giants scored twice in the bottom of the ninth to win. Red's other pinch homer, again with two on, gave Cincinnati a 4-3 win over Brooklyn on May 27, 1933.
Despite Red's hitting and pitching, his clubs never won a pennant. The Reds finished in seventh or eighth place five times during his tenure. He was better off with the Pirates, finishing fifth, fourth twice, third and second. With those teams he compiled a career 157-135 record. Twelve times his winning percentage was better than that of his team.
The Bucs were in the pennant chase in 1938, his final year. As a spot starter he beat Derringer and the Reds 5-3 on September 25, before Pittsburgh's disastrous series with Cubs that featured Hartnett's historic home run in Chicago's successful pennant drive.
Lucas considered Rogers Hornsby the best hitter he faced but Babe Phelps, the Cub and Dodger catcher, the toughest for him to retire. He regarded Vance and Hubbell as the best pitchers he saw, but said Wild Bill Hallahan was the hardest for him to hit.
Lucas' only salary dispute came when he failed to get a two-year contract from Cincinnati owner Sid Weil. His highest salary was $16,500 in 1931. Red recalled being involved in Larry MacPhail's first Cincinnati trade when he and Wally Roettger were sent to Pittsburgh for Tony Piet and Adam Comorosky. The Reds paid dearly for the trade, because Red was 14-0 against them the rest of his career. He was inducted into the Reds Hall of Fame in 1965.
With Pittsburgh, his career briefly touched that of Babe Ruth, in the Babe's final season with the Boston Braves. On May 25, 1935, the day Ruth hit his last three homers, Lucas served up the Babe's 712th, but he was gone from the mound when Ruth drilled 713 and 714. Red called the last one, hit over the right-center field stands in Forbes Field, the longest homer he ever saw.
Lucas did not receive a pension; he left the majors almost ten years before the system went into effect. From 1939 to 1949 he played, coached, and managed in the minors. After his 29-year baseball career he was a truck weight inspector for the Tennessee Department of Revenue from 1953-1977 and served several years as a deputy sheriff.
At one time he liked to hunt and play golf, but as he told Embry in 1982, he hadn't done either in 20 years. He was slowed by a heart attack in 1979. He followed baseball on television, especially after he got cable TV as a present from his daughter on his 80th birthday. Occasionally he traveled to Cincinnati to see a Reds game. His primary baseball association was with former teammate Andy High until High's death in 1981.
He never moved from the Nashville home he bought in 1930 and, according to Nashville Banner columnist Fred Russell, he was a regular at winter banquets of the Nashville Old Timers Baseball Association.
In 1924 Red married Ruth Jackson, his wife for 53 years until she died in 1977. They had a daughter, Nancy, and two sons, Charles Fred Lucas, Jr., and William R. Lucas.
His nickname, "The Nashville Narcissus," was coined by Colonel Bob Newhall, a reporter for the old Cincinnati Tribune, who may have thought the young pitcher was a blooming star.
Lucas died in his sleep at home on July 9, 1986, in the presence by his daughter Nancy.
Sources
Allen H. Quimby, "An Afternoon with Red Lucas," Baseball Research Journal, Society for American Baseball Research, 1981.
Pat Embry, "At 80, Red Lucas 'just a fan,'" Nashville Banner, July 21, 1982.
Fred Russell, "Sidelines" column, Nashville Banner, date unknown, July, 1986.
Bob Rathbeger, "The Great Pinch-Hitting Pitcher: Red Lucas," Cincinnati Reds Scrapbook, JCP Corp. of Virginia, 1982.
Greg Rhodes and John Snyder, Redleg Journal, Road West Publishing, 2000.
Obituary, Nashville Banner, July 10, 1986
Player statistics provided by Ray Nemec, Society for American Baseball Research
Baseball-Reference.com.
BaseballLibrary.com
Born
April 28, 1902 at Columbia, TN (USA)
Died
July 9, 1986 at Nashville, TN (USA)
If you can help us improve this player's biography, contact us.
http://bioproj.sabr.org/bp_ftp/images4/LucasRed.jpg
600
800
admin
/wp-content/uploads/2020/02/sabr_logo.png
admin
2012-01-04 20:24:59
2021-09-24 10:23:36
Red Lucas