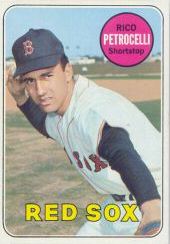 ---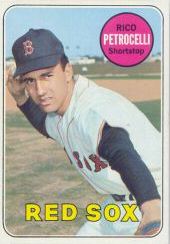 One of the most popular players ever to play for the Boston Red Sox, Rico Petrocelli will always be remembered for his familiar "Fenway Stroke" that sent many an opposing hurler's offerings into the net atop the left field wall. Although he was not physically imposing at 6-feet and 175 pounds, he hit 210 home runs, including a league record for shortstops, 40 in 1969 (topped by Alex Rodriguez's 57 in 2002), and his 773 RBIs place him in the Red Sox top 10 in both categories. A two-time All-Star shortstop and veteran of two World Series with the Red Sox, Petrocelli agreed to move to third base in 1971 to make room for future Hall of Famer Luis Aparicio. His 1976 season was his final one, after 1,553 regular-season and 17 postseason games in his 13-year career. He set team fielding records for a season at both positions:.981 at shortstop (superseded by Alex Gonzalez's .985 in 2006 and Stephen Drew's .984 in 2013), and .976 at third base (exceeded by Mike Lowell's .987 in 2006).
Americo Peter Petrocelli was born on June 27, 1943 in Brooklyn, New York, the youngest of the seven children born to Attilio and Louise Petrocelli. His father and cousins ran a shop specializing in sharpening tools used in New York's Garment District. Petrocelli developed his love for baseball at an early age, when there were three major-league teams in New York. As a youngster he was an avid Yankees fan, with his father taking him to both Yankee Stadium to see Mickey Mantle and the Bronx Bombers and to Ebbets Field to see the Brooklyn Dodgers.
Petrocelli started playing basketball at the age of 6, but didn't play organized baseball until he was 12. By the time he started high school, he was proficient at both sports, and became an all-scholastic in both basketball and baseball at Sheepshead Bay High. When his family realized that Rico might have a chance at a professional career, he was allowed to concentrate on his athletic career full-time instead of getting a job to help support the family. His four older brothers all worked to bring in extra money, allowing him to pursue his dreams of becoming a pro baseball player.
A pitcher and a power-hitting outfielder in high school, Petrocelli was considered a top prospect and a dozen scouts followed his progress during his senior year. But while pitching in the city championship on an extremely cold day in 1961, he felt something snap in his right elbow. The scouts quickly disappeared until only four (Cincinnati, Philadelphia, Baltimore, and Boston) remained. The Red Sox were the first team to invite Petrocelli to a workout after the injury, a gesture that made a favorable impression. He and his family made the trip to Boston, and after a successful workout, Red Sox scout Bots Nekola (who had signed Carl Yastrzemski three years earlier) signed Petrocelli.
Petrocelli started his professional career in 1962 with Winston-Salem in the Class B Carolina League, batting .277 with 17 home runs and 80 RBIs, but struggling in the field at his new shortstop position, committing a league-high 48 errors. He was promoted to Reading in the Eastern League in 1963 and batted only .239 but hit 19 homers and drove in 78 runs. The Red Sox called up Petrocelli after reading's season, and the 20-year-old made his major-league debut on September 21 in the first game of a doubleheader against the Minnesota Twins at Fenway Park. In a portent of things to come, Petrocelli drove a Lee Stange offering off the left-field wall for a double in his first at-bat. The hit earned a standing ovation from the 6,469 in attendance, and became one of his favorite memories.
By 1964 Petrocelli had been designated as one of the club's top prospects and was sent to the Red Sox' Triple-A affiliate in Seattle. He hit only .231 and, homesick and depressed over his poor play, began to doubt his ability. At the suggestion of teammate Billy Gardner, he tried switch-hitting, and when the Red Sox named him their starting shortstop at the start of the 1965 season he was encouraged to continue the experiment by manager Billy Herman. The results were disastrous– he hit.174 through the first 20 games, and the switch-hitting experiment was scrapped. Red Sox coach Pete Runnels suggested that Petrocelli try to pull the ball more to take advantage of the inviting left-field wall. Rico spent the rest of the season refining a new swing, steadily producing results. He hit his first major-league home run on June 20 off left-hander Gary Peters of the Chicago White Sox, and ended with 13 for the season.
Petrocelli's balky right elbow hampered his throwing for most of his rookie year and the problem persisted into the 1966 season, eventually landing him on the disabled list. To make matters worse, Petrocelli was not a favorite of Herman. The old-school manager had little patience for his brooding and insecurities, and made life miserable for the young shortstop. The situation came to a head when Petrocelli left the team in the middle of a game to tend to a family emergency. Herman demanded that he be suspended. Instead, he was fined $1,000. It did little to calm the conflict between manager and player. Things were finally resolved when Herman was fired in September, but even with his tormentor gone Petrocelli felt sure he would either be traded or sent back to the minors.
In 1967, new manager Dick Williams took a different tack with Petrocelli. He brought Red Sox minor-league coach Eddie Popowski to Boston as the new third-base coach and gave him the locker next to Petrocelli's. The good-natured Popowski had managed Petrocelli at both Winston-Salem in 1962 and at Reading in 1963, and helped to build the young shortstop's self-esteem with daily pep talks. Williams also helped Petrocelli to mature as a player by giving him the responsibility of being the leader of the club's young infield. The moves gave him new-found confidence, and he blossomed as a player. He drove in the first run of the season with a single in the Red Sox' 5-4 win over Chicago on Opening Day and added a three-run homer later in the game. He earned the starting nod at shortstop for the American League in the All-Star Game, and finished with a solid all-around season batting .259 with 17 homers and 66 RBIs for the pennant-bound Red Sox.
Petrocelli was a central figure in the famous Red Sox-Yankees brawl at Yankee Stadium on the evening of June 21. Both benches cleared after the two longtime rivals exchanged beanballs, then Petrocelli and Yankees first baseman Joe Pepitone got involved in some friendly verbal jousting. The two were friends who had grown up in Brooklyn together, but somehow things escalated quickly into a full-scale battle. It took a dozen Yankee Stadium security guards, including Petrocelli's brother David (who pulled Rico out from under a pile of Yankees), to help restore order. The fight was recognized as a defining moment that helped to bring the '67 Red Sox together as a team. Boston fashioned a league-best 60-39 record from that point on, winning the pennant on the final day of the season with a 5-3 win over the Minnesota Twins. Petrocelli's catch of Rich Rollins' popup was the final out in Boston's "Impossible Dream" pennant, a catch that became one of the signature moments in the history of the franchise.
Petrocelli had little success at the plate against the St. Louis Cardinals through the first five games of the World Series. Extremely run down by the long season, Petrocelli had a Vitamin B-12 shot prior to Game Six and proceeded to hit two home runs – a feat accomplished by only one other shortstop (Alan Trammell) in a World Series game. His second homer was one of three hit by the Red Sox in the fourth inning, a World Series record. Although Boston lost Game Seven to the Cardinals, the future seemed bright for both the Red Sox and Petrocelli.
The success of 1967 soon dissipated as a series of injuries doomed the defending American League champions to a fourth-place finish in 1968. Petrocelli's batting average plummeted some 25 points as the chronic problem with his right elbow flared, causing him to miss 39 games. Rather than continue to brood over his misfortune, he took on a positive attitude that winter. He changed his diet and gave up ice cream to help prevent the calcium deposits in his elbow from forming again. He also exercised his arms and wrists. By the start of 1969 he felt stronger than at any time before, and the results were very evident. Petrocelli began hitting home runs in bunches while hitting well over .300 for most of the season, dipping to .297 after the final two games. He excelled in the field as well, threatening the record for consecutive games without an error by a shortstop by going 44 straight without a miscue. He finished the season with a .981 fielding percentage.
In July Petrocelli was the overwhelming choice as the starting American League shortstop in the All-Star Game – his second such selection in three years. At the time he was hitting .309 with a remarkable 25 home runs. In the last year before the All-Star vote was returned to the fans, Petrocelli earned more votes from his fellow players, managers, and coaches than any other AL player. With the Red Sox out of contention since midsummer, his quest to break the American League record for home runs by a shortstop (39, by the Red Sox' own Vern Stephens in 1949) became the big story in September. The record-breaker came on September 29 against the Washington Senators' Jim Shellenback at RFK Stadium. Petrocelli finished the season with 40 homers and 97 RBIs. His .589 slugging percentage was second only to Oakland's Reggie Jackson (.608) in the American League.
Petrocelli showed that 1969 was no fluke when he came through with another solid season in 1970. He hit 29 homers and knocked in 103 runs, becoming the first Red Sox shortstop to top 100 RBIs since Stephens in 1950. He played in a career-high 157 games, showing that his injury problems were a thing of the past. Over the winter, Red Sox general manager Dick O'Connell told Petrocelli the Red Sox had a deal on the table for Luis Aparicio, but that he wouldn't make the deal unless Petrocelli would be comfortable moving to third base.
Rico readily endorsed the deal as being beneficial to the team and agreed to make the change. He reported early to spring training and worked for hours with former Red Sox All-Star third baseman Frank Malzone. The results were amazing. Petrocelli set a major-league record for third basemen with 77 straight games without an error. He led the American League in fielding percentage with a scintillating .976 mark. He continued to produce on offense at a healthy clip, hitting 28 home runs and knocking in 89 runs while leading the team with what the Red Sox calculated as 12 game-winning hits. From 1969 through 1971, Petrocelli's 97 home runs and 289 RBIs were the most by any Red Sox player.
Although Petrocelli'sw power output dropped significantly in 1972 (15 home runs) he continued to drive in runs at a consistent pace, leading the Red Sox with 75 RBIs despite hitting only .240. He was especially hot in August, hitting .344 with 23 RBIs to help the Red Sox surge into contention for the division title. (They finished a scant half-game behind Detroit.) He led the major leagues with three grand slams. (He finished his career with nine grand slams, good for third on the Red Sox behind only Ted Williams and David Ortiz.)
The injury problems that plagued Petrocelli early in his career returned with a vengeance in 1973. He missed the last 47 games of the season with chronic elbow problems, and his loss was keenly felt. Boston was only 2½ games behind division-leading Baltimore when Petrocelli left the starting lineup after the August 11 game; without him, the Red Sox finished eight games off the pace. Offseason elbow surgery had Petrocelli back and fit to start the 1974 season, but a series of new injuries set him back yet again. A nagging hamstring injury plagued him the early part of the season, and then disaster struck on September 15 when he was hit in the head by a pitch thrown by Milwaukee's Jim Slaton. The beaning shelved Petrocelli for the rest of the season, and the Red Sox ended up squandering a 7½-game lead near the end of August and staggering home in third place. Despite his time on the disabled list, Petrocelli tied for the team lead in home runs with 15 and finished second with 76 RBIs.
Although Petrocelli was in the Opening Day lineup for the Red Sox at the start of the 1975 season, it was apparent that he was still suffering from the after-effects of the beaning. Although it was not public knowledge, he also had a severe inner-ear imbalance that caused him trouble with his sense of balance. While he continued to perform at a high level in the field, he had difficulty gauging the ball as it left the pitcher's hand and his batting average dropped significantly. Despite his shortcomings at the plate, his leadership ability came to the fore with a new group of young players who drove the Red Sox to their first pennant since 1967. With the red-hot Baltimore Orioles coming on strong in the season's final month, Petrocelli again demonstrated his ability to come through in the clutch. His solo homer off Baltimore ace Jim Palmer on September 16 accounted for the winning run in Boston's 2-0 shutout of the Orioles – a key victory that effectively put the Red Sox in firm control of the pennant race.
Thanks to medication that treated his inner-ear imbalance, Petrocelli returned to his old form in time for the postseason. His seventh-inning homer off Oakland relief ace Rollie Fingers in Game Two of the American League Championship Series widened the lead in a one-run game and helped to propel the Red Sox to a three-game sweep of the defending champion A's. His stellar play continued in the World Series against Cincinnati; he hit .308 and contributed some fine fielding at third base as Boston came within a run of winning its first World Series since 1918.
While Petrocelli's play in the field continued to be above reproach, his lack of productivity at the plate became an issue in 1976. He began suffering reactions to the medication he was taking to correct his inner-ear problems and he was forced to discontinue its use. The problems with his balance returned and severely hampered his ability at the plate. He hit a career-low .213 in 1976, and when Don Zimmer took over as manager shortly after the All-Star break, he gave rookie Butch Hobson significant playing time at third. Petrocelli was tried briefly at second base, but with little success. In a move that shocked New England, he was released at the end of spring training in 1977, ending his 12-year playing career in Boston.
Out of baseball for the first time in his life, Petrocelli decided to remain close to the sports scene in Boston by writing a column in the Boston Herald that followed the progress of the Red Sox. He was also one of the early pioneers of sports talk radio in Boston, co-hosting a show with Glenn Ordway. In 1979 he joined longtime Red Sox broadcaster Ken Coleman in the radio booth as the color commentator. On July 24 he had the privilege of calling former Red Sox teammate Carl Yastrzemski's 400th home run in a game against the Oakland A's at Fenway Park.
Petrocelli stayed in the radio booth only one year, and after several years in the business word he returned to uniform in 1986 as the manager for the White Sox' Class A farm team in Appleton, Wisconsin. He stayed in the White Sox organization for three years, eventually being promoted to manager at Double-A Birmingham (Southern League), but left to return home as the director of sports programs for the Jimmy Fund from 1989 to 1991.
Petrocelli was named manager of the Red Sox Triple-A affiliate in Pawtucket in 1992. That began a six-year stay for him in the Boston organization as a roving instructor. On September 7, 1997, Petrocelli was recognized when he and four other former players were inducted into the Red Sox Hall of Fame.
After leaving baseball, Petrocelli began the Petrocelli Marketing Group, based in Nashua, New Hampshire, where he resided with his wife, Elsie. They have four sons; Michael, twins James and Bill, and Danny. Rico remained active in the Boston sports scene as a frequent guest on TV and radio sports programs and at the Legends Suite at Fenway Park. In 2013 he began co-hosting Remember When, a Sirius XM radio show.
Note
This biography originally appeared in the book The 1967 Impossible Dream Red Sox: Pandemonium On The Field, edited by Bill Nowlin and Dan Desrochers, and published by Rounder Books in 2007.
Sources
The primary source for this material was a series of interviews with Rico Petrocelli between 1994 and 2005. Material was also used from The Sporting News Baseball Guides, 1969-1976, Boston Red Sox Yearbooks, 1968-1974, Retrosheet, and Total Baseball (7th edition).
Born
June 27, 1943 at Brooklyn, NY (USA)
If you can help us improve this player's biography, contact us.
http://bioproj.sabr.org/bp_ftp/images2/PetrocelliRico.jpg
600
800
admin
/wp-content/uploads/2020/02/sabr_logo.png
admin
2012-01-04 20:04:10
2012-01-04 20:04:10
Rico Petrocelli