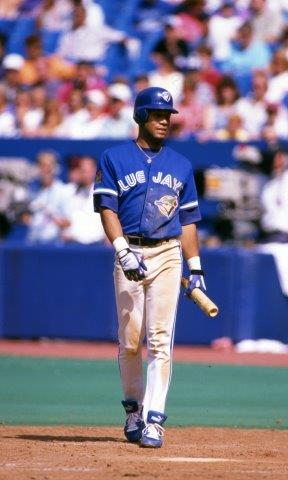 ---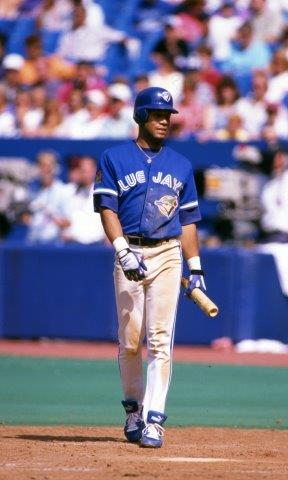 The son of a longtime major leaguer and the younger brother of another, Roberto Alomar was immersed in the world of baseball from an early age.
Roberto's father, Sandy Alomar, spent 15 years as a major-league infielder, and Roberto and his brother, also Sandy, spent most summers in major-league locker rooms. It was during these times that the brothers learned the intricacies of the game from the best players in the world – Nolan Ryan taught 4-year-old Roberto how to pitch while Ryan was a teammate of Sandy, Sr.'s on the Angels.1 Perhaps just as important, they also learned how to handle themselves like major-league ballplayers. The offseason brought with it the Puerto Rican Winter League (in which his father and three of his uncles all starred) and the annual Caribbean World Series.2 Roberto frequently made the trek to games with his father, sometimes completing his homework in the dugout.3
Roberto Alomar was born on February 5, 1968, in Ponce, on Puerto Rico's south coast, to Santos (Sandy) and Maria (Velasquez) Alomar. He had an older brother, Santos Jr. (Sandy), and a sister, Sandia. They grew up in Salinas, 20 miles from Ponce. Roberto's baseball ability and instincts were evident even as a boy. When he was 6 a scout reportedly saw him playing pepper and inquired of his father (presumably tongue in cheek) if he could sign him.4 By the age of 7, Roberto was selected as an all-star for the Salinas little league, but was declared ineligible when it was discovered that he was too young to play in the league.5 The time for Roberto to sign his first professional contract came soon enough. When he was 16 he signed with Caguas in the Puerto Rican Winter League, where he was managed by Felipe Alou.6 Alou later said that Roberto "was the best I had ever seen. He was a natural and definitely had the instincts that you just don't teach."7
On February 16, 1985, shortly after he turned 17, Roberto signed with the San Diego Padres – the same club for which his father was a coach and with which Sandy Jr. had signed two years earlier. While other teams (most notably Toronto) had expressed interest in the middle infielder and made higher offers than the approximately $50,000 Roberto received, Sandy Sr. had given his word to family friend and Padres scout Luis Rosa that Roberto would sign with the Padres.8
Unlike many newly signed minor leaguers, Roberto did not have to adjust to living on his own for the first time. He was assigned to the same team, Class-A Charleston in the South Atlantic League, for which his father was a coach and to which Sandy Jr. was also assigned. His mother also made the trip and the family lived together and provided a stable foundation as Roberto's professional career began to flourish.9 Roberto hit .293 and stole 36 bases for Charleston, and his manager Jim Skaalen recalled that "He was tearing up the league against older college players."10
Skaalen moved up along with Roberto the next season to Reno in the Class-A California League.11 His brother and father, however, did not. Sandy Jr. was ticketed for Double-A Wichita (Texas League) and Sandy Sr. was promoted to coach with the Padres. Roberto later recounted the challenges of his time in Reno: "In the minor leagues everything is different. I was making $700 a month. I had to pay for rent, utilities, food, clubhouse dues. All I had in the house I rented was a mattress on the floor, not even a table. I had no car and had to walk everywhere."12
Skaalen, though, saw him maturing on and off the field: "He seemed more relaxed away from his dad and brother. He got stronger and seemed to be enjoying every day. He was far ahead of the rest of the talent at that level, and I began to see the good, solid major-league player he was going to become."13 Whatever the challenges off the field, Alomar's play certainly did not suffer. He led the league after 90 games with a .346 average and 123 hits, earning him a promotion to Double-A Wichita (and a reunion with Sandy Jr.).14 Sharing a one-bedroom apartment with his brother, Roberto continued his torrid pace and finished the season hitting .319 with 12 home runs and 43 stolen bases.15
Roberto's minor-league success provided real hope going into the spring of 1988 that he could break camp with the Padres. His performance did nothing to dampen that enthusiasm, as he hit .360 and put together a 10-game hitting streak.16 Padres manager Larry Bowa noted that "this kid is a finished product. All he has to do is go out there and play. He has all the tools; just turn him loose."17 The Padres, though, had been burned each of the prior two seasons when they tried to promote second basemen (Bip Roberts and Joey Cora) from Double A to the big leagues, and Bowa was directed to give Roberto the bad news that his season would begin at Triple-A Las Vegas, not San Diego.18 The 20-year-old Roberto took the news hard, tearfully retreating to the training room, where he was consoled by his father along with several teammates.
For his part, Bowa had no explanation for the sentence he was ordered to deliver: "I told him he did everything I asked," said Bowa. "I just told him to keep his head up, that it's a long season. The chances of Robbie coming to the big leagues in 1988 are pretty good."19 They were pretty good indeed, as Roberto made quick work of the Pacific Coast League and was leading the league with 14 runs batted in when he was called up to San Diego 2½ weeks into the season.20
On April 22, 1988, Roberto stepped into the batter's box as a major leaguer for the first time. On the mound was none other than Nolan Ryan – the same Nolan Ryan who had helped teach him to pitch as a toddler. Unfazed, he beat out an infield single in his first major league at-bat.21 Roberto finished the season with 145 hits, a .266 batting average, and 24 stolen bases, finishing fifth in the National League Rookie of the Year voting. He was even stronger the next season, his first full year in the big leagues, batting .295 with 42 stolen bases in 158 games.
Continuing his ascent onto the national radar, Roberto was selected for his first All-Star Game in 1990. What made the honor even more special was that Sandy Jr. (who had been traded to Cleveland), was also selected. The two became the first pair of brothers to be selected for an All-Star Game since Jim and Gaylord Perry in 1970.22 Sandy Sr. reflected on the accomplishments of his two sons: "People have to realize I'm very proud of my kids for the way they act as persons. And they have talent and know how to display that talent."23
While it appeared that Roberto had established himself as a core piece of the Padres' future, the Padres had other ideas. After the 1990 season the Padres and Blue Jays struck a blockbuster deal that sent Alomar and outfielder Joe Carter to Toronto in exchange for Fred McGriff and Gold Glove shortstop Tony Fernandez.24 Along with Alomar and Carter, Blue Jays general manager Pat Gillick had also added center fielder Devon White days earlier as Toronto worked to position itself in the competitive American League East.25 Padres' general manager Joe McIlvaine said, "We just felt it was something we wanted to give a shot to. It was kind of a gutsy trade on both ends."26 Roberto was shocked: "I didn't expect it; I didn't understand it," he later recalled.27
Surprised or not, Roberto joined a collection of talented players in Toronto and paid immediate dividends north of the border, putting together an early six-game hitting streak as the Blue Jays streaked to the top of the American League East.28 In May, however, Roberto once again ran into the task of facing Nolan Ryan – now pitching for the Texas Rangers. With two outs in the top of the ninth, the 44-year-old Ryan was one out away from his seventh no-hitter when Roberto strode to the plate. As the Fort Worth Star Telegram put it 25 years later, "[T]he kid he'd once coached stood between Ryan and history."29 Ryan had the last laugh; he struck out Alomar on a 2-and-2 fastball to end the game.30
Later in the season, Roberto was once again elected to the All-Star Game, this time as an American League teammate of Sandy Jr. The long ovation he received from the Toronto crowd served as confirmation of how the city had taken to him: "When I was introduced they gave me such a long, loud ovation, I never expected it," Roberto said.31
As the season wore on, Alomar kept hitting and the Blue Jays kept winning, clinching the American League East. In his first postseason, Alomar's.474 batting average could not keep Toronto from being eliminated in five games by the Minnesota Twins. Alomar won his first Gold Glove, and it was clear that the Blue Jays were set to contend in the years to come. The offseason brought with it new riches as well: a three-year, $14 million contract that was the highest at the time on three fronts – for a second baseman, for a player 24 or younger, and for a player with four years or less in the major leagues.32 The average annual value of $4,666,667 made Alomar the ninth-highest paid player in the game.33
Bolstered by the acquisition of Dave Winfield in the offseason and David Cone in August, the Blue Jays again clinched the American League East in 1992. At midseason Alomar returned to San Diego for the first time since being traded and participated in the All-Star Game – once again with Sandy Jr. as a teammate.34
Alomar was named the most valuable player in the ALCS, with the most memorable moment being his game-tying two run home run off A's closer Dennis Eckersley in the ninth inning of Game Four. He relished the opportunity to be part of the first Blue Jays team to reach the World Series: "I wasn't here when they didn't win in the past. … I just want to be here in the present when we win the big one, so we won't have to hear anymore about the past.35 Alomar continued his clutch hitting and superb defense in the World Series, and helped the Blue Jays defeat Atlanta for their first championship. Alomar's contributions led Dave Winfield to comment that "You're one of the best players I've ever seen."36 Manager Cito Gaston agreed: "I could talk about Robbie for an hour," he said.37
After a slow start in 1993, the Blue Jays took off yet again and Alomar had career highs in numerous categories, including 55 stolen bases and 17 home runs. In the ALCS against the Chicago White Sox, he stole four bases as the Blue Jays won, four games to two. In the World Series, against the Philadelphia Phillies, Alomar hit .480 and drove in six runs as the Blue Jays, on Joe Carter's game-winning home run in Game Six, won the World Series for the second year in a row.38
With two World Series titles in his back pocket, it was hard to imagine things ever going wrong for Alomar in Toronto. But go wrong they did. After a strike-shortened 1994 season, the Blue Jays began to take a step back in 1995 and look toward the future. This included trading veteran David Cone in July – a move that Alomar protested by sitting out the next game.39 Alomar was also removed from a game in early July when a fan, Tricia Miller, walked into the Skydome hotel where he lived and told employees that she planned to kill him.40 Alomar said, "I wasn't shaken by it. I never knew that person. I never really knew what was happening. Cito told me in the dugout. They took me out of the game, but they had caught her by then, so I don't know why."41
By the end of the season, with rumors swirling about his future, Alomar was unhappy with what he felt was unfair treatment by the Toronto front office and local media:
"I never said that I want to be traded. … They made it sound like I said, 'Trade me now, I want out of here.' And the fans believed what they read in the papers. When I stood out on the field in Toronto and heard them booing me, I knew they didn't understand or know what the truth was. I hadn't said anything like what the writers wrote. But I could do nothing about it, and I learned how the media is."42
With no offer from the Blue Jays, Alomar was ready to hit free agency: "If [the Blue Jays] had offered me something before the All-Star break, then maybe I would've thought about it and gone for it. Now you're in the last week of the season. … Now maybe it's time for me to try the market."43
At 27 years old and already a six-time All-Star, Alomar inked a three-year, $18 million contract with the Baltimore Orioles in December 1995.44 He was thrilled to team up with fellow All-Star Cal Ripken Jr.: "I never expected to play alongside one of the legends of baseball. … It's going to be like a dream come true for me."45
Alomar carried his winter-ball success (he led the league in hitting) over to Baltimore, going on a tear to begin the season, hitting .410 in the beginning part of June.46 Former teammate Tony Gwynn heaped praise on the player Alomar had become, saying, "He has the ability to hit a home run, or work the count and hit a double down the opposite line and do whatever he wants to do. He's probably the best all-around player in the game."47 Alomar went on to make his seventh consecutive All-Star Game, collect his sixth consecutive Gold Glove and set numerous career highs as the Orioles clinched the American League wild-card playoff spot.48
Perhaps the most memorable moment of the season, however, occurred during a late-September game in Toronto. After being called out on strikes in the top of the first, Alomar argued with home-plate umpire John Hirschbeck on his way back to the dugout. When Hirschbeck threw him out of the game, Alomar returned to the field. During the course of the argument, Alomar took offense to being called a derogatory name, and spit in Hirschbeck's face.49
Alomar apologized and donated $50,000 toward research into Lou Gehrig's disease, which Hirschbeck's son had.50 This did nothing to prevent his being relentlessly booed for the remainder of the season and the playoffs, or from receiving a five-game suspension to be served at the start of the 1997 season.51
Alomar delivered a game-tying two-out single in the deciding Game Four of the Division Series against Cleveland, and then hit the game-winning home run in the 12th inning.52 Brother and Indians catcher Sandy Alomar Jr. said, "He's my brother and with all the things that happened with this incident, I felt kind of sorry for him."53 Roberto was ready to turn the page on the incident: "I've been going through a tough time. … Human beings make mistakes. I apologized to the umpire, his family, and all of baseball. It's time to move on."54 The Orioles did move on to the ALCS, but were eliminated in five games by the New York Yankees on their way to the World Series title.
The fact that Alomar was even allowed to play in the playoffs did not sit well with many, including major-league umpires. When it was announced that his suspension would be delayed until the next season, the umpires voted to not work the playoffs unless the suspension was changed to apply to the first round.55 The boycott was abandoned, however, when an agreement was worked out in a Philadelphia federal court.56
After he served his five-game suspension to start the 1997 season, Alomar helped the Orioles to 98 wins and the American League East crown. He also took the first step toward putting the spitting incident behind him, publicly shaking hands with Hirschbeck near first base in April before the first Orioles game Hirschbeck called since the incident.57 Several nagging injuries pestered Alomar throughout the season, including a nagging groin injury in late July that made him miss close to a month of playing time. Alomar said the injury "made me grow up. I now knew what it was like to be hurt and what you had to do to come back."58 After defeating the Mariners in the Division Series, the Orioles came up short of the World Series yet again, this time losing to Sandy and the Cleveland Indians in six games.
The Orioles were nowhere near contention in 1998. The season was not without its highlights though, as Roberto collected three hits (one of them a home run) and the All-Star Game MVP award in Denver, making the Alomar brothers back-to-back winners of the award since Sandy had won the year before. As his three-year contract with the Orioles came to a close, Roberto once again found himself on the free-agent market.
It did not take long for Roberto to find a new home. He signed a four-year contract with the Indians, reuniting with Sandy.59 "It means a lot to be beside my brother, not only to me but to my family," Roberto said.60 Indians general manager John Hart stated the obvious: "We are elated to have the Alomar brothers in the Indians family."61 In addition to Sandy, the move to Cleveland also allowed Roberto to team with shortstop Omar Vizquel, who along with Roberto had also won six Gold Gloves. "It would be worth the price of a ticket just to watch Omar and Robbie turn a double play," said Hart.62
Free from the injuries that plagued him in 1998, Alomar made an immediate impact on the Indians. "Robbie is one of the few players in the game that can make everybody around him better," Indians manager Mike Hargrove said.63 The Indians had compiled an enviable offense that exploded out of the gates, and Alomar ended the year with what proved to be a career high 24 home runs. He finished third in the MVP voting (the highest he would ever finish). His hot hitting continued in the playoffs; he went 5-for-8 while the Indians surged to a 2-0 series lead over the Red Sox in the ALDS.64 The Tribe would not win again, however, and fell in five games.65
Although things did not turn out as hoped in October, a late-season meeting helped Alomar to finally turn the page on the spitting incident, which had continued to follow him through the jeers of fans around the country. On September 5, during a rain delay at Camden Yards, John Hirschbeck and family came knocking on the visitor's clubhouse door, asking for Roberto. Hirschbeck's 13-year-old son was a fan, and wanted to meet Roberto. The moment together allowed both families to heal. "I don't see why he should be booed," Hirschbeck said afterward. "If he and I can forgive and forget, why not everyone else?"66
The next two seasons also ended in disappointment for the Indians. In 2000 they missed the playoffs altogether despite winning 90 games. They charged back to the playoffs in 2001, but fell in five games in the ALDS to the Seattle Mariners. Alomar won Gold Gloves and was an All-Star in both seasons, and stole a combined 69 bases. He still looked to be in his prime with one year left on his contract. But another change of scenery was in store.
On December 11, 2001, the Indians traded Alomar, pitcher Mike Bacsik, and first baseman Danny Peoples to the New York Mets in exchange for outfielders Matt Lawton and Alex Escobar, relief pitcher Jerrod Riggan, and two players to be named later.67 While the move was designed to clear payroll and acquire younger talent, Indians general manager Mark Shapiro knew that the deal would not sit well with all fans. "I think I'll need a flak jacket when I get off the plane [from the winter meetings], probably," he said.68 Alomar said he was "kind of disappointed … I was real happy in Cleveland and thought I did a great job."69 Mets General Manager Steve Phillips was elated: "We sit up in that room and all we do is dream all day about different scenarios," he said, adding that "I have to admit that I thought this was a long shot."70
But what had seemed like a dream scenario for Phillips at the Winter Meetings would soon turn into a nightmare. The Mets came nowhere near meeting expectations, finishing in last place in the National League East, 26½ games out of first place. Alomar also began to show the first sign of decline, hitting .266 and snapping his 12-year streak of appearances in the All-Star Game. The 2003 season began much the same way, with Alomar hitting.262 on July 1 when the Mets shipped him to the White Sox for three prospects.71
All told, Alomar played only 222 games for the Mets, and for his part understood that he did not perform at the high level that the Mets, and he himself, had expected. "Sometimes, you put too much pressure on yourself in New York, and maybe I did that," he said.72 Along with providing a change of scenery, joining the White Sox allowed him to reunite again with Sandy.73 But Roberto hit only .253 down the stretch and the White Sox finished in second place in the American League Central, missing the playoffs.
A free agent once again, Alomar signed a one-year deal in the offseason with the Arizona Diamondbacks in the hopes of rejuvenating his career. "If I can get in good shape, I think I can play the way I used to play," he said.74 Despite missing 56 games with a broken right hand suffered when he was hit by a pitch in late April, he did indeed experience a resurgence of sorts in his limited time on the field with Arizona, carrying a .309 batting average into early August.75 With the Diamondbacks hopelessly out of contention, Alomar was once again an attractive commodity for teams looking to add a veteran presence for the stretch run. So it was that the White Sox acquired him for the second consecutive season. Alomar struggled mightily in sporadic action, though, batting only .180 in 65 plate appearances as the White Sox once again missed the playoffs.
After multiple seasons of declining performance, Alomar made one last run at extending his career, this time with Tampa Bay, signing a one-year, $600,000 contract in January.76 When he committed multiple errors in one inning of a spring training game, however, he decided it was time to walk away. "I played a lot of games and I said I would never embarrass myself on the field," he said, adding, "I had a long career, but I can't play at the level I want to play, so it's time to retire. I just can't go anymore. My back, legs and eyes aren't the same."77 Alomar concluded his 17-year career with a .300 batting average, 2,724 hits, 210 home runs, and 474 stolen bases to go along with 12 All-Star Game selections and 10 Gold Glove awards.
There was no question that Cooperstown would be the final stop of Alomar's career. With some Hall voters still holding the Hirschbeck incident against him, though, he came up eight votes short of admission in his first year of eligibility, in 2010. "I feel disappointed, but next year hopefully I make it in," he said, adding that "at least I was close."78 Some sportswriters were not as gracious in their assessment of the snub. The Chicago Tribune's Phil Rogers wrote, "If anybody didn't vote for Robbie because of the spitting incident, then shame on them."79
Whatever the concerns some Hall voters had in Alomar's first year of eligibility, resistance to his election was all but nonexistent the next year. He was named on 90 percent of the ballots, far over the 75 percent needed for induction into the Hall of Fame.80 Even Alomar was surprised by the drastic increase in support from the previous year. "I didn't expect to get that many votes," he said.81
Alomar, who went into the Hall wearing a Blue Jays cap, opened his induction speech in Spanish and spoke fondly of his father's and brother's impact on his life and career.82 Sandy Jr. recounted the brothers' year-long wager as teammates/roommates for Class-A Charleston: "We said whoever had the best game, would get the bed. I slept on the couch the whole year."83 He added, "We didn't win a championship together but we won this together. And this is a big one. In my heart, you are a Hall of Famer."84
Statistics aside, it is the way Alomar's former teammates describe him that truly tells the story of the player that he was. Toronto teammate Pat Hentgen, asked how he described Alomar to present-day players, said, "I tell them Robbie was a career .300 hitter, a clutch hitter, a guy who could hit for power, a great baserunner and basestealer … and (pause) his best asset of all was his glove."85 The Orioles' B.J. Surhoff perhaps best summed up Alomar's baseball career: "Robbie could beat you with the bunt, with the extra base, with the homer. He could beat you with a stolen base. He could beat you by going from first to third, a baserunning move. He could beat you by making plays in the field. Robbie's a baseball player. And a damn good one at that."86
Alomar continued to be involved in baseball after his retirement. In January of 2016, he and his wife, Kim, launched Foundation 12, a Canadian charitable organization serving youth baseball players, though the organization does not appear to be currently active as of 2022. In 2021, Alomar was placed on the ineligible list by Major League Baseball following an investigation into a 2014 sexual assault allegation.87 Alomar stated that he was "disappointed, surprised, and upset" with the decision, and that he would "continue to spend my time helping kids pursue their baseball dreams."88
Last revised: March 9, 2022
Notes
1 "25 Years Later, Nolan Ryan Remembers His Seventh No-Hitter," Fort Worth Star-Telegram, April 30, 2016, star-telegram.com/sports/mlb/texas-rangers/article74925477.html.
2 Norman L. Macht, Roberto Alomar (Childs, Maryland: Mitchell Lane Publishers, Inc., 1999), 9-11.
3 Macht, 3.
4 Macht, 10.
5 "Like Father Like Son?: Padres Think Roberto Alomar Is a Bit More Than a Chip Off the Old Block," Los Angeles Times, April 22, 1988, articles.latimes.com/1988-04-22/sports/sp-2096_1_roberto-alomar.
6 Macht, 15.
7 Macht, 15.
8 Macht, 16.
9 Macht, 16.
10 Macht, 17.
11 Macht, 18.
12 Macht, 18.
13 Macht, 19.
14 Macht, 19
15 Macht, 21.
16 "Padre Notebook: Few Except Feeney Appear Satisfied as Roberto Alomar Is Sent Down," Los Angeles Times, March 26, 1988, articles.latimes.com/1988-03-26/sports/sp-354_1_roberto-alomar.
17 Macht, 23.
18 "Padre Notebook."
19 "Padre Notebook."
20 "Like Father Like Son?"
21 Macht, 25-26.
22 "Alomars an All-Star Family: Padres: Roberto Alomar, Along With Teammate Tony Gywnn, Is Named an NL Reserve. Brother Sandy Had Already Been Selected as The Starting AL Catcher for Tuesday's Game," Los Angeles Times, July 6, 1990, articles.latimes.com/1990-07-06/sports/sp-113_1_sandy-alomar-jr.
23 "Alomars an All-Star Family."
24 "Blue Jays Land Carter, Alomar From Padres San Diego Gets Fernandez and McGriff in Deal," Baltimore Sun, December 5, 1990, articles.baltimoresun.com/1990-12-06/sports/1990340005_1_blue-jays-fred-mcgriff-tony-fernandez.
25 "Blue Jays Land Carter, Alomar From Padres San Diego Gets Fernandez and McGriff in Deal."
26 "Blue Jays Land Carter, Alomar From Padres San Diego Gets Fernandez and McGriff in Deal."
27 Macht, 31.
28 "Padres Winning December Deal Looks Like Tie With Blue Jays in April," Baltimore Sun, April 21, 1991, articles.baltimoresun.com/1991-04-21/sports/1991111135_1_blue-jays-roberto-alomar-deal.
29 "25 Years Later."
30 "25 Years Later."
31 Macht, 33.
32 "Cadaret and 8 Others Settle Contract," New York Times, February 8, 1992, nytimes.com/1992/02/08/sports/baseball-cadaret-and-8-others-settle-contracts.html.
33 "Cadaret and 8 Others Settle Contract,"
34 Macht, 35.
35 "Blue Jays Eck Out a 7-6 Victory in 11: AL Game 4: Alomar's Two-Run Homer Off Eckersley Ties It in Ninth as A's Blow 6-1 Lead," Los Angeles Times, October 12, 1992, articles.latimes.com/1992-10-12/sports/sp-138_1_blue-jays.
36 Macht, 37.
37 "Alomar's MVP Play Points to New Star," Baltimore Sun, October 15, 1992, articles.baltimoresun.com/1992-10-15/sports/1992289072_1_alomar-blue-jays-toronto.
38 Macht, 42.
39 Macht, 43-44.
40 "Orioles' Multitalented Alomar Is Second to None," Washington Post, March 31, 1996, washingtonpost.com/archive/sports/1996/03/31/orioles-multitalented-alomar-is-second-to-none/b8cd697d-9630-464e-bcd9-84d6ba8db8cf/?utm_term=.9d34bd1c1107.
41 "Orioles' Multitalented Alomar Is Second to None."
42 Macht, 44.
43 "Jays' Alomar in No Rush to Decide '96 Destination He, Molitor Express Interest in Joining Ripken," Baltimore Sun, September 27, 1995, articles.baltimoresun.com/1995-09-27/sports/1995270116_1_alomar-blue-jays-second-baseman.
44 "O's Wave Money Wand Building Winner: Signing Six-Time All-Star Roberto Alomar Adds Exclamation Mark to New General Manager's Swift Revamping of Orioles," Baltimore Sun, December 22, 1995, articles.baltimoresun.com/1995-12-22/news/1995356066_1_gillick-orioles-roberto-alomar. New manager Davey Johnson was informed of the signing in the dentist's chair when he answered a call from General Manager Pat Gillick who said, "Well, you've got yourself an All-Star second baseman." Johnson claimed to not feel any pain for the remainder of the day. "Alomar finds O's 2nd to none Six-time All-Star signs, three-year, $18 million deal," Baltimore Sun, December 22, 1995, articles.baltimoresun.com/1995-12-22/sports/1995356093_1_roberto-alomar-cone-orioles.
45 Macht, 47.
46 Macht, 46, 51-52.
47 "Alomar Hitting His Prime at Plate," Los Angeles Times, May 28, 1996, articles.latimes.com/1996-05-28/sports/sp-9201_1_alomar-hitting.
48 Macht, 51-52.
49 Macht, 52-53.
50 Macht, 54.
51 Macht, 54.
52 "Alomar Shows Some Spit and Polish," Los Angeles Times, October 6, 1996, articles.latimes.com/1996-10-06/sports/sp-51279_1_sandy-alomar.
53 "Alomar Shows Some Spit and Polish."
54 "Alomar Shows Some Spit and Polish."
55 "Umpires Vote to Boycott Over Alomar," New York Times, October 1, 1996, nytimes.com/1996/10/01/sports/umpires-vote-to-boycott-over-alomar.html.
56 "Umpires Abandon Boycott," Los Angeles Times, October 2, 1996, articles.latimes.com/1996-10-02/sports/sp-49681_1_umpires-working-game.
57 Macht, 57.
58 Macht, 59.
59 Macht, 62.
60 "Cleveland Lures Roberto Alomar," CBS News, November 23, 1998, cbsnews.com/news/cleveland-lures-roberto-alomar/.
61 "Cleveland Lures Roberto Alomar."
62 "Cleveland Lures Roberto Alomar."
63 "Alomar: Villain Turned Hero in Cleveland," Los Angeles Times, June 27, 1999, articles.latimes.com/1999/jun/27/sports/sp-50609.
64 "Baines Goes Deep as Indians Move One Game From Sweep," Baltimore Sun, October 8, 1999, articles.baltimoresun.com/1999-10-08/sports/9910080129_1_roberto-alomar-baines-cleveland.
65 "Red Sox Ace Out Indians," Los Angeles Times, October 12, 1999, articles.latimes.com/1999/oct/12/sports/sp-22770/2.
66 "Score One for Friendship," Baltimore Sun, October 27, 1999, articles.baltimoresun.com/1999-10-27/news/9910270108_1_roberto-alomar-john-hirschbeck-holy-water/3.
67 "Indians Trade Alomar to Mets," Southeast Missourian (Cape Girardeau, Missouri), December 12, 2001, semissourian.com/story/54375.html.
68 "Indians Trade Alomar to Mets," CBC Sports, December 11, 2001, cbc.ca/sports/baseball/indians-trade-alomar-to-mets-1.257404.
69 "Indians Trade Alomar to Mets," CBC Sports.
70 "Indians trade Alomar to Mets," Southeast Missourian, December 12, 2001, www.semissourian.com/story/54375.html.
71 "Mets Trade Roberto Alomar to White Sox," New York Times, July 1, 2003, nytimes.com/2003/07/01/sports/baseball/mets-trade-roberto-alomar-to-white-sox.html.
72 "Mets Trade Roberto Alomar to White Sox."
73 Sandy Alomar signed with Chicago prior to the 2003 season.
74 "Alomar Jr. Joins Diamondbacks, CBC Sports, January 7, 2004, cbc.ca/sports/baseball/alomar-jr-joins-diamondbacks-1.516620.
75 "Diamondbacks Trade Alomar to White Sox," Orlando Sentinel, August 6, 2004, articles.orlandosentinel.com/2004-08-06/sports/0408060185_1_dominican-republic-clemens-white-sox.
76 "Notebook: Roberto Alomar: "It's Time to Retire," Seattle Times, March 20, 2005, seattletimes.com/sports/notebook-roberto-alomar-its-time-to-retire/.
77 "Notebook: Roberto Alomar: "It's Time to Retire."
78 "Hall Passes: Alomar 8 Short," Baltimore Sun, January 7, 2010, articles.baltimoresun.com/2010-01-07/sports/1001060140_1_hall-s-veterans-committee-john-hirschbeck-roberto-alomar.
79 "Hall Passes: Alomar 8 Short."
80 "Alomar, Blyleven Elected to Hall of Fame," Baltimore Sun, January 5, 2011, articles.baltimoresun.com/2011-01-05/sports/bs-sp-hallofame-01-20110105_1_sandy-alomar-sr-pitcher-bert-blyleven-induction.
81 "Alomar, Blyleven Elected to Hall of Fame."
82 "Alomar, Blyleven and Gillick Enter Baseball Hall of Fame," USA Today, July 24, 2011, usatoday30.usatoday.com/sports/baseball/hallfame/2011-07-24-hall-of-fame-alomar-blyleven_n.htm.
83 "Alomar, Blyleven and Gillick Enter Baseball Hall of Fame."
84 "Alomar, Blyleven and Gillick Enter Baseball Hall of Fame."
85 "Robbie Was Best of the Best," Toronto Sun, July 16, 2011, torontosun.com/2011/07/16/robbie-was-best-of-the-best.
86 "Alomar Falls Just Short in First Bid for Hall of Fame," Baltimore Sun, January 7, 2010, articles.baltimoresun.com/2010-01-07/sports/bal-sp.alomar07jan07_1_roberto-alomar-greatest-second-basemen-ballot/2.
87 Keegan Matheson, "MLB Puts Roberto Alomar on Ineligible List," MLB.com, April 30, 2021. https://www.mlb.com/news/mlb-puts-roberto-alomar-on-ineligible-list
88 "MLB puts Roberto Alomar on Ineligible List."
Born
February 5, 1968 at Ponce, (P.R.)
If you can help us improve this player's biography, contact us.
https://sabr.org/sites/default/files/AlomarRoberto-10163_94_Bat_NBLPonzini.jpg
600
800
admin
/wp-content/uploads/2020/02/sabr_logo.png
admin
2017-06-11 12:38:54
2022-08-30 23:37:08
Roberto Alomar