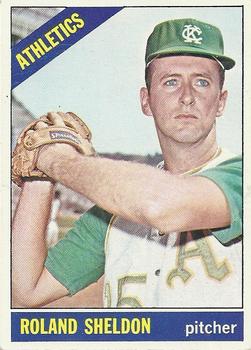 ---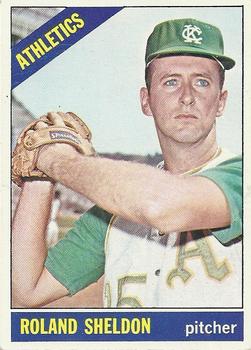 Rollie Sheldon's introduction to big-league baseball came with the 1961 New York Yankees. With a record of 109-53, that team ranks as one of the winningest in the franchise's history.1 Sheldon's record in his rookie year was 11-5, topped among the starters by Whitey Ford (25-4) and Ralph Terry (16-3).
Though he was 24 at the time, he'd rocketed to the majors after just one year in professional baseball, jumping from Class D to the majors. At the time it was noted that the last pitcher to make that leap had been Sid Hudson in 1940.
Roland Frank Sheldon was a right-handed pitcher born in Putnam, Connecticut, on December 17, 1936. He grew to be 6-feet-4 and listed at 190 pounds. He reported himself as three-quarters Swedish and one-quarter "Yankee."2 While he was a Yankee by ancestry and first signed with the Yankees, he grew up a Red Sox fan.3 "I hated the Yankees when I was a kid," he said. "I liked the Red Sox. I was always a Ted Williams fan. As far as I was concerned, Dom DiMaggio was better than his brother Joe.4
"My dad Frank was one of 14 children. He grew up on a farm and worked his tail off every day. It was a dairy farm basically but we raised a lot of vegetables, took in hay, and maintained a bunch of animals—cows, horses…I spent my summer's up there on my grandfather's farm and played ball with my cousins."5 His mother Elsie was a homemaker.
Rollie attended the Woodstock Elementary School and then Woodstock Academy, from which he graduated in 1954. There he lettered in basketball, soccer, and track as well as baseball, but he was only 5-feet-9 (weighing 135 pounds) and he never pitched in high school.6 After graduation, "Three of my classmates and myself enlisted in the USAF. I was only 17 1/2 years old." He served in the Air Force from June 1956 to September 1958. Sheldon was stationed at Spangdahlem Air Force Base in Germany (just north of Trier) and played service baseball, at one point throwing a no-hitter. "We played some great teams in Europe. In fact, we used to beat all the Army clubs over there."7
After being mustered out, Shelby Metcalf, a friend who was a first lieutenant in the service, became the freshman baseball and basketball coach at Texas A&M. "He had no background in baseball so he invited me to come and play basketball and help him with the baseball."8 He attended on the G.I. Bill. When he came home for Christmas, Sheldon realized he was homesick, so he returned to A&M, finished up his semester and transferred to UConn.
He played both baseball and basketball at UConn, including one memorable NCAA tournament game at Madison Square Garden where he was guarded by Basketball Hall of Famer Satch Sanders.
He was a sophomore at university when he signed with the Yankees on June 4, 1960, for a "healthy bonus" estimated at $20,000.9 Scout Henry Hesse apparently believed he was 20, though he was in fact three years older. "I never lied about my age," Sheldon said later. "I remember the Saturday morning when Henry Hesse…turned up at my house to see if I was interested in a baseball career. My parents and I were surprised, but I was ready, so we sat in our living room and discussed it. Hesse was in touch with Bill Skiff back in New York a couple of times. Eventually we agreed on a contract and a bonus and were about to sign the contract. Mr. Hesse then said since I was only 20 and a minor, my parents would have to sign
"If he thought I was 20," Sheldon continued, "I wouldn't say anything because I didn't want to blow this opportunity to play pro ball. I interrupted by parents' 'coffee break' and asked them to sign for me. They knew I had always wanted to play pro ball but were surprised I would sign with the Yanks when I was a Red Sox fan…I believe anyone would have done the same thing…keep quiet."10 Sheldon said he had always put down his correct age on all of his college records.
Sheldon was assigned to the 1960 Auburn, New York, Yankees in the Class-D New York-Penn League. Within the first five or so weeks on the job, manager Bob Bauer called him "one of the best looking pitchers I have ever seen in Class D ball."11 He enjoyed an excellent season, with a 15-1 record. a 2.88 ERA, and 15 complete games. The one game he lost was in the 10th inning after a double steal and an error did him in.12 He worked 150 innings, striking out 127 and walking only 56. Unsurprisingly, he was named the league's rookie of the year for 1960.
Sheldon was offered the opportunity to join the major-league Yankees in September but had already registered for the fall semester at UConn.
In 1961 he was asked to come to advance camp for top propects in St. Petersburg. Sheldon made the Yankees out of spring training.13 He impressed new manager Ralph Houk, and just about everyone else, and won the James P. Dawson Award as the outstanding rookie in camp.14 This was the 1961 team of Mickey Mantle and Roger Maris (and, as noted above, Whitey Ford and Ralph Terry). Maris hit 61 homers and Mantle hit 54.
Sheldon's debut came on April 23 in Baltimore with two innings of run-less relief. His first start was on April 30 in the second game of a doubleheader in Washington. He lost the game, but only due to a lack of run support. He threw seven innings, giving up two runs. The Yankees scored but one, in the ninth inning.
Sheldon's second decision was a loss as well, again working seven innings but losing 3-2. His first win finally came on May 31, a 7-6 win in Boston. He won three games in June, and then made the rotation, promptly throwing back-to-back shutouts at Yankee Stadium on July 5 (a four-hitter) and July 9 (a five-hitter), against the Indians and then the Red Sox. The July 5 shutout had come the very day after he had relieved in a game against the Tigers and faced a bases-loaded situation with Rocky Colavito at the plate. He went into a full windup and saw a triple steal, with Chico Fernandez stealing home. Houk not only didn't chastise him, but gave him the start the next day.15
Sheldon pitched three more complete games for wins, and won his last two games as well, both in relief. By season's end, he was 11-5 with a 3.60 ERA.
Sheldon credited pitching coach Johnny Sain for helping him a lot.16
In the 1961 World Series, he warmed up once or twice, but saw no action; New York beat Cincinnati four games to one.
Looking back, there is one slight regret he had — that he hadn't had the chance to pitch to his childhood idol, Ted Williams. "I missed him by one year [Williams retired after the 1960 season]. I keep telling people I don't care if he hit a gigantic home run off me. I just wanted to face him one time."17
He asked the Yankees for "special treatment" in 1962 — to allow him to report early and take part in the early spring rookie school once more. "I'm still a rookie with a good deal to learn," he said.18
Sheldon started off the year continuing his studies at UConn and getting married to Wanda Lou McConnell in Lee's Summit, Missouri, on January 20. They had met when the Yankees were in Kansas City and he walked into a local hardware store which also sold sporting goods. Wanda was working there and the two struck up a conversation. Her father, Rev. Merle McConnell, was a big baseball fan, and also officiated at their wedding.19
At the time, his hope was to teach and coach baseball at the college level when his pitching career was done.20
He won in his first appearance of 1962, in one inning of relief, but was bombed for five earned runs (no decision) in his first start. He won some and lost some as the season progressed, not making the starting rotation until near the end of May. He started in 16 if his 34 appearances. Though he still struck nearly twice as many batters as he walked, his WHIP increased somewhat and his earned run average of 5.49 reflected a season in which he struggled with effectiveness in scoring situations all season long. In July, he learned he'd been tipping pitches, changed his pitching style and threw an 11-3 win against Kansas City for one of his two complete games of the season, but the benefit was apparently only temporary.21
His won/loss record was 7-8. The Yankees won the American League pennant again, and the World Series. Sheldon was on the roster, but once more saw no postseason duty. After the World Series, Sheldon's explanation for his shortcomings in his sophomore year was "too much experimenting." He said he'd tried "15 to 20 styles" and "listened to too many people." 22 The Yankees hadn't expected him to perform at the same level as in 1961, and knew there were adjustments that needed to be made.23 Pitching coach Johnny Sain said it was a case of trying to do too much. "He didn't know what it was like to lose. All his life he didn't know anything but winning, winning. When things went bad last year, he didn't know how to adjust to it."24
He trained with the big-league team until early April 1963. Sheldon spent the '63 season in Triple A, with the International League's Richmond Virginians. "It was a shock" to be sent down, he said, "I was always a top man in sports — starting five (basketball at the University of Connecticut). Starting nine. It was the first time I was ever cut from a team in my life. And the thing mounted inside of me."25 Pegged as Richmond's number one starter before the season began, he turned in an unimpressive year with a 5-9 record and a 4.40 ERA in 32 games (20 starts), though he pitched better in the final five to six weeks.
The first two months of 1964 were spent with Richmond as well. He wasn't pleased, of course, but realized it was probably good for him to be able to get in as much work as he could. In nine starts, he recorded a 1.85 ERA with 44 strikeouts and only 11 walks. He credited Richmond catcher Jake Gibbs and the Yankees' roving batting coach, Wally Moses.26 On June 12, New York sold lefty Bob Meyer to the Angels and brought up Sheldon. He gave up just three runs in seven innings on the 14th, and then beat the Red Sox, 6-3, with a complete game win on June 18. He appeared in 19 games, starting 12, and put up a 5-2 record with a 3.61 earned run average. Three of the games were complete-game wins.
Over his first three seasons, he had 86 fielding chances and only committed one error. By career's end, he'd been presented 170 chances and only misplayed three of them for a career fielding percentage of .982.
In 1964 he pitched briefly in the postseason. In Game One of the World Series against the St. Louis Cardinals, Sheldon was asked to relieve in the bottom of the eighth, the Cardinals holding a 6-5 edge. An error by the Yankees' third baseman allowed Mike Shannon to reach first base. A passed ball let him take second. A walk followed. Barney Schultz lined back to Sheldon, who threw to first for a double play. With a runner on second, Sheldon was instructed to walk Bob Skinner intentionally. With two men on, new reliever Pete Mikkelsen came in and Curt Flood singled, then Lou Brock doubled, and Sheldon was charged with both runs, though both were unearned. The Cardinals won the game, 9-5, and ultimately won the World Series. In Game Seven he retired all six batters he faced, but two runners he inherited scored.
Sheldon returned home and resumed his studies and practice teaching physical education at E. O. Smith High School at Storrs.27 He played some semipro basketball with the East Hartford Explorers and received his college degree in February. "It took me seven years. The traveling secretary, Bruce Henry, proctored exams for me and then sent stuff back to UConn; I got about nine hours that way."28
New manager Johnny Keane perhaps had more faith in Sheldon than had Yogi Berra, particularly after his work in the World Series, and made him part of the 1965 team. He worked well in three bullpen efforts in April, but when catcher Elston Howard was lost for an expected two months to right-elbow surgery for bone chips, the team had to make a move to get a new catcher. They traded Sheldon and Johnny Blanchard to the Kansas City Athletics on May 3 to obtain Doc Edwards.
Sheldon had a very full season with Kansas City, starting 29 games. He was 10-8 for the 10th-place Athletics, with a 3.95 ERA. "It was hard to leave the Yankees," he said, "but it was a break for me getting to go with a club where I could start regularly…There's just no substitute for pitching regularly. Your control, your rhythm, everything is better when you're taking a regular turn."29 He credited A's pitching coach Ed Lopat for working with him.
Pitching for a last-place team is always discouraging, but Sheldon pitched even better for the Athletics in 1966 — he just didn't have the won/loss record he would have for another team. His first three losses were all games in which his team was shut out. On May 1 they got him one run and he threw a three-hit shutout to beat the Yankees.
Through June 12, he was 4-7 despite a good 3.13 ERA. Two days before the June 15 trading deadline, the Athletics and Red Sox executed a six-player trade, with Sheldon joined by Jose Tartabull and John Wyatt on his way to Boston, in exchange for Jim Gosger, Guido Grilli, and Ken Sanders. It was the Red Sox who finished nearly last in 1966, just a half-game ahead of the Yankees.
Boston was most interested in Sheldon. Sportswriter Larry Claflin wrote, "The key man as far as the Red Sox are concerned is Sheldon."30
Sheldon never seemed to get his footing with the Red Sox. He appeared in 23 games (10 of them starts) and worked 79 2/3 innings with an ERA of 4.97. His record was 1-6.
"I grew up a big Red Sox fan," Sheldon said 50 years later, "but when the Yankees gave me a chance to play, I disposed of the Red Sox and I love the Yankees. [The Yankees] will always be in my DNA and I guess I'm in their DNA."31
He wasn't around to experience the 1967 Impossible Dream Red Sox capturing the American League pennant. On December 15 he was sent to the Cincinnati Reds (with pitcher Dick Stigman) as the players to be named later who had helped Boston acquire Hank Fischer four months earlier, on August 15.
As it happens, his major-league days were done. He labored four more years in the high minors but never returned to the big leagues. "It was the tail end of my career and I was just trying to hang on. I had a little arm trouble here and there. I was just trying to extend my career as much as I could."32 Sheldon finished 38-36 (4.09). He had never been much of a batter; in 239 plate appearances, he had 20 base hits for an .096 batting average. He drove in four runs in 1961, but then only one each in three other years — 1962, 1964, and 1965.
Sheldon's last four years were all in Triple A, in either the International League (IL) or Pacific Coast League (PCL). In 1967, he toiled for Buffalo, the Reds' IL team. He appeared in 29 games, starting 16. He had a .360 ERA and a 9-6 record. His 1968 season was shared between Cincinnati's IL Indianapolis Indians and then (his first game for them was July 28) the Seattle Angels, the PCL affiliate of the California Angels. His combined stats show 25 starts and two relief stints, a 9-9 record and an ERA of 3.43.
In 1969 he was on the roster of four different teams, starting with the expansion Seattle Pilots with whom he trained in the spring. He was with Vancouver in April, Toledo in May, and Tucson by August. His combined record was 6-9 (3.56), with 17 starts in 25 games. In 1970 — his final season before retirement — he started with Tucson and transitioned to Salt Lake City in the Padres' system where he also served as a coach under manager Don Zimmer. His combined record showed 3-10 (5.31).
After baseball, Sheldon settled in Lee's Summit and entered the insurance business as an adjuster and a supervisor for Allstate. In 1976 he told a writer, "I'm also coaching and managing a girls' softball team…I also belong to a Yankee alumni group and when they come to town we get together."33
He and his wife had two daughters, Ronda and Lori. Rollie and Wanda divorced in the early 1980s. They had been together some 18 years. About four years later, Sheldon married again and in 2018 continues to live in Lee's Summit with Shirley Ann Sheldon. She brought two sons into the marriage.
He kept active himself with golf, fishing, basketball, and overhand softball. His team won the K. C. City Overhand Tournament in the summer of 1982.34
Sheldon lived in Missouri, but worked mostly in Kansas. He did that for 23 years. On the first day of 2018, he said, "I've been retired now longer than I worked for Allstate. I've been pretty lucky. I retired at age 56. I got a nice buyout, and my baseball pension and Social Security."35
Last revised: February 1, 2018
Acknowledgments
This biography was reviewed by Norman Macht and fact-checked by Alan Cohen.
Notes
1 Only the 1927, 1932, 1939, and 1998 Yankees had higher winning percentages.
2 Sheldon player questionnaire for the National Baseball Hall of Fame.
3 Jim Ogle, "Looking Back: 3 Who Made Big Jump to Majors," 1982 Yankee Scorebook, 63.
4 George Smith, "Air Force Stint Started Sheldon Toward Majors," Hartford Courant, February 15, 1976: 2C.
5 Author interview with Roland Sheldon on January 1, 2018.
6 George Smith.
7 Ibid.
8 Author interview with Roland Sheldon on January 1, 2018.
9 Yanks Sign Sheldon, Star UConn Hurler," Hartford Courant, June 7, 1960: 17.
10 Jim Ogle.
11 Bill Newell, "Grist From the Sports Mill," Hartford Courant, July 17, 1960: 16B.
12 Stan Isaacs, "'Special' on Sheldon," Newsday, March 30, 1961.
13 For a detailed look at his work in spring training, see Bill Lee, "With Malice Toward None," Hartford Courant, March 26, 1961: 1C.
14 "Sheldon, Pitcher, Wins Award As Bombers' Leading Rookie," New York Times, April 6, 1941: 41. See also Dan Daniel, "Scriveners Pick Twirler Sheldon Top Yank Rookie," The Sporting News, April 12, 1961: 17.
15 Dan Daniel, "Yank Players Hail Houk As Prize Pilot," The Sporting News, September 30, 1961: 3.
16 Frank Litsky, "Sheldon: Right-Handed Bellwether," New York Times, July 30, 1961: 53.
17 Author interview with Roland Sheldon on January 1, 2018.
18 Bill Lee, "Sheldon Asks Special Treatment from Yanks," Hartford Courant, November 2, 1961: 33A.
19 "Pitcher's Wife Was Brought Up On Baseball," National Sportsweek, July 6, 1965: 5.
20 Bill Lee, "New Delivery Does Trick for Yanks' Sheldon," Hartford Courant, March 23, 1962: 21A.
21 Regarding his tipping of pitches, see "Sheldon Cashes in Quickly on Revised Pitching Style," The Sporting News, July 28,1962: 20.
22 Ray Fitzgerald, "'Experimenting Hurt,' Says Yanks' Sheldon," Springfield (Massachusetts) Union, October 19,1962: 42.
23 Bill Lee, "With Malice Toward None," Hartford Courant, December 22, 1962: 13A.
24 Steve Jacobson, "Sheldon, '61 Prodigy, Starts All Over Again," Newsday, March 9, 1863.
25 Jim Krupinski, "Yogi's Best Judgement On Sheldon Is a Grin," undesignated newspaper clipping in Sheldon's Hall of Fame player file dated June 14, 1964: 42.
26 Ibid.
27 George DeGregorio, "Sheldon Discovers A New Pitch," New York Times, November 22, 1964: S3.
28 Author interview with Roland Sheldon on January 1, 2018.
29 Joe McGuff, "Pit to Pinnacle — That's Sheldon Saga," The Sporting News, August 7, 1965: 21.
30 Larry Claflin, "Sox, A's Swap 6 Players," Boston Record American, June 14, 1964: 16.
31 Author interview with Roland Sheldon on January 1, 2018.
32 Ibid.
33 George Smith.
34 Sports Collectors Digest, November 26, 1982.
35 Author interview with Roland Sheldon on January 1, 2018.
Born
December 17, 1936 at Putnam, CT (USA)
If you can help us improve this player's biography, contact us.
https://sabr.org/sites/default/files/SheldonRollie.jpg
600
800
admin
/wp-content/uploads/2020/02/sabr_logo.png
admin
2018-02-01 15:54:57
2020-04-09 14:40:24
Rollie Sheldon