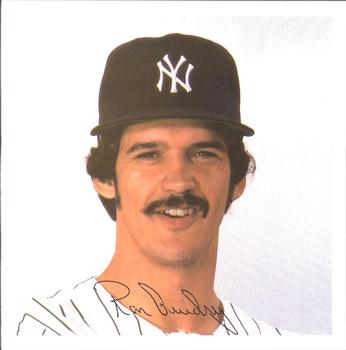 ---
"I've always said Ron Guidry, pound for pound., was the fiercest competitor I ever played with. Nobody wanted to give him a chance when he came up. Too skinny, too small, they all thought. They couldn't see what he had in heart. He had a big one and a lot of determination." — Willie Randolph1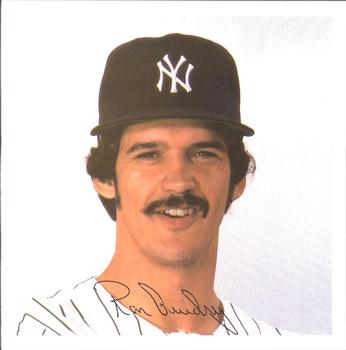 Ron Guidry had many fine seasons hurling for the New York Yankees. But in 1978, the hard-throwing left-hander was the top pitcher in the big leagues. He was virtually unbeatable early in the season, setting a new team record for consecutive wins with 13 from April 13 to July 2.
That was a great story in itself — but there was more. Guidry closed the season posting a 12-2 record from July 20 to October 2. His 1978 season stat line read 25-3, 1.74 ERA, nine shutouts, and 248 strikeouts. Guidry won the Cy Young Award and was named the American League Pitcher of the Year and Major League Player of the Year by The Sporting News.
If it hadn't been for Guidry's wife Bonnie, baseball fans in general and Yankee fans specifically may not have witnessed one of the greatest seasons a pitcher ever had. After one relief appearance for New York on May 20, 1976, Guidry was left idling in the Yankee bullpen for 47 consecutive games. On July 6, he was exiled back to the Syracuse Chiefs of the AAA International League. He was feeling frustrated at spending another season in the minors and he was ready to quit the game he loved so much. He balked at his demotion, packed up his car and headed home to Louisiana with Bonnie. On the drive home, Bonnie asked her husband, "Are you sure you want to give up on everything you've been working toward for the last 10 years? You've never quit on anything you thought you could do in your life. Don't quit on your own. Let the Yankees tell you you're no good before you think of quitting."2
Ronald James Guidry was born on August 28, 1950 in Lafayette, Louisiana to Roland and Mary Grace Guidry (née Broussard). Lafayette is the "capital of Cajun country" and the Guidry family is Cajun through and through. Ron Guidry grew up hunting and fishing on the bayous, as well as speaking Cajun French. On the mound, if he threw a bad pitch, he would mutter "Pas bon" to himself.3 When he lived up North, he always made sure that he had Louisiana coffee in stock.4
Roland Guidry was a railroad conductor for the Lafayette to Houston line.5 When Ron was young, Grace was very protective of him and she preferred that he played close to home. One day, Ron told his mother that he was going to visit his grandmother, but instead took a detour by a park where some boys where playing baseball. When a ball got away and rolled towards Guidry, he threw it back with such velocity, that a man who was watching ran over to Guidry. "He came running over so fast, I thought I had done something wrong," said Guidry.6
The man was a coach of a Little League team and happened to be a friend of Roland Guidry's. Ron did not need too much convincing, and joined his first organized baseball team at eight years of age. Like many players who showed plenty of ability, Guidry excelled and then graduated to American Legion baseball.
Guidry was a two-sport (baseball, track and field) star at Northside High School in Lafayette. Although he showed plenty of promise as a pitcher, it was as a sprinter where Guidry really shined. His speed led to college scholarship offers, but he chose to stay close to home and accepted a baseball scholarship from the University of Southwestern Louisiana. As a freshman in 1969 Guidry posted a 5-1 record with a 1.57 ERA. The next season he was 7-4, striking out 87 batters in 80 innings.7 Already he was recorded as throwing up to 95 miles per hour.
Guidry left USL for the major-league draft. Based on the advice of scout Atley Donald, the Yankees selected him in the third round of the free agent draft on June 8, 1971. Guidry might have gone higher, except that he developed tendinitis in his throwing arm, and it caused him to miss most of his junior year. Donald, a star pitcher for Louisiana Tech in the 1930s, held the record for most consecutive wins by a Yankee pitcher with 12 until he was surpassed by Guidry in 1978.
Guidry began his professional career in 1971 with Johnson City (Tennessee), in the Appalachian Rookie League. He was able to blow his blazing fastball by most hitters in the low minors. Although he struck out many batters, he also walked quite a few.
Guidry also enlisted into the National Guard in 1971 and was active through 1977. On September 23, 1972, he married the former Bonnie Rutledge. They had three children: daughters Jamie and Danielle and son Brandon.
In his first four years in the minor leagues, Guidry whiffed 298, but he also walked 200 batters. He did not distinguish himself as a future starter with the Yankees, or as a reliever. At West Haven (Connecticut) of the Eastern League in 1974, Guidry was moved to the pen and the results were disastrous. In 37 games, his record was 2-4 with a 5.26 ERA.
In spite of his poor showing, Guidry was promoted to AAA Syracuse of the International League. His career took a turn for the better. For the first time in four years, he was surrounded by good players. Unlike his previous stops along the minor league trail, where losing was the norm, Syracuse provided a glimpse of the big leagues. The pitching staff had many talented hurlers (Tippy Martinez, Jim Beattie, Scott McGregor) who went on to have productive careers in the major leagues. Also, Bobby Cox was the manager of the club and he was someone Guidry admired. "It doesn't get much better than having Coxy as your Triple-A skipper," said Guidry.8
Cox made Guidry his closer, and Guidry racked up 14 saves in that role to go with a 6-5 record and a 2.90 ERA in 42 games. He earned a ticket to the Bronx — or rather, Queens, since Yankee Stadium was then being renovated. Guidry made his major league debut on July 27, 1975, in the second game of a doubleheader against Boston at Shea Stadium.9
This was also the day that Guidry met two of his bullpen mates, Sparky Lyle and Dick Tidrow. It was Tidrow who gave the newest member his nickname, "Gator", for no other reason than Guidry was from Louisiana. Guidry was primarily a fastball pitcher who was successful in blowing hitters away with his velocity. But he had little else going for him. Lyle, who had a terrific slider, worked on developing the pitch with the rookie.
Soon after Guidry joined the Yankees, principal owner George Steinbrenner hired Billy Martin to replace Bill Virdon as manager. Guidry understood the legend of the aggressive, hotheaded Martin, and also that he just did not like rookies all that much. Martin rarely spoke to the young left-hander. At the end of spring training in 1976, Guidry was sent back down to Syracuse. New York had acquired Ken Brett and Dock Ellis (along with second baseman Willie Randolph) from Pittsburgh for Doc Medich. Both Brett and Ellis were starting pitchers who were out of options, which left Guidry as the odd man out.
Guidry returned to Syracuse and now had some big-league experience, as well as a spring training with the Yankees under his belt. As a result, he pitched very well. In 11 games, he posted a 3-1 record with a 1.37 ERA, fanning 25 batters in 20 innings. "It was like pitching against kids," said Guidry.10
New York realized that Brett was not a great fit for them and dealt him to the White Sox on May 18. Guidry was recalled to take his place on May 20. "The day I was called up, Billy put me in a game," said Guidry. "Most of the time, that would be welcome news to me. But I had just pitched a few nights in a row in the minor leagues, and Coxy had sent a report saying I should have a couple of days off. Of course, Billy ignored that and threw me into a game right off the bus. I just didn't have very much. He was sending me out to slaughter. I recorded one out and gave up four runs (against Boston).
"Billy had gotten Coxy's report. But he was testing me, because he didn't want me there; he was setting me up for failure. I don't know exactly why. Maybe because I was a rookie and he wanted a more experienced guy. But it was clear he didn't like me.11
Steinbrenner was also a critic of Guidry's small sample size of appearances. Dissatisfied with Guidry's response to the owner's questions of when he would start showing him something, Steinbrenner said, "Guidry, you'll never be able to pitch in this league".12
For 47 consecutive games, Guidry sat in the Yankee bullpen and was not called into action by Martin. On July 6, he was demoted once again to Syracuse. After talking it over with Bonnie, Guidry returned to the Chiefs. He pitched very well, but again it was for a short period of time. He returned to the Bronx in early August and appeared in just six games. The Yankees won the American League East, and after a 12-year hiatus, were once again in the postseason. Guidry was added to the Yankees roster for their battle against Kansas City in the ALCS. He did not get an opportunity to pitch. Instead, he was used as a pinch-runner in Game Four.
The Yankees topped the Royals in the LCS, but were swept by Cincinnati in the World Series. Guidry did not appear on the mound in the Fall Classic.
The Yankee front office felt that one area of the team that needed an upgrade was shortstop. They set their sights on Bucky Dent of the White Sox. Chicago general manager Roland Hemond wanted Oscar Gamble, pitcher LaMarr Hoyt and one other pitching prospect. Steinbrenner and Martin wanted to send Guidry to the Windy City, but Yankees president Gabe Paul was adamant that Guidry stay in New York.
Dent was not the only new addition to the Yankees in 1977. Reggie Jackson and Don Gullett also signed on as free agents in the offseason. After starting the year in the bullpen, Guidry shut out the Mariners over 8 1/3 innings for the win in his first big-league start of the year on April 29. He joined the regular rotation in mid-May and broke out as a star. In 25 starts and six relief appearances, he posted a 16-7 record with a 2.82 ERA. He threw a two-hitter against Texas on August 28. Of course, Martin told the media that it was his plan all along to slowly bring Guidry along.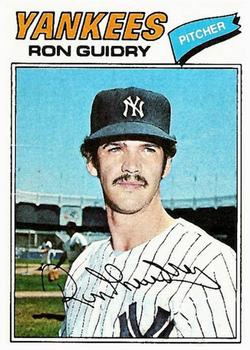 The Yankees (100-62) won the AL East for the second straight season, topping Baltimore and Boston by 2½ games. In Game Two of the LCS, Guidry threw a three-hit complete game 6-2 victory over Kansas City. He got the start in the decisive Game Five, but was knocked out after giving up three runs in 2 1/3 innings. New York scored three runs in the top of the ninth inning to win the game, 5-3.
Their opponent in the World Series was the Los Angeles Dodgers. The Yankees toppled L.A. in six games to win their first world championship since 1962. In his only start, Guidry went the distance in the Yankees 4-2 win, striking out seven and walking three. His sterling performance brought platitudes spilling out from Martin. "I can't say enough about him," said Martin. "He's one of the hardest left-handed throwers in baseball. And he's just as good as a guy can be out there. He had a very bad spring, but there was no question he'd ever come around."13
Guidry was notorious for not pitching well in spring training, as Martin alluded in his comment. But it became accepted that the ship would be righted as soon as the bell rang for the regular season. In 1978, Guidry had a monster year. The game that exemplified his dominance took place on June 17 against California. Guidry whiffed 18 Angel batters on the way to a 4-0 New York victory. The old Yankee record had been held by Bob Shawkey, who rang up 15 K's against Philadelphia on September 27, 1919. Guidry came within one of tying the major league record at that time for strikeouts in a game: 19, shared by Steve Carlton, Tom Seaver, and Nolan Ryan. "That kid was overpowering," said Ryan, who watched the game from the dugout. "Anytime somebody can break that record, I'm all for it. It's just a matter of time. It's going to happen."14 It was in this game when a fan in the stands displayed a sign that read "Louisiana Lightning." Yankee broadcaster Phil Rizzuto picked up on the moniker, and it stuck.15 Guidry's 18 strikeouts remain a club record.
The Yankees were in a tight race in the AL East all season long. But the nadir was reached when Martin, who had battled with Jackson and Steinbrenner, resigned on July 23, with the team in fourth place, 10½ games behind front-running Boston. He was replaced by Bob Lemon.
The Yankees stormed back into the race with a 41-16 record in August and September and led Boston by a game going into the final day of the season. But Boston beat Toronto and the Yankees lost to Cleveland to force a playoff game the following day. The Yankees traveled to Fenway Park on October 2. Guidry got the start and pitched 6 1/3 innings to earn the win, his 25th of the season. The game will be remembered for Bucky Dent's home run in the seventh inning, but it was a team effort that pushed them to the division title.
Guidry set team records in 1978 for the lowest ERA by a left-handed pitcher (1.74), highest winning percentage (.893), most strikeouts (248) and the most shutouts (9).16
Guidry made one start against Kansas City in the LCS. He threw eight innings in Game Four and struck out seven as he pitched the Yankees into the World Series, defeating the Royals by a score of 2-1. The Dodgers were the Yankees' opponent again. L.A. took a 2-0 series lead and then lost four straight games. Guidry started Game Three and again he was victorious, as the Yankees won 5-1.
Guidry was the unanimous choice as the winner of the Cy Young Award in the AL. He heaped praise on Lyle for teaching him how to throw a slider. "Sparky was instrumental in my success," said Guidry, "because he shared his knowledge of the slider — a pitch that made the difference for me. He was willing to take the time and effort to turn both seasons around."17
The Yankees didn't fare so well in 1979, finishing in fourth place and relinquishing their division title to Baltimore. Tragedy struck the team on August 2, when Thurman Munson was killed while piloting his Cessna jet. The unquestioned leader of the club was now suddenly gone. "Thurman's skills and knowledge of the game were exceptional," said Guidry. "But what really separated him was that he understood everybody's psychology. As a catcher, he had the unique ability of knowing what it took for each pitcher to get through the inning or the game."18
Despite the loss of his batterymate, Guidry posted an 18-8 record. He led the AL with a 2.78 ERA. More than his stats, Guidry showed his own leadership abilities when he volunteered to go to the bullpen after Goose Gossage suffered a thumb injury. He made three appearances as a reliever. "The team comes first," said Guidry. "There's nothing else on my mind. I'm grateful I had one good year."19
Failure to reach the postseason cost Martin, who'd replaced Lemon at the start of the season, his job. (The hiring and firing of Billy became a tiresome recurrence.) Dick Howser was named the new manager for the 1980 season. Handling Guidry was the new Yankee backstop, Rick Cerone, obtained from Toronto in the deal that sent Chris Chambliss to Toronto. Although he was no Munson, he was a capable receiver who brought the necessary mindset to his position.
Through August 18, Guidry posted a 12-9 record with a 3.71 ERA. He had lost three straight losses when he went back to the bullpen. Guidry wanted to work on some things because he felt that he was not as dominating as had been in the past. In eight relief appearances, covering 18 1/3 innings, Guidry was 1-1 with a 1.96 ERA. For the season, he was 17-10 with a 3.56 ERA. The Yankees won the AL East with a 103-59 record.
They were matched up again with Kansas City in the LCS, but the fourth time was the charm for the Royals, who ousted New York in five games. Guidry made one start, losing Game One, 7-2.
Despite winning the division, Howser was discharged from New York; he became manager in Kansas City. New York made the biggest splash in free agency in the offseason when they signed San Diego star Dave Winfield. Another addition came aboard with less fanfare, pitcher Dave Righetti. Like Guidry, Righetti was a southpaw and Guidry took the role as his mentor.
Gene Michael came down from his general manager office to become the field manager. But the 1981 season was sliced into two halves because of the player's strike that began on June 12. Division winners from each half faced each other to create a new layer of playoffs. The winners then met in the LCS. Michael led the Yankees to the first half title in the East with a 34-22 record. In spite of this, Steinbrenner continued to meddle and fired Michael when the manager confronted The Boss about it. Lemon returned to manage the final 25 games of the season.
Guidry led the team in wins (11) and strikeouts (104). His protégé, Righetti, was named the American League Rookie of the Year.
The Yankees dispatched the Milwaukee Brewers in the AL division series in five games and then swept Billy Martin's Oakland Athletics in three games. Their World Series opponent was once again Los Angeles. In a reversal from 1978, the Yankees took the first two games of the series, then lost four straight. Guidry went 1-1 against the Dodgers. It was his last postseason as a player.
The Yankees had gotten older, and as a result were slipping in the standings. One of the constants was Guidry. He posted winning records in 1982 (14-8, 3.81 ERA) and 1983 (21-9, 3.42 ERA). His 1983 season was highlighted by a two-hitter against Toronto on April 18 and a pair of three-hitters: April 25 against Minnesota and May 16 against Detroit. After the 1982 season, Guidry was awarded the Gold Glove Award. Guidry took a lot of pride in his defense. It showed as he won the award the next four seasons as the top fielding pitcher in the American League.
As often happens when pitchers age, they lose the velocity on their fastball, and Guidry was no exception. He could still dial up the heater when it was needed, but just not as often. By his own admission, Guidry became a smarter pitcher. He focused on setting up the hitters, hitting his spots and inducing weak contact.20
The Yankees added another Cajun pitcher in 1983 when rookie Ray Fontenot joined the staff. Until Fontenot was traded after the 1984 season, he and Guidry would often converse in French.21
Guidry had created Ron Guidry Enterprises some years before, and after the 1983 season, he learned that he was close to being bankrupt. The person he entrusted to make the decisions regarding investments and other important matters misspent Guidry's money. Guidry had signed a four-year, $3.95 million deal with the Yankees after the 1981 season. It almost all vanished. It was especially hard on Guidry, because the person he trusted was not only his agent and lawyer, but a close friend. Guidry was able to make deals with those he owed money to, and avoided bankruptcy. Included in the ventures were a photo studio on Long Island, cleaner's equipment business, a tool company and some real estate. He came out of the experience able to appease the creditors and he was still in decent financial shape.
The 1984 season was a tough one for Guidry. For the first time in his career, he landed on the disabled list (with a rib injury). He'd also never previously finished under .500 (10-11) or with an ERA exceeding 4.00 (4.51).
After the 1984 season, Guidry was the recipient of the coveted Roberto Clemente award. He was the first Yankee player to be honored. Guidry's younger brother, Travis, was born 17 years after Guidry, and is mentally retarded. It was because of Travis that Guidry got profoundly involved with the Special Olympics. "I'd trade every significant achievement I've ever had to see Travis progress and be able to lead a reasonably, normal life," said Guidry. "He's the one who has made the truly significant achievements."22
Yogi Berra, who had been hired to manage the Yankees, replacing Martin, was a personal favorite of Guidry's. Berra had been a coach on New York, and his locker was next to Guidry's. Naturally, they became close friends. Berra was a "complete human being — tough, goofy, passionate, silly, and caring."23 But now as a manager, Berra was directly in Steinbrenner's line of fire. He was eventually replaced early the next season by Martin.
The dismissal of Berra aside, Guidry had rebounded to have a terrific season in 1985. He led the AL in wins (22) and winning percentage (.786) and had an ERA of 3.27. After that, however, his past workload and age eventually reduced the number of appearances he made each season: to 30 in 1986, 22 in 1987, and 12 in 1988. A bone spur in his elbow limited his playing time severely in 1988, and off-season surgery was needed.
Guidry reported to spring training in 1989, but clashed with new manager Dallas Green. The Yankees sent him down to Columbus of AAA International League. He posted a 1-5 record, and made the decision to move on from baseball and get on with the rest of his life. Guidry was 170-91 with a 3.29 ERA over 14 seasons and 2,392 innings pitched. He struck out 1,778 batters while walking 633.
For Guidry, retirement was spending more time with Bonnie and the family. An avid outdoorsman, Guidry was free to hunt and fish back home in Lafayette. In 1998, he joined the Lafayette-Bayou Bullfrogs of the independent Texas-Louisiana League. Guidry's position was that of a part-time pitching coach, and he did not go on road trips. That was his only season with the club.
On August 23, 2003, Guidry's number 49 was retired by the Yankees. He was the 16th player to be so honored. In addition, he was presented with a plaque that would be placed in Monument Park of Yankee Stadium. "This will probably be my toughest game, trying to tell you how much I appreciate today," said Guidry. "I spent three hours working on my speech. I don't think it's going to do me any good.
"The only regret I've had since I retired in 1988 is that I never had a chance to say goodbye to all the great Yankee fans. I enjoyed pitching for you and I especially loved it when you clapped when there were two strikes on the batter. I just want you to know I heard that."24
After being a guest instructor at the Yankees spring training in the early 1990s, Guidry was hired to be the pitching coach on Yankee manager Joe Torre's staff for the 2006 and 2007 seasons. He replaced longtime coach Mel Stottlemyre. After his stint as the Yankees pitching coach, Guidry still put in time as an instructor at spring training, and did so until 2015.
In 2018, Guidry published his autobiography, Gator, with Andrew Beaton, a sportswriter for the Wall Street Journal.
Last revised: August 5, 2019
Acknowledgments
This biography was reviewed by Chris Rainey and Rory Costello and fact-checked by Alan Cohen.
Notes
1 Rich Cimini, "Remembering Ron Guidry: He Was Master of His Craft," Baseball Digest, November 1989: 74.
2 Sam Moses, "Yankee From Louisiana," Sports Illustrated, January, 22, 1979: 63.
3 Moses, 65.
4 William Faulkner Rushton, The Cajuns (New York: Farrar Straus Giroux, 1979).
5 Moses, 72.
6 Moses, 64.
7 Kevin Foote, "Guidry blazes new trail as UL Hall of Famer," The Daily Advertiser, November 1, 2015: 4C.
8 Ron Guidry with Andrew Beaton, Gator: My Life in Pinstripes (New York: Penguin Random House, 2018), 37.
9 The New York Yankees played their home games at Shea Stadium in Queens for the 1974 and 1975 schedule due to renovations to Yankee Stadium.
10 Phil Pepe, "Guidry Not Only Good, But May Be the Best," The Sporting News, June 17, 1978: 3.
11 Guidry and Beaton, 43.
12 Guidry and Beaton, 52.
13 Joseph Durso, "Yankees Win 4-2, and Can Take World Series Today," New York Times, October 16, 1977: 5-4.
14 Murray Chass, "Guidry Fans 18 Angels for Yank Mark, Wins No. 11 Without Loss, 4-0," New York Times, June 18, 1978: S1.
15 Guidry and Beaton, 101.
16 New York Yankees Official Website, https://www.mlb.com/yankees/history/season-records accessed February 22, 2019.
17 Frank Kelly, "Lightning Strikes Once", New York Daily Press, November 2, 1978: A1.
18 Guidry and Beaton, 138.
19 Phil Pepe, "Guidry Relief Gesture Hailed by Yankees", The Sporting News, May 19, 1979: 25.
20 Guidry and Beaton, 173-174.
21 Pete Cava, Amazing Tales from the Chicago Cubs Dugout (Champaign, Illinois: Sports Publishing, 2002): 92.
22 National Baseball Hall of Fame, Player's Clip File.
23 Guidry and Beaton, 171.
24 "Yankees Pay Tribute to Guidry, New York Times, August 24, 2003: SP3.
Born
August 28, 1950 at Lafayette, LA (USA)
If you can help us improve this player's biography, contact us.
https://sabr.org/sites/default/files/GuidryRon.jpg
600
800
admin
/wp-content/uploads/2020/02/sabr_logo.png
admin
2019-08-05 02:22:06
2020-04-09 14:37:32
Ron Guidry