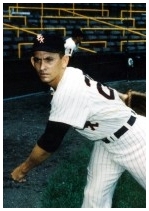 ---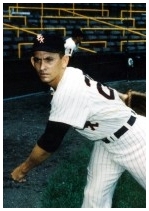 Rodolfo Arias's professional baseball career as a left-handed pitcher spanned a total of 23 years in three countries: his native Cuba, the United States, and Mexico, where he made his final farewell to the game he loved. As a member of the Chicago White Sox in 1959, his one year in the majors, he made 34 appearances.
Arias was born in Ciboney's Sugar Mill in Camaguey Province on June 6, 1931. His father, Arturo Arias, managed a railroad station and his mother, Zoila Martinez, was a housewife who never worked outside of the home. The young Rodolfo was a rebellious child and before too long got himself expelled from school and sent to an educational facility sponsored by the courts; his education fell short of high school equivalency.
Baseball in Cuba started in the 1860s and it was frowned upon by the Spanish colonial government, considered a repudiation of everything from Spain and supportive of the new revolutionary mentality of the locals. It was and is the national sport of Cuba. Arias's love for the game started very early and he took every opportunity to play the game with his friends. The equipment he had was crude indeed. The "ball" was a sphere tightly wound with black electrical tape until it took the shape and consistency of a baseball; the bat was simply a branch cut from a local hardwood tree, the guira, which was typically used to make the Latin American musical instrument known as the maracas. Rodolfo had no other real interests; it was, as he recalls, "what we kids did all day long."1
Young Rodolfo was so good as a left-handed teenage pitcher that many of his friends wouldn't play against him unless he played first base rather than pitch.
In the early '50s, he played in the Habana Amateur League for a club formed by the Customs office, but the team was not that successful on the field. However, an opening in an amateur tournament on the island allowed him to join the Oriente Province San German club in the Pedro Betancourt League. The team finished in first place and continued on to take first place in the Popular National Amateur League, too. Winning that league enabled Rodolfo and his teammates to travel to the United States in 1953 to play in a double-elimination tournament in Michigan against U.S. amateur teams.
Before the team left Cuba for the United States, Joe Cambria, the Washington Senators' legendary Cuban scout, tried to sign Arias, but Arias, after talking to Popular League president Pedro Tibanier, took Tibanier's advice not to sign with anyone until he got to the United States. If he pitched well, perhaps he could command a better price. He left for the United States, but covered his bases by telling Joe Cambria that he would sign upon his return from the tournament.
From Habana the team traveled to Miami, where they got on a bus for the long ride to Michigan. In 16 days of baseball, they won just two games, both pitched by Arias. Although there were a couple of good players on the team, they were deemed too short by the scouts; Rodolfo, at 5-feet-10 and 155 pounds, cut the right figure to go along with his pitching abilities. Chicago White Sox scout Doug Minor signed him for $3,000. It's his recollection that pitchers like Camilo Pascual and Pedro Ramos were each signed for only $75. Tibanier's advice and his own decision had been correct.
Upon returning to Cuba, Arias was called by Miguel Angel Gonzalez (a former major-league player and coach with 17 seasons mostly as a catcher) of the Habana Lions for a tryout; they had heard of his pitching performance in Michigan. As he entered the park, he slipped on wet stairs and fractured his left arm. Rodolfo is still pained to recall how depressed he felt at the time.
During this period, he traveled to Las Villas Province, where he met his future wife, Olga; the couple fell in love and they were married in February 1954. Though Arias was from Camaguey, both his father and wife were from Las Villas. (Many sources say Rodolfo was from Las Villas, too, but he has not bothered to request a correction.)
During his professional career he alternated between playing in Cuba's winter league, which began in late fall/winter, and the United States, where the seasons began in the spring. He never thought of or wanted to do anything but to play ball. He recalls thinking, "Why get a job when you can play ball?"2
Arias began his minor-league career in the United States in 1953 with the Madisonville (Kentucky) Miners of the Class-D Kitty League, appearing in 37 games, winning 16 and losing 10, and hitting .299. The White Sox advanced him to Class B the following year, and he pitched for the Waterloo White Hawks and had a record of 5-7 in 33 games.
His first year in the Cuban League was with the Habana Lions in '54, playing for Adolfo Luque (who had pitched in the majors for 23 years, compiling a record of 194 wins and 179 losses). He describes Luque as a "warrior" who seemed to care for nothing more than winning baseball games, a demanding manager, perfectionist in his demeanor. Luque died three years later. Arias's teammates included Don Blasingame at second and Ken Boyer at third. He pitched in six games with no wins or losses. He recalls with glee striking out the three "Americanos" of the Almendares team: Rocky Nelson, Gus Triandos, and Earl Rapp.
During 1955-57, Arias played for the Amarillo Gold Sox, the Colorado Springs Sky Sox, and the Toronto Maple Leafs with a combined record of 34 wins and 24 losses. In 1956, he played in the winter league for the Marianao team, winning two games. His son, Rodolfo ("Rudy"), was born during that year. He improved his record in 1957 with nine wins and five losses and in the winter played for the Caribbean Series championship representing Cuba (Marianao), which had five wins and only one loss. Their opponents were Mayaguez (Puerto Rico), Balboa (Panama), and Caracas (Venezuela). Arias was able to pitch in only one game for a total of one inning, giving up three hits with one strikeout.
The year 1958 had Rodolfo pitching in his homeland during the regular season. He was playing Triple-A ball in the International League for the Habana Cuban Sugar Kings with a record of 7-7 and a 3.80 ERA. One of his wins was the only no-hit, no-run game in the history of the team, on August 17 against the Rochester Red Wings. The only Rochester player to reach base was shortstop Roy Smalley, who drew a sixth-inning walk. Arias received $1,000 from Cuba's Bohemia magazine for his feat that day. That winter, he returned to Cuba and played for Marianao again (3-7), returning to the Caribbean Series, where he made another brief appearance, giving up one hit and a walk. Marianao once again won the Series with a 4-2 record against the teams from Caguas (Puerto Rico), Carta Vieja (Panama), and Valencia (Venezuela).
During the 1959 season, at the age of 28, Arias was promoted to the Chicago White Sox. His first game saw him come on in the bottom of the ninth in the April 10 game against the Tigers in Detroit. The score was tied, with two outs and a runner on first. He gave up a single, but then recorded the third out, sending the game into extra innings. He was pinch-hit for in the top of the 10th. Arias was used exclusively in relief by the White Sox in 1959, throwing 44 innings in all. He was 2-0, and allowed 49 hits and 23 runs, while walking 20 and striking out 28 batters. During the 34 games in which he appeared, he came to bat only four times, without a hit and striking out twice.
Rudy finished 13 games, his two wins coming on April 17 against the Tigers and on May 12, when he pitched the 11th and 12th innings of a 4-3 win over the Boston Red Sox in Fenway Park.
Arias's last game in the majors was on August 26, 1959. He wound up with an ERA of 4.09, above the team's collective 3.29 ERA. Arias was with the team the entire season and was a member of the Sox' World Series roster. He received a full World Series share, though he saw no action in the Series.
Two hitters he feared the most were Ted Williams and Mickey Mantle. As he remembers, when pitching to Mantle in a spring training game he ran the count to 2 and 1, followed by a second strike with the count now at 2 and 2. The catcher asked for a changeup and Mickey took a mighty swing. According to Arias, who laughs as he tells the story, "That ball almost hit the sun."3
Another time, Ryne Duren beaned Nellie Fox and when Arias took the mound, it was Duren's turn to come up to bat. White Sox manager Alfonso Lopez called a time out and approached the mound. His message to Arias was "metele un pelotazo" or "bean him." Arias said that is what you did in those days; there was no choice in the matter – you had to do it. So he reared back and threw at Duren who, knowing what was coming, jumped back and eluded the throw. Arias got him in the stomach with his next pitch. As a fight was about to break out, Earl Torgeson ran from first base and stood between Arias and everybody else. Torgeson was known to be handy with his fists, and nobody touched Arias that day.
His daughter Olga Cristina was born while he was pitching in Chicago. In fact, the White Sox were scheduled to be on a road trip to Washington when the daughter was about to be born but he was allowed to stay back in order to be with his wife. After the birth, he was driven to the airport by Bill Veeck himself, a gesture he appreciates to this day.
Arias returned to Cuba for its 1959 winter league and played for Marianao, where he had a record of 4-8, pitching 118 innings in 29 games with a 3.29 ERA.
He went back to Triple A in 1960, playing for the White Sox' San Diego affiliate in the Pacific Coast League and the Miami Marlins, a Baltimore affiliate in the International League. He had a total of 10 wins and 10 losses in 174 innings. After the season, he pitched for Marianao, where he won 10 games and lost 9 during 150 innings of pitching with 93 strikeouts and 50 walks, and was selected for the All-Star team. On January 17, 1961, Arias set a Cuban League record by pitching a complete 18-inning game against the first team he had played for, the Habana Lions. He lost that game when Dan Morejon hit a single with a runner on second. Who was the winning pitcher in relief? Luis Tiant (Red Sox hurler of fame), who went on to win the Rookie of the Year award for his 10 victories. With the Castro regime fully in power, 1961 was the last season of professional baseball in Cuba.
In the spring of 1961, Arias pitched for the Jersey City Jerseys of the Cincinnati organization in the International League where his record was 8-9 in 157 innings. He returned later in the year to Cuba when he heard a rumor that the new government was starting the baseball league again. While there, he threw without practicing properly and without proper supervision and tore a tendon in his arm. Soon after, he learned that the rumors he had heard about baseball in Cuba were incorrect. Wanting to continue to play ball at the professional level, he left Cuba once more.
Arias pitched in 1962 for the Columbus Jets, a Pittsburgh affiliate in the International League, and San Diego, now part of the Cincinnati organization, but he threw only 15 innings because of his bad shoulder and didn't record a win. The Cincinnati medical staff gave him a cortisone injection and the team sent him to the Macon Peaches, a Single-A affiliate in the South Atlantic League. He was 2-1 in 26 innings of work, but his arm was no longer able to respond to the demands of the game and the rigors of pitching, and so he retired.
It was hard to get baseball out of his blood, though, and after a few years, feeling his arm was better, he pitched in the Mexican League for the Poza Rica team in 1965 and 1966 and was able to put together a record of three wins and three losses, but a slide play at second base left him with a severe leg injury which became infected and prevented him from pitching any more. As he recalls, he was hardly able to walk but had also heard there were rumors that US teams might have an interest in him again. He returned to Mexico in 1967, but his arm had gone bad again. He stayed but one week before he was cut and retired for the last time from professional baseball.
Arias worked in construction in the Miami area but it proved to be too physically hard for him. He was playing softball in a Miami league for the Barnett Bank when a bank official offered him a job in security. He promptly accepted and worked security for 18 years until his retirement in 1995.
In addition to their two children, Arias and his wife Olga, who died in 2010, had four grandchildren and one great-grandchild. Their son, Rudy, was signed by Seattle in 1977 as a catcher but retired after suffering a broken jaw. Later he was a bullpen catcher in three major-league organizations for 11 years.
As for Rudy the elder: Living in the Miami area during his later years, his life was filled spending time with his family. He continued to receive mail from fans and collectors looking for autographs. After being hospitalized with respiratory problems, Rodolfo Arias died on January 12, 2018. He was buried alongside Olga at Woodland Cemetery in Miami.
An earlier version of this article originally appeared in SABR's "Go-Go To Glory: The 1959 Chicago White Sox" (ACTA Books, 2009), edited by Don Zminda.
Sources
Interviews with Rodolfo and Olga Arias, July 6, 20, and 23, 2008
Echevarria, Roberto Gonzalez. The Pride of Habana (New York: Oxford University Press, 1999).
Figueredo, Jorge S. Cuban Baseball A Statistical History, 1878-1961 (Jefferson: McFarland & Company Inc., 2003).
Figueredo, Jorge S. Who's Who in Cuban Baseball, 1878-1961 (Jefferson: McFarland & Company Inc., 2003).
Torres, Angel. La Leyenda del Beisbol Cubano, 1878-1997 (Review Printers, 1996).
Notes
1 Interviews with Rudy Arias, 2008.
2 Arias interviews.
3 Arias interviews.
Born
June 6, 1931 at Las Villas, (Cuba)
Died
January 12, 2018 at Miami, FL (US)
If you can help us improve this player's biography, contact us.
http://bioproj.sabr.org/bp_ftp/images5/AriasRudy.jpg
600
800
admin
/wp-content/uploads/2020/02/sabr_logo.png
admin
2012-01-04 20:45:58
2012-01-04 20:45:58
Rudy Arias