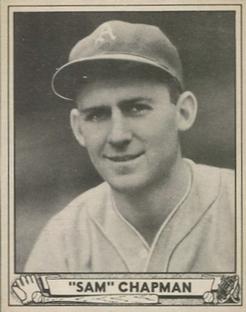 ---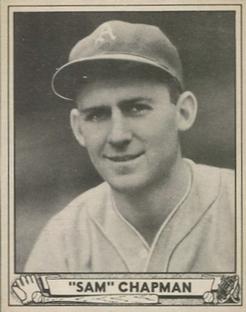 In Philadelphia, a city that once had two major-league franchises, Sam Chapman holds a special place in the rich sports history of the region. Chapman was an outfielder with the Philadelphia Athletics from 1938 through 1941, then again from late 1945 into 1951. He ended his career in 1951 with the Cleveland Indians.
During his era, he was an extremely popular player in Philadelphia. And he was a good one. He roamed the outfield pastures of Shibe Park with speed and grace. He had a powerful and accurate throwing arm. At the plate, he was an excellent hitter who had power and who often got his hits when they counted the most.
A magic aura always seemed to surround Chapman. In part, it may have been because he was well-built (6-feet, 180 pounds) and strong. He was a handsome man, too, with luminous blue eyes and a thick crop of dark hair.
Chapman had many other strong qualities. He was stalwart. Virile. A gentleman. He was enormously popular with his teammates. And to youths of the day, he seemed to represent all that was good in baseball.
That image was enhanced by the fact that he had been an All-American football player at the University of California and, for nearly four years, a Navy pilot during World War II.
Chapman jumped directly from the college campus to the big leagues after being recommended to the A's Connie Mack by no less than Ty Cobb. During his 11 seasons in the majors, Chapman had a career batting average of .266, which included 1,329 hits in 4,988 at-bats. In 1,368 big-league games, he collected 180 home runs and 210 doubles, and drove in 773 runs while scoring 754.
A member of the 1946 American League All-Star team, Chapman reached double figures in home runs nine times. Twice he drove in more than 100 runs. He landed in double figures in doubles 10 times.
A sure-handed outfielder; Chapman led American League fly-catchers in putouts four times, once in 1941 as a left fielder and in 1947, 1949, and 1950 as a center fielder. He also led the league in assists in 1941, and – as high-volume outfielders often do – in errors three times. During his career, he played 1,076 games in center field, 236 games in left field, and seven games in right field, plus 20 games at first base. His career fielding average was .972
Chapman's best season offensively was 1941, when he hit a career-high .322. Although Sam's record was obscured that season by the legendary feats of Ted Williams (hitting .406 for the season) and Joe DiMaggio (hitting safely in 56 straight games), he placed fifth in the league in slugging percentage (.543) and fifth in total bases (300) while setting career highs with 25 home runs, 178 hits, 29 doubles, 9 triples, and 97 runs scored. He drove in 106 runs.
"That year was my proudest achievement in baseball," Chapman told the author more than 40 years later. "It was my fourth year in the major leagues, and I was just learning to play because I never had any minor-league experience. I hit some home runs and knocked in some runs. It was a good year for me."
He had some especially good feelings about playing his home games at Shibe Park. "I really enjoyed playing in there," he said. "It was a good park, laid out nicely and small enough that you could get a home run in it, but big enough that you couldn't hit one out all the time. It was good hitter's park, though.
"Philadelphia was a good baseball town when l played in it," Chapman added. "The crowds were good. They were for you when you were playing well, and they booed you when you weren't.
"And it was good playing for Connie Mack. He knew the game very well. He took everything pretty much in stride. He could get mad once in a while, but most of the time he was pretty easy-going. He gave us as much help as he could. Unfortunately, he didn't have enough money to pay players much."
"Ty Cobb had written Mr. Mack a letter and told him he ought to sign me," recalled Chapman. "I have no idea where Cobb saw me play. In fact, I never even met him until later. Eventually, I got to know him a little. I played some golf with him. He would throw his clubs, throw his bag. After I went with the A's, I got three letters from him telling me how to hit.
"Anyway, he wrote to Mr. Mack about me, and Mr. Mack wrote back and offered me $6,000, even though he had never seen me play. The New York Yankees and Cleveland Indians had each offered me $9,000, so I got in touch with Cobb, which was the first time I'd ever talked to him. I asked him what he thought I should do. He said to me, 'Mr. Mack knows more about baseball than anybody else.' He said I should sign with him. So I listened to Ty Cobb and signed with the A's."
Although there was never any doubt in Chapman's mind what sport he would pursue as a career, his signing with the A's ended any speculation about furthering his football career. Chapman had been a standout football player as a youth, but he was always somewhat partial to baseball.
"My favorite team was the old San Francisco Seals," he said. "Lefty O'Doul, Earl Averill, a few others like that were my favorites. I used to take two ferryboats across the San Francisco Bay and a long streetcar ride to get to the ballpark to watch the Seals play. I didn't even know they played ball back East."
The soft-spoken athlete, the son of a postmaster, was born Samuel Blake Chapman on April 11, 1916, in Tiburon, California, and lived there during most of his life, except for a few years when he lived in Greenbrae, California. He attended Talamalpais High School in Mill Valley, where he became a standout athlete at an early age.
"In high school, I was really small," Chapman said. "When I graduated I weighed 138 pounds. I played five varsity sports in high school (football, baseball, basketball, soccer, and track). My varsity football coach was Roy Riegels (nicknamed "Wrong Way" because of the infamous play when he ran the ball the wrong way while playing for the University of California in the 1929 Rose Bowl). He had just started coaching. My dad wanted me to go to sea because he had a job on a tanker. But Riegels sent me over to the University of California to look around. I liked it, and decided to enroll. I didn't have a scholarship."
At Berkeley, Chapman favored football over baseball, although he played both sports. After playing on the freshmen football team, Sam had begun to add some weight by the time he made the varsity as a sophomore. It didn't take long for him to become the team's star running back in an offensive system that was then called a single wing. Ultimately, in his senior year, Chapman, while also playing defensive halfback, led Cal to a 9-0-1 season, with the Golden Bears outscoring opponents 201-33 and earning a trip to the Rose Bowl, where they defeated Alabama, 13-0. That would be the last time they won a game in the well-known New Year's Day event.
After the 1937 football season, Sam, often called "Sleepy Sam" because of his low temperament, was named first-team All-American as a halfback. The following spring, Chapman, also nicknamed "The Tiburon Terror," was drafted by the Washington Redskins as a third-round pick, even though he had already signed a contract with the A's.
"In Detroit, they were trying to make a trade for me with the A's and Redskins," Chapman said. "The idea was for me to go to Detroit and play baseball for the Tigers and football for the Lions. But Mr. Mack said no. A few weeks later, having earned his bachelor's degree, Chapman joined the A's during a series in Cleveland, and made his debut on May 16.
"I was a shortstop and a second baseman at Cal," Sam said. "Never played anything else. When I got to Cleveland, I went to see Mr. Mack the next morning. He said, 'Oh, you're the left-handed outfielder from California.' I said. 'No sir, I'm the right-handed shortstop.' He said, 'Well, you're playing center field today.'
"I was scared to death. The only outfield I had ever played was a little bit in semipro ball. But I went out there, and in the first game I did pretty well for a while. I had no chances until the seventh inning when I got a high pop fly. They had given me some sunglasses, but I had never worn that kind before. I was flipping them up and flipping them down, trying to see the ball. It finally came down and almost hit me in the head. I picked it up and threw it 10 feet high into the stands. When I came back to the bench, Mr. Mack said, 'Don't worry, Sam; you showed you have a good arm.'
"I didn't get any hits that day (he went 0-for-4)," he added. "But I did hit a line drive that hit the pitcher on the knee. After that, he knocked me down every time I came to the plate.
"I was kind of awed by it all," Chapman said of his big-league surroundings. "I had never been out of the little town in which I was born except to travel with the football team."
In Chapman's rookie year, 1938, he hit .259 with 17 home runs and 63 RBIs
while playing in 114 games, mostly in left field. The following year, he hit .269 with 15 homers and 64 RBIs while moving to center field.
"I worked very hard to learn to play center," Chapman remembered. "I had two guys to help me. Bob Johnson was in left field and Wally Moses was in right. They were both getting older and didn't want to run too much. So, Mr. Mack put me between them." He stayed there until the 1946 season, when he moved back to left to make room in center for the newly acquired Barney McCosky. A back injury, however, eventually forced McCosky to switch to left with Sam returning to center to anchor an outfield that also included Elmer Valo in right.
"Chapman was always there to back me up," the fearless Valo once told the author. "He and I were always talking to each other, and we always backed each other up. I knew if I missed a ball, he'd get it."
Although in 1939 he was still learning the game as the pros played it, Chapman had several noteworthy accomplishments that season. He hit for the cycle in five at-bats in a game against the St. Louis Browns. The next day, he hit two more home runs, including a grand slam.
Chapman upped his batting average in 1940 to .276, his home-run total to 23 and his RBI count to 75. Sam also led the league in strikeouts with 96. But he was becoming an increasingly polished player, even though his individual performance was not reflected in the A's position in the standings.
The A's of the late 1930s and early 1940s were a woebegone team. Having steadily declined from their great teams of the 1929-31 era, the A's finished in last place every season between 1935 and 1946 except in 1937, 1939, and 1944. Right before World War II, the club had some fine, although aging, players in first baseman Dick Siebert, catcher Frankie Hayes, Moses, and Johnson. But it always lacked pitching and battled annually with the equally lowly Browns and Washington Senators to see who could escape from occupying the bottom of the American League standings.
Chapman, however, was like a burst of cool air on a sultry midsummer night. Young, swift, and talented, he was quickly becoming not only a big star in a miniature collection of Philadelphia baseball luminaries (the Phillies were also in the midst of the doldrums with only one first-division finish, in 1932, from 1918 through 1948), he was also regarded in the early 1940s as one of the up-and-coming stars of the American League.
The 1941 season confirmed the path of Chapman's ascension. Although the A's were dead last, Sam's magnificent season clearly demonstrated that he belonged among the elite players in the league. But just when Chapman's star had begun to shine so brightly, World War II came along. Chapman enlisted in the US Navy at the end of 1941. He earned his commission, then trained as a bomber pilot. Later, he switched to piloting fighter planes. Although he saw no action overseas, he spent nearly four years at the peak of his baseball career helping to protect the borders of his country from enemy attack while also serving as a flight instructor at the naval base in Corpus Christi, Texas.
Although, he was never again the same player he had been, Chapman had no regrets about the sabotage the war did to his baseball career.
"I was very happy to be flying," he said. "I enjoyed that immensely. It was hard to miss that much time [in baseball] and then come back. But I don't really have any regrets."
Chapman returned to the A's for the last two weeks of the 1945 season. After three days of practice, he entered the starting lineup, and appeared in nine games, hitting just .200.
The following year, though, he was back to full-time duty. Sam hit .261 with 20 home runs and 67 RBIs. He was named to the American League All-Star team, but went hitless in two trips to the plate in his team's 12-0 rout of the National League. In August he led the last-place A's to a stunning 5-3 victory over the pennant-bound Boston Red Sox with three home runs at Shibe Park.
"I think the All-Star selection was probably, the result of my good year before I went into the service," said the ever-modest Chapman. "That year, though, was a very special time. The fans were great. They applauded everybody. It took a while for the players to get back into the swing of things, but it was a grand year. It was good to be back."
Chapman went .252-14-83 in 1947. Meanwhile, the A's were beginning to shed the shackles that had bound them to the pits of the American League standings. In 1947 they climbed all the way to fifth place, their highest finish since 1934. Then in 1948, they joined in a torrid five-team battle with the Indians, Red Sox, Yankees, and Tigers for the pennant.
The A's held first place briefly in August, but were ultimately knocked off that perch in a doubleheader loss to Cleveland. They finally finished in fourth place, 12½ games behind the lndians, who defeated the Red Sox in a one-game playoff for the pennant after the two had finished the regular season in a tie.
Chapman, who went .258-13-70 for the year, was surrounded by a cast of excellent players. McCosky (.326), third baseman Hank Majeski (.310), and Valo (.305) led the team in hitting with future two-time batting champion Ferris Fain (.281), Buddy Rosar (.255), Eddie Joost (.250), and Pete Suder (.241) rounding out a strong starting lineup that was as good defensively as it was on offense.
"There were a great bunch of guys on that team," McCosky said many years later. "It was fun watching and playing with people like Chapman and the others." To that, pitcher Lou Brissie added: "I especially enjoyed playing for those A's teams back in the late 1940s. We were a club that really enjoyed playing together."
"The problem was, we didn't have enough pitchers," Chapman said. "We had seven or eight, but most teams had 10 or 11. We had no depth, although we had some good pitchers such as Dick Fowler, (15 wins), Joe Coleman, Brissie, Carl Scheib (each with 14 wins), and Phil Marchildon (nine)."
The 1948 season turned out to be the A's last big season in Philadelphia: The team slipped to fifth in 1949, and then sank back into the lower layers of the American League (except when it finished fourth in 1952 with pitcher Bobby Shantz earning the league's Most Valuable Player Award with a 24-7 record). By then, however, with the Phillies having taken over as the fans' favorite team after capturing the National League pennant in 1950, the Athletics were not only in trouble in the standings, but also at the gate. After the 1954 season, the A's left town, starting a journey that wouId take them first to Kansas City and then to Oakland, where they reside with little acknowledgment of their roots.
Chapman hit .278 with 24 home runs and a career-high 108 RBIs in 1949. He followed that with a .251-23-95 year in 1950 in what became Connie Mack's final season as the A's manager. Then, early in the 1951 season, a year when he was paid a career-high $16,500, the A's shipped Sam to Cleveland for outfielder Allie Clark and infielder Lou Klein in a trade that proved little benefit to the A's because neither Clark nor Klein contributed much of anything, and both were gone from the big leagues within a short time. Just one week earlier, however, the A's had landed outfielders Gus Zernial and Dave Philley in a mammoth three-team trade with the Indians and Chicago White Sox: The deal made Chapman expendable and effectively put him out of a job in Philadelphia.
"I was kind of disappointed when it happened," Sam said. "Cleveland thought it had a chance to win the pennant and wanted to get me for some extra hitting. That was the only reason I was happy about the trade, even though as it turned out we finished second and didn't win the pennant."
While Zernial virtually carried the Athletics with a league-leading 33 home runs and 129 RBIs, Chapman played in 94 games with the Indians, batting 228. At the end of the season, he decided that he'd had enough.
"I could've gone back to Cleveland in 1952, but I had four children (he and his wife, Jodie, had three sons and one daughter) by then," he said. "I was always traveling. I figured it was time to get out."
Chapman returned to California, and went into the building contracting business. But a shortage of cash forced him back into baseball. Getting his first exposure to the minor leagues, Sam spent three years playing for Oakland in the Pacific Coast League. He hit .263 as a regular with the Oaks in both 1952 and 1953, and .290 in 1954.
Chapman bowed out of baseball for good after the 1954 season. Afterward, he worked for 17 years for the State of California as an inspector in air-pollution control in the San Francisco Bay area, utilizing his college training as a chemistry major. "l really got into something I liked," he said.
After he retired, Chapman kept busy playing golf and making furniture. In 1984 he was named to the College Football Hall of Fame. He was also elected to the Bay Area Sports Hall of Fame and the Philadelphia Wall of Fame.
For his entire life, Chapman, who died at the age of 90 in 2006, retained some fond memories of having played in an era that was generally considered to be as exciting as any in baseball history.
"It was a real good time to play baseball," Chapman recalled. "Everybody was enthusiastic. It was fun, and I enjoyed it very much. I wasn't as successful as I'd have liked, except for that one year. But I have no complaints. I liked playing baseball in Philadelphia very much."
Philadelphians liked the way Sam Chapman played his baseball, too. He did it with grace and with style. He had an abundance of talent. And he was a player whom people of all ages looked up to.
In the long history of Philadelphia baseball, few players enjoyed such a loyal and enthusiastic following as the former A's outfielder. He was a very special player and a very special person.
Acknowledgments
This biography was reviewed by Len Levin and fact-checked by Kevin Larkin.
Sources
Baseball-Reference.com: https://baseball-reference.com/players/c/chapmsa01.shtml.
Westcott, Rich. Diamond Greats – Profiles and Interviews with 65 of Baseball's History-Makers (Westport, Connecticut: Meckler Books, 1988).
Westcott, Rich. Masters of the Diamond – Interviews with Players Who Began Their Careers More Than 50 Years Ago (Jefferson, North Carolina: McFarland Publishers, 1994).
Westcott, Rich. Splendor on the Diamond – Interviews with 35 Stars of Baseball's Past (Gainesville, Florida: University Press of Florida, 2000).
Born
April 11, 1916 at Tiburon, CA (USA)
Died
December 22, 2006 at Kentfield, CA (USA)
If you can help us improve this player's biography, contact us.
https://sabr.org/sites/default/files/ChapmanSam.jpg
600
800
admin
/wp-content/uploads/2020/02/sabr_logo.png
admin
2018-11-06 12:34:36
2020-04-09 14:38:39
Sam Chapman