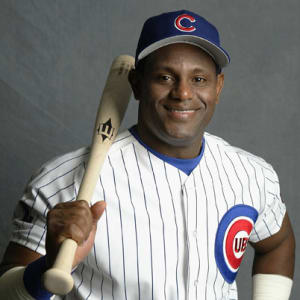 ---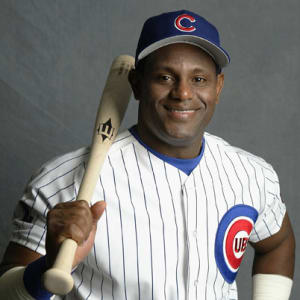 Who is the real Sammy Sosa? Is he the charismatic slugger whose home-run race with Mark McGwire brought baseball's fandom back from the ruins of the 1994 strike? Is he the Dominican shoeshine boy from a poverty-stricken family who became a hero in his country and the United States? Is he a steroid cheater who has never confessed? Is he the egotistical clubhouse cancer who walked out on his team during the last game of the 2004 season? This complex man was one of the most popular and controversial players of his time.
Nobody else has hit 60 home runs in three different seasons. Yet he didn't lead the league in any one of them. In the five-year period from 1998 through 2002 he hit 292 home runs, an average of 58 a year. Nobody has even come close, either clean or chemically assisted. He had seasons of 158 and 160 RBIs, and 10.3 WAR. He was an All-Star seven times and an MVP. His 609 home runs are the eighth highest of all time. Yet he's never been selected on more than 12.5 percent of Hall of Fame ballots. He barely remains on the list with only 8.6 percent in his fifth year of eligibility.
Samuel Peralta Sosa was born on November 12, 1968, in Consuelo, Dominican Republic, one of seven children. His father, Juan Bautista Montero, drove a tractor clearing sugar-cane fields. He died of a cerebral hemorrhage when Sammy was 6 years old. After Juan's death, his mother, Mireya, reverted to her maiden name, Sosa. She had dropped out of school in her teens and worked as a maid and a cook. Sammy and his brothers washed cars and shined shoes to bring in pesos for the family. All of them slept in a single room in the barrio.1
When Sammy was 13, Mireya moved to San Pedro de Macoris, where she married Carlos Maria Peralta. Conditions improved a bit, but Sammy, who was called Mikey by family and friends, prioritized work over school. He and older brother Luis established a business shining shoes for middle-class businessmen. One of them was Bill Chase, an American who was opening a shoe factory. He hired Sammy and became a surrogate father. He bought Sammy his first bicycle, and his first baseball glove.2
Although baseball is the national passion in the Dominican Republic, Sammy wanted to be a boxer. He trained seriously, but when Mireya found out, she made him promise to give it up. That's when he turned his focus to baseball.3 At 14, he attracted the attention of a buscone, or informal agent, quit school, and joined a traveling team with real uniforms. At 15 he signed with the Phillies, but the contract was voided because he was underage. The following year was a parade of tryouts and rejections from other teams. Finally Omar Minaya and Amado Dinzey of the Texas Rangers signed him for $3,500.
Sosa made his official pro debut in 1986 at the age of 17, with the Gulf League Rangers in Sarasota, Florida. At the time he was lean and lithe, about 165 pounds, with speed rather than power his greatest asset. In 61 games he hit .275 with 4 home runs and 11 stolen bases. One of his teammates and best friends on the team was Juan Gonzalez.
The following year they moved up together to Class-A Gastonia, North Carolina. Sosa hit .279 with 11 home runs and 59 RBIs. He was also learning English, primarily by hanging with his American teammates.4 By the end of the season, Sosa and Gonzalez were ranked one and two in the Rangers' farm system.
The next step was Charlotte in the High-A Florida State League. At 19, Sammy was one of the youngest players, hit only .229 and struck out 106 times. Yet he stole 42 bases and drove in 51 runs. At times his behavior roused the ire of some coaches, who were not used to dealing with Latin players, but Minaya protected him.5A strong season in Dominican winter ball brought an invitation to major-league spring training in 1989.
At this time, the Rangers were heavily invested in Latin players. Among them were Rafael Palmeiro, Ivan Rodriguez, Julio Franco, and Ruben Sierra. Sosa and Gonzalez were sent to Tulsa in the Double-A Texas League to start the season. By June, Sammy was hitting .297 with seven home runs, and made the All-Star team. On the parent club, Pete Incaviglia was placed on the disabled list with a sore neck, and Sosa was called up to replace him. He was 20 years old, and had been playing baseball for six years. He flew first class to New York, and on June 16, 1989, hit leadoff in Yankee Stadium, where he singled against Andy Hawkins in his first major-league at-bat. In the sixth inning he doubled off Hawkins and scored his first run.
The next stop for the Rangers was Fenway Park, with Roger Clemens on the mound. He struck out Sosa in the first inning, but in the fifth, Sammy hit one of Clemens's offerings over the Green Monster for his first major-league home run. After a hot start, Sosa started seeing more breaking balls, and his average plummeted to .238. The Rangers sent him to Triple-A Oklahoma City, where he moped a bit and wasn't hitting. However Larry Himes, then general manager of the White Sox, saw something he liked. He projected Sosa as a Minnie Minoso-type player, with speed and a strong outfield arm. So Himes traded aging Harold Baines and Fred Manrique to the Rangers for Sosa, Wilson Alvarez, and Scott Fletcher.
Sammy was sent to Triple-A Vancouver, where he hit .367 in 13 games. The White Sox called him up and he joined the team in Minnesota. In his White Sox debut, Sosa walked twice and went 3-for-3 with a two-run homer as Chicago won, 10-2. In 33 games he hit .273 with an OPS of .765. The first thing he did when he returned home was to buy a house for his mother, partly with a loan from Bill Chase, his businessman friend.
In 1990, the 21-year-old outfielder displayed both his raw talent and inexperience. He hit .233 made 13 errors, and struck out 150 times. Yet he hit 15 home runs, stole 32 bases, and drove in 70 runs. Walt Hriniak, the White Sox hitting coach, had some rigid ideas that conflicted with Sammy's free-swinging approach. It worked for some, but totally frustrated Sosa.6Although the team had a good year, Himes was fired at the end of the season because of conflicts with owner Jerry Reinsdorf. A year later, he would be the GM of the Cubs and trade for Sosa again.
Sammy married an American woman in 1990. It lasted only eight months before ending in divorce. By spring training 1991 he was still sorting through the resulting legal mess, his stepfather died, and the conflicts with Hriniak continued. Though he hit two homers on Opening Day, the White Sox platooned him with Cory Snyder. By July 19, he was hitting .200 and was demoted to Triple A. Recalled in August, he hit only .203 in 116 major-league games. About the only redeeming aspect of that lost season was meeting Sonia Rodriguez. They married the following year, and as of 2018 had six children.
Sosa went to spring training with the White Sox in 1992 amid trade rumors and reports that he was uncoachable. On March 30, Himes pulled the trigger on the best trade of his checkered Cubs tenure. He sent George Bell and $400,000 cash to the White Sox for Sosa and pitcher Ken Patterson. (A year later he made his worst transaction, by failing to meet Greg Maddux's reasonable demands and letting him sign with the Braves.) Sammy was ecstatic. On his way out, he told his White Sox teammates, "Okay boys. I'm out of here. You guys will see me again. I'm going to be the best player in this game."7
At age 23, Sosa was listed at 6 feet tall and a lithe 185 pounds. The Cubs played him in center field, because Andre Dawson was established in right, and hit him at the top two slots in the order because he was the fastest runner on the team. That didn't fit with Sammy's free-swinging style, and when he slumped, manager Jim Lefebvre moved him down in the lineup. He began to hit with power. On June 10 in St. Louis he hit two home runs, for the first time since Opening Day 1991. But a few days later a Dennis Martinez fastball broke a bone in Sosa's right wrist. That put him on the disabled list for six weeks.
He returned on July 27 and hit a home run in his first at-bat. The Cubs swept a three-game series against the Pirates at Wrigley Field. Sammy played a key role with clutch hits. In the final game, his 11th-inning home run won it, and for the first time the chant, "Sam-my, Sam-my" rang down from the stands. In nine games coming off the DL, he hit .385 with three home runs. But the next day fate struck again. He fouled off a pitch that broke a bone in his ankle. Sosa's season was finished. He had only 262 at-bats, hit .260 with 8 home runs and 15 stolen bases. But his hustle, speed, youth, and potential had made him a favorite with Cubs fans.
The next season, 1993, was Sosa's breakout year. Hitting coach Billy Williams and Lefebvre adopted a hands-off approach, encouraging him to just be himself. With Dawson gone, he returned to his natural position, right field. Sosa responded with 33 home runs, 93 RBIs, and 36 stolen bases, the first Cub to make the 30-30 club. At the time, only nine other players had achieved it. The highlight of the season came in Denver on the Fourth of July weekend. He went 6-for-6, giving him nine hits in a row, one short of the National League record. At the end of the season the Cubs signed Sosa to a new contract, for $2,950,000. He bought his mother another new house, and one for himself and Sonia in Santo Domingo.
In 1994 Tom Trebelhorn replaced Lefebvre as Cubs manager. He couldn't have got off to a worse start, losing 12 straight home games. By early May, the Cubs were 6-18. A toxic aura in the clubhouse labeled Sosa as a selfish player. He didn't help matters by sporting a gaudy gold necklace with a 30-30 pendant.8 On the field he led the Cubs in nearly every offensive category. When the season was cut short in August by the players strike and the owners lockout, the Cubs were in last place. Sosa hit .300 with 25 homers, 70 RBIs, and 22 stolen bases in 105 games.
Before the strike was finally settled, there was some confusion about Sosa's free-agent status. His agent, Adam Katz, was in serious discussions with the Red Sox, but in the end Sosa remained a Cub. Himes and Trebelhorn were gone, replaced by Ed Lynch and Jim Riggleman. The Cubs were in the playoff race for a while. Sosa played in the All-Star Game for the first time, won a Silver Slugger Award, and finished eighth in the MVP balloting. He hit .268 with 36 homers, 119 RBIs, and 34 stolen bases.
On the eve of free agency in January 1996, the Cubs signed Sammy to a three-year, $16 million contract. He had bulked up to a listed 200 pounds, and was swinging for the fences. The fans in the right-field bleachers responded to his daily sprint and wave, but the reputation as a selfish player continued. At the All-Star break he was leading the league in home runs, but was not selected on the team. That stung, but Sosa continued to mash. On August 20 he led the league with 40 home runs and had 100 RBIs. But that day he was hit on the right hand by pitcher Mark Hutton of the Florida Marlins. His pisiform bone was broken, and surgery was required. Sosa's season was over. Despite missing the last six weeks, he finished fifth in the NL in home runs.
The Cubs' 1997 season was over by the third week. They lost their first 14 games, a club record. Sammy's contract status was in limbo, as his opt-out clause was being negotiated. Finally, on June 27, he signed a four-year, $42 million contract, making him the third-highest-paid player in baseball. The Cubs limped home with 94 losses, tied for the worst in the National League. Sosa's year yielded 36 home runs, 119 RBIs, and a .251 batting average with a league-leading 174 strikeouts. In and outside the clubhouse, he was labeled as a flop. Jeff Pentland was the new Cubs hitting coach in 1997. He spent that year getting to know Sosa, studying his approach, and formulating a plan. That plan came to fruition in 1998.
Pentland convinced Sammy that he didn't have to swing so hard to hit home runs. He also lowered Sammy's hands and introduced a foot tap as a timing device. Sosa was coached to become more selective, take walks, and hit to right field when that was all the pitcher gave him. Sosa wrote, "Of all the coaches I've had in my life, he is the one who has gotten the most out of me…."9
Sammy started the 1998 season slowly. By May 22 he had only eight home runs. The drought was broken with a 440-foot shot to center field off Maddux. By the end of the month he had 13, still 14 behind McGwire and trailing several others. In June, Sosa made history with 20 home runs, breaking Rudy York's 1937 major-league record of 18 in one month. At month's end the gap with McGwire was down to four, and the national media began to notice. Sammy's homer hop, heart tap, and kisses blown to his mother from the dugout, became staples on ESPN's SportsCenter and Baseball Tonight. On July 27 at Phoenix he hit the first grand slam of his career, driving in all the Cubs runs with two homers in a 6-2 win. It was the 247th of his career, which broke Bob Horner's record (207) for the most home runs before the first grand slam. Making up for lost time, Sosa hit another the next day. On August 19 he hit homer number 48 against the Cardinals to take the lead for the first time. It didn't last long, as Big Mac hit two in the same game. Later in the game, after Sosa walked, McGwire turned to him and said, "Hey, I think we're going to do it."10
As the pressure built, McGwire seemed to feel it more. Sosa embraced it, maintaining a happy face with the press and the fans, who in turn embraced him. When a bottle of Androstenedione was spotted in McGwire's locker, Sosa attributed his own physique to Flintstones Vitamins. Number 57 broke the Cubs' single-season record set by Hack Wilson in 1930. When Big Mac hit number 62 against the Cubs, Sosa ran in from right field and hugged him. In a dramatic September series at home against the Brewers, Sammy hit numbers 59 to 62 to tie McGwire. Number 63 in San Diego tied the race again. The overflow crowd gave Sammy a standing ovation on each trip to the plate. In the eighth inning the Padres were ahead, 3-2.The bases were loaded, Sammy got another standing O, then hit one into the upper deck for a 6-3 win. He took a curtain call as the San Diego management set off fireworks. Padres players later complained. On September 25, Sosa hit number 66 to take the lead for the final time. That lasted about a half-hour as Mac connected against Montreal. McGwire hit four the last two games of the season to finish with 70. Sosa hit .308 with 66 home runs, a league-leading 158 RBIs, 134 runs scored, 416 total bases, and 171 strikeouts. With the Cubs making the playoffs (and quickly eliminated by the Braves) Sammy was the winner of the MVP Award. He and McGwire were selected co-Sportsmen of the Year by Sports Illustrated. The Cubs had a day for Sosa in September and gave him a purple Plymouth Prowler. McGwire received a classic red 1962 Corvette from the Cardinals on his day.
The offseason brought more recognition and honors. President Leonel Fernandez of the Dominican Republic made Sammy an ambassador. When a hurricane hit his country, Sosa sparked humanitarian aid with money, publicity, and personally distributed food, water, and medicine. At the State of the Union address, President Bill Clinton introduced him and acknowledged his accomplishments. Endorsements and offers flooded his agent.
Sosa and McGwire repeated their race in 1999, but this time a jaded public wasn't nearly as excited. Rumors about performance enhancing drugs were swirling not only around them, but about the entire generation of sluggers that suddenly made 30 to 50 home runs commonplace. Sosa briefly addressed PEDs in his autobiography: "I have never used Andro, nor do I plan to. … While it's true that I tried the food supplement Creatine once or twice, I never saw it have any particular impact on my body or development. … I attribute my physical development to many years of strict weight training and proper nutrition. …"11
The Cubs crashed in 1999, beset with injuries and bad vibes, losing 95 games and finishing last in their division. Some players resented Sosa's ego, his entourage, and his loud salsa music in the tiny clubhouse. Regardless, he had another banner year. On September 18 he became the first player to hit 60 home runs in more than one season. McGwire quickly caught up and finished with 65 to Sosa's 63. Sammy hit .288 and drove in 141 runs. He led the league in games played, 162, total bases, 397, and strikeouts, 171. Riggleman was fired and replaced by Don Baylor.
Sosa hit only 50 home runs in 2000, but led the league for the first time. He became more selective at the plate, hitting .320 with a higher OBP, .406, and OPS, 1.040, than in his 60-home-run years. He also won the Home Run Derby at the All-Star Game. The Cubs limped home in last place again.
In many ways, Sosa's 2001 season was better than his MVP year. He hit a career-high.328, led the league with 146 runs, 160 RBIs, 37 intentional walks, and 425 total bases. With 64 home runs, he became the only player in history to hit 60 three times. He finished strong, hitting .377 in his final 57 games. He was 10-for-15 with the bases loaded, including two grand slams, totaling seven for his career. In MVP voting he finished second behind Barry Bonds, who hit 73 homers in his monster year.
Sammy made cameo appearances in two movies that year: Hardball and On the Line. In 1997 he had appeared in Kissing a Fool. Each had low ratings on the Rotten Tomatoes website.12
Sosa won his second home run crown in 2002, with 49. On August 10 he hit three three-run homers in consecutive innings. It was the sixth three-homer game of his career, tying Johnny Mize's major-league record. Sosa's 122 runs scored led the league for the third time, to go along with a .288 average and .399 OBP. Sosa made his fourth All-Star Game start and won his sixth Silver Slugger. By now, rumors of steroid use and clubhouse dissension were rampant. But throughout the losing years, Cubs management promoted and indulged Sosa, as he kept putting people in the seats.
Dusty Baker took over as manager in 2003.The Cubs won the Central Division, and advanced to the League Championship Series, eventually blowing a three-games-to-one lead to the Florida Marlins. Sammy pitched in with 40 homers and 103 RBIs. At age 34, his bat was slowing down but he kept achieving milestones. On April 4 he became the 18th player to hit 500 home runs, and the first NL player with six consecutive 40-home-run seasons. In the playoffs that year, Sosa hit his first two postseason home runs. One came in the ninth inning of the first NLCS game against the Marlins, sending it into extra innings.
Two incidents that year may have contributed to Sosa's decline. On April 20, he was hit in the head by a Salomon Torres fastball that smashed his helmet. Concussion protocols weren't in place then, and Sammy played the next game. But he hit only one home run in his next 98 plate appearances. Then on June 3, his bat broke on a swing against the Tampa Bay Rays. Home-plate umpire Tim McClelland found cork in the center of the shattered club. Sosa was kicked out of the game, and eventually suspended for seven games. Sammy claimed it was a batting practice bat that he accidentally picked up. Sosa's other bats were X-rayed with no evidence of cork. But his credibility took a major hit. Whether the bats, or the concussion, or age, or backing off PEDs contributed to Sammy's decline is still a subject for debate.13 During that season, random anonymous drug tests were administered to major-league players. In 2009 a list of players who failed was leaked to the New York Times. Sosa's name was on that list. A summary article was published in July.14
The 2004 season marked the closing of Sosa's era with the Cubs. He passed Ernie Banks for the team's career home-run record with 545.Other than that, it wasn't pretty. He went on the disabled list when a violent sneeze caused back spasms. He hit only .253 with 35 homers and 80 RBIs. During the final week of the season, the Cubs blew a wild-card lead and missed the playoffs. On the final day, Sammy asked Dusty Baker not to play him. He disappeared from the bench, and security cameras showed him driving away shortly after the game started. When his teammates found out, they vented their anger on his boombox. When Cubs management released the security tape to the press, it became evident that he couldn't return.
Trading from a position of disadvantage, the Cubs didn't get much. The Baltimore Orioles sent them Mike Fontenot, Jerry Hairston, and Mike Crothers for Sosa and cash. Sammy played in only 102 games in 2005, hitting .221 with 14 homers and 45 RBIs. His biggest headline came when he testified before a congressional committee in the PED investigations. Speaking in Spanish with a translator, he denied ever using steroids. Sosa and McGwire were excoriated for their testimony. To this day, the only actual link of Sosa with PEDs is that leaked report of a failed test in 2003.
Only one team offered Sammy a contract in 2006, and he didn't like the terms, so he sat out that year. Still, there was one more milestone to pursue. So he signed with the Texas Rangers in 2007 for the major-league minimum salary and a spring training invitation. On June 20, he hit his 600th career home run, off Cubs pitcher Jason Marquis. Ironically, Marquis was wearing Sammy's old number, 21. At age 38, Sosa hit .252 with 21 homers and 92 RBIs. It was a far more fitting finish than the down year with Baltimore.
With nothing left to prove, Sammy told his agent not to seek another contract. Since then, Sosa has mostly stayed out of the limelight. Occasionally there are reports of extravagant overseas birthday celebrations.15 He has invested in and lent his name to several business ventures. His net worth is estimated at $70 million. That's a long way from shining shoes on the streets of San Pedro de Macoris.
The remaining loose thread is Sosa's relationship with the Cubs. He hasn't been invited to Cubs Conventions or historic Wrigley Field celebrations, or had his number 21 retired, although ownership and management from his playing days is gone. Other sluggers of the steroid era like Barry Bonds, Mark McGwire, and Manny Ramirez have been welcomed back like prodigal sons. Sosa hasn't. History is a major element of the Cubs' appeal. With the passing of Ernie Banks and Ron Santo, they are running low on iconic figures. Occasional rumors surface of contact between representatives, a need for apologies, and statements from bloggers and fans.16 But as of 2018 Sosa remained in limbo with the organization where he spent the best years of a historic career.
Last revised: March 1, 2018
This biography appears in "From Spring Training to Screen Test" (SABR, 2018), edited by Rob Edelman and Bill Nowlin.
Sources
In addition to the sources cited in the Notes, the author also consulted the following:
Baseball-Reference.com.
Chicago Tribune. Sammy's Season (Chicago: Contemporary Books, 1998).
Chicago Cubs Information Guides, 1993 and 2004.
Davis, Ryan. "Despite Cloud of Suspicion, Sammy Sosa's Career Is Still Hall-Worthy," January 7, 2015, cubsinsider.com/despite-cloud-suspicion-sammy-sosas-career-still-hall-worthy/.
Bernard, Zach Bernard. "Redefining Sammy Sosa's Baseball Legacy," January 4, 2016, baseballessential.com/news/2016/01/04/redefining-sammy-sosas-baseball-legacy/.
Notes
1 Sammy Sosa with Marcus Breton, Sosa, an Autobiography (New York: Warner Books Inc. 2000), 24-25.
2 Sosa with Breton, 31-32.
3 Sosa with Breton, 41-42.
4 Sosa with Breton, 74.
5 Sosa with Breton, 86.
6 Sosa with Breton, 118.
7 Sosa with Breton, 126.
8 Joseph A. Reaves, "What Makes Sammy a Star?" Chicago Tribune, June 16, 1995.
9 Sosa with Breton, 183.
10 Sosa with Breton, 190.
11 Sosa with Breton, 191.
12 rottentomatoes.com/celebrity/sammy_sosa/.
13 Bradley Woodrum, "The Three Declines of Sammy Sosa," January 29, 2015, hardballtimes.com/the-three-declines-of-sammy-sosa/.
14 Michael S. Schmidt, "Sosa Is Said to Have Tested Positive in 2003," New York Times, June 16, 2006.
15 si.com/extra-mustard/2015/11/17/sammy-sosa-birthday-party-dubai.
16 Scott Miller, "Sammy Sosa in Exile: There's Silence Rather Than Apology From Former Cubs Star," February 25, 2015. bleacherreport.com/articles/2368638-sammy-sosa-in-exile-theres-silence-rather-than-apology-from-former-cubs-star.
Born
November 12, 1968 at San Pedro de Macoris, San Pedro de Macoris (D.R.)
If you can help us improve this player's biography, contact us.
https://sabr.org/sites/default/files/SosaSammy-Cubs.jpg
600
800
admin
/wp-content/uploads/2020/02/sabr_logo.png
admin
2012-01-04 20:30:04
2022-11-07 11:52:13
Sammy Sosa