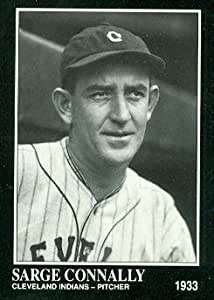 ---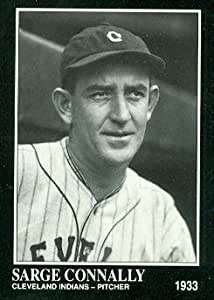 One of the early relief specialists in the majors, George "Sarge" Connally started just 67 times in 304 games across a 12-year big-league career (1921; 1923-29; 1933-34). Connally never shied away from hard work. In 1933, at the age of 34, he exemplified his other nickname—"Rubber Arm"—by making eight relief appearances for Cleveland from June 20 through July 2. Relievers in the 21st century often work that frequently but face just a handful of batters or fewer before giving way to the next man.1 During Connally's stint he never faced fewer than seven batters in an appearance.2
Further evidence of his toughness and work ethic can be seen in his post-baseball life during World War II. Back in his native Texas he worked as a pipefitter in a military ordinance factory and operated a 350-acre farm.3
George Walter Connally was the sixth of nine children born to Marietta (Smith) and George W. Connally.4 He joined the farming family on August 31, 1898, near McGregor, Texas in McLennan County. He graduated from high school in McGregor before enrolling in nearby Meridian College. United States involvement in World War I caused him to leave school and enlist in September 1917.5 He never returned to an academic life.
Connally served with the Supply Company of the 64th Artillery. Military records show him shipping over to France in July 1918 just about the time Stars and Stripes announced that no more sporting pages would be printed until a victory was achieved. Consequently, any information about possible play overseas is unknown.6 He left France in February 1919 and mustered out in May 1919.
After a brief stint in civilian life, Connally entered the Marine Corps. It was widely reported that he earned his nickname of "Sarge" from his rank in the Marines. Muster rolls indicate that he spent much of his service time on the West Coast in California and Washington. When granted leave, he was known to travel up and down the coast to pitch for semipro squads. The Sporting News mentioned that he traveled from San Francisco to Washington State for a game and then right back to duty.7 He also pitched for his unit/base and once tossed a no-hitter.
As a Marine, Connally also earned a medal for bravery by saving a drowning sailor. The incident took place near San Pedro, California, in 1920. He rescued a member of the battleship Wyoming's fire crew.8 The medal was awarded by Congress in 1925.9
Connally began his professional career in 1921 with the Yakima (Washington) Indians in the Class B Pacific Coast International League. The Indians were the class of the league and took both the first- and second-half titles. Known as "Conley" or "Connelly," the righty made his debut on July 20 but took the loss, 5-3. Connally posted a 9-3 record and batted .215 with two home runs. In late August he set a new league strikeout mark by retiring 17 Tacoma batters in a 7-6 loss.10
Local writers dubbed Connally "Speed" because of his fastball but also noted that he had an effective curve.11 In later years he threw two fastballs—one with a "hop" and one without—and added a change of pace.12 Yakima manager Tealey Raymond, mindful that money from contract sales kept the franchise in business, worked closely with major-league scouts who covered the Northwest. When the season concluded, Connally was sent to the Chicago White Sox. Joining him on the journey to the Windy City was shortstop Carter Elliott, who had been purchased by the Cubs.13
Connally was joined on the Sox by John D. (Lee) Thompson, who had pitched for league rival Victoria. Thompson debuted on September 10 versus the Detroit Tigers and went into the 10th inning tied 3-3 before losing steam. Connally made his debut in relief to close out the inning in an 8-4 loss.
The following day, he took the hill for his first major-league start against the Tigers. "Though the kid took a licking, he did his slabbing in impressive style." At the plate he "procured two (hits), and they were line drives, too."14 He allowed four runs in seven innings to take the 5-1 loss. During the last days of the season, he got another start that resulted in no decision, as well as two relief appearances.
Connally went to camp the following spring and earned a spot on the roster to start the season. He was farmed out to Toronto in the International League on April 15. Manager Eddie Onslow made Connally a workhorse. He was second on the team in innings pitched (204) and his 10 wins were tied for second-best on the squad. He earned another spring-training trip with the White Sox.
Connally went north again in 1923 and made three relief appearances. As the roster cutdown date approached, he was sent to the Galveston (Texas) Sand Crabs in the Class A Texas League. He debuted on May 25 with a 9-1 win over the Dallas Steers and pitcher Slim Love.15 Sarge threw 248 innings and posted a 16-9 record. Both the innings worked and wins were second on the team. He stayed in Galveston after the season and played for an all-star team. Those games extended into mid-November.
In 1924 Kid Gleason was replaced by Johnny Evers as White Sox manager. Taking a page from the Washington Senators and the way they used fellow Texan Firpo Marberry, the Sox employed Connally as a spot starter and reliever. Through June he made four starts; then in July he made seven starts, including a marathon 14-inning, complete-game loss to the Yankees. He made only two more starts that year, closing with 44 appearances covering 160 innings. He had a 7-13 record (3-8 as a starter) with the equivalent of six saves.16
Sarge became a favorite of the sportswriters with his easygoing, down-home style. But the fans took a different tack. Connally complained, "When I go out to pitch for the Sox the first thing I hear the fans say is, 'Who is that busher?' When I walk down State street (sic) or Michigan avenue (sic) in Chicago I don't get a rise out of the thousands who pass me. Now in Texas it was different. I had friends in every town … people spoke to me just as if I was a regular human being."17
Connally gave his teammates plenty to talk about over the years. Luke Sewell was renowned for his collection of Connally stories. Sarge was well known for bringing his pets with him to spring training or his home city. One year he roomed with a cat, a coon, and a hen. "Players can talk for hours about roomie experiences," according to J.G. Taylor Spink.18 His menageries became so notorious that the Youree Hotel in Shreveport, Louisiana wrote a "no livestock" clause into the contract for Sox spring training.19
Eddie Collins had closed out 1924 as White Sox manager and returned in 1925. He saw the value of Connally as a reliever and gave him only two starts, in which Sarge went 1-1. On May 26, in relief of Ted Lyons with Chicago trailing 3-1 in the ninth, he had arguably his worst outing ever. He surrendered four hits and a walk while recording just a single out against the Tigers. He did not see action for a month after that. Finally back in Collins' good graces, he finished the season with 41 appearances, a 6-7 record, and (as calculated decades later) seven saves.
The following season proved to be his best statistically. He posted his first winning record in the majors (6-5) and got four saves. He also had a 3.16 ERA, his best in the majors.
In 1927 Ray Schalk took over club leadership and used Connally as a swingman. He made 18 starts, resulting in 11 complete games. He also made 25 relief appearances with five saves and worked the most innings (198 1/3) of his major-league career. His 10 wins were also the most he recorded in the majors.
In 1928 Connally earned four starts by May 8 but lost them all. He surrendered 15 runs (12 earned) but had only seven runs in support. He went to the bullpen, where he endured a terrible month of July, allowing 17 earned runs in just under 20 innings of work. New manager Lena Blackburne used him just once in the regular season after July 27. It was speculated that Connally would soon be gone from the majors.20 He proved the pundits wrong and was still with the Sox in 1929. He made 11 appearances before being optioned to Dallas in the Texas League in June.
After a lackluster debut with the Steers on June 19 in Beaumont (six hits, three walks, and seven in seven innings), Connally piled up 180 innings and posted an 11-9 record. The Steers won the league pennant and faced the Birmingham Barons of the Southern League in the Dixie Series. Connally was assigned to the bullpen for the series and saved Game Three with a strong final two innings. Club president Fred McJunkin was so elated with the performance that he told George to "buy a $75 suit and send him the bill."21
Connally started Game Five but took the loss, 8-4. Birmingham captured the title the following game. Nonetheless, Sarge's performance rekindled White Sox interest in him; he went to spring training in 1930 with the Sox under new manager Donie Bush.
As Chicago broke camp, Bush suspended Connally for breaking training rules, sending the pitcher home until he was willing to adhere to Bush's standards.22 On April 21 he was released outright to the Toledo Mud Hens in the American Association, where he would join manager Casey Stengel.
Connally wasted little time in becoming the ace of the staff. He posted an 18-10 record and worked a career high 235 innings for the third-place Hens. The following year the team plummeted to the cellar but Connally still posted a 12-5 record at midseason. His contract was sold to the Cleveland Indians for $20,000 and a pitcher on option (Milt Shoffner) for the remainder of the season.23 Cleveland General Manager Billy Evans told fans, "although Connally is 33 years old, I think he still has several years of good pitching left in him."24 Sarge proved him correct by turning in three seasons of capable relief work, with the occasional start still mixed in.
He quickly endeared himself to Cleveland fans in his first appearance when he faced the champion Philadelphia Athletics on July 25 in Philadelphia. Sarge struck out Jimmie Foxx the first three times and coaxed a grounder the fourth time. He lost the game, 3-2, in the ninth on a Mickey Cochrane double followed by two singles.25
For the season, Connally made nine starts and eight relief appearances. He was 3-5 as a starter with five complete games. In relief he won two and saved one.
The following season he made only seven starts in 35 appearances. Bolstering his "rubber-arm" reputation, he tossed four complete games. As a reliever he was 4-4 with three saves. The following year he made 41 appearances, only three of them starts. He struggled with his control and his ERA rose to 4.89. During July he was unable to hold any of his opponents scoreless.
Connally made the Indians roster again in 1934. During spring training, he made a unique relief appearance in an exhibition with the New Orleans Pelicans. The Indians' starting pitcher that day was Babe Didrikson, the 23-year-old Olympic medalist. She tossed two scoreless innings, as did Sarge, who followed her.26
Connally saw little action in the regular season because of a nagging tooth infection. By July 4 he had made only four appearances, though he had a 0.00 ERA. That all changed on July 18, when he was hammered for three runs by the Yankees, raising his ERA to 5.06. On July 23 he was sent to Buffalo when Clint Brown returned from injury.
Connally played 14 games with Buffalo. The following season the Bisons trained in Fort Lauderdale, but Sarge opted to stay in Texas and play for a semipro team. In mid-June he joined Dallas again but was released on July 7 after five games. His next stop was with Henderson in the Class C West Dixie League.
Sarge's career came to a screeching halt when he was hit in the head by a batted ball in practice. He returned to his home in McGregor to recover but reportedly suffered a stroke that severely hampered his left side. It took more than a year for him to regain full use.27 Miraculously, he joined the Palestine Pals in the Class C East Texas League in the summer of 1936. Then he returned to semipro baseball in 1937 and played a couple of seasons with teams from Waco.
Connally enjoyed a lengthy and successful baseball career. The same could not be said about his married life. A marriage license for George and Effie Borgen was issued in Snohomish, Washington, in June 1920. How long this marriage lasted is uncertain. His second wife was named Phyllis. They separated in 1929 and a divorce was finalized in 1931. She received property in lieu of alimony.28 Soon after, he married Frances Lewis of Eldorado, Arkansas.
Connally and Frances had a son, George Jr., born August 20, 1933.29 That marriage also ended in divorce. George Jr. followed in his father's military footsteps and enlisted in the Air Force. He served in Vietnam and beyond, rising to the rank of sergeant.
In 1939 George took Beulah Jackson as his bride and finally found a lifelong companion. He even nicknamed his property in Texas, "Beulah Land."30 The couple moved to California in the late 1950s, and Connally worked there as a security guard. They eventually returned to McLennan County.
Beulah took ill and died in a nursing home in January 1974. Connally struggled with his health after that. Writer Hal Lebovitz mentioned in 1976 that Sarge was confined to a wheelchair and seldom had any company.31
Sarge Connally eventually died of complications from sepsis in the Veterans Administration Hospital in Houston on January 27, 1978. He was buried in the Harris Creek Cemetery in McGregor.
Acknowledgments
Baseball Reference and Retrosheet were used for details about Connally's career. Thank you to Ebay dealer photo_gems, who was kind enough to send a copy of Connally's entry in the 1933 Who's Who in Baseball. The article confirmed his third wife and mother of George Jr. Thank you to SABR scouting guru Rod Nelson, who provided clues on Connally's discovery by the White Sox.
This biography was reviewed by Rory Costello and Joel Barnhart and fact-checked by Kevin Larkin.
Notes
1 For comparison purposes, Yusmeiro Petit led the AL in appearances in 2019. The most batters he faced in a game was eight and he did that twice in 80 appearances according to his gamelog on BaseballReference.
2 Sam Otis, "Sarge Connally Earns His Nickname of Rubber Arm," Cleveland Plain Dealer, May 8, 1934: 16. Otis incorrectly claimed Sarge pitched nine out of 11 days.
3 Harold V. Ratliff, "Old Sarge is Doing a Two-Man Job Now," The Odessa (Texas) American, January 28, 1944: 6.
4 Marietta is sometimes written Mary Etta. Sarge was technically a Jr. but seldom used the term. It appears most frequently on his military paperwork. Including a form where he asked for the Jr. to be removed.
5 Connally's questionnaire for the Baseball Hall of Fame in Cooperstown lists service in the army from September 1917 to May 1919.
6 The author did find a story that Connally faced Smokey Joe Wood in France. That would have been a fun reveal except that Wood was an outfielder for Cleveland and did not serve.
7 "George Walter Connally," The Sporting News, April 6, 1922: 2.
8 "Connally Gets Medal for Saving Fireman," Dallas Morning News, July 17, 1925: 17.
9 Ratliff, January 28, 1944.
10 "New Strike-Out Record," Victoria (British Columbia) Daily Times, August 29, 1921: 11.
11 Stub Nelson, "Gibson is Sold to Seattle Club," Tacoma Daily Ledger, August 10, 1921: 8.
12 "Connally is Puzzle to Buffs and Crabs Win, 6-5," Galveston Daily News, June 7, 1923: 4.
13 "Yakima Continues Winning Streak," Daily Ledger, September 5, 1921: 3.
14 James Crusinberry, "Sox Rookie' Looks Good in Spite of Tygers Win, 5-1," Chicago Tribune, September 12, 1921: 15.
15 "Crabs Bump Dallas into 3rd Place," Galveston Daily News, May 26, 1923: 4.
16 Saves did not become an official record until 1969. His saves total was done retroactively.
17 "White Sox Pitching Find Wants to go back to Dear Old Texas," The Richmond (Indiana) Item, July 24, 1924: 8. This syndicated article appeared across the country under various headlines.
18 J. G. Taylor Spink, "Three and One," The Sporting News, July 9, 1936: 4.
19 Edward Burns, "Sgt. Connally's Pets Waiver Out of the Major Leagues," Chicago Tribune, December 25, 1927: A3.
20 Edward Burns, "Sox Start Well, but Athletics Finish Better," Chicago Tribune, July 28, 1928: 15.
21 Jimmy Moore, "Steers "Cussed" One Another Angry in the Sixth and Went Out to Put on Rampage, Says Jim," Dallas Morning News, September 29, 1929: 1.
22 "Bush in First Disciplinary Measure," San Antonio Light, April 3, 1930: 9.
23 "Tribe Pays $20,000 for Toledo Star," Plain Dealer, July 19, 1931: 82.
24 Ibid.
25 "Harder Due to Face A's Today," Plain Dealer, July 26, 1931: 86.
26 Gordon Cobbledick, "Johnson Leads Rally as Indians Win 2 Games," Plain Dealer, March 26, 1934: 17.
27 Paul Moore, "Sports Notes," Corsicana (Texas) Daily Sun, January 25, 1944: 7. The stroke story and the timeline of events don't mesh cleanly. There were also reports that he left baseball in 1935 because of illness. Either way he had to struggle to return to pitching condition for Palestine.
28 "Connally Loses Suit for Divorce," Plain Dealer, December 4, 1931: 22.
29 "Cooke Beaned, 3 Other Red Sox Players Hurt," Plain Dealer, August 21, 1933: 14.
30 Ratliff, January 28, 1944.
31 Hal Lebovitz, "Notes Off the Cuff," Plain Dealer, July 17, 1976: 49.
Born
August 31, 1898 at McGregor, TX (USA)
Died
January 27, 1978 at Houston, TX (USA)
If you can help us improve this player's biography, contact us.
https://sabr.org/sites/default/files/Connally%20Sarge.jpg
600
800
admin
/wp-content/uploads/2020/02/sabr_logo.png
admin
2020-02-21 10:44:51
2020-04-09 14:37:26
Sarge Connally