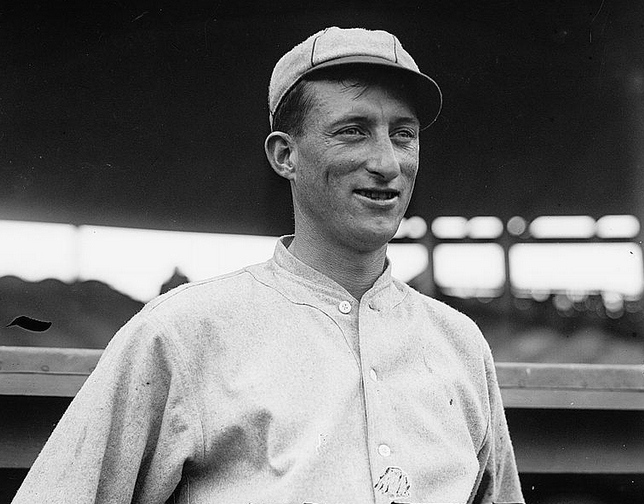 ---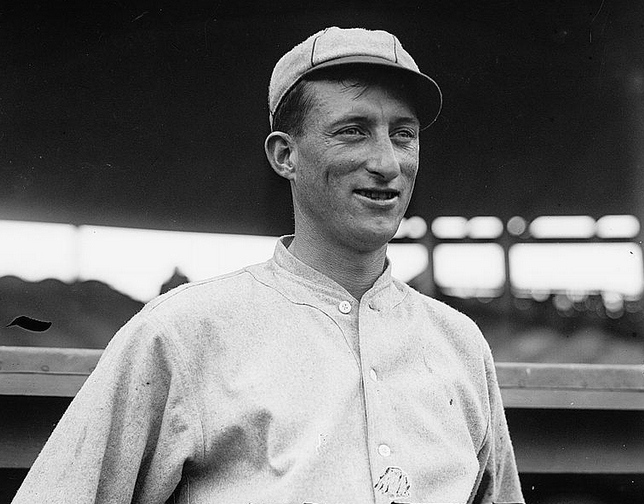 Hall of Fame catcher Roger Bresnahan claimed that Slim Sallee "had the best control of any southpaw that ever curved a ball over the plate." Pitcher Dutch Ruether said, "He [Sallee] is a wonderful pitcher. If I ever begin to learn all he knows about baseball I shall be satisfied." Baseball Magazine attributed Sallee's success to "imperturbable calm which nothing can disturb, faultless control, and back of all a scheming, crafty brain wise to all the quirks and twists of the pitcher."
Despite his talents, Harry Sallee's career was checkered with training rule violations, fines, suspensions, threats of retirement, and a constant battle with alcohol that eventually ended his life. Further, he toiled in obscurity for eight and one-half seasons with what might have been the worst major league team of the Dead Ball era. Through it all, Sallee was considered one of the National League's best pitchers.
Born Harry Franklin Sallee in the tiny Ohio River village of Higginsport, Ohio, in 1885, his 6-foot-3, 148 pound frame inspired nicknames such as "Slim," "Scissors," or "Slats." As a youth, he practiced his control by knocking cans and bottles off of fence posts with rocks, earning the nickname of "Scatter." One sportswriter called him the "Sheriff of Higginsport," referring to an office Sallee never held.
Sallee had a rare and unique delivery known as the "cross-fire." Wearing his cap yanked low over his eyes, he went through a slow motion procedure that hypnotized batters and exasperated umpires. Placing his right foot to the third base side of the rubber, while keeping his left foot on the rubber at the extreme first base side, Sallee cranked his arms straight up behind his head, leaning far back as he threw his right leg skyward to a set position. He would then step or plant the right leg at a 45-degree angle between first base and home plate, finishing his follow-through on the extreme first base side of the pitching mound, delivering the ball at one of many possible arm angles. Batters constantly complained that it looked as if Sallee's ball was arriving from first base.
It was an accident that first launched Sallee into the limelight. The regular pitcher for the Higginsport town team failed to show up for a much-anticipated game against a team from Augusta, Kentucky. As the Higginsport coach searched through the town trying to find a replacement, he stumbled upon young Sallee sleeping on a soapbox in a livery stable. Wearing a torn flannel shirt and bored to death, Sallee agreed to pitch. Even though he was the best of the town's kid ballplayers, the coach hoped for only a passable showing. Sallee not only won the game, but amazed the Augusta players and the Higginsport people with his pitching skill.
As his reputation grew, the nearby Georgetown, Ohio team began "borrowing" Sallee for important games against touring ball teams. Quickly becoming one of their regular pitchers, he developed so rapidly that in 1904 Pittsburgh Pirates pitcher Charlie Case, a Georgetown resident, recommended him to Dick Kinsella, the Springfield (Illinois) team owner and famous major league scout. Kinsella got Sallee a job with a semi-professional team in Clinton, Iowa, but the team folded in July and Sallee returned to pitch for Georgetown. Finally, that fall, Georgetown area resident Harry Vaughn, the manager of the Birmingham Barons, signed the lanky lefthander for his Southern Association team.
In his first professional start during spring training of 1905, the 20-year-old Sallee hurled an 11-inning complete game, defeating the visiting Cleveland Naps. After watching Sallee allow only two hits over the final eight innings, Cleveland star Napoleon Lajoie "thought Sallee's actions in delivering a ball when there was a runner on first was a balk, but when he looked it over, he declared it was something marvelous."
A few weeks later, a broken hand forced Sallee to sit out a month. Sent to Meridian, Mississippi, of the Cotton States League to work himself back into shape, he led the league in wins and winning percentage before the league shut down due to a yellow fever epidemic. After winning 10 games for Meridian and another eight for Birmingham, Sallee's first season in professional baseball yielded an overall mark of 18 wins and 10 losses.
Returning for a second year with the Barons in 1906, Sallee's 17 wins helped Birmingham win its first Southern Association pennant. New York Highlanders' manager Clark Griffith drafted Sallee and carried him on the New York roster for the final week of the 1906 season, but with an abundance of pitchers on the Highlanders Sallee was released to Williamsport of the Tri-State League the next spring. Williamsport won the 1907 league championship, while Sallee led the league with a 22-5 record.
With 57 wins and two minor league championships in three years, Sallee had his contract purchased by the St. Louis Cardinals. Although he pitched extremely well in spring training, even pitching seven innings of a combined no-hitter, Sallee's first major league start didn't come until late May of 1908, a four-hit shutout of the New York Giants. He defeated the Giants for a second time in only his third start, earning a "Giant Killer" reputation. However, the 1908 Cardinals not only led the league in errors, topping the next highest team total by 93, but scored the fewest runs while allowing the most. During a four-week period, the team scored only five runs in the 45 innings that Sallee pitched. In two consecutive pitching duels against Christy Mathewson, Sallee lost both games because of infield errors, one in the 12th inning of a 2-2 game, the other in a 1-0 loss.
It was during this time that the 23-year-old rookie's drinking and bad training habits began to affect his career. When the routine of practice got too strenuous, Sallee would leave St. Louis' League Park and walk across the street to a social club known as the "Grass Eaters," housed only 100 feet away from the clubhouse. Sallee often "exercised his rights as a member" of this social club. One clubhouse boy said that during games Sallee would lower a bucket over the fence on a rope to a confederate who would fill it at the social club. Sallee would then find it necessary to "change shirts," walking to the clubhouse in center field. After disappearing once for 10 days, it was learned upon Sallee's return that he had become interested in river navigation and was serving as a deckhand on a boat traveling between St. Louis and Memphis.
Having traded away three starting pitchers in acquiring new player-manager Roger Bresnahan, Sallee was one of the team's young "promising sensations" for 1909, someone who "looked to have a world of speed." Sallee demonstrated his incredible control during his first start of the 1909 season, a four-hit victory over the Cubs, by throwing a first pitch strike to every batter. As in 1908, four or more errors in a game were not uncommon for the Cardinals. In a doubleheader loss to Cincinnati, the Cardinals made 17 errors. After 12 appearances and a 4-6 record, Sallee had allowed 35 runs, but only 20 were earned.
On August 9th Bresnahan suspended Sallee after the pitcher inexplicably vanished for a week. When he finally returned, it was learned that he had been only a mere two blocks away the whole time. After pitching poorly in his next several starts, including two games in a row that he couldn't hold large leads, he quit the team. He told a friend, "I'll admit that I've done a few things I shouldn't have done, but who hasn't? It was bad enough for them to suspend me, but when they bunched that with the fines of almost $600 this season, why I come to the conclusion that I'm almost through with the gang. I have several offers to play elsewhere and may possibly take one of them if I can get released honorably by Bresnahan. I'm going up to Higginsport, and I'll stay there the rest of this season. And what is more, I'll never go back to St. Louis."
"Never" lasted only until the next season, but his troubles continued. After showing up a week late, Sallee severely twisted an ankle, requiring the use of a cane, and missed most of the 1910 spring training session. Just before opening day, he disappeared for over a week. Upon his return, and an accompanying promise to behave, Sallee defeated the Giants in his first start. Later in July, he again disappeared for two days and was suspended, but once again was reinstated in time to shut out the Giants 2-0. Bresnahan desperately tried to trade Sallee to another team. Manager Fred Clarke of Pittsburgh said, "Sallee is a great pitcher, but he has very bad habits and for this reason I could not be induced to have him on my team. No, not even if Bresnahan would give him to me for nothing." Two weeks later, Sallee was missing again and was finally placed on indefinite suspension. Making no effort to return to the game, he picked up a living by pitching games for local teams around St. Louis, and by helping a huckster sell vegetables from a cart.
After Sallee got in shape and again promised to behave, Bresnahan declared that in 1911 his pitcher would be the best lefthander in the National League. As it turned out, Sallee's 15 wins helped St. Louis to its first winning record since 1901. However, in early July, Pittsburgh's Fred Clarke, who the prior year wouldn't take Sallee "for nothing," was hit in the head by a Sallee pitch, for all intents and purposes ending Clarke's Hall of Fame playing career.
Later that month, while en route to Boston, the Cardinals were involved in a tragic train wreck, claiming the lives of 12 passengers. Sallee and his teammates received many accolades for their part in the rescue effort; however, this event left a lingering effect on the ball club. While in New York in late August, Sallee again "fell off the water wagon" and was unable to pitch. He was fined and suspended for the remainder of the season, a season that had started off with promise.
Completely sober and with a new attitude in 1912, Sallee was the first to show up to spring training and even optimistically predicted a second place finish for the Cardinals. Bresnahan named Sallee assistant manager, and sent his hurler along with a squad of pitchers and catchers for early workouts in Hot Springs, Arkansas. Claiming he "never felt so nearly perfect this early in the season", Sallee finally lived up to his ability, pitching a career high 294 innings and winning 16 games. He also established himself as a "rescue artist," with four relief wins and a league-leading six saves.
Sallee's 1913 season was probably his finest effort in all his years in baseball. He won 19 games for a last place team that won only 51, a team that finished last or next to last in every offensive category. Sallee pitched in 50 games and had an ERA of 2.71, well below the team and league average. The 1944 book Kings of the Mound: A Pitcher's Rating Manual, rated Sallee's pitching in 1913 as one of the finest seasons in history. In addition, he slugged his only two career home runs that season, stole home in a game against the Giants, and he remains the last Cardinal pitcher to do so.
By 1914, amidst rumors that he was jumping to the Federal League, Sallee was the only member left from the 1908 Cardinal team. Manager Miller Huggins, who had replaced Bresnahan in 1913, led the Cardinals to a third place finish, the first time since 1901 the team landed in the first division. Sallee, an 18 game winner with an ERA of 2.10, led the league with six saves.
During his eight and one-half year tenure with St. Louis, Sallee won 106 games for a team that finished last three times and had only two winning seasons. His .498 winning percentage was almost 100 points better than the team recorded when Sallee did not have a decision. His earned run average of 2.67 is the third lowest ERA in Cardinals history, and he ranks in the top ten for games pitched, innings pitched, and complete games. For all his troubles in St. Louis, Sallee managed to outlast almost everyone, playing for two different ownership groups, a myriad of team presidents, and three managers.
But Sallee finally tired of an organization that did not share his eagerness to win. On June 16, 1916, while in New York, Sallee tore up his $6,000 contract and announced to Miller Huggins that he would no longer play for the Cardinals, claiming to be "through with baseball." He was suspended and fined when he returned home to Higginsport. No one took his retirement seriously, figuring he was trying to force the Cardinals to trade him. St. Louis team owners insisted that they would not be forced into a trade, and turned down several offers. However, a few weeks later John McGraw convinced Sallee to come out of retirement, and he was eventually sold to the New York Giants for $10,000. While Huggins claimed he knew of no wrong doing, it was widely believed the Giants tampered with Sallee. National League President John Tener said, "No other deal like that will be sanctioned while I am in office," and rules were established to prevent a player's retirement being held over a team's head in order to force a trade. Joining New York in late July 1916, Sallee contributed several wins to the Giants all-time major league best 26-game winning streak, finishing 9-4 with a microscopic 1.37 ERA.
Sallee started the 1917 season by getting expelled from the Player's Fraternity after breaking ranks and being the first player to sign a 1917 contract. The Fraternity leadership had asked the players to hold off on signing contracts until the owners granted certain concessions. Once Sallee signed, the floodgates opened and other Fraternity members signed, ending the Fraternity's attempt at change.
As one of the Giants' "big three" left-handed starters that dominated the National League in almost all categories in 1917, Sallee won 18 games, including 10 in a row, and again led the league with four saves. Sallee also had the honor of pitching the pennant-clinching game on September 24, defeating his old Cardinal teammates, 2-1.
After losing Game One of the 1917 World Series to Chicago White Sox ace Eddie Cicotte 2-1, Sallee was beating Cicotte in Game Five, 5 to 2, when he tired in the seventh inning and the Sox tied the score. McGraw stayed with him in the eighth as the Sox scored three more runs, a decision that was widely criticized as the Giants went on to lose the game and the series.
In 1918, an aging Sallee developed lower back pain that eventually forced him to call it quits for the year in July after only 132 innings. During the off-season, Sallee rehabilitated his back by spending his time hunting and working his tobacco farm near Higginsport. He even built a new house "with all modern conveniences, including electric lights and other features usually found only in city homes." Despite a visit from McGraw to his Higginsport home, Sallee refused to sign with the Giants for 1919, saying the only team he would consider playing for was Cincinnati, a situation that would allow him to live on his Ohio farm during the season. McGraw reluctantly granted Sallee's wish, and the Reds purchased him via the waiver route.
Sallee re-injured his back after his only 1919 spring training outing and didn't return until May 4th. Even with a bad back, he still was able to take advantage of his unique control, and extensive knowledge of hitter's weaknesses. In 1919, Sallee walked only 20 men while striking out a mere 24 batters in 228 innings. He once said, "My whole system is to make them hit, and keep them hitting, and try never to give the batter what he wants. It makes no difference how much speed a man has or what curves he has mastered. These things do him no good if he can't get the ball over the plate. It doesn't take any more exertion to put the ball over the plate than it does to miss it by a foot."
Despite the late season start, he won 21 of the 29 games he appeared in. Sallee became only the second twenty-game winner with more wins than walks in a season. On "Sallee Day" in late September 1919, he threw a record 65-pitch nine-inning complete game in only 55 minutes. Ironically, the Reds beat out McGraw's Giants in a heated pennant chase. When McGraw was asked why he didn't resign Slim Sallee, he replied, "I knew what a good pitcher he was, but he wouldn't play with me, so what could I do?"
Facing the Chicago White Sox in the World Series for the second time in three years, Sallee pitched Game Two, defeating Lefty Williams, 4-2, and Game Seven, losing to Eddie Cicotte, 4-1. The Reds upset the highly favored White Sox, five games to three, and when it was later discovered that several members of the White Sox had conspired to throw the World Series, Sallee was asked about the fix. "I couldn't believe it, although it was whispered around hotels and gambling headquarters that something underhanded was taking place. No one ever dreamed there would be anything shady in a World's Series."
In 1920, two days after a lengthy interview expressing his objections to baseball's new rules prohibiting pitchers from using substances on the ball, Sallee was ejected from a game and subsequently suspended ten days for using rosin to grip the ball. After being released by Cincinnati in August 1920, John McGraw once again called upon Sallee to pitch for the Giants, and in 1921 he was used entirely in relief during a pennant-winning season, leading the National League in relief wins with six. Sallee did not pitch in the first all-New York World Series, won by the Giants over Babe Ruth and the Yankees, and his 14-year major league career came to a close. During his time in the National League (1908-1921), Sallee finished first in relief appearances, second in saves, third in games pitched, fourth in innings pitched, and seventh in wins amongst all major league pitchers. When he finally left the major leagues, Sallee was second only to ex-Cardinal teammate Ed Konetchy in consecutive years of National League service.
Former Cardinals' manager Roger Bresnahan, now owner of the Toledo American Association club, convinced 37-year old Sallee to pitch one final season in 1922. After staggering to a 2-9 record, he was released in July, ending an 18-year professional career that produced 233 wins, including 174 in the major leagues.
Returning to his home in Higginsport, Sallee and his wife, Catherine, put his baseball earnings into various successful business enterprises, including a soda bottling company, an icehouse, and a restaurant. He also served as a village councilman. Sallee kept in touch with the national game during retirement by attending Reds' games, and by also becoming an active member of a Cincinnati social group called The Ballplayers of Yesteryear.
In 1937, the great Ohio River flood wiped out the town of Higginsport and all of Sallee's businesses, and eventual financial hardships forced he and his wife to move to Cincinnati in 1942, where he took a job as a bartender. Having saved their money, they were able to return to Higginsport in 1947. That summer, Sallee agreed to coach the Higginsport town team, and he led them to an undefeated season and the county baseball championship. To this day, the 1947 Higginsport team picture still adorns most establishments in the sleepy Ohio River town.
In 1948 Catherine, Sallee's wife of 35 years, died, and he struggled without her. They never had any children, so Sallee's sister, Mary, was summoned to help him with his daily affairs. On March 22, 1950, at the age of 65, Harry Sallee passed away after suffering a heart attack in his Higginsport home. Numerous former ballplayers, including Eppa Rixey, Rube Bressler, Bubbles Hargrave, Larry Kopf, Billy Campbell, Tommy Griffith, Roy Golden, and Billy Maloney, attended his funeral as honorary pallbearers. Sallee was buried in Confidence Cemetery in nearby Georgetown.
In 1995, the town of Higginsport renamed its baseball diamond "Sallee Field", dedicating a plaque commemorating "Slim" Sallee's achievements, and in 1999, he was inducted into the Ohio Baseball Hall Of Fame by that organization's veterans' committee.
Hall of Fame baseball writer Fred Lieb should have the last word: "As lefthanded as Rube Waddell, Slim wasn't as colorful as the Rube, but he had many of Waddell's foibles. However, he was a likeable, willing chap, and like Waddell he usually delivered when he was in the ball game. Until he was sold to the Giants in 1916, he was St. Louis' best pitcher."
Note: A different version of this biography appeared in Tom Simon, ed., Deadball Stars of the National League (Washington, D.C.: Brassey's, Inc., 2004).
Sources
In preparing this article, the authors were able to interview three relatives of Sallee, Martha Dugan, Helen Neu and Cecilia Crawford. Sallee's file at the National Baseball Hall of Fame Library was also very helpful. In addition, the authors relied on the following:
St. Louis Globe Democrat, 1908-1916
Boston Herald 1908-1921
Boston Globe 1908-1921
New York Times, 1908-1921
Clinton Daily Herald, 1904
Meridian Evening Star, 1905
Birmingham Age Herald, 1905-1906
Williamsport Gazette, 1907
Cincinnati Post, 1919
Cincinnati Enquirer, 1919
News Democrat, Georgetown, Ohio, 1906-1950
Ripley Bee, Ohio, 1906-1950
The Baseball Encyclopedia, MacMillan
Spalding and Reach Guides, 1904-1922

Born
February 3, 1885 at Higginsport, OH (USA)
Died
March 22, 1950 at Higginsport, OH (USA)
If you can help us improve this player's biography, contact us.
http://sabr.org/sites/default/files/SalleeSlim.png
600
800
admin
/wp-content/uploads/2020/02/sabr_logo.png
admin
2012-01-04 20:49:24
2022-05-19 18:14:37
Slim Sallee