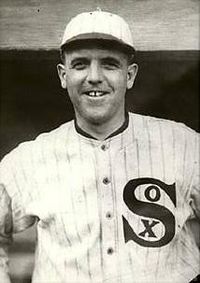 October 8, 1919: Eddie Cicotte returns to form in Game 7
---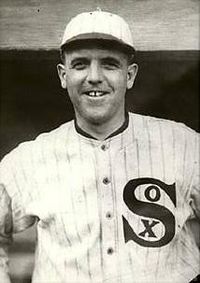 Optimism was in short supply among Cincinnati Reds fans on the morning of Game Seven. Less than 24 hours earlier they were making plans for a victory parade as the Reds took an early lead in Game Six. As poorly as the Chicago White Sox were playing in the 1919 World Series, Cincinnati's first championship looked to be an inevitable conclusion.
But suddenly, the mighty White Sox offense woke up for the first time in the Series. They knocked out starter Dutch Ruether, rallied from a four-run deficit, and shocked the Reds with an extra-inning comeback to take Game Six. Chicago still trailed in the best-of-nine series by four games to two — they would need to win three straight from the Reds to call themselves World Series champs, but that no longer seemed like an insurmountable challenge.1
The White Sox pitching staff was all lined up for the rest of the Series, with 20-game winners Eddie Cicotte and Lefty Williams going in the next two games. Rookie Dickey Kerr, who had already beaten Cincinnati twice, would take the mound in a possible Game Nine at Redland Field to close it out.
Back in Chicago, White Sox rooters were beginning to regain their enthusiasm for the American League champions. More than 20,000 people converged on Grant Park to watch the play-by-play results of Game Seven posted on the Chicago Tribune's new "electric scoreboard."2 Reds fans, however, were not eager to watch their team take an anticipated beating. The official attendance for Game Seven was just 13,923, the smallest crowd to see a World Series game in 10 years.3
In addition to the lack of confidence, two other factors contributed to the sparse crowd. After clinching the National League pennant, the Reds had required fans to purchase tickets to the World Series in three-game blocks. For Game Seven, the fourth home game of the Series, tickets were sold individually. Many fans who had purchased the block decided not to spend more money to see another game. There was also miscommunication about where tickets were to be sold on the morning of Game Seven, with long lines at the Reds' main ticket office inside the downtown Hotel Sinton convincing some fans not to bother.4
---
---
On the field, White Sox manager Kid Gleason was not nearly as confident about his team's chances. He benched Nemo Leibold, stuck in an 0-for-13 slump, for the second straight game. Shano Collins led off and played center field, where he had started only five games all season, and Happy Felsch, plagued by baffling defensive miscues all series, moved over to right field. Center field in Cincinnati was said to be "the worst sun field in either league,"5 but Felsch — one of the eight players implicated in the Black Sox Scandal a year later — had other reasons for his poor play.
Gleason's move paid dividends immediately, as the White Sox recorded a run in the first inning for the first time in the World Series. Collins singled off Reds left-hander Slim Sallee, moved up on Eddie Collins' sacrifice, and came around to score on Shoeless Joe Jackson's single to left field to give the White Sox a 1-0 lead.
Eddie Cicotte wouldn't need much more support on this day. After getting knocked around in his first two starts, the White Sox right-hander was at his best in Game Seven. His highly effective "shine ball" flustered the Reds so much that they asked home-plate umpire Ernie Quigley to inspect the ball on several occasions. Once, manager Pat Moran even asked an umpire to look at first baseman Chick Gandil's glove to make sure he wasn't supplying Cicotte with a foreign substance.6
In the fifth inning the Reds tried a little more gamesmanship in an attempt to rattle Cicotte. Moran sent up the previous day's pitcher, Dutch Ruether, to pinch-hit for reliever Ray Fisher with two runners on base. Ruether was an unlikely hitting star in the World Series — his two-run triple against Cicotte had blown open Game One — but this time he popped out in foul territory to squash the rally.
By then the White Sox had built a 4-0 lead off Sallee. Jackson again singled home Shano Collins in the third inning, and Felsch drove in two more runs in the fifth after the Reds' defense deserted them. Successive errors by third baseman Heinie Groh and second baseman Morrie Rath loaded the bases for Felsch, who singled to center to drive in Eddie Collins and Buck Weaver.
Reds fans were finally given a reason to cheer in the sixth, when Cicotte carelessly allowed a runner to reach third base for the first time. With Groh on second and one out, Edd Roush hit a sharp comebacker to the mound that Cicotte speared. He could have easily forced a rundown since Groh was hung out to dry, but after a brief hesitation, he decided to throw out Roush at first instead. On the next play, Pat Duncan lined a single to center to score Groh with the Reds' only run.
Cuban right-hander Adolfo Luque, who had made history in Game Three as the first Latin American pitcher to appear in a World Series, helped keep the Reds within striking distance. He shut down the White Sox with four spectacular innings in relief, allowing one hit and striking out five. But the Reds couldn't break through against Cicotte, who worked out of jams in the seventh and ninth innings to finish the 4-1 victory. Felsch caught the final out on a line drive near the right-field foul line.
For Cicotte it was a welcome redemption. His "baseball obituary is now recalled from circulation," wrote humorist Damon Runyon.7 Throwing 80 of his 120 pitches for strikes, per a Chicago Tribune analysis, he allowed seven hits, six of them singles, and struck out four batters.
Gleason finally began to relax after watching Cicotte return to form. The manager was spotted with "one of the first smiles that has been seen on his countenance since the series started." He gloated afterward, "Nothing can stop the boys now. The Reds could not beat [Cicotte] again if they played against us all winter. … We have them on the run."8
Later that night, Gleason made more candid comments to James Crusinberry of the Chicago Tribune: "You see, this isn't the same ball team that was playing for me in the first three or four games. … My gang is back playing ball again. … I could hug the fellows because for the last two days they have hustled and fought and come through for me, as I know they can."9
Astute observers could read between the lines. They were aware of the ugly rumors that had dogged the White Sox throughout the World Series. The White Sox still had two more games to win — and nobody was sure which team would show up in Game Eight in Chicago. They would soon find out.
This article was published in "Cincinnati's Crosley Field: A Gem in the Queen City" (SABR, 2018), edited by Gregory H. Wolf. To read more articles from this book at the SABR Games Project, click here.
Sources
In addition to the sources listed in the notes, the author also consulted Baseball-Reference.com and Retrosheet.org.
Notes
1 The 2004 Boston Red Sox were not the first team to rally from three games down in a postseason series between two major-league teams. Contemporary writers and fans were quick to recall the White Sox' dramatic comeback from an 0-3 deficit against the Chicago Cubs to win the best-of-seven "City Series" in October 1912. Eddie Cicotte, Buck Weaver, and Ray Schalk were all on that team, as was then-coach Kid Gleason. The City Series is mostly forgotten now, but it was extremely popular in the years before World War I. These annual contests between crosstown rivals like the Cubs and White Sox in Chicago or the Cardinals and Browns in St. Louis were held in years when neither team made the World Series. But they were sanctioned by Organized Baseball — and in Chicago, they sometimes drew larger crowds than the World Series itself. See: Jacob Pomrenke, "A Comeback for the Ages," The National Pastime Museum, September 23, 2013, thenationalpastimemuseum.com/article/comeback-ages.
2 Harvey T. Woodruff, "Business Waits as Mr. Chicago Follows Score," Chicago Tribune, October 9, 1919.
3 A crowd of 10,535 had shown up to see Game Six of the 1909 World Series at Bennett Park in Detroit.
4 Jack Ryder, "Cicotte Keeps Sox in Series, Trimming Cincinnati 4 to 1," Cincinnati Enquirer, October 9, 1919.
5 I.E. Sanborn, "Sox Battle to Third Victory, 4-1," Chicago Tribune, October 9, 1919.
6 Ryder, "Cicotte Keeps Sox in Series."
7 Damon Runyon, "Obit Is Recalled," Cincinnati Enquirer, October 9, 1919.
8 "Notes of the Game," Cincinnati Enquirer, October 9, 1919.
9 James Crusinberry, "Cincy Prepares to Dress Up in Mourning Robes," Chicago Tribune, October 9, 1919.
Additional Stats
Chicago White Sox 4
Cincinnati Reds 1
Game 7, WS
---
Redland Field
Cincinnati, OH
Box Score + PBP:
Corrections? Additions?
If you can help us improve this game story, contact us.
Tags
https://sabr.org/sites/default/files/images/CicotteEddie.jpg
600
800
admin
/wp-content/uploads/2020/02/sabr_logo.png
admin
2019-09-17 14:00:22
2020-04-17 13:33:57
October 8, 1919: Eddie Cicotte returns to form in Game 7