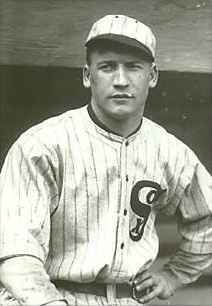 October 6, 1917: White Sox win World Series opener at Comiskey Park
---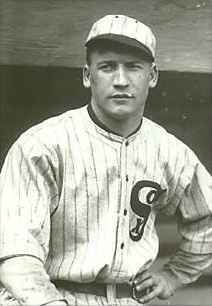 Oh, how it rained. The day before the first World Series game ever hosted at Comiskey Park, the skies opened. The National League champion New York Giants had hoped for a practice that would have allowed them to acclimate themselves to the quirks of an unfamiliar ballpark. Instead, manager John McGraw kept his team at the hotel. Fans, some of whom had traveled from as far away as Los Angeles, began queuing the night before the game for the bleacher tickets to be placed on sale in the morning. They were soaked. By morning the rain stopped, but the dampness in the air, along with the brisk winds from Lake Michigan, provided the setting for Game One of the 1917 World Series. I.E. Sanborn of the Chicago Tribune advised fans accordingly: "Fair warning is given the fans to wear the warmest clothes they have and not be afraid to replace their B.V.D.s, temporarily at least, with something better designed to turn the lake winds from the skin."1
As the 2:00 P.M. first pitch approached, a festive atmosphere began to take hold. The fans had filled the stadium to its 32,000-seat capacity an hour before game time. A band provided entertainment.2 Reflecting the United States' entry into the Great War earlier in 1917, Comiskey Park was adorned with red, white, and blue streamers and the White Sox players wore patriotic-themed stockings. In the crowd were over 1,500 members of the Officers' Reserve Corps from nearby Fort Sheridan, and "their khaki uniforms and sunburned faces supplied a background which contrasted sharply with the civilian gathering."3 McGraw commented, "It always has been my wish to meet Charley Comiskey's White Sox for the world's title."4 Comiskey exuded confidence about his club: "They are in perfect condition and will have no alibis."5
As the Giants prepared for the game, the only question appeared to be which pitcher would get the ball from McGraw. Ferdie Schupp (21-7, 1.95 ERA) was expected to start and the bookies were giving 2-to-1 odds on that choice.6 At 26, however, Schupp was considered "the greenest man on the Giant staff."7 Although he led the team in wins, McGraw opted for experience and selected 32-year-old Slim Sallee (18-7, 2.17); Schupp would be afforded time to study the White Sox hitters. Chicago manager Clarence "Pants" Rowland was reluctant to commit publicly, but as most expected, Eddie Cicotte (28-12, 1.53) took the mound for the home team. I.E. Sanborn wrote, "Cicotte has beaten even his own high standard of efficiency this year."8 Cicotte's reputed "shine ball" caused some consternation among the Giants for its break, which was characterized as "like the course of a flying pigeon, just after a shot has been fired."9
The contest opened with George Burns batting against Cicotte. Burns worked a full count before rapping a single over second base. Shoeless Joe Jackson pulled down fly balls from Buck Herzog and Benny Kauff for the first two outs, and Happy Felsch hauled in Heinie Zimmerman's ball in center field for the final out of the Giants first with Burns on second after a steal. Against Sallee, Shano Collins matched Burns's leadoff single by lining his own into right field. Sallee collected Fred McMullin's sacrifice bunt, which he flipped to Walter Holke at first base. With his namesake Shano now at second, Eddie Collins grounded sharply to shortstop Art Fletcher for the second out but advanced the runner to third. Jackson lifted a low fly toward right field that appeared likely to land for a hit and a run, but Herzog quickly backpedaled "in brilliant fashion after a hard run back into short center"10 to claim the ball and end the inning. Herzog, the Giants captain, had missed most of the season's final month resting from a summer off-field injury, but appeared back to his usual standard at the most important time of year.
The second inning was scoreless. Ray Schalk led off the White Sox third with a "stinger" toward Zimmerman. The Giants third baseman "stabbed the bound with one hand" and delivered a clean throw across the diamond for the first out.11 Cicotte singled to center, and Shano Collins followed with a single to right; however, the play ended with only Collins still on the basepaths after right fielder Dave Robertson's bullet to Zimmerman nailed Cicotte at third. With Collins on second and two out, McMullin lined Sallee's pitch over second. From center field, Kauff "came tearing in and tried to make a shoestring catch of it."12 Kauff's father had traveled to Comiskey Park from Ohio to see his son play in a major-league game for the first time. Dad witnessed Benny dive for the ball … and miss. Collins scored easily for the first run of the Series as the ball rolled to deep center. Kauff's judgment was questioned later, the thought being that letting the ball bounce in front of him might have provided the chance to gun down Collins at the plate.13 Eddie Collins popped up to Fletcher in foul territory but the White Sox had the lead through three, 1-0.
In the Giants fourth, Robertson's two-out double was the only blemish for Cicotte as New York failed to tie. During pregame warmups, Felsch had blasted a ball into the left-field bleachers.14 He equaled the feat with a pitch that counted in the bottom of the fourth. Seeing a favorable pitch coming his way with one out, Felsch "met it squarely with every ounce of power in his muscles, backed by the full swing of his body."15 The result was "a drive of remarkable power and length"16 that Burns and Kauff could only stand and watch as the ball landed in the left-field bleachers for a 2-0 White Sox advantage. After the game, Felsch was rewarded with a $50 Liberty bond, a prize offered by entertainer Al Jolson to any player who clouted a home run during the Series.17 Chick Gandil's grounder and Buck Weaver's fly ball ended the frame.
The Giants struck in the fifth, and their pitcher was instrumental in clawing back a run. Before Sallee batted, catcher Lew McCarty led off the inning. McCarty had missed three months of the season with a broken leg18 and struggled at the plate after his return on September 5. In fact, McCarty accounted for zero extra-base hits during that time. Against Cicotte, however, McCarty slammed the ball into right-center field for a triple that might have been a round-tripper but for his "game leg."19 His batterymate, however, helped get McCarty across the plate. After staring at two pitches from Cicotte, Sallee dropped a short fly behind Eddie Collins to score McCarty. Hopes for a sustained rally were damaged when Weaver scooped up Burns's grounder to start a double play. Herzog struck out to end the inning.
With Chicago leading 2-1, the pitchers settled into a groove. The White Sox went down on three groundballs in the bottom of the fifth and neither team reached base in the sixth. After the game, Rowland observed of Cicotte that he "was stronger against the Giants at the finish than he was at the start."20 Opportunity presented itself for the Giants in the seventh and defensive heroics preserved Chicago's lead. After McMullin gathered Robertson's roller for the first out, Holke hit a bullet to right for a single. As McCarty strode to the plate, White Sox defenders spread out in recollection of his earlier triple. McCarty's liner over Weaver's head appeared likely to drop fair. Like Kauff in the third inning, Jackson raced in, hoping to make the catch before the ball hit the turf. Unlike Kauff, Jackson's effort proved successful. Diving head-first, Jackson made the catch, turned a somersault, and "bobbed up on his feet again and the ball was firmly clutched in his grasp."21 Rowland called the catch one of Jackson's best — and a likely game-saver.22
After Gandil's one-out single in the bottom of the seventh, Weaver struck out, but Gandil stole second and then claimed third on McCarty's bad throw. Schalk's grounder to Fletcher ended the inning, however. In the top of the eighth, Burns and Herzog accounted for the first two outs, but Weaver's throw on Kauff's grounder pulled Gandil off the bag. Sensing a possible hit-and-run play, Cicotte pitched out twice against Zimmerman. With Kauff again off the base, Cicotte fired to Gandil. Kauff raced for second, and Eddie Collins reeled in Gandil's high throw to apply the tag. After Cicotte grounded out to open the White Sox eighth, Shano Collins doubled down the line into left field. Sallee threw Collins out at third on McMullin's grounder for a fielder's choice, and McMullin was nailed trying to steal second with Eddie Collins batting.
Cicotte made quick work of the Giants to close out the game. Zimmerman's tapper back to the pitcher suggested such an easy out that Zim did not even bother running to first base. Weaver hauled in Fletcher's popup for the second out, then Shano Collins claimed the third out on Robertson's fly ball. Game One to the home team.
Rowland calmly summarized the result: "The boys went through in great shape, and we won a close one."23 His owner was overcome with emotion; a tearful Comiskey grasped Cicotte's hand in congratulations.24 Indeed, Cicotte's pitching appeared to confound the New Yorkers. For their part, the Giants promised revenge. "Wait till he faces us again. He'll be driven off the rubber before four innings have been played."25 The Giants would have to wait until the Series reached the Polo Grounds before getting their next shot at Cicotte's "shine ball."
Sources
In addition to the sources cited in the Notes, the author consulted baseball-reference.com.
Notes
1 I.E. Sanborn, "Over the Top for White Sox Today!" Chicago Tribune, October 6, 1917: 15, 16.
2 James Crusinberry, "Crowd Handled at Sox Contest Like a Machine," Chicago Tribune, October 7, 1917: 2, 1.
3 "Three Sox Big Figures in Winning First Game," The Sporting News, October 11, 1917: 3.
4 "Before the Battle," Chicago Tribune, October 6, 1917: 16.
5 Ibid.
6 James Crusinberry, "Confidence of Foe Supreme; Schupp Starts," Chicago Tribune, October 6, 1917: 15.
7 Sanborn, "Over the Top": 15.
8 Ibid.
9 Crusinberry, "Confidence."
10 I.E. Sanborn, "Felsch's Homer Wins First, 2-1," Chicago Tribune, October 7, 1917: 2, 1-2.
11 Ibid.
12 Ibid.
13 "Home-Run Hit Defeats Giants as Series Opens," New York Times, October 7, 1917: 1.
14 "Gossip of First Game," The Sporting News, October 11, 1917: 6.
15 Sanborn, "Felsch's Homer."
16 "Three Sox Big Figures."
17 Ring W. Lardner, "In the Wake of the News," Chicago Tribune, October 7, 1917: 2, 1.
18 Sanborn, "Over the Top": 16.
19 Sanborn, "Felsch's Homer."
20 Clarence Rowland (as told to James Crusinberry), "Sox In Front!" Chicago Tribune, October 7, 1917: 2, 3.
21 "Home-Run Hit."
22 Rowland.
23 Ibid.
24 "Home-Run Hit."
25 "Here Are Views on Mr. Cicotte," Chicago Tribune, October 7, 1917: 2, 1.
Additional Stats
Chicago White Sox 2 
New York Giants 1
Game 1, WS
---
Comiskey Park
Chicago, IL
Box Score + PBP:
Corrections? Additions?
If you can help us improve this game story, contact us.
Tags
http://bioproj.sabr.org/bp_ftp/images3/FelschHappy.jpg
600
800
admin
/wp-content/uploads/2020/02/sabr_logo.png
admin
2020-11-18 00:00:39
2020-11-18 00:10:49
October 6, 1917: White Sox win World Series opener at Comiskey Park