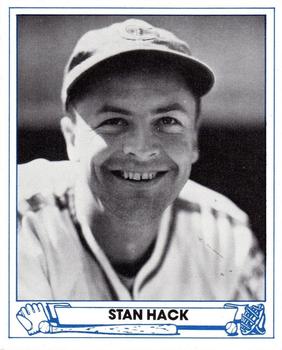 ---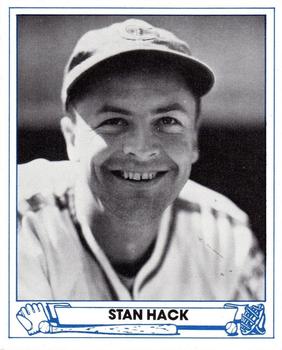 There are fewer third basemen in the Hall of Fame than players from any other position. One who hasn't made it is Stan Hack, who held down the post for 16 years with the Chicago Cubs, from 1932 through 1947. Yet Bill James ranks him the ninth best all time at the position, well ahead of Pie Traynor, Jimmy Collins, and George Kell, who are enshrined in Cooperstown. Hack retired with a lifetime batting average of .301 and an on-base percentage of .394, drawing 1,092 walks against 466 strikeouts. He was a five-time All-Star and twice finished in the top ten in MVP voting. He played in four World Series with the Cubs, hitting .348 with a .408 on-base percentage.
So why is Stan Hack virtually forgotten today? There are several reasons. He wasn't the archetypical slugging third baseman, essentially a singles hitter who never hit more than eight home runs in a season. He was overshadowed on some strong Cubs teams by the likes of Gabby Hartnett, Kiki Cuyler, Phil Cavarretta, and Bill Nicholson. He was even overshadowed by the shortstop on the other side of town, Luke Appling, a similar player who won a pair of batting championships.
As a leadoff man for most of his career, Hack's job was getting on base and scoring runs. And he did that admirably. For six straight years he scored over 100 runs, tying a National league record. He led the league in hits twice, and in stolen bases twice. (Of course, players didn't run much in the late 1930s. His leading numbers were 16 in 1938 and 17 in 1939.) Defensively, Hack ranked among the best third basemen of his time. At one point he held the record for most consecutive games without an error at third. James retroactively awarded him three Gold Gloves. (The award wasn't introduced until ten years after Hack retired.)
Because of his consistency and good nature, Stan was one of the most popular players on the Cubs. An opposing player once said that Hack "has more friends than Leo Durocher has enemies."1 From rookie to elder statesman, with good teams and bad ones, Smiling Stan was the same man.
Stanley Camfield Hack was born in Sacramento, California, on December 6, 1909. His father, Charles Hack, worked as department manager in a bank at the time of the 1910 census, but ten years later had taken up farming. His mother, Pearl Hack, also gave birth to Stan's younger brother, Delwyn. At Sacramento High School Stan was the starting third baseman, alongside outfielder Myril Hoag, whose Yankees would sweep Hack's Cubs in the 1932 and 1938 World Series. A left-handed contact hitter at 6 feet and 170 pounds, Stan was a throwback to the third basemen of the Deadball Era. His job was setting the table for the big boppers, getting on base and into position to score. It was a skill set he carried into the major leagues.
After graduation Hack worked as a bookkeeper in a Sacramento bank and played weekends on a semipro team. He attracted the attention of the local Pacific Coast League team, the Sacramento Senators, and in 1931 was signed to a contract. Hack was a star among stars on the Senators, whose roster included future major leaguers Dolph Camilli, Frank Demaree, and Frenchy Bordagaray. At 21, Hack hit .352, with 232 hits in 164 games.
During those Depression years, PCL teams survived by developing players and selling them to the major leagues. Cubs president Bill Veeck, Sr. paid $40,000 for Hack's contract at the end of the season. He also bought Demaree, who became a mainstay later in the decade. Although the Cubs had won the pennant in 1929, the core of that team was on the shady side of 30. Hack Wilson, Rogers Hornsby, Charlie Grimm, Riggs Stephenson, and Kiki Cuyler soon would need to be replaced. So Veeck brought in Hack and Demaree along with Billy Jurges, Billy Herman, and Lon Warneke to fortify the team through the coming decade.
Hack didn't set the National League on fire in his rookie year, 1932. He hit only .236 in 72 games, and his only World Series action was as a pinch-runner. Perhaps one reason was that he replaced Hack Wilson as pitcher Pat Malone's drinking buddy. As he matured, Hack gave up partying and his career flourished. He was the Opening Day third baseman, and for most of the year shared the position with Woody English. He struggled at the plate, but when shortstop Billy Jurges was shot by a spurned girlfriend, English moved to short and Hack got more playing time. Veeck also brought in former Yankees shortstop Mark Koenig, who sparked the Cubs in the dog days of late summer by hitting .353. Manager Rogers Hornsby was fired in August, replaced by Charlie Grimm. The Cubs came from behind to win the pennant, but were swept by the Yankees in the World Series.
Hack topped off that turbulent year on a high note, marrying his teenage sweetheart, Dorothy Weisel. She was a top-ranked tennis player, twice reaching the quarterfinals at the US Nationals and ranking as high as third nationally. At that point, she was a more famous athlete than her husband. They had three children, a son, Stanley Jr., born in 1934, and two daughters, Barbara and Beverly.
English was the Cubs' starting third baseman the following year, so Hack was sent off to Albany, where he hit .299. Recalled to Chicago late in the season, he hit .350 in 20 games. Except for his final year at age 37, Hack never hit less than .280 again.
In 1934 Hack established himself as the Cubs' starting third baseman. Three-fourths of the infield of Grimm, Hack, Jurges, and Herman remained intact for the rest of the decade. Only first base changed hands, from Grimm to Cavarretta to Ripper Collins and then to Rip Russell. Behind the scenes, Bill Wrigley and Bill Veeck had died, and the Cubs were inherited by Wrigley's son, Phil. Phil Wrigley had little interest in baseball and kept the Cubs only because they had meant so much to his father. The people he put in charge lacked the elder Wrigley's dedication and Veeck's baseball sense, so the talent flow that made the Cubs contenders during the 1930s began to slow down. In 1935 they had first crack at a San Francisco Seals outfielder but turned him down because of a questionable knee, so Joe DiMaggio was sold to the Yankees. Five years later the Cubs turned down his brother Dom DiMaggio because he was too small and wore glasses.
But the Cubs of the 1930s still managed two more pennants. In September 1935 they won 21 games in a row to overtake the Cardinals and Giants. Hack hit seventh most of the season, batting .311 with 65 walks and only 17 strikeouts. Gabby Hartnett hit .344 and won the MVP award, Billy Herman led the league with 227 hits and 57 doubles.
By this time, Hack had acquired the nickname Smiling Stan because of his good nature and handsome looks. In one of the few promotions of the day, the Cubs handed out mirrors to the fans with his picture on the back. The promotion backfired when fans tried to shine them in the faces of opposing players, and umpires threatened to forfeit the game. That giveaway was the idea of Bill Veeck, Jr., then 21 years old and recently hired into the Cubs' front office. Two years later, a better idea of his took root when he planted ivy on the outfield walls.
The Cubs faced the Tigers in the 1935 World Series. Hack had only five hits in the six games, hitting .227. In Game Six, with the scored tied 3-3, and the Cubs trailing 3 games to 2, Hack led off the ninth inning with a triple. Jurges then struck out on three pitches. Grimm's pitching staff was thin, so he had to let pitcher Larry French bat. French grounded out to the pitcher. Augie Galan ended the frustrating inning by flying out to left field, leaving Hack stranded. In the bottom of the ninth, the Tigers scored on Goose Goslin's single to end the series.
A few years later Hack returned to Briggs Stadium for the All-Star Game. When he arrived, he took a quick look at third base before entering the clubhouse. He explained later, "I just wanted to see if I was still standing out there waiting for somebody to drive me home."2
From 1929 through 1938, the Cubs won a pennant every three years. During the seasons of 1936 and 1937, Hack hit .297 and .298, alternating mostly between leadoff and fifth in the batting order. By this time he was considered one of the top third basemen in the National League, but his best years were ahead.
In the pennant-winning year of 1938, Stan was 28 years old, made his first All-Star team, and finished seventh in the MVP voting. He led off for the Cubs most of the season, hit .320 with a .411 OBP and led the league in steals. The Cubs were struggling in July, when Grimm resigned as manager and was replaced by Gabby Hartnett. That set a spark, and slowly they crept up on the league-leading Pirates. Going into a late-September series at Wrigley Field, the Cubs trailed Pittsburgh by 1½ games. Dizzy Dean, pitching on guts and a lame arm, won the first game, 2-1. The second game is legendary in Cubs lore. It was tied 5-5 going into the last of the ninth with darkness descending on the ballpark. That was when Hartnett hit his "Homer in the Gloamin'" to vault the Cubs into first place. As Gabby joked later, his mother could have pitched the next game because the Pirates were done. The Cubs won the final game of the series, 10-1, to all but lock up the pennant.
That won them the chance to become sacrificial lambs to another loaded Yankee team, which swept the Series in four games. The highlight for the Cubs was Stan Hack, who hit .471. It was the end of the good times for Cubs fans, as the team began a long slide into mediocrity. They dropped to fourth place in 1939, their last winning season until the wartime pennant of 1945. Hack hit .298 in '39, led the league in stolen bases again, and started his second All-Star Game.
Hack was even better in 1940, leading the league in hits and batting .317, along with 21 stolen bases. But the Cubs dropped to fifth place, losing four more games than they won.
Hartnett was fired and Jimmie Wilson hired as the Cubs manager for 1941. It was a great year for baseball, featuring tight pennant races, Joe DiMaggio's 56-game streak, and Ted Williams's .406 average. But it was dreary for the Cubs, as they limped home in sixth place with five fewer wins than the year before. Hack was consistent, though, hitting .317 again, leading the league with 186 hits, and playing in his third All-Star Game.
The 1942 season was the first of the war years. At 32, Hack was too old to be drafted, so he remained in a Cubs uniform. By now his best years were behind him, as his batting averages dropped to .300 and .289. Although Stan kept smiling, the losing was getting to him. At the end of 1943 he'd had enough. He didn't get along with Wilson, and retired at the age of 33. Wilson's Cubs won their opener without Hack at third, but then lost 13 in a row. General manager Jim Gallagher fired Wilson, replacing him with Mr. Cub of that time, Charlie Grimm. One of the first things Grimm did was to call his old infield buddy and talk him out of retirement. Hack debuted on June 18.He was a bit rusty, played in only 98 games, and hit .282.
In 1945 it all came together for the Cubs. They improved from 75 to 98 wins, and won the National League pennant. Travel restrictions resulted in lots of doubleheaders that year, and the Cubs won both ends of 20 of them, as of 2014 still a major-league record. They also beat up on the Cincinnati Reds, winning 21 out of 22 games. Although detractors called their pennant a wartime fluke, the Cubs were a solid ballclub that led the league in team batting average and team ERA. Hack contributed big-time, hitting a career-high .323, with a .420 OBP, and scoring 110 runs. He was selected for his fifth All-Star Game, although the game wasn't played due to wartime travel restrictions. He finished 11th in MVP voting; teammate Phil Cavarretta won the award.
In the World Series the Cubs again faced the Tigers. Chicago sportswriter Warren Brown called it the World's Worst Series, referring to sloppy play from many who wouldn't have been in a big-league uniform if the real players weren't in the military. The Cubs took two of the first three games in Detroit on shutouts by Hank Borowy and Claude Passeau. Passeau's victory was a one-hitter, equaling the Cubs' Ed Reulbach as the best-pitched game in Series history. (This was 11 years before Don Larsen's perfect game.) But the Tigers came back to win the next two games at Wrigley Field. With the Cubs facing elimination in Game Six, Hack hit a 12th-inning line drive that skipped past left fielder Hank Greenberg for a game-winning double.
It was the biggest hit of Hack's career. (He had another great Series, hitting .367 with a .441 OBP.) Grimm started his weary ace, Borowy, in Game Seven. Hank had pitched four scoreless relief innings in Game Six, but with one day's rest had nothing left. When the first three batters got hits, Grimm got the message and pulled him. Before the inning was over, the Tigers had scored five runs and cruised to a 9-3 win.
While other teams got stronger with returning war veterans, the Cubs stood pat and paid the price. Their 82 wins in 1946 were good for third place. It would be their last winning season for 17 years. At the age of 36, Hack hit .285, and 83 walks in 92 games raised his OBP to .431, a career high for a full season. He broke a finger in August, which kept him out of the lineup for a month.
The 1947 season was Hack's last as a player. The Cubs tried several others at third base, limiting him to 76 games. He hit .271 with a .377 OBP. In September the Cubs gave him a car on Stan Hack Day in front of a capacity crowd.
Hack was such a favorite in Chicago that the Cubs offered him a managerial job in their minor-league system. Over the next six years he worked his way up the ladder, from Des Moines to Springfield, and in 1951 to Los Angeles. There he managed the system's first African American player, shortstop Gene Baker. Baker spent four years in Triple-A before being called up, as the Cubs were one of the last teams to integrate.
Phil Cavarretta was managing the major-league team in 1954. During spring training Phil Wrigley asked him how the team was looking. The blunt Cavarretta told him the truth: With the players they had, they were a second-division ballclub. Wrigley fired him for a defeatist attitude. It was the first time a manager had ever been fired in spring training. The only way to defuse a media firestorm was to replace one Cubs icon with another. That was how Stan Hack became manager of the Cubs.
The Cubs had bought Ernie Banks from the Kansas City Monarchs and played him in ten games at the end of the previous year. Hack installed him as the starting shortstop, while Baker moved to second base, and both had strong rookie years. Hank Sauer and Ralph Kiner supplied punch in the outfield, but Cavarretta was right. They lost 90 games and finished in seventh place.
The 1955 Cubs started out strong. Banks became a star, with 44 homers and 117 RBIs. Rookie Bob Speake had a great streak until pitchers caught up with him. Veterans Randy Jackson and Frankie Baumholtz still had something in the tank. The Cubs were 45-38 in early July, but a couple of long losing streaks doomed the season. They finished in sixth place, nine games under .500. The following year Banks played hurt, his production dropped off, and the team finished in the cellar. Hack was fired.
Hack didn't stay unemployed long. Fred Hutchinson hired him as a coach with the Cardinals. Having been a Cubs employee for 24 years, it must have been strange for Stan to don a Redbirds uniform. The Cardinals weren't much better than the Cubs, and Hutchinson was fired with ten games left in the 1958 season. Hack was tabbed to replace him, but won only three of those games.
From that point, Hack bounced around the minor leagues as a manager and coach, finally retiring from baseball in 1966. By this time he and Dorothy had divorced. Stan and his second wife, Glennyce, bought the Landmark Restaurant in Grand Detour, Illinois, about 100 miles west of Chicago. One patron wrote, "In the entrance to the Landmark was the largest collection of Chicago Cub memorabilia I had ever seen: uniforms, photos of players, coaches, radio announcers and executives, scorecards and equipment. Everything there was to collect was there."3 Hack and his second wife had two sons, Stanford and David. Hack enjoyed his other passions, golf, fishing, and hunting. In an interview with Chicago sportswriter Jim Enright, he said he had only two wishes. He wished Cubs pitchers had dusted Giants hurler Monty Kennedy, who "used to hit me like I was a dart board." The other was one more victory, because he had 199 as a major-league manager. "On second thought," he said, "I wouldn't want to see Monte or anybody else hurt, and it's too late now to worry about 200 victories."4
Stan Hack died in 1979, at 70. In 1996 Lennie Merullo, the last living Cub who played for them in the World Series, described him this way: "Everybody loved Stan Hack. … He hit from foul line to foul line, a line-drive hitter … like Wade Boggs. He didn't have a great arm, but had such a nice, soft throw. It was never off the mark, and he'd always come up with the ball."5
Phil Cavarretta added, "Stan never got the credit he deserved. … To me, with his stats and knowing Stan Hack, I can't understand why he isn't in the Hall of Fame."6
Hack never had much support for the Hall of Fame, falling off the ballot after about five years. Bill James disagrees with the voters, comparing Hack with Pie Traynor, who was considered the best third baseman of all time before the likes of Eddie Mathews, Ron Santo, and Mike Schmidt came along. Traynor hit .320 against Hack's .301, but Traynor played most of his career in the 1920s, when averages were significantly higher. Traynor drove in more runs, but Hack scored more, seldom hitting from an RBI position in the lineup. James argues that Hack was actually a better hitter on the basis of runs created. Somewhere in that ivy-covered ballpark in the sky, Stan Hack must be smiling over the comparison.
Last revised: April 25, 2022 (zp)
This biography is included in the book "Van Lingle Mungo: The Man, The Song, The Players" (SABR, 2014), edited by Bill Nowlin.
Sources
baseball-reference.com/players/h/hackst01.shtml, accessed December 5, 2013.
jockbio.com/Classic/S_Hack/S_Hack_bio.html, accessed December 4, 2013.
baseballlibrary.com/ballplayers/player.php?name=Stan_Hack_1909, accessed December 4, 2013.
Brown, Warren, The Chicago Cubs (New York: Putnam, 1946).
Enright, Jim, Chicago Cubs (New York: Collier Books, 1975).
Gold, Eddie, and Art Ahrens, The New Era Cubs (Chicago: Bonus Books, 1985).
Golenbock, Peter, Wrigleyville (New York: St. Martin's Press, 1996).
James, Bill, The New Bill James Historical Baseball Abstract (New York: Free Press, 2003).
Notes
Born
December 6, 1909 at Sacramento, CA (USA)
Died
December 15, 1979 at Dixon, IL (USA)
If you can help us improve this player's biography, contact us.
http://sabr.org/sites/default/files/HackStan.jpg
600
800
admin
/wp-content/uploads/2020/02/sabr_logo.png
admin
2012-01-04 20:24:15
2022-04-25 15:17:29
Stan Hack