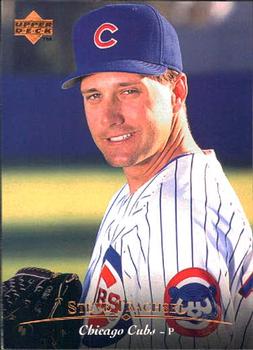 ---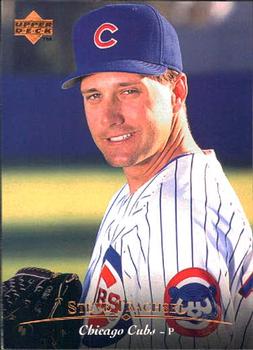 "I always hated facing him," Cliff Floyd said of Steve Trachsel. "He takes too damn long."1
Over a 16-year career, Steve Trachsel gained a reputation for being one of the slowest-working pitchers in the majors, earning the nickname of Human Rain Delay. Regardless of how hitters (and his own fielders) felt about his pace, however, his true identity was that of a reliable starter who could eat plenty of innings and stay off the injured list.
Stephen Christopher Trachsel was born on October 31, 1970, to Roy and Betty (Alexander) Trachsel in Oxnard, California. Roy was a banker. Steve was the oldest of three children, the others being Diane Pitman (b. 1973) and Patrick (1976-2017).2
Trachsel began playing baseball at a young age, and quickly became a pitcher. "I threw in the backyard. … Started pitching at seven. I was one of the kids able to throw the ball over the plate," he said.3
He attended Troy High School in Fullerton, where he played on the junior varsity team until he was called up to varsity during the playoffs of his junior year. He pitched 6⅔ scoreless innings in his lone appearance for the varsity Warriors that season. He went 7-5 in his senior year and graduated from Troy in 1988.4
Trachsel then went to nearby Fullerton College, less than two miles away from his high school. He pitched 4-8 with a 4.81 ERA in 1989, earning All-Orange Empire Conference Honorable Mention honors.5 He went 10-3 with a 3.11 ERA the following year and was named first team All-OEC.6
He heard from scouts that he was being looked at for the upcoming draft, but his name didn't get called. "I did look forward to getting drafted," he said. "It just didn't work out for me that year. I'm not really positive why, but I don't let it bother me."7
After spending three years in Fullerton, Trachsel transferred to California State University-Long Beach for his senior year.8 Before joining his new team in the fall, he played summer ball in the Alaska League, going 4-0 with a 0.24 ERA over half a season. He spent the other half taking classes to complete his degree at Fullerton.9
While playing for Long Beach, Trachsel began struggling with his emotions on the mound. In his first appearance with the Dirtbags, in fact, he let out a loud expletive after throwing a pitch he wasn't happy with. "Every person in the crowd heard it," Trachsel said. "[I did it] a couple more times [that] year."10
"If he were a poker player, everybody would have raised the stakes," Fullerton coach Nick Fuscardo said of Trachsel's inability to hide his emotions. "[But] I think he's made the effort to work on some of his shortcomings, such as his temper and his need to be perfect."11
"I still continue to work at it," Trachsel said. "I try to just turn around and say it at center field. … It doesn't affect my pitching, so I think I'm OK that way, but I think I have to work on the volume — it's a little bit too loud."12
Trachsel finished with an 11-6 record and a 2.78 ERA in his only season at Long Beach.13 Despite playing there for only one year, he was inducted into the Long Beach State Hall of Fame in 2000.14 He helped lead the Dirtbags to the College World Series, where they were knocked out in the second round by Creighton.
The day before his team was eliminated, Trachsel was selected in the eighth round of the 1991 major-league amateur draft, number 215 overall, by the Chicago Cubs.
"I was never the best player on any team I ever was a part of," Trachsel said. "[But] I knew I would get a chance at being drafted … and I knew then that I would get a shot — if I stayed healthy — to pitch in the majors."15
In 1991 and 1992 Trachsel pitched for four teams in the Cubs' minor-league system, compiling a 23-16 record and a 3.16 ERA. He started the 1993 season with the Triple-A Iowa Cubs, pitching to a 13-6 record and a 3.96 ERA with 135 strikeouts in 170⅔ innings. The team made it to the championship series, but something happened that would change Trachsel's life.
"I was getting ready for Game Seven, manager [Marv Foley] calls me in, and tells me I'm going up," he said.16
The Iowa Cubs won the game, 3-2, on September 15. Four days later, Trachsel was pitching in the majors. He went 0-2 with a 4.58 ERA in three starts to close out 1993. He gave up four home runs in just 19⅔ innings. 
"He doesn't conceal his pitching hand very well, even from the stretch position, and you can get a pretty good read on his grip during the delivery," an unnamed member of the San Diego Padres said about Trachsel.17
"I used to pitch with a finger out," Trachsel said, "and it would wiggle when I threw a splitter. Enough to be noticed. … Most pitchers deal with it, and it's up to the coaches to notice it."18
In Trachsel's rookie season of 1994, he began to impress with his control and ability to work hitters. Some of his teammates began calling him "Maddux Jr." because of his comparisons to the former Cub and future Hall of Famer Greg Maddux.19
"He's very mature on the mound, not like a rookie at all," Cubs second baseman Ryne Sandberg said. "He's got a little of the Greg Maddux mentality. Very aggressive, very competitive. He knows what he wants to do. He doesn't ask a lot of questions. He's got an idea. You don't see that in a lot of rookies."20
"There was a little bit of pressure with that," Trachsel said of his new nickname. "Actually, a lot of pressure, for a 23-year-old. Those are tough shoes to fill. We were both right-handed, and both had good control. He had a changeup and I had a split. Oh, and he had a Cy Young Award and I had a Triple-A championship."21
Similar to Maddux, Trachsel didn't have overpowering stuff on the mound — his fastball sat in the mid- to high 80s — but he still found ways to get the job done with his pitch selection and control. 
"I try to throw inside to every hitter at least once in every at-bat," Trachsel said. "I just push them off the plate, make them move their feet. I'd be in trouble if I couldn't pitch inside."22
He finished the year with a 9-7 record — leading the fifth-place Cubs in wins — and a 3.21 ERA. He came in fourth in the Rookie of the Year voting, behind Raul Mondesi, John Hudek, and Ryan Klesko.
"It's only his first full year. He's just getting his feet wet," third baseman Steve Buechele said about Trachsel. "But he has the potential to be one of the best pitchers in the league."23
"I used to worry what happened behind me," Trachsel said, describing how the mental aspect of his game had improved. "Errors, stuff like that, the team not scoring enough runs. It was hurting me worrying about other guys. Finally, I just figured, 'Just worry about yourself. If you pitch well, you'll win.'"24
Over the next two years, he compiled a 20-22 record and a 3.96 ERA. He also earned his first and only All-Star selection in 1996. In February 1997 he and the Cubs avoided arbitration and agreed to a one-year deal worth $2.1 million, nearly 10 times more than the $220,000 he made in 1996.25
With his new paycheck, Trachsel went 8-12 over 34 starts in 1997, including a 4.51 ERA and a career-high 160 strikeouts. He also gave up a National League-leading 32 home runs. That offseason he and the Cubs successfully avoided arbitration again, and Trachsel signed a one-year contract for $2.9 million.
He went 15-8 in 1998 with a 4.46 ERA in 33 starts and a career-high 208 innings. On September 8 against the St. Louis Cardinals, he became part of baseball history when he delivered a fourth-inning pitch to Mark McGwire, who took it over the fence for his record-setting 62nd home run. 
"It was shin-high, off the inside corner. I've gotten him out with it before," Trachsel said. "It didn't have any elevation to it. But as strong as he is, even a line drive travels far."26
Trachsel couldn't have been happy about giving up the home run to McGwire, but there was something else during the moment that bothered him. Trachsel's teammate Sammy Sosa, who was batting McGwire all season long for the home-run record, ran in from right field to congratulate McGwire.
"I know a lot of guys in our clubhouse were upset that Sammy came in from right field, from the coaching staff all the way on down," Trachsel said. "It looked great on TV, and that's obviously what everyone keeps seeing. But to have an opposing player during the game congratulate another opposing player, from a player's standpoint, I didn't appreciate it."27
When the regular season ended, the Cubs were tied at the top of the wild-card standings with the San Francisco Giants, forcing a tiebreaker. Trachsel got the start and pitched 6⅓ shutout innings, giving up just one hit and striking out six. The Cubs won the game, 5-3, clinching their first playoff berth in nine years. 
"It was almost indescribable," Trachsel said of taking the mound for the tiebreaker game. "I would have to say, without having been in a World Series, I'd like to think that's what the atmosphere is like for every game. Being in Chicago, where it had been so long since they'd been to the playoffs. Harry [Caray] had passed that year. It was a one-game win-or-go-home type situation. The absolute electricity the entire day. There was this constant buzz everywhere you went around the city. The pure excitement of the entire moment is definitely one of the highlights of my career. One of the biggest games I've not only been able to participate in, but to witness."28
Trachsel did not pitch at all in the National League Division Series, in which the Cubs were swept by the Atlanta Braves.
After the season Trachsel signed another one-year deal to stay with the Cubs, this one being worth $5.15 million.29
In 1999 Trachsel went 8-18, leading the majors in losses, in addition to a 5.56 ERA and a career-high 127 runs allowed. Even after not playing from 1990 to 1993, he finished as the Cubs' leader in wins, starts, innings pitched, and strikeouts over the entire decade.30
"The simplest reason is that this game is tough," he said of going from 15-8 in one season to 8-18 the next. "Other than that many things happen throughout a season or from year to year. Player turnover is a big part. Health is another. … I pitched poorly and maybe tried to do more than I was capable of doing. I think when a player is struggling it's better to go back to the basics instead of trying harder to make the adjustments necessary to find the consistency that made you successful in the first place."31
Trachsel became a free agent at the end of the season and signed a one-year, $1 million contract to join the Tampa Bay Devil Rays.32
"The record is misleading," Devil Rays general manager Chuck LaMar said of the signing of Trachsel. "Four years in a row, he's pitched at least 200 innings. How many pitchers have done that? Plus, he's never been on the disabled list."33
At the time of his signing, Trachsel was expected to be the number-three or -four starter, but after Wilson Alvarez and Juan Guzman were injured, he ended up with the ball on Opening Day.34 He pitched seven shutout innings, striking out seven, and earning a win over the Minnesota Twins in his first start with his new team.
"I feel real comfortable," Trachsel said. "Pitching-wise, it's been kind of up and down. I've been kind of going good-start, bad-start, that type of thing. … But I think that's just because I'm trying to make the adjustment to the American League game. I didn't think it would be as different as it is. It's more of a breaking-ball type of league. You have to really be able to throw offspeed pitches for strikes, and my control a couple of times hasn't been real sharp, so it's gotten me in trouble."35
Trachsel went 6-10 with a 4.58 over 23 starts with the Devil Rays. On July 31 he and pitcher Mark Guthrie were traded to the Toronto Blue Jays for infielder Brent Abernathy. Over 11 starts with the Blue Jays, Trachsel had a 2-5 record and a 5.29 ERA. He finished the season with an 8-15 record with a 4.80 ERA and 200⅔ innings, his fifth straight year with at least 200 innings. His performance earned him an extra $4 million in bonuses, the most of anyone in the league.36
He entered free agency for the second time in the fall of 2000, and came out of it with a two-year contract with the New York Mets for $7 million.37 "His record over the last couple years is something most people raise an eyebrow to," Mets general manager Steve Phillips said. "In our view, there's information behind the numbers. His record really is a product of the run support he's received over the last couple of seasons."38
Trachsel also named run support as the main reason for his sub-.500 pitching record (he had the third-worst run support in 1999 and the seventh-worst in 2000): "If you make 35 starts and pitch every fifth day, your record is going to reflect your team's won-lost record."39
Trachsel had a dreadful start to his time with the Mets — the team won just one of his first eight starts — and things came to a head on May 17 against the San Diego Padres. He lasted 2⅓ innings, giving up four home runs in the third, and was tagged for seven runs in all. He was the first player in team history to give up that many homers in one inning. New York lost the game 15-3.40
"He can't pitch like that, that's for sure," Mets manager Bobby Valentine said. "He explicitly has a plan, he's told what to do, how to organize that plan, and he goes out and doesn't execute. That's unacceptable."41
"This is the worst I've felt in probably my entire career," Trachsel said. "A lot of pitches over the middle of the plate, that's probably the biggest thing. … I probably could have mixed my pitches better, but even if you mix pitches and you're not hitting your location, you're going to give up a lot of hits."42
After the atrocious start against San Diego, Trachsel was sent down to the Triple-A Norfolk Tides for a tune-up. 
In his second start with the Tides, Trachsel threw a seven-inning no-hitter during the first game of a doubleheader against the Ottawa Lynx. (Games in minor-league doubleheaders are seven innings.) His 86-pitch outing included three walks and five strikeouts.43
"I don't care what level you're at, it's still something a lot of guys haven't done," Trachsel said.44
While in Norfolk, he also worked with sports psychologist Harvey Dorfman to help get the mental aspect of his game under control.45
"I know there was a conscious effort to leave whatever happened at the ballpark, leave it there," Trachsel said. "I didn't want to take it home with me. Obviously, sometimes that was harder than others. Mostly over big losses, that type of thing. If I could leave it at the ballpark, it always seemed to make the rest of my life a little bit easier. I don't know if it was a competitive-edge-type thing while I was on the field. On days I pitched, after the game, I could be there a good couple hours before I could leave to be sure that I left as much there as possible."46
Trachsel was back in the big leagues less than two weeks later and went 10-7 the rest of the season, lowering his ERA from 8.24 before the demotion to 4.46 by the end of the year.
He continued that momentum into 2002, going 11-11 for the last-place Mets with a 3.37 ERA, his lowest in six years.
After the season, the Mets re-signed Trachsel to a two-year, $8 million contract with a $5 million vesting option for a third year. The deal kept him in a starting rotation that also included Tom Glavine, Al Leiter, and Pedro Astacio.47
"We're in a pretty good position right now. Those are four strong pitchers," general manager Phillips said after signing Trachsel.48
The new dynamic seemed to work out for Trachsel in 2003. He won a career-high 16 games and posted a 3.78 ERA, his second straight year leading the Mets in ERA. He also became the first player in Mets history to pitch two one-hitters in one season.49
In 2004 Trachsel experienced a career first: his own bobblehead. "The head should bob very, very slowly," Trachsel said, referencing his pace on the mound.50
The effort to get Trachsel a promotion was spearheaded by teammate Al Leiter. "He's always griping," Leiter said. "I mean it affectionately and with a sense of humor, but he's always been a guy who, you know, finds the negative in things. I got sick of hearing about how he's never had a bobblehead doll, and they never show him on the JumboTron. Every time they show some video on the screen, he sits on the bench and goes, 'See, of course I'm not on it.' So I called [vice president of corporate sales and services] Paul Danforth and said, 'Please, give the guy a bobblehead doll or a Matchbox car. Something. Anything.'"51
"It's the first time ever," Trachsel said. "I was on a Mets lunchbox with about 10 other guys on it once. They stuck me on the bottom of it, somewhere."52
Trachsel finished 2004 with a 12-13 record and a 4.00 ERA for the fourth-place Mets. It was his seventh season pitching more than 200 innings. The Mets picked up the option on his contract, giving him $5 million in guaranteed money for 2005.53
Trachsel's start to the 2005 season was not ideal: He underwent surgery in March to fix a herniated disc in his back.54 "This is not what I expected when I left to go to New York for X-rays," Trachsel said. "I thought I would get a shot and be back. At least they know what the problem is. There is no doubt in my mind I'll be back pitching again before the end of the season."55
His 200-inning-sized hole in the Mets' rotation was filled by Kris Benson and Victor Zambrano, who combined for a 17-20 record and a 4.15 ERA. Neither was able to reach the 200-inning plateau.
Trachsel didn't return to the mound until August 26, throwing eight shutout innings while giving up just two hits against the San Francisco Giants. "This is why I kept saying I wanted to come back," he said. "We're going in the right direction. Good things are happening, and they should keep happening."56
He finished the year with a 1-4 record and a 4.14 ERA over six starts. At the end of the season, the team picked up the option on him again, giving him $2.5 million for 2006.
Trachsel had 30 starts again in 2006, his ninth season of 11 with at least 30 starts. His 15 wins were tied for the team lead with Tom Glavine. His 164⅔ innings, however, were his lowest since 1995, and his 4.97 ERA was his worst since 1999. Still, his efforts helped the Mets win 97 games and their first NL East title in 18 years.
Trachsel got the ball for Game Three of the NLDS against the Los Angeles Dodgers, his first career postseason start and his first appearance in 12 days. He gave up two runs on six hits in 3⅓ innings. The Mets won the game, sweeping the series.
He took the mound again during Game Three of the NLCS, this time against the St. Louis Cardinals, with the series tied, 1-1. It ended up being one of the worst outings of his career. He faced 12 batters over two innings, 10 of whom reached base — five through hits, five through walks. Five Cardinals came around to score, each run earned.
The second-to-last batter Trachsel faced, Preston Wilson, hit a line drive off his leg, and Trachsel took himself out of the game one batter later with what turned out to be a right thigh contusion.57 He didn't actually record an out in the second inning, so he received credit for pitching only one inning in the box score.
"On this stage," Mets pitching coach Rick Peterson said, "any day you have a bad day, it's a bad day to have a bad day."58
"We'll wait and see how he feels … and go from there," Mets manager Willie Randolph said of Trachsel's status for the rest of the series. "Depends on where he is, really. Everything's open this time of year. All options are there and just do what you have to do that particular day."59
Trachsel didn't pitch again for the rest of the series, which the Mets lost in seven games.
He became a free agent after the 2006 season, and in February 2007 he signed a one-year deal with the Baltimore Orioles worth $3.1 million.60 He went 6-8 with a 4.90 ERA with the Orioles before being traded back to the Cubs before the August 31 trade deadline for pitcher Rocky Cherry and infielder Scott Moore. Cubs manager Lou Piniella said the plan was to put Trachsel in a six-man starting rotation, giving the team crucial pitching depth heading into the playoffs.61
"I'm excited. Surprised, mostly," Trachsel said. "I know it's been talked about and talked about, but you never expect anything to happen. It's a good situation over there, obviously. It's going to be fun. I spent six years there. I definitely have a pretty good idea on how crazy it's going to be and I understand all the other stuff that comes with it."62
Trachsel went 1-3 with an 8.31 ERA in four starts with the Cubs, giving up 16 earned runs in 17⅓ innings. He didn't pitch in the Division Series, in which the Cubs were swept by the Arizona Diamondbacks.
A free agent again after the season, Trachsel signed a minor-league contract to return to the Orioles. It also included an agreement for a major-league deal if he made it to the 40-man roster.63
"Steve was definitely the choice of [manager] Dave Trembley and our major league scouts," president of baseball operations Andy MacPhail said. "They thought his professionalism and work ethic would be a good example for the young pitchers in the clubhouse."64
"If I can prepare and know what to prepare for, then I don't see any reason why I can't be successful at doing whatever role they want," Trachsel said. "I'm just trying to figure out a way where I can be productive with this team."65
In June, just two months into the season, Trachsel was designated for assignment by the Orioles after posting a 2-5 record and an 8.39 ERA in eight starts and two relief appearances.66 In what turned out to be his final major-league appearance on June 7, he gave up four runs in one inning of relief against the Boston Red Sox.
Also in 2008, Trachsel was inducted into the Fullerton College Athletics Hall of Fame.67
After not being able to land with a team in 2009, Trachsel decided to hang up his spikes and retire. "I tried out for the Padres. … I figured if I couldn't even pitch for them then I guess it was time to be done," he said.68
He finished his 16-year major-league career with 143 wins, a 4.39 ERA and 2,501 innings pitched. He had multiple top-10 seasons in wins (2), ERA (2), starts (4), complete games (2), and shutouts (5). 
Regarding his "Human Rain Delay" nickname, Trachsel said of his pitching pace: "I wasn't always a slow worker. It kind of evolved during the last years in Chicago and came to a head in New York."69 To another writer he said, "Games started getting longer for some reason. Going back and thinking about them, the games definitely felt like they were moving really quickly, at least in my head. … But there was probably a good five-year period where my infielders probably thought it was painful for them. I know it was painful for some umpires as well. There would be comments made by them beforehand, especially the guys behind the plate. 'Oh God, I've got Trachsel's game.'"70
Trachsel's two slowest years were 1998, in which games he pitched in took an average of 3 hours and 11 minutes — 19 minutes longer than the major-league average — and 2002, when his 3:10 average game length was 14 minutes slower than the rest of the league. Of course, the era he played in certainly had a part in the reputation he grew. His career average game duration was 3:02, eight minutes faster than the major-league average in 2019.
Trachsel has been married twice and has three children: Brendan (b. 2000), Lauren (b. 2002), and Elsie (b. 2019).71
Trachsel is a big wine enthusiast; he is a Level One Sommelier72 and has a collection of more than 1,500 bottles.73 Throughout his career, he was known for bringing bottles onto planes during team flights.
"Plane wine is horrible," Trachsel said. "So we'd sit in the back of the plane, and the wine was a way of sparking conversation and getting to know guys off the field."74
Trachsel started drinking wine while in the minor leagues, but years of playing in New York helped him to further develop his passion. Bobby Valentine, his manager with the Mets, introduced Trachsel to people he knew with Kobrand Wine at a charity golf tournament.75
"I came home from a road trip, walked into my apartment and there were three cases of wine laying there: a mixed case of California wines, a mixed case of Italian wines and a mixed case of French wines," Trachsel said.76
As of 2020 Trachsel was retired and lived in Southern California with a custom-built wine cellar capable of holding 2,000 bottles, maintained at a steady 56 degrees.77
"I don't think I ever saw myself as a Hall of Fame-type pitcher," Trachsel said. "I didn't throw hard and strike lots of guys out. I felt that every time I took the mound my team had a chance to win that day and that was my goal. I could see that some guys were better than me, but that didn't change what I felt I had to do to be successful. Sixteen years was more than I ever thought I would play when I was in college and I'm proud of all the good things I accomplished in my career."78
Last revised: April 23, 2020
Acknowledgments
This biography was reviewed by Bill Nowlin and Len Levin and fact-checked by David Kritzler.
Sources
In addition to the sources cited in the Notes, the author relied on baseball-reference.com.
Notes
1 David Waldstein, "Mets: More Than Ever, Trachsel Has His Head in the Game," NJ.com, March 7, 2004.
2 Jerome Holtzman, "Trachsel Shows Signs of Following Maddux's Lead," Chicago Tribune, May 17, 1994.
3 Author interview of Steve Trachsel, January 20, 2020, referred to hereafter as Trachsel interview.
4 Martin Beck, "At CS Long Beach, They Swear by Fiery Right-Hander Trachsel," Los Angeles Times, May 24, 1991.
5 Beck; https://libraryfchistory.fullcoll.edu/photos.php?image_id=1792.
6 https://libraryfchistory.fullcoll.edu/photos.php?image_id=1792.
7 Beck.
8 https://libraryfchistory.fullcoll.edu/photos.php?image_id=1792.
9 Beck.
10 Beck.
11 Beck.
12 Beck.
13 https://longbeachstate.com/sports/2018/8/1/_trads_alltime_base_html.aspx.
14 https://longbeachstate.com/hof.aspx?hof=141.
15 Jeff Pearlman, "Steve Trachsel," JeffPearlman.com, June 5, 2013.
16 Trachsel interview.
17 Dave Nightingale, "Talented Rookie Right-Hander Steve Trachsel," Chicago Tribune, October 3, 1993.
18 Trachsel interview.
19 Holtzman.
20 Holtzman.
21 Waldstein.
22 Holtzman.
23 Holtzman.
24 Holtzman.
25 "For the Record," USA Today, February 7, 1997.
26 Mike Dodd, "Trachsel Earns Spot in History," USA Today, September 9, 1998.
27 "Trachsel: Fans Wanted to Believe," ESPN.com, January 12, 2010.
28 Chuck Wasserstrom, "What's Up, Chuck? A Conversation With … Steve Trachsel," Medium, March 15, 2016.
29 "Big Money for Trachsel," New York Post, December 17, 1998.
30 "Orioles Send 36-Year-Old Trachsel Back to Cubs," Associated Press, August 31, 2007.
31 Pearlman.
32 Chuck Johnson, "Braves' Aaron Meets with Troubled Pitcher," USA Today, January 14, 2000.
33 Johnson.
34 Ben Bolch, "A Fan's Return," Los Angeles Times, April 30, 2000.
35 Bolch.
36 "Bonus Time," USA Today, December 8, 2000.
37 Murray Chass, "Trachsel Completes Mets' Rotation," New York Times, December 12, 2000.
38 Chass.
39 Chass.
40 Tyler Kepner, "Trachsel Takes a Pounding, and Then Gets Ripped," New York Times, May 18, 2001.
41 Kepner.
42 Kepner.
43 "Trachsel Pitches No-Hitter," Associated Press, May 30, 2001.
44 "Trachsel Gets a No-Hitter," New York Times, May 30, 2001.
45 Waldstein.
46 Wasserstrom.
47 Kevin Kernan, "Trachs Happy to Be Back," New York Post, December 8, 2002.
48 Kernan.
49 Waldstein.
50 Waldstein.
51 Waldstein.
52 Waldstein.
53 Albany Times Union, April 7, 2004.
54 Mark Hale, "Back to Drawing Board," New York Post, March 17, 2005.
55 Hale.
56 Ben Shpigel, "After a Taste of Victory, Trachsel Turns to Wine," New York Times, August 28, 2005.
57 Joel Sherman, "Off the Trach — Steve Pulled Self from Game 3," New York Post, October 16, 2006.
58 Murray Chass, "Shadow from a Miserable Night Still Hangs Over Trachsel," New York Times, October 16, 2006.
59 Chass.
60 "Orioles, Trachsel Finalize Year Deal," Associated Press, February 15, 2007.
61 "Orioles Send 36-Year-Old Trachsel Back to Cubs," Associated Press, August 31, 2007.
62 Jeff Zrebiec, "Trachsel Says Goodbye to 'Fun' Clubhouse," Baltimore Sun, September 1, 2007.
63 "Trachsel Heading Back to Baltimore with Minor League Deal," Associated Press, February 11, 2008.
64 "Trachsel Heading Back to Baltimore With Minor League Deal."
65 "Orioles Drop Trachsel," USA Today, June 11, 2008.
66 "Orioles Drop Trachsel."
67 https://fchornets.com/information/hornet_tradition.
68 Pearlman.
69 Pearlman.
70 Wasserstrom.
71 Trachsel interview.
72 Sommeliers are wine stewards. The Court of Master Sommeliers, an organization dedicated to maintaining standards for sommeliers describes a Level One Sommelier as "someone who has completed a two-day intensive course covering wine from around the world and proper wine service, has successfully passed a written examination, and has demonstrated an basic ability to recognize wine quality."
73 Trachsel interview; Shpigel.
74 Mitch Frank, "Most Valuable Cellar," Wine Spectator, September 30, 2006.
75 Frank.
76 Frank.
77 Frank.
78 Pearlman.
Full Name
Stephen Christopher Trachsel
Born
October 31, 1970 at Oxnard, CA (USA)
If you can help us improve this player's biography, contact us.
https://sabr.org/sites/default/files/TrachselSteve.jpg
600
800
admin
/wp-content/uploads/2020/02/sabr_logo.png
admin
2020-04-04 00:00:26
2020-06-23 21:48:58
Steve Trachsel