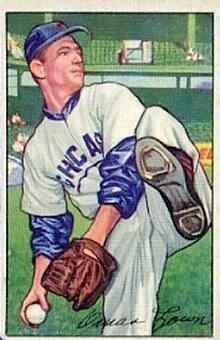 ---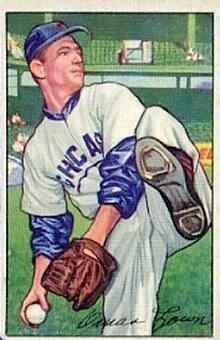 America has always had great duos. In entertainment it was Laurel and Hardy, Abbott and Costello, George Burns and Gracie Allen. In baseball it was the great Chicago White Sox tag team of Jerry Staley and Turk Lown. Together they formed the best one-two punch out of the bullpen in 1959 for manager Al Lopez.
"That year Lown and (J)erry Staley formed baseball's most brilliant bullpen combination," wrote Edgar Munzel in 1963. "These rescue artists were more responsible than any other single department for the success of the White Sox in capturing their first pennant in 40 years."1
He was born Omar Joseph Lown on May 30, 1924, in Brooklyn, New York. He got his nickname because of his fondness for turkey. He came from a hard-working middle-class family led by his parents, Omar and Mae Lown. Omar Sr. was a cook in World War I and throughout his life had many jobs around the New York area. Turk had two older brothers, Carl, who died of a heart attack at the age of 50, and Bill, who was, according to Turk, the better baseball player and all-around better athlete. The Lowns are descended from German immigrants. Turk attended Franklin K. Lane High School, where he was an outstanding baseball and basketball player.
Lown was discovered playing for the Ridgewood Bears of the Queens Alliance League in the summer of 1940. The Queens Alliance League, founded in the early 1930s, was a huge amateur league — more than 125 teams at its peak — consisting of teams primarily from the borough of Queens with a few from Brooklyn and some from Nassau County, farther out on Long Island. Professional baseball scouts thought highly of the Alliance, as it was a fertile ground for young prospects. Its players were generally considered to be the most skilled amateurs in the US. Some of the major-league teams had affiliations with Queens Alliance clubs, helping with uniforms and possibly some equipment.
Turk began playing in the Alliance as a strong-armed catcher and outfielder. He started a game on the mound one day in 1942 because his Ridgewood team had run out of pitchers. Turk fanned 17 batters. A New York paper said the Dodgers got wind of his performance and moved in quickly to sign him. But he actually was signed after a tryout at Ebbets Field. Ironically, Turk's brother Bill was the one invited to the tryout, but had to work and couldn't make it. Turk went instead, and impressed the Dodgers so much that Brooklyn scout Joe Kleinkauf signed him to a pro contract. Until then, he had no intention of pursuing a career in professional baseball, and he had been pitching for only a little over a year.
His first minor-league season, with Valdosta, Georgia, in the Class-D Georgia-Florida League, was nothing short of amazing. He went 18-8 with a 1.94 ERA. In 232 innings he struck out a league-leading 204 batters, but in what was a problem throughout most of his career, he issued 113 walks. However, Turk won seven in a row during one stretch and just missed the league's single-game strikeout record of 17 by one.
After that first year, Turk didn't have much time to celebrate or even look forward to next year for a while. With World War II raging, Lown was inducted into the Army. He was in the infantry for three years and saw combat when the Germans made their last desperate attack in the Battle of the Bulge. Turk came out of it with his right thigh pierced by shrapnel, and he was awarded the Purple Heart. The war over, he returned to baseball in 1946, beginning with Newport News in the Class-B Piedmont League. Because of lingering arm trouble, he pitched just nine games in 1946, going 2-5 with a 3.60 ERA. He walked 31 and struck out 19 in 50 innings, before undergoing arm surgery at Johns Hopkins Hospital in Baltimore.
Arm trouble or not, Lown was moved up to Class A in 1947, and rebounded nicely over the next two years while pitching for Pueblo in the Western League. In 1947 he pitched in 33 games, most of them as a starter. He went 13-7 with a 4.50 ERA — the highest of his career to this point. He was wild, walking a league-leading 133 batters in 190 innings. In 1948 Lown improved on his previous year in almost every way. He went 17-6, leading the league in winning percentage. He lowered his earned-run average a bit, to 4.08, and his walks somewhat, to 112 (his wildness earned him the nickname Omar the Passmaker). He moved up to Montreal and got into two games with an 0-0 record. Lown had an array of pitches: an above-average fastball, a curveball, a slider, a knuckleball, a changeup, and a slow pitch, better described as an eephus or blooper pitch.
Lown started the 1949 season one step away from the big leagues with Montreal, but started off 1-7 with a 3.97 ERA and again had more walks (54) than strikeouts (48). After 19 games he was demoted to Fort Worth in the Texas League. There, his season took a turn for the better. He won eight of his last nine decisions and record a 2.96 ERA. He pitched a no-hitter against Tulsa on August 31 — the day his first son, Craig, was born. It was the only no-hitter of his career. The final score was 14-0, but it wasn't pretty with nine walks. (Craig signed with the White Sox and pitched briefly in the minor leagues in the 1970s.)
In 1950 Turk found himself back with Montreal, and this time he impressed the Dodgers and proved he was a candidate for the big leagues. He started 29 games and went 13-9 with a 3.49 ERA, though again he yielded a high number of walks (122). But his dream of pitching with the Brooklyn Dodgers came to end after the season when he was drafted out of the Dodgers' system by the Chicago Cubs. Wid Matthews, a former aide to Branch Rickey at St. Louis and Brooklyn, had had his eye on Lown ever since 1942. After Matthews left the Dodgers and became the Cubs' director of player personnel, he tried more than once to trade for Turk, but the asking price was always too high. Finally Lown was available for the $10,000 draft price. A November 1950 Sporting News article quoted Matthews as saying, "I was crazy about that kid from the very first time I saw him. That was back in 1942, when Lown was with Valdosta. I happened to see him once when he was pitching against Albany, which was the Cardinal farm club. He struck out 17 of our boys. He had plenty of smoke and a good curveball. I was sold on that youngster from that day on. . . . He's still wild, but that doesn't worry me. His ERA and his 14 complete games with Montreal (in 1950) prove that his wildness is not too damaging."2
Turk was always known for his unselfishness and commitment to do whatever it would take to be part of a winner. That was evident by a note he sent Matthews in January 1951. In it Turk said that he had turned down a bundle of cash to pitch in Cuba, which he had done the previous year, in favor of preparing himself for his first venture in the big leagues. "I thought a couple of months' rest would do me more good than the money I would get for pitching in Cuba," Lown wrote. Matthews read that paragraph with a smile. "You don't see enough of that kind of spirit these days," he said.3
Lown made his major-league debut with the Cubs in 1951, and it was a tough year for Turk and his team, which finished last in the National League. Turk finished 4-9 with a high ERA of 5.46, but it was the 90 walks in 127 innings that did him in. Yet the praise kept coming in from around the league on how good his arm was. A spring training report from the Cubs on March 28, 1952, said that no one doubted Lown's tremendous potential, and it was agreed that Turk had more giddy-up on his fastball than any other Cubs pitcher, if not any other National League hurler.
In 1952 there was some improvement in Lown's work, but in small increments. Turk still had a losing record, 4-11, but his ERA went down over a run to 4.37 and his strikeouts almost doubled to 73. He still walked 93 but it took 30 more innings than the year before to get there. He almost got a no-hitter against his former team, the Dodgers, but the first hitter in the ninth broke it up and the Dodgers went on to score three runs and beat the Cubs.
Like many ballplayers of that era, Turk had an offseason job. During the winter he worked in sales and service for the Madison Electrical Tool Company on Long Island.
In 1953, his third year with the Cubs, Lown was removed from the starting rotation and assigned to the bullpen by manager Phil Cavarretta. He never started a game again in his major-league career. Turk ended up with a winning record, 8-7, but his ERA shot back up, to 5.16. In 1954, Turk got off to a horrible start, and the Cubs sent him to their Pacific Coast League team in Los Angeles. Lown's failure was an especially tough blow for Wid Matthews, who had prized him so highly. However, Turk had tremendous determination and never allowed a setback to get him down. A few years earlier, pitching against his former club, the Dodgers, Lown drilled Roy Campanella with a fastball and the star catcher was carried off the field to a hospital. Campanella was a vital figure in Brooklyn's drive to the pennant and there might be repercussions if he were out for any length of time. But Turk never wavered. In fact, he got even better as the game went along and handed the Dodgers a stunning defeat. "As far as I'm concerned, Lown that day became a pitcher," said Charley Root, then a Cubs coach. "He never lost his nerve and he seemed to have new confidence thereafter."4
In retrospect, the best thing that could have happened to Turk's career was being sent to the minors by the Cubs. They had tried to make him into a reliever at the end of the 1953 season, and Los Angeles kept him in the bullpen. It turned his career around. Posting a 5-3 record for the PCL Angels with a 2.48 ERA, he made up for the 46 walks he issued in 72⅔ innings by surrendering only 54 hits. With the Angels again in 1955, Turk had one his best seasons at any level. He led the PCL with 19 saves to go with his record of 12-5. He led the league with 61 appearances. He vastly improved his control, walking only 49 in 114⅓ innings. Besides his fastball, he came up with a slider to help him improve his control. There was strong belief that if Turk had not been sidelined for three weeks with pneumonia, the Angels would have won the PCL pennant.
Several major-league clubs were eager to get their hands on Turk after his brilliant year with Los Angeles, most notably the Giants, but the Cubs had their own plans for him. When the 1956 season began, Lown was again a member of the Cubs' bullpen. Turk was emotionally perfect for the relief role; he wasn't just resigned to being a relief pitcher, he actually wanted to be one. In the mid-'50s, most pitchers disdained bullpen work; nearly all wanted to be starters. Lown admitted that he felt that way, too, until he had such a bad year in 1954. "Then I took stock of my situation," he said. "My objective was to get back to the majors."5
After serving in the minors what seemed to be a lifetime sentence, the 32-year-old right-hander set a modern Cubs record in 1956 with 61 appearances, fifth in the National League. He won nine games and finished third in the league in saves, with 13. In 110⅔ innings, he posted a 3.58 ERA. Lown came back in 1957 to put up similar numbers. Breaking his year-old club record by pitching in 67 games, he went 5-7 with 12 saves, with a slightly higher ERA of 3.77. As in 1956, he led the league in games finished with 47. Turk again finished third in the NL in games saved.
The 1958 season proved to be a very busy one for Lown, as he saw himself a member of three different teams. Just a month into the season, he was traded to the Reds on May 8 for another reliever, Hershel Freeman. He got into 11 games for the Reds with not much success before being sold to the White Sox on June 23. Lown helped his new club by going 3-3 with eight saves in 27 games. In those eight saves he struck out 17 in 11⅔ innings while giving up just two earned runs. He was one of the pieces that manager Al Lopez was looking for to shore up his bullpen.
The 1959 season was not only a pennant-winning season for the White Sox; it was the coming-out party for Lown and his veteran bullpen mate, Jerry Staley, both of whom had been written off as washed up by at least two other clubs. Both were brilliant in 1959, with one or the other consistently closing out games. For Lown it was his finest season. He went 9-2 with a league-leading 15 saves, had a 2.89 ERA in 60 appearances with 63 strikeouts, and more importantly surrendered only 42 walks in 93⅓ innings. Lown and Staley (8 wins, 14 saves, 2.24 ERA) gave the White Sox a dominant bullpen.
Manager Al Lopez said time and time again throughout the year that without Staley and Lown, there would be no pennant. Lopez said Lown's fastball could match that of any pitcher in the league. The first time Lown faced Mickey Mantle he threw three fastballs right by him. He did the same thing the first time he faced Ted Williams. As Lown focused more and more on his fastball, his effectiveness as a reliever grew. There came a turning point early in the 1959 season that changed Turk for the rest of his career. On May 3 against the Orioles, he took the mound with the score tied at 2-2 and, after working a scoreless ninth, lost the game in the 10th by serving up home run balls to the two least likely long-ball candidates in the Baltimore lineup, second baseman Billy Gardner and ex-Sox shortstop Chico Carrasquel. Those two home runs raised Lown's ERA to 4.15, and Lopez's temperature was rising as well. "Lown's best pitch is his fastball, but he insisted on throwing curveballs to two Baltimore hitters," fumed the Señor. "The curves he threw Gardner and Carrasquel hung, and they hit 'em out of the park." Decades later, Lopez' disdain for Lown's throwing anything but his fastball was still fresh in the pitcher's mind.6
Two days after the May 3 debacle against Baltimore, Turk had another rocky outing against Washington that saw his ERA climb to 5.59. But Lown became almost unhittable the rest of the year. In July, he was stellar; in 20⅔ innings, he gave up just four earned runs for a 1.78 ERA to go along with a 4-0 record, two saves and 12 strikeouts.
Turk said of Jerry Staley, "He was the best roomie I ever had. We were like brothers. It was like we were one. What I wanted to do, he wanted to do. When one of us wanted to take a walk, the other was there, too. If one of us wanted to eat, the other went."7 The two combined for 17 wins, 29 saves, and a 2.53 ERA. In an era that was not known for bullpens, Lown and Staley helped organizations learn how important relief pitchers could be.
The clinching game came on September 22, against the Cleveland Indians. Both Staley and Lown wanted to be the pitcher standing on the mound for the final out. With the White Sox leading, 4-2, and one out in the ninth, the call was made to the bullpen and Lown hoped it was for him. "It was a choice between Jerry and me," he said, "and he took Jerry. I would've liked to have gone in. I love those spots. But it was Vic Power who had hit that liner to third that time before off me, and maybe Lopez remembered that and decided to bring Jerry in." 8Staley's sinkerball could induce groundballs, which was what the White Sox needed, and they got just that as Power hit into a double play to end the game and give the Sox their first pennant in 40 years.
In the World Series, the White Sox faced the Los Angeles Dodgers, but Turk was not much of a factor. He did a fine job in his three appearances, giving up just two hits and no runs and striking out three in 3⅓ innings, but all three games were Sox losses. The club lost the Series to the Dodgers, four games to two.
After the 1959 season, the future looked bright for the White Sox, who added power hitters Minnie Minoso, Roy Sievers, and Gene Freese in an effort to take another run at the pennant. It was the last time in Turk's career that he was involved in a pennant race. In 1960 he took a small step back with only 45 appearances. He won two games, lost three and had five saves. His ERA jumped almost a full run, to 3.88. The White Sox came in third, 10 games out. In 1961 Turk bounced back with seven wins, 11 saves, and an ERA, at 2.76, back to its 1959 levels.
Lown turned 38 in 1962, and it was his last year. He appeared in 42 games, winning four and saving six with a respectable ERA of 3.04. Despite those decent numbers the White Sox released him after the season, and replaced him with future Hall of Famer Hoyt Wilhelm. Lown was invited to join the Cincinnati Reds for the 1963 season, but after pitching a few games in spring training, he decided it was time to go home to Pueblo, Colorado, where he had pitched in the 1940s, and call it a career. For a pitcher who started out as a starter and not a very good one at that, he had rebounded to have a very nice career. He ended his career with a 55-61 record, 73 saves and a 4.12 ERA.
In his later years, Lown still resided in Pueblo with his wife. They had three sons, Craig, Gary, and Terry. After Turk left the game he became a postal carrier for 23 years. He died of leukemia in Pueblo on July 8, 2016, a little over a month after his 92nd birthday. "He never really bragged about baseball," his son Terry told reporter Terry Lester. "A lot of people have said, 'I didn't know your dad played that long.' They didn't know he fought in the Battle of the Bulge and received the Purple Heart, either."9 Lown might not be remembered with Staley as a famous duo, but for the 1959 season those two were the best and most famous duo in the city of Chicago.
An earlier version of this biography originally appeared in SABR's "Go-Go To Glory: The 1959 Chicago White Sox" (ACTA, 2009), edited by Don Zminda.
Sources
In addition to the sources cited in the Notes, the author also consulted: baseball-almanac.com, baseball-reference.com, fretrosheet,org, http:/minors.sabrwebs.com/cgi-bin/player, www.timesnewsweekly.com/archives2003/apr.-jun.2003, the Turk Lown player clipping file at the National Baseball Hall of Fame Library, and the following:
Kalas, Larry. Strength Down the Middle — The Story of the 1959 Chicago White Sox (Fort Worth: Mereken Land & Production Co. 1990).
Singletary, Wes. Al Lopez: The Life of Baseball's El Senor (Jefferson, North Carolina: McFarland & Company, 1999).
Snyder, John. Cubs Journal. Year by Year and Day by Day with the Chicago Cubs Since 1876, second edition (Cincinnati: Clerisy Press, 2008).
Johnson, Lloyd, and Miles Wolff, The Encyclopedia of Minor League Baseball (Durham, North Carolina: Baseball America Inc., 1997).
Thanks to Turk Lown for an interview with the author on May 25, 2008.
Notes
1 Edgar Munzel, "Hoyt Pins on Turk's Badge as Chief of Chisox Firemen," The Sporting News, February 9, 1963 (note: Staley preferred to be called Jerry rather than Gerry and is referred to as such in this book.)
2 Edgar Munzel, "Tabs Turk 100 Grand Cub Grab," The Sporting News, November 29, 1950.
3 John C. Hoffman, "Quotes," The Sporting News, January 17, 1951.
4 Edgar Munzel, "Lown Assigned Dutch Leonard's Spot in Bull Pen," The Sporting News, February 10, 1954.
5 Edgar Munzel, "Bruins' Bull Pen Pair Gives Hack Heave of Relief," The Sporting News, March 14, 1956.
6 Bob Vanderberg, 59: Summer of the Sox (Champaign Illinois: Sports Publishing, 1999), 49-50.
7 Ibid., 83-84.
8 Ibid., p.139.
9 Kerry Lester, "Sox pitcher key to '59 pennant dies as modestly as he lived," The Daily Herald, July 29, 2016.
Born
May 30, 1924 at Brooklyn, NY (USA)
Died
July 8, 2016 at Pueblo, CO (USA)
If you can help us improve this player's biography, contact us.
http://bioproj.sabr.org/bp_ftp/images5/LownTurk.jpg
600
800
admin
/wp-content/uploads/2020/02/sabr_logo.png
admin
2016-01-26 15:13:41
2016-01-26 15:13:41
Turk Lown