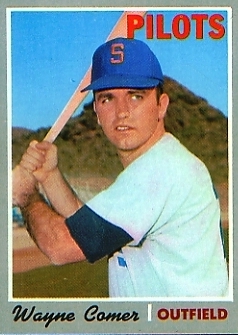 ---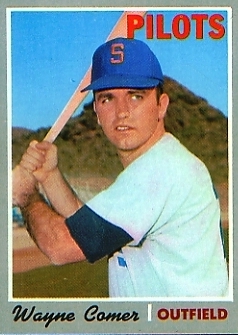 Harry Wayne Comer was born February 3, 1944, to Harry and Pearl Comer in Shenandoah, Virginia, about 100 miles southwest of Washington, D.C. He grew up there and attended Page County High School, where he was a multi-sport star. He lettered in all four years in baseball, football, and basketball, eventually earning all-district honors in all three sports. He was an all-state honorable mention in football in his senior season in 1961.
After being scouted by the Pittsburgh Pirates, Kansas City Athletics, and Washington Senators in high school, Comer was signed in 1962 by Senators scout George McQuinn, a former major leaguer himself. Comer played his first season in 1962 for the Raleigh Capitals, the Senators' affiliate in the Class B Carolina League, where he struggled as an 18-year-old. Comer himself admitted that he was probably in over his head, and he hit just .228 against some stiff competition that included future Yankees All-Star pitcher Mel Stottlemyre. Of Comer's 61 hits, only 17 were for extra bases. He also had yet to establish the patience at the plate that helped him later in his career and struck out 46 times with just 26 walks. In only one other season in his professional career did Comer have that many more strikeouts than walks.
On January 11, 1963, he married Joyce Nauman. Two months later, he was traded by the Senators to the Detroit Tigers for infielder Bobo Osborne, who had played parts of five seasons for the Tigers. In the spring, Comer reported to the Tigers' Class A affiliate in the Florida State League, the Lakeland Tigers. He put together a solid season there, and while his power had yet to develop (just two home runs in 417 at-bats), he had an impressive 62-to-67 strikeout-to-walk ratio while he hit .264.
In 1964, Comer played for another of the Tigers' Single A affiliates, the Duluth-Superior Dukes of the Northern League. There, he continued to progress as a hitter and refined his effectiveness on the basepaths. He hit .279 with 26 extra-base hits (the most of any season up to that point), and he stole 20 bases in 99 games. He continued to show a good eye at the plate and walked 75 times with just 54 strikeouts.
Comer's performance earned him a promotion in 1965 to the Tigers Double A affiliate, the Montgomery Rebels of the Southern League in 1965, where he had his best season yet. He stole a league-high 31 bases (and was caught stealing a league-high 14 times) and hit .285 with nine home runs. It was good enough to warrant him a spot on the Southern League All-Star Team. Just as important as his quality season, Comer and his wife had their first child, Timothy Wayne Comer, on June 22, 1965. For his performance at Montgomery, he was rewarded with a promotion to the Tigers' Triple A affiliate in the International League, the Syracuse Chiefs, just a step away from the majors, for the 1966 season.
But after playing 35 games for the Chiefs, Comer was traded to the New York Yankees' Triple A affiliate, the Toledo Mud Hens, for Art Lopez. Toledo needed a right-handed bat while Syracuse was looking for a lefty to round out its lineup. Comer was the right-handed hitter sent to Toledo. Between Toledo and Syracuse, Comer finally broke into double digits with 11 home runs but took some adjusting to the better competition, as his batting average dipped to .266. The trade turned out to be temporary, though; after the season ended, he was sent back to the Tigers.
In 1967, though again Tigers' property, Comer remained in Toledo. The Tigers and Yankees swapped minor league affiliates. His second season in Toledo was arguably his best as a pro. He hit .290, and led the International League with 86 runs and 229 total bases. As an outfielder, he led the league with 306 putouts, 14 assists—and nine errors. He was one of the leaders of a team that, for the first time in franchise history, won a Triple A title: the Governor's Cup, the championship of the International League; Toledo had never won an American Association title when it was part of that circuit. In a cross-state, best-of-seven series with the Columbus Jets, the Mud Hens prevailed four games to one. Comer's biggest contribution during the International League playoffs came in the deciding game of the Mud Hens' first-round series against the Richmond Braves. In that game, he had three hits and drove in one of the Hens' runs in the 5–1 win.
His all-star performance in 1967 earned Comer a look by the big-league club after the playoffs. In his first big-league at-bat September 17, 1967, Comer belted a pinch-single off Frank Bertaina in a 5–0 loss to the Washington Senators. Three days later he made his first big-league start, in center field in the middle of a heated pennant race. He went 0 for 2 in his last two at-bats of the season. He got into two more games, but both times they'd be as a pinch-runner.
In 1968, behind five Detroit outfield stalwarts on the depth chart, Comer once again found himself in the minors playing for Toledo. He got his break in May, at the expense of a future Hall of Famer. On the 25th, Al Kaline was hit by a Lew Krausse pitch that broke his forearm. Comer was called up to help out in the outfield as a reserve but also served as the team's third catcher. He was used often as a pinch-hitter—21 times in 48 games played—but batted just .125. He picked up only 48 at-bats in 48 games, but he did hit his first major league homer in a pinch-hitting role August 11. On September 18, 1968, the day after the Tigers clinched the American League pennant, Comer' s second son, Paul Allan, was born.
Comer made the Tigers' World Series roster. In his only at-bat, as a pinch-hitter for pitcher Daryl Patterson in Game 3, he laced a single to center field. (Another important role was catching Mickey Lolich's pregame warm-up pitches.)
In 1969, Comer would get his first chance at a regular job, but it wasn't going to be the defending World Series champion Tigers. With both the American League and National League expanding by two teams in 1969, Comer was selected by the Seattle Pilots in the expansion draft, and he took advantage of his chance to start by having a solid season. On a team that was immortalized in Jim Bouton's book Ball Four, Comer belted 15 home runs, hit .245, and walked 82 times. He was probably the team's most productive hitter after first baseman Don Mincher—who came over in the expansion draft from the California Angels—second to Mincher on the team in home runs and fourth in RBI. The best game of Comer's career also came in 1969, when he belted two homers and drove in four on May 16 in a 10–9 win at Fenway Park over the Boston Red Sox.
His solid play didn't carry into 1970, and while Comer went with the Pilots to Milwaukee, his time with the Brewers was short. Comer lost his starting center-field job when he started the season 0-for-15. He finally picked up his first hit May 10, a game-winning RBI single in the bottom of the ninth inning against the Washington Senators. That same day, he was traded to Washington for infielders Hank Allen and Ron Theobald. Comer said he was warned of the trade by Nats catcher Paul Casanova during the game and that Casanova told him not to get a hit because he was a Senator. Not sure whether to believe it and still doing his job, Comer got the game-winning hit anyway. The deal was announced the following day, and Comer played for Washington that night. But in Washington, Comer was once again relegated to a reserve role for the team that had originally signed him in 1962. He floundered, finishing the season hitting .233 for Washington—and .212 between the two teams—with no homers.
On December 5, 1970, the Tigers purchased Comer from the Senators and from then on, he was a career minor-league player. He spent three years, 1971 through 1973, with Toledo, with a two-plus-month stay in Detroit, from late May to early August of 1972, during which he had just nine at-bats in 27 games. His pinch-single on July 19 was his 157th and last major league hit. After a year in Double A Reading in 1974, Comer called it quits on his 13-year professional baseball career.
Comer had a few different jobs during the off- season while he played ball. He worked in a grocery store and he purchased a men's haberdashery. Once he left baseball, he got into sporting goods sales. Comer and his wife also had a third son, Shaun Christopher, in 1980, after leaving baseball. Comer eventually became a teacher and a baseball coach.
He continued to live in his hometown of Shenandoah, Virginia. He got to see all three of his sons play college baseball and became the proud grandfather of six granddaughters and three grandsons.
He died at the age of 79 on October 4, 2023.
Author's Note
An earlier version of this article was published in SABR's Sock It To 'Em Tigers: The Incredible Story of the 1968 Detroit Tigers (Maple Street Press, 2008).
Sources
Albuquerque Journal, April 3, 1970.
Andrews, Jack. "Toledo Drugs Chiefs Twice." Syracuse Post-Standard, July 23, 1966.
Benton Harbor News-Palladium. Articles of September 21 and October 8, 1967, and December 5, 1970.
Coshocton Tribune, Coshocton, Ohio, October 25, 1970.
European Stars and Stripes. Articles of September 12 and 17, 1967.
Manitowoc Herald-Times, Manitowoc, Wisconsin, May 11, 1970.
Pacific Stars and Stripes, September 2, 1968.
Petersburg Progress Index, Petersburg, Virginia, September 11, 1967.
Reddy, Bill. "Chiefs Get Lopez From Hens in Trade for Comer," Syracuse Post-Standard, June 10, 1966.
Syracuse Herald-Journal. Articles of April 3, 6, and 21, 1966.
Syracuse Post-Standard. Articles of March 13, 1966; April 29, 1966; June 4 and 7, 1966; and July 23 and 27, 1966.
www.baseball-reference.com
www.retrosheet.org
Wayne Comer file, National Baseball Hall of Fame Library.
Photo Credit
The Topps Company
Born
February 3, 1944 at Shenandoah, VA (USA)
Died
October 4, 2023 at Shenandoah, VA (US)
If you can help us improve this player's biography, contact us.
http://bioproj.sabr.org/bp_ftp/images3/ComerWayne.jpg
600
800
admin
/wp-content/uploads/2020/02/sabr_logo.png
admin
2012-01-04 20:03:36
2023-10-24 09:51:19
Wayne Comer