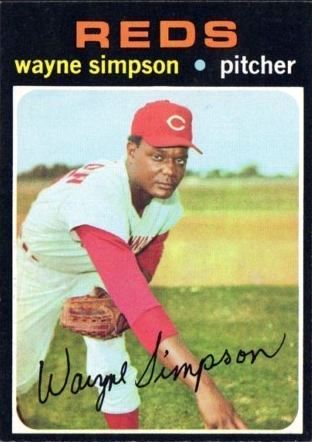 ---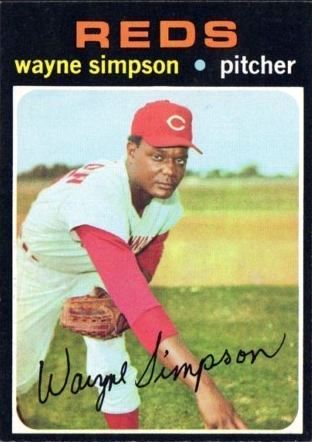 For the first half of the 1970 season, Cincinnati rookie pitcher Wayne Simpson had the National League by the tail. He won 13 of his first 14 decisions in the majors, making the All-Star team. "He was tough," remembered Al Oliver, then an opponent with the Pittsburgh Pirates. "Outstanding. I'd have to rate him right up there with Tom Seaver and Steve Carlton."[1] Since Simpson was tall, black, and powerful, the most frequent comparison was Bob Gibson.
Wayne made a lasting impression not only on batters but also on his catcher with the Cincinnati Reds, the great Johnny Bench. In 2002, when asked who threw the very hardest during his years behind the plate, Bench did not hesitate in his answer: "Wayne Simpson wore me out; no one threw harder than he did in 1970."[2] Six years later, in his book Catch Every Ball, Bench reiterated, "I've never seen more explosive stuff."[3]
Then, on July 31, 1970, the righty's dominance was gone with "a sudden pop."[4] He had torn his rotator cuff. Simpson joined a long list of pitching casualties; even today with the benefit of surgical advances, making it back from such an injury is no sure thing. Yet Wayne hung on in the pros through early 1979, braving the shameful skepticism of those (including manager Sparky Anderson) who thought it was all in his head. He literally almost pitched his arm off. He quit only when the damage to blood vessels in his shoulder threatened him with loss of limb — or his very life.
Wayne Kirby Simpson was born on December 2, 1948 in Los Angeles, California. His parents, James and Imogene Jackson Simpson, were both postal workers. Wayne was part of a blended family; along with a biological sister, he had a stepbrother and stepsister. In addition, his distant cousin is Scipio Spinks, another pitcher who was briefly dazzling in the majors in the early '70s.
Simpson started playing Little League in Los Angeles's Athens Park when he was eight or nine years old. "I didn't know I had it," he said about his arm in 2011. "I started in the outfield, but I couldn't see the ball when it was hit toward me. I am legally blind in my left eye. I'd throw the ball over the screen, and the coach said, 'We're going to make you a pitcher.' I didn't really want to at first."
Simpson went to Centennial High School in the L.A. suburb of Compton. This city became known in the 1980s for its crime rate, and gangsta rap group N.W.A. fueled its rough reputation with the album Straight Outta Compton. In Wayne's youth, however, it attracted a sizable middle-class black population. The first African-American families moved there in the 1950s, and Centennial High was also built that decade to serve the growing student body.
Especially in that era, Los Angeles was a lode of young black baseball talent. Centennial produced a number of high-quality major-leaguers in the 1960s and '70s. Before Simpson came Roy White, Reggie Smith, and Don Wilson. His contemporaries included occasional batterymate Lenny Randle and Al Cowens. Later on came Mitchell Page and Lonnie Smith.
Simpson was also a fine football player, but when asked if he played any other sports, he responded, "I ran track off and on, but not basketball. Once football was over, I had to concentrate on the grades. Then that went right into baseball. We had other leagues, it was a year-round thing." In football, he was a free safety on defense — but his extraordinary arm strength made him a quarterback. In practice, Wayne would sometimes throw from goal line to goal line. In one game, he completed a touchdown pass of 88 yards — all in the air, not a catch and run. The receiver was Mickey Cureton, an NFL-caliber running back who starred at UCLA before a neck injury cut his career short.[5] That backfield also featured Lenny Randle and Bob Thomas (who played in the NFL from 1971 to 1974).
"We had a modern-type offense," Simpson recalled in 2011. "I was a scrambling quarterback. On that play, I was running around in my end zone, and Mickey knew — most of the guys knew — he could just keep running. I just let it go, and it hit him around the two-yard line and knocked him down in the other end zone. I didn't know the significance of it until after I signed."
Simpson played for other noteworthy teams during his high-school years. One of the men who helped develop many future big-leaguers in L.A. was Chet Brewer, who had a long and successful career as a pitcher in the Negro Leagues from 1925 to 1948. After retiring as a player in the 1950s, Brewer was a scout. He also started a youth baseball program in the Watts neighborhood. Dock Ellis described what it was like to be one of "Mr. Brewer's boys" in his 1976 book In the Country of Baseball. In 2011, Simpson reminisced too. "He was an excellent teacher. I wish I had known more about him at the time — I know more now. We knew he was connected with baseball, but we didn't know his significance, how great and instrumental he was. Now I can appreciate it."
Simpson also played for Compton's Magellan C. Mars American Legion team. Other distinguished Mars Post alumni include (again) Roy White, Reggie Smith, and Don Wilson — Wilson's father was a team coach. "He was also an excellent teacher," Wayne said in 2011. In 1970, Simpson told longtime Reds beat writer Earl Lawson about learning the value of hard work and sacrifice amid stifling L.A. summer heat. He added, "I don't think I was a bad kid, but I might have become one. Legion ball kept me out of a lot of trouble and it kept me off the streets in the summer."[6] The summer of 1965 had seen the notorious riots in Watts — just on the other side of the Century Freeway from Compton.
Simpson also began to attract the attention of big-league scouts in Legion ball. Some of his standout performances included a no-hitter and a seven-inning one-hitter in which he struck out 20. He also pitched a no-hitter for Centennial in March 1967. The Cincinnati Reds made him their first-round choice (the eighth pick overall) in the June 1967 amateur draft. The area scout was Larry Barton; the regional scouting supervisor was former major-league outfielder Al Zarilla. "Larry Barton was always in the area, I think he was from Torrance," Simpson said in 2011. "Then he and Al Zarilla both came together, I remember them in my house."
Wayne turned down numerous college football scholarships in favor of baseball. He liked the contact of football and missed it — "you have more of an outlet when you get mad."[7] He had other reasons for choosing the diamond, though. "In Southern California," he said, "you can play baseball the year around. Football was just a winter-months sport. I stuck with baseball because I was playing it more often."[8] Plus, in those days, outside of historically black institutions such as Grambling, football was not ready to admit African-American quarterbacks. "UCLA and USC wanted me," Simpson remembered in 2011, "but they wanted to make me a cornerback."
"My parents always wanted me to go to school," he added, "but I went with baseball." The young man was assigned to Sioux Falls, South Dakota in the Class A Northern League. When asked in 2011 what it was like for a teenaged city guy to go to the Dakotas, Simpson responded, "Scary! I was homesick. I didn't give it much thought at first because I was signing. But when I got to Sioux Falls I just felt lost. It was a transition for me. Fortunately I had the best manager I think I ever had, Jim Snyder. He was a father figure away from home. He helped people adjust."
"I roomed with Fred Kendall and a guy named Sheldon Andrens in a Silver Bullet trailer. I had played against Fred, who was from Torrance, but I didn't really know him." Once that summer, Wayne — who had played clarinet and loved jazz — spent his last three dollars of meal money on a record album. He went a day without eating, which showed how much he loved music: even more than food, because he could devour two one-pound steaks at a sitting.[9] "It was a long two months!" he said with a laugh.
Control was Simpson's nemesis, as he averaged six walks per nine innings in his first three pro seasons. "I can remember many times at Asheville when he walked the first three batters he faced," said Sparky Anderson, who managed Wayne there in 1968 two years before taking over at Cincinnati. "And," added Simpson, "I can remember walking as many as 12 batters that first summer I pitched at Sioux Falls."[10]
Simpson also threw 24 wild pitches in 1968, which led the Double-A Southern League. Yet he showed clear promise, throwing another no-hitter in the Florida Instructional League that fall and advancing to Triple-A in 1969. Ahead of the '69 season, Baseball Digest commented, "Could be a sleeper. Good fastball and excellent competitor."[11] No doubt the last bit of that report was based on an incident with Asheville in 1968, when a liner back through the box struck Simpson on the cheekbone. Had he not been wearing contact lenses, he might have lost an eye.[12] Still, as Sparky Anderson remembered, "I visited him the next day in the hospital and he told me he wasn't gonna miss a turn."[13]
Simpson struggled with Indianapolis in 1969, but he developed his mental toughness. "My statistics were bad last season," he said while with Cincinnati in 1970, "but I learned a lot and if you're going to make mistakes, I'd just as soon make them down there as up here."[14] In the span of a few months, though, the prospect harnessed his talent. The Reds sent him to play in the Puerto Rican Winter League (PRWL) during the 1969-70 season. Pirates superstar Roberto Clemente saw Simpson while playing at home with the San Juan Senadores. The following July, Clemente said, "I told (General Manager) Joe Brown during the winter that if he had a chance to get him — I'd take him with my eyes closed."[15]
With the Ponce Leones, Wayne won the Triple Crown of pitching. He had 11 regular-season victories against five losses, struck out 114 men in 151 innings, and his ERA was 1.55, as he threw seven shutouts while completing 13 of 18 starts. He became league MVP and then helped Ponce capture the PRWL championship, firing another shutout in the finals against Santurce.[16]
In 1970, the Caribbean Series was revived after a nine-year hiatus. In Caracas, Venezuela, the Puerto Rican team (under Jim Fregosi, in his first stint as a pro skipper) finished second with a 4-4 record. Simpson capped his superb winter by going 2-0 with yet another shutout, a four-hitter against the Dominican Republic.
In October 1970, Wayne said, "Pitchers are capable of changing overnight, and that's what happened to me." He gave much credit to Reds backup catcher Pat Corrales, who was behind the plate for Ponce. "He worked with me on my control. He got me to pitch in a more relaxed state of mind."[17]
Wayne also enjoyed himself off the field in Puerto Rico. Author Thomas Van Hyning wrote, "What made Simpson popular, along with his wins, was a desire to pick up the Island slang. Simpson's aim was to converse in Spanish. 'If you forced people to speak English or conform to your customs, things weren't going to go that well for you. But if you really appreciate other cultures, they pick that up rapidly and appreciated you trying to learn Spanish.'"[18]
Simpson had not expected to be with the big club at the start of the 1970 season. But when he made his major-league debut at Dodger Stadium on April 9, it was spectacular. He faced just 29 men, allowing two hits and walking none, in a 3-0 shutout. On hand in his hometown were his parents plus 20 other relations and friends, including Mickey Cureton and various other American Legion buddies.[19]
The rookie's third start was a one-hitter versus the San Francisco Giants at home. His only loss in the season's first half came in the following game because of unearned runs. He modestly gave credit to the Big Red Machine offense for his winning percentage, but batting support was not camouflage. Wildness was still an issue at times, and he wasn't striking out batters as Dwight Gooden did in 1984, but his ERA was well below 3.00.
When Wayne beat the Astros 3-1 on July 5, allowing just four hits, Johnny Bench had glowing words. "After one pitch Simpson made to Denis Menke, I turned to plate umpire Ken Burkhardt and said 'I'm glad I'm catching and not hitting.' A couple of times Simpson buried my hand in the glove with his fastball. You never know which way his fastball is going to go. It tails, it sinks, it sails. You name it, his fastball does it."[20] And if that wasn't enough, he had a change-up too. "I don't know where he came up with the change," said Bench, "but I sure hope he doesn't lose it. He throws it up to the plate and the bottom drops out."[21]
Simpson was off to one of the best starts ever by a rookie pitcher. Sparky Anderson raved about not only his stuff but also his hard work and competitive spirit. Opposing skippers joined in the praise too. Lum Harris of the Braves said, "If Simpson ever starts getting that fast ball of his over consistently, they can throw water on the fire and call the dogs because it'll be all over."[22] Gil Hodges of the Mets selected the rookie to the NL roster for the All-Star Game, which was held in Cincinnati's Riverfront Stadium. Wayne did not appear, even though the game went 12 innings, ending with the famous collision at home plate in which Reds teammate Pete Rose bowled over Ray Fosse.
After that, Simpson was 1-1 in three starts before blowing out his rotator cuff. Billy Williams of the Cubs was at the plate. "I threw a fastball," Wayne recalled in 1977, "and the whole shoulder seemed to give way." Somehow he got through that third inning, even striking out Johnny Callison to end it. "He retired to the dugout hoping his shoulder was just overworked, but it turned out to be a muscle tear with internal bleeding."[23]
Simpson tried to get back in action twice, on August 14 and September 13. He himself admitted in 1981 that rushing back was not the right thing to do. "I didn't know any better. I just wanted to pitch." He took Novocain to deaden the pain, and pitched anyway.[24] He couldn't get past the third inning either time. "I had no strength. I couldn't pick up the rosin bag. The second time, in San Diego, the arm hemorrhaged. Then they believed it was serious."[25]
The Reds sent Simpson to Dr. Robert Kerlan, the prominent orthopedic surgeon. "I wasn't worried," the pitcher recalled in 1977. "I expected him to tell me to rest my arm. I thought I would rest it for the playoffs and the World Series." However, he was definitely not going to be ready for the postseason. Dr. Kerlan warned, "Your arm is very muscular. It's going to take three or four years to come back."[26]
In 1993, Earl Lawson remarked, "In retrospect one would have to say that Simpson had been the victim of overwork. From the start of the 1969 season through July of 1970, Simpson. . .had logged more than 400 innings. Obviously, it was too much, even for a pitcher with Simpson's magnificent physique. . .What the Reds' brass seemingly had forgotten was he was also only 21 years old."[27]
Looking back in 2011, Simpson commented, "It was definitely too many innings in Puerto Rico, and then straight to spring training, where more innings were accumulated but not counted in the record. I wish there had been more of a pitch count, though. Some games, such as my first game against the Dodgers, were 85 pitches for nine innings, no strain. Other games, 150-160 in seven or eight innings. In my opinion, pitch count is more important than innings limit."
The back of Simpson's 1972 Topps baseball card charitably summed up his '71 season (4-7, 4.76 with 77 walks in 117-plus innings): "Wayne's shoulder was slow coming around in 1971 after his injury the year before. He found himself at Indianapolis, and after his return to [the] Reds, showed signs of regaining top form. After Wayne hurled 6 2/3 scoreless innings last Sept. 6, Johnny Bench said, 'That was the Simpson who won 13 of his first 14 games last year, (1970). His fastball was alive — sailing a lot.'"
To Wayne's displeasure, Sparky Anderson also sent him down to start the 1972 season in Indianapolis. After returning to the Reds in May, he was 8-5, 4.14, starting 22 times in 24 appearances. Among other things, that July he was offered a bribe to fix a game in Pittsburgh from a mysterious caller named "Louie." Simpson told the press, "He said that if I came through he'd make sure two $1,000 bills were under my door after the game." Simpson thought it was a crank call at first, but he wound up taking it seriously enough to report it to manager Anderson. FBI agents even quizzed him briefly.[28]
In late September, tension resurfaced. As Sports Illustrated wrote, "Both Gary Nolan and Wayne Simpson were accused of having arm problems more mental than physical."[29] This notion rankled Nolan, as Richard Miller wrote in his SABR BioProject story, and Wayne as well. Both men endured unbelievable pain from serious physical causes and did anything they could to get out on the mound.
Though available, Simpson did not appear in the 1972 postseason. On November 30, the Reds traded him along with Hal McRae to the Kansas City Royals for Roger Nelson and Richie Scheinblum. Toward the end of the year, Wayne made his feelings about the Reds organization plain.
"They were unfair to me and never were truthful," Simpson said that off-season. "They'd tell me that I'd pitch on certain days, then those days would come around and I wouldn't be pitching. That has to upset a person. After the World Series, I was steaming. It was building up for some time. I mean they promised me that I'd pitch in the Series and I didn't. It was evident that I didn't fit into their plans and I asked them to trade me." He added that if he pitched a bad game, he would have to "sit around for two weeks without pitching. They wouldn't send me back out there."[30] (He must have been thinking about the gap between August 23, when he got bombed at Montreal's Jarry Park, and September 6.)
Wayne was speaking from Ponce, where he had returned for another winter season. He called the departure from Cincy "the first good news I've gotten in 2 1/2 years. This trade should give me a fresh start."[31] Simpson went 5-2 for the Leones, and impressed Royals manager Jack McKeon, who was leading another PRWL club, the Arecibo Lobos. Said McKeon, "He showed the real good fast ball several times but impressed me even more with his maturity. Simpson's not merely a thrower. He's a pitcher."[32]
Things didn't work out in Kansas City, though. The Royals sent Simpson down to Triple-A Omaha in late June with a record of 3-4 and a 5.65 ERA in 14 games (nine starts). He got into two more big-league games after the rosters expanded in September, getting knocked out of the box in the first inning in his last appearance on September 21.
Wayne had a very strong spring training in 1974 and thought he had made the Kansas City roster. Yet at the end of camp, the Royals traded him to the Pittsburgh Pirates for Jim Foor. He spent the entire season at Triple-A Charleston. Though his record was an undistinguished 9-10, his ERA wound up at a respectable 3.32. The following spring, he said, "Being back in the minors just didn't sit right. I wasn't mentally sharp. I was disappointed at being there and it affected my pitching. [In July] I said to myself, 'The heck with it. Go out there and prove you don't belong here." He went on to register a 1.70 ERA during the rest of the season.[33]
Simpson did not make the Pirates roster in spring training 1975. On April 5, Pittsburgh traded him to the Philadelphia Phillies for Bill Robinson, who revived his career with the Bucs, enjoying his best years as a big-leaguer. Wayne remained in Triple-A with the Toledo Mud Hens, then Philadelphia's top affiliate. Under manager Jim Bunning, he enjoyed something of a revival himself, going 12-7 with a 2.17 ERA — including a seven-inning no-hitter on June 20 against Syracuse.
He also instilled a fighting spirit in teammate Dick Ruthven, who told author William Kashatus about it. After the Richmond Braves shelled Ruthven one day, "Wayne came up to me in the clubhouse and told me, 'Don't you ever quit. I went through the same thing you're going through. Don't give up. If you do, it's going to be you and me, one on one.'" After the no-hitter, Ruthven told Simpson, "As badly as I want to go back up, they should take you." Simpson shot back, "Don't ever say you'd rather have someone else go up. You can get buried down here."[34]
The Phillies did give Wayne a chance to get back to the majors, almost two years after he had last been there. He performed well (1-0, 3.23 over five starts in seven games). That winter, Simpson pitched for Jim Bunning again as he went back once more to Puerto Rico. The Phillies sent many of their prospects and others who needed the work to the Caguas Criollos. Wayne liked and respected Bunning, who should have been a big-league manager, in his view.[35]
In April 1976, the California Angels purchased Simpson's contract from the Phillies organization. Once again at Triple-A, this time with Salt Lake City, he posted another winning record of 13-8 in 28 starts. His ERA rose to 4.24, though, and he saw no big-league action. After the season, he rejoined Jim Bunning for another winter-ball season, this time in the Dominican Republic with the Escogido Leones.
In spring training 1977, Simpson described how he had changed since his injury. "I'm not sure I'd like to pitch the way I used to," he said. "I used to throw entirely with my arm. Now I throw with my body and with technique. It's a lot easier to throw 80 pitches a game than 135. I still throw the fastball. I can't judge how fast it is any more."[36]
Simpson spent the entire 1977 season with the Angels, but the results were not good (6-12, 5.83). That year he and Samoan first baseman Tony Solaita bestowed a name on the club's part-timers: The Mud Squad — "'in the mud like a pig,' said Solaita with a smile."[37] California released Wayne after the season, but in March 1978, he signed as a free agent with the Los Angeles Dodgers. In the past he had been reluctant to go to Triple-A, but again he accepted the assignment. He labored through 22 starts with L.A.'s top farm club, the Albuquerque Dukes, going 8-10 with an inflated 6.18 ERA.
As so many other players have done over the years, Simpson gave it a last shot in Mexico. He joined the Mexico City Tigres. When he reached the end of the line, though, it was a truly scary experience. Two years later, in the summer of 1981, Mike Littwin of the Los Angeles Times and Ira Berkow of the New York Times both heard the story from Wayne. Following the most severe bout of the arm and shoulder cramps he had been battling for years, the pitcher spent two weeks of rest on doctor's orders. Then he tried to warm up in the bullpen. "My arm just knotted up, and my hand got cold and white — no feeling in it whatsoever," he said. "The doctor realized there was no blood circulating in my hand. He rubbed it and told me that I had to have an operation right away, or I could lose the hand."[38]
Simpson had a blood clot in his arm and was fortunate not to wind up suffering a stroke.[39] That fate befell J.R. Richard of the Houston Astros the next year, 1980. Richard too had been told that his ailment was all in his head. Richard and Simpson were two extreme examples of thoracic outlet syndrome (TOS), a repetitive stress disorder to which pitchers (as well as swimmers and tennis players) are prone. Other cases among big-league hurlers include David Cone, who developed an aneurysm, and Aaron Cook, whose pulmonary embolisms threatened his life. Dennis "Oil Can" Boyd had another form of TOS called Paget-Schroetter Syndrome, which caused recurring blood clots in the subclavian artery of his pitching arm.[40] His circulatory symptoms were similar to Simpson's, but treatment with enzymes and blood thinner got Boyd back on the mound.
In 2011, Simpson said, "The doctors later told me that the force of pitching kept my blood clots down. Otherwise they could have traveled from my subclavian artery to my head. They wanted to operate in Mexico City, but I said I didn't want to do it there." He was rushed home and endured four bypass operations in an effort to restore normal circulation. "When a dye was finally put in," he said in 1981, "it illuminated the inside of my arm and pictures were revealing. The doctors were amazed at what they saw. Over the course of my pitching career, I had rubbed out an entire artery."
Amazingly, Simpson still wanted to come back and pitch after the second procedure.[41] Yet at age 32 in 1981, he could barely lift a cup of coffee with his right hand. He could not write more than half a page with a pen before his hand would start to grow numb. That curtailed his studies toward a real-estate broker's license, which he had started before going to Mexico. He and his family got by, however, thanks to a small big-league pension. His wife Carolyn was at home helping him and taking care of their two sons. He said, "This is no sad story. I'm doing fine now. I really am. For the first time, I'm really able to enjoy my family. I gave baseball my best shot. And bitter? I don't think so. But I am realistic.[42]
Simpson sued to obtain worker's compensation benefits from the Angels and Dodgers. "We worked something out," he said in 2011. "Without getting into too much detail, there was a settlement. I had a lawyer here, his name was George Hill, he directed me." When asked how his arm and hand felt, Simpson responded frankly, "It hurts! I still have pain in the hand and under the arm. It's a permanent disability. I'm just used to it now." He added more insight about the medical road he traveled. "The first four bypasses would not take. The clots came back. I went to the clinic of Dr. Denton Cooley in Texas, and they did a sympathectomy." This more radical procedure involves cutting nerves in the chest to help restore the flow of blood to the arm and hand. Dr. Cooley, the renowned cardiovascular surgeon, had done one on Whitey Ford (who also had TOS) as early as 1964.[43]
"But the sympathectomy just released blood to the veins," Simpson continued. "The artery is gone. I have had one health problem after another, and it all goes back to pitching with that torn rotator cuff, taking cortisone shot after cortisone shot. But mentally, I'm fine."
Once Simpson got back from Mexico, his involvement with baseball had ended. He has not done any coaching, although when asked, he offered an intriguing view of what happened to the once-thriving African-American baseball scene in Los Angeles. "I'm not really in touch today," he admitted, "but I don't see the opportunities. Most of the players coming out of high school today, it's basketball or football. We had a network — now there aren't the leagues. You need at least 18 players and more, plus sponsors. A lot of the gang activity took over the parks. Now there's not as much gang activity, but the leagues didn't come back."
As of 2011, Wayne and Carolyn Williams Simpson made their home in Carson, California. They took up residence in this city (also in L.A. County, southwest of Compton) in 1979. They were married on November 14, 1970. The Simpsons had two sons, Jason and Drew. "They have their own families now," said Wayne. "I am one of Jehovah's Witnesses, serving as an elder in the congregation." Although possessing marked intelligence, he never went back to school. However, computers — Simpson is an iPhone user — have helped him cope with the hand problems.
Despite all he has endured, Wayne Simpson is a cheerful man who laughs easily. He reaffirmed in 2011 what he had said 30 years before about how things turned out. "I'm happy with it. At first, I was bitter. Athletes today know — and I know now — it's not just a game, it's a business too. But I enjoyed baseball. I enjoyed the guys I played with. I enjoyed the teams."
Grateful acknowledgment to Wayne Simpson for his memories (telephone interview, February 22, 2011).
March 15, 2011
Sources
www.baseball-reference.com
www.retrosheet.org
www.comptoncity.org
www.newspaperarchive.com
Crescioni Benítez, José A. El Béisbol Profesional Boricua. San Juan, Puerto Rico: Aurora Comunicación Integral, Inc., 1997.
Antero Núñez, José. Series del Caribe. Caracas, Venezuela: Impresos Urbina, C.A., 1987.
Notes
---
Born
December 2, 1948 at Los Angeles, CA (USA)
If you can help us improve this player's biography, contact us.
http://bioproj.sabr.org/bp_ftp/images5/SimpsonWayne.jpg
600
800
admin
/wp-content/uploads/2020/02/sabr_logo.png
admin
2012-01-04 20:42:06
2012-01-04 20:42:06
Wayne Simpson