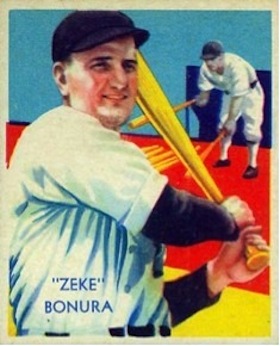 ---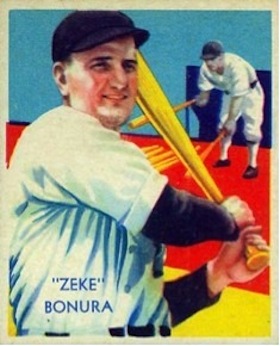 A leading slugger of the 1930s, Zeke Bonura was "one of baseball's best-loved figures."1 He was a colorful first baseman with an indomitable spirit, and his great enthusiasm resonated with fans. In seven major-league seasons, he hit .307 and averaged 100 RBIs per season. During World War II, he received the Legion of Merit medal for creating baseball fields and leagues in North Africa, enabling service men and women to play and watch the national pastime.
Born September 20, 1908, in New Orleans, Henry John Bonura (rhymes with "Sonora"2) was of Sicilian descent, the eldest child of John Bonura (1884-1945) and Rosa Amato (1887-1957). Henry had two sisters, Philomena (1914-1965), and Rosina (1924-2004). Henry's father was a prosperous fruit merchant in the Crescent City.3
A gifted high school athlete, Henry excelled in baseball, football and basketball at St. Stanislaus in Bay St. Louis, Mississippi. After a coach praised his physique, his teammates began calling him "Physique" and the nickname was shortened to "Zeke."4 Though a teenager, Bonura set an American record in 1925 by throwing a javelin 213 feet, 10½ inches, at the National AAU track and field championships.5 After graduating from high school in 1927, he studied business for two years at Loyola University of New Orleans before leaving college to pursue a career in professional baseball.6
Big and brawny, Bonura stood about 6 feet tall and weighed close to 200 pounds. A right-handed batter, he hit .322 in 1929 for the New Orleans Pelicans of the Southern Association. In February 1930 he played on the first professional basketball team in New Orleans, also called the Pelicans.7
The Cleveland Indians invited Bonura to spring training in 1930. He hit the ball well but was awkward playing first base,8 so the Indians returned him to the minors. He batted .352 for the Pelicans in 1930 but missed much of the season with a leg injury.9 In 1931 he played for both the Pelicans and the Indianapolis Indians.
For the next two seasons, Bonura starred for the Dallas Steers of the Texas League. On July 17, 1932, he clouted a home run and two doubles, and drove in seven runs in Dallas's 9-8 victory over the Beaumont Explorers.10 He batted .322 in 1932, and his 21 home runs placed him third in the league behind Beaumont's Hank Greenberg (39) and Houston's Joe Medwick (26). The next year Bonura hit .357, led the league with 24 home runs and won the league's MVP Award. In both 1932 and 1933, he led Texas League first basemen in fielding percentage.11 He was ready for the major leagues and was acquired by the Chicago White Sox.
Bonura was a rookie sensation on the White Sox in 1934. In his first 25 major-league games, he belted 10 home runs and collected 29 RBIs, including a grand slam off Earl Whitehill at Washington on May 8. For the season, Bonura batted .302 with 27 home runs and 110 RBIs, and he led major-league first basemen with a .996 fielding percentage. His home run tally set a franchise record and would have been higher had he not missed 24 games with a groin injury.12 The Brooklyn Daily Eagle said Bonura's performance was "the only bright spot" on a White Sox team that finished in last place under first-year manager Jimmy Dykes.13
The next season the White Sox improved to fifth place under Dykes, as Bonura hit .295 with 21 home runs and 92 RBIs. Bonura fit the profile of a lumbering first baseman, yet he stole home in the bottom of the 15th inning to score the winning run against the New York Yankees in the first game of a doubleheader on August 26, 1935. It was only the fourth stolen base of his major-league career. In "his own inimitable manner," Bonura told how it happened:
"I'm on third. I see [Jimmie] DeShong, which is the New York pitcher for the Yankees on that day, take his windup. He makes the mistake of taking a long windup and I'm off third like a bird. Now you understand there was no signal for to steal. I'm using my head and being alert. DeShong has got himself all wound up like a clock now and here I'm breezin' home as though carried by some winged horse of some name or other. A newspaperman wrote a swell story about it back home. It sounded like Pegasus. In fact it was Pegasus because I looked it up thinkin' at first he was ribbin' me.
"Let's see, where was I? Oh, yes. I'm breezin' home like Mercury hisself and I spread out and slide handy right under [Yankees catcher Bill] Dickey. … Well, you ought to seen Dickey. I won't never forget the expression on his face. He was without a doubt the most surprised man in baseball. That's really bein' surprised. And I guess a lot of the other fellows were surprised at old Zeke breezin' home and theftin' a sack to win their old fifteen-innin' ball game. … Funny thing about it though, Mister Dykes looked almost as surprised as Dickey."14
Bonura was genuine, good-hearted, and exuberant. Before a doubleheader, he would say, "Come on, boys, let's get out on the field; they're going to let us play two games today."15 He cheered his teammates at every opportunity, and the fans cheered for him. In a poll of Chicago fans, Bonura was voted the most popular player on Chicago's two major-league teams, the White Sox and the Cubs.16
Bonura did not smoke, drink, or curse.17 In the offseason he resided with his parents in New Orleans, played professional basketball, and worked in his father's produce store.18 His father operated a lucrative business importing and distributing bananas.19 Naturally, Zeke was nicknamed "Bananas," and he owned a yellow car which he called a "banana special."20
In 1936, Bonura was an offensive force on a fourth-place White Sox team. He hit only 12 home runs, but he batted .330 and achieved career highs in RBIs (138), runs scored (120), and walks (94). Sure-handed in the field, he again led major-league first basemen with a .996 fielding percentage.
Bonura pulled off several defensive gems in 1937:
On June 1, White Sox pitcher Bill Dietrich no-hit the St. Louis Browns with Bonura's help. In the fifth inning, Bonura caught Bill Knickerbocker's smash down the first-base line, and in the seventh inning, he made a leaping catch of Sam West's liner.21
In a 3-2 victory over the Detroit Tigers on June 29, Bonura snagged Hank Greenberg's line drive and fired across the diamond in time to double-up Billy Rogell at third base. Bonura had a strong arm for a first baseman.22
In a rain-shortened five-inning triumph over the Philadelphia Athletics on July 14, Bonura "made a brilliant one-handed catch" of Bob Johnson's foul popup with the bases loaded for the third out of the fifth inning.23
On August 12, 1937, Bonura surprised the Tigers in the second game of a doubleheader by stealing home in a 6-4 White Sox victory. "No one seemed to know just how the slow and ponderous Zeke got there, but he made it…"24 Unfortunately, he suffered a groin injury on the play and was sidelined for the next 26 games.25 "I was a fool to do it," he said, "but we were in a slump and I was desperate. I'll try any way to win a game."26
The White Sox finished in third place in 1937. Bonura's offensive numbers were again stellar: a .345 batting average, fourth highest in the league, with 19 home runs and 100 RBIs. He was a holdout in the spring of 1938, the fourth consecutive spring in which he held out, and this time White Sox owner Louis Comiskey refused to meet his salary demands and traded him to the Washington Senators.
On Opening Day, April 18, 1938, in Washington, President Franklin D. Roosevelt and Vice President John N. Garner saw Bonura slug a three-run homer in the Senators' 12-8 victory over the Athletics.27 On Opening Day in Chicago the next day, many fans booed as the White Sox took the field, to protest the trade of Bonura.28 "South Side fans are really SORE at Comiskey," wrote Arch Ward of the Chicago Tribune.29
During the first two-thirds of the 1938 season, Bonura was mired in a slump. His batting average through games of August 3 was .232, but then his bat caught fire: From August 4 to August 27, he hit .476 and knocked in 37 runs in 23 games. He finished the season with a .289 average and led the fifth-place Senators with 114 RBIs, and his 22 home runs set a franchise record.
Bonura led AL first basemen with a .993 fielding percentage in 1938, yet his fielding was widely criticized. As he aged, he became heavier and less mobile. Sportswriter Sid Keener scoffed at the fielding stats and said, "It is a known fact that Bonura prefers to remain in a stationary position as bounders zip past his bulky frame, skipping to the outfield for base hits."30 His fielding percentage reflects his errors of commission but not his errors of omission.31
Bonura has "a great pair of hands," said Jimmy Dykes.32 "His only weakness is on hard-hit balls to his right, but he won't drop any thrown balls."33 But Senators owner Clark Griffith said, "Zeke is too clumsy in the field and it's too bad, because he's a nice fellow and nobody tries harder."34 Griffith traded him to the New York Giants in December 1938. If it were 35 years later, Bonura would have become a designated hitter.35
Giants manager Bill Terry, a former first baseman, worked with Bonura on his fielding during spring training in 1939.36 Still, on balls hit to his right, Bonura would say, "Come on, Whitey," to Giants second baseman Burgess Whitehead.37 Bonura's perfunctory wave at a passing groundball became known as a "Zeke Bonura Salute."38
On June 28, 1939, the Giants were in second place in the National League, four games out of first place, and Bonura ranked second in the league with a .374 batting average. He was the inspirational leader of the team.39 Bonura "is blessed with a warm, generous, jovial nature," wrote columnist Joe Williams. "Somehow you like him just by looking at him. He ambles around with the puppy playfulness of a Kodiak bear. He enjoys every minute of the game, for he has a genuine zest for playing."40
But in mid-September, with the Giants languishing in fifth place, Bill Terry decided to bench Bonura to give playing time to Babe Young, an impressive rookie. Bonura led the Giants in batting average (.321) and RBIs (85) in 1939, but Terry felt that Young was his first baseman of the future. Bonura did not respond well to the benching; according to Terry, he "sneered and sulked."41 In April 1940, the Giants traded Bonura back to the Washington Senators.
On June 29, 1940, Bonura doubled in the eighth inning with the bases loaded as Washington overcame homers by Ted Williams and Bobby Doerr to earn a 9-7 victory in Boston.42 However, Bonura's productivity at the plate was declining, and the Senators sold his contract to the Chicago Cubs in July. He was elated to return to Chicago, but his hitting did not improve. His major-league career came to an end in February 1941 when the Cubs sold his contract to the Minneapolis Millers of the American Association.
The Army drafted Bonura, cutting short his 1941 season with the Millers. According to his enlistment record, dated June 20, 1941, his height was 5-feet-11 and his weight was 227 pounds.43 He was assigned to Camp Shelby, near Hattiesburg, Mississippi, where he enthusiastically served as an assistant to the athletic officer and coached baseball and softball.44
By the spring of 1943, Bonura was stationed at Oran, Algeria, where he organized 10 baseball leagues with a total of 80 teams.45 He even arranged an African World Series in which the Casablanca Yanks defeated the Algiers Streetwalkers.46 Bonura himself managed a team in Oran. After the war, one of his players, Billy Cox, would play third base for the Brooklyn Dodgers.47
In October 1943, Bonura was awarded the Legion of Merit medal by General Dwight D. Eisenhower "for exceptionally meritorious conduct." The citation read:
"By his resourcefulness, enthusiasm and leadership he was able to overcome many shortages in needed assistance and construction materials and he established 30 baseball fields in the area through the use of volunteer assistants and salvaged materials. Corporal Bonura has made a substantial contribution to the morale and efficiency of troops in this theater."48
In 1944 Bonura organized baseball in the south of France.49 The Army released him in October 1945, and he returned to New Orleans. He hoped to resume his playing career in 1946, but no major-league team was interested in a slow-footed, 37-year-old first baseman.
Bonura managed several minor-league teams from 1946 to 1954, and was a playing manager until 1952. At age 42, he hit .404 in 48 games for the 1951 Midland (Texas) Indians of the Class C Longhorn League.
Hank Greenberg, now general manager of the Cleveland Indians, hired Bonura in 1953 to manage the Fargo-Moorhead Twins, a Class C affiliate.50 Under Bonura's guidance, the Twins won the Northern League championship. Eighteen-year-old Roger Maris batted .325 for the team.
After his baseball career, Bonura worked in real estate in New Orleans.51 He raised beagles, and for many years was president of the South Louisiana Beagle Club.52 He was a lifelong bachelor. "Maybe it's just as well," he said, "because if I were a married man, where'd I ever get time for my beagles?"53
Bonura died in New Orleans on March 9, 1987, at age 78. He was posthumously inducted into the National Italian American Sports Hall of Fame, the Louisiana Sports Hall of Fame, and the Texas League Hall of Fame.
"It mattered not if it was the ninth inning and his team was 15 runs behind. Zeke's enthusiasm never wavered."54 — sportswriter Whitney Martin
"I played because I loved the game."55 — Zeke Bonura
Notes
For more information on Zeke Bonura's contributions during World War II, see:
Steven R. Bullock, Playing for Their Nation: Baseball and the American Military during World War II (Lincoln, Nebraska: University of Nebraska Press, 2004), 50-56.
Gary Bedingfield, "Zeke Bonura, Spreading Baseball Around the Globe," When Baseball Went to War, Todd Anton and Bill Nowlin, eds. (Chicago: Triumph Books, 2008), 63-69.
Wanda Ellen Wakefield, Playing to Win: Sports and the American Military, 1898-1945 (Albany, New York: State University of New York Press, 1997), 88-90.
Notes
Born
September 20, 1908 at New Orleans, LA (USA)
Died
March 9, 1987 at New Orleans, LA (USA)
If you can help us improve this player's biography, contact us.
http://sabr.org/sites/default/files/BonuraZeke.jpg
600
800
admin
/wp-content/uploads/2020/02/sabr_logo.png
admin
2016-11-29 18:10:51
2016-11-29 18:10:51
Zeke Bonura