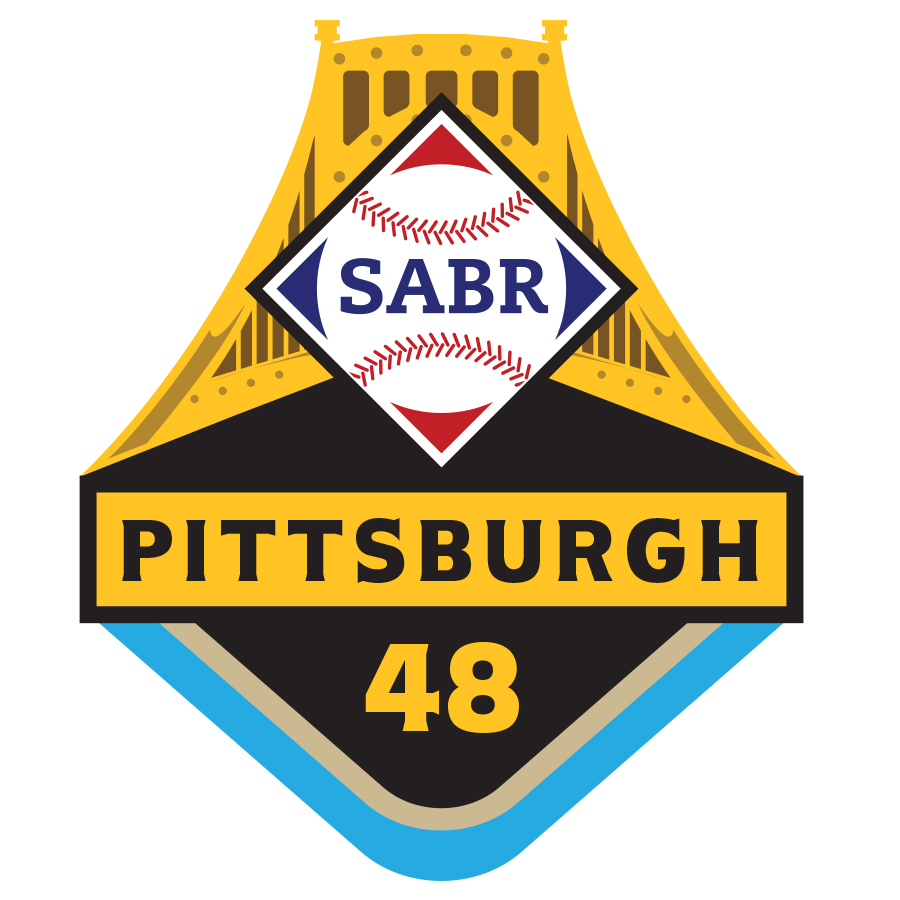 Here is the list of research presentations for SABR 48, which was held June 20-24, 2018, at the Wyndham Grand hotel in downtown Pittsburgh. Full research abstracts and presenter bios are posted below. Click on a audio link or PowerPoint slides link for highlights from each presentation, where available.
Click here to learn more about the poster presentations that were on display all week during SABR 48.
Thursday, June 21
11:45 a.m.–12:10 p.m. (Grand Ballroom 1)
RP01: Why Didn't Babe Ruth Ever Become a Major League Manager?
John McMurray
It is well-known that Babe Ruth was eager to become a major league manager, but, unlike several of his contemporaries who had standout playing careers and then transitioned into managing, Ruth was not given the opportunity. McMurray will examine where Ruth's potential managerial prospects unraveled, especially how his stint as a coach with the Brooklyn Dodgers effectively represented Ruth's last reasonable chance to manage a team. His discussion will include why Ruth's box-office appeal was not enough to land him a managerial job and will consider key moments in Ruth's prospective path to becoming a manager.
John McMurray <deadball@sabr.org> is Chair of SABR's Deadball Era Committee and its Oral History Committee. He serves on the selection panel for both the Ritter Award and the Ron Gabriel Award and is a member of the Editorial Board of Base Ball: New Research on the Early Game.
11:45 a.m.–12:10 p.m. (Grand Ballroom 2)
RP02: Baseball for the Blind, a Brief History
David Wanczyk
Baseball for the blind and visually impaired has an intriguing history dating back to at least 1894. That year, two teachers from Kentucky and Maryland discussed at a national conference that their students had begun playing a modified version of the game. By the 1930s, a kind of "sound baseball" was introduced. The scores were tremendous, the bat was a hockey stick, and successful defensive strategies were nowhere to be seen. It wasn't until the 1970s that baseball for the blind really leapt forward, though. With audible balls and buzzing bases – and with hitter and pitcher on the same team – beep baseball became an exciting, rough-and-tumble sport, and it now attracts more than 400 players to the annual World Series. Beginning in 1976, that series has expanded to include foreign teams (including a juggernaut from Taiwan), colorful characters, and its fair share of controversies–from interpersonal rivalry to a cheating scandal that rocked the sport in 2013. Wanczyk interviewed more than 100 players and coaches to learn about this sub-culture.
David Wanczyk <davidwanczyk@gmail.com> is the author or Beep: Inside the Unseen World of Baseball for the Blind. He edits the literary magazine New Ohio Review and teaches at Ohio University in Athens, Ohio, where he lives with his wife, Megan, his daughter, Natalie, his son, Benjamin, and the family heirloom — an autographed Pedro Martinez hat.
12:15-12:40 p.m. (Ballroom I)
RP03: From Deadball to Techball: The Evolution of Baseball Innovation
Daniel R. Levitt
Moneyball highlighted a new way to think about building a baseball team. But trying to gain an edge has been going on since baseball began, and it didn't stop with the publication of Michael Lewis's book. For example, in the 1930s, the smartest front offices created farm systems, and the teams that did so first established a lasting advantage. Today we've moved well-beyond Moneyball. Just before the 2015 season Major League Baseball rolled out Statcast, a system of multiple cameras in each ballpark, revolutionizing how on-field activity can be quantified. Levitt will look at team building innovations throughout baseball history, roughly organized into four categories: organizational; player pool; enhanced intelligence and analytics; and player scouting and training. He will highlight why some innovations led to material improvement while others seemed to make little impact, what led to the innovations and what differentiated the teams that successfully implemented them.
Daniel R. Levitt <danrll@attglobal.net> is the author of several baseball books and numerous essays. He is a longtime SABR member and a recipient of the Davids Award and the Chadwick Award. His books have won the Larry Ritter Book Award, the Sporting News-SABR Baseball Research Award, and have twice been finalists for the Seymour Medal.
12:15-12:40 p.m. (Grand Ballroom 2)
RP04: Roy Sievers: The Sweetest Right Handed Swing in 1950s Baseball
Paul Scimonelli
Based on multiple personal interviews with Roy Sievers, with his children, Shawn and Rob, his surviving brother Bill, Hall of Fame broadcaster Bob Wolff, more than two dozen teammates from the four teams on which he played, bat boys, and even people with whom he had worked at Yellow Freight in St. Louis, Scimonelli focuses on Roy Sievers the person, not the numbers. These interviews painted a picture of a kind and considerate person, a fierce yet loyal competitor, but above all a man of character and integrity. In his Historical Abstract, Bill James provides an "Underrating" value system. This system identifed Roy Sievers as one of the most underrated players in MLB history who should have received more MVP and HOF consideration than he did. Scimonelli argues that Roy Sievers saved not only the Senators, but the Washington Nationals franchises. Roy Sievers was the "nice guy" who unfortunately started last and finished last. He was a feared hitter in his prime, so much so that it led the great Ted Williams to say, "He's got the sweetest right handed swing in baseball today."
Dr. Paul Scimonelli <mr8vbbasso@gmail.com> was a member of the Music Faculty and Director of Strings at the Landon School in Bethesda, Maryland until his retirement in 2014. Paul received his Doctorate degree in Music Education from The Catholic University of America, where he was the instructor of the CUA Jazz Ensemble, as well as a member of the CUA Symphony Orchestra and the Part-Time faculty. Dr. Scimonelli also holds a Bachelor of Music degree from CUA and his Masters of Music from The University of Arizona. His first book, "Roy Sievers: The Sweetest Right Handed Swing in 1950's Baseball" is available at Amazon, Barnes & Noble and McFarland books. A sample of the book is available at www.paulscimonelli.com.
12:45-1:10 p.m. (Grand Ballroom 1)
RP05: Ralph Kiner and Branch Rickey: Not a Happy Marriage
John Burbridge Jr.
During the late 1940s and early 1950s Ralph Kiner was a leading home run hitter with the Pittsburgh Pirates. During this period the Pirates were a second division team with the exception of 1948, when they finished fourth. While not that successful on the field, Pirates attendance was greater than one million during the years 1946 to 1950. In 1950 Branch Rickey was ousted as the president of the Brooklyn Dodgers. Rickey brought to Pittsburgh his philosophy of how to be a winner, which he felt was a proven success. Kiner did stay with the Pirates during 1951 and 1952, leading the league in home runs both seasons. During these years the relationship between Kiner and Rickey was not good. Contract negotiations were difficult. Rickey also belittled Kiner's skills. While this was occurring, the Pirates continued to be dismal on the field and attendance plummeted. Finally, at the beginning of the 1953 season, Rickey traded Kiner to the Chicago Cubs. Burbridge will further explore the relationship between Rickey and Kiner during Rickey's tenure as general manager. He will comment on Rickey's performance in Pittsburgh, his treatment of Kiner and Kiner's thoughts on the relationships between players and team ownership.
Dr. John J. Burbridge Jr. (burbridg@elon.edu) is currently Professor Emeritus at Elon University, where he was both a dean and professor. While at Elon he introduced and taught Baseball and Statistics. He has authored several publications and presented at SABR Conventions, NINE and the Seymour meetings. He is a lifelong New York Giants baseball fan. The greatest Giants-Dodgers game he attended was a 1-0 Giants' victory in Jersey City in 1956. Yes, the Dodgers did play in Jersey City in 1956 and 1957.
12:45-1:10 p.m. (Grand Ballroom 2)
RP06: Not Just the Homestead Grays and Crawfords: Negro League Exhibitions in Pittsburgh
Alan Cohen
Although the Homestead Grays and Crawfords defined Negro League baseball in Pittsburgh, Forbes Field and other Pittsburgh area venues saw other Negro baseball exhibitions as such traveling squads as the Clowns and Satchel Paige's barnstorming group came through town and created a festive atmosphere in sometimes turbulent times. Cohen will focus on those travelling squads as well as games, before, during, and after World War II featuring Negro teams headed by the likes of Paige and Jackie Robinson playing against white squads led by the likes of Bob Feller and Dizzy Dean. The history at Forbes field made on two dates in the autumn of 1946 was also significant. The games played on September 30 and October 4, which Cohen will discuss, said as much about where the country had been in accepting black ballplayers and where we would be heading in the years and decades to come. Even after the integration of Major League Baseball, Negro teams continued to barnstorm, making an occasion stop at Forbes Field. In 1953, the Kansas City Monarchs and the Indianapolis Clowns came to town. The teams were in what was left of the Negro American League, and the program featured comedy by Clowns' Pitcher King Tut, 3- foot 6-inch Spec Behop and Circus Eddie Hamman. The Clowns also featured second baseman Toni Stone. She was no gimmick, and she played an excellent second base.
Alan Cohen <adc0317@comcast.net> has been a SABR member since 2011, serves as Vice President-Treasurer of the Connecticut Smoky Joe Wood Chapter, and is the datacaster (stringer) for the Hartford Yard Goats of the Double-A Eastern League. He has written more than 40 biographies for SABR's bio-project and has contributed stories to The National Pastime and the Baseball Research Journal. He is expanding his research on the Hearst Sandlot Classic, an annual youth All-Star game of bygone years. He has four children and six grandchildren and resides in West Hartford, Connecticut with his wife Frances, a cat (Morty) and a dog (Sam).
1:15-1:40 p.m. (Grand Ballroom 1)
RP07: Collusion and Collision: Hank Greenberg in Pittsburgh in 1947
Aviva Kempner, with John Thorn and Bijan C. Bayne
For decades, an unspoken "gentlemen's agreement" kept professional baseball segregated. Hank Greenberg, in the final year of his career, showed solidarity with African-American players and helped signify necessary change. This discussion will put the gentlemen's agreement in the context of other open secrets between team owners and elaborate why Greenberg was in a unique position to empathize with marginalized athletes. In 1947, Tigers team owner Walter Briggs colluded with other team owners to exile Greenberg to the National League. Greenberg was disillusioned enough to quit the game that he loved, but the Pittsburgh Pirates' owners enticed him to return. They installed a new bullpen, nicknamed "Greenberg Gardens," in Forbes Field to make it easier for him to hit home runs and offered him the first ever $100,000 baseball contract. Greenberg, as a Jew who suffered anti-Semitic insults from fans and rival players, was in a unique position to relate to the young Jackie Robinson in May of 1947 when the Brooklyn Dodgers played the Pirates. During the game, Robinson and Greenberg collided at first base. Greenberg checked that Robinson was not hurt and offered the rookie player encouragement. Footage will contextualize this discussion of business practices and racism of the time, as well as shifting norms. Kempner, Thorn and Bayne will also examine contemporary ownership and racism in baseball.
Aviva Kempner <akempner@aol.com> makes award-winning documentaries about underknown Jewish heroes. Kempner is finishing a documentary on Moe Berg, the catcher who spied for the U.S. during World War Two. She made Rosenwald, a documentary about Chicago philanthropist Julius Rosenwald's partnership with Booker T. Washington in building 5,000 schools for African Americans in the Jim Crow South; Yoo-Ho Mrs. Goldberg, about Gertrude Berg, who created the first television sitcom; and the Emmy nominated and Peabody awarded The Life and Times of Hank Greenberg, about the Hall Famer slugger who faced anti-Semitism during the '30s. She also produced the Partisans of Vilna, about Jews fighting the Nazis.
John Thorn <https://ourgame.mlblogs.com> is the Official Historian of Major League Baseball and the author of many baseball books.
Bijan C. Bayne is a sports historian who has researched, written for, and been interviewed in various films and television shows. He appears in the 2017 movie The First to Do It. In April 2014, he appeared on TV One's Unsung Hollywood's episode "The Harlem Globetrotters." The same year, he was interviewed and featured in Brian Culkin's documentary The Mission. In 2015, Bayne co-wrote, directed, and helped cast the pilot for the reality series Team of Dreams. In August 2009, he served as moderator for the Filmmakers' Panel at the seventh annual Martha's Vineyard African American Film Festival (on the topic "Black Film in The Age of Obama"). He has written and presented extensively on Black baseball, and the Latin American contribution to the game.
1:15-1:40 p.m. (Grand Ballroom 2)
RP08: Carlos Bernier: A Pittsburgh Pioneer 65 Years Ago
Thomas E. Van Hyning
Carlos Bernier broke the Pirate franchise's color line, April 22, 1953, a year before Curt Roberts played for Pittsburgh. Was Bernier a black Puerto Rican? Van Hyning points to research that says "yes." Bernier — first black player with the [1952] Hollywood Stars —was one of two Bucs, with Cuban pitcher Lino Donoso, who encouraged Roberto Clemente to refrain from emotional outbursts/tantrums in Fort Myers, Florida, spring training 1955. Bernier lived in segregated accommodations, as did Clemente. Cuban outfielder Román Mejías was in their 1955 spring training camp. Bernier-Clemente-Mejías were the first major-league black, All-Caribbean outfield when Pittsburgh visited the Phils at Clearwater, March 13, 1955. Major League Baseball (MLB) should list Bernier as Pittsburgh's first black player. Puerto Rico's fans compared Bernier's base running/sliding, with cleats going high, to Ty Cobb. Bernier also was coveted by Rogers Hornsby, 1950-51 Ponce Lions manager, when Hornsby tried to trade for Bernier, per Wayne Blackburn, Bernier's Mayagüez manager.
Thomas E. Van Hyning <tvanhyning@windstream.net> was mainland correspondent: Puerto Rico Professional Baseball Hall of Fame, 1991 to 1996. He authored Puerto Rico's Winter League and The Santurce Crabbers. His The National Pastime and Baseball Research Journal articles included the Caguas Criollos, Carlos Bernier-Roberto Clemente, Rickey Henderson, Dennis Martínez and the Santurce Cangrejeros. He has written 11 SABR bios, including Rubén Gómez, Joe Gibbon, Randy Ready, Pat Kelly, Dick Hughes, and Paul Hartzell. Tom, a member of the Robinson-Kell SABR Chapter, is Tourism Economist & Data Analyst, Mississippi Development Authority. His BBA degree is from the University of Georgia. Tom has two Masters' degrees.
4:15-4:40 p.m. (Grand Ballroom 1)
RP09: The Humidor and the Predictive Power of Physics
Alan Nathan
Early in 2018, two related events occurred that may potentially affect offensive statistics in MLB. First, the Arizona Diamonbacks announced that baseballs for games at Chase Field will be stored in a humidor in 2018. Second, MLB announced that all clubs will be required to store their baseballs in an area where temperature and humidity can be closely monitored during the 2017 season, with the goal of determining whether all clubs would be required to use a humidor starting in 2019. Thus, it is timely to investigate the likely effect of a humidor on offensive statistics generally and on home run production specifically. Nathan presents a physics-based study her performed predicting how home run production will change at Chase Field in 2018 – and then he will confront that prediction with early-season data.
Alan Nathan <a-nathan@illinois.edu> is Professor Emeritus of Physics at the University of Illinois. After a long career doing experimental nuclear physics, he now spends his time doing research on the physics of baseball. On this topic he has written many articles, both for academic journals and on-line baseball publications; he has given numerous talks to a variety of different audiences; and he maintains an oft-visited web site, baseball.physics.illinois.edu, that many people have found to be a useful resource. He is interviewed regularly by the media and has consulted for various organizations, such as MLB, MLBAM, USABaseball, NCAA, and several MLB clubs.
4:15-4:40 p.m. (Grand Ballroom 2)
RP10: The 1935 Negro League Championship Series: The Pittsburgh Crawfords vs. the New York Cubans
Rich Puerzer
The 1935 Negro National League Championship Series between the Pittsburgh Crawfords and the New York Cubans was one of the greatest post-season series in the history of professional baseball. Both the Crawfords and Cubans were powerhouse teams and were owned by two of the most important figures in the history of the Negro Leagues, Gus Greenlee and Alex Pompez. The Crawfords featured future Hall of Famers "Cool Papa" Bell, Josh Gibson, and Oscar Charleston. The Cubans too were a strong team, with future Hall of Famer Martin Dihigo along with stars Rap Dixon and Luis Tiant, Sr. Played over the course of two weeks in late September, the series included games in New York City, at Dyckman Oval, and Pittsburgh, at Greenlee Field, as well as in a neutral site in Philadelphia. The Crawfords came from behind to win both Games 6 and 7, with a dramatic comeback in Game Six (comparable to the Mets' comeback in Game Six in the 1986 World Series). Puerzer also discusses details of the 1935 season and the careers and lives of the primary figures associated with these teams.
Richard J. Puerzer <richard.j.puerzer@hofstra.edu> is an associate professor and chairperson of the Department of Engineering at Hofstra University. He has contributed to several SABR Books, including Mustaches and Mayhem: The Oakland Athletics: 1972-1974 (2015), When Pops Led the Family: The 1979 Pittsburgh Pirates (2016), and Bittersweet Goodbye: The Black Barons, The Grays, and the 1948 Negro League World Series (2017). His writings on baseball have also appeared in: Nine: A Journal of Baseball History and Culture, Black Ball, The National Pastime, The Cooperstown Symposium on Baseball and American Culture proceedings, Zisk, and Spitball.
4:45-5:10 p.m. (Grand Ballroom 1)
RP11: Injuries in the Stands: MLB Responds with Extended Netting
Ed Edmonds
On February 1, 2018, Major League Baseball responded to a number of recent incidents of serious fan injuries by foul balls, flying bats, and thrown balls by announcing that all 30 teams will extend netting to the far end of dugouts prior to the beginning of the 2018 season. In December 2015, after an extended review during the second half of the season, Commissioner Rob Manfred issued recommendations that called for netting behind home plate on the near side of both dugouts. These recommendations matched the existing situation at many major league parks, but subsequent injuries or lawsuits involving injured fans prompted reconsideration by many clubs that resulted in the changes at many parks announced earlier this year. These changes will also impact many spring training sites and minor league ballparks. Edmonds will discuss the nearly century-old impact of the "baseball rule," the legal rule that foreclosed most lawsuits aimed at recovery for injuries sustained at baseball parks from foul balls, flying bats, or throw balls if the area of greatest potential injury was adequately screened and fans had an opportunity to request seating in such an area. This was supported by the general legal concept of assumption of risk and the printed statement on all tickets that reinforced the acceptance of this position by all fans as part of the basic ticket purchase agreement. Edmonds discusses how courts in a few states have declined to follow the "baseball rule", opening up potential liability for facility owners.
Ed Edmonds <ebedmonds@comcast.net> is Professor Emeritus of Law at the Notre Dame Law School after serving as the law library director at William & Mary, Loyola New Orleans, St. Thomas (MN), and Notre Dame. He is the co-author with Frank Houdek of Baseball Meets the Law, published by McFarland in 2017. He has written numerous articles on labor and antitrust issues involving baseball as well as salary arbitration. He maintains salary arbitration information, including information of the decisions of every arbitrator, on NDLScholarship, the Notre Dame Law School institutional repository. He is a frequent speaker at the Nine Spring Training Conference and the Cooperstown Symposium.
4:45-5:10 p.m. (Grand Ballroom 2)
RP12: Pittsburgh: Baseball's Broadcast Cradle and Characters
Curt Smith
"Baseball's different than other sports," Bob Costas compared announcers. "You try to talk about personalities — characters." The announcer can be a character, too. Smith will reveal Pittsburgh's nonpareil electronic story. From Harold Arlin trooping to Forbes Field, buying a seat and using a telephone as microphone to air the first baseball game live to Greg Brown shouting "Raise the Jolly Roger", he measures the extent to which characters can buoy the Pirates on air and make a team popular. Smith will discuss such Voices as Rosey Rowswell, Bob Prince, Jim Woods, Milo Hamilton, Lanny Frattare, and Steve Blass, citing research from his books that have led USA Today to call him "the authority on baseball broadcasting." They include Voices of The Game, which became an ESPN documentary and Smithsonian institution series, and Voices of Summer.
Curt Smith's <curtsmith@netacc.net> seventeenth book, The Presidents and the Pastime: The History of Baseball and the White House, was released this spring. Prior books include Voices of The Game. He also has contributed to SABR books on the 1948 Homestead Grays and 1960 Pirates, among others. The former Saturday Evening Post senior editor is a GateHouse Media columnist, award-winning radio commentator, and Senior Lecturer at the University of Rochester. He has keynoted or hosted the Cooperstown Symposium on Baseball and American Culture and Smithsonian Institution and Baseball Hall of Fame series — and wrote more speeches than anyone else for President George H. W. Bush.
5:15-5:40 p.m. (Grand Ballroom 1)
RP13: Baseball Moves West, Part I
Andy McCue and Rob Garratt
In October 1957, New York City baseball fans adjusted to their worst nightmare. Despite fabled histories, a storied rivalry, frequent World Series appearances and passionate fans, the Brooklyn Dodgers and the New York Giants were heading west. Los Angeles and San Francisco, with populations that had been "major league" for decades, were finally getting the real thing. The key to the future out West, both Walter O'Malley and Horace Stoneham thought, was stadiums with all the modern facilities, especially parking. Garratt and McCue explore both the Giants' and Dodgers' different experiences. The Giants soon moved into a publicly owned stadium where they continued to obliterate their New York attendance records. For the Dodgers, politics delayed their privately-financed stadium for four years. While attendance in the mammoth Los Angeles Coliseum, Vin Scully and a World Series win in 1959, were positives, it was only with the delayed opening of Dodger Stadium that the relationship between team and fans was solidified.
Andy McCue <agmccue44@earthlink.net> is a former president of SABR and winner of the Bob Davids Award. His Mover and Shaker: Walter O'Malley, the Dodgers and Baseball's Westward Expansion won the Seymour Medal for 2014. He's a retired newspaper reporter, editor and columnist.
Rob Garratt <garratt@pugetsound.edu> is an emeritus professor of English literature from Puget Sound University. Raised in the San Francisco Bay Area, Rob turned his talents to his favorite team. In 2017, he produced Home Team: The Turbulent History of the San Francisco Giants, a finalist for this year's Seymour Medal. He is currently working on a biography of Charles Stoneham.
5:15-5:40 p.m. (Grand Ballroom 2)
RP14: January 30, 1959: The Pirates Trade Whammy, Frank (and Others) for Smoky, Tiger, Kitten and a Pennant
Brian Engelhardt
On January 30, 1959 the Cincinnati Reds traded Smoky Burgess, Harvey Haddix and Don Hoak to the Pittsburgh Pirates for Whammy Douglas, Jim Pendleton, John Powers and Frank Thomas. Aside from the trade involving two players with spectacular nicknames (and a couple of other players with pretty good ones), the transaction was disastrous for the Cincinnati franchise. Engelhardt provides several reasons why this trade, critical to the Pirates' 1960 World Championship, deserves analysis and discussion. In any event, whatever deleterious effects the trade had on the Reds, they promptly won the pennant in 1961.
Brian C. Engelhardt <bengelhardt@comcast.net> is a native of Reading, Pennsylvania where he resides with his wife, Suzanne, a good sport about many things. The author of Reading's Big League Exhibition Games, he has written a number of articles for SABR publications and is a regular contributor to the Berks County Historical Review. Although his three daughters were raised as Phillies fans, the daughter now living in Pittsburgh with her husband and son also favors the Pirates (as evidenced by the picture of Bill Mazeroski in their family room) resulting in Brian, as a loving father and grandfather, developing a warm spot for the Buccos as well as the Phils.
5:45-6:10 p.m. (Grand Ballroom 1)
RP15: Baseball Moves West, Part II
Rob Garratt and Andy McCue
While the Dodgers, their stadium and their success rolled steadily forward, the Giants slowly realized they had bought into the quick fix. There was plenty of parking, but weather conditions often made the ballpark a very uncomfortable place both to play and to watch. As long as the team was a contender, the fans continued to come. But the arrival of the Oakland A's and the Giants' fading fortunes on the field led to shrinking attendance and growing disenchantment with Candlestick Park. Twice, in the 1970s and early 1990s, the franchise was nearly moved. Multiple attempts to get public financing for a new ballpark were unsuccessful and the current ownership group eventually financed their own stadium. The beautiful AT&T Park combined with recent success to establish the kind of bond with Bay Area fans the Dodgers have enjoyed for six decades. The successful cross-country move touched off a series of repercussions, in baseball, in other professional sports and even in the civic life of these cities.
Rob Garratt <garratt@pugetsound.edu> is an emeritus professor of English literature from Puget Sound University. Raised in the San Francisco Bay Area, Rob turned his talents to his favorite team. In 2017, he produced Home Team: The Turbulent History of the San Francisco Giants, a finalist for this year's Seymour Medal. He is currently working on a biography of Charles Stoneham.
Andy McCue <agmccue44@earthlink.net> is a former president of SABR and winner of the Bob Davids Award. His Mover and Shaker: Walter O'Malley, the Dodgers and Baseball's Westward Expansion won the Seymour Medal for 2014. He's a retired newspaper reporter, editor and columnist.
5:45-6:10 p.m. (Grand Ballroom 2)
RP16: Determinants of Revenue Across Different Baseball Markets
James Goldstein and Paul Sauer
Vince Gennaro has shown that major league baseball teams are less financially dependent upon wins now that revenue sharing has been introduced. Goldstein and Sauer confirmed that these findings were also evident across different baseball markets based on population size in their presentation at the 2017 SABR Convention. These results raise an important question for major league baseball teams: Given the declining importance of wins as a determinant of revenue, what other factors are currently important for teams to consider from a financial perspective? Furthermore, how do the importance of these factors vary across different baseball markets? Goldstein and Sauer will build on their findings from last year's convention by presenting a model to assess the relative contribution of factors other than wins that are important from a revenue-generating standpoint for each of our four markets. They will explain results of testing this model through linear regression, and examine how the predictive power of these factors vary across the markets. Examples of such factors are star power, the proximity of other sports teams, stadium age, team payroll, prior performance, and the number of years since the last World Series win or post-season appearance.
James Goldstein <jgoldste00@gmail.com> grew up in Syracuse, New York, where he spent his formative years cheering on the AAA Syracuse Chiefs and parent club Toronto. After graduating from Binghamton University, Jim relocated to the New York City area, where he spent many evenings after work decompressing at old Yankee Stadium. Jim is now a business professor at Canisius College, where he still cheers for the New York Yankees and the Toronto Blue Jays. On a sunny day, he can be found on the third base line of Coca-Cola Field, home to the AAA Buffalo Bisons. This is Jim's second time presenting at SABR.
A specialist in marketing research and marketing communications, Paul Sauer <sauer@canisius.edu> has served as a consultant to a variety of businesses and non-profit organizations. He is a business professor at Canisius College, a private Jesuit school in Buffalo, New York, and is the author or co-author of over 50 articles and papers that have been presented at conferences around the world and published in textbooks and academic journals. His research spans the spectrum of marketing issues. A lifelong sports fan, Paul is excited to be presenting at SABR for a second time.
6:15-6:40 p.m. (Grand Ballroom 1)
RP17: Barney Dreyfuss and Engineering Forbes Field: Ahead of Its Time in 1909
Robert C. Trumpbour
When Pittsburgh Pirates owner Barney Dreyfuss committed to the construction of Forbes Field, he created a venue unlike any before it. This ballpark was carefully engineered to be a transformative venue for baseball in particular and professional sports in general. This facility was the first million-dollar ballpark and its success in 1909, its inaugural season, set the bar for subsequent construction that followed during baseball's first fully concrete and steel era. Trumpbour teases out the evolution of luxury in early ballparks, including references to less permanent construction such as Albert Spalding's Lakefront Park (in Chicago) and Cincinnati's Palace of the Fans, as well as a more permanent venue, Philadelphia's Shibe Park, also unveiled in 1909. Comparisons to Shibe Park will be offered. Dreyfus was the first team owner to install telephones throughout his ballpark and he was the first owner to use elevators to transport high paying patrons to his third-tier private boxes, a precursor to modern-day skyboxes. Dreyfuss was forward thinking in many regards. As an example, he designed the venue with a parking garage under the structure, making such plans less than a year after the first Ford Model T rolled off of a Detroit assembly line.
Robert C. (Bob) Trumpbour <rct4@psu.edu> is Associate Professor of Communications at Pennsylvania State University, Altoona College. He recently served as co-author of The Eighth Wonder of the World: The Life of Houston's Iconic Astrodome (University of Nebraska Press), recipient of SABR's Seymour Medal in 2017. Trumpbour also served as author of The New Cathedrals: Politics and Media in the History of Stadium Construction (Syracuse University Press). Prior to teaching, he worked in various capacities at CBS in New York for the television and radio networks. Trumpbour periodically does freelance production work on live sports broadcasts. He initially joined SABR in 1999.
6:15-6:40 p.m. (Grand Ballroom 2)
RP18: Fast Money or Holding Out for More? Measuring the Opportunity Cost of Signing a Contract Extension and Buying Out Free Agent Years
Noah Goodman
Major League Baseball teams understand that the labor market is antiquated. As a result, teams are less willing to sign free agents to long-term contracts that last until their mid-to-late thirties. Instead, teams are seeking to sign younger players to long-term extensions that buy out a set number of free-agent years because it is perceived as being more economically efficient. Catalyzed by Evan Longoria's rookie-contract extension in 2008, these long-term extensions have become baseball's version of a land rush. Teams are now moving to sign their players to contract extensions in order to steer them away from the open market and their ability to choose their employers. However, since this shift in the labor market is still in its early stages, both players and teams are operating without much qualitative or quantitative analysis. Goodman identifies the average monetary loss that a player foregoes by signing a contract extension instead of going year-to-year in arbitration and reaching free agency after their 6th season. The goal of this analysis is to make players and teams aware of the risks and rewards — in actual dollars — associated with developing trends in the labor market in order to make the most rational and economically informed decisions.
Noah Goodman <Noah.J.Goodman@gmail.com> is a lawyer from Philadelphia, Pennsylvania who recently graduated from Temple University Beasley School of Law ('16). As part of his practice, Noah writes on collective bargaining issues in professional sports and was selected to present his law review comment, "The Evolution and Decline of Free Agency in Major League Baseball," at the 28th Cooperstown Symposium on Baseball and American Culture at the Baseball Hall of Fame in Cooperstown, New York.
Friday, June 22
10:30 a.m.–10:55 a.m. (Grand Ballroom 1)
RP19: Gold Glove Awards in the Advanced Metric Age
Chris Dial
Since its introduction in 2013, the SABR Defensive Index (SDI) has been widely praised for the influence of its objective measures on the selection of Gold Glove winners. The full SDI could have been calculated starting in 2006, and the majority of its components have been available for 30 years. In an SDI world, would Derek Jeter have won Gold Gloves? Would Omar Vizquel have received all those HOF votes? As one of the major contributors to SDI, Chris Dial is the ideal person to tell us what might have been different had the measure been available earlier.
Chris Dial <pfeiffer86@gmail.com>is the developer of a statistical measure called Runs Effectively Defended (RED), a defensive analysis system based on STATS, Inc. batted ball data, and used in the formation of the SABR Defensive Index (SDI) for Rawlings Gold Glove balloting. He helped create and develop the SABR initiative of Chartered Communities. He is co-chair of the Baseball Think Factory chartered community, and President of the Carolina Chapter (NC), and has served on the SABR Board of Directors since 2014. He is the inventor of the material that saved Alex Rodriguez's plane in a 2006 Burbank crash. He is a lifelong Mets fan.
10:30 a.m.–10:55 a.m. (Grand Ballroom 2)
RP20: The Warhol Triple Play: Maris, Seaver, and Rose
Paul Ember
Although the Andy Warhol Museum is mere yards from PNC Park, there is little known about whether the Pittsburgh-born artist was a baseball fan. Still, during his long career Warhol created three works featuring images of well-known baseball stars: Roger Maris (1962), Tom Seaver (1977), and Pete Rose (1985). Utilizing the detailed diaries that Warhol wrote in the last decade of his career, as well as other resources, Ember describes the images — created during different phases of the artist's career, under varying circumstances, and for unique reasons — from the perspectives of both art history and baseball history.
By day, Paul Ember <paulember3@yahoo.com> is a mild-mannered software engineer. During his off hours, he enjoys disc sports, travel, and various facets of pop culture. His professional sports resume includes a stint as a referee in the inaugural 2012 season of the American Ultimate Disc League (AUDL). As a baseball enthusiast Paul covers trading cards for the SABR Baseball Cards Blog and at his own site, Phungo (phungo.blogspot.com). A lifelong Phillies fan, Paul lives near Philadelphia with his lovely and patient wife who tolerates his thousands of baseball cards and general untidiness. To find Paul on Twitter, follow @Phungo2008.
11:00 -11:25 a.m. (Grand Ballroom 1)
RP21: Nunn-thing is Impossible
Missy Booker
The struggle to combat the blight of racial discrimination in baseball had many heroes. Some are well known, while others fought the good fight in near-obscurity. Missy Booker shines the spotlight on William (Bill) Nunn Jr. of the Pittsburgh Courier — a member of the latter group — whose social activism accomplishments (in baseball and far beyond) surely deserve wider notice. For more than three decades, Nunn wrote and worked to achieve equal rights for African-American baseball players. But he went far beyond that in his activism, working to integrate the BBWAA, gain equality for WWII soldiers, and support the Brown v. Board of Education lawsuit. He worked for the local community as well, leading efforts to build over 100 units of affordable housing for Pittsburgh-area blacks and whites.
Melissa (Missy) Booker <mbooker@hotmail.com> is a native of Columbus, Ohio, and a 1995 graduate of Stephens College. Her research projects primarily focus on the person behind the statistics. She has presented at four Society for American Baseball Research (SABR) Conferences — the Jerry Malloy Negro League Conference (2012, 2014, 2017) and the Frederick Ivor-Campbell 19th Century Base Ball Conference (2015). She has also presented at two Cooperstown Symposiums on Baseball and American Culture. She resides in Portland, Oregon, with Coco the Cat.
11:00-11:25 a.m. (Grand Ballroom 2)
RP22: In Harmony: The National Anthem for the National Pastime
Joseph L. Price
How many of us have fantasized about road-tripping from city to town to village, viewing minor league ballgames and witnessing the fabric of Americana? In doing so, we would hear the National Anthem sung at every stop … that's how every professional ballgame begins. In 2011, Price lived out that fantasy in spades, not only attending over 100 minor-league games on his 28,000-mile journey, but lending his voice as the Anthem singer! In this presentation, he shares his observations and images from that epic journey, with particular attention paid to his appearances in Pennsylvania.
Joseph L. Price <jprice@whittier.edu> is Professor of Religious Studies and Co-director of the Institute for Baseball Studies at Whittier College. One of his most popular courses is "El Beisbol: A Caribbean Religion," for which he has taken students to Cuba and Puerto Rico. His most recent book is Perfect Pitch: The National Anthem for the National Pastime, a travel narrative about singing the national anthem at more than 100 minor league ballparks during the 2011 baseball season. His previous works include Rounding the Bases: Baseball and Religion in America and From Season to Season: Sports as American Religion.
Saturday, June 23
11:30 a.m.–11:55 a.m. (Grand Ballroom 1)
RP23: Will a 20-Second Pitch Clock Quicken the Pace of Play?
Eliza Richardson Marone

Major League Baseball is concerned that the game moves too slowly for today's audiences. One proposed change, limiting the number of managerial mound visits, has been introduced this year, but the pitch clock hasn't been added yet. Richardson doesn't think the bases-empty clock would speed up play, and she has the data to back that up. In 2017, she studied the time between pitches with the bases empty for 30 starting hurlers, and found that none of them took as many as 20 seconds between pitches … without the clock. MLB's conundrum is that all other on-base situations introduce numerous factors beyond the pitcher's pace, making clocking problematic.
Eliza Richardson Marone <eliza@psu.edu> grew up in southwest Virginia listening to St. Louis baseball on KMOX with her dad, who is a lifelong Cardinals fan. She earned her undergraduate degree in Geology and Geophysics from Princeton University, then pursued a Ph.D in Geophysics at MIT. Eliza is now an Associate Professor of Geophysics at Penn State University. When not throwing batting practice to their five children or coaching Little League, Eliza and her husband are avid homebrewers.
11:30 a.m.–11:55 a.m. (Grand Ballroom 2)
RP24: "Ty Cobb has Nothing on Her": Early Twentieth Century Women's Collegiate Baseball in Ohio
Callie Batts Maddox
These days, it is a given that intercollegiate baseball is for men only; the only analogous sport for college women is fast-pitch softball. Eighty to a hundred years ago, however, that was not the case. Callie Batts Maddox reveals that southern Ohio was a hotbed of women's college baseball, with established programs at Miami University, the University of Cincinnati, Denison University, and elsewhere. Building on prior research by Dorothy Seymour Mills, Leslie Heaphy, and others, the history of baseball played by women expands considerably, reaching beyond elite northeastern women's colleges into the heartland.

Callie Batts Maddox <calbatts@yahoo.com> is an assistant professor in the Sport Leadership and Management Program at Miami University in Oxford, Ohio. Her research interests include women's baseball, the globalization of sport, and physical culture in contemporary India. She is the co-founder of the Miami Women's Baseball Club and serves the team as a faculty mentor, coach, and sometimes-middle infielder. She has also worked internationally with Right to Play, BaseballSoftballUK, and the New Delhi Little League. She holds degrees from Whittier College, the University of Brighton, and the University of Maryland.
12:00 p.m.–12:25 p.m. (Grand Ballroom 1)
RP25: Why Do Games Take So Long?
David W. Smith
You might think that pace-of-game is a baseball issue that Retrosheet can't address. After all, reliable pitch-by-pitch data of any sort has existed only since 1988, and more precise measures like time between pitches go back only a decade. Still, while pitch-level variables may well be the largest contributor to changes in game length, surely they aren't the only ones. And that's where Retrosheet — with its database of 110 years of baseball play-by-play and box scores (and time of game) — comes in. Significantly, game length has increased by only 12 minutes since pitch analytics became available, whereas games became 68 minutes longer in the previous (Retrosheet era) century.
David W. Smith <dwsmith@retrosheet.org> joined SABR in 1977 and has made research presentations at 22 national SABR conventions and many more at regional meetings. In 2001 at SABR 31 in Milwaukee, he won the USA Today Sports Weekly Award (now the Doug Pappas Award) for his presentation on the 1951 NL pennant race. In 2016 he won the Doug Pappas Award for his presentation on the use of closers. In 2005 he received SABR's highest honor, the Bob Davids Award, and in 2012 he was honored with the Henry Chadwick Award. He is a past co-chair of the Statistical Analysis Committee and the recipient of the first SABR Special Achievement award. He is also the founder and President of Retrosheet, a non-profit organization dedicated to the collection, computerization and free distribution of play by play accounts of Major League games. He is an Emeritus Professor of Biology after 40 years of service at the University of Delaware.
12:00 p.m.–12:25 p.m. (Grand Ballroom 2)
RP26: Chris von der Ahe's Pittsburgh Vacation
Mike Bates
The business of baseball was anything but businesslike in the nineteenth century. One of the clearest examples of that was Chris von der Ahe, proprietor of the St. Louis Browns. A wheeler-dealer, a promoter of self and club, he had enjoyed considerable success in the 1880s. By 1898, however, he was scrambling to keep ahead of his creditors and to maintain control of his team. That's when an old friend of his spirited ("kidnapped" is such an ugly word) von der Ahe out of St. Louis and up to Pittsburgh to face his reckoning. Mike Bates transports us back to those chaotic days, placing the "vacation" in historical context within the development of baseball as an industry.

Mike Bates <bates8791@gmail.com> is the co-founder of The Platoon Advantage and his writing has appeared on ESPN.com, Baseball Prospectus, The Hardball Times, Notgraphs, MLB Daily Dish, SB Nation's baseball main page, and The Score. He also co-hosts the podcast This Week In Baseball History with his longtime collaborator Bill Parker. Mike lives in Iowa City, Iowa, where he works as a data and quality manager at the University of Iowa Hospitals and Clinics.
12:30 p.m.–12:55 p.m. (Grand Ballroom 1)
RP27: Season-Long Platoons
Mark Armour
Until now, no one has undertaken a comprehensive examination of the venerable practice of platooning in baseball. In search of the elusive "Perfect Platoon" (all games against righthanded pitchers started by the lefthanded hitter, and all games against southpaws started by the righthanded batter), Armour discusses numerous sets of platoon partners, some well-known and others obscure. Along the way, we learn a great deal about platooning — when it was most popular, most frequent fielding position platooned, managers who operated platoons most often, etc. Spoiler alert: Matty Alou and Manny Mota (CF, Pirates, 1966) came closest to achieving platoon perfection.
Mark Armour <markarmour04@gmail.com> was the founder and longtime director of the BioProject, and currently serves as the Co-Chair of the Baseball Cards Committee. In the just-completed SABR election, he was elected as a Director of the organization.
12:30 p.m.–12:55 p.m. (Grand Ballroom 2)
RP28: The Emerald Diamond From Lizzie Murphy to Mike "King" Kelly: How the Irish Transformed America's Greatest Pastime to Their Culture
Millard Fisher
Is there a recognizable "Irish culture" in the game of baseball? Millard Fisher posits that it does indeed exist. Certainly, Irishmen dominated the game in the 1880s and 1890s, as have other ethnicities at periods since then (Germans in the 1900s, Italians in mid-century, Latinos in recent years). To illustrate his contention, Fisher concentrates on a familiar face from the 19th century, King Kelly, and a surprising one from the 1920s. Lizzie Murphy briefly played with major leaguers during a 1922 exhibition game, and later pitched with a Negro League club; she even produced her own baseball card. In recent decades the game has gone back to the Auld Sod, so Fisher fills us in on the Irish Baseball League's teams and ballparks.
Dr. Millard Fisher is a devout baseball fan who reads extensively all types of baseball material, and particularly enjoys biographies and history of the game. He is an avid and loyal Braves fan. When not cheering for them, he speaks internationally on health issues and medicine, and has had numerous research presentations on those subjects. He was on the President's committee that formulated guidelines that targeted health implications for tobacco usage. In addition, he is a consultant to several national and international organizations such as the World Future Society, the Centers for Disease Control, and the National Institutes of Health. Dr. Fisher is past president of the Magnolia/Georgia SABR Chapter, and a frequent speaker at the National Baseball Hall of Fame in Cooperstown. He resides in Stone Mountain, Georgia.
3:15 p.m.–3:40 p.m. (Grand Ballroom 1)
RP29: Negro Leagues = Major Leagues
Todd Peterson
How good were the Negro Leagues? Scholars have pondered that question for decades. The general consensus is that, while the top players were as talented as the top major leaguers, overall they were somewhat less accomplished than the (segregated) majors. Peterson disagrees, arguing that the Negro Leagues of the first half of the 20th century played at a level equal to the all-white leagues. Moreover, he makes the case for incorporating Negro League stats in official MLB records. In support of his hypothesis, he examines over 1700 games between top African-American clubs and teams from the majors and minors, and shows that blackball leagues were on a par with the big leagues in several statistical categories. Further supporting evidence is the success of blacks in the post-segregation game. Peterson offers a compelling argument, one that is sure to evoke spirited discussion.
Todd Peterson <mccarthye@sbcglobal.net> is a Kansas City based visual artist, historian, and educator. He was awarded Yoseloff-SABR Baseball Research Grants in 2006 and 2010, and has twice received the Normal "Tweed" Webb Lifetime Achievement Award for outstanding research. Peterson is the author of Early Black Baseball in Minnesota (2010); and has made several presentations and published many articles on the Negro Leagues.
3:15 p.m.–3:40 p.m. (Grand Ballroom 2)
RP30: The Forgotten Team in the 1908 NL Pennant Race, the Pittsburgh Pirates
Steve Steinberg
For most fans, Fred Merkle, Johnny Evers, Hank O'Day, and the tie game between Chicago and New York (leading to what is no longer the Cubs' last championship) made the 1908 National League pennant race one of the most compelling in history. With his characteristic attention to detail and nuance, Steve Steinberg reminds us that Pittsburgh was also involved, right until the final game. The Pirates generated storylines as intriguing as those surrounding the Cubs and Giants. From Honus Wagner — who almost retired before the season but instead compiled the best WAR of his career — to incidents that foreshadowed Merkle, to the club's strange home-road split (they won 42 home games, 56 on the road), the Bucs contributed to the thrill-ride that was 1908 in the NL.
Steve Steinberg <ssteinberg@trinorth.com> is a baseball historian of the early 20th century. He has co-authored two award-winning books with Lyle Spatz, 1921: The Yankees, the Giants, and the Battle for Baseball Supremacy in New York and The Colonel and Hug: The Partnership that Transformed the New York Yankees. His latest book, Urban Shocker: Silent Hero of Baseball's Golden Age, was published by University of Nebraska Press in 2017. Steve has also published more than 20 articles, many in SABR journals. He also has presented at several SABR national conventions.
3:45 p.m.–4:10 p.m. (Grand Ballroom 1)
RP31: Bragan in Pittsburgh: Sabermetrician Ahead of His Time?
Mark Pankin
A manager makes important strategic decisions before every game … he selects the day's starting pitcher and position players, and the batting order. Which of the hundreds of thousands of possible batting orders does he choose? Pre-sabermetric conventional wisdom put speed at the top, bunting and bat control next, the best hitters at 3 and 4, and the rest in decreasing order of prowess. The pitcher batted last. However, several times during his first MLB managerial season (Pirates, 1956), Bobby Bragan defied that wisdom, building a batting order resembling today's practices. Sometimes his pitcher didn't bat ninth! As a leading researcher of batting order optimization, Mark Pankin was curious about the reasoning behind Bragan's choices. This presentation combines Pankin's statistical analysis with information obtained from the best possible source: Bobby Bragan himself.
Mark Pankin <sabr@pankin.com> is the retrosheet.org webmaster and has made numerous presentations at SABR meetings, many, like this one, based on mathematical models he has developed. More recently his research interests have broadened to historical aspects such as the postseason "city series" played in the first half of the last century. He has a Ph.D in math, recently retired as an investment advisor, and is now living in Alexandria Virginia. One of his treasured possessions is his "NO DH" license plate.
3:45 p.m.–4:10 p.m. (Grand Ballroom 2)
RP32: A 1961 Perspective of Frick's 61* Ruling
Dave Bohmer
For a half-century, the abiding symbol of Ford Frick as Commissioner has been the asterisk. Although Maris's 61 HR in 1961 never wore it (the mark was listed as the 162-game season record), that "*" symbolizes Frick's reputation as defender of Ruth and weak Commissioner. As Dave Bohmer shows, the story is much more complicated. At the time, most sportswriters and most players (including Mantle) supported Frick's ruling. Of course, "M&M Boys" talk was rampant by July, but the announcement came so late because Frick had been putting out major fires elsewhere. AL expansion in 1961 was a botched rush job, the Dodgers threatened a lawsuit, the Yanks threatened to bar the NL from putting a team in New York in 1962. With all that going on, no one had worried about what 8 extra games might mean.
Dave Bohmer <dbohmer@depauw.edu> is a graduate of DePauw University and earned his Ph.D in American history from the University of Michigan. He was an executive in the telecommunications industry for 17 years before returning to his undergraduate alma mater as Director of the Pulliam Center for Contemporary Media and Media Fellows Program. He currently holds those positions in Emeritus status after retiring in 2014. For 10 years he taught a course entitled Baseball as History at DePauw. Since retirement he has been researching an analytical biography of DePauw alum Ford Frick, with special emphasis on his 31 years in Major League Baseball. He has presented in the past at SABR and more often at the Cooperstown Symposium.
For more coverage of SABR 48, visit SABR.org/convention.