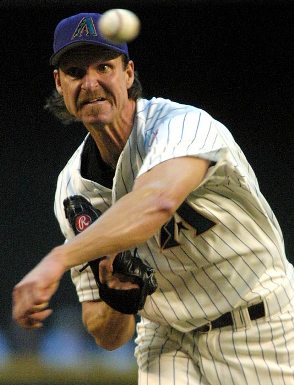 April 1, 2002: Big Unit matches the Big Train in Opening Day victory for Diamondbacks
---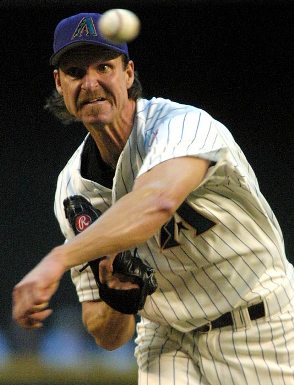 In the world of digital photography, a pixel is the smallest element of a picture represented on the screen. A high-resolution 8-by-10-inch photograph comprised of 7.2 million pixels (2,400 by 3,000 pixels).1 Up close, a single pixel — or even one square inch of pixels — of the most captivating image is unrecognizable and unremarkable. But when you zoom out to view all of the pixels in their entirety, you see the full picture and appreciate the visual masterpiece that it is.
Such is the case with Randy Johnson's Opening Day victory in 2002. Upon first glance, it is a somewhat unremarkable event — a complete-game, six-hit, 2-0 shutout of the San Diego Padres. However, when you step back and appreciate it in the greater context of the masterpiece that is his Hall of Fame career, it can now be viewed as a significant moment of his legacy, and for this reason one of the more important Opening Day games in Arizona Diamondbacks history. In fact, with this victory, Johnson matched a feat accomplished only by one other pitcher in major-league history: Hall of Famer Walter "The Big Train" Johnson.
During his 22-year Hall of Fame career (1988-2009), Randy Johnson recorded 303 wins, 166 losses, and a 3.29 ERA. He struck out 4,875 hitters, second to Nolan Ryan (5,714). Of his 100 complete games, 75 were victories and 37 were shutouts. In 2015, his first year on the Hall of Fame ballot, he received 97.3 percent of the votes from the Baseball Writers' Association of America.2
Johnson's 2002 season was the most dominant of his career. At age 38, he earned the pitching Triple Crown by leading the league in wins (24-5 record, .828 winning percentage), ERA (2.32), and strikeouts (334). His dominance in 2002 was a continuation of where he finished the previous season. The 6-foot-10 lefty led the Arizona Diamondbacks to a World Series victory in 2001, defeating the New York Yankees in seven games. Johnson was the winning pitcher of record for Game Six (seven innings pitched, score 15-2) and Game Seven (1⅓ innings pitched in relief, score 3-2).
The victories in Games Six and Seven, coupled with the Opening Day victory of 2002, give Johnson the distinction of winning three consecutively scheduled regulation games (back-to-back-to-back) for a single team. According to MLB historian John Thorn, this is a rare occurrence, and the only other pitcher to accomplish the feat is Walter Johnson. The Big Train won three consecutive regulation games for the Washington Senators during the 1908 season by defeating the New York Yankees in back-to-back-to-back games, September 4, 5, and 7.3
On April 1, 2002, a sellout crowd of 47,025 gathered at Bank One Ballpark to celebrate Opening Day and the festivities surrounding the previous season's championship.4 In a 30-minute pregame ceremony, the 2001 World Series championship banner was unveiled above the swimming pool in right-center field, and a giant replica World Series championship trophy was displayed in center field.5
Johnson, selected by manager Bob Brenly for the start, boasted a perfect 7-0 record against the Padres since returning to the National League in 1998. The players on the field behind the All-Star lefty resembled the defense for Game Seven of the 2001 World Series, with the exception of second baseman Junior Spivey. Brenly had to rearrange his infield, moving Craig Counsell to third base to fill in for the injured Matt Williams, who had suffered a dislocated ankle and broken fibula during spring training.6
Right fielder Danny Bautista and first baseman Mark Grace were the offensive stars of the day. Bautista drove in the first run of the season with a line-drive double in the third inning off Padres starter Kevin Jarvis to score Tony Womack, while Grace, hitting in the cleanup spot, belted a solo home run in the seventh to pad the lead. The Padres outhit the Diamondbacks, six to five, but they were scattered and the closest to a scoring threat was Phil Nevin, who advanced to third base in the second inning.
With a fastball that topped out at 100 mph, the 38-year-old lefty struck out eight and walked one to beat San Diego. Johnson threw 130 pitches, recorded his first shutout in an opener, and improved his record to 5-0 in 10 Opening Day starts.7
His second-to-last pitch of the game was clocked at 101 mph in the Diamondbacks dugout, and 99 mph on the ballpark radar gun. "You saw his velocity up on the board. Obviously, he hasn't lost anything. He's not old. He's getting better with age," said the Padres' Nevin.8
Mark Grace concurred about Johnson. "He's a freak of nature. It's a tribute to the shape he's in and the drive he has. He may be another Nolan Ryan and pitch until he's 45 because he's better now than he ever has been," said Grace.9
Normally feared by hitters for his strikeouts, Johnson was crafty throughout the game and forced the Padres hitters into 16 groundouts and three fly outs/line-drive outs. The Opening Day victory was his 31st career shutout and 80th complete game. "Overall, I feel extremely good about the way I pitched, and the way everybody played," said Johnson.10
Johnson would proceed to win his next five starts before recording his first defeat of the 2002 season (a 3-2 loss to Pittsburgh on May 6 at home). In fact, Johnson's six consecutive wins at the start of the 2002 season, combined with his stellar 7-1 close of the 2001 season (two consecutive wins to end the 2001 regular season; one loss in the 2001 NLDS vs. St. Louis; two wins in the 2001 NLCS vs. Atlanta; and three wins in the 2001 World Series vs. New York), gave him a remarkable 13-1 record (.929 win percentage) in 14 straight appearances.
The Diamondbacks would go on to win their division in 2002 with a 98-64 record. Despite his dominant Triple Crown season, Johnson was unable to carry the team deep into the postseason. Arizona was swept by the St. Louis Cardinals in the first round of the Division Series behind the hot bats of Fernando Vina, Mike Matheny, and Scott Rolen.
In recognition of his exceptional 2002 season performance, Johnson was named an All-Star, ranked seventh in the MVP voting, and won his fourth consecutive Cy Young Award. He received the Warren Spahn Award for the fourth straight year, a performance-based award presented to the best left-handed pitcher in baseball by the Oklahoma Sports Museum in Guthrie, Oklahoma.11
April 1, 2002, marked Johnson's last Opening Day victory with the Diamondbacks. He lost the next two home openers for Arizona in 2003-04, and did not record another Opening Day victory until he joined the New York Yankees in 2005.
His final-season starting nods with New York gave Johnson a total of 14 Opening Day starts, putting him in a second-place tie with Steve Carlton, Walter Johnson, and Jack Morris. Tom Seaver leads the list with 16 Opening Day starts. Also worth noting is that when Johnson started both season openers with the Yankees in 2005-06, he became one of six pitchers to start two Opening Day games at age 41 or older.12
Over the course of his career, Johnson pitched 97⅔ innings in Opening Day starts, posting a 2.49 career ERA and a major-league record of 107 strikeouts. Second on the all-time Opening Day strikeout list is Seaver with 81.13
Table 1: Randy Johnson Opening Day Performances, 1992-2006
| YEAR | TEAM | OPP | W/L | SCORE | IP | K |
| --- | --- | --- | --- | --- | --- | --- |
| 1992 | SEA | TEX | L | 12-10 | 5.2 | 5 |
| 1993 | SEA | TOR | W | 8-1 | 8.0 | 14 |
| 1994 | SEA | CLE | L | 4-3 | 8.0 | 2 |
| 1995 | SEA | DET | W | 3-0 | 6.0 | 8 |
| 1996 | SEA | CHW | W | 3-2 | 7.0 | 14 |
| 1998 | SEA | CLE | L | 10-9 | 5.2 | 7 |
| 1999 | ARI | @LAD | L | 8-6 | 7.0 | 9 |
| 2000 | ARI | PHI | W | 6-4 | 8.2 | 10 |
| 2001 | ARI | @LAD | W | 3-2 | 7.0 | 10 |
| 2002 | ARI | SDP | W | 2-0 | 9.0 | 8 |
| 2003 | ARI | LAD | L | 8-6 | 6.2 | 5 |
| 2004 | ARI | COL | L | 6-2 | 6.0 | 6 |
| 2005 | NYY | BOS | W | 9-2 | 6.0 | 6 |
| 2006 | NYY | @OAK | W | 15-2 | 7.0 | 3 |
| Total | 14 | games | 8-6 | 97⅔ | 107 | |
During his Hall of Fame induction speech in 2015, Johnson said, "I played for the legendary baseball coach Rod Dedeaux at USC. … I didn't learn how to throw a lot of strikes there, but I did learn how to take a few pictures. And that is my passion today, it always has been, and always will be."15
On retirement from baseball, Johnson invested his time traveling the world, capturing images of interesting people, exotic locations, rock concerts, sporting events, US troops overseas, and more.16 He has traded in his spikes for a camera, and became more concerned with pixels than pitches. Johnson has reflected fondly on his baseball accomplishments, like his shutout on Opening Day 2002, but contented himself with looking forward through the lens of his camera, and just enjoying life — one photo at a time.
Sources
In addition to the sources cited in the Notes, the author relied on Baseball-Reference.com.
https://www.baseball-reference.com/boxes/ARI/ARI200204010.shtml
https://www.retrosheet.org/boxesetc/2002/B04010ARI2002.htm
Notes
1 What is a Pixel? Ultimate-Photo-Tips.com, https://ultimate-photo-tips.com/what-is-a-pixel.html.
2 Joseph Wancho, "Randy Johnson," SABR BioProject, https://sabr.org/bioproj/person/e905e1ef.
3 Email correspondence with John Thorn, MLB historian, December 13, 2019.
4 Mark Gonzales, "Randy Johnson Shutout, 000-000-000h What a Feeling/Johnson Opens with a Shutout," Arizona Republic (Phoenix), April 2, 2002: C.1.
5 Bob Baum (Associated Press), "Diamondbacks 2, Padres 0, Newswire," April 2, 2002.
6 Diamondbacks Notebook," Tucson Citizen, March 2, 2002: 22; "Arizona Daily Sun (Flagstaff, Arizona) February 26, 2002: 9.
7 Baum.
8 Baum.
9 Baum.
10 Baum.
11 "Johnson Wins Warren Spahn Award," Daily Oklahoman (Oklahoma City) December 1, 2002: 39.
12 Pitchers with the most Opening Day starts, https://mlb.com/news/most-opening-day-starts-by-a-pitcher-c269247830.
13 Ryan Murphy, "7 Unbreakable Opening Day Records," sportsbettingdime, March 28, 2018. https://sportsbettingdime.com/news/mlb/7-unbreakable-opening-day-records/.
14 Team results, not the individual pitching record for Johnson in Opening Day starts.
15 Randy Johnson Hall of Fame Induction Speech, https://mlb.com/video/johnson-enters-hall-of-fame-c298240983.
16 "Randy Johnson's Photography Website Uses a Dead Bird as Its Logo," SI.com, January 6, 2015. https://si.com/extra-mustard/2015/01/06/randy-johnson-photography-dead-bird-logo.
Additional Stats
Arizona Diamondbacks 2
San Diego Padres 0
---
Bank One Ballpark
Phoenix, AZ
Box Score + PBP:
Corrections? Additions?
If you can help us improve this game story, contact us.
Tags
https://sabr.org/sites/default/files/images/JohnsonRandy.jpg
600
800
admin
/wp-content/uploads/2020/02/sabr_logo.png
admin
2020-03-04 16:32:06
2021-04-01 03:39:25
April 1, 2002: Big Unit matches the Big Train in Opening Day victory for Diamondbacks