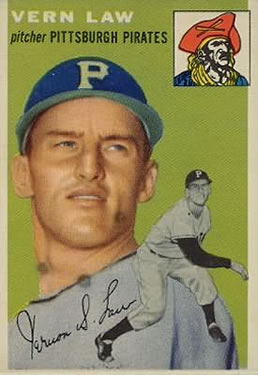 April 13, 1954: Pirates' Vern Law celebrates return from military service with Opening Day win
---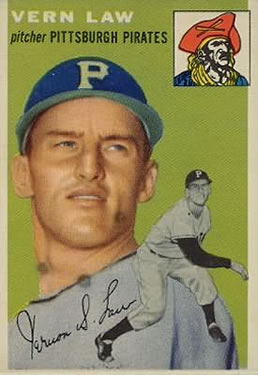 The Pittsburgh Pirates were eager to open the 1954 season following a disastrous 1953. That year the Pirates went 50-104, finishing 55 games behind the league-leading Brooklyn Dodgers. On the "brighter" side, their record was an improvement over the 42-112 record of 1952. Throughout the mid-1950s, the Pirates frequently joined the Chicago Cubs in the National League's second division, well behind the pennant winners. The 1953 Pirates struggled offensively, finishing last in the NL in team runs, home runs, and OPS, and in pitching, finishing last in team ERA and next to last in strikeouts and walks issued. The '53 Pirates' pitching staff included only one pitcher whose ERA fell below 4.00 — Johnny Hetki, a reliever with a 3.95 ERA in 118⅓ innings.
Branch Rickey, now in his fifth year as general manager, was optimistic while acknowledging shortcomings. "Right now we're strong in catching and at first base. We're not so strong in pitching, infield and outfield but we will be."1 Thirty-two rookies and two returning servicemen, pitcher Vernon "Deacon" Law and first baseman Dale Coogan, reported to spring-training camp in late February 1954.2 Law was returning from US Army service, having enlisted after the 1951 season.3 Pittsburgh scout Rex Bowen was pleased with Law's work as he commented, "I don't believe the boy has any traces of the sore arm which cut down his effectiveness,"4 referring to an injury Law sustained while pitching in the Army. Law was rated a sure bet to stay with the staff;5 he pitched with Pittsburgh for two years before his military service, compiling a 13-18 record and 4.72 ERA over 242 innings as a swingman, including 31 starts.
The Opening Day opponent on April 13 was the cross-state rival Phillies, who went 83-71 in 1953, tied with the St. Louis Cardinals for third place, 22 games behind Brooklyn. Philadelphia was led by pitching ace Robin Roberts, outfielders Richie Ashburn and Del Ennis, and second baseman Granny Hamner. All four reached the top 25 in MVP voting, with Roberts finishing sixth and earning a first-place vote. The Phillies experienced a resurgence during the early 1950s, finishing above .500 four times between 1949 and 1953 and making a World Series appearance in 1950. Philadelphia was harmed less than Pittsburgh by losing players to the military; only Paul Penson, a 22-year-old pitcher without Organized Baseball experience, had spent 1953 in the service, while the Pirates were still without Dick Groat, Tony Bartirome, and Johnny and Eddie O'Brien, all regular position players.6
Pittsburgh enjoyed its first home opener in 61 years on Opening Day 1954. The 32,294 fans in attendance were treated to a tribute to Honus Wagner. Although Wagner couldn't attend because of health concerns, Mayor David L. Lawrence presented Wagner's daughter, Mrs. Harry Blair, with a plaque honoring his loyalty, high character, and playing skill.7 Right-hander Bob Friend received the Opening Day nod from manager Fred Haney. During the spring, Haney was pleased with his top six pitchers: Friend, Law, Max Surkont, Bob Hall, Cal Hogue, and Hetki.8 Friend was still learning his craft, going 8-11 with a 4.90 ERA in 170⅔ innings during 1953. He was dependable during his first three years, averaging 168 innings per season while steadily improving his control. Friend started his career with a sinking fastball and hard curve, and had completely reworked his unorthodox delivery with Haney's arrival.9 Future Hall of Famer Robin Roberts was among the best pitchers in the NL during the 1950s, earning an All-Star selection while winning at least 20 games and pitching over 300 innings during each of the previous four seasons. In 1953, the right-handed Roberts went 23-16 with a 2.75 ERA, striking out a career-high 198 hitters and issuing 61 walks, amassing major-league highs in games started (41), complete games (33), and innings pitched (346⅔), and strikeouts. Coincidentally, Roberts opposed Law during Law's major-league debut on June 11, 1950.10
The Phillies' Ted Kazanski started the game by grounding out to the shortstop. Ashburn also grounded out and Earl Torgeson flied out. The Pirates' Cal Abrams lined out to center field to lead off the bottom of the first, and Curt Roberts, making his major-league debut as the Pirates' first African-American player, followed with the game's first hit, a triple to right field. Both Hal Rice and Sid Gordon popped out, stranding Roberts on third base. During the second inning, the Phillies loaded the bases on a walk, single, bunt groundout, and intentional walk, but Friend then struck out Stan Lopata and Roberts. Robin Roberts set down the Pirates in order in the bottom of the second, and Friend echoed his opponent's inning by inducing three consecutive groundouts in the Philadelphia third. Toby Atwell started the Pittsburgh half with a single to center field, but a pair of groundouts and a flyout kept the Pirates at bay. Neither team threatened to score during the fourth.
Willie Jones started the top of the fifth inning with a single to left, and Lopata followed with an infield single. Friend walked Roberts to load the bases. Kazanski grounded into a fielder's choice, with third baseman Gordon forcing Jones out at home. With the bases still loaded, Ashburn grounded into a fielder's choice, but with the force out occurring at second base, as Lopata scored the game's first run. Roberts advanced to third, and scored when Friend balked. Torgeson flied out to center, ending the inning. Philadelphia led 2-0. Roberts continued pitching effectively, allowing a leadoff single but striking out Gair Allie and making Atwell hit into an inning-ending 4-6-3 double play.
Friend continued struggling into the sixth. Ennis flied out to left field, and then Hamner singled to left. After Johnny Wyrostek grounded out to first, Jones walked and Lopata reached first on an infield single, the third time Philadelphia loaded the bases. However, Roberts grounded out to second base for the third out. Pittsburgh's leadoff hitter in the sixth was pinch-hitter Gail Henley; Friend's day was complete with two runs allowed on six hits and four walks in six innings. Roberts continued blanking the Pirates, allowing a lone walk during the sixth.
Vern Law took over in the top of the seventh, hitting ninth. After not pitching in the major leagues for two years, Law set down the Phillies in order: Kazanski grounded out to third, Ashburn flied out to center, and Torgeson grounded out to first. Roberts continued frustrating the Pirates, equaling Law's effectiveness. Through seven innings, Roberts looked unstoppable, allowing only three hits and one walk. Law delivered another hitless inning with a fly out and two infield groundouts in the eighth.
Roberts walked Allie to start the Pittsburgh eighth inning, and Atwell followed with a single to right. Down two runs with runners on first and second, manager Haney pulled Law for pinch-hitter Eddie Pellagrini, who sacrificed to advance the runners. Abrams finally broke though the Philadelphia defense when Phillies left fielder Ennis lost Abrams' fly ball in the sun, resulting in a single that scored Allie.11 Making his major-league debut, pinch-hitter Bob Skinner singled Atwell home to tie the score. Philadelphia manager Steve O'Neill summoned right-hander Jim Konstanty to relieve Roberts. Konstanty promptly surrendered a double to Hal Rice, an intentional walk to Gordon, and a sacrifice fly to Frank Thomas, giving Pittsburgh a 4-2 lead. Right-handed reliever Johnny Hetki pitched a scoreless ninth as the Pirates triumphed in Law's return and turned seemingly dismal defeat into victory.12 Although Roberts delivered seven scoreless innings, the Pirates' four-run eighth-inning outburst saddled him with his third consecutive Opening Day loss.13
Pittsburgh finished the 1954 season with a 53-101 record, 44 games behind the first-place New York Giants. The team would continue struggling until the late 1950s. Law was 9-13 in 1954 with a 5.51 ERA in 161⅔ innings. He played a pivotal role in the Bucs' 1960 World Series victory, and would remain with the team until he retired in 1967.14
This article appears in "Moments of Joy and Heartbreak: 66 Significant Episodes in the History of the Pittsburgh Pirates" (SABR, 2018), edited by Jorge Iber and Bill Nowlin. To read more stories from this book at the SABR Games Project, click here.

Sources
Besides the sources cited in the Notes, the author consulted Baseball-Almanac.com, Baseball-Reference.com, Retrosheet.org, and the following:
James, Bill. The New Bill James Historical Abstract (New York: The Free Press, 2001).
Thorn, John, and Pete Palmer, et al. Total Baseball: The Official Encyclopedia of Major League Baseball (New York: Viking Press, 2004).
Notes
1 Lester J. Biederman, "Rickey Calls '54 Pirates Strongest He's Had," Pittsburgh Press, February 16, 1954: 24.
2 International News Service, "Size of Rookies Is Impressive in Buccaneer Camp," Corsicana (Texas) Daily Sun, February 24, 1954: 6.
3 C. Paul Rogers III, "Vern Law," SABR Biography Project, sabr.org/bioproj/person/9266780c#sdendnote20sym.
4 Jack Hernon, "Scout Bowen Pleased With Law's Mound Work," Pittsburgh Post-Gazette, February 25, 1954: 17.
5 Jack Hand (Associated Press), "Former GI's Rate Plenty of Attention," Ogden (Utah) Standard Examiner, March 21, 1954: 9.
6 Carl Lundquist, "Ex GIs Could Scramble Major Races," The Sporting News, April 7, 1954: 1.
7 Jack Hernon, "First Opener in Pitt in 61 Years Dedicated to Wagner," The Sporting News, April 21, 1954: 21.
8 Jack Hernon, "Hurlers Help Hitters Widen Haney's Grin," The Sporting News, March 31, 1954: 9.
9 Bill James and Rob Neyer, The Neyer/James Guide to Pitchers (New York: Fireside Books, 2004), 212.
10 C. Paul Rogers III, "Vern Law," SABR Biography Project.
11 "Games of Tuesday, April 13," The Sporting News, April 21, 1954: 21.
12 Al Abrams, "32,294 See 'New Look' Pirates Win," Pittsburgh Post-Gazette, April 14, 1954: 1-2.
13 "Games of Tuesday, April 13."
14 Les Biederman, "A Sad Moment for the Buccos — Vern Law Hangs Up His Spikes," The Sporting News, September 16, 1967: 30.
Additional Stats
Pittsburgh Pirates 4
Philadelphia Phillies 2
---
Forbes Field
Pittsburgh, PA
Box Score + PBP:
Corrections? Additions?
If you can help us improve this game story, contact us.
Tags
https://sabr.org/sites/default/files/33-235Fr.jpg
600
800
admin
/wp-content/uploads/2020/02/sabr_logo.png
admin
2019-02-05 12:50:53
2020-04-17 10:23:40
April 13, 1954: Pirates' Vern Law celebrates return from military service with Opening Day win