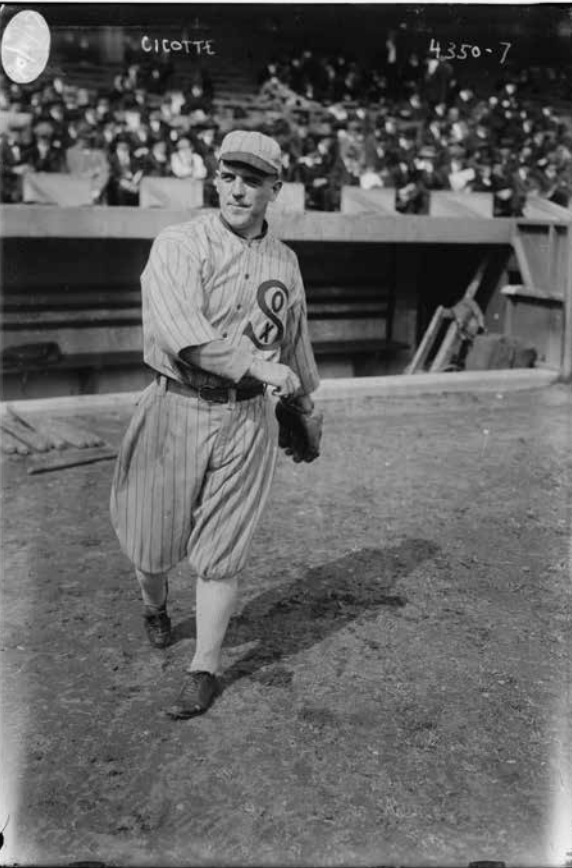 April 14, 1917: White Sox ace Eddie Cicotte hurls no-hitter at Sportsman's Park
---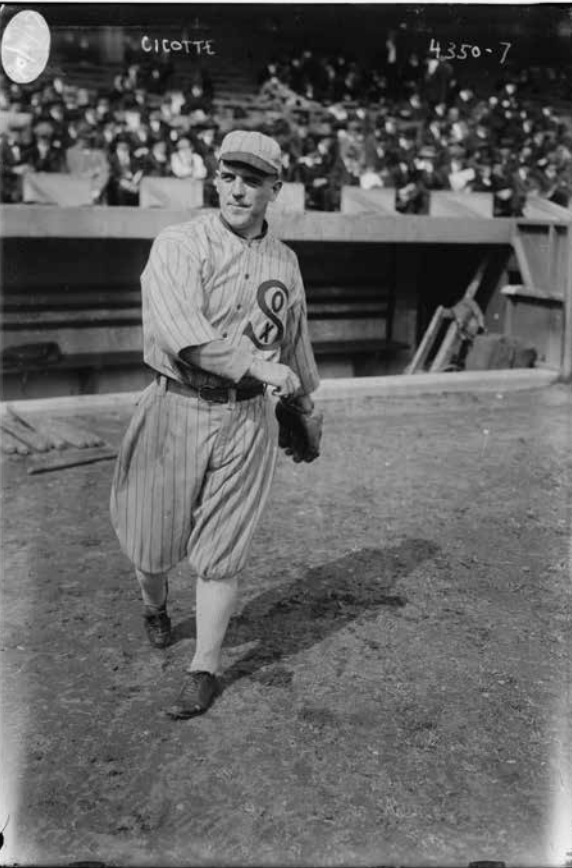 Chicago Tribune  sportswriter  I.E. Sanborn confidently predicted that barring injuries to key players, the White Sox would capture the 1917 AL pennant.1 One of the team's strengths, he opined, was its "great" and "well-balanced" pitching staff, led by Red Faber; however, Sanborn conceded that it lacked a star like Walter Johnson or Eddie Walsh. The White Sox' 32-year-old right-hander Eddie Cicotte proved Sanborn wrong.
A durable, yet often inconsistent hurler, Cicotte had flashed signs of brilliance since his first full season in 1908, with the Boston Red Sox, and his subsequent acquisition by the White Sox in July 1912. He finished second in the AL in ERA in 1913 (1.58) and again in 1916 (1.78) when he concluded the season on a tear, yielding just four earned runs in 48⅔ innings in September and winning all five of his decisions. With a 119-100 record in parts of 10 seasons, Cicotte's success rested on a mesmerizing knuckleball and a series of trick pitches, especially the shine ball. Cicotte made only 19 starts among his 44 appearances in 1916, but Pale Hose skipper Pants Rowland looked to 5-feet-9 "Knuckles" to play a bigger role in 1917 — if there was a season.
The estimated 10,000 fans at Sportsman's Park in the Gateway City on Saturday afternoon, April 14, 1917, for the final contest of the three-game season-opening series between the St. Louis Browns and the Chicago White Sox might have been confused when they saw players marching in unison with bats on their shoulders, led by a drill sergeant. Weeks earlier, AL President Ban Johnson had ordered all teams to practice military drills during spring training, as pressure mounted on the United States to enter World War I, which had ravaged Europe since 1914. On April 6, just days before the regular season began, the United States declared war on Germany. Former league MVP Eddie Collins of the White Sox praised the exercise regimen for preparing players physically for the season and instilling the discipline needed to succeed as a team.2 Baseball would go on despite calls that the season be suspended.
With temperatures hovering in the 40s and dark, ominous skies overhead, the White Sox came out swinging against 25-year-old Browns southpaw Earl Hamilton, who had also started the season opener just three days earlier, yielding only five hits and three runs (none earned) in 7⅓ innings in the Browns' eventual 7-2 loss. After Collins drew a two-out walk and moved to third on Shoeless Joe Jackson's double, he scored on Happy Felsch's single. Cuban-born center fielder Armando Marsans made a running catch on Chick Gandil's deep fly to save two more runs and end the inning.
In what proved to be the Browns' only scoring chance of the game, Cicotte walked leadoff hitter Burt Shotton, who stole second when shortstop Swede Risberg dropped the catcher's throw, but was stranded on third.3
The White Sox offense exploded in the second inning. Hamilton faced only two batters (hitting Buck Weaver and surrendering a double to Ray Schalk) before yielding to reliever Jim Park. "One would think that [Park] had desecrated the American flag," wrote W.J. O'Connor in the St. Louis Post-Dispatch. "He got along with the enemy like percussion caps and dynamite. The explosion was terrific."4 All four batters Park faced hit safely. Cicotte's single knocked in two runs; Risberg followed Nemo Leibold's single with a double to plate Cicotte; and Collins's single increased Chicago's lead to 5-0. With two men on, right-hander Tom Rogers made his big-league debut against Shoeless Joe. According to Sanborn, Rogers's "first attempt was a wild throw," permitting Risberg to score.5 Jackson ultimately walked; and he and Collins moved up a station on Felsch's sacrifice bunt, the first out of the frame. After Gandil's fly ball drove home Collins, and Weaver reached on first baseman George Sisler's error (the first of five Brownie miscues), the Browns suffered the ultimate indignity when the White Sox executed a daring double steal.6 Jackson scored from third to make it 8-0, while Weaver rounded second and was thrown out going to third to end the inning.
The first two innings, noted the Tribune in utter amazement, lasted 40 minutes.7 The Post-Dispatch opined solemnly that "after the first six or eight runs nobody kept cases on the Chicago score."8
Among the best control pitchers of the era, Cicotte "wobbled some" in the third, according to the Tribune, yielding consecutive two-out walks to Shotton and Ward Miller.9 But Risberg snared Sisler's scorching liner to end the frame.
Rogers settled down enough after his baptism of fire to last seven innings, yielding just two hits but also walking four. The White Sox made it 9-0 in the fourth when Collins drew a free pass, moved to third on a hard-hit grounder by Jackson (which Sanborn noted was "scored as error to [shortstop Doc] Lavan by St. Louis's blind official scorer"10), and subsequently raced home on Felsch's out. After loading the bases with no outs in the sixth on a walk to Leibold, a single by Risberg, and a bunt single by Collins, Jackson and Felsch each drove in runs on outs for an 11-0 lead.
Staked to a seemingly insurmountable early-inning lead, Cicotte cruised through the Browns lineup. In the fifth he hit Lavan who was quickly erased in a 6-4-3 double play. The Browns' most exciting play, and the game's most controversial one, occurred with two outs in the seventh. Jimmy Austin hit what the Post-Dispatch called a "sizzling drive" straight to first sacker Chick Gandil. "Jimmy's drive had whiskers like a German who was trapped for ten days on Vimy Ridge," wrote O'Connor, making reference to the brutal battle between primarily Canadian and German troops on the Western Front that had concluded two days earlier with well over 10,000 casualties in four days of fighting. While the Tribune's Sanborn suggested the ball "flitted through Gandil's mitt," O'Connor opined that "ordinarily this would have been scored a hit." Casting doubt on the official scorer's intention in the midst of Cicotte's no-hitter, O'Connor added, "[T]here was ominous unanimity in the belief that … (the scoring decision) was an egregious error."11
Despite the humiliating score, skipper Fielder Jones's Brownies did not roll over, making up for their offensive woes with some excellent defensive stops. In the eighth, Collins and Jackson belted deep drives to center field. "The Cuban tore back and captured both of them brilliantly," wrote Sanborn in a compliment to Marsans.12 O'Connor was even more effusive in his praise. "Marsans has only one peer as a defensive man," he opined, naming the Cleveland Indians' Tris Speaker as the standard-bearer at that position.13 In the ninth, right-hander Kewpie Pennington relieved Rogers, retiring three of the four batters he faced in his only big-league appearance. Third baseman Austin helped out his hurler by making what the Tribune called a "spectacular catch" of Weaver's foul when "he slid under it to protect himself from hitting the grandstand."14
Cicotte was at his "best at the finish," gushed Sanborn.15 The Michigan native made quick work of the Browns in the ninth, retiring Miller, Sisler, and Del Pratt on infield popups to complete the no-hitter in 2 hours and 2 minutes to win with "apparent ease."16 Cicotte fanned five and walked three in recording the sixth White Sox no-hitter in franchise history, and the first since teammate Joe Benz beat the Cleveland Naps, 6-1, on May 31, 1914. Future Hall of Famer Ray Schalk had also donned the tools of ignorance for that no-hitter, and would be behind the plate for the White Sox' next one, too, on April 30, 1922, when Charlie Robertson tossed the first perfect game in team history (and fifth in big-league history) to beat the Detroit Tigers, 2-0.
The Browns exacted revenge of sorts against Cicotte on May 5 at Sportsman's Park when Ernie Koob tossed the second no-hitter in Browns history, albeit a controversial one, defeating the Pale Hose, 1-0. The Tribune initially reported that Koob had tossed a one-hitter;17 but hours after the game, the official scorer, John B. Sheridan, a St. Louis sportswriter, changed Buck Weaver's first-inning hit to an error on second baseman Ernie Johnson. The following day, the Browns' Bob Groom tossed a no-hitter against Chicago in the second game of a doubleheader. It was the first time in big-league history that a team had thrown no-hitters on consecutive days.
Sanborn's prediction that the White Sox would win the pennant was correct. They won 100 games, owing in large part to the emergence of Cicotte as the AL's best pitcher. He led the league in wins (28), ERA (1.53), and innings (346⅔), while completing 29 of his 35 starts among 49 appearances. Cicotte defeated the New York Giants in Game One of the World Series. He made three appearances in Chicago's Series victory, yielding just four earned runs in 23 innings in three appearances.
This article appears in "Sportsman's Park in St. Louis: Home of the Browns and Cardinals at Grand and Dodier" (SABR, 2017), edited by Gregory H. Wolf. Click here to read more articles from this book online.
Photo Caption
Eddie Cicotte led the AL in wins (28), ERA (1.53), and innings pitched (346) in 1917 for the world champion Chicago White Sox. (Library of Congress)
Sources
In addition to the sources cited in the Notes, the author also accessed Retrosheet.org, Baseball-Reference.com, the SABR Minor Leagues Database, accessed online at Baseball-Reference.com, SABR.org, and The Sporting News archive via Paper of Record.
Notes
1 I.E. Sanborn, "Sox Should Win Flag Unless Stars Are Hurt," Chicago Tribune, April 8, 1917: A1.
2 Edward T. Collins, "Eddie Collins Tells Benefits of Army Drills," Chicago Tribune, April 15, 1917: A1.
3 According to "Notes," Chicago Tribune, April 15, 1917: A1, Shotton was credited with a stolen base; however, the box scores in Baseball-Reference.com and Retrosheet.org do not credit him with a stolen base.
4 W.J. O'Connor, "Browns Hitless Before Cicotte, Sox Go Over, 11-0," St. Louis Post-Dispatch, April 15, 1917: 35.
5 According to I.E. Sanborn, "Cicotte Pitches No-Hit Game for Sox," Chicago Tribune, April 15, 1917: A1, Rogers made a wild pitch; however, the box scores in Baseball-Reference.com and Retrosheet.org do not credit Rogers with a wild pitch.
6 Contemporary newspaper reports mentioned the stolen bases; however, the box scores in Baseball-Reference.com and Retrosheet.org do not credit Jackson or Weaver with one.
7 I.E. Sanborn "Cicotte Pitches No-Hit Game for Sox," Chicago Tribune, April 15, 1917: A1.
8 O'Connor.
9 Sanborn, "Cicotte Pitches No-Hit Game for Sox."
10 Ibid.
11 Ibid.
12 Ibid.
13 O'Connor.
14 "Notes," Chicago Tribune.
15 Sanborn, "Cicotte Pitches No-Hit Game for Sox."
16 Ibid.
17 I.E. Sanborn, "Koob Tames Sox in One Hit Game, 1-0," Chicago Tribune, May 6, 1917: 1.
Additional Stats
Chicago White Sox 11 
St. Louis Browns 0
---
Sportsman's Park
St. Louis, MO
Box Score + PBP:
Corrections? Additions?
If you can help us improve this game story, contact us.
Tags
https://sabr.org/sites/default/files/Screen%20Shot%202018-10-25%20at%201.28.22%20PM.png
600
800
admin
/wp-content/uploads/2020/02/sabr_logo.png
admin
2018-10-25 13:32:40
2021-04-21 09:53:32
April 14, 1917: White Sox ace Eddie Cicotte hurls no-hitter at Sportsman's Park