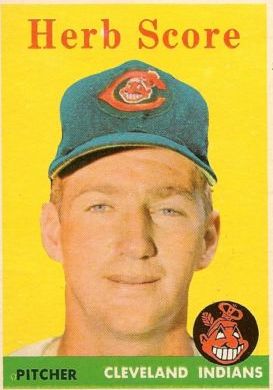 April 15, 1958: Indians' Herb Score returns for Opening Day start but falls to A's, Ned Garver
---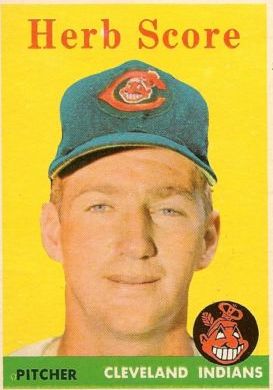 Opening Day is often celebrated with significant pageantry and optimism for new beginnings. The first day of a new baseball season carries even more meaning for those overcoming substantial hurdles during the journey back to the diamond. When Herb Score walked to Cleveland Stadium's mound on Opening Day in 1958, he returned to the same location where a line drive dramatically ended his season 11 months earlier.1 Pitching in his third big-league campaign, Score was 2-1 with a 2.00 ERA and 39 strikeouts over 36 innings before his devastating injury. Score occasionally joined his teammates for batting practice during his recovery, throwing to batters and along the sidelines.2 As the 1958 season opened, the young (24) fireballer was ready to return to his pre-injury form, when he led the majors in strikeouts and was selected as an All-Star during both of his first two seasons. He had been American League Rookie of the Year in 1955 and a 20-game winner in 1956.
The Cleveland Indians were just as eager as Score to begin a new season. The 1957 Indians finished in sixth place with a 76-77 record, 21½ games behind the American League pennant-winning New York Yankees. After their 1954 pennant and successive second-place finishes, Cleveland tumbled to the second division. The Indians needed their young bats and returning veterans to complement their expected mound strength as the new season approached.3 Two offensive stars from the previous campaign would not be in the Opening Day lineup: The newly appointed captain Vic Wertz had fractured his right ankle during an exhibition game and Gene Woodling, Cleveland's best offensive player, was traded to Baltimore in a deal that returned Larry Doby to his original AL team.4 Cleveland still had star outfielders Rocky Colavito and Minnie Miñoso, who was returning from the Chicago White Sox, to power its offense.
The Kansas City Athletics were also looking forward to the new campaign. Kansas City finished the previous season in seventh place with a 59-94 record, 38½ games behind the Yankees and 17 games behind Cleveland. The Athletics struggled throughout the 1950s, last finishing above .500 in 1952. Kansas City was led offensively by youngsters Woodie Held and Hector Lopez; veteran Gus Zernial, who paced the Athletics in runs, home runs, and RBIs, had been traded to Detroit in the offseason.5 The mound staff featured nine pitchers who threw at least 113 innings, while reliever Virgil Trucks led Kansas City with nine wins and a 3.03 ERA.
Ned Garver, Kansas City's starting pitcher, was beginning his 11th season in the majors and second season with the Athletics. The veteran right-hander was 6-13 with a 3.84 ERA over 145⅓ innings the previous season; he led Kansas City hurlers in innings pitched, losses, and complete games (six). Garver's pitching repertoire included a slider, fastball, changeup, and curveball.6 The right-hander was labeled as Kansas City's "most impressive veteran" leaving camp,7 and manager Harry Craft placed high hopes on Garver, who figured prominently in the manager's plans moving forward.
Score wasted no time resuming his strikeout mastery in front of 35,307 fans on a summerlike Tuesday afternoon.8 He struck out leadoff hitter Mike Baxes. With one out, Score's control temporarily abandoned him. Bill Tuttle walked. Lopez singled, advancing Tuttle to third base. With cleanup hitter Vic Power up and runners on the corners, Score uncorked a wild pitch that allowed Tuttle to score. Power walked and Kansas City had runners on first and second. Facing an early jam, Score regained his control, striking out Bob Cerv and Held to keep the Athletics' lead at 1-0. Garver had an easier first inning; Chico Carrasquel flied out, Roger Maris struck out, and Miñoso popped out.
Cleveland's young star pitched better in the second inning. Although leadoff hitter Harry Chiti singled, he was caught stealing, and Score struck out the next two batters. Doby singled to start the Indians' half. Mickey Vernon reached on a fielder's choice; an apparent fly out dropped in front of Kansas City right fielder Bill Tuttle, who forced out Doby at second base.9 Russ Nixon singled, but Vernon was thrown out at third base by Tuttle. Fred Hatfield flied out to end the inning.
Score struggled with his command again in the third inning. Baxes walked, but was caught stealing. Tuttle singled. Lopez walked. Power flied out. Cerv doubled to center field, scoring Tuttle and Lopez to increase the Athletics' lead. Held ended the inning as Score's sixth strikeout victim. Kansas City led 3-0. During the bottom half, Billy Moran pinch-hit for Score, ending the Cleveland pitcher's day. Moran singled, Carrasquel singled with one out and Moran reached third, but Garver retired Maris and Miñoso to keep Cleveland scoreless.
In the fourth inning, Indians reliever Steve Ridzik struck out the first two batters, then Garver flied out. In Cleveland's half, Doby singled, but Garver induced a Vernon double play to continue stifling Indians hitters. Nixon delivered his second single. Hatfield's second fly out of the game ended another inning.
Cerv began the Athletics' sixth with a single off reliever Cal McLish and took second when left fielder Miñoso bobbled the ball. After Held and Chiti flied out, Joe DeMaestri's single to left plated McLish. Garver singled to center, but a relay from Doby to Moran to catcher Nixon reached home in time to throw out DeMaestri. Garver issued two walks with two outs in the bottom half, but Nixon's pop fly ended the threat with Kansas City leading 4-0.
McLish returned in the seventh for his second relief inning. Baxes singled to left field. Tuttle sacrificed Baxes to second base. Lopez singled to right field, scoring Baxes with the Athletics' fifth run. Lopez was stranded when Power lined out and Cerv flied out. Garver continued silencing Cleveland's bats; Hatfield flied out and Moran popped out. Pinch-hitter Carroll Hardy walked, but Carrasquel flied out with the Athletics leading 5-0 after seven frames.
Chuck Churn, the Indians' fourth pitcher, faced the bottom of Kansas City's order in the eighth. Held singled. Chiti struck out. DeMaestri singled as the Athletics threatened to pad their solid lead, but Garver hit into a 4-6-3 inning-ending double play. Pitching to the heart of Cleveland's lineup in the bottom of the inning, Garver was strong. Maris and Miñoso flied out and Doby grounded out.
In the Athletics' ninth, Tuttle walked with one out, but Churn benefited from another an inning-ending double play. Garver strode to the mound for the bottom half, hoping to complete his second Opening Day shutout. While pitching for the St. Louis Browns, he had blanked the Detroit Tigers with a six-hitter on Opening Day 1952. Now pitching in his seventh Opening Day contest, receiving the nod in St. Louis four times and Detroit twice, the veteran was three outs away from a shutout. Vernon flied out. Nixon singled to center, but Hatfield struck out, pinch-hitter Preston Ward flied out, and Kansas City won 5-0.
Garver pitched a seven-hit shutout, striking out two and walking three. Cerv was 2-for-4 with a double and two RBIs while Tuttle scored twice and walked three times. The Indians' seven hits were all singles; Nixon delivered three hits, and Doby banged out two. The Indians were 0-for-3 with runners in scoring position, and placed a runner on third base only once in the game, in the third inning with one out. Score absorbed the loss in his mound return, allowing three runs on four hits and four walks in three innings, though the fireballer struck out six Athletics.
Bobby Bragan, debuting as Cleveland's manager after spending 1½ seasons managing the Pittsburgh Pirates, was looking forward to Score rebuilding his strength, especially after his weekend bout with the flu. "Those three innings should be just enough to get Herb sharp for the Tigers," Bragan said. "Before he became ill I planned to have him pitch about three last Saturday."10 But Score wasn't pleased with his return performance. "I don't have any excuses at all. Just didn't have any control. Didn't have it, that's all."11
Score finished the 1958 season with a 2-3 record and 3.95 ERA in 41 innings. He pitched five games in April, earning his first career save on April 20 and firing a three-hit shutout against the Chicago White Sox on April 23. A week later, Score suffered a strained left elbow while pitching against the Washington Senators. He pitched into the ninth inning of a 2-2 deadlock, but exited the game after allowing a single, his eighth walk of the game, and two balls on the next hitter.12 Initial reports suggested he would miss only one week.13 But Score didn't pitch again for six weeks, when he tossed three scoreless innings against Washington on June 14. He pitched twice during July, including his final start, which lasted 1⅓ innings, then made four relief appearances in September to cap an injury-plagued season.
Both Cleveland and Kansas City struggled throughout the season. The Indians finished fourth with a 77-76 record, 14½ games behind the pennant-winning New York Yankees, while the Athletics finished seventh with a 73-81 record, 19 games behind the Yankees.
Sources
Besides the sources cited in the Notes, the author consulted Baseball-Reference.com, Retrosheet.org, and the following:
2020 Cleveland Indians Media Guide
James, Bill. The New Bill James Historical Baseball Abstract (New York: The Free Press, 2001).
Notes
1 Chuck Heaton, "Score Hit in Eye by Line Drive," Cleveland Plain Dealer, May 8, 1957: 1. The liner was off the bat of Gil McDougald. It was feared Score would lose the sight in his right eye, but through a combination of good luck as to where the ball had struck him, and medical attention, his eyesight was saved.
2 Harry Jones, "Batting Around," Cleveland Plain Dealer, August 18, 1957: 61.
3 Hal Lebovitz, "Fresh Paint Job for Tribe, Headed by Big Chief Lane," The Sporting News, February 5, 1958: 23.
4 Harry Jones, "Doby Returns in 5-Man Deal, Score Hit in Eye by Line Drive," Cleveland Plain Dealer, April 1, 1958: 1.
5 Dick Young, "Tigers, A's Swap 13; Martin Demands Cut," New York Daily News, November 21, 1957: 52.
6 Bill James and Rob Neyer, The Neyer/James Guide to Pitchers: An Historical Compendium of Pitching, Pitchers, and Pitches (New York: Fireside Books, 2004), 215.
7 Oscar Kahan, "Six Rookies Rated Spring 'Surprises,'" The Sporting News, April 16, 1958: 15.
8 Harry Jones, "35,307 See Indians Lose, 5-0," Cleveland Plain Dealer, April 16, 1958: 1.
9 Jones: 26.
10 Chuck Heaton, "Colavito Eyed for 3rd Base," Cleveland Plain Dealer, April 16, 1958: 25.
11 "'No Excuses,' Says Herb; 'Just Didn't Have Control," Cleveland Plain Dealer, April 16, 1958: 27. Score later explained why he was unable to pitch the way he had. "The reason my motion changed was because I hurt my elbow, and I overcompensated for it and ended up with some bad habits. I didn't throw quite as hard before my arm injury. But what killed me was that my ball no longer moved. It went up to home plate as straight as an arrow." Terry Pluto, The Curse of Rocky Colavito (New York: Simon and Schuster, 1994), 26.
12 Associated Press, "Herb Score Injures Arm in 3-2 Loss," Evening Review (Liverpool, Ohio), May 1, 1958: 13.
13 Jim Schlemmer, "Score's 'Lame' Arm Disrupts Indians' Pitching Program," Akron Beacon Journal, May 1, 1958: 44.
Additional Stats
Kansas City Athletics 5
Cleveland Indians 0
---
Cleveland Stadium
Cleveland, OH
Box Score + PBP:
Corrections? Additions?
If you can help us improve this game story, contact us.
Tags
http://bioproj.sabr.org/bp_ftp/images3/ScoreHerb.jpg
600
800
sabr
/wp-content/uploads/2020/02/sabr_logo.png
sabr
2020-08-24 13:44:17
2020-08-24 13:44:17
April 15, 1958: Indians' Herb Score returns for Opening Day start but falls to A's, Ned Garver