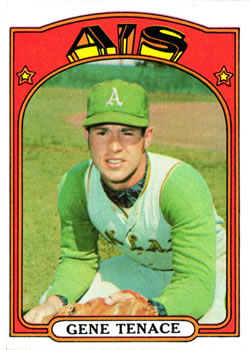 April 15, 1972: Fingers blows late lead, but A's rally to beat Twins on Opening Day
---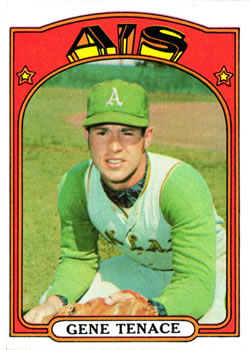 Before the Athletics relocated to Oakland in 1968, they hadn't enjoyed a winning season since 1952, when they still called Philadelphia home. After 13 years of losing in Kansas City, a move to the West Coast revitalized the flagging franchise. The A's won 89 games in 1970 and 101 in 1971, reaching the postseason for the first time since 1931, when Connie Mack ran a club that featured future Hall of Famers Mickey Cochrane, Jimmie Foxx, Al Simmons, and Lefty Grove.
Despite being swept by the Orioles in the 1971 ALCS, the A's had put the league on notice. Heading into the 1972 season, expectations ran high in Oakland under second-year manager Dick Williams. Like the great 1931 squad, this iteration of the A's boasted several men who would eventually end up in Cooperstown: Reggie Jackson, Catfish Hunter, Rollie Fingers, and Williams himself.
As part of their transformation from perennial losers into an unlikely juggernaut, the A's chose to reinvent themselves in other ways as well. Most visibly, they became identified with mustaches after Jackson grew his facial hair over the winter and refused to shave it for the season, as team rules dictated. Owner Charlie Finley failed to punish his star player, which didn't sit well with teammates, who "had had enough of Reggie's attitude."1 In protest of Jackson's defiance and Finley's subsequent failure to reprimand him, "everyone decided to grow some type of facial hair."2
The move was intended to force Finley's hand, but instead of punishing everyone, the owner "decided to capitalize on the act of rebellion. He staged a "Mustache Night,' let mustached patrons in for a reduced price and gave each player a small bonus if they wore mustaches for that night's game."3 Thus the Mustache Gang was born.
A's players weren't the only ones protesting, however, and a strike delayed the season's start by two weeks. After the brief interruption, on a Saturday afternoon in Oakland, in front of a sparse crowd of 9,912, the A's began their march toward three straight World Series championships in a most curious fashion. This contest had it all: a home run by a future Hall of Famer, a home run with two outs in the ninth inning against a future Hall of Famer, and a walk-off pinch-hit error.
The game started inauspiciously for the home team. Left-hander Ken Holtzman, acquired in the offseason for Rick Monday, served up a solo home run to rookie shortstop Danny Thompson, the second batter he faced. But Holtzman settled down and didn't allow another run until Harmon Killebrew led off the seventh inning with his 516th career home run.
Meanwhile, the lone blemish on Minnesota starter Bert Blyleven's line was a two-run homer by catcher Dave Duncan (who would later become an integral part of the next A's dynasty as pitching coach under Tony La Russa) in the bottom of the fifth. Duncan's home run gave Oakland a 2-1 lead. Blyleven remarked after the game, "That was the only bad pitch I made."4
After Killebrew's home run tied the game, the A's immediately responded with a run of their own in the bottom of the seventh. Wayne Granger took over in relief, pitching for the Twins. Mike Epstein led off with a walk and was lifted for a pinch-runner, starting pitcher Blue Moon Odom. Odom, who was deployed as a pinch-runner 28 times during the 1972 season, stole second base before scoring on a one-out single by Dick Green. Holtzman sacrificed the two baserunners to second and third, but Granger struck out A's shortstop Bert Campaneris.
Holtzman retired the Twins in order in the eighth, leaving Fingers to nail down the victory. Rod Carew led off the ninth with a groundout to first base and Killebrew was called out on strikes, leaving only pitcher-turned-outfielder Bobby Darwin, who whacked a 3-and-1 offering from Fingers into the second deck in left field to tie the game.5
Only three A's batted in the bottom of the ninth and the game went into extra innings.
In the top of the 11th the Twins mounted a threat, putting runners on first and second with one out. But A's reliever Bob Locker got Killebrew to pop out and Darwin to ground out, escaping the inning unscathed and setting the scene for a wild finish.
Joe Rudi led off the bottom of the frame with a double to left off left-hander Dave LaRoche. Slugger Reggie Jackson sacrificed Rudi to third and Sal Bando was walked intentionally to set up a potential double play. Jackson, who had 13 sacrifice hits in his illustrious career, said afterward, "I can't remember the last time I laid down a bunt. … I was doing my job. Sometimes you've got to do different things."6
Gene Tenace then batted for Mike Hegan and, with the infield playing in to try to cut off the run, hit a "crisp two-bouncer" toward third base.7 Minnesota third baseman Eric Soderholm bobbled the ball and fired home to catcher George Mitterwald, who couldn't hang onto it when he and Rudi collided, thus ending the game on a tough error.
Rudi wound up in the trainer's room with a scraped left knee and right elbow, but as he observed, "It was worth it. The only way I had was to run into the catcher. He had the ball and I was out if he held it."8
He further explained, "You want to make them throw to make a play on you instead of the double play. I looked back and saw him bobble it. So I put my head down and ran. I knew he was coming home so I tried to get there and knock the ball loose,"9 adding, "I didn't know he'd dropped the ball 'til I heard the [crowd] roar."10
The crowd ended up roaring a lot that season and the two that followed. In an era when only four teams reached the postseason, the A's won the World Series in 1972, 1973, and 1974. Their run of three consecutive championships has been matched or exceeded only by the New York Yankees, who won four straight titles from 1936 to 1939, five straight from 1949 to 1953, and three straight from 1998 to 2000. And it all started with a bobbled grounder to third base.
Sources
Thanks to Stew Thornley and Bill Nowlin for research assistance. In addition to the sources cited in the Notes, the author relied on Baseball-Reference.com.
https://www.baseball-reference.com/boxes/OAK/OAK197204150.shtml
https://www.retrosheet.org/boxesetc/1972/B04150OAK1972.htm
Notes
1 Mike Epstein, Foreword, in Chip Greene, ed., Mustaches and Mayhem: Charlie O's Three-Time Champions (Phoenix: SABR, 2015).
2 Epstein.
3 Mark Armour, "Charlie Finley," SABR Baseball Biography Project, sabr.org/bioproj/person/6ac2ee2f, accessed January 10, 2020.
4 Tom Briere, "A's Nip Homer-Hitting Twins 4-3 in 11 Innings," Minneapolis Tribune, April 16, 1972.
5 Briere.
6 George Ross, "A's Good as over the Wall," Oakland Tribune, April 16, 1972.
7 Ron Bergman, "What's New? A's in First Place," Oakland Tribune, April 16, 1972.
8 Briere.
9 Bergman.
10 Ross.
Additional Stats
Oakland Athletics 4
Minnesota Twins 3
11 innings
---
Oakland-Alameda County Coliseum
Oakland, CA
Box Score + PBP:
Corrections? Additions?
If you can help us improve this game story, contact us.
Tags
https://sabr.org/sites/default/files/TenaceGene.jpg
600
800
admin
/wp-content/uploads/2020/02/sabr_logo.png
admin
2020-03-26 13:51:38
2020-05-28 15:45:52
April 15, 1972: Fingers blows late lead, but A's rally to beat Twins on Opening Day