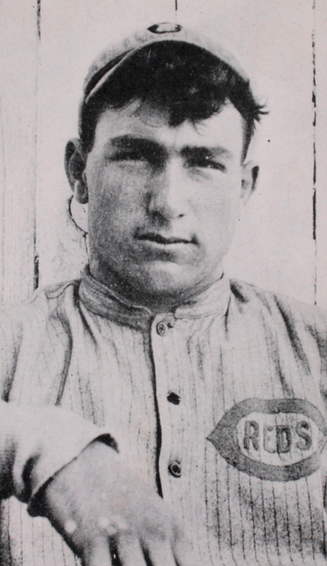 April 16, 1918: Reds' Pete Schneider tosses one-hitter on Opening Day
---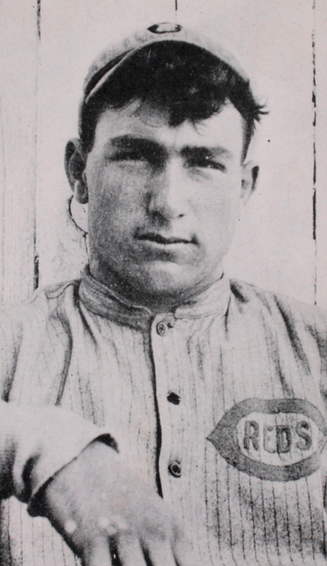 It was the "first opening game since our energies have been actively hurled against the heartless Hun on the blood-stained and shell-bitten fields of France," wrote the Cincinnati Enquirer somberly as the Pittsburgh Pirates took on the Reds at Redland Field to inaugurate the 1918 major-league baseball season.1 Given the news of the unimaginable destruction of the war in Europe, where American troops had been engaged since the previous November, baseball seemed superfluous. A major German spring offensive, Operation Michael, on the Western Front had concluded just days earlier with approximately 250,000 Allied casualties. Opening Day, continued the Enquirer, was a needed, albeit temporary diversion from the carnage and "more strenuous battles being fought by our boys."2
After a rainy night, "dark and threatening" skies endangered the Opening Day festivities on Tuesday, April 16, yet by noon a bright sun created a warm spring environment in the Queen City.3 A near-capacity crowd of 19,000 packed the stands, which had a pronounced "military tinge" with hundreds of uniformed soldiers from the American Expeditionary Forces on hand.4 Flags adorned the steel and concrete ballpark, which had been christened on Opening Day six years earlier, and players from both teams joined to carry banners encouraging spectators to buy war bonds. A military brass band from Camp Sheridan in Montgomery, Alabama, where the Reds conducted spring training, performed patriotic songs, such as "Over There."
The crowd was "calm and peaceful," but the atmosphere lacked "customary noise and enthusiasm attending a home opener," noted the Enquirer.5 On the mound for skipper Christy Mathewson's Reds, coming off their best season since 1905, was 22-year-old right-hander Pete Schneider. Described as having "everything in his repertory," the Californian had debuted four seasons earlier as a teenager and had posted a 20-19 record the previous season to push his record to 49-70.6 Manager Hugo Bezdek, intending to improve on the Pirates' last-place finish in 1917, sent Wilbur Cooper to the rubber. Fresh off a 17-11 slate for a woeful Bucs team, Cooper had emerged as one of the league's top southpaws, with a 58-56 record in parts of six seasons.
"The distressing war with all its heart-saddening thoughts was melted from the minds of all the good folks of Cincinnati," opined the Pittsburgh Post-Gazette, when the contest got underway at 1:50.7 The game unfolded as a classic Deadball Era pitchers' duel as both hurlers held the opposition hitless through three innings. The Bucs had two baserunners courtesy of a second-inning walk and center fielder Edd Roush's miscue on Howdy Caton's deep fly.8 Caton was subsequently gunned down by catcher Nick Allen attempting to swipe second.
In an action-packed fourth inning, the Pirates' Casey Stengel hit a deep fly with two outs. Left fielder Sherry Magee made a "gallant effort" to catch the ball, which went over his head and Stengel romped to second.9 Heinie Groh scooped up George Cutshaw's sharp hit to third "like a hawk" and executed a great throw to first to end the inning.10 Dame Fortune cast her glaze on the Reds in the bottom of the frame when "disaster was dished out to the Pirates in big lumps," lamented Smoky City sportswriter Edward Balinger.11 Groh led off with a slow hopper to shortstop Caton, who threw "madly" to first, drawing Fritz Mollwitz off the bag.12 Following Lee Magee's sacrifice, Edd Roush, who had led the league with a .341 batting average the previous season, hit a "slashing drive" through the box and just out of reach of Cooper to drive in Groh and moved to second on center fielder Max Carey's throw to the plate.13 Cooper's quick toss to second caught Roush napping, but the future Hall of Famer pulled "a real Ty Cobb stunt," gushed the Enquirer, and broke for third.14 He reached safely when Bill McKechnie dropped Caton's throw, and then tallied the Reds' second run on Hal Chase's sacrifice bunt toward first base.
Lights-out pitching and superb infield defense characterized rest of the game. Schneider did not yield another hit, but his "wildness was a bit nerve-racking," admitted the Enquirer.15 He walked four more batters, including two in the sixth, though no Pirate reached third. The Reds managed only three more baserunners. Allen drew a fifth-inning walk; Groh led off the sixth with a single, but was erased in a double play. The most dramatic event in the nailbiting affair occurred in the seventh after Tommy Griffith grounded into a 6-4-3 twin killing following Chase's single. Sherry Magee hit a slow roller that appeared to be veering into foul territory on the first-base side. According to Balinger, Magee stopped, while Mollwitz charged the ball and tagged the runner out. Meanwhile Cooper sprinted to first, where the spikes of his right foot got caught in the bag. He stumbled and fell violently to the ground, writhing in pain. Cooper's teammates carried him to the dugout, amid fears that the Pirates' best hurler had broken his ankle.
After former Pirates workhorse Hickory Bob Harmon tossed a one-two-three eighth, the Reds' faithful held their breath as Schneider issue a one-out walk to Max Carey, who, along with some of his teammates, had been suffering from the "grip" and a "pestiferous malady" resulting from the lack of hot water in the team hotel, according to the Pittsburgh Press.16 With the speedy Carey on second with two outs, Cutshaw hit a tricky grounder to third. Groh momentarily fumbled the ball, but his throw to first barely beat the runner to secure the Reds' victory, 2-0.
"The big Dutchman's control was a little off color," declared sportswriter Charles J. Doyle in the Pittsburgh Post-Gazette, "but he had a fine 'smoke' ball which he mixed judiciously with a curve and a change of pace."17 Schneider fanned three and tossed his only career one-hitter. In what proved to be his last full season in the big leagues, Schneider went 10-15.
The Pirates dodged a bullet. Cooper spent the night in a local hospital, but x-rays on his foot revealed no fracture. He was sidelined for just over two weeks. In his return on May 4 against the St. Louis Cardinals, he tossed a 10-inning complete-game victory en route to a 19-14 record. He'd continue his ascendance as one of the best pitchers in baseball, averaging 21 victories per season over a seven-year stretch (1918-1924).
This game, in the city that fielded the first professional baseball team, in 1869, was not just about wins and losses, statistics, and personal glory; rather, it signified baseball's unique ability to unite people from various backgrounds and stations in life for a common cause. In this case, to cheer for their respective teams but also to recognize the tremendous sacrifice of American men on battlefields more than 4,000 miles away. America was emerging from a long period of self-imposed international isolation, and baseball would play a significant role in fostering both patriotism and nationalism. This game, opined the Enquirer, was a "tribute to the undying popularity of America's national pastime."18
This article was published in "Cincinnati's Crosley Field: A Gem in the Queen City" (SABR, 2018), edited by Gregory H. Wolf. To read more articles from this book at the SABR Games Project, click here.
Sources
In addition to the sources cited in the Notes, the author also accessed Retrosheet.org, Baseball-Reference.com, SABR.org, and The Sporting News archive via Paper of Record.
Notes
1 "Reds Start Season With Great Victory," Cincinnati Enquirer, April 17, 1918: 6.
2 Ibid.
3 Ibid.
4 Ibid.
5 Ibid.
6 Ibid.
7 Charles J. Doyle, "Schneider Masters Bucs in Great Pitching Duel Against Wilbur Cooper," Pittsburgh Post-Gazette, April 17, 1918: 12.
8 A complete play-by-play account of the game can be found in the Pittsburgh Daily Post, April 17, 1918: 8. Neither Baseball-Reference.com nor Retrosheet.org provides play-by-play information.
9 "Reds Start Season With Great Victory."
10 Doyle.
11 Edward F. Balinger, "Pirates Beaten in Opening Game of Season," Pittsburgh Daily Post, April 17, 1918: 8.
12 "Reds Start Season With Great Victory."
13 Ibid.
14 Ibid.
15 Ibid.
16 "Baseball Gossip," Pittsburgh Press, April 17, 1918: 32.
17 Doyle.
18 "Reds Start Season With Great Victory."
Additional Stats
Cincinnati Reds 2
Pittsburgh Pirates 0
---
Redland Field
Cincinnati, OH
Box Score + PBP:
Corrections? Additions?
If you can help us improve this game story, contact us.
Tags
https://sabr.org/sites/default/files/SchneiderPete.png
600
800
admin
/wp-content/uploads/2020/02/sabr_logo.png
admin
2019-09-12 14:04:28
2020-04-17 10:22:34
April 16, 1918: Reds' Pete Schneider tosses one-hitter on Opening Day