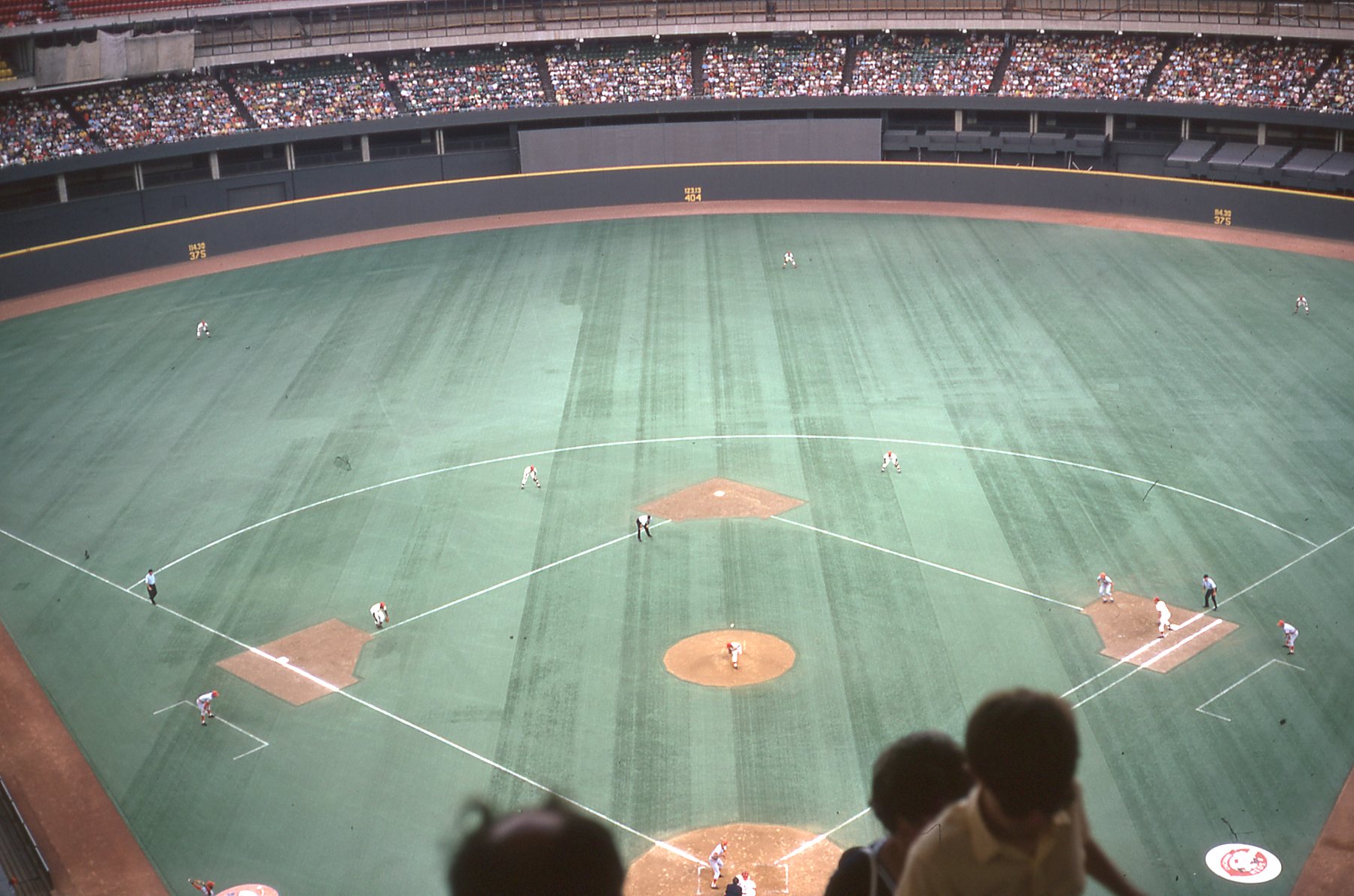 April 17, 1976: Bees swarm Riverfront as Reds swamp Giants, 11-0
---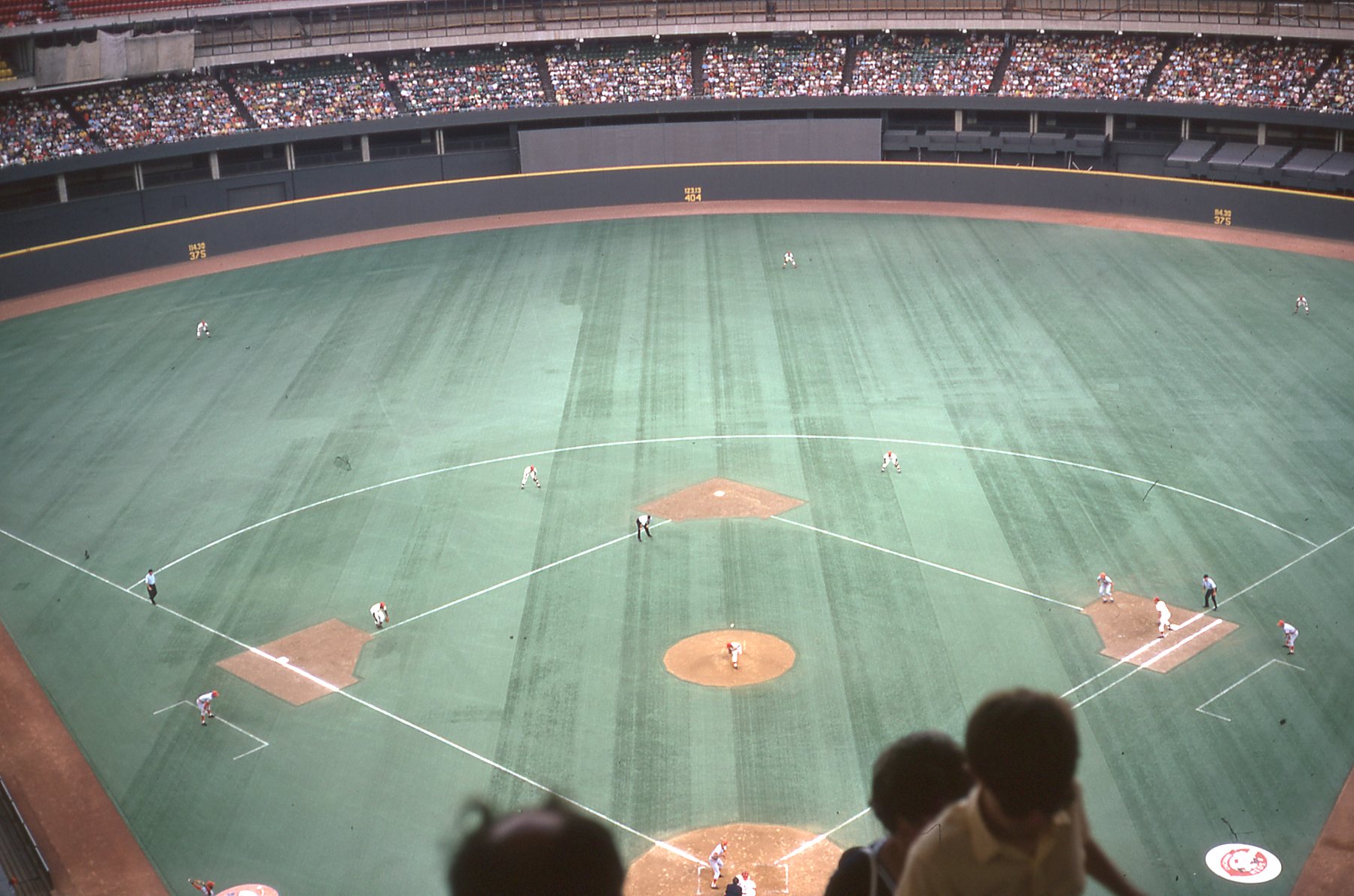 What is it about Cincinnati baseball and bee swarms? The insects have disrupted four big-league ballgames there from 1976 through 2019. This is the story of the first such apian invasion.
On Saturday afternoon, April 17, 1976, the Reds faced the San Francisco Giants at Riverfront Stadium. It was the Game of the Week on NBC-TV, and that was an unexpected bonus. It happened because of a strike by the National Association of Broadcast Engineers and Technicians (NABET called it a lockout). NBC had planned to show the Chicago White Sox vs. the Boston Red Sox at Fenway Park. It couldn't get a local technical crew from WBZ-TV in Boston, but one was available from WLWT in Cincinnati.1 A picket was planned for the Reds-Giants game. However, a federal judge in Cincinnati limited the demonstration to only one gate.2
The bigger story soon emerged. At the time in America, so-called "killer bees" were the subject of popular fears and exploitation movies, as author Dan Epstein noted in Stars and Strikes, his book about baseball in 1976.3 About half an hour before game time, a swarm of what turned out to be regular non-Africanized honeybees was first noticed. Estimated at between 5,000 and 10,000 in number, they moved from the Reds' bullpen along the first-base line toward home plate. "A cloud of gnats," an usher behind home plate thought.4 (This recalls another infamous episode with bugs and baseball in Ohio — the playoff game at Cleveland on October 5, 2007, when Lake Erie midges bedeviled Yankees pitcher Joba Chamberlain.)
The bees hovered for a time over the Giants' on-deck circle. When the swarm reached home plate, it headed for the edge of the visitors' dugout and the NBC crowd microphone sitting there. More than a dozen people were stung, including several San Francisco players. No serious reactions were reported.5 However, Reds coach Ted Kluszewski — who was allergic to bee stings — wasn't taking any chances. Big Klu, along with manager Sparky Anderson and others, retreated to the clubhouse.6
The situation was aggravated because Reds vice president Dick Wagner sprayed the bees with a fire extinguisher. According to Wagner, it was all in a day's work — he was just trying to get the game started on time.7 Wagner said his boss, general manager Bob Howsam, told him to get the groundskeeper's hose. Later, Wagner said his father, an amateur beekeeper, called him from his home in Nebraska, where he was watching Game of the Week, and said never to put water on bees when they're swarming.8
Two fans came to the rescue. One was Walter Howard, the 26-year-old owner of Cincinnati Exterminating Company. "I saw them spraying the bees with hoses," Howard said. Echoing Wagner's father, he stated, "I know they wouldn't accomplish anything in 10 days that way. Insects are used to water just like we are." Howard's company removed about 20 to 30 swarms a year, but seldom from populated areas and never before on national television. He left his seat along the left-field line and offered help.9
Joining him was Floyd Hastings, a bank auditor from Fort Wright, Kentucky, with a beekeeping background (he had once owned 33 hives).10 The men identified the queen bee in a group covering the microphone above the dugout. They put the queen, mike and all, into a makeshift cardboard hive. More of her workers quickly followed, with barehanded assistance from the experts. Howard was stung 12 to 15 times in the face and neck, Hastings 8 to 10 times in the hands.11 Hastings said, "They stung me because I was pinching them, not because they were bothering me. Bees are like any other animal. They don't fight back unless in danger."12
The heroes of the day got a standing ovation from the crowd of 21,219. When they had finished, Howard took the box to Radio Interview Room B and sprayed a roach bomb. (One wonders how the decision was reached that the bees had to perish.) "Let this room sit for an hour or so and then you can sweep it up," Howard told the Reds brass. "They'll all be dead." When told he had been on national TV, Howard replied, "Too bad I didn't have my company shirt on. It would have been great free advertising."13
The action of Game of the Week broadcaster Tony Kubek was also noteworthy. The swarm appeared while Kubek was doing the pregame, and he amazed the audience and his partner Joe Garagiola when he moved the NBC monitor out of the bees' way. Kubek, who had studied beekeeping, didn't get stung once.14
As for the game, once it got underway, it was a laugher. Fred Norman threw a four-hitter for the Reds, walking just one. With the shutout, the little lefty brought his lifetime record at Riverfront to 26-7 (25-6 as a Red). Cincinnati knocked Ed Halicki out of the box in the bottom of the first. Pete Rose led off with a single. The Hit King, who was 3-for-4 in the game, was off to the best start of his career: 17-for-31 (.548). After Ken Griffey Sr. singled, Joe Morgan hit a three-run homer. Three batters later, Halicki got the hook.
George Foster added another three-run blow in the fifth and Griffey hit a solo shot in the sixth. Meanwhile, Norman allowed only one Giants baserunner to reach second. Just one San Francisco batter got on base after the fourth inning, and he was erased in a double play.
Norman became the first Cincinnati hurler in 36 regular-season games to pitch a complete game.15 That wasn't surprising, considering that skipper Anderson was known as "Captain Hook" for his frequent use of the bullpen. But going all the way wasn't on Norman's mind. He admitted to a phobia about bee stings because he got bad welts from them. He said with a laugh, "Second base umpire Doug Harvey came up to me and said, 'Son' — and I'm only 33 years old — 'don't you worry about those bees.' I said, 'Oh yah, you tell them that.'"16 Tony Kubek also told Norman that the bees wouldn't bother him if he stood still, but the pitcher asked Kubek if he could guarantee that.17
Norman credited his performance to the signal-calling of catcher Johnny Bench and a new delivery. He added, "Larry Shepard, our pitching coach, has been on me for two years to develop it. He wants everything shortened up into a more standup position so I can see home plate better." Norman also noted, "My arm felt weary in the sixth. I had to place my fastball because I wasn't that quick."18 He went the route seven more times that season with two more shutouts for the 1976 World Series champs.
The Cincinnati Enquirer made a little local joke when it noted, "First Stingers appearance ever at Riverfront."19 The Cincinnati Stingers were a team in the World Hockey Association, established in 1975. Yet this episode was by no means the last. Here's a brief recap of the three other Cincy ballpark swarms.
The next one came on May 26, 1980, early in the second game of a daytime doubleheader against the Los Angeles Dodgers. After annoying fans in various parts of the lower grandstands, a cloud of bees landed on the backstop screen at Riverfront and remained there in a large pack. Again a beekeeper collected them.20
The third swarm at Riverfront in 11 years took place on May 10, 1987. Cincinnati's starter, Ted Power, was stung on his pitching hand as he faced Milt Thompson, leading off for the Philadelphia Phillies. The game was halted for 17 minutes at that point to rid the field of bees. The Reds' manager — none other than Pete Rose — noted that it was Mother's Day. He quipped, "You expect a bunch of bees around the queen bee on Mother's Day."21
On May 6, 2019, a swarm descended on Riverfront's successor, Great American Ballpark. The game, which was scheduled to start at 12:35, was delayed 18 minutes. (The Giants were the opponent once again.) No one was stung — this time.22 Once more, fortuitously, a beekeeper was in the ballpark to handle the situation.23
Who knows when the next "Bee-In" will take place? Whichever year it may be, bet on it to be in the spring. Matt Thomas, another beekeeper from nearby Fort Thomas, Kentucky, said, "This time of year is definitely swarm season for honeybees."24
Sources
https://www.baseball-reference.com/boxes/CIN/CIN197604170.shtml
https://www.retrosheet.org/boxesetc/1976/B04170CIN1976.htm
Notes
1 Hal Bock, "NBC Strike Affects TV Games," Kennebec Journal (Waterville, Maine), April 20, 1976: 9.
2 "Pickets Limited," New York Daily News, April 17, 1976.
3 Dan Epstein, Stars and Strikes (New York: Thomas Dunne Books, 2014), 116.
4 "Two Fans Were All Experts Needed to Rid Game of Bees," Cincinnati Enquirer, April 19, 1976.
5 "Two Fans Were All Experts Needed to Rid Game of Bees."
6 Doug Feldmann, The 1976 Cincinnati Reds (Jefferson, North Carolina: McFarland & Company, 2009), 97.
7 Feldmann.
8 John Popovich, "Beekeeper Dirk Morgan Just Happened to Be in the Right Place at the Right Time to Save Reds Game," WCPO.com, May 7, 2019 (wcpo.com/sports/baseball/reds/beekeeper-dirk-morgan-just-happened-to-be-in-the-right-place-at-the-right-time-to-save-reds-game).
9 "Two Fans Were All Experts Needed to Rid Game of Bees."
10 Ibid.
11 Ibid.
12 "Bees, Then Reds Sting Giants, 11-0," New York Times, April 18, 1976 (https://www.nytimes.com/1976/04/18/archives/bees-then-reds-sting-giants-110.html)
13 "Two Fans Were All Experts Needed to Rid Game of Bees." Efforts to reach Messrs. Howard and Hastings for their reminiscences were unsuccessful.
14 Jerry Ratcliffe, "Sports Scope," Pulaski (Virginia) Times, April 18, 1976.
15 "Bees, Then Reds Sting Giants, 11-0." Don Gullett had thrown a shutout at Riverfront on August 28, 1975. Gullett also had a shutout in the opener of the NL Championship Series at Riverfront on October 4, 1975.
16 "Norman Fights Off Bees to Blank Giants," Terre Haute Tribune, April 18, 1976.
17 Feldmann.
18 "Norman Fights Off Bees to Blank Giants."
19 "Two Fans Were All Experts Needed to Rid Game of Bees."
20 "Bee-deviled: swarms bug fans at Reds game," Detroit Free Press, May 28, 1980.
21 Rick Van Sant, "Bees buzz baseball game," UPI.com archives, May 11, 1987 (https://www.upi.com/Archives/1987/05/11/Bees-buzz-baseball-game/8704547704000/)
22 Michael Lerseth, "Oh bother — bees delay Giants-Reds game," San Francisco Chronicle, May 6, 2019 (https://www.sfchronicle.com/giants/article/Oh-bother-bees-delay-Giants-Reds-game-13822607.php)
23 Popovich, "Beekeeper Dirk Morgan just happened to be in the right place at the right time to save Reds game." These bees were allowed to find a new location rather than being exterminated.
24 Bobby Nightengale and John Fay, "Cincinnati Reds pull players off field after bees swarm diamond seats area," Cincinnati Enquirer, May 11, 2019 (https://www.cincinnati.com/story/sports/mlb/reds/2019/05/06/cincinnati-reds-pull-players-off-field-after-bees-swarm/1119060001/)
Additional Stats
Cincinnati Reds 11
San Francisco Giants 0
---
Riverfront Stadium
Cincinnati, OH
Box Score + PBP:
Corrections? Additions?
If you can help us improve this game story, contact us.
Tags
https://sabr.org/sites/default/files/Riverfront-Stadium-Cincinnati-1974.jpg
600
800
admin
/wp-content/uploads/2020/02/sabr_logo.png
admin
2019-07-17 01:16:29
2020-04-17 10:22:35
April 17, 1976: Bees swarm Riverfront as Reds swamp Giants, 11-0