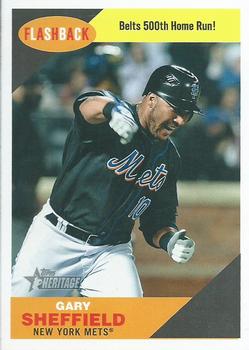 April 17, 2009: Gary Sheffield hits 500th career home run
---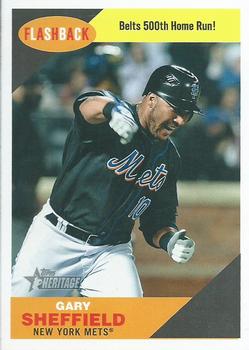 The New York Mets acquired Gary Sheffield after he was cut by the Detroit Tigers at the end of spring training in 2009. They hoped that his experience and hitting prowess would provide some help to the Mets bench. "He has been a great addition to the chemistry of the team," said Mets manager Jerry Manuel. When he's not playing, he's talking to guys about hitting, what he looks for, those types of things."1
Sheffield had dreamed for years of wearing the uniform worn by his uncle, former Mets slugger Dwight Gooden.2 Since Sheffield joined the Mets, he had not played very much. At the age of 40, he was not as fast as he once was and could not throw the ball as well. But he could still hit for power, and the Mets were using him primarily as a pinch-hitter.
The Mets were in their first homestand of the season. After winning two of three against the San Diego Padres, they were starting a series against the Milwaukee Brewers at Citi Field. The Mets were 5-5 and were trying to keep pace with a Florida Marlins team that had got off to a 9-1 start. The Brewers were 3-7 and were hoping to turn things around. Dave Bush was starting for the Brewers. He had lost his last start, pitching seven innings in a 6-5 loss to the Chicago Cubs. Livan Hernandez started for the Mets. He had won his first start of the season, pitching seven innings for an 8-4 win over the Marlins on April 11.
The Mets jumped on Bush in the bottom of the first inning. Jose Reyes, Daniel Murphy, and David Wright singled to load the bases. Carlos Delgado's fly ball scored Reyes. After striking out Carlos Beltran, Bush walked Ryan Church intentionally to set up an out at any base. But he couldn't get that last out. He walked Ramon Castro for the second run of the inning and then gave up a single to Luis Castillo to score one more run. By the time he struck out pitcher Livan Hernandez, the Mets had jumped out to a 3-0 lead.
Hernandez had a one-hitter going through the first four innings. But in the top of the fifth, he gave up consecutive singles to Mike Cameron and Bill Hall. A sacrifice fly by Mike Rivera brought Cameron home for the Brewers' first run of the game.
Things fell apart for Hernandez in the sixth inning. After he gave up consecutive singles to Rickie Weeks and Corey Hart, Ryan Braun hit a three-run blast over the left-field wall. Suddenly the Brewers were up 4-3. Manuel went to his bullpen. He brought in left-hander Pedro Feliciano to face Prince Fielder. After Feliciano got Fielder to ground out to third, Manuel brought in right-hander Sean Green to get the last two outs. Green got J.J. Hardy and Cameron to hit groundballs for easy outs.
Green held the Brewers scoreless in the top of the seventh, and was scheduled to lead off the bottom of the inning. When Brewers manager Ken Macha replaced Bush with left-hander Mitch Stetter, Manuel went to his bench and sent Sheffield to the plate to pinch-hit for Green.
After fouling off four pitches and working the count to 3-and-2, Sheffield connected for his first hit as a Met. It was good one, home run number 500, which sailed over the left-field wall, landing 385 feet from home plate. Sheffield trotted around the bases as the Citi Field crowd erupted in cheers. As he round third base for home, the entire Mets dugout with Reyes leading the way waited by the on-deck circle to congratulate him. The game paused for several minutes as Sheffield took a curtain call to accept the crowd's standing ovation.3
At 40 years and 150 days, Sheffield was the fourth oldest player to hit 500 home runs, behind Willie McCovey (40 years, 171 days), Eddie Murray (40 years, 194 days), and Ted Williams (41 years, 291 days).4
Sheffield's first major-league homer had come on September 9, 1988, when he was playing for the Brewers. Now his 500th came while he played against the Brewers as a Met. When the Mets signed him on April 5, 2009, he was given the opportunity to avoid joining some unwanted company. Andres Galarraga and Al Kaline both retired with 399 homers. Lou Gehrig and Fred McGriff barely missed joining the 500-home-run club when their careers ended with 493.5
"Everything happens for a reason, you know," Sheffield said after the game. "There was a reason why I hit 19 home runs instead of 20 last year. I could have did it then, but there was a reason … and then coming here and doing it on the biggest stage. [I]t makes it that much more special for me as well as my family."6
But the game was not over. Sheffield's home run only tied the game. After his blast, Stetter struggled. He eventually loaded the bases with one out. Todd Coffey replaced Stetter and got two more outs.
The game was still tied in the bottom of the ninth inning. Seth McClung came in to pitch for the Brewers. Delgado led off with a double to left field. McClung struck out Beltran, then intentionally walked Church to set up a potential double play. Omir Santos hit a weak groundball to the right of the pitcher's mound. The only play was to first. Castillo then hit a walk-off single that scored Delgado and gave the Mets a 5-4 victory.
But the main highlight of the game was Sheffield's home run. He became 25th player to join the 500 club. "Just to join that 500 club, you know. Now I can say I'm in the club and, you know, it's like getting your degree. Nobody can never take that away from you," he said.7
Sheffield was the first major leaguer whose 500th home run was his first with a new team.8 He joined Hank Aaron, Willie Mays, Barry Bonds, Frank Robinson, and Reggie Jackson as the only players with 500 homers plus at least 2,500 hits, 1,500 RBIs, and 200 stolen bases.9
Sources
In addition to the sources cited in the Notes, the author also used the Baseball-Reference.com, Baseball-Almanac.com, and Retrosheet.org websites for box-score, player, team, and season pages, pitching and batting game logs, and other pertinent material.
https://www.baseball-reference.com/boxes/NYN/NYN200904170.shtml
http://www.retrosheet.org/boxesetc/2009/B04170NYN2009.htm
Notes
Additional Stats
New York Mets 5
Milwaukee Brewers 4
---
Citi Field
New York, NY
Box Score + PBP:
Corrections? Additions?
If you can help us improve this game story, contact us.
Tags
https://sabr.org/sites/default/files/Sheffield-Gary-500HR.jpg
600
800
admin
/wp-content/uploads/2020/02/sabr_logo.png
admin
2017-12-04 16:40:32
2020-04-17 10:24:59
April 17, 2009: Gary Sheffield hits 500th career home run